Spread Some Love with Our Best 2021 Valentine's Day Promotional Items!
While it's still more than two months away, it's never too early to start planning special Valentine's Day promotional activities & the products will be at the "heart" of them. After such a brutal year as 2020, everyone is going to need to feel all of the love and support they can possibly get. Your brand can be the face of kindness, compassion, and maybe even a little romance when you invest in top quality Valentine's Day promotional products from 4AllPromos. In this article, we're going to share with you 14 of our best custom Valentine's Day giveaway items and company logo imprinted products. They're a great way to your appreciation and affection toward customers, employees, target audience members, and the general public.
1. 1 oz Chocolate Champagne Bottle - Custom Valentine's Day Chocolates
Our 1 oz Chocolate Champagne Bottles are some of our most popular Valentine's Day candy in custom shapes. Molded into the shape of a festive champagne bottle, these sweet treats come in a brown display box with a clear top and black interior tray. The box, which is imprinted with your custom business logo design, is completed by way of an attractive gold ribbon. Inside, recipients will find a champagne bottle shaped piece of decadent Brijon chocolate. They're wrapped in your choice of silver or gold foil. The foil wrapping contains one of many available stock label designs. For an upgrade fee, customized labels in up to three colors can be added for an even more memorable item.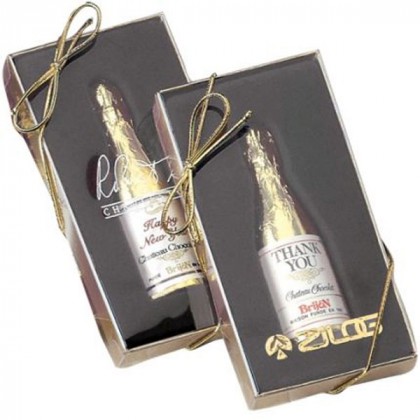 2. Sweet Heart - Promotional Valentine's Day Candy Tins
Not looking to go the chocolate route, but still want to provide something to show your customers & audience that your business is sweet on them? Try our custom candy tins for Valentine's Day! Our Sweet Heart Candy Tins are made in the shape of a heart and are composed of recycled materials. Each holds your choice of wintergreen, peppermint, or cinnamon flavored hard candies. They make a perfect desktop gift for employees, but also will be a welcome addition to break rooms and reception areas. Kosher certification is available, broadening the appeal of these items. Even after all of the tasty candies have been consumed, these tins can live on to be employed in any number of capacities, providing a vehicle for displaying your brand name for years to come.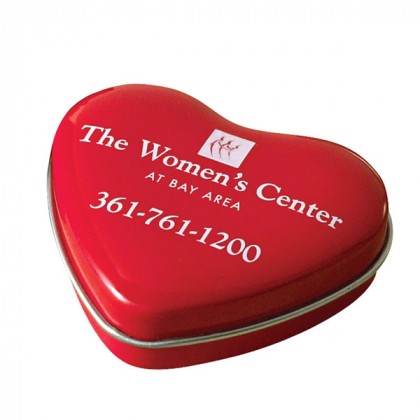 3. 2 oz Crazy Hearts Header Bag - Branded Valentine's Day Candy Gifts
The last candy gift items that we'll talk about today are our Valentine's Day candy bags with imprinted headers. Both the double-sided headers and the candies held in the bag below will be effective in grabbing eyes and demanding attention. Each of these 2 oz candy bags is filled with heart shaped candy pieces in colors of red, yellow, orange, purple, and black. Above the bag, you'll find a customized header which can be used to display your logo or special message in full color. Both sides of the header are decorated with your personalized design, with the front imprint area being 5 inches wide by 2.2 inches high and the back being 5 inches wide by 1.9 inches high. These make great gifts for children and adults alike and can work for virtually any business, school, or other organization.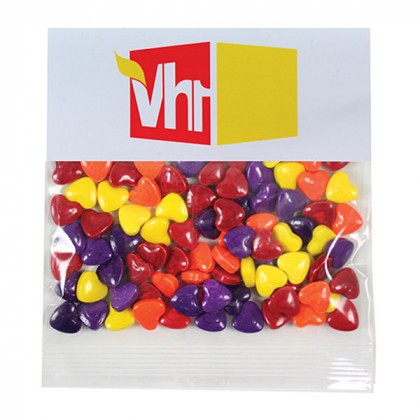 4. 11" Heart Shaped Fashion Color Balloons - Company Logo Valentine's Day Balloons
While you can't eat them, our promotional Valentine's Day balloons are a pretty sweet advertising giveaway item in their own right. These business logo imprinted balloons are eco-friendly, as they are made from biodegradable latex. They're available in 7 different colors, including wild berry, rose, red, white, clear, ivory, and pink. Each is filled with helium and has an average float time of 8 hours, allowing them to stay aloft while lifting spirits for a full work day. Made in the USA, these customized balloons have a diameter of 11 inches. Your company logo design appears front and center in one color. For a small upgrade fee, a second imprint location can be added. These work very well as custom Valentine's Day items, but also make great promotional products for celebrating anniversaries, weddings, birthdays, and more. Their versatility makes them a perfect pick for businesses, charities, schools, medical facilities, and more.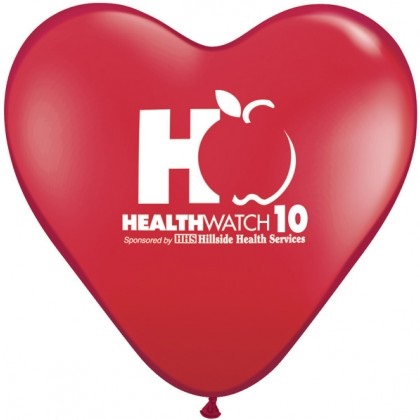 5. Full Color Heart Photo Keychain - Custom Keychains with Photos
When you want to give a special corporate gift that will last for a very long time, there are few choices better than our personalized Valentine's Day keychains. In addition to their longevity, the practical nature of these items ensures that they'll go everywhere users do, creating countless advertising impressions in the process. With a low minimum order quantity of just 6 units, these make great personalized gifts or rewards for recognizing a select and deserving few. They're sure to become beloved keepsake items, stoking the flames of powerful relationship marketing. White by default, these keychain gifts can be fully customized on one side with any photo of your choice, along with a special message. We recommend a high-resolution, high-quality photo for best results. In lieu of a photograph, you can choose to have a full color logo design imprinted on the surface. An upgrade fee makes it possible to decorate both sides with your chosen image. The fact that they're heart shaped makes them a natural choice for Valentine's Day, Mother's Day, birthdays, anniversaries, and more.
6. Giant Sized Fortune Cookie - Unique Promotional Cookie Items
Take a unique approach toward customer appreciation with our personalized Valentine's Day cookie gifts. These are another low minimum order product, with only 12 cookies being required per order. These aren't just any run-of-the-mill fortune cookies. They're utterly gigantic. Each is a whopping 7 inches in width by 5 inches in height. Dipped in your choice of white, dark, or milk chocolate and festooned with your choice of several different sprinkle options, these are fun & festive promotional Valentine's Day products. Their low minimum order requirement makes them ideal for small business employee gifts, maybe with one left over to send to your special someone to brighten their day! Every cookie is wrapped up in a clear cello bag which is tied by color-coordinated (to the sprinkles) ribbon. Inside of every cookie is a sheet of paper that is imprinted with your 11 inch long message. This could be a logo, message from the company, or fun fortune you come up with yourself. Give us a call and we'll help you get started.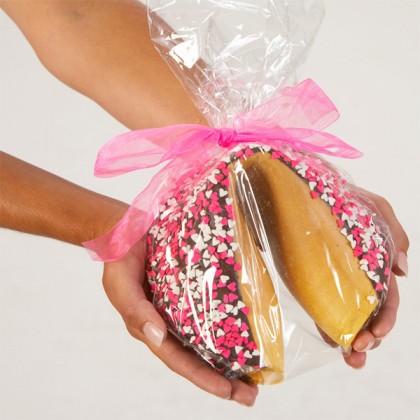 7. Mood Die Cut Heart Erasers - Branded Office Supplies
Our logo imprinted color changing erasers make for fun and functional promotional Valentine's Day gifts for schools. They're a great way for teachers, principals, and other education professionals to show fondness for their students. They're quite useful in the classroom, as they're just as effective as traditional erasers, only more fun. They warm up with the touch of a hand, changing color before users' eyes. This will delight and entertain children, as well as sending home the message that it's ok to make mistakes, just so long as one works to correct them. Four color combinations are available. Our blue erasers change to white, our purple erasers change to pink, and our green and orange erasers both turn to yellow. These erasers are die cut into a heart shape and imprinted with your school or business logo design.
8. Heart Recycled Tire Coaster - Eco-Friendly Promotional Valentine's Day Items
Show your love for your clients & target market as well as the planet with our eco-friendly promotional coasters! These environmentally-friendly promotional Valentine's Day items are made from 100% post-consumer recycled materials. The "Recycled Tire" isn't just a name - it's actually the material they're made from! Each one is molded into the shape of a heart and is black in color. A single-color white logo imprint is included by default, but multiple colors can be added to your logo design for an upgrade fee, provided the order number is of 500 units or greater. Both sides can be imprinted for an additional 14 cents per unit. These fun and Earth-friendly tire coasters make great promotional products for car dealerships, garages, and nearly anyone in the automotive business. They're also ideal for recycling centers. With their durable construction and unique appearance, these coasters will be around to protect tables and build brand awareness for years to come.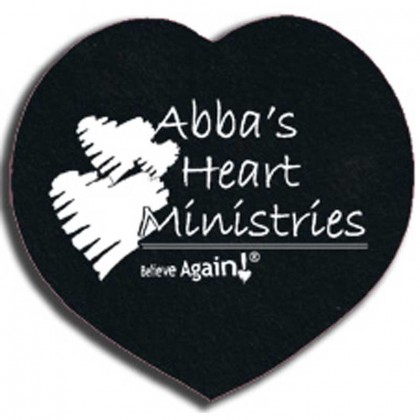 9. Heart Shaped Flashing Button - Custom Novelty Valentine's Day Giveaways
Want to break from the norm with some fun promotional giveaway items for Valentine's Day that are sure to bring some smiles? Then you need our Heart Shaped Flashing Button. Each is equipped with an attachment clip on the back, ideal for adhering to belt loops, pockets, cap brims, tote bags, and countless other items. Another key piece located on the back of each unit is the on/off button. This can be pressed to activate the flashing red lights on the opposite side, which are powered by two button cell (AG 13) batteries, which are included and inserted with every order. A front panel made from reflective plastic lies over the lights and is imprinted with your logo. In addition to bringing brand awareness and some Valentine's Day cheer, these items can also keep users safe and visible while outdoors at night and in inclement weather. Alternatively, they can be worn around the office to wish everyone a happy Valentine's Day in a fun and memorable fashion.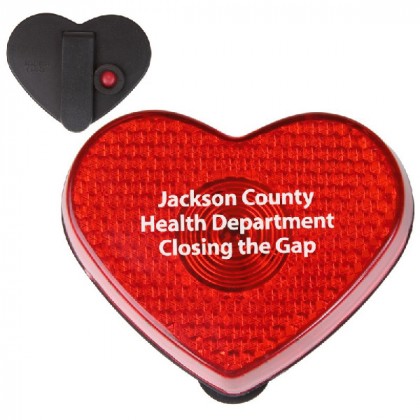 10. Heart Shaped Tape Measure - Company Logo Tool Gifts
This year, give out something that everyone can find consistently useful, such as bulk Valentine's Day tool gifts. One Heart Shaped Tape Measures are a perfect example. These are practical yet whimsical items that can be used for countless purposes by a virtually limitless demographic. Each is heart shaped and produced in a translucent red color and is appointed with an 18 inch white lanyard. This makes them easier to carry and harder to misplace. These novelty tape measures can measure up to 60 inches and come with a self-locking mechanism. This eliminates the worry of the measuring tape rolling back up in the middle of a project. A release button is located on the back side of each unit, sending the measuring tape back inside once the numbers have been recorded. These make great promotional gifts for kids, contractors, healthcare professionals, teachers, artists, and more. Each is imprinted with your logo in one color and location. Contact us today to learn of possible upgrade options.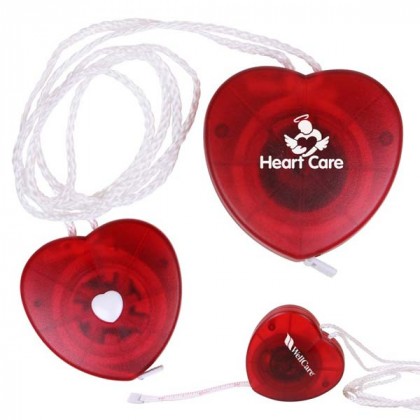 11. Memo Board Heart Magnet - Promotional Heart Shaped Dry Erase Boards
Valentine's Day promotional items such as our custom dry erase boards are fun and practical at the same time. Shaped like a heart, these promotional memo boards are mostly white, but have a red outline. Each one ships 100% free of charge, with some minor assembly required. For an upgrade fee, this assembly can be completed pre-shipping. Every unit is accompanied by a dry erase marker and holding clip. A magnet is attached in back, making it possible to affix these items to refrigerators, file cabinets, and any other desired magnetic surface. Kids and adults will both have fun writing down memos and messages on these boards, as well as releasing some creativity via adding some drawings. A full color message imprint is included, without any set-up charges. They're well-suited for use around the office, classroom, or in homes.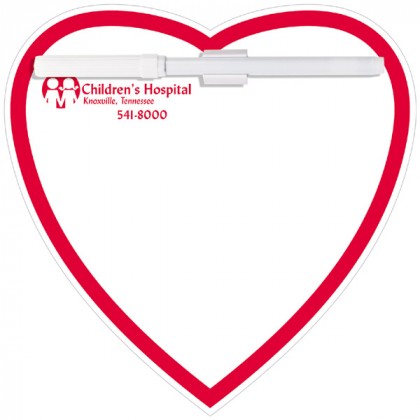 12. Heart Shaped Emery Board - Custom Valentine's Day Wellness Giveaways
Users can get ready for work, interviews, or even Valentine's Day dinner dates with our custom emery boards. A great complement to any of the items detailed in our custom personal care items blog post, these horizontally-oriented emery boards feature a cheery heart design on the left end. These are fun and affordable giveaway items that are ideal for giving away in bulk at trade shows and events. Spas, beauty shops, salons, pharmacies, and more will find these to be ideal promotional products for Valentine's Day. Each of these custom emery boards features Euro emery paper which is laminated atop wood veneer. Their small and portable design makes them easy to store and transport nearly anywhere, allowing for optimum nail care on the go. They come in your choice of yellow, pink, or natural wood color and feature a single color and location logo imprint. Full color designs are available for an upgrade fee. When ordering, please specify if you'd like a safe or full bleed imprint area.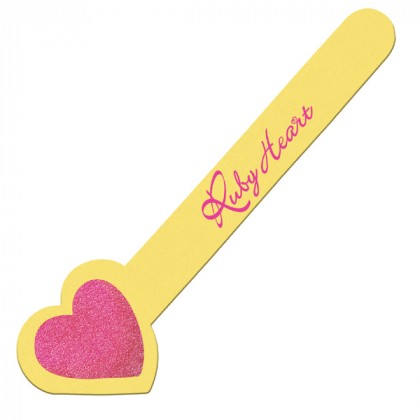 13. Sweet Heart Squeezies Stress Reliever - Imprinted Valentine's Day Stress Toys
As we've already stated, 2020 is a year that will be remembered for the stressful toll it took on nearly everyone. That's why starting out 2021 with promotional stress toys for Valentine's Day is a great strategy for helping your employees, customers, and target audience members feel some comfort and security. Giving a long and tight squeeze to a stress ball can bring much-needed relief when things get tense. Your brand can be the face of this calming comfort when you have your logo imprinted on our Heart Shaped Stress Relievers. These are wonderful giveaway items for trade shows and are also effective for spreading awareness for charities. They can even be employed as a homework tool of sorts for occupational therapy patients. At 3 inches wide by 3 inches high, they're a great fit for just about anyone to squeeze in one hand. Though a single color and location imprint come standard, logo designs in multiple colors and on both sides are accessible for an upgrade fee.
14. Stuffed Cat with Ribbon - Company Logo Valentine's Day Plush Animals
Anyone will have their heart warmed and day made when they receive personalized Valentine's Day stuffed animals. Just look at the image of our Stuffed Cat with Ribbon, located below this paragraph and try to tell us you wouldn't love to sneak it a quick hug. These adorable promotional Valentine's Day plush animals are designed to look like miniature Siamese cats. They have mostly white bodies which are accented by tan areas on the paws, ears, tail, and area around the nose/mouth. They're highly detailed, including a pink nose and beautifully embroidered blue eyes. Even the whiskers are included! The eyes create a realistic look that all animal lovers will enjoy. Each of these cuddly kitties comes with your choice of a logo or message imprinted ribbon or bandana. These items ship free of charge and make perfect promotional products for animal shelters and animal related charities, pet shops, toy stores, gift shops, and much more.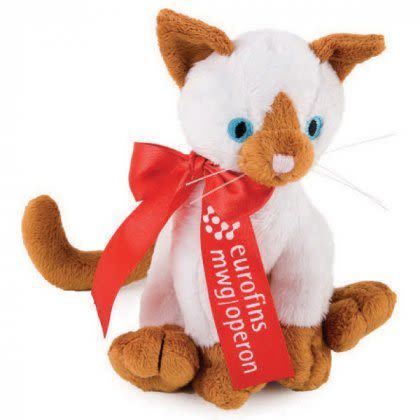 With the 14 above items now introduced and explained, we hope we've given you some great ideas for promoting your brand this Valentine's Day. If you have any questions about these or any of our other items, feel free to contact us at any time. Before closing things out (and at the risk of sounding a little mushy), we just want to take the time to say how much you and your loyal patronage mean to us. Dear readers, you have a special place in the heart of all of us at 4AllPromos!