Give the Gift of Organization: Promotional Calendars for Clients, Employees & More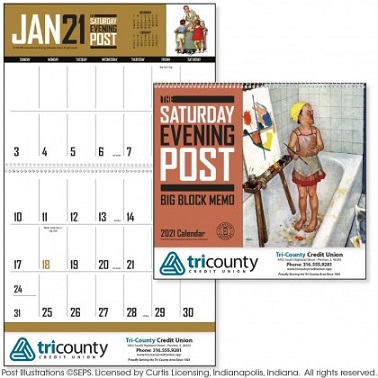 If you've ever sent promotional calendars to your customers at the end of the year, you know that they're always highly appreciated gifts. Many people hang them up in the kitchen at home or by office desks for easy viewing access. However, the best thing (for your business) about these items isn't that they keep track of important dates and meetings. Rather, it's their ability to always keep your business name and contact information in view.
There are so many different calendar options to choose from that it's only natural to get a little overwhelmed. From beautiful landscapes to adorable animals, there's sure to be a suitable design in our inventory to perfectly represent your business. We even have mini designs that are excellent for keeping in a desk drawer or handbag!
We encourage you to read the full article to learn about all of the promotional calendars we have to offer. However, if there's a specific type you're interested in, please feel free to skip ahead to it by way of the link menu below this paragraph.
Different Types of Custom Calendars for Businesses
From muscle cars to scenes from across the globe, our custom wall calendars are a great way to impress your customers. Printed on premium paper in quality inks, these calendars feature beautiful imagery. They will proudly decorate any wall from the start of the year well until the end. In the case of our 13-month calendars, they'll stay up even longer than that. Plus, there's plenty of room for writing in important appointment reminders or notes. This is something your customers are sure to appreciate.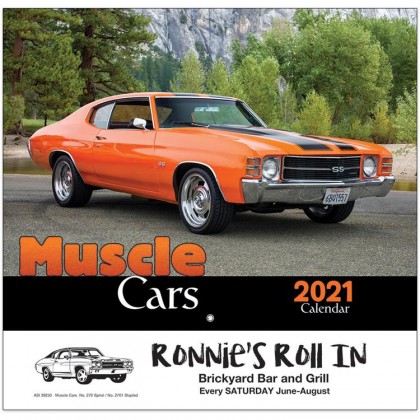 Most importantly, these calendars feature space to add your company name, logo, or contact information. This allows your clients to keep your details in a convenient location all year long, making it easy to get in touch when they need the products or services you offer. This produces a winning scenario for everyone!
There are times where a business will want to go above and beyond with giveaways. It's always great to give your audience a promotional item that's as exquisite and memorable as the services your company provides. In such cases, our premium wall calendars are an excellent option. Choose from a wide variety of upgraded imagery, such as reprints from The Saturday Evening Post or Life's Little Instruction Book. There are even niche designs like folk art, silly monkeys, and scenes from the American West.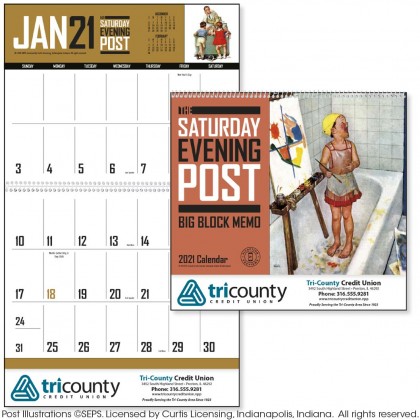 All of the designs available in our premium wall calendar inventory include ample room at the bottom for adding a full-color logo, company name, contact information, or slogan. Your recipients are sure to love hanging these high-quality calendars on their wall for the entire year to come.
When your business wants something small and handy to give out to customers, our custom press and stick calendars make a wonderful addition to any giveaway bag or gift basket. Available in dozens of styles, shapes, and colors, these tiny but efficient calendars easily adhere to any surface. From the side of a desk to a refrigerator or the edge of a filing cabinet, the possibilities are nearly endless!
If budget is a major concern, these promotional 13 month calendars are among the most cost-effective items at your disposal. At only a few cents each, these sweet custom commercial calendars are an excellent option to meet your needs.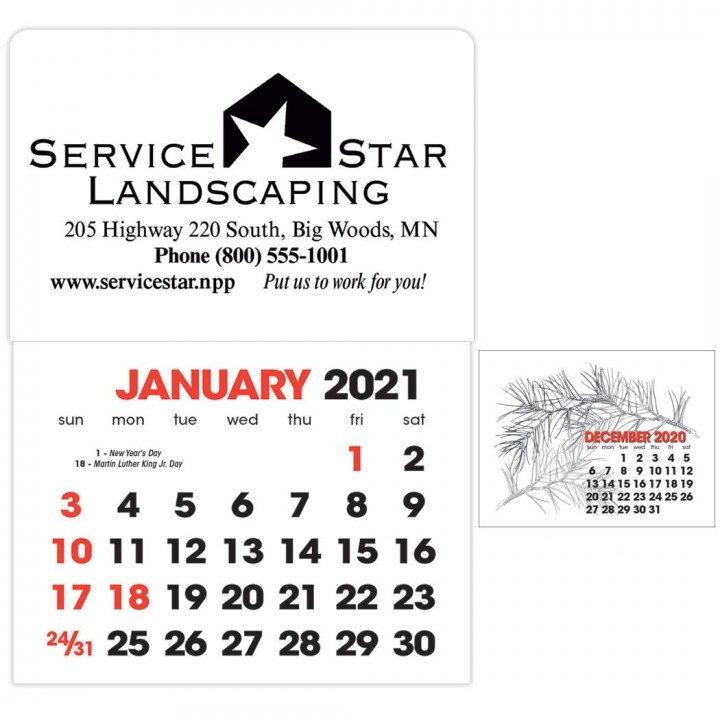 It's often been said that good things come in small packages. That old axiom has been proven true many times. We're about to prove it yet again by way of our 2021 custom mini calendars. These tiny calendars are ideal for handing out to clients and customers to help them stay organized in the new year. Charities, churches, sports teams, and schools will also find success in giving out these compact and cost-effective promotional gifts.
We also offer business card magnet calendars that adhere to any smooth metal surface. Plus, our computer keyboard calendars are ideal for keeping on hand at desks and workstations. With so many compact calendar options to choose from, you might just be tempted to select a few different styles!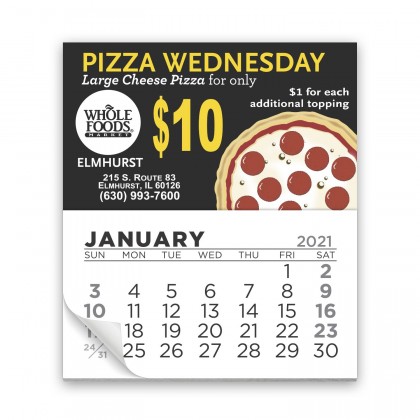 If your company operates in the business-to-business sector, consider our promotional desk pad calendars. With plenty of space to write down important events, these giant calendars are designed to keep your recipients organized throughout the coming year. Extra room at the bottom for your contact information ensures that users have your name and phone number ready whenever needed.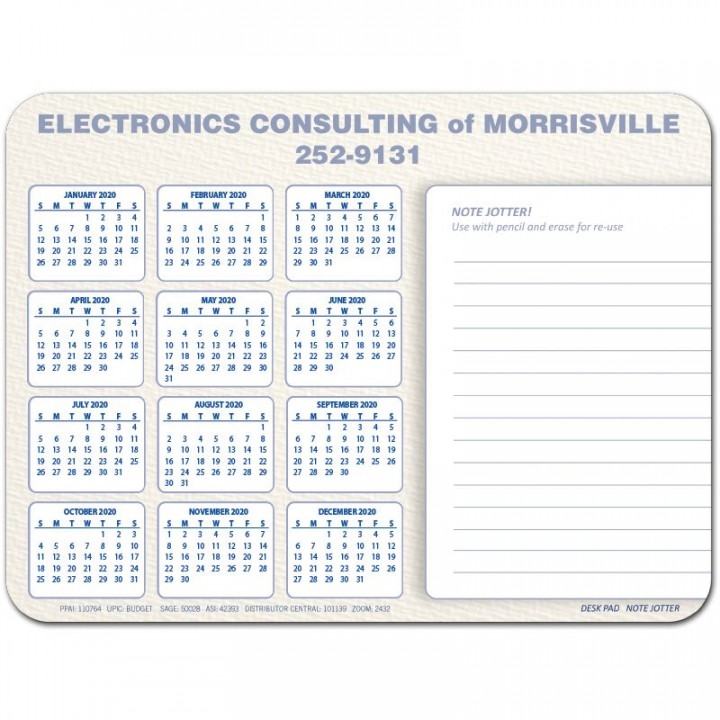 These desktop calendar pads also make great gifts for your employees. They'll help to ensure that their workstations stay organized and look professional. By having one on each desk, you can cut down on the overall amount of papers and sticky notes cluttering up limited space. In addition, the cushion from the pad also helps minimize damage to a desk's surface.
Some people like a small agenda style planner to carry along in a purse or laptop bag. For such a demographic, our 2021 budget pocket planners are a great option. Each customized leatherette monthly planner, such as the Leatherette Planner pictured below, features a sturdy cover and plenty of room to jot down important notes and due dates. These are especially handy for teachers and schools to give out to students. They can go far in helping to teach valuable time management and planning skills.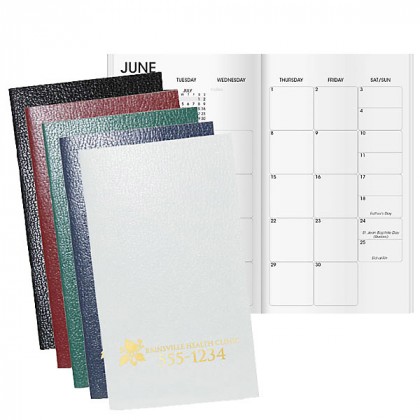 Looking for 2021 planners in bulk? We can help with that, too! There are numerous opportunities for savings and customization when you order our pocket planners in large quantities.
Celebrate the New Year with Calendars from 4AllPromos
With so many custom appointment wall calendars to choose from, it might be difficult to narrow down which design you want to use to promote your company. The great news is that the friendly and knowledgeable staff at 4AllPromos is here to help answer any questions you have along the way. From the requirements for imprinting to information on the price breaks provided through bulk ordering, we can help you navigate the process from start to finish.
Are you ready to help clients and potential customers remember who you are throughout the new year with one of our fully customized calendars or pocket agendas? Please contact the 4AllPromos team today for pricing and available options!