Make Halloween Safe, Fun & Successful with our Top Ten 2019 Halloween Tote Bags!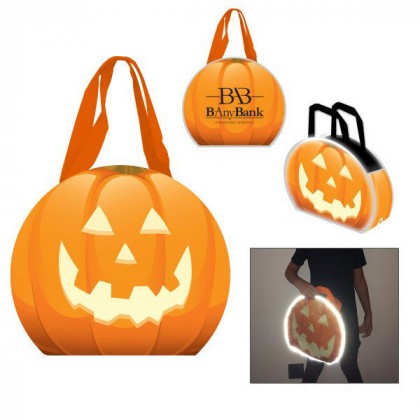 A Happy Halloween (a few weeks early) to all! As everyone knows, Halloween can be a lot of fun for kids, but its potential often goes unrecognized by businesses. If you play your cards right and use the best Halloween promotional products, this holiday can be a goldmine. That's why we want to share with you our Top 10 Best Picks for promotional Halloween Bags for 2019. Each specimen comes from our collection of wholesale promotional Halloween bags. When you have your company logo imprinted on trick-or-treat bags, you'll have mobile advertising all over town. In addition to this, many of our custom Halloween candy bags are fully reusable, so a one-time investment can lead to years of brand-awareness generation.
Since Halloween can only truly be fun if it is safe and free of accidents and injuries, we're going to conclude this article with some very important Halloween safety tips for trick-or-treaters. With that said, we'll now get to the subject at hand and introduce our best custom Halloween bags, listed in no particular order.
1. 13x13 Halloween Ghost Tote
The first promotional Halloween bag we'll discuss is our 13" x 13" Ghost-themed custom Halloween tote bag. As its name would imply, this bag is 13 inches tall and 13 inches wide. What its name doesn't reveal is that it has a 5" deep gusset and that it is made out of 80 GSM non-woven polypropylene. Being that it's made of fully recycled materials, is fully recyclable itself, and is reusable, it's one of the most eco-friendly promotional Halloween bags you can find. Its 18 inch polypropylene handles ensure easy carrying for the heaviest of candy plunders.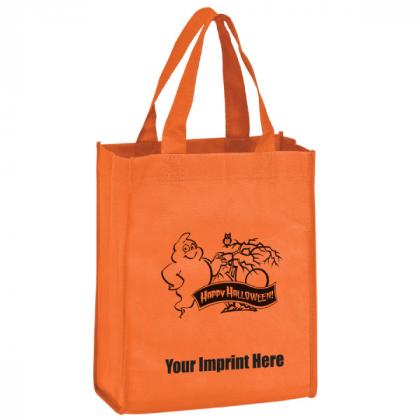 The bag itself is bright orange, which allows for maximum visibility. It is decorated with a festively creepy yet friendly ghost beside a bare tree housing an owl and a full moon in the background. Your company logo is imprinted in a 6 to 8 inch wide by 3 inch high imprint area directly below the main decorative image. This is a great buy for recycling centers, nature centers, and parks who want to help kids make a positive impact on the environment while engaging in their Halloween fun. 
2. Silver Reflective Ghost Bag - 11 x 15
If a custom imprinted reflective Halloween bag is what you'd like to have your business logo appear on, this is the bag for you. Constructed of 2.5 mil low density film plastic, this treat bag has a metallic silver coating for maximum reflective visibility. When it comes to safe trick-or-treating, this bag stands head and shoulders above the competition. It stands 15 inches high and is 11 inches wide. It lacks gussets, but that's not a bad thing; it actually makes for easier folding and storage. Die-cut handles make for easy, no strings attached (literally) carrying for little hands.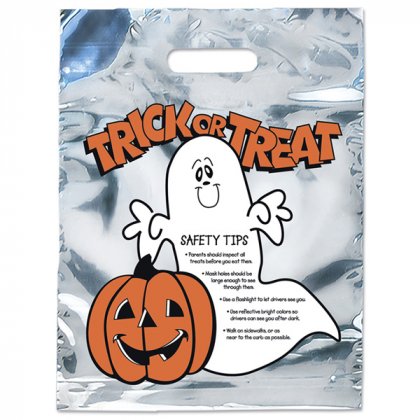 The artwork on this promo Halloween candy bag features a friendly ghost accompanied by a smiling pumpkin. The ghost character offers many wise safety tips, which parents should review with their children. Your company logo is imprinted on the reverse side of the bag in a 5" x 5" imprint area. Flexographic ink is used both for the standard artwork and your business logo. This is an eco-friendly, water based ink that renders a smooth and sleek look. This bag makes an excellent Halloween promotional product for schools, libraries, toy stores, and grocery stores. It also ships 100% free of charge!
3. Natural Kraft Pumpkin Halloween Shopper Bag
Next up is the only promotional paper Halloween candy bag on our list. Our Natural Kraft Pumpkin Paper Shopper Bag. It's another eco-friendly choice, as it is constructed from 100% post-consumer recycled paper. Part of why it's a top ten pick is due to the durability of the paper used, as well as the sturdy twisted paper carrying handles. This a medium sized promo Halloween bag, with its dimensions standing at 10" wide by 13" high by 5" thick. The 5" deep gussets allow for a hefty portion of candy to be toted around without fear of rips. 
As can be seen in the image above, this is a highly decorative bag. Its sides are decorated with a black and orange candy motif, while the front of the bag is undeniably a tribute to autmn. A grinning Jack-O'-Lantern is framed by falling leaves and a banner wishing all a Happy Halloween. Your custom design appears in a 7" x 3" imprint area on this custom business logo imprinted paper Halloween bag. As with the Haunted House Metallic bag mentioned above, this promotional trick-or-treating back is decorated and imprinted with flexographic (flexo) ink. It's an especially good fit for grocery stores, book stores, or any retail outlet that frequently makes use of paper bags.
4. 13" x 15" Non-Woven Die-Cut Handle Halloween Bag
As you might have noticed, this is the second non-woven polypropylene Halloween bag to chart in our top ten. However, it is a very unique bag in its own right. At 13" wide by 15" high by 3" deep, this is a tall candy bag that will have no trouble accommodating everything the neighbors have to hand out. This is one of our most eco-friendly promotional Halloween bags, with its construction being made up of 20% post-industrial recycled materials. It's also reusable and recyclable, leaving a small footprint as small feet carry it throughout the night. Its black and white design provide the perfect contrast to make for delightfully eerie artistic designs. Choose from a ghost, vampire, haunted house, or any of our other available Halloween clip art themes on one side and your business logo on the other.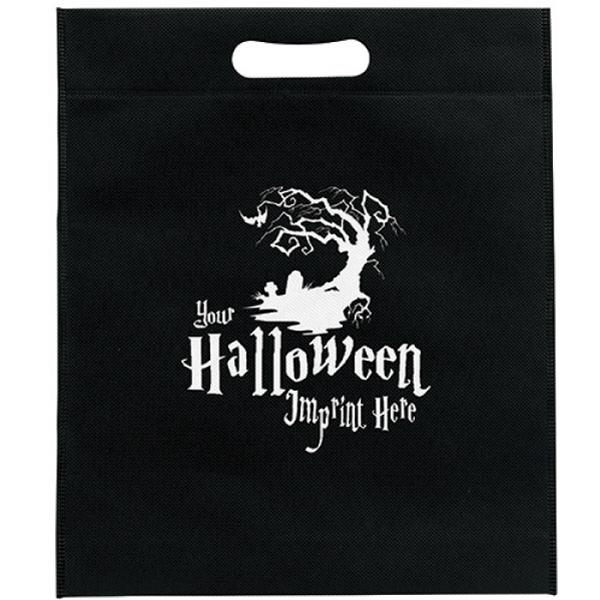 Alternately, you can have one side decorated with a Halloween design and the other with your logo. Thirdly, you can have BOTH sides imprinted with your custom company logo design. Your options are many when it comes to this promotional Halloween tote. Regardless of how they are ultimately decorated, all of these eco-friendly Halloween totes have die-cut handles and a fold over top, which makes for easy carrying and prime candy real estate. 
5. White BOO Halloween Bag
A white candy bag makes for some powerful color contrast on a dark Halloween night, bolstering safety. That's just one aspect of the safety this promotional plastic trick-or-treat bag brings the table. In addition to the increased visibility its white color provides, it also is imprinted with several safety tips to make sure that kids know just what to do and not to do when engaging in their Halloween adventures.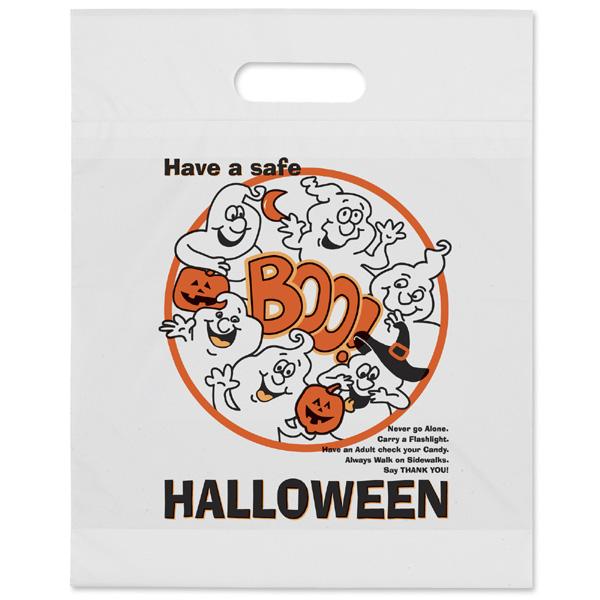 Lots of tasty treats can fit into this bag, as it sports dimensions of 12" wide by 15" high by 3" deep. It is made of lightweight 2.5 mil plastic which is easy on the hands, but tough against rips. The front of the bag, in addition to the safety tips, the front of the bag is decorated with a flexo print graphic of several playful ghosts and Jack-O'-Lanterns along with wishes for a Happy Halloween. The reverse side is where your business logo resides, which is also imprinted by way of flexo ink. It is 100% recyclable, so even if it only sees action on one Halloween, this bag will live on and prevent waste and environmental damage.
6. Reflective Jack-O'Lantern Shaped Halloween Bag
If you want to ensure that everyone, and we mean everyone, can see your favorite trick-or-treaters, then this custom business logo imprinted reflective Halloween bag will meet your expectations and then some. Its crowning feature is its reflective piping, that allows cars to see it from up to 300 feet away! This is the kind of peace of mind that very few other Halloween bags can even dream of offering. It's also quite the sturdy little trooper, with a 3.2" gusset to hold plenty of candy and treats. 15" handles allow for either hand-gripped or over-the-shoulder carrying, adding an extra element of versatility.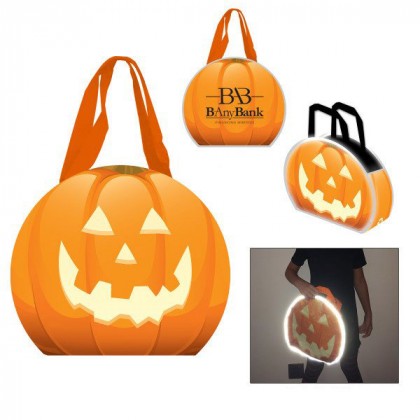 This bag really gets into the Halloween spirit, as it is printed and shaped to look just like a brightly lit Jack-O'-Lantern. It is constructed of environmentally-friendly laminated non-woven polypropylene. The lamination adds to the durability and visibility factors, making this one of the toughest and safest promotional Halloween tote bags on the market. In terms of size, it is 13.8" wide by 11.8" tall and features a 3.2" gusset. This company logo imprinted Halloween bag offers a generous 6" x 7" imprint area, on the opposite side of the smiling pumpkin face. It is made of 100% recycled materials and is 100% recyclable itself.  Any retail business, nature center, recycling center, or small local business will love the positive environmental messages they can send out while having their customized logos displayed all over town on these bags every Halloween night for years to come.
7. Party Time Pumpkin Drawstring Backpack
If a promotional Halloween drawstring backpack is a better fit for your business than a traditional bag, you'll want to pay close attention to our Party Time Pumpkin Drawstring Backpack. Capable of carrying 6.5 lbs of candy (or whatever else one chooses to put in it), this festive drawstring backpack is made of sturdy 210D polyester. It also comes with grommet reinforced soft nylon shoulder straps for supreme comfort. When it comes to hands-free trick-or-treating, there's simply no better pick than this custom imprinted Halloween backpack. Its drawstring closure also guarantees a spill-free experience, so kids will be able to focus on watching where they're going rather than worrying about a rogue chocolate bar or gumball evading their grasp.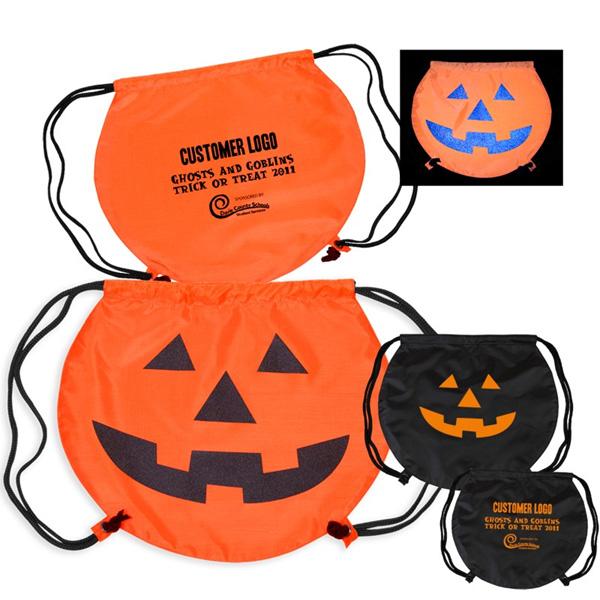 This Halloween-centric drawstring backpack is 17" tall and 14½" inches wide. One side is decorated with a Jack-O'-Lantern stock art design, which is imprinted by way of reflective ink. Choose from an orange pumpkin with black features, a black pumpkin with orange features, or an orange pumpkin with blue features, as shown above. This custom business logo imprinted Halloween bag features your company logo on the reverse side. Screen printed logos are standard, but for orders of 250 or more, full-color imprinting is also available. We highly suggest going with the latter, as it will create a logo and graphic that will really jump and draw eyes wherever it goes. Costume shops, grocery stores, and book stores would all be well-suited by this pumpkin backpack. It also makes a great promotional product for schools, especially elementary schools who take part in Halloween costume parades. 
8. Orange Frosted Pumpkin Shopper Tote
This is one of the more unique promotional Halloween products on our list. When you really think about it though, it's not so much of a stretch; many regions experience their first frost right around Halloween, so why not have a double celebration with a frosted Halloween tote bag? This promotional frosted Halloween tote is constructed of semi-transparent orange 3.1 mil plastic. While not everyone associates plastic bags with environmental friendliness, we feel it's important to mention that these particular bags are 100% recyclable.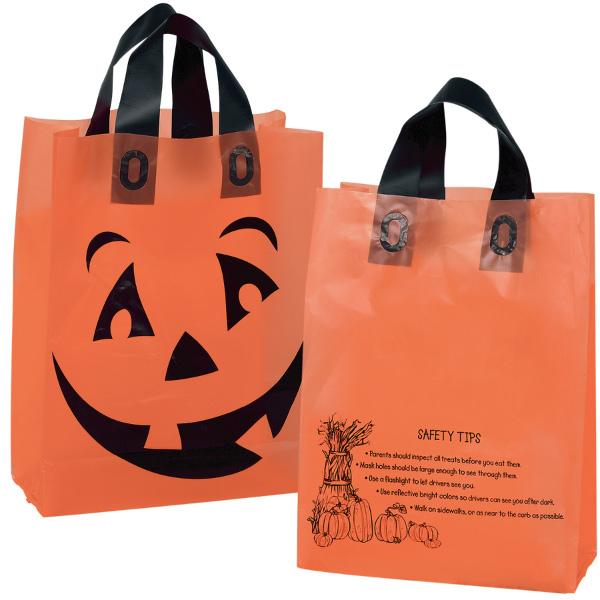 These Halloween shopper toes offer plenty of room for tasty cargo. They stand 13 inces tall, are 10 inches wide, and have 5 inch deep gussets. Eco-friendly flexo ink printing provides a fun smiling Jack-O'-Lantern design on the front of the bag, with your company logo imprinted on a 4½" x 5" area on the reverse side. Below your custom logo imprint, you'll see another list of helpful Halloween safety hints. Keeping kids safe while providing treasured memories of Halloween fun is a powerful way to build brand loyalty and emotional bonds with your company. Any school or family style business would be well served to invest in one of these bags. Grocery stores, libraries, restaurants, clothing stores, pharmacies, and toy stores are just a few of the entities for whom this frosted Halloween tote bag would be a perfect fit.
9. Cat and Pumpkin Die-Cut Handle 12" x 15" Trick or Treat Bag
One of the best promotional products for Halloween that fall under the candy bag umbrella are our Cat and Pumpkin Halloween bags with die-cut handles. These 100% recyclable plastic trick-or-treating bags are made of extra glossy 2.5 mil plastic which not only provides a sleek look but also enhances visibility at night. Its die-cut foldover handles keep candy bounties safe and provide a comfortable gripping surface for little hands. Since we haven't explained it yet and not everyone is familiar with the term, the "mil" number for plastic materials refers to the thickness of the plastic. 1 mil is equal to one-thousandth of an inch, or 0.0254 millimeters. Therefore, a 2.5 mil plastic bag is .0025 inches or .0635 millimeters. It may sound thin, but most plastic bags you'll see in grocery stores are less than 1 mil thick, so a 2.5 mil plastic bag is more than capable of holding large loads of candy and are tough enough to see multiple years of Halloween usage.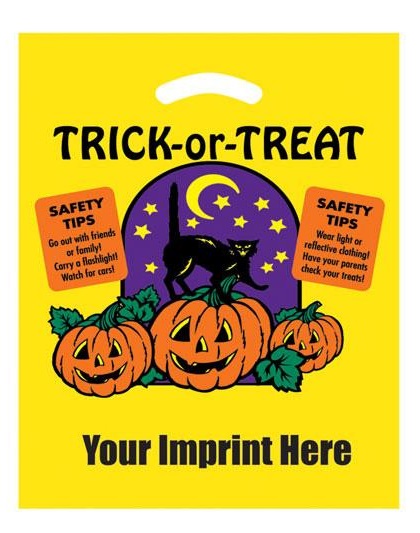 Animal lovers of all ages will enjoy the black cat design that this promotional Halloween item features. It's cute and friendly with just the right degree of Halloween attitude to keep the spookiness factor in the picture. The black cat tiptoes across a patch of pumpkins against a starry night sky while imparting some Halloween safety wisdom. This bag is an excellent accessory for anyone who dresses as a black cat for Halloween and will add some needed bright color to their otherwise darkness-concealed wardrobes. This promotional plastic Halloween bag stands 15 inches high and is 12 inches wide, making it one of our larger options. Your company logo is imprinted in flexo-ink directly below the main graphic, in a 8 inch wide by 3 inch high imprint area. It's a great match for businesses who feature horizontally oriented logos or who wish to include long messages in their imprints.
10. Halloween Art Cinch Up Backpack
 Our Halloween Art Cinch Up Backpacks are personalized Halloween drawstring backpacks made from sturdy 210D polyester.  They're reusable, which is good for the bank accounts of your business as well as those of buyers. A sturdy candy bag with a fun design is a promotional product that will see years of use, allowing this year's investment provide extensive mobile advertising for many Halloween seasons to come. Twin drawstring shoulder straps and a cinch closure top add convenience and comfort and a bit of a unique spin to these customizable trick-or-treat bags.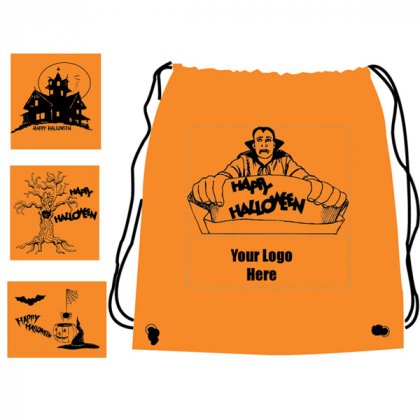 As can be seen above, these custom imprinted Halloween trick-or-treat bags come in multiple styles. Design styles include a Vampire motif, Haunted House, Creepy Tree, or Halloween scene with spiders, bats, Jack O'Lanterns, and witch hats. The actual bag is orange, but the artwork will be in the same color as your logo imprint. Want to change that? For an upgrade fee, multiple color imprinting is available. This custom Halloween drawstring candy bag is 14.5 inches wide by 17.5 inch. The imprint area resides below the stock art graphics and varies based on the theme you choose. Please give us a call, email, or live chat message to learn more.
We hope you've enjoyed your look at our Top 10 Picks for the Best Promotional Halloween Bags of 2019. Stay with us though, because this article isn't finished quite yet. As promised before, we'll now share with you 10 important Halloween safety tips. While we're certain you already both preach and practice Halloween safety with your children, the protective instinct inside of us won't allow us to omit this list of helpful hints to ensure that children everywhere have as fun an safe of a Halloween as possible. 
Ten 2019 Halloween Safety Tips for Parents & Children from 4AllPromos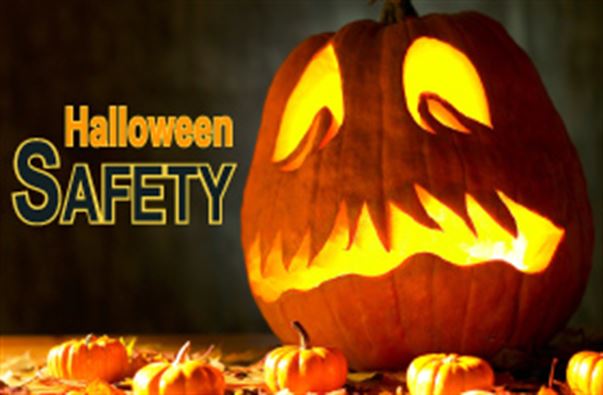 1. Make sure all costume masks have eyeholes.
It's important that kids can see where they're going at all times. It's a good way to prevent both serious and minor injuries, as a full field of uncompromised vision will help children to avoid all hazards, both big and small. Plus, it allows them to better remember which houses are stingy with candy (or worse yet, don't offer any) so they can plan the next year's trick-or-treating accordingly.
2. Have parents check all candy before it is eaten.
Most any kid will want to dive right into their candy as soon as they get home. Remembering the thrill of returning home with a king's ransom of candy helps us to understand their enthusiasm, but the philosophy of an ounce of prevention being worth a pound of cure will never grow outdated. Even if it is completely unintentional, some undesirable items may be handed out to trick-or-treaters. After you inspect every piece of candy for safety, all you'll have to worry about is lecturing your kids on not eating everything in one night.
3. Don't go it alone - make sure your children are accompanied by an adult.
No matter what type of neighborhood you live in, you don't want your children to wander unsupervised at night. On top of stranger danger, there's a lot of mischief to be found on Halloween night. You don't want your kids to inadvertently walk into it or create any of their own. Additionally, unescorted children are at a higher risk for getting lost, especially when the allure of free candy may pull them beyond their usual stomping grounds.
4. Bring a flashlight.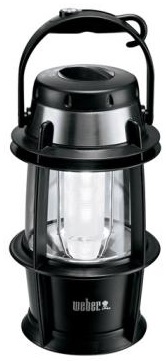 Even with sufficient mask eye holes or an absence of masks altogether, it's still very important to have illumination in one's trick-or-treating travels. A trusty flashlight or lantern will help to spot potential stumbling hazards and to spot cars in the distance whose drivers have neglected to turn on their lights. Ordering some promotional outdoor flashlights along with your custom Halloween bags is a safety bolstering cross-promotion that never fails. 
5. When possible, have children wear bright, reflective clothing. Alternately, or additionally, make reflective devices a part of the plan as well.
We're sounding like a broken record at this point, but we cannot overemphasize the importance of visibility when it comes to trick-or-treating. You want to eliminate every possible danger your children can face, and ensuring that motorists can see them at all times is one of the most important steps toward achieving this. Brightly colored, reflective costumes, in addition to our promotional reflective Halloween bags, ensure awareness and visibility on the part of all motorists, bicyclists, and pedestrians.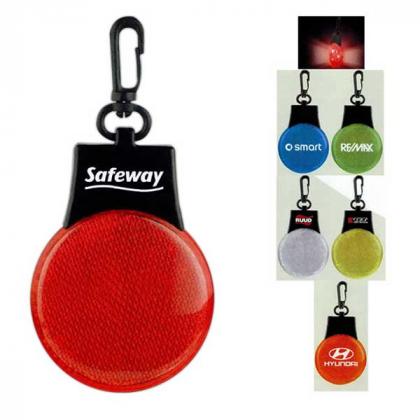 If a dark halloween costume is desired, our promotional flashing reflective lights can clip to bags, belts, sleeves, shoes, or any other article of clothing to be 100% visible, 100% of the time.
6. Be Wary of Strangers
If you have older children who are on the verge of adolescence and insist on trick-or-treating in their own peer groups without an adult to chaperone, make sure they are warned not to speak with/accept candy or rides from strangers. They'll by no doubt be annoyed by the repeated warnings, but it never hurts to really send the message home.
7. Don't wear costumes that reach below ankle level.
While a ghost costume might look a little more spooky if the sheets are trailing along the ground, they still spell trouble. Loose fabric that extends below ankle level can create dangerous tripping hazards.
8. Stay on sidewalks and always use crosswalks.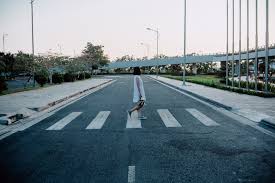 Sidewalks are there for our safety, so we might as well use them. They're free of all non-pedestrian traffic and often tend to have direct streetlight coverage. When crossing the street, it's important that kids always look both ways and use crosswalks when they're present. Even if there's no immediate crossing traffic, always obey walk/don't walk signs. A walk sign means a red light for traffic and a safe and clear crossing for pedestrians.
9. Only trick-or-treat in familiar neighborhoods.
By staying in neighborhoods you know, you can ensure that Halloween treats will only be received from people who you know and trust. Plus, you don't want to encroach on other kids' candy turf. That's just asking for trouble.
10. Always watch out for cars.
Even if you're staying on sidewalks, using crosswalks, or not crossing streets at all, motor vehicles can still pose a safety hazard. Keep your eyes peeled for cars backing out of driveways, coming into and/or out of apartment parking lots, or speedy vehicles taking blind curves in a reckless fashion. 
That just about wraps up this article. We hope you found it informative and enjoyable. If there's anything you feel we left out, especially in regard to our safety tips, feel free to leave a comment. 
Have a safe, fun, and happy Halloween!!!