Make a Study of Our Back to School Promotional Products - Crayons, Backpacks, School Supplies & More!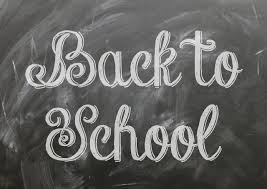 Well once again, here we are getting ready to roll out all of our back to school promotional items. To kids who are trying to enjoy their summer vacations, this can be a bit of a grim reminder that the days of fun & sun are dwindling. To those of us in the promotional school supply industry, and to those who buy said promotional school supplies & customized office supplies, this time of year presents a golden opportunity. That opportunity comes in the form of finding the best promotional products for schools & promotional office supplies at low wholesale prices in bulk quantities.
Custom school supplies encompass a broad range of different promotional classroom products & bulk giveaway items for education trade shows. That's why we're providing the menu below to break things up a bit and allow you to jump directly to the category that interests your school or business the most. Still, we recommend reading this guide to the best promotional back to school supplies in its entirety, so as not to miss out on any of the sensational bargains described within. Without further ado, we'll get to that menu now.
Buy the Best Promotional School Supplies in Bulk from 4AllPromos
We'll start out with the most basic discount promotional school supplies by telling you a little bit about the custom logo imprinted pencils for schools that we carry. We'll quickly introduce you to six different styles in the section below.
Buy Write Pencils - Cheap Custom Imprinted Pencils for Schools
Our Buy Write pencils are aptly named, as they're a great buy and offer a firm and effective writing experience. These discount promotional pencils for schools are made from natural wood and feature #2 graphite. This makes them a natural choice for standardized tests and any forms that need to be processed, as #2 is, in nearly all such cases, the preferred graphite style. Each of these personalized pencils has a high-density rubber eraser, attached to the pencil via an attractive brass ferrule. Available in many different colors, these custom logo imprinted pencils make for great bulk back to school supply gifts and will do your school or business logo proud when imprinted with your design. Their standard size of 7½ inches long makes them a great fit for desks, purses, pocketbooks, pencil cases, and nearly any other storage device you'd like to use.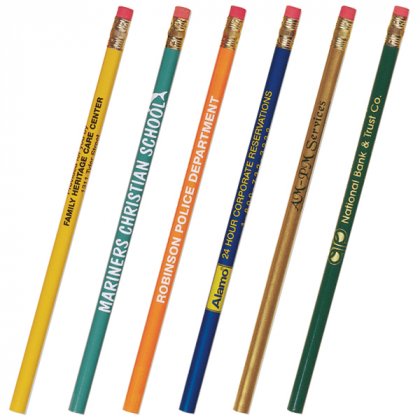 Hex Pencil - Best Customized Hexagon Pencils
Next up in our list of the best bulk school supplies are our Hex Pencils. These custom hexagon pencils get their name from their shape. Each has six sides which are more wide and flat than what you'd see in a standard pencil. Balance and control is the name of the game, as they're specifically designed to stay in place and not fall off desks or out of users' hands. Our custom hexagon pencils, despite their distinguishing features, are still #2 pencils. The number of a pencil actually refers to the hardness of the graphite inside, with #2 graphite providing the right balance of sturdiness, control, and weight to produce marks that aren't too light and scattered or too dark and piercing. 
Our promotional hexagon pencils can be ordered in several different colors, though when it comes to your logo imprint, gold, silver, white, and black are recommended for prime visibility. Each one offers an imprint area containing three lines of straight line text, comprised of 35 characters. For an extra one cent per pencil, they can be sharpened prior to shipping. If you like a thick and sturdy pencil that won't go anywhere unless firmly directed to, you might also want to take a gander at our personalized carpenter pencils with logo imprints.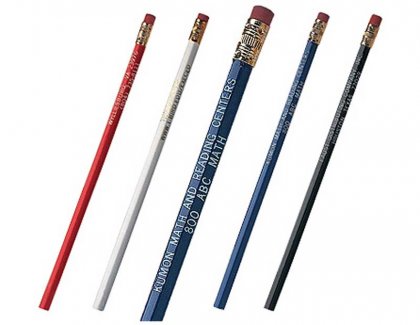 BIC Pencils Color Connection - Personalized BIC Pencils
When it comes to the best personalized BIC pencils for back to school promotional products, BIC Color Connection™ pencils are a cut above the rest. With white barrels and so many different colors to choose from with respect to the erasers, ferrules, and logo imprints, this collection of bulk BIC pencils offers more than 100 different color schemes. With all of these color matches, you're sure to find one that's the perfect fit for your school or business logo. As if that didn't make these items tempting enough, they also ship absolutely free of charge! Each of these customized BIC pencils measures in at 7½ inches long and offers an imprint area spanning 4 inches in width by ¾ of an inch in height. 
Mood Pencil with Colored Eraser - Fun Promotional Novelty Pencils
Moving on, we'd like to show off some of our custom novelty pencils. They're fun, functional, and fabulous and promotional school giveaway items. The particular models we're showing off here are our Mood Personalized Color Changing Pencils with colored erasers. As show in the image below, these pencils change color when in contact with body heat. When gripped in a student's hand, they'll quickly change color before their eyes. Each changes in a specific way. For instance, bright green turns bright yellow, dark blue turns light blue, dark teal turns green, orange turns to light yellow, purple changes to pink, and red changes to bright orange. You also get to pick the eraser color of your choice, making these items that will be hot-sellers at office supply stores and customized school supplies that will put the "fun" back in learing the fundamentals. Need further convincing? Here it is: these wholeslae color changing pencils ship absolutely free of charge! 
If you're interested in our customized Mood color changing pencils, we also encourage you to click the following link (it opens in a separate window) to take a look at our promotional paw print pencils.
Prang Colored Pencils - Colored Pencils with Logo Imprints
We'll now shift from color changing pencils to pencils that write in color. As can be seen in the image below, one of the available bulk back to school supply giveaways on our site is our sets of Prang wholesale colored pencils. Our custom logo imprinted color pencil boxes house five different pencil colors: orange, yellow, green, blue, and red. These PMA Certified non-toxic colored pencils make great promotional school supplies for art teachers, elementary schools, preschools, and office supply stores. The boxes are made of sturdy cardboard and are blue and white in color. While the pencils are 3.5 inches long, the boxes are 3¾ inches wide by 1½ inches high by ⅜ of an inch deep. A one color logo imprint comes standard, but for an upgrade fee, a second imprint color can be added. 
BIC Media Clic Mechanical Pencils - Wholesale BIC Mechanical Pencils
Many people (including the author of this post) have a fondness for mechanical pencils. Their precision allows for excellent penmanship and their simple push/click design eliminates the need for returning visits to the pencil sharpener. Like many of the other pencils we've discussed in this article, buying our BIC wholesale mechanical pencils in bulk can be done free of shipping charges.
In terms of design, our personalized mechanical pencils are available in black, navy blue, and white, complemented by white accent trims. All of them come with three .7mm graphite inserts, giving them some added longevity. Even when the included inserts run out, they can easily be replaced. Standing 6 5/32 inches long, our custom logo imprinted mechanical pencils offer a logo design area measuring 2⅛ inches wide by ¾ of an inch high. For an upgrade fee, a second logo imprint area can be added on the clips. 
Not a BIC fan? No worries! We also offer multiple styles of custom logo imprinted Pentel mechanical pencils.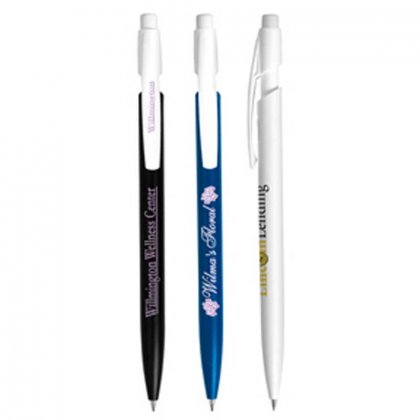 Now that we've given you the lowdown on our best custom pencils for back to school giveaways, we'll turn our attention toward our bulk logo imprinted crayons & personalized jumbo sidewalk chalk offerings.
3-Pack Crayons - Promotional Back to School Crayon Packs
Perfect as promotional back to school giveaways or as personalized children's gifts for restaurants & dental clinics, our three pack crayons are always a hit with the youngsters. These promotional crayon packs for schools contain crayons in the three primary colors: red, yellow, and blue. Made of non-toxic wax and fully compliant with ASTM D4236 regulations, our bulk crayon giveaways are housed in 3½ inch wide by 1⅛ inch high boxes. Every box is decorated with your personalized logo design. Customoize your own bulk school supplies by placing your logo inside of the 2⅛ inch wide by ¾ inch high imprint area. By default, each box is printed in one color and on one side. Upgrades are available, so please don't hesistate to give us a call, email, or live chat message to discuss how you can further personalized these promotional crayons for your school or business.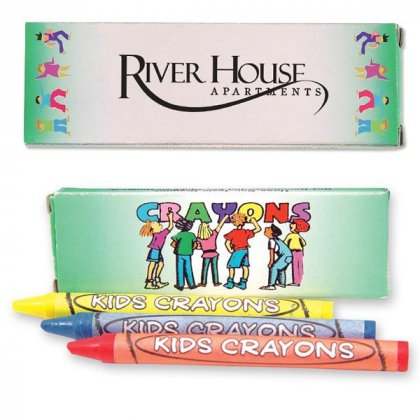 Twist Crayons - Unique Promotional School Supplies
As the heading above indicates, our promotional twist crayons are truly among the more unique customizable school supplies out there. Each unit consists of a transparent vinyl pouch, imprinted with your logo, and housing six different colored crayons. The colors are the same in every package, comprising a collection of blue, red, yellow, green, orange, and black. The package has a tucking flap closure and comes with a one-color logo imprint. Extra colors can be added for an additional 25 cents per color per unit. 
What sets our custom twist crayons apart from the more traditional styles is that they come in a form similar to that of a rectractable twist pen. Twisting the caps causes the crayon tips to come in and out, ensuring that they won't make any accidental marks or stains when not in use. Due to their more complex nature and small parts, they are not recommended for children under three years of age. However, they make perfect promotional products for elementary schools & art supply stores. Take advantage of the lack of shipping charges by buying our wholesale twist crayons in bulk before the school year begins.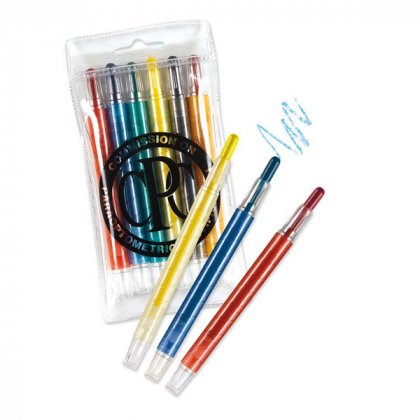 Jumbo Sidewalk Chalk - Promotional Art Supplies for Schools
The last, but not least, of our creative promotional art supplies for schools that we'll talk about today are our custom logo imprinted sidewalk chalk packs. Perfect for art classes or creative play during recess, our promotional sidewalk chalk comes in a personalized designed box that is also decorated with stock art. Each box contains two jumbo chalk sticks in different colors, making a great school giveaway item or a customized back to school gift for returning students. For the new kids, it can be a "Welcome to School!" type of gift. The chalk contained in the box, imprinted with your school or business logo, is non-toxic and is thick enough to allow a tight grip for making wide marks. When you buy our personalized jumbo chalk, students and other children will then customize the grounds with their own designs - basically, it's creativity squared. 
As mentioned, the boxes that our promotional jumbo sidewalk chalk occupy feature a stock art image on the front. On the back, you can include your personalized logo imprint design or message in one color. The standard imprint area is 2⅝ inches wide by 1⅛ inches high. The full box is 2 niches tall by 4½ inches wide.  For an upgrade fee, additional colors can be added, as can additional imprint locations and full color imprints. Feel free to ask us if you'd like to know more!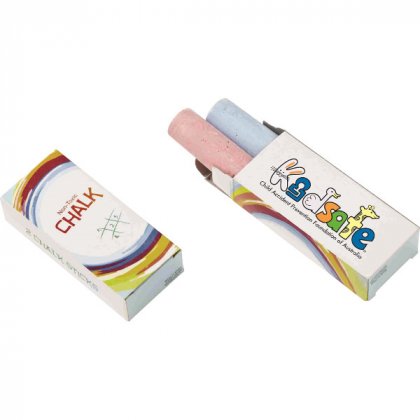 Be it in the interest of creating colorful art projects, remembering lines in a play, or studious note-taking, our personalized highlighters are promotional school supplies that no educational institution will want to be without. One might be inclined to think that all promotional highlighters are created equally, but in truth, there's a lot of variety out there. We'll show you two of the top examples in the following section.
Pocket Highlighters - Bulk Pocket Highlighters for Schools
The origin behind the names of these custom logo imprinted fluorescent highlighters shouldn't be too much of a head-scratcher. Obviously, due to their handy size and oft-overlooked yet still important pocket clips, these guys are dubbed with the name of Pocket Highlighters. They print in bright, vibrant colors in a fade resistant ink, applied by a pricesely cut chisel tip. This allows for thinner lines and more intricate details to be drawn. These wholesale highlighters for schools come in your choice of translucent blue, translucent pink, translucent orange, or translucent yellow, as can be see in the image below. Each stands 5½ inches tall with a custom screen printed logo design measuring 1¼ inches wide by ½ of an inch high. Each is cello bagged for a safe and stately presentation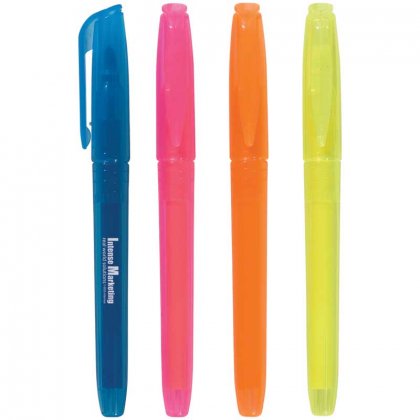 Daisy Highlighters - Promotional Flower Style Highlighters
Taking a big departure from the traditional shape and look of conventional highlighters are our customized Daisy Highlighters. Their flower-like shape is their namesake. Every unit possesses a circular hub from which five different highlighter ink tips extend. They make great promotional items for students, office supply stores, and professionals at every level. Our Daisy Highlighters each have ink in the colors of blue, green, orange, pink, and yellow. Your personalized logo imprint will appear in the very center of the circular hub, in an imprint area having a diameter of 2⅛ inches. Your logo is applied by way of digital direct imprinting, for a crisp and bold design that will catch eyes wherever it goes.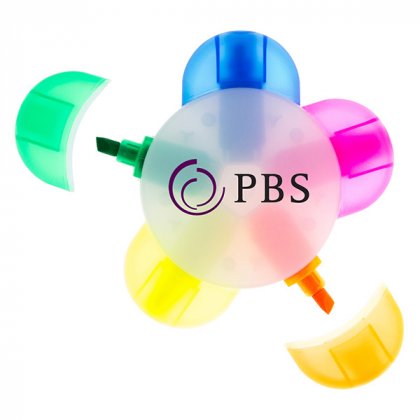 Everyone makes mistakes, so why not have a little fun when such blunders occur? That's the guiding principal behind our bulk logo imprited erasers, available at wholesale prices. Establishing a union between education and entertainment is more important than ever, and our promotional erasers are a perfect way to make it happen.
Farm Animal Shape Erasers - Customized Erasers for Schools
Recommended for children 3 years of age and older, our custom shaped animal erasers are always top-sellers that never go out of style. These cute animal erasers come in many different shapes and colors. They're a useful aid in teaching little ones about colors or about the different animals they might see in their yards, on farms, in the park, or at the zoo. They're CPSIA Certified, ensuring safety all the way, every day. They're figurine style erasers, giving them a three dimensional look and feel that most erasers lack. Each is stock designed, though specific order requests can be made. Just reach out to us by phone, email, or live chat and we'll be happy to help you customize your own erasers.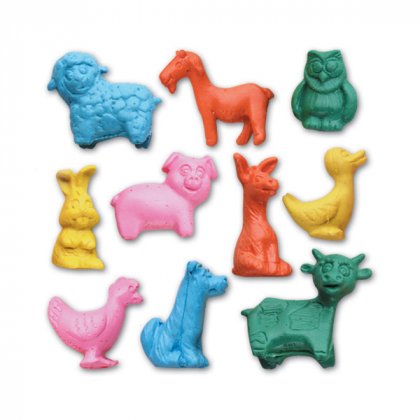 Mood Die Cut Erasers - Personalized Color Changing Erasers
Our custom Mood color changing giveaway items aren't limited to just the realm of pencils. We have several additional areas where this theme is featured, with our custom shaped erasers with logo imprints, pictured below, being one of them. These promotional color changing erasers ship for free and are made right here in the good old U.S. of A. Highly popular with children, these 2 inch wide by 2 inch high die cut erasers come in many different shapes and change color in reaction to body heat. They're great as promotional giveaway items for doctors & dentists to hand out to well-behaved patients, as well as great promotional products for schools, who can offer them as part of a special first day of school welcoming package.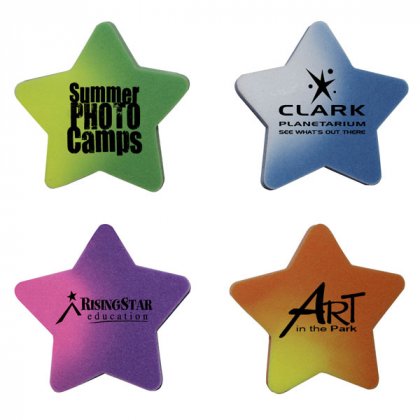 All famous artists, esteemed architects, and master craftsmen had to start somewhere when it came to honing their skills. Your school or business can help to encourange future Frank Lloyd Wrights and latent Leonardo da Vincis by way of providing students with their first measuring tools. We offer several different styles, including custom 8 inch rulers, personalized 6 inch rulers, standard 12 inch rulers in bulk, logo imprinted yardsticks, and much more. We'll share three shining examples with you now.
6 Inch Natural Finish Rulers - Cheap Wooden Rulers in Bulk
If it's eco-friendly promotional rulers that you want, our 6 Inch Natural Finish Rulers are here to answer the call. Each is made from wood rather than plastic and has a handy six inch size. This makes them a perfect fit for desks, drawers, backpacks, purses, pencil cases, and more. Their lightweight design cuts down on bulk shipping costs, while their American manufacturing allows your business or school to invest in its own economy. Each is screen printed with your logo imprint or message in an imprint area spanning 5¼ inches in width by ½ of an inch in height. Rush service is available, so please contact us with any inquiries you might have.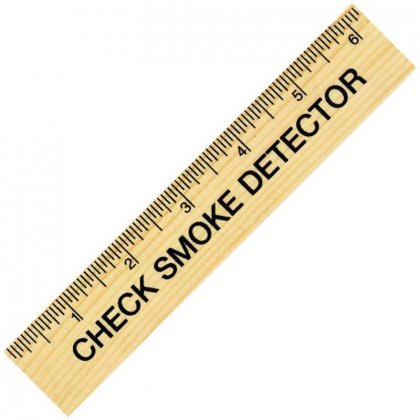 Natural Finish Folding Yardsticks - Promotional School Supply Giveaways
Going along with the eco-friendly, natural theme set with the rulers we've just introduced are our promotional folding yardsticks with natural wood finish. These are useful in many ways, since they can be extended fully to be used as customzied yardsticks or folded down to 12 inches to serve as personalized rulers. Whether it's for storage or measuring purposes, you can easily convert and contort these promotional yardsticks to the size you need them to be for your current purpose. Each features three imprints, with one appearing on each 12 inch segment and sitting 10½ inches wide by 3½ inches high. This can consist of logo imprints or straight line text. Alternate fonts, extra large imprint areas, and additional imprint colors are all available as upgrade options. We have several other promotional yardsticks available for your viewing, even including custom 4 foot yardsticks. Technically, at four feet they aren't yardsticks, but you get the idea.
8" Plastic Presidents Ruler - Wholesale 8 Inch Rulers
Looking for wholesale plastic rulers that will teach children about measuring and history at the same time? If so, our custom 8 inch Presidents Ruler is the perfect promotional school giveaway item for you. These are personalized 8 inch rulers with free shipping which include pictures of President George Washington to President Donald Trump in chronological order and displaying their years in office. They're made of .015 mil white plastic and make great promotional product for Election Day as well as customized back to school gifts. Your personalized business logo imprint design will appear on the side opposite the Presidents in an area measuring 8 inches wide by 1¾ inches high. 
The last category of promotional school supplies we'll delve into in this article concerns our promotional pencil cases and personalized school supply kits. There's more diversity among these customized education promotional products than you might expect, so we're including three examples as a bit of an introduction.
Drawstring Sports Pack with Reinforced Corners - Best Custom Drawstring Backpacks for School
Kids can keep it all together in the upcoming school year with our personalized drawstring backpacks with reinforced corners. These affordable drawstring backpacks, imprinted with your business logo, are made from durable 210D polyester. Their strength is bolstered by way of faux leahter reinforcements at the corners. In addition to adding a bit of style flair, they're also utilitarian; they prevent damage to the drawcords and add some extra muscle to the bottom of the backpack. Black nylon drawstrings work to both seal the cinch-like top closure and serve as shoulder carrying straps. Available in 15 different colors, these customizable drawstring backpacks are 14½ inches wide by 17½ inches high by ⅛ of an inch deep. They have a generous imprint area, measuring 8 inches wide by 8 inches high. This is where your one color custom business logo design will appear. For an upgrade fee, multiple colors can be added to your logo imprint.
Varsity Pencil Pouch School Kit - Customized Tech Gifts for Schools
Personalized back to school supply gifts are a great way to get the year started off on the right foot. Few items do this better than our Varsity Pencil Pouch premium school supply kits. These particular bulk school supply gifts are of the high tech variety, as the image below clearly illustrates. Each one comes with a stylus pen, mobile phone wallet/stand, cord organizer, carabiner, and white earbuds. All of these items are packaged together in a pre-punched pencil pouch that will see extended use on a daily basis. They're available in many colors and are imprinted with your personalized logo design. All of the inner contents are as well, with the exception of the earbuds. As a whole, each unit is 9½ inches wide by 6¼ inches high.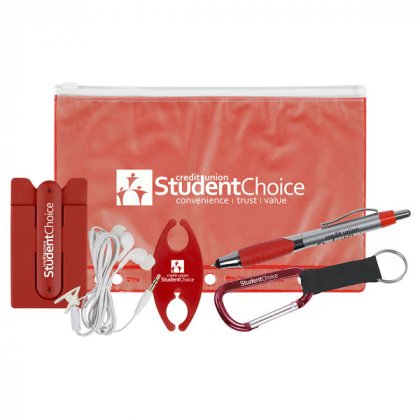 Zippered School Supply Kit - Bulk School Supply Kits at Wholesale Prices
Finally, we'd like to show you our Zippered School Supply Kits. These cheap promotional school supply kits are transparent with zipper and trim colors in many varieties. With a simple zippered closure, students can keep valuables safe and organized, all the while viewing your imprinted business or school logo imprint design. Each of these wholesale school supply kits contains two pencils, a six inch ruler, pencil sharpener, and 4-pack of Color Brite® crayons. Color choices abound for the imprint colors on these school supply kits and the individual items they hold. Each pouch is 9¼ inches wide by 6 inches high and contains an imprint area of 4 inches wide by 2 inches high. The school supply items inside are also customizable in a blend of logo imprint designs and straight line text imprints. To get the specifics on how you can personalize each element of these promotional back to school gift sets, feel free to approach us with any and all questions.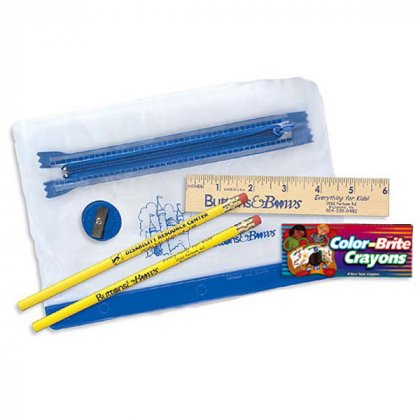 That's a wrap for our guide to the best promotional school supplies & promotional school supply giveaways for the new decade. We hope you've enjoyed this article and will come away several promotional items richer and ready to arm students with the best supplies possible for starting out their school year. In the meantime, enjoy the rest of your summer vacation!