Trick-or-Treat! Meet the Best Promotional Halloween Products for 2018!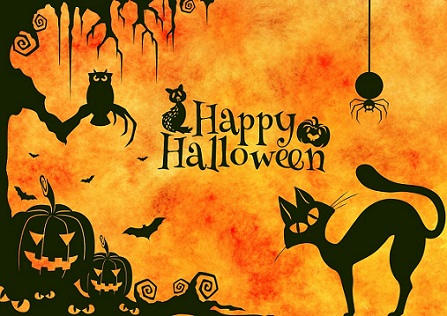 For children and parents alike, we've arrived at a very transitional time of the year. Summer is on its way out, vacation is through, and school is back in session. Before you know it, the mercury will start dropping, fall foliage will turn out in a dazzling display of color, and classic horror movies will start running on television. You'll also start seeing candy - lots and lots of candy. All of these signs come together to point to one thing - the arrival of Halloween season. This is a fun and (in moderation) scary holiday for the young and the young at heart. It's also a holiday that presents a great opportunity for schools, businesses, and all other organizations to promote themselves and spread brand awareness through top-notch promotional products. It's in this spirt that we bring to you the 4AllPromos picks for the best promotional products for Halloween of 2018.
Custom Imprinted Brain Stress Reliever
Our promotional brain shaped stress toys make for screamingly sensational giveaway items for nearly any business. They make a great costume accessory for little zombies on Halloween night, flashing your personalized business logo design all over the neighborhood amid their cries of, "Brains, Brains!" 
Our colorful brain shaped stress toys are also ideal promotional items for neurofeedback clinics, neurologists, college bookstores, trivia contest venues, and psychology and/or psychiatry practices. Made from soft, squeezeable polyurethane, these uniquely shaped stress toys are 2⅛ inches wide by 1¾ inches high. This makes them the perfect size for squeezing in the palm of one's hand, offering some comfort and realese of tension during trying times. Intended for users 13 years of age and older, these custom brain stress balls come in many different colors, as well as a single color & location company logo imprint design included in the price. For an upgrade fee, multiple logo locations and colors can be added.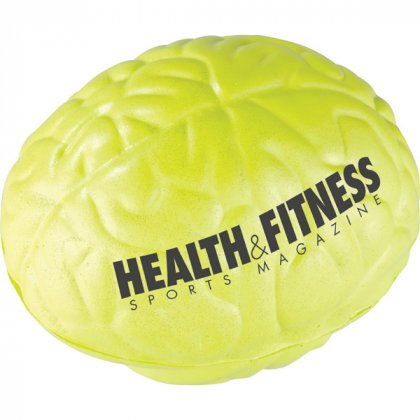 Promotional Finger Bone Pens
Our next chilllingly terrific Halloween promotional product is our customized bone shaped ballpoint pen. These cheap Halloween pen giveaways are a hoot for orthopedic clinics, sports rehab centers, medical schools, office supply stores, and nearly everywhere else in between. These thin, three-dimensional finger bone shaped pens come in an ivory tinted white, fittingly enough referred to as "bone white". They make for hot-selling impulse items during the Halloween season, spreading brand awareness and goodwill when imprinted with your custom business logo design. Each one has an imprint area of 1 inch wide by ¼  of an inch high, with the actual pens being 6½ inches long by ¼  of an inch thick.
These custom novelty Halloween giveaway pens ship 100% free of charge. Their unique shape is sure to draw eyes wherever they're taken, creating advertising impressions in a countless variety of settings and scenarios. Each pen comes with a single color and location corporate logo imprint. For an upgrade fee, multiple imprint colors and PMS color matching are available. Rush delivery is also typically available, but we recommend contacting us for information on rush service if you have any doubts or questions.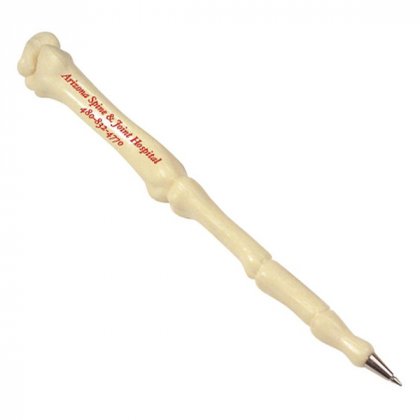 Personalized Light Up Skull Cups
If you're looking for a great promotional Halloween product for your restaurant, bar, or night club, we have you covered. Our Light Up Skull Cups are, as their name would imply, crafted into the shape of a human skull. These deliciously dark Halloween promotional drinkware items are, ironically enough, most notable for the light they give off. Each one has three LED bulbs inserted into the bottom portion of the cup. Users can choose from settings of steady light, fast flashing, or slow flashing. When used with clear beverages and ice cubes, a visually stimulating light refraction effect takes place.  
Each cup is made of clear plastic and holds 14 oz of liquid. You can make your restaurant, bar, club, or other business logo design part of the show by way of the single color & location logo imprint design that comes standard with these novelty cups. This imprint area measures 1½ inches in width by 2 inches in height. For an upgrade fee, second sided logo imprints can be added. Please contact us with questions for further personalization upgrade options.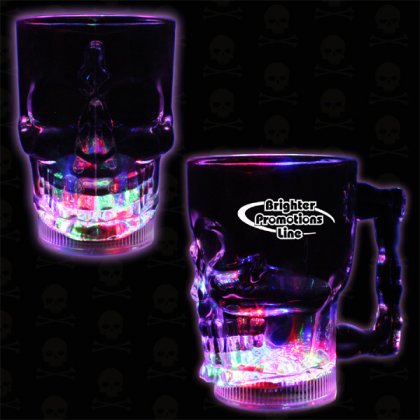 Wholesale Halloween Activity Pads - Scary Stuff
Bring the fun of Halloween, the noble cause of nourishing young minds, and promotional power together with our Scary Stuff bulk coloring & word puzzle books. Each of these Halloween Activy Pad books holds 16 pages (20 if the covers are counted) of pictures to color and word games to play. Fun yet effective Halloween lessons are taught, creating a way to keep youngsters occupied in a positive way. These make great promotional products for medical office waiting rooms, elementary schools, book stores, office supply stores, toy stores, art supply stores & anywhere else where kids are either looking for a new toy or need a way to pass the time without driving fellow waiting room occupants crazy.
The Scary Stuff Halloween Activity Pad is 5½ inches wide by 7¾ inches high. They come with the amusing cover seen below, which is augmented by your company logo design. Your logo or message will appear in a 4½ inch wide by 1½ inch wide imprint area located on the back of the book and printed in black. For an upgrade fee, multiple imprint colors are an option. We also suggest pairing them up with a pack of our promotional crayons for a powerful one-two promotional punch.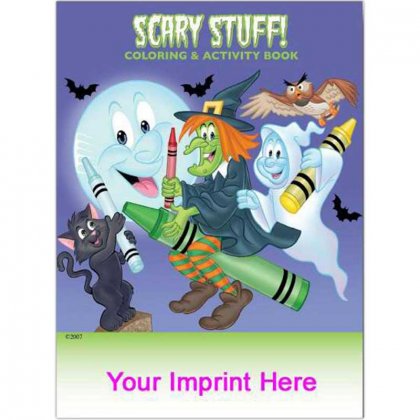 Custom Logo Imprinted Pumpkin Carver
Our next promotional Halloween giveaway item is a true classic that provides your company with a chance to become a part of the treasured holiday memories for many families. One of the most beloved family activities for Halloween is gathering around the table to design and carve the perfect Jack O' Lantern. From drawing the face, to cutting the shapes, to removing the gooey innards, it's just a fun and joyful process from beginning to end. When you invest in our wholesale pumpkin carving knives with logo imprints, your company will bring a smile to faces whenever seen for years (and generations) to come. Just think, in 25 years, parents who are carving pumpkins with your knives this Halloween may well be using the very same one with their grandchildren.
Our promotional pumpkin carving knives feature strong serrated edges for safe and easy cutting along with an orange handle for gripping. Grocery stores, hardware stores, farms, home furnishing shops, and several other businesses will find this to be an ideal promotional product for Halloween. Each knife ships for free and has a length of 6½ inches, with the blade comprising 2⅞ of those inches. A 2½ inch wide by ⅜ inch high single color imprint on one side of the knife handle is included in the listed price, but for an upgrade fee, double sided and multiple color logo imprints can be implemented.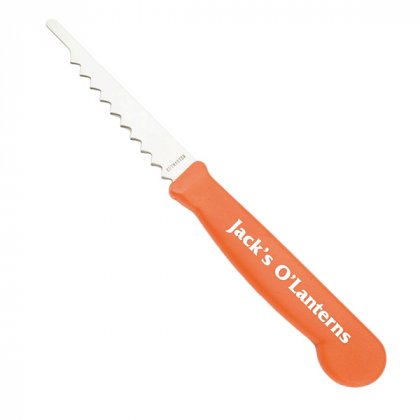 Bulk Jack O'Lantern Fidget Spinners
People of all ages will get a kick out of our novelty Halloween fidget spinners with logo imprints. Perfect for keeping calm in stressful situations or burning excess energy when bored, our personalized Halloween fidget spinners are decked out with three grinning Jack O'Lanterns in colors of orange and black. If your business doesn't want to give out sugary snacks, it can instead opt for these health-safe CPSIA compliant Halloween toy giveaways. Most people who are familiar with fidget spinners judge their quality based on how long of a spin can be produced in a single cycle. Thanks to their standard steel bearings, these models can rotate for over a full minute solid with a single twist. 
Recommended for users of three years and up, these bulk Halloween fidget spinners have a diameter of 3⅛ inches and a thickness of ½ of an inch. Your personalized business logo design will find its home on the center cap in an imprint area measuring ⅞ of an inch in diameter. A single imprint color is standard, though multiple colors can be obtained for an upgrade fee. Every unit is also individually polybagged.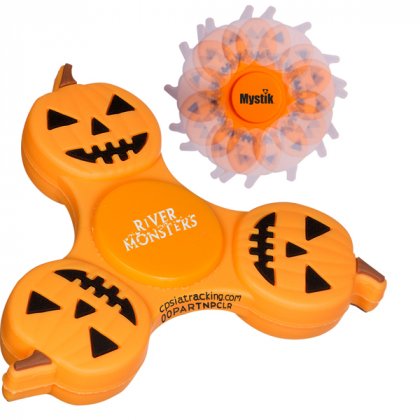 Company Logo Printed 2 oz Candy Corn Bags
Now we'll get into the "treat" part of trick-or-treat with some tasty Halloween candy giveaway items. First up are our 2 oz bags filled with colorful & tasty candy corn. It's just not Halloween without these sweet, triangular yellow, orange, and white snacks. Make sure your business gets in on the holiday fun and reaps the benefits of doing so by way of investing in our 2 oz promotional candy corn bags with logo imprinted headers. These are great promotional products throughout the whole fall season, making for ideal impulse items at grocery store and convenience store check out counters. Each unit consists of a clear plastic bag, allowing anyone to see the tempting treats lurking inside. 
Our customized candy corn bags are 5 inches wide by 5 inches high. The top portion is festooned with a double-sided header, bearing your company name and logo design imprint and/or message. Your chosen imprint is displayed in full color on both sides of the bag, ensuring that no matter how they're displayed, your brand name and logo will remain visible. The imprint area on the headers is 5 inches wide on both the front and the back, though the front imprint has a height of 2.1 inches while the one on the back stands 1.9 inches tall.
Bulk Gummy Brain Bags with Logo Imprints
What could be more ghoulishly satisfying as a Halloween snack than munching on some fresh, chewy brains? Probably nothing. That's why our custom logo imprinted gummy brain bags will be a hit for your business this October. Each bag contains two ounces of blue and red gummy candies in the shape of a human brain. In addition to the creepy novelty factor of these promotional candy gifts, a company branding boon lies in waiting. Each bag is topped with a full-color, fully customizable header. Printed with your business logo design (or just about anything else you want) these headers have no color limit, so you can design them exactly as you want.
In terms of size, these promotional candy bags are 5 inches wide by 5 inches high. The imprint areas on the front and back differ a bit in size. While both are five inches in width, the front imprint area is 2.1 inches high while the back is 1.9 inches high.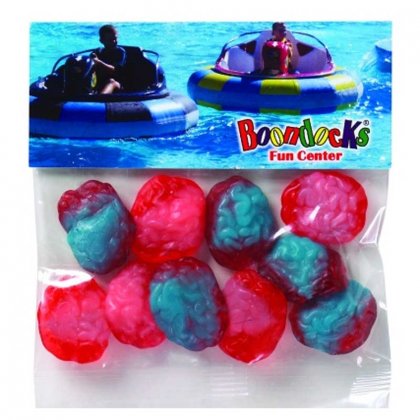 Promotional Halloween Cookie Pail
Here's a truly unique idea for a Halloween promotion. It's perfect for handing out as employee gifts, distributing as promotional giveaways at trade shows or haunted house events, or just selling in stores to be handed out to trick-or-treaters. The item we're referring to is our promotional Halloween fortune cookie pail, a unique company branded Halloween product that you might say is a home run to left field. They come in the form of Chinese food take-out style boxes and are a fun gift for people of all ages. Each unit holds 9 cookies, which are Kosher certified. 100 different fortunes & jokes are included, so there's certainly a good degree of variety.
The boxes are topped with a vinyl bow decal along with a swinging handle for carrying. The cookies lying inside are individually wrapped, keeping them safe and clean while jostling around in treat-or-treaters' bags as they romp around the neighborhood. Each box is 4½ inches high, though with the tapered sides, the width depends on where on the box you choose to measure. The widest area is at the top, which is 4½ inches wide. The imprint are on these personalized fortune cookie pails 1⅜ inches wide by ⅝ inches high. A single color, straight line text imprint comes standard, though multiple color & location imprints are available for an upgrade fee.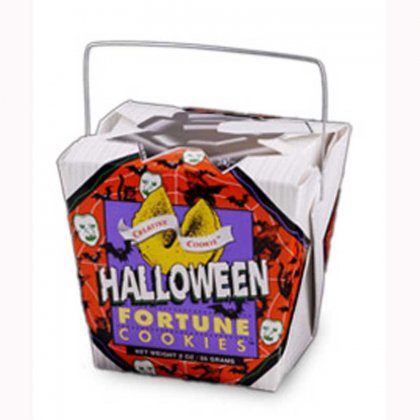 Customized Halloween Celebration Tote Bag
Trick-or-treating won't be a very successful endeavor unless a dependable vessel for carrying candy is a part of the equation. The remaining products we're going to go over in this article are all focused on this very important piece of the puzzle. The first one we'll show you is our Halloween Abe Celebration Tote. These personalized non-woven Halloween tote bags are quite sturdy, being constructed from your choice of black or orange non-woven polypropylene. To enhance their utility, every bag is equipped with a pair of 18 inch sewn handles, which makes them easier to hold and puts less stress on users' arms and hands when the candy bounty grows heavy. They're also eco-friendly Halloween bags, with 20% of their make-up consisting of post-industrial recycled materials. They're also recyclable in their own right, so they're truly all-around Earth-friendly promotional products.
Our custom logo imprinted Celebration Halloween tote bags are 13 inches wide by 13 inches high and have a gusset depth of 5 inches. They offer an 8 inch wide by 8 inch high imprint area on the front center area. This imprint area is outlined with an appropriately ghastly bone-themed frame, creating a crosshairs of sorts through which people will immediately see your personalized business logo imprint design. A one color, single location imprint area is included in the listed price, but as an upgrade, multiple logo imprint colors and locations are an option.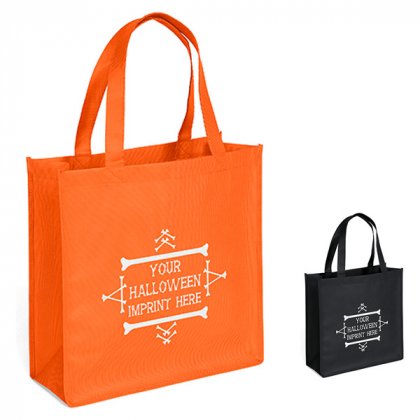 Wholesale Full Color Printed Halloween Pumpkin Bag
Safety and amusement need not be mutually exclusive concepts. We're sure that your business, candy-hungry kids, and cautiously caring parents will all agree with the prior statement when it comes to our Pumpkin Head full color printed wholesale Halloween bags. Unlike the Celebration tote which includes sewn handles, these models sport handles of the die cut variety. These affordable plastic Halloween tote bags are made from 20 mil white plastic with a flat design, which is quite helpful and handy for storage and shipping purposes when purchased in bulk. At 9 inches wide by 13 inches high, they offer plenty of cargo room for sweet treats.
Each is decorated with a full color stock art graphics. On the front, you'll find a trick-or-treater decked out as some sort of Jack O'Lanter/Vampire hybrid. Behind the young fellow is a spooky scene including a cemetery, full moon, dark night sky, broom-flying witches, and a leafless tree. On the reverse side, a list of important safety tips is brought to life by way of a picture of a very starry night outside of a hair-raising haunted house. Your customized business logo design or message will appear just above the list of safety tips, with the bright full moon shedding a spotlight on it. The imprint area measures 4½ inches wide by 4 inches high. Whether these are re-used for next Halloween or discarded after one use, their environmental soundness remains intact. This is because they're made from 100% recyclable plastic. 
Personalized Reflective Halloween Bags - Ghosts & Pumpkins
Parents can rest assured that their children will be safely visible at all times to motorists when they use reflective candy bags for their Halloween fun. Your business or school can become a part of treasured childhood memories as well as much-appreciated peace of mind on the part of parentes when you invest in our bulk reflective Halloween candy bags. Made from reflective 2.5 mil silver low density film plastic, these wholesale Halloween totes feature stock graphics of friendly ghosts and Jack O' Lanterns, all of whom are filled with wise suggestions for a safe trick-or-treating experience. Their non-reinforced die cut handles are easy for users to slip their hands through for worry-free carrying. 
Your customized company logo or message design is imprinted in black on the side of the bag opposite the ghost graphic. The imprint area is 6 inches wide by 6 inches high, which is a generous set of dimensions as the bags as a whole are 12 inches wide by 15 inches tall. They're another eco-friendly option, as they're fully recyclable after use. They're obviously fully recyclable before use as well, but that would be a bit of a self-defeating move to make. If you're curious to know more about the personalization and upgrade options available for these bags, feel free to get in touch with our dedicated and enthusiastic team of customer service representatives. They'll be happy to provide you with any additional information you want/need.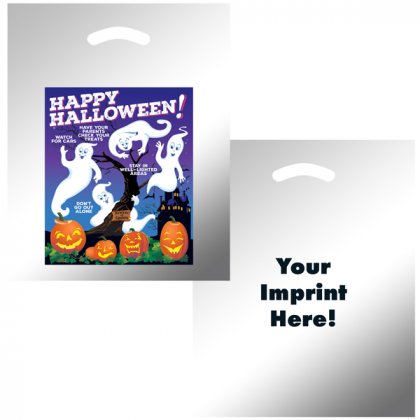 Promotional Paper Halloween Bags - Pumpkin Design
Another eco-friendly way to go when it comes to promotional Halloween bags opting for a model made from kraft paper. Our Pumpkins Paper Shopper custom paper Halloween bags with logo imprints are made from 100% recycled kraft paper. Even the handles are made from recycled twisted kraft paper material. With a bright orange exterior and tan interior, these custom Halloween bags are perfect for both helping kids collect candy and aiding adults in passing it out. A serrated top ridge completes the look for a simple yet effective design.
Our customizable paper Halloween tote bags are 8 inches wide by 10½ inches high. They're also gusseted bags, with a depth of 4¾ inches. The orange exterior of these bags is spruced up for Halloween with black Jack O'Lantern stock art on the front. The reverse side is where your customized business logo design imprint will find its home. A single color (by default) logo imprint takes up a space of 7 inches in width by 2 inches in height. If you're curious about additional ways to personalize these promotional paper trick-or-treat bags, give us a call, send us an email, or connect with us by way of live chat at your convenience.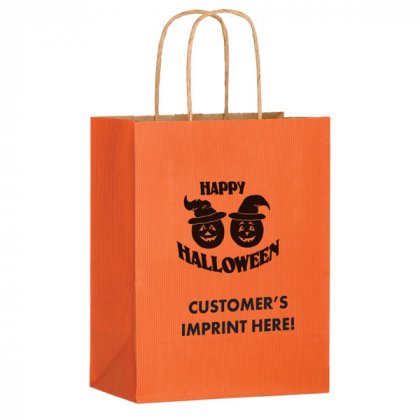 Large Custom Glow-in-the-Dark Trick-or-Treat Pail - 87 oz
For those with a serious appetite for candy, our 87 ounce custom glow-in-the-dark Halloween candy pails are sure to please. One of the great things about these personalized glow-in-the-dark candy buckets is that they aren't restricted for Halloween usage; they're also perfect play items to bring to the beach for building sand castles or even digging for clams. In fact, as an upgrade, you can even get plastic sand shovels as a bonus accessory. Made in the USA, our 87 oz Halloween pails eliminate any worries of rips, tears, or sagging that one might worry about encountering with a traditional bag. They're constructed from high density polyethylene (HDPE) and will glow in the dark best when directly exposed to light beforehand.
With a go big or go home philosophy,  these promtional candy pails are 7¼ inches tall and possess a diameter of 6¼ inches. When it comes to decorating these Halloween promotional products with your business logo design, you have some options. You can either go with a double sided imprint spanning 6 inches in width by 4¼  inches in height, or a wraparound imprint covering 15 inches in width by 4¼  inches in height. A single imprint color is included in the price, though a second color can be added for an upgrade charge. Speaking of upgrades, you can also opt for a lid if desired.
That's all for our guide to the best customized Halloween items for businesses in 2018. We hope you had fun reading through these items and have been inspired with a new way to promote your business this Halloween season. Are there any types of personalized Halloween giveaway items you were hoping to find in this article but didn't? If so, feel more than free to get in touch with us and get the conversation started! We're sure we can guide you to the best promotional items to meet your advertising needs for this and any future Halloween.