Ready, "Set", Go! 15 Top Custom Gift Set & Promotional Product Set Ideas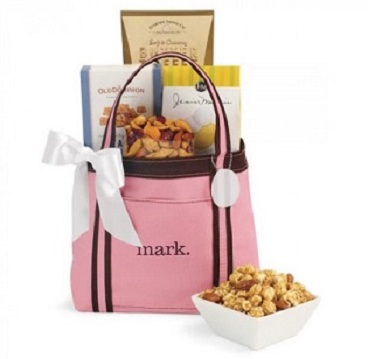 As 2021 continues to roll along, some trends are emerging in the promotional products landscape. Among them are the "hot or not" type of lists for specific product fields. One area that is definitely on the hot end of the spectrum is promotional product kits and sets. Of course, there are several subcategories branching off from this, and 4AllPromos is proud to have several choices on hand to represent each. Items such as custom coaster sets, promotional gift baskets, logo imprinted kitchenware sets, and more are proving themselves to be at the top of consumer wish lists. Your business can capitalize on this trend by adding its name to our grand array of promotional item sets & imprinted product kits. Send these out to those you wish to influence and reap the rewards of your research and planning! 
1. Promotional Coaster Sets
Let's jump into things by sharing our promotional coaster sets & custom coaster products. These popular drinkware accessory items always perform well as giveaways, promotional products, and corporate gifts. They're highly useful, as they protect furniture and other surfaces from damage that might otherwise be caused by minor spills and condensation from cans, glasses, and bottles. Coaster sets make great promotional gift ideas for bars, restaurants, breweries, home goods retailers, and many other businesses. Offering unique coasters, imprinted or engraved with your logo, is a sure-fire way to stay on users' minds. Picture below is our Engraved Bamboo Coaster Set. Offering six eco-friendly bamboo coasters engraved with your logo, these items come in a sturdy bamboo holder to keep the set together.
2. Custom Drinkware Gift Sets
Everyone has to stay hydrated to stay healthy. In other cases, drinking can be part of a fun night out. In either case, there's always a demand for bottles, cups, mugs, tumblers, and other drinking vessels. That's why our promotional drinkware sets are giveaway items that just can't miss. For example, consider our custom engraved flask gift sets, one of which is pictured below. These make great promotional gifts for any business and can work for a multitude of occasions. Holidays, weddings, retirements, and birthdays are just a few of the special occasions on which your business could recognize someone special with a promotional flask set. We also offer several different custom mug and spoon sets, travel tumbler sets, hot chocolate gift sets, and more.
3. Imprinted Sport Bottle Sets
Continuing with the hydration theme, we'll now introduce our promotional water bottle sets. These gift sets are ideal for sports teams, athletic apparel companies, sportings goods retailers, water parks, supermarkets, and much more. Helping users stay hydrated and healthy is a great way for your brand to make a lasting impression. However, it gets even better when additional items are provided. The custom sport bottle gift sets displayed below this paragraph contain a water bottle, rally towel, visor clip, sunglasses, and an imprinted carrying bag to hold everything together. These promotional product kits offer several items that are of use when one is exercising, hiking, competing in sports, or engaging in outdoor work. 
4. Custom Kitchen Item Sets
Restaurants, diners, cafeterias, bakeries, supermarkets, and several other types of businesses will find our custom kitchenware item sets to be highly effective for marketing. One shining example comes in the form of our combination promotional measuring cup & measuring spoon sets. These two-for-one cookware kits offer a set of measuring cups of different marked sizes. Each cup also features a measuring spoon, which is located at the end of the handle. Culinary students, chefs, cafeteria workers, and those cooking meals at home will all find items such as these to come in handy on a regular basis. Every time they come out, your logo gets another chance to create advertising impressions. This is true of all of our imprinted cookware kits. Other styles include, but are not limited to imprinted flatware sets, multi-purpose engraved kitchen knife sets, and assorted branded bread pan sets.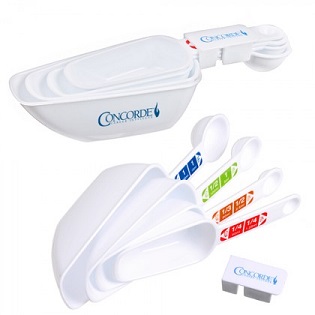 5. Promotional Tablet Cloth Kits
Trade shows and large corporate events are times in which it will pay to have promotional table cloth items on hand. They're a great way to draw attention to a booth and consequently, to the brand it is representing. 4AllPromos carries a wealth of different imprinted table covers that are ideal for serving this purpose. In addition to individual covers, we also have promotional table cloth sets. These incorporate other items that make the transportation and layout of table covers an easier undertaking. The image following this paragraph displays one of our table cloth kits that comes with a carrying bag for easy storage and set-up. Table cloth sets can also come in handy for functions such as job fairs, seminars, recruitment events, company picnics, and press conferences.
6. Personalized Gift Basket Sets
At 4AllPromos, you'll find a menagerie of excellent promotional gift box sets for any occasion or recipient. The image immediately following this paragraph (which is also the main image for this article) is of one our custom gourmet food gift baskets. Personalized gift boxes brimming with delectable snacks, drinks, and even healthy treats are a great way to show your appreciation for a top-performing employee or an especially loyal customer. Our gift basket sets are by no means limited to edible items though. We also have versions with personal care items, tool sets, winter hats & gloves, wine accessories, stainless steel water bottles, garden supplies, and more. When the time comes to give a corporate gift that will make a lasting impression, we highly suggest you consider one of our generous, attractive, and memorable gift packages.
7. Wholesale Manicure Kits & Personal Care Sets
Our custom wholesale manicure sets are items that will be a big hit for salons, beauty shops, spas, wellness centers, and more. These business gift sets feature all the items a user needs in order to take great care of their nails and keep them looking their absolute best. Scissors, clippers, files, and multiple cuticle tools are all part of the package, which is held together by a logo imprinted carrying tube case. The promotional nail care set just described is only one of our many different models. Feel free to click on the link at the beginning of this paragraph to see the full collection. Our personal care kits aren't limited to manicure items. We also stock several branded first aid kits, travel-friendly custom sleep mask sets, promotional sunscreen kits, and much more.
8. Company Logo Technology Sets
The next business gift set item on our list is our inventory of promotional tech gift sets & kits. These are perfect for helping users who live a fast-paced, on-the-go lifestyle to stay plugged in and efficient at all times. Some of these items are travel oriented, such as our custom earbud and mobile accessory charging kits, one of which is pictured at the end of this paragraph. Others include stylus pen kits for writing both on paper and typing on touchscreens, high tech journal gift sets, and efficient power bank kits, just to name a few. As time goes by, the world continues to become more reliant on mobile technology in nearly every sphere of life. With that in mind, our promotional technology product kits are sure to generate countless advertising impressions for your business several times per day. If you want to build brand awareness in a short period of time, there's pretty much no better way to go!
9. Imprinted School Supply Kits
Schools and the students who attend them will all love our promotional school supply kits. These items make excellent giveaways for office supply stores, businesses in the education field, bookstores, literacy organizations, and several other institutions. They supply students with the items needed for success in the classroom and beyond. Items such as pencils, crayons, erasers, pencil sharpeners, rulers, and more are packages in colorful, durable, and visually appealing carrying cases. Most have zipper closures for easy access. Additionally, they are hole punched for convenient storage in our custom ring binders. Our wholesale school supply gift sets perform well as retail products, but also flourish as giveaway items at trade shows, education industry events, and charitable functions within communities.
10. Promotional Writing and Pen Sets
The need for custom pens and writing supplies doesn't end when one graduates from school. Our custom writing and pen gift sets ensure that your business can reach users of all ages with attractive and functional writing implements. Many of these items feature premium pens along with mechanical pencils. Held together in sturdy and elegant gift boxes, these pens make for sophisticated and deeply appreciated gifts. Graduations, retirement parties, bringing new employees on board, and sending out a token of your company's regard during the holidays are all occasions for which our pen gift sets are the perfect products. Offering exceptional longevity and items that will be kept for years to come, these gift sets are engraved with your company logo design to keep your business in users' minds and hearts for years to come.
11. Custom Tool Kit Sets
Promotional tool kit gift sets are ideal items for carpentry, plumbing, electric, and masonry businesses. They're also ideal giveaways for hardware stores and construction companies. With people staying at home more than ever before, a lot of people are suddenly adopting a DIY ethic when it comes to making repairs around the house and yard. This means that items such as our custom briefcase tool kits and imprinted roll-up tool box sets will provide your logo with plenty of exposure. When users are able to successfully complete home improvement and repair projects, their confidence grows. In tandem, the quality and utility that come standard in every one of our tool kits will build their confidence in your brand. Few forms of marketing are more effective than relationship marketing. These are the kind of items that provide a bridge to reaching that territory and establishing lifelong customer loyalty.
12. Personalized Flashlight Sets
We'll remain on the stay-at-home and DIY side of things for a bit longer by saying a few words about our promotional flashlight gift sets. These are terrific promotional giveaway items for virtually any business, as there's not a single demographic that can't make use of a trusty flashlight. Set them up together with batteries, utility knives, keychains, and other essential items and you'll have a gift set on your hands that everyone else will want in their hands. When imprinted or engraved with your company logo, our personalized flashlight gift sets will be around to promote your businesses day and night for a very long time. As some people have the tendency to become quite sentimental about their tools, these also have the potential to become heirloom items. Just think, with one purchase of our flashlight kits, your company can acquire multi-generational brand loyalty!
13. Promotional Car Breakdown Kits
For essential workers and anyone else venturing out on the open road, a broken down engine is always a dreaded nightmare. Fortunately, your business can help supply them with peace of mind and some very valuable resources when it invests in our promotional auto breakdown kits. From basic to very elaborate, these emergency roadside kits contain the products users need to get their vehicles running and return to the road in safety. A pair of excellent examples includes our logo imprinted jumper cable kits and our comprehensive fully loaded branded emergency road kits. Car dealerships, garages, and auto supply stores will all find these to be ideal promotional products for helping their customers through tough times and enjoying the return business and referrals that inevitably result. 
14. Company Logo Golf Sets
Golf is a sport with a wide fan base, both when it comes to watching and playing. As an individual sport that doesn't demand a great deal of rapid activity, it's a good way for people of all ages and energy levels to get outside and have some healthy fun. Our promotional golf gift sets help to keep the good times rolling for users while fueling advertising exposure and brand awareness for your business. Everyone will hit the links with more confidence and excitement when they know they're armed with the tools for golf course safety and success. Custom golf accessory kits such as our Go Golf Kit contain useful products that include tees, divot tools, antibacterial wet wipes, first aid instructional booklets, bandages, and more. All of the elements are held together in a handy travel case that is imprinted with your logo. Pro shops, country clubs, public & private golf courses, and several other athletically oriented businesses and organizations will meet with certain success when they choose our golf kits for their promotional efforts.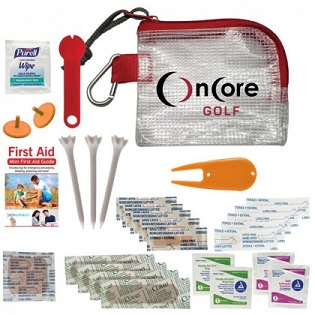 15. Custom PPE & Hand Sanitizer Item Kits
Though they may be the last product area discussed in this article, our promotional hand sanitizer sets and custom PPE item kits are anything but the least important. Staying safe is on everyone's minds as we wait out the end of the COVID-19 (Coronavirus) situation. Providing customers, employees, and your target audience with personal safety product kits is a great way to keep them safe and secure. These can include such items as face masks, hand sanitizer bottles, hand sanitizer gel packets, first aid kits, bandages, antiseptic towelettes, sanitizer sprays, no-touch tools, and much more. Pharmacies, supermarkets, physician practices, schools, hospitals, convalescent homes, state & national parks, and virtually any other business will benefit greatly when choosing to promote with our sanitizer and PPE product kits.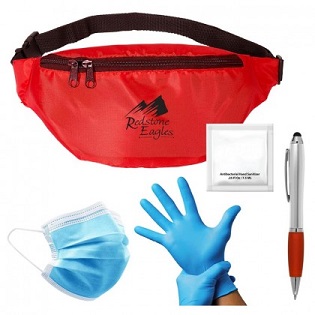 Choose 4AllPromos for the Best Promotional Product Kits & Logo Imprinted Gift Sets
Those are 15 of our best promotional product kit and custom gift set giveaway ideas. We hope these serve as inspiration for your branding plans in the effort to make this year a successful one for your business. Don't forget to visit the links we've included along the way to get more promotional item kit & set ideas. As always, if you have any questions, feel free to contact us at any time. Let's work together to set your company up for promotional success in 2021 and in every year to follow!