Plug Into Promotional Success with Custom USB Items!
This 4AllPromos blog post is all about our promotional USB items and accessories. Custom USB products are one of the fastest-growing categories within the world of promotional products. It's not hard to see why, as in a world that's increasingly focused on mobile technology, users are going to want a way to keep their devices up and running. That's where your business has a golden opportunity for creating brand awareness. By investing in custom imprinted USB giveaways with your logo, your company ensures that it will create multiple advertising impressions in every setting imaginable on a daily basis. Whether on the go or while stationed at home, work, or school, these are products that virtually everybody will have a use for. Today, we're going to share with you the Top 10 USB Product Categories for 2021. Time to start "plugging" away!
1. Imprinted USB Adapters
We'll start things out by introducing our line of promotional USB adapters. They're perfect for plugging items into electrical wall outlets, power strip outlets, car power outlets, and more. Pictured below is one of our imprinted USB car charging kits, which are perfect for getting phones, eReaders, and more up to full capacity while driving to work, school, or any other important destination. Many of our personalized USB adapters, whether designed for automobiles or other locations, are equipped with multiple ports for charging more than one device at a time.
2. Custom USB Power Banks
Another giveaway item that you can expect to see a lot of this year are company logo power banks. These come in many shapes, styles, colors, and sizes. Depending on their battery capacity, they can bring anything from a mobile phone or MP3 player to a full size laptop to a complete charge. Many have bonus features such as multiple ports, LED status indicator lights, keychains, flashlights (pictured below), carabiners, microfiber cleaning cloths, phone stands, and much more. We also carry promotional power bank kits. These are great tech giveaway set items, as in addition to power banks, they also include a wide array of accessories to maximize efficiency. 
3. Promotional USB Flash Drives
Our custom USB flash drives are sure to be one of the biggest tech items of the season. Also referred to as jump drives and thumb drives, our promotional flash drives are designed to serve as an extra data storage facility for tech devices. They can be attached into USB ports and accessed to store information that can be taken and transferred to any other compatible device of your choosing. They have data storage rankings measured in MB (megabytes) and GB (gigabytes). One GB is equal to 1,000 MB, so our flash drives measured in GB have higher storage capacity. The higher the number before the given measuring unit, the more data the flash drive can store. For example, our personalized 8 GB flash drives can store 8 times the text, audio, video, and image information that our wholesale 1 GB flash drives can handle. However, not all jobs require vast amounts of data to be stored and transferred. Lower capacity drives are also available for lower prices, so there's plenty of appeal to go around for all models. As a side note, you may often see flash drives referred to as "memory sticks", though this name refers to a specfic line of devices produced and trademarked by Sony.
Here's a handy chart that shows how much data a flash drive with a given capacity can hold. Keep in mind that each figure provides the maximum. In other words, the total storage for one category (let's say video) assumes that there are no other file varieties (audio, text, or images) being saved to the drive. 
| Storage Capacity Rating | Word Files | Images | Audio | Video |
| --- | --- | --- | --- | --- |
| 128 MB | 2,400 Pages | 80 | 30 Files | 40 Minutes |
| 256 MB | 4,800 Pages | 160 | 60 Files | 80 Minutes |
| 512 MB | 9,600 Pages | 320 | 120 Files | 160 Minutes |
| 1 GB | 19,200 Pages | 640 | 240 Files | 320 Minutes |
| 2 GB | 38,400 Pages | 1,280 | 480 Files | 640 Minutes |
| 4 GB | 76,800 Pages | 640 | 960 Files | 1,280 Minutes |
| 8 GB | 153,600 Pages | 5,120 | 1,920 Files | 2,560 Minutes |
| 16 GB | 307,200 Pages | 10,240 | 3,840 Files | 5,120 Minutes |
4. Branded Wireless Chargers
Our custom wireless chargers are designed for devices with Qi capacities enabled. They're compatible with both iPhones and Androids. When the chargers are at full capacity, devices can be placed on top of them or close by. Once this arrangement has been made, the power can flow from the charger to a user's phone without any wires entering the picture. However, a USB cable will still be needed to power up the wireless charger pads in between periods of usage. Fortunately, we include them along with the models we sell on our site. Some have a more traditional appearance, such as the Rustic Wireless Charging Pad, which is displayed below. Others take on more modern and dramatic forms, such as our promotional wireless charger phone stands with speakers.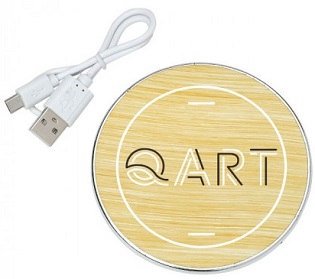 5. Custom Printed USB Hubs
Next up are our wholesale USB hubs with logo imprints. These are items that are always popular at tech industry trade shows. They also do well when promoting design firms, computer repair businesses, office supply stores, and more in any number of settings. Our promotional USB hubs are designed to be able to charge multiple devices at once. This is where the whole "hub" part of the name comes in, since they're the centers around which users' battery charging activities will flow. Different models will contain different numbers of ports, with some offering as many as 4. Many come with additional capabilities, such as the ability to function as phone stands, power strips, night lights, and more.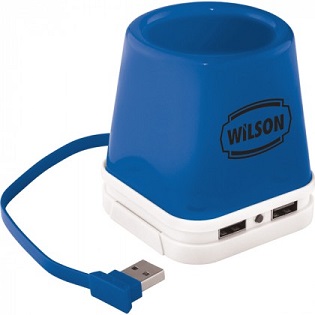 6. Wholesale USB Lanyards
If you like the idea of fun bulk USB items that can be worn as accessories, our promotional USB lanyards will put a smile on your face. They're a great way to draw attention to your booth and to your brand while worn at trade shows by company representatives. These items also are highly popular as giveaway items. Students, teachers, professors, tech professionals, and more will find these to be fun and functional products. Meanwhile, your business will reap the rewards of the advertising impressions they create and the customer loyalty that's generated by providing an item that's memorable while also having the ability to make life a bit more convenient.
7. Personalized USB Speakers
Music lovers and podcast fans will owe your company a debt of gratitude when it offers our custom wireless Bluetooth speakers as giveaway or retail items. They'll work wonders for building brand awareness for any tech firm, software development company, computer repair business, office supply retailer, music store, and many other businesses. These items are great for use at office parties, dorm room get-togethers, at home, and even outdoors. They'll broadcast your music or other audio of choice over a wide area, enabling users to listen hands-free without having to stay in one spot.
8. Bulk USB Cord Organizers
With all of the USB items that business and their patrons acquire, losing a cable or having some get annoyingly tangled up are legitimate concerns. These fears can be put to rest for anyone who is equipped with our branded USB cord organizers. Imprinted with your company logo, our cord organizers make handy and useful giveaways that will see use again and again. A stitch in time saves nine, and these items have the potential to save your target market countless hours of searching and de-tangling. We also offer promotional USB cord desk organizers. These products take things a step further in keeping things clean and orderly in a workspace.
9. Custom Novelty USB Items
While many of our USB products are innovative and unique by their very nature, there are some that go above and beyond when it comes to being fun and memorable. Providing users with a product that is not only convenient to use, but also entertaining, is a sure-fire strategy for promotional success. Novelty USB promotional items such as the Wireless Speaker Sunglasses kit displayed below, provide a great way for your company to stand out from the competition and acquire long term customer loyalty. We also offer promotional novelty power banks, unique custom shape USB flash drives, and many other amusing yet utilitarian USB giveaways.
10. Promotional USB Product Gift Sets
If your business really wants to go all-out in impressing its target market or perhaps to recognize a loyal customer or top employee, our personalized USB product gift sets are the way to go. Great as corporate gift ideas, our tech gift sets combine several useful items together in one handy and attractive package. If you'd like a visual example, just take a look at the Ambassador Power Bank & Journal Gift Set pictured below. Each comes with a 2200 mAh USB power bank, Ambassador Journal, and matching square pen in a sturdy black gift box. Our customizable USB gift sets & kits consist of items that are designed to be purchased in bulk and others that are intended for a smaller crowd of select recipients. This makes them a great investment for businesses of all sizes.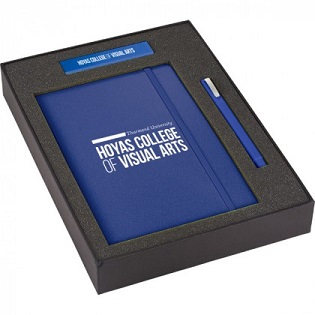 4AllPromos - Your Top Source for the Best Promotional USB Products & Giveaways
That will do it for our guide to the top ten best custom USB giveaway items for 2021. Expect to see all of these and more as trade shows, in-person office appearances, and life in general get back into full swing. As always, we encourage you to contact us at any time if you need any assistance or have any questions. We wish you a bright and happy spring filled with growth for your brand and its bottom line!