A Dozen and One Custom Sport Bottles for Schools, Offices, Homes & More
With school back in session and more people leaving their home offices to return to work, we can gain some hope that a return to normalcy isn't quite so far away. Still, this is no time to become complacent; we still need to stay vigilant in staying safe and healthy to defeat COVID-19 and stop it from inflicting further damage. At first glance, sport bottles may seem like a strange way of doing this. However, when you stop and think about it, the idea makes perfect sense. Staying hydrated is key to staying healthy, even in the best of times. In times like these, things like drinking from water fountains, public taps, or office water coolers can be a bit risky.
Bringing custom sport bottles from home, filled with water, juice, or any other beverage of choice, is a great way for users to stay hydrated and quench their thirst without taking risks. Add your company logo to these promotional water bottles and you can safely say your school or business is actively serving as part of the solution.
In this article, we're going to share 13 of our top imprinted reusable sport bottles with you. These are great items for waging the war against Coronavirus while gaining plenty of exposure and advertising impressions for your logo, business, and brand. Read on to see our suggestions for the best items for getting this done.
1. 16 oz White Sport Bottle with Colored Lid - Cheap Promotional Sport Bottles
Let's get this guide started with our 16 oz White Sport Bottle with Colored Lids. These cheap wholesale sport bottles are available at a discounted price, but do not exchange quality for affordability. Each has a 16 oz capacity, is made in the USA from BPA-free plastic, and has a white (or natural plastic) body that will really make your logo stand out. As their name would indicate, these promotional water bottles come with your choice of several different lid colors. This helps to add a bit of color to the picture, in addition to providing an opportunity to match the lid with your logo. Additional choice is presented in the form of lid styles. Choose from a push-pull lid, super sipper, or straw lid. Each comes with your custom logo imprint in one color. The imprint area occupies a space of 3 inches wide by 4½ inches high. For an upgrade fee, multiple color logo designs are accessible.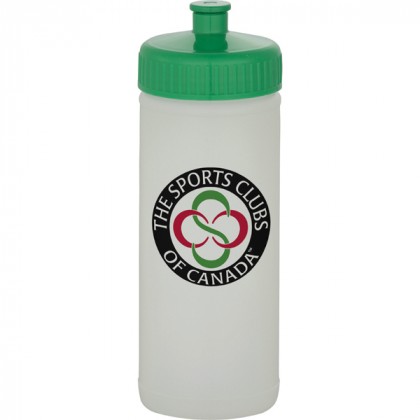 2. 20 oz BPA Free Sports Bottle - Custom Affordable Water Bottles in Bulk
The second customizable water bottles on our list are our 20 oz BPA Free Sports Bottles. These are another excellent style of wholesale affordable sport bottles that are sure to be a hit with schools, offices, and more. Each is produced in the USA and is free of both BPA and BPS. They're made from FDA-compliant and food safe HDPE plastic that is easy to clean, as every bottle is (top rack) dishwasher safe. They come in frost or white, though colored versions are also available. Users can fill these up with the drink of their choice before school or work each morning, ensuring that 20 oz of refreshing hydration remain available to safely power them through the day. These custom water bottles can either be imprinted with a double-sided or wraparound manner. While a single color logo design comes standard, multiple colors can be added for an additional fee. Speaking of colors, several different push-pull lid colors are available.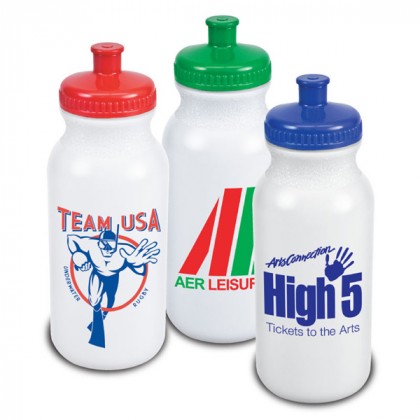 3. 20 oz Translucent Sport Bottle with Push-Pull Lid - Wholesale Reusable Water Bottles
Next up are our 20 oz Translucent Sport Bottles with Push-Pull Lids. Easy to operate and providing an attractive background for your custom logo imprint, these promotional sport bottles for schools come in your choice of assorted translucent colors. In addition to being pleasing to the eye, this design also allows users to see just how much liquid remains at any given time. As is the case with the two bottles we've already detailed, these models are also made from BPA-free plastic and are FDA compliant. You have the freedom to mix and match lid and bottle colors, so getting a look that goes just right with your logo design will be easy to achieve. A ribbed exterior design makes these water bottles easier for users to firmly grip, even when their hands are wet. They're also an eco-friendly option, as they're made from recyclable materials. Each is imprinted with your school or business logo design on both sides in one color. The imprint area has dimensions of 2⅝ inches wide by 2¼ inches high.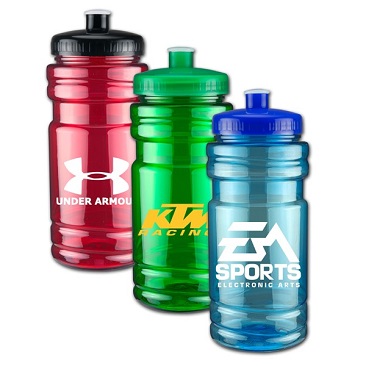 4. Alpine Aluminum 25 oz Water Bottles - Custom Metal Water Bottles
We'll break away from plastic sport bottles for a moment to introduce our Alpine Aluminum Water Bottles. With a 25 oz capacity, these promotional metal water bottles have what it takes to conquer a big thirst. Year after year, they've been one of our best-selling items. Each one is made from BPA-free aluminum and has a handy carabiner attachment. This makes it easy to attach them to backpacks and other items that users will need to bring along to work and school, allowing for convenient hands-free carrying. A screw top lid with a finger hole for carrying is designed with security and leak prevention in mind. Four color choices are available, with red, blue, green, and silver all being among your options. A single color and location imprint area (4 inches in both height and width) come standard. A second, smaller location on the opposite side can be included as an upgrade option.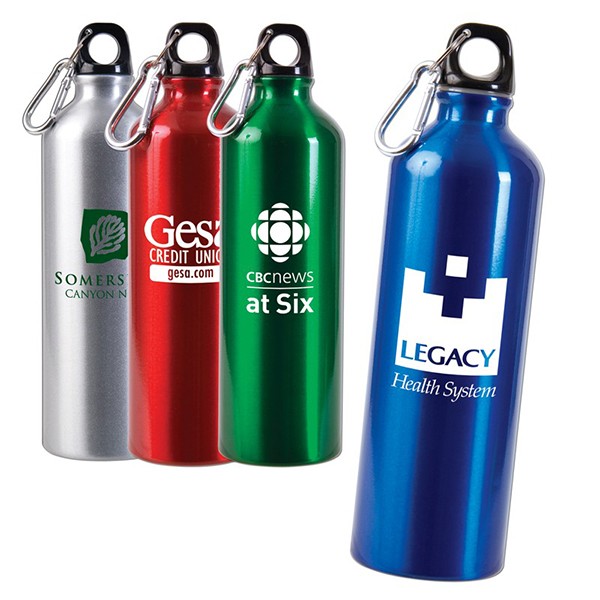 5. h2go Force 17 oz Water Bottle - Promotional Insulated Water Bottles
Here's an item that will enable users to bring both hot and cold beverages to work or school. Our h2go Force custom vacuum insulated water bottles feature double wall construction and copper lining. Made from 18/8 grade stainless steel, these personalized water bottles can keep beverages hot for up to 8 hours and cold for up to 16. That's plenty of time to keep drinks at peak temperature throughout the whole school or work day. They come in your choice of 20 different colors, with each featuring a spill-proof screw-on lid. Their sleek shape and modern look make them a great promotional item for tech firms, magnet schools, web design companies, and more. Each is imprinted with your logo design in a side or wrap formation and is presented in an attractive retail gift box. Please give us a call, email, or live chat message if you have any questions as to further personalization options.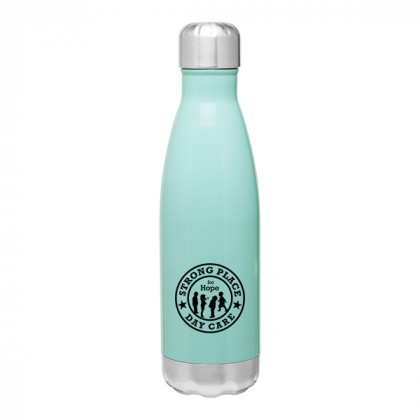 6. 18 oz Mood Poly-Saver Mate with Dome Lid - Custom Novelty Sport Bottles with Your Logo
You can have a little bit of fun with your branding efforts when you invest in our promotional novelty water bottles. The example linked to in the previous sentence (and pictured below this paragraph) is our 18 oz Color Changing Poly-Saver Mate Sport Bottle with Dome Lid. These fun and unique custom water bottles change color with the addition of cool liquids. This makes them a fun and popular choice for schools, as children will have lots of fun with the visual effects. They're also a great way to guard against germs, as their domed lids safely cover up the mouthpiece. This limits possible exposure to germs and bacteria, something that is more important now than ever before. Beneath the dome resides a push-pull lid. They're made from wear-resistant BPA-free plastic that is also free from odor and taste. BPA-free stickers can be added for an upgrade fee, as can multiple imprint colors. The standard imprint consists of one color, but is available on your choice of one or two sides of the bottle. One side is the default option, so it's important to specify if a double-sided imprint is desired.
7. 28 oz Slim Stainless Water Bottle - Personalized Stainless Steel Water Bottles
Still more great company logo stainless steel water bottles are ready and waiting to serve your needs with our 28 oz Slim Stainless Steel Sport Bottles. Each has a contoured shape for an effortless grip. They also offer a sleek, modern design and metallic finish for a highly stylish, cutting-edge kind of look. Don't let their slim shape fool you though. Despite being thin, these bottles hold an impressive 28 oz of liquid. They come in your choice of metallic silver, blue, green, red, or orange. Every one is topped with a black twist-on lid. A flip-top drinking spout is built into the lid, offering some contrast in color for the top while matching the color of the bottle itself. Optionally, an accent color stripe can be included around the lower portion of the lid. Decorate these custom sport bottles with your school or company logo in the provided 1½ inch wide by 2 inch high imprint area. Upon arrival, every bottle will be presented in its own white gift box.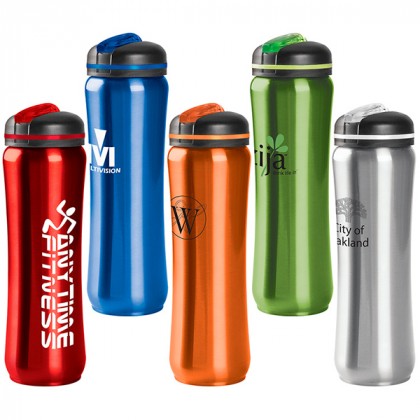 8. Collapsible Silicone Water Bottle - Wholesale Branded Collapsible Water Bottles
When space is at a premium and an ergonomically designed water bottle is needed, our Collapsible Silicone Water Bottle is there to answer the call. These promotional collapsible sport bottles are made from FDA compliant, food-grade silicone that can collapse accordion style to create extra space when empty or when fluid levels get lower. They have a 17 oz capacity and can stand between 4½ and 8 inches tall. They come in your choice of black and white and are topped with a silver lid. In addition to preventing spills, these lids are laser engraved with your personalized logo design. Your school or business logo is located on top of the lid and has a diameter of 1¼ inches. Multicolor imprinting is also available for an upgrade fee. These customizable water bottles can handle both hot and cold liquids, with an ability to tolerate beverages with a temperature up to 140 degrees Fahrenheit (60 degrees Celsius).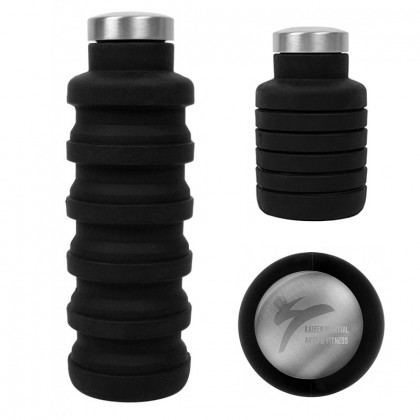 9. 25 oz Fruit Infuser Sport Bottle - Best Promotional Infuser Water Bottles
For those who like to add a bit of extra flavor and nutrition to their water, our 25 oz Fruit Infuser Sport Bottles are a perfect choice. These custom infuser water bottles have a 25 oz capacity, enabling them to quench even the biggest of thirsts. Each is constructed from BPA-free and eco-friendly polypropylene. Polypropylene is made from recycled materials and is in turn recyclable itself, making them highly desirable in the eyes of eco-conscious audiences. Each is equipped with an infuser column into which fruits and other nutritious flavoring agents can be added. The contents gradually disperse into the water, giving it additional flavor and health-supporting content. These bottles are clear in color, giving a perfect viewing window into their inner workings. They're topped with a black lid with large finger insert handles and a clear flip-top drinking spout. A single color logo design in one location comes standard, occupying a space of 2½ inches wide by 3⅜ inches high.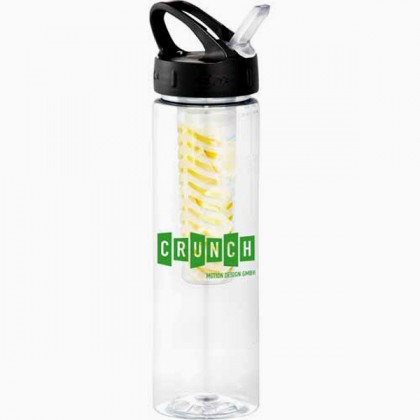 10. Hand Grip Fitness Bottles - Unique Promotional Sport Bottles
Here comes another unique yet highly useful promotional sport water bottle that's great for schools, workplaces, gyms, homes, and more. Our Hand Grip Fitness Bottles have what you might call an unusual shape, but this is not without a purpose. Their unique form exists to allow the bottle to have a second function as an exercise tool. In addition to holding water and other beverages, these promotional sport bottles also give users a chance to work out their hands and improve the strength of their grip. When full, they obviously weigh a bit more. This gives them another fitness function, as users can do curl-style lifts throughout the day, or at least until they've finished their refreshing beverages. Each is made from eco-friendly and BPA-free polypropylene. They offer a 10 oz capacity and have a push-pull spout that is protected by a hinged dome cover. While the lid is of a frosted shade, the rest of the bottle is black. Each is imprinted in one color in a 2 inch wide by ⅝ inch high area on the front. Other imprint area locations are available, so please don't hesitate to ask about them.
11. Surf & Sun Sport Set - Custom Sport Bottle Gift Sets
Even though summer vacation is through and kids are back in school, a fun custom indoor & outdoor sport bottle with sunglasses makes for a useful and appealing promotional gift package. That's just what's offered by the Surf'n Sun Sport Set. Kids will be able to add an extra element of safety to their school day by filling the bottles with water or juice home. They'll also have fun wearing their shades around the playground during recess and outside of school in just about any other location. The sport bottle has a 20 oz capacity and is made from BPA-free plastic. It's topped by a screw-on push-pull lid. Each bottle comes in your choice of several different translucent colors. The sunglasses contain a pair of UV400 lenses which keep eyes safe via providing 100% protection against both UVA and UVB rays. The lenses and front frames are black, while the earpieces are available in a variety of colors. The sunglasses and bottles can be of the same color or of different hues; it's entirely up to you. Both items are imprinted with your company logo design, offering double the promotional power.
12. Hydrate PPE Bundle - Company Logo Water Bottles & Custom PPE Supplies
As this article is centered around items that have both protective and promotional properties, it only seems right that we include our Hydrate PPE Bundle on the list. These custom promotional PPE item kits are great for schools, businesses, gyms, and even in-home use. Each set comes with three items, which are a 3-ply non-woven face mask, 2 oz bottle of hand sanitizer, and a 20 oz translucent sport bottle. The hand sanitizer is made from 70% alcohol, arming it with the ability to kill germs. It's also infused with Vitamin E to protect users' skin. The mask is lightweight and breathable, and is constructed from non-woven polypropylene. It also has comfortable soft plastic ear loops. The sport bottle has a 20 oz capacity and a screw-on lid with a push-pull drinking spout. It comes in your choice of an array of translucent colors. A single color and location logo imprint is included on the bottle in your choice of several different locations. Multiple imprint locations are accessible as an upgrade option.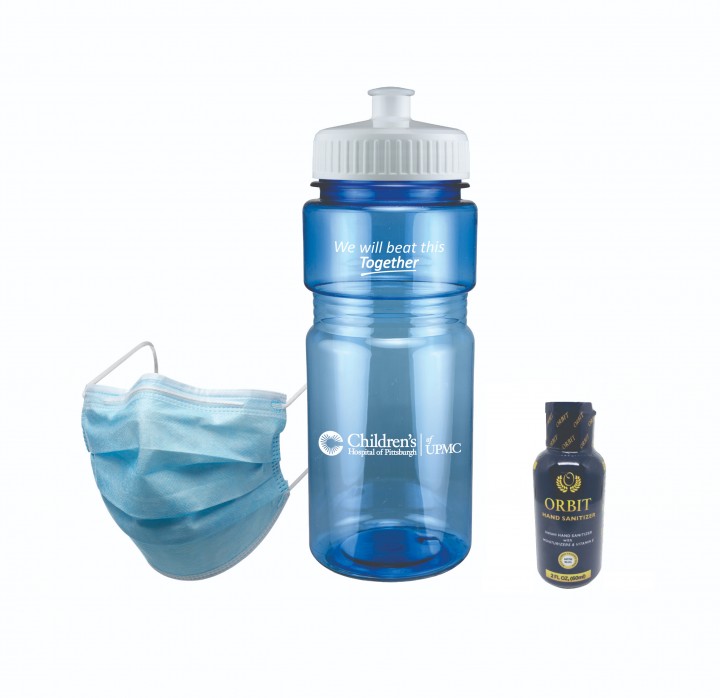 13. Thirsty Dog 27 oz Sport Bottle & Folding Dog Bowl - Promotional Pet Bowls & Dog Water Bottles
Last but not least, we're including something for pets and the people who love them. Our Thirsty Dog 27 oz Sport Bottle & Folding Dog Bowl sets make great promotional pet accessory items. These promotional packages are great for anyone who takes their dog to work with them, as well as for professional working dogs. They're also handy for keeping dogs hydrated, happy, and well-fed on hikes and road trips. Each set contains a transparent sport bottle with a 27 oz capacity. Every bottle has a screw-on lid with a secure hinged flip-top opening. Along with the bottle, users will also receive a collapsible dog bowl into which the water can be poured. This bowl can also be used for holding solid food. When not in use, it folds flat for easy storage. The bottle and bowl come in your choice of 10 different colors. Both are imprinted with your logo design, with two-color designs being available for an additional fee.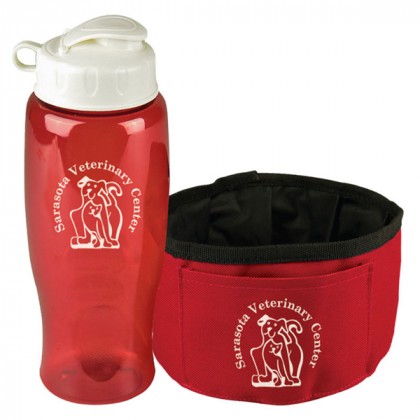 With that, we've reached the end of the 4AllPromos guide to the best promotional reusable sport bottles for schools and offices. We hope we've provided your business, school, charity, or other organization with some solid ideas on how to promote while keeping the public safe. If you have any questions about any of the items we've presented, please feel more than free to contact us at your earliest convenience. Let's work together to get back to normal as soon as possible and grow a loyal customer base in the process!