Stay Safe & Clean with Promotional Hand Sanitizer Gels, Sprays, and Wipes!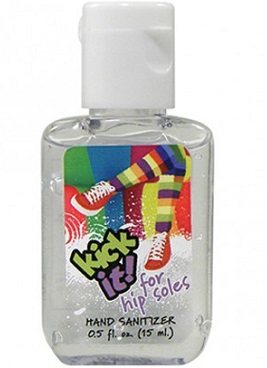 Everybody wants to stay safe and healthy at all times. Your business can bring about peace of mind by way of helping users protect themselves when you invest in our custom hand sanitizer promotional items.Still, this category is a complex one. There are many different styles and varieties of personalized hand sanitizer products available at 4AllPromos. In this article, we'd like to share the best representatives from each category with you along with information to help guide you to the best styles to fit your promotional needs. Once we've shared the 4AllPromos Top 15 picks with you, we'll also provide a very useful list of frequently asked questions about hand sanitizers. Of course, the answers will be included as well. 
As we've already stated, there are many different kinds of hand sanitizer available on our site. The following link menu will break them up into respective sections. This serves the purpose of separating each category out a bit, as well as allowing you to skip directly to any variety that especially piques your interest.
Different Types of Promotional Hand Sanitizer
Our promotional hand sanitizer gel and lotion products are come in semi-thick liquid form and are packaged in a variety of ways. Squeeze bottles, pump bottles, single-use squeeze pouches, and tubes are some of the more common vessels. There's a good deal of variation as far as container sizes and even in regard to the composition of the sanitizer inside. We'll demonstrate this by showing you some of our top-selling and most popular models in the upcoming section.
2 oz Custom Hand Sanitizer Squeeze Bottle
One of the most commonly found versions of hand sanitizer, be it on our site or anywhere else, is the small squeeze bottle style. You can have your name imprinted on such a bottle to create advertising impressions and keep users safe from illness with our promotional 2 oz Hand Sanitizer Squeeze Bottles. These clear squeeze bottles are topped by white screw-on lids with flip-top caps. Each is filled with 2 oz (59 ml) of hand sanitizer gel. The gel inside is antibacterial to fight germs and had a mild scent. Both the bottle and its contents are FDA approved. A They're also TSA friendly, though you'll have to remember to place them in a transparent ziplock bag when going through security. Every bottle is imprinted in full color on your choice of a clear or white label sticker.
Wholesale Hand Sanitizer Bottles with Custom Labels - 0.5 oz
The second sanitizer gel bottle we'll show you today is our Custom Label Hand Sanitizer Squeeze Bottle. These are similar in construction to the model detailed above, though they have a smaller 0.5 oz (14.79 ml) capacity. Made in the USA and approved by the FDA, these items give you the freedom to design your own labels. Each clear bottle and white cap come with a scratch resistant label in your choice of white or clear. The entire surface of the label is fully customizable, allowing your business to create an image that is guaranteed to stand out in a crowd. Consequently, they make terrific trade show giveaway items, especially since large venues with large crowds will have users turning to hand sanitizer at a high rate of frequency. The labels are decorate via full color printing, enabling creativity and visual appeal to run free.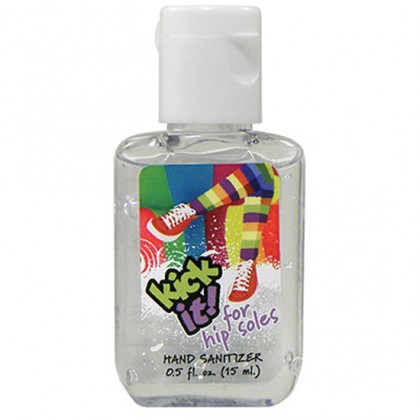 Promotional Hand Sanitizer Gel with Aloe - 0.5 oz
Most hand sanitizer gels include ethyl alcohol as an active ingredient to aid in killing germs. Though effective, the alcohol can cause an odor that some people don't quite enjoy, though this is often countered by adding a more pleasant fragrance. Still, some users prefer santizer with a lower alcohol content. This is provided in our Instand Hand Sanitizer Gel Pack, which contains only 62% ethanol. It also mixes in aloe, to be more gentle on the skin and make it less likely to become dry, cracked, and/or irritated. This is definitely the style we recommend if you cater to users with sensitive skin. As such, our personalized hand sanitizer gel with aloe in 0.5 oz (14.79 ml) packets make great promotional items for pharmacies, dermatology clinics, spas, salons, gift shops, and more.  This style is able to be used a bit more frequently than versions containing higher amounts of alcohol, due to the skin-safe qualities mentioned above. Each unit comes in a packet that is white by default, but is fully customizable. A full color logo design covers the surface of the product. This is included in the price and comes at no extra chrage. If a completely alcohol-free option is needed, we recommend continuing on in this article and checking out our Alcohol Free Sanitizer Mist Pen.
1 oz Custom Imprinted Hand Sanitizer Squeeze Pouch
As we mentioned earlier, not all sanitizer gel comes in bottle form. To illustrate that point, we present our wholesale 1 oz Hand Sanitizer Pouches. Each contains 1 oz (29.57 ml) of squeezable hand sanitizer gel. Their compact size and lightweight design make them easily portable and another popular option if you're looking for hand sanitizer giveaways for trade shows and events. Each is made in the USA. They're a great giveaway item for gyms, clinics, airport gift shops, sports/music venues, and anywhere large crowds sharing public facilities will congregate. This is another model that is scented. Coconut, citrus, lavender, and unscented versions are available - please specify which you prefer when ordering. A full color logo imprint is included on ever pouch at no additional charge. A white screw-on cap prevents spills and leaks.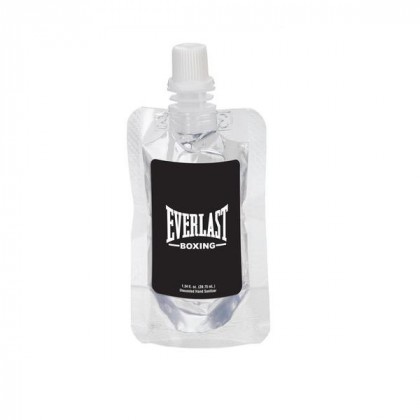 Promotional Hand Sanitizer Squeeze Tube - 1 oz
The variety continues with our 1 oz personalized Hand Sanitizer Squeeze Tubes. A clear tube includes clear hand sanitizer gel that is TSA-friendly, FDA approved, and made in the USA. Each holds 1 oz (29.57 ml) of alcohol-based sanitizer gel. These are yet another great giveaway item for virtually anywhere business is done and where people gather. Each has a secure plastic flip-top cap to prevent the contents from unintended discharge. Operation is simple; all one needs to do is open the cap, put out their hand, and squeeze out a drop or two of sanitizer gel. Pick your favorite among coconut, citrus, and lavender aromas or go with an unscented model - selection is the name of the game! A full color logo imprint is included on every tube. Please give us a call, live chat message, or email if you have questions regarding any further personalization options.
Personalized 30 ml Hand Sanitizer Bottle with Carabiner
Looking for something a little bit different with some added utility? If so, our custom Hand Sanitizer Bottles with Carabiners may be the best items to wear your logo. Each of these uniquely shaped squeeze bottles contains 30 mil (1.01 oz) of lightly scented hand sanitizer that kills 99.99% of the germs it encounters. Both the sanitizer and bottles that hold them meet FDA guidelines. The containers are of a frosted white color and come with your choice of a blue or black cap. There's a small gap in the top of each container. This is where the 1¾ inch carabiner resides. This handy little feature allows the bottles to clip on to belts, keychains, notebooks, journals, and countless other items. As is the case with many of the other sanitizer containers we've discussed so far, these models also come with full color logo imprinted labels.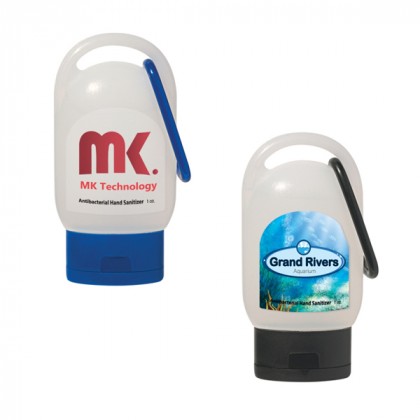 Howdy-Tizer Hand Sanitizer
Now it's time to have some fun - shake hands with our Howdy-Tizer custom novelty hand sanitizer holders! These come in the shape of a friendly outstretched hand, offering a genial wave to all who pass by. While this is a gesture of goodwill and positive symbol in most cultures, there are a few places where showing the palm of one's hand is considered insulting or even profane. Take a look at our Hand Gestures to Avoid in Other Countries article to learn more. In most countries though, these items will be more than popular. Each consists of a clear hand shaped bottle with the option of a red, white, or blue snap top. They're made in the USA from PET plastic and meet all FDA requirements. Every unit is imprinted with your logo design in a single color and location. Please contact us if you'd like to know about all potential upgrade options.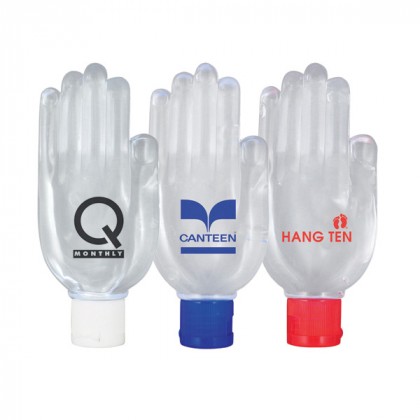 Our promotional mositure bead hand sanitizers are similar to the gel version, with the obvious exception that is provided by their names. Included within the gel are small beads which contain vitamin-infused, moisturizing ingredients. The goal here is to nurture the skin by keeping it moist and providing it with nutrients to avoid drying, flaking, and cracking.
2 oz Promotional Moisture Bead Sanitizer in Clear Bottle
Now we'd like to tell you about our wholesale 2 oz Moisture Bead Hand Sanitizer Bottles. As explained above, these models contain 2 oz (59.15 ml) of hand sanitizer gel along with moisturizing beads. These beads include Vitamin E to help moisturize and comfort skin while the 62% alcohol content of the gel effectively slaughters germs. Several bead colors are included in each bottle; please click the link at the beginning of this paragraph to see all of them in the product page. Each features a convenient screw-on lid with a flip-top opening. Every bottle is decorated with a very colorful label that includes your company logo in full color. They're designed to catch the eye and will do well at trade shows or when sold as impulse items at pharmacies, supermarkets, convenience stores,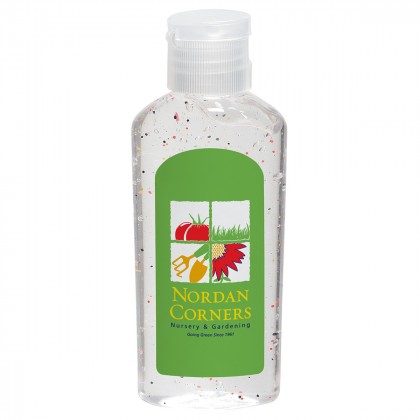 Some users prefer sprays to gel. They get the same essential job done, but take a somewhat dryer approach. The custom hand sanitizer spray items you'll find at 4AllPromos come in pumps, pens, credit card shaped containers, and more. They're easy to store and transport and make for excellent cleansing items for people on the go.
10 ml Custom Hand Sanitizer Spray Pump
The first hand sanitizer spray giveaway items that we'll discuss are our bulk 10 ml Hand Sanitizer Spray Pen Pumps. These hand sanitizer promotional products offer a dose of cleansing power in spray form rather than in a gel. They're lightly scented and ideal for outdoor events and industry conventions. These wholesale hand sanitizer spray pumps meet FDA requirements and come with a variety of frosted cap colors. Each is wrapped in a white label which is imprinted over its entire surface in full color. They're a convenient size at 5¾ tall and come with a pocket clip for easy transportation.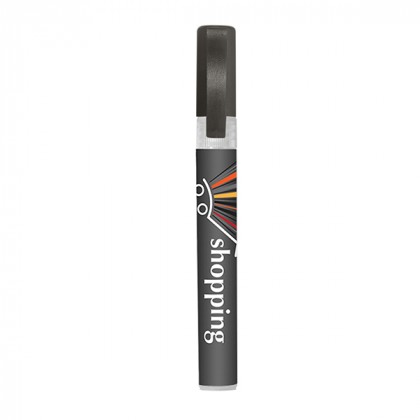 Promotional Credit Card Style Hand Sanitizer Spray Container
Another popular take on promotional sanitizer spray holders is the credit card shape. Our custom logo printed Credit Card Hand Sanitizer Sprayers ship completely free of charge. They hold 20 ml (0.676 oz) of antibacterial hand sanitizer spray in a fun, convenient package that easily fits into a pocket, purse, or larger wallet. They come in a broad range of assorted colors and contain lightly citrus scented liqiud sanitizer. A small push-in tab at the top activates the spraying action. Each comes with a single color and location logo imprint. As an upgrade option, second-side imprints as well as full color clear, metallic, or laminated white printed decals can be added. Please visit the product page, linked to earlier in this paragraph, or contact us if you're interested in learning more.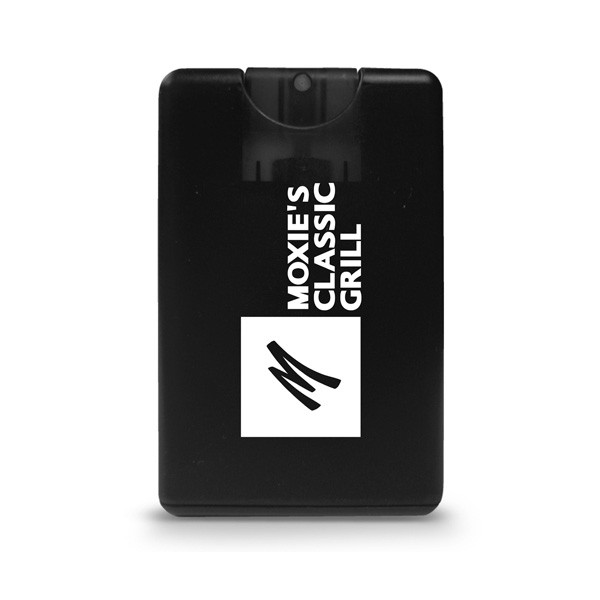 Custom Alcohol-Free Sani-Mist Pocket Sprayer
The final promotional sanitizer spray mist pens that will be featured in this article are our personalized Alcohol-Free Sani Mist Pocket  Sanitizer Sprayers. These bulk non-alcoholic hand sanitizer spray pens have a capacity of 10 ml (0.33 oz) and a gentle citrus scent. Their relatively small size and smooth, compact shape makes them highly popular as trade show and charity event giveaways. Many translucent cap colors are available to go along with a translucent frost body. Included in the price is a full color printed decal which runs nearly the entire length of the spray pen. Carabiner attachments are also available for an upgrade fee for even more convenient carrying.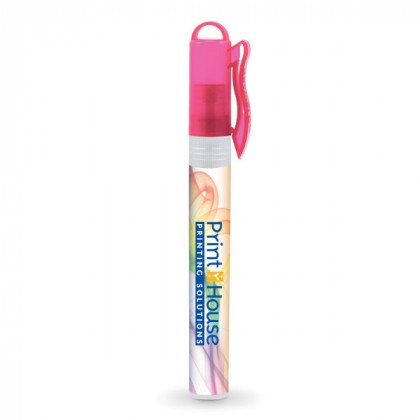 Our bulk sanitizer wipes present another way for users to keep clean and for your brand to spread awareness and make advertising impressions. These are antibacterial hand wipes that often find their home in desk drawers and glove compartments. They're effective at dealing with sticky hands or giving a quick, refreshing, cleansing after touching potentially germ-infected objects.
Custom Imprinted Sanitizer Wipes in Resealable Pouch
For those who prefer traditional wipes over sprays or gels, we have plenty of options. Just one illustration of this point is made by our promotional Sanitizer Hand Wipes in Reusable Pouches. The compact shape/size and resealable nature of these items makes them perfect for giveaways at nearly any public event. Every package holds 10 antibacterial hand wipes with a light lavender scent. Each unit is produced in the USA and meets FDA standards. They'll find happy homes in cars, desks, pocketbooks, tote bags, and a multitude of other places where they'll see frequent use. The packages come in several different colors and feature a full color imprinted label on the top for your company logo.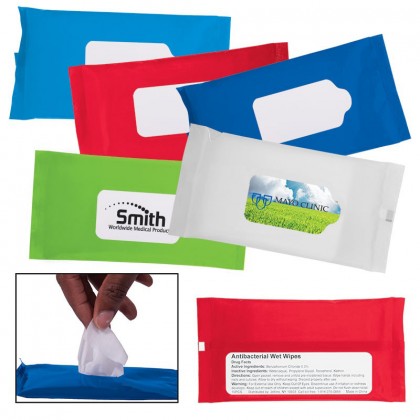 Bulk Mini Wet Wipe Canisters
If your company is looking for the perfect promotional products to fill glove compartments, office drawers, and desk tops, it'll be a challenge to find a better contender than our wholesale Mini Wet Wipe Canisters. Each contains 30 wet hand wipes that are mildly scented. Meeting all FDA guidelines, these items come in white cylindrical containers with your choice of several different cap colors. Each also is appointed with a bead chain which makes them easy to attach to any of our promotional key rings. At a height of 3¼ inches and with a diameter of 1⅞ inches, these custom giveaway items are sized conveniently enough to fit and be taken most anywhere. A full color imprint or your logo design is included on every canister at no additional charge.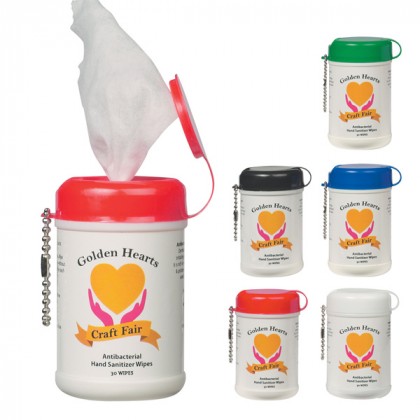 If your business likes to offer its target audience multiple items in a single package, our personalized hand sanitizer item sets are a good option to consider. In addition to various forms of hand sanitizer, these logo printed gift package giveaways also include a plethora of different health care and sanitary items. We'll share two shining examples with you in this section.
Custom Hand Sanitizer Bottles with Lip Balm & Carabiner
Enjoy two promotional products for the price of one with our personalized Hand Sanitizer Bottle with Lip Balm & Carabiner packages. These hand sanitizer giveaway sets include a hand sanitizer squeeze bottle holding 2 oz (58 ml) of citrus scented sanitizer gel. The lip balm comes attached to the sanitizer bottle via a handy carabiner. It comes in a broad array of flavors to suit all tastes. It's useful year-round to protect lips from both chapping and sun damage. Both the hand sanitizer have clips for latching onto the carabiner, belts, pockets, backpacks, and other important items. The sanitizer bottle comes with a full color company logo designed decal, while a single color imprint decorates the lip balm tube. For an upgrade fee, multiple colors can be added to the lip balm tube.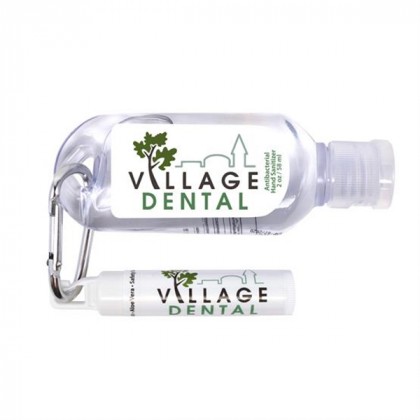 Personalized 4 Spray Kit
Last but not least, it's time to talk about our Customized 4 Piece Hand Sanitizer Spray Sets. These promotional hand sanitizer giveaway items come in transparent reusable vinyl pouches and hold four spray pens. Each spray pen has a 10 ml (0.33 oz) capacity and a clear body that comes with your choice of cap color. They also are wrapped in full color logo printed labels for maximum advertising effectiveness. One spray pen holds hand sanitizer, while the others contain (one each) DEET-free insect repellent, SPF 30 sunscreen, and stain remover. These make great promotional items for any organization within the travel and/or outdoor lifestyle industries. For an upgrade fee, a full color logo decal can be added to the pouch, as can a card insert.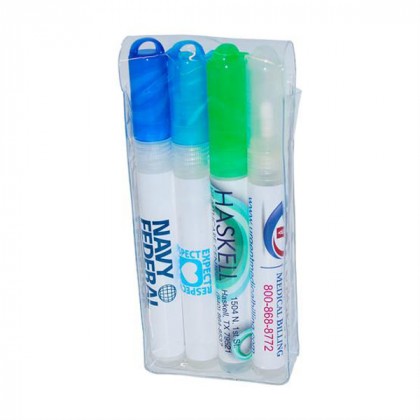 Now that we've shown you our top 15 promotional hand sanitizer giveaway items, we're ready to share a list of frequently asked hand sanitizer questions along with answers.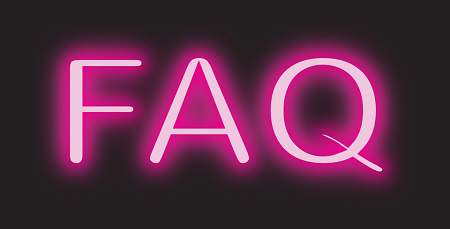 Frequently Asked Questions About Hand Sanitizer
Do you have any other questions about our promotional hand sanitizer items? If so, feel free to reach out to us by phone, live chat, or email!
How does hand sanitizer work?

Hand sanitizer functions by way of removing the exterior layer of oil from the skin. In the process, germs are both removed and killed by the active chemical ingredients.

When should hand sanitizer be used?

Hand sanitizer should be used during moments where soap and water are not available. It's advisable to use hand sanitizer after touching money, door handles, shared equipment, and other frequently touched or widely circulated items. However, it is recommended that hand sanitizer not be used when hands are especially dirty or greasy.

How often should I use hand sanitizer?

Ideally, hand sanitizer shouldn't be used more than once per hour. If used too frequently, versions containing alcohol can cause skin to dry, peel, and crack.

Should hand sanitizer be used on wounds and cuts?

It's not a good idea to use hand sanitizer on open wounds. The chemicals it contains can potentially damage exposed tissue.

Can hand sanitizer protect against coronavirus, influenza, and other illnesses?

Yes, hand sanitizer can protect against coronavirus, influenza, and other diseases. However, it is important to use it as part of a preventative package and not rely on it exclusively. Please speak with a trusted medical professional for the best advice on avoiding serious illnesses.

Is hand sanitizer safe for babies?

Hand sanitizer should not be used on infants or toddlers. Their skin is more sensitive than that of older children and adults and can become irritated. It's best to stick with more gentle baby wipes when treating the very young.

Does hand sanitizer ever expire?

Hand sanitizer can expire and most containers will include an expiration date. However, most sanitizers will still work well for a while after this period. Eventually, the active ingredients do evaporate, leading to less effective cleansing and germ protection.

Can hand sanitizer freeze?

Hand sanitizers containing alcohol require some extreme temperatures in order to free. We mean extreme as in -174 degrees Fahrenheit. However, alcohol-free hand sanitizers can freeze if exposed to cold temperatures for prolonged periods.

Is hand sanitizer flammable?

Due to their high alcohol content, many kinds of hand sanitizer are indeed flammable. Consequently, it's best to keep them away from extreme heat, sparks, open flames, electrical outlets, industrial equipment,and other potential sources of ignition.

How should hand sanitizer be stored?

In addition to keeping hand sanitizer away from items/areas that pose fire risks, it is also advised to store it in a dry, cool place indoors when not in use. It should also be kept out of reach of pets and children, as many forms include chemicals that are toxic if ingested.