15 Sustainable Promotional Product Ideas for the New Decade
One of the most popular trends in promotional products as we head into the 2020s is an increased focus on environmental responsibility. Users want products that are sustainable, eco-friendly, and made from renewable resources. Essentially, there's a movement to show more respect to Mother Nature. Your company can show its commitment to this cause by supplying the public with company branded items and custom trade show giveaways that fall on the green end of the spectrum. At 4AllPromos, we have 15 such products that we'd like to share with you in this article. They're suitable for a wide variety of businesses and end users and will soundly establish your brand as one of the industry leaders in the quest for an Earth-first future.
1. Logo Imprinted 10-in-1 Reusable Stainless Steel Straw Set 
The first eco-friendly item we'll introduce today is our 10-in-1 Custom Reusable Stainless Steel Straw Set. Offering 8 different straws along with a cleaner and logo imprinted carrying pouch, these sustainable giveaway items have many purposes. Obviously, they're intended for use while drinking (designed for cold beverages), but they also perform another important in function in cutting down on the need for and use of disposable plastic straws. This aids in protecting the environment, particularly in the case of oceanic and freshwater species. The straws are made from 18/8 food grade stainless steel and each has a different colored silicone tip. This helps to tell them apart and to prevent users from accidentally swapping straws with each other. The set is held together by a natural cotton pouch, which is imprinted with your logo in an 8 inch wide by 2 inch high imprint area. A single color and location imprint are included, but for an upgrade fee, multiple colors, locations, and full color imprinting are available.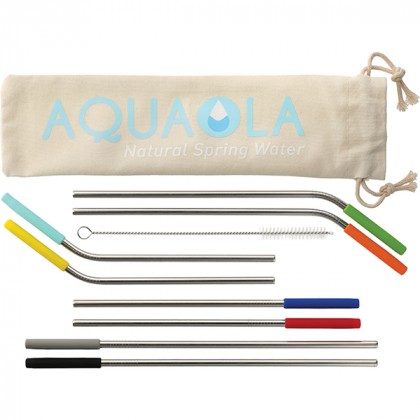 2. Buildable Custom Wheat Straws in Travel Case
If steel isn't the look or material your company has in mind, consider our promotional wheat straw kits. They're another sustainable promotional product perfect for helping users enjoy cold drinks while creating advertising impressions for your brand. The straws in these sets are made from a blend of sustainably harvested wheat and recyclable polypropylene. Both materials are food-safe, BPA-free, and environmentally friendly. They can be unscrewed for easy storage and are accompanied by a cleaning brush. They come in a protective case which is imprinted with your company logo and attached to a handy carabiner. The cases come in your choice of blue, orange, gray, natural, or green. The set measures 5 inches high, while the imprint area is inches 7/16 wide by 2½ inches high.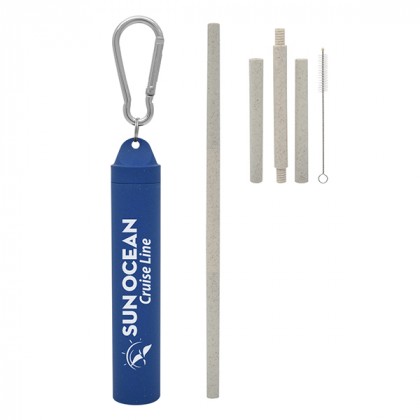 3. Promotional Wheat Utensil Set
Does your company think wheat is neat? Then you'll want to pair up the straws described above with our wholesale wheat utensil sets. Each comes with a knife, fork, and spoon, making them a great fit for nearly any meal. Like the aforementioned straws, these eco-friendly utensils are made from a blend of sustainably harvested wheat and polypropylene. They're BPA-free, microwave safe, and meet all FDA requirements. Each utensil is 6 inches long and comes in a protective case, printed with your business logo design. Safe for microwave use, they come in your choice or orange, gray, blue, natural, or lime green. The protective case is 2¼ inches wide by 8 inches high and comes with a 1 inch wide by 6 inch high imprint. The logo imprint comes in one color by default, but full color designs are available for an upgrade fee.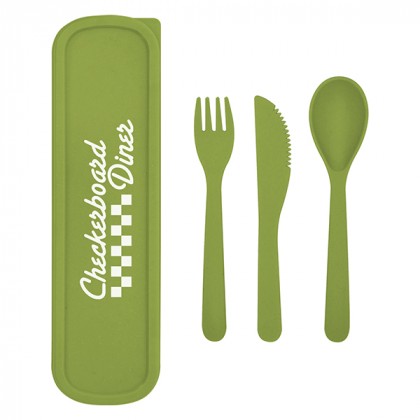 4. 4" Round Personalized Coasters
Perfect as a giveaway item for bars, wineries, grocery stores, furniture retailers, and countless other businesses, our wholesale 4" cork coasters are low price items made from renewable resources. They excel in protecting countertops, tabletops, coffee tables, and other surfaces from liquid stains and damage. Fully biodegradable, the cork in these promotional coasters is harvested in keeping with the most environmentally-conscious practices. Each is ⅛ of an inch thick and has a diameter of 4 inches. They come in a natural cork color and feature your logo imprint in an area with a diameter of 3¼ inches. On orders of 500 units or more, double-sided and two color imprints are available. 
5. Wholesale Awareness Ribbon Shaped Recycled Tire Coasters
Here's another take on the promotional coaster idea. Your company will quickly be on the road to having an eco-friendly image when you invest in these custom awareness ribbon shaped recycled rubber coasters! Creative, fun, and perfect for building awareness of your brand and several important issues, these bulk drink coasters are made from 100% recycled post-consumer tire rubber. Their black color and awareness ribbon shape help to bring to attention such conditions as melanoma, sleep disorders, cirrhosis, sleep disorders and more. If you're interested in learning more, you can refer to our awareness ribbon color meanings blog post. Each of these coasters measures 3½ inches wide by 4½ inches high. Their imprint area is ⅝ of an inch wide by 2¾ inches high. One color and location come standard, but multiple colors can be included on orders of 500 or more. Additionally, double sided imprints can be included on any size order for 14 cents extra per piece.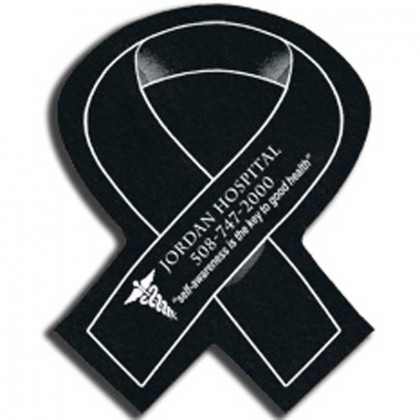 6. Promotional Reusable Silicone Tea Bags
Users can enjoy many hot cups of tea while only using one bag. How? By making use of our custom reusable silicone tea bags! Your business can be the face of good environmental citizenship by putting an end to the days of wasteful one-use tea bags. Safe for use in dishwashers, these reusable tea bags are made from silicone and feature a removable bottom stopper. When it's pulled out, tea leaves can be inserted. It comes in a semi-transparent white color and is attached to a tag that is decorated with your logo design. Just think of all of the disposable bags, boxes, and wrappers that can be saved by using these items in lieu of traditional tea bags. Each is a convenient 1¾ inches wide by 2½ inches high by ¾ of an inch deep. The tag bears your logo imprint in a ¾ inch wide by 1 inch high space.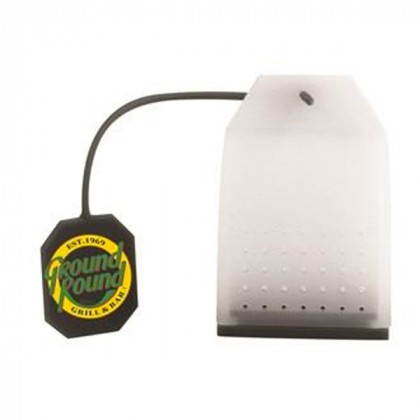 7. Personalized Bamboo Fiber Lunch Box with Cutting Board Lid
Here's another of our many great two-in-one promotional products. As their title would indicate, our promotional Bamboo Lunch Boxes with Cutting Board Lids provide both a sustainable, reusable lunch box along with a durable and attractive cutting board. The lunch boxes are a positive move away from single-use plastic and paper bags and are made from a combination of bamboo fiber and eco-friendly resin material (55%/45%). Coming in your choice of beige, black, or gray, these lunch boxes can carry a satisfying amount of food, with its contents being kept fresh and healthy by way of the silicone lining and securing band on the lid. Meanwhile, the cutting board top can be removed and used for cutting meats, breads, and most any other food you can name. Each is engraved with your logo in the central portion of the lid. When put together, these lunch boxes are 71/16 inches wide by 413/10 inches high by 2⅓ inches deep. Part of the proceeds from every order go toward non-profit environmental charity organizations.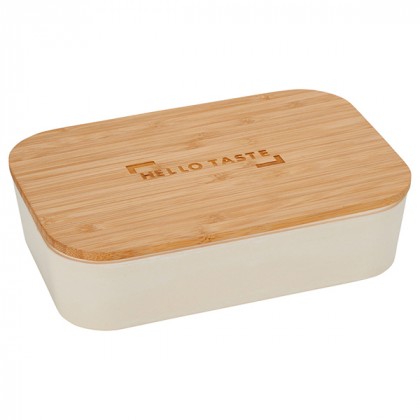 8. Bulk Reusable Storage Bags with Dog Biscuits
How about a giveaway item to salute man's best friend? Pet shops, grocery stores, veterinary clinics, and any other animal-related business will love to have its eco-friendly ways represented by our wholesale reusable storage bags with dog biscuits. These zip-sealing reusable bags carry 3.8 ounces of food and come appointed with four scrumptious dog biscuits to delight a four-legged friend. Each stands 7¼ inches high and has a width of 4 inches. Users can dispense with the habit of using disposable snack bags when these reusable ones are in their hands. Each bag comes with jar stock art decoration along with a direct one color imprint of your company logo in a 2 inch wide by 2½ inch high space. Please give us a call, email, or live chat message if you're interested in learning of our multiple and full color upgrade options.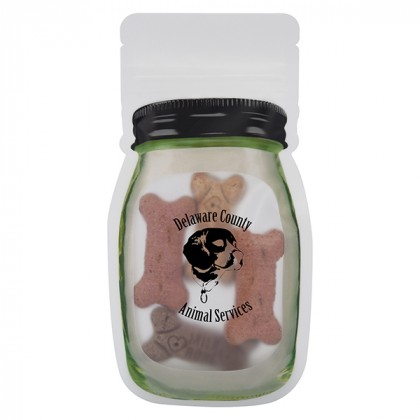 9. Biodegradable Fold Over Die Cut Bag with Logo Imprints
If you're looking for a tote bag perfect for grocery shopping, you need look no further than our promotional Biodegradable Fold Over Bag with Die Cut Handles. Some states have already implemented taxes on plastic grocery bags, so you can help users save money while they save the environment by providing them with these models. That's two positive brand associations for the price of one! When their life as tote bags come to an end, these items can go into landfills where exposure to the sun and oxygen breaks them down into a mix of water, carbon dioxide mineral salt, and biomass. All of these elements are harmless to the soil and environment at large. Due to their eco-positive nature, each bag is decorated with EPI and Oxo Biodegradable logos on the bottom gusset. Your logo will appear in an 8 inch wide by 8 inch high imprint area on the front of the bag. Each bag is 15 inches wide by 18 inches high by 3 inches deep and comes in your choice of frosted, white, or lime green.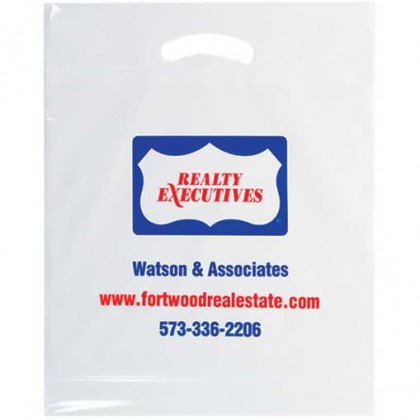 10. V Natural Recycled Branded Cotton Tote Bags
Getting back to basics, our promotional V Natural Recycled Cotton Tote Bags are simple, sustainable promotional products that don't forget the style factor. Made from 85% recycled cotton, these classic totes also come with a recycled cardboard bottom insert. This helps to protect the bottom of the bag in addition to providing extra support to the items inside. A pair of 26 inch carrying handles gives users the option of wearing their bags over a shoulder or carrying them by hand. They can be used for a variety of purposes, including grocery shopping, trips to the library, toting books across campus, collecting samples, souvenirs, and giveaways at trade shows, and several more. Coming in a natural cotton color, as one would assume based on their name, these custom tote bags are 12½ inches wide by 14 inches high by 8½ inches deep. Each has an imprint area of 9 inches wide by 9 inches high. A single color and location come standard, but full color imprinting is available for an upgrade fee.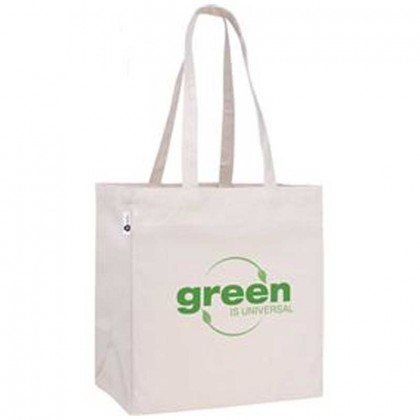 11. Wholesale Laminated Non-Woven Large Shopper Totes
Going green doesn't mean forsaking all glitz and glamour. To illustrate that point, we present our custom logo imprinted eco-friendly laminated shopper totes. Shipping 100% free of charge, these eco-friendly laminated reusable tote bags are made from 110 GSM non-woven polypropylene. They also feature 10" reinforced handles and binding for superior durability and support. The recycling symbol is present on the side gusset to verify that these stylish high gloss totes are indeed made from recycled and recyclable materials. They're easy to clean, with spills simply being able to be wiped off. Their water resistance makes them excellent for shopping in all kinds of weather. Available in black, white, or royal blue, these environmentally sustainable promotional tote bags are 16 inches wide by 14 inches high by 6 inches deep. Each is imprinted in one color and location in a space measuring 8 inches wide by 8 inches high. Please contact us for upgrade options, such as multiple imprint locations and colors. We must stress that for optimum performance and longevity that these bags are not to be machine washed or dried.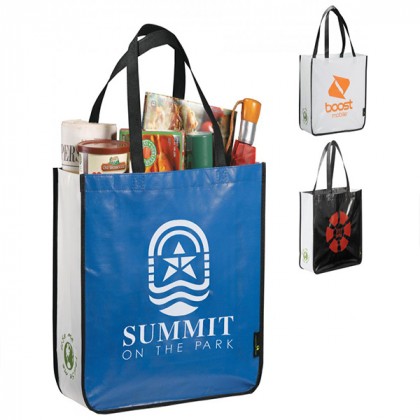 12. Custom Engraved Men's Zebrawood & Bamboo Wooden Watch
These unique custom watches are environmentally conscious items that become an instant conversation piece wherever they're worn. With a low minimum order quantity of just 3 units, these promotional handcrafted eco-friendly watches can be saved as special rewards to recognize top performers and the most loyal of clients. Made from a blend of sustainably obtained zebrawood and bamboo, these watches have a simple yet dramatic sort of effect. Each offers a plain wood face with quart movements, a zebrawood outer bezel, and a black inner bezel for marking seconds. An adjustable distressed leather wristband makes this watch able to fit users of most any size. These watches have dials measuring 1¾ inches in diameter and 10 inch long wristbands. Every one is engraved with your company logo on the back and comes in a complimentary eco-friendly gift box.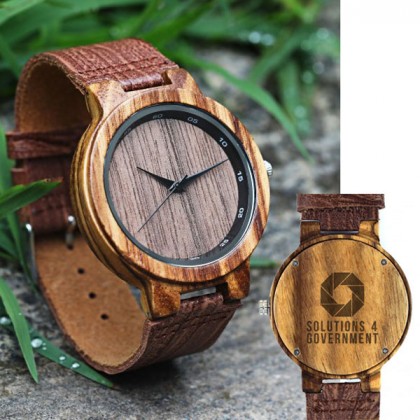 13. Bulk Wildflower Planters in Kraft Paper Boxes
Anyone can beauty into homes, offices, and ultimately the great outdoors with our wholesale wildflower planters in imprinted kraft paper boxes. When they do so, they'll have your company to thank for the good times and gorgeous results. In addition to helping build awareness for your brand, growing these wildflowers will also help the threatened bee population via providing a soucre of pollination. Inside of each recyclable Kraft paper box, users will find a 100% organically manufactured fertile fiber pot, which is fully biodegradable. Also residing in the box are a soil pod, seed packet, wooden stake, and instruction manual. To get started, all that needs to happen is for the soil and seeds to be added into the pot and then watered every 2-3 days as needed. A 2-3 week germination period is standard. Once the flowers start to grow, the pot can be brought outside and planted in the soil. The pot is 2¼ inches wide with a top diameter of 2½ inches. Each comes in a recycled Kraft paper gift box which is 3 inches wide by 3 inches high by 3 inches deep. The boxes boast a full color label with a floral stock design. They also provide a 1¾ inch wide by 1¾ high space for your full color logo imprint.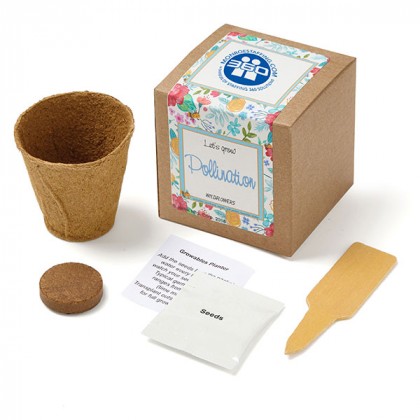 14. House of Marley Get Together Promotional Bluetooth Speaker
Users will "get together and feel all right" when they relax and listen to music on our House of Marley Get Together Bluetooth Speaker. These custom portable Bluetooth speakers with organic bamboo panels have no minimum order quantity, so your company can order as few as just one unit as a special gift or upgrade for office entertainment. A very high end promotional gift, these portable speakers feature sustainably harvest front and back bamboo panels. They have a built-in rechargeable battery with a 3.5mm input. It can connect to devices up to 49 feet away and play music for up to 8 hours per full charge. Two high output woofers and two dedicated tweeters provide maximum sound quality and projection. Each comes with your company logo imprinted in a single color and location. However, an upgrade fee grants access to full color and engraved logo designs. The imprint area appears on the front panel, occupying a space of 3 inches wide by 3 inches high. As a whole, the unit is 15 inches wide by 5 inches high by 3¼ inches deep.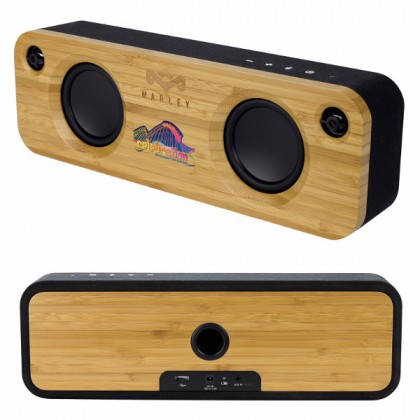 15. Eco Aware Personalized Recycled Journal Pack
Your target audience can conclude a day of eco-friendly activities by recording their good deeds in our Eco Aware Recycled Journal Pack. These personalized eco-friendly recycled journal gift sets contain many different elements for those who like to write and stay organized in the process. A fully recycled cardboard cover plays host to 5 different colors of sticky flags, with a total of 25 per color. Below the sticky flags, users will find a 25 sheet yellow square sticky note pad. Nestled in the binding area is a recycled cardboard pen that writes in black ballpoint ink. Completing the inner contents are 50 sheets of unlined white paper. The pen and cardboard package are of natural color. This sustainable, environmentally-friendly writing gift set is 4 inches wide by 6 inches high by ⅜ of an inch thick. Each is imprinted in a single color and location on the outer area of the cardboard container. For an upgrade fee, the pen can bear your personalized company logo design as well.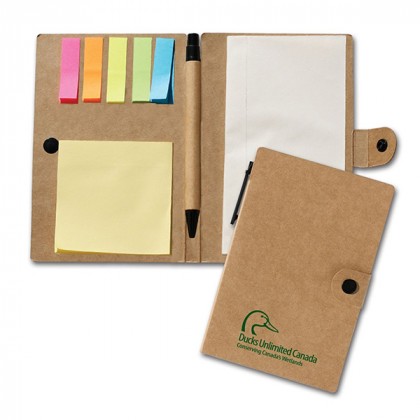 We hope you've enjoyed your tour of our picks for the best environmentally friendly promotional products for 2020. Don't think that's all we have to offer in this category though. We have several more recycled promotional products, custom reusable promotional giveaways, and custom imprinted sustainable advertising items for your business to consider. As always, if you have any questions, comments, or concerns, feel free to contact us at your convenience. We're proud to help your company show its true green colors to your target market and the world at large!