Spruce Up Your Outdoor Dining Area with a Custom Patio Umbrella
Most restaurants, bars, and coffee shops have had to undergo some significant changes in 2020. It's important to stay optimistic and remember that an end to all of this will eventually come. Still, it's undeniable that COVID-19 (Coronavirus) and the resulting social distancing protocols have made it difficult for dining establishments to serve and satisfy customers in traditional ways we're all used to.
Wondering how to make the current dining experience better for customers while still offering the great service they've come to know and love? One option to keep your food service business running during Coronavirus-related turbulence, is to offer outdoor dining. However, there are a few things needed to make this experience an enjoyable one. One item on the checklist is investing in high-quality patio umbrellas to keep your guests cool on hot days and dry when rain falls.
In this article, we'll look at some of the top promotional outdoor umbrellas that will help your business provide the best possible outdoor seating experience.
1. Café Patio Umbrella - Imprinted Nostalgic Style Umbrellas
Looking for a way to create a comfortable & casual outdoor dining atmosphere? Try starting with our Cafe Patio Umbrella. This imprinted umbrella features a two-tone design that's reminiscent of an old hamburger stand or malt shop. It's a fun and nostalgic approach to adding a patio or terrace are into your current restaurant seating plan.
To add some advertising bang to your buck, you can imprint your business name or logo right on the umbrella. This makes it easy for customers to spot your bar, restaurant, or coffee shop the moment they pull within viewing distance. With four bright color options to choose from, you'll be able to select the one that best coordinates with the exterior decor of your building.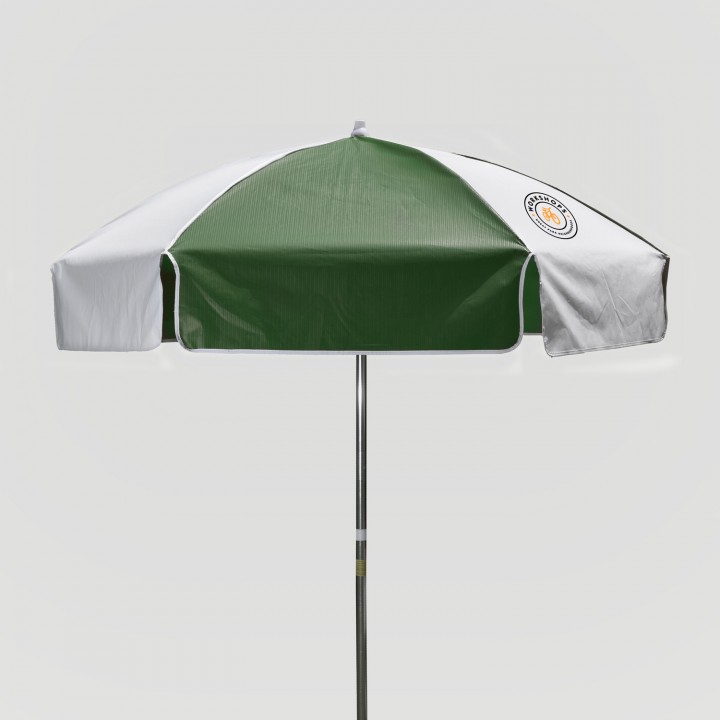 2. Custom Solid Color Umbrellas for Outdoor Dining
If you're looking for something a little more upscale for your fine dining establishment, our Stromberg 84 inch vented promotional patio umbrellas are a stellar option. Available in a multitude of classic hues, these solid color umbrellas provide the perfect background for displaying your restaurant's name or logo.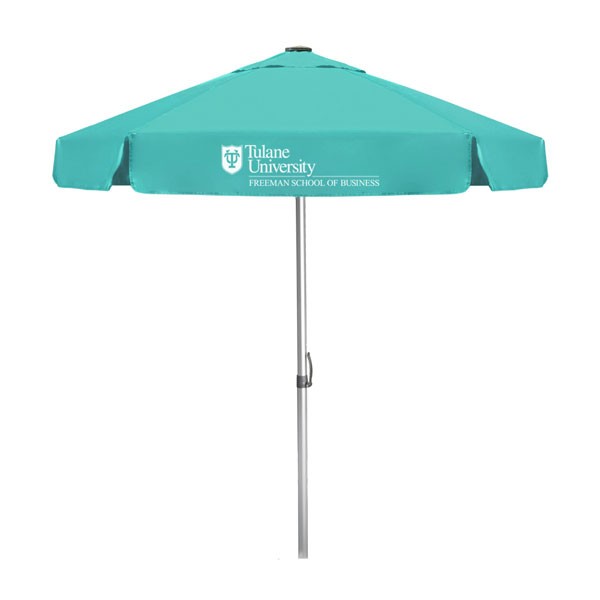 One of the best traits these customizable umbrellas have to offer is their durability. A sturdy aluminum pole with a strong clamp ensures that each one stands strongly in nearly any weather condition. Additionally, the canopy fabric can be removed for easy cleaning. This makes it easy to keep your outdoor dining area consistently neat and tidy for your patrons.
3. Logo Imprinted Wood Market Umbrellas - Ideal for Coffee Shops
Creating a casual ambiance for your coffee shop's outdoor seating space doesn't have to be difficult. A few tables equipped lovely wood market umbrellas create a relaxing air. It's an environment that's truly ideal for studying, writing, sipping an iced mocha, or just generally having a good time.
If you're looking for options that won't break your budget, our bulk table umbrellas are an excellent choice. The style linked to in the previous sentence (and pictured below) has a 9-foot diameter. This offers plenty of protection from the sun, while a two-piece hardwood frame provides enhanced durability. Pair these eye-catching umbrellas with your favorite patio tables and impressed customers are sure to return to time and time again.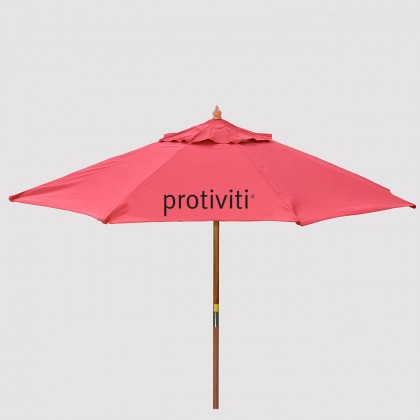 4. Personalized Beach Umbrellas for Courtyards and Other Settings
Even businesses outside of the food service industry can capitalize on our promotional patio umbrellas. Any company or organization that wants a place where staff, students, or guests can congregate safely out in the open air would benefit from these items. This is where our customized beach umbrellas come in handy. For best results, add them to an existing table along with a sturdy standalone base. Another way to go is to simply place them in the ground, creating a safe and shady communal area.
Available in black, white, and a multitude of bold colors, these customizable umbrellas provide ample space for adding your own message or logo. Plus, the canopy is made from high-quality fabric with an SPF 50 rating to provide protection from the sun's intense rays.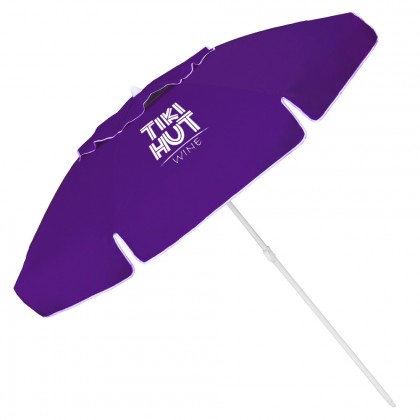 5. Individual Advertising Umbrellas - No Minimum
It doesn't always take a village of items to create the perfect patio or outdoor dining lounge space. Sometimes a more minimalist approach with just one or two items can complete the ideal look and feel. Luckily, we offer commercial patio umbrellas with no minimum order requirement. They're available for purchase individually, allowing you to buy just the right amount to suit your needs, avoiding an excessive bulk order. Each features a sturdy design and spacious 84-inch arc when opened for extra sun protection and comfort.
As is the case with all of the items in this article, these umbrellas can be customized with your business name and/or logo. Choose from a variety of stimulating colors, including lime green, blue, navy, red, orange, and more.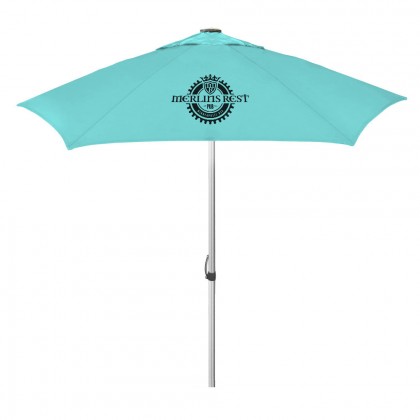 6. Custom Steel Market Umbrellas - Stylish & Durable
After establishing an outdoor dining space, it's important to ensure that the products that comprise it will continue to look good for years to come. With this in mind, our 7-Footimprinted steel market umbrellas are a wise choice. These sturdy promotional umbrellas feature a durable metal frame, quality fabric, and a spring-loaded locking mechanism to keep them firmly in place.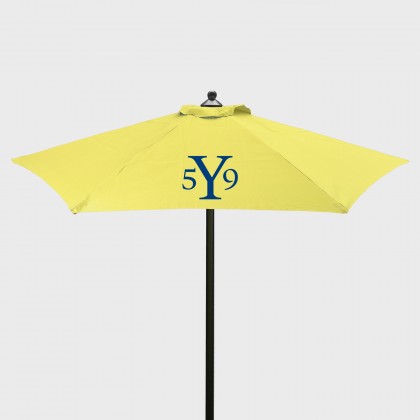 Add your logo, restaurant name, or other imprint design of your choice to the outside for a customized look. With over a dozen brightly colored options, finding the right one to coordinate with your logo is easy. To top it off, the sleek style of these restaurant umbrellas is sure to impress all diners and passersby.
BONUS: Promotional Portable Picnic Tables
Of course, even the most gorgeous umbrella won't do much good if there's nowhere to put it. Our custom portable picnic tables look great when paired with any of the umbrellas we've described above. They're also easy for staff to quickly set up and take down as needed. To get a better idea of how these items look, you can click on the preceding link or view the image below.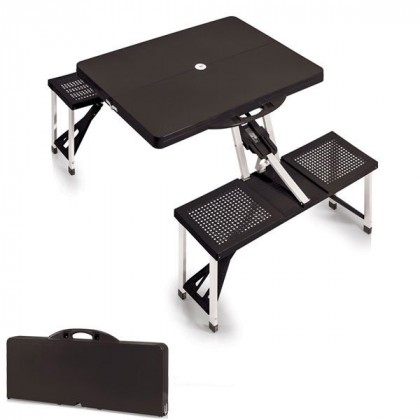 Furthermore, these tables are incredibly sturdy. Each can accommodate up to 250 pounds per seat. These items are the perfect option when only planning to offer outdoor seating until COVID-19 related restrictions become a thing of the past. Multiple color options are available to help you coordinate with the exterior of your business, its logo, and the umbrella style you choose.
Other Outdoor Dining Items Available from 4AllPromos
At 4AllPromos, we know that your restaurant or café is undergoing many changes as you start to add more takeout, curbside, and patio dining options for customers. Our team is here to provide the custom products you need to succeed while navigating this unique time in history. From plastic wine glasses and customized stadium cups to disposable plasticware and personalized napkins, we have everything your business needs to promote in new and innovative ways.
Ready to enhance your restaurant or coffee shop's outdoor seating with custom umbrellas? Contact the 4AllPromos team today to learn more!