Win Big at the Polls with Our Custom Campaign Giveaway Items!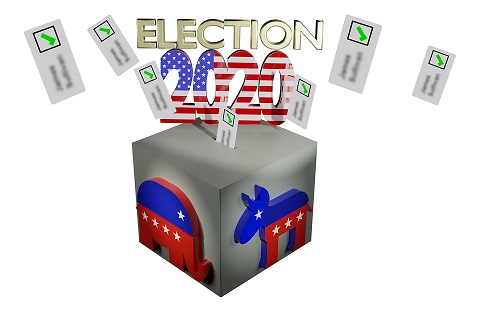 With July now nearly halfway over, fewer than four months remain before Election Day. While circumstances have made campaigning this year quite a bit different than what we've seen in the past, you can still count on things to heat up in the coming months. Before long, the debates will be underway, the signs will be going up, and the mud will be slinging. Fortunately, there are civil and effective ways to campaign and to show your support for a given candidate. You'll find 16 great personalized political campaign items in this article, all of which will do a great job promoting your candidate at rallies, conventions, at home, on the road, and beyond. This introduction isn't meant to be a filibuster, so we'll now get to business and show you some of the best customizable campaign giveaways we have to offer.
16 Best Custom Political Campaign Giveaway Items for 2020
1. Full Color Rectangle Car Magnet
Civic-minded citizens can show their support for their (and your) candidate of choice anywhere they go when you invest in our promotional full color car magnets. These custom made political campaign signs are becoming a popular alternative to traditional bumper stickers, as they can be applied, removed, and applied again with ease. Each is made from white magnetized vinyl, sporting a white background to play host to your customized imprint design. A full color imprint is included, which covers the full surface of these 11½ inch wide by 3 inch high car magnet signs. Only 125 units are required to place an order, so these can be used for small town elections all the way through presidential campaigns. Each ships 100% free of charge.

2. USA Flag Round Stress Ball
Show pride in your country and in your candidate with our bulk USA Flag stress balls! A true symbol of patriotism that anyone will recognize, these stress balls are a great way to promote any candidate during election season. They make great promotional giveaways at fundraising & convention events. Users will enjoy their relaxing properties when stressed at home or at work. Campaign insiders and politicians will also find plenty of use for the calming relief squeezing these little items can bring. Each has a diameter of 3 inches, along with an imprint area that is 1⅜ inches in diameter. A single color and location imprint come standard. However, for an upgrade fee, imprint designs in multiple colors and locations are accessible.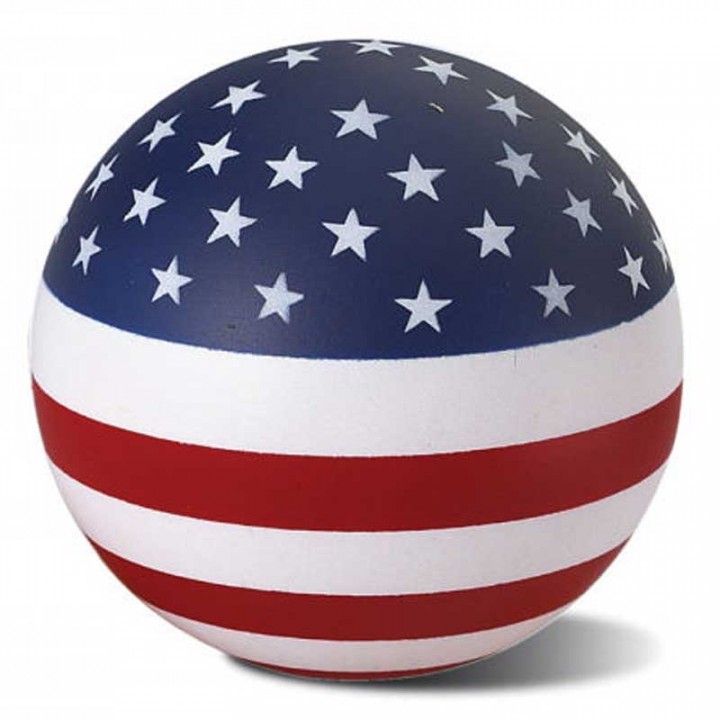 3. Reversible Donkey/Elephant Puppet
For those who like a cute, lovable, and cuddly campaign item over the standard issue items, we offer our Reversible Donkey and Elephant Puppets. These custom imprinted campaign plush toys are, as their title indicates, reversible. They can display either a Donkey in support of a Democratic candidate or an elephant for a Republican candidate. These toys are a fun way to get children interested in politics and are also a good option for politically neutral folks who don't tend to vote strictly along party lines. Each ships for free and stands 7 inches tall. These fun little puppets come with a necktie, and this is the surface upon which your imprint design will appear. Please call us if you're curious about further personalization options, as embroidery and additional accessories can be added.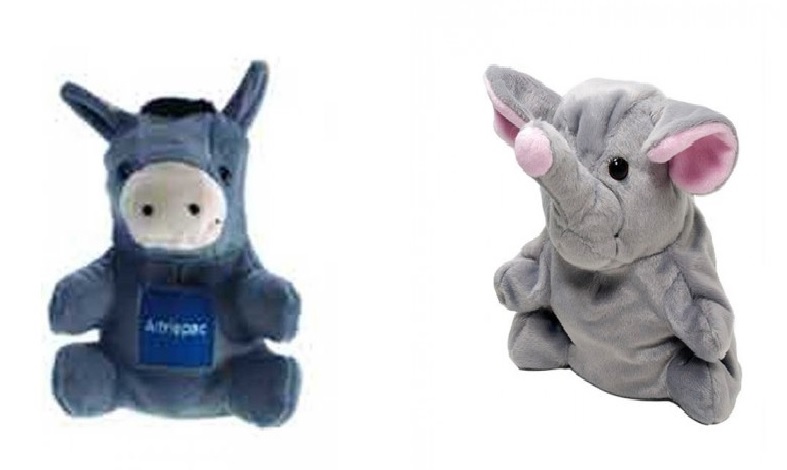 4. Imprinted Hub Valet Twist Pen
The next item will introduce is more of a classic campaign go-to item, but still allows for creativity. Our Hub® Valet Twist Pens have a formal, professional look, making them an excellent match for occasions fitting the same bill. These custom imprinted pens for election campaigns live up to the long-standing reputation for quality and style that has made Hub famous. Twist activated, these ballpoint pens write in black ink and have a slim design. They come in four different colors, which include blue, burgundy, black, and white. Each pen has a gold accent band on its barrel for an added touch of elegance. Gold imprints look great on these particular items, but several other ink colors are available. Speaking of which, every pen has a 1¾ inch wide by ¾ inch high area for your custom design. A single color imprint in one location is included, as is free shipping. These items will generate plenty of exposure for any candidate, as they'll be used several times on a daily basis in homes, schools, offices, and beyond.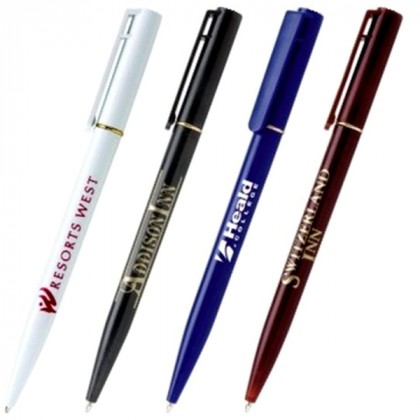 5. Colored Concept Curve Toothbrush
You can run a campaign for political office and proper oral hygiene at the same time when you order our Colored Concept Curve Toothbrush. These bulk toothbrush giveaway items are yet another of our wholesale campaign items that ships free of charge. The toothbrushes have a curved design to get to those hard-to-reach areas of the mouth and come in a standard adult size. They feature soft bristles that are gentle on the gums along with a textured grip handle to help users maintain firm control. Made in the USA, these promotional toothbrushes come in several different colors, with the color of the brush matching that of its inner bristles. Each toothbrush is 7⅝ inches long and has an imprint area measuring 2¼ inches wide by ¼ of an inch high. Your single color logo imprint appears at the bottom area of the brush handle. To make these items even better, you can upgrade to include a travel cap, giving your campaign exposure all over the world.
6. Octagon Sandwich Campaign Hand Fan
Things can get pretty heated at debates, conventions, rallies, and nearly any politically-themed event. Sometimes the heat is a more figurative concept, whereas in some cases, it has a literal presence as well. That's why you'll want to have your name and slogan printed on our wholesale politcal campaign hand fans. Specifically, we're referring to our Octagon Sandwich Hand Fan. Made from 16 point board stock, these hand fans have two panels which are brought together by a glued wooden handle. The paper sides are white by default, but a one-color imprint is added to both sides with no set-up fee. An upgrade fee grants access to imprints with multiple colors, allowing for a background other than just white. These items are great for cooling down in warm areas as well as showing strong support for a candidate. Each is 8 inches wide by 8 inches high, with an imprint area of the same dimensions.
7. 2

¼

 Inch Full Color Campaign Button
Pinback buttons for elections are a classic campaigning item that has been around for as long as anyone living today can remember. Hey, if it's not broken, don't fix it, right? That's why we're including our 2¼ Inch Full Color Campaign Button on this list. As their name implies, each has a diameter of 2¼ inches, making them the perfect size for lapels, shirts, and large hats. These USA-made election campaign buttons are affordable yet effective. Though white by default, each has a fully customizable surface that is printed in full color with your name, slogan, and other pertinent information. Free PMS matching is available to ensure that these items are a proper match for your establish campaign colors. Both a safe and full bleed imprint area are available; please specify which you prefer when placing an order.
8. Individual Chocolate Chunk Cookies
So now that we've just finished discussing a traditional item, how about one that's a bit off the beaten path? Our individually wrapped cookies with logo imprints are of the chocolate chunk variety. They're a sweet treat to give out to those who you're trying to court for votes in November. They can even be given out as Halloween treats for children on Halloween. These old-fashioned, homestyle cookies are quite tasty and come in their own individual clear plastic wrappers. Each has a white circular label on top that is imprinted in full color with your desired text and graphics. Each unit is 2 inches wide by 1⅞ inches high with an imprint area of 2½ inches in diameter. Hand them out at events and fundraisers throughout election season to build goodwill and stay on people's minds. Please give us a call, email, or live chat message if you'd like to learn of other available personalization options.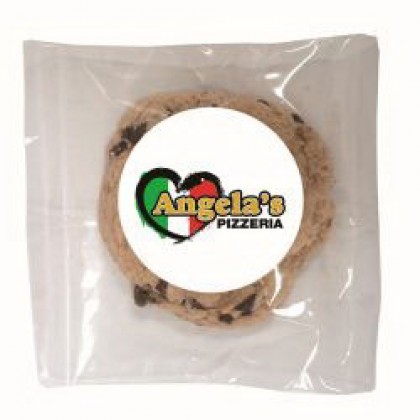 9. Thumbs Up Bottle Opener Keychain
Providing the voting public with an item they can use is a great strategy for maximum campaign exposure. This is just what your candidate will receive when you invest in our custom imprinted bottle opener keychains. Our Thumbs Up Bottle Opener Keychain is a dual function item, as it can both hold keys as well as provide instant access to drinks or other items in sealed cap bottles. They ship free of charge and will travel everywhere users do, as the vast majority of people keep their keys on them at all times. Their positive message puts everyone in a good mood and their silver color makes them hard to miss. With the "thumbs up" gesture being so big in social media these days, these items pack a strong psychological endorsement factor. Each is imprinted with your custom design in one color, in a ¾ inch wide by ⅜ inch high imprint area. As a whole, these personalized keychains are 4 inches wide by 1¾ inches high. For an added charge, a second imprint color can be included.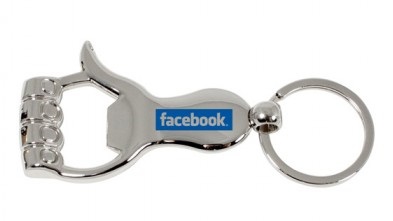 10. Custom Imprinted Pumpkin Carver
Connecting emotionally with the voting population is a huge part of winning any election. There are few better ways to do this than to become part of treasured family traditions. We provide the opportunity for any candidate to do just that in the for of our Imprinted Pumpkin Carving Knives. These small but mighty campaign supplies ship to your desired destination at no charge. They're both fun and useful, possessing a strong blade with a serrated edge. They're specifically designed to be strong enough to cut through thick and tough pumpkin flesh with ease, adding to the fun and subtracting from the potential frustration of carving a Jack-o'-Lantern. Since Halloween falls close to Election Day, the timing for when these products are used couldn't be better. Since they're quite durable, they can stick around and serve as promotional tools for re-election years later. Each has an orange handle, which is imprinted in one color in a 2½ inch wide by ⅜ inch high imprint area. For an additional charge, multiple imprint colors and double-sided imprinting are available.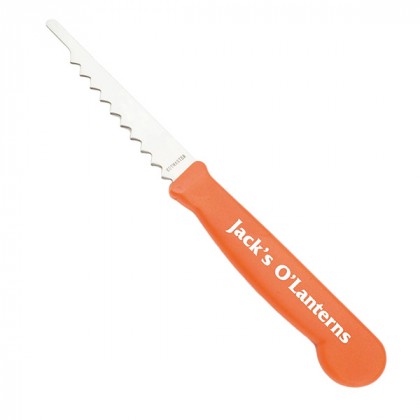 11. Economy Non-Woven Tote Bag with Campaign Logo
As items that are useful on a daily basis are a recurring theme in this set of custom campaign items, we figured we should also include our Economy Non-Woven Tote Bag. These custom eco-friendly tote bags with imprints are made from 80 GSM recycled polypropylene. They have a flat form and extra low price. However, the discount pricing doesn't reflect their quality. These promotional tote bags can carry books, groceries, office supplies, and more with ease. Their stitched seams, hemmed openings, and reinforced stitched handles add extra strength and resilience. They come in 14 different colors, so finding one that's a good match for your campaign signage should be quick and easy. Each bag is 13½ inches wide by 14½ inches high.  An 8 inch wide by 8 inch high imprint area comes standard, housing a one-color design. An upgrade fee makes logos in multiple colors, full color, and multiple locations accessible. People from every walk of life will find these items useful and they'll create impressions at conventions, workplaces, schools, public transportation, and more.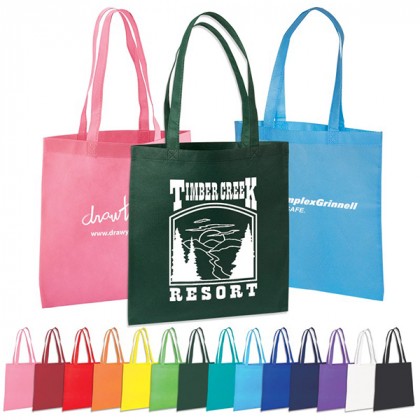 12. 4 Inch Round Cork Coaster
Candidates can campaign at bars, breweries, and to the homebrew crowds with our 4 Inch Road Cork Coasters. These custom imprinted campaign coasters have a diameter of 4 inches, making them plenty large enough to serve as protective padding under most any glass. They'll protect tables, countertops, and other furniture items while spreading awareness of your campaign. They'll do well with an environmentally-conscious demographic, as these eco-friendly coasters are biodegradable and made from sustainably harvested cork. Their natural color is accented by your personalized design, which occupies a space of 3¼ inches in diameter. For orders of 500 or more, a second imprint color can be added for an upgrade charge.
13. Ear Buds in Round Plastic Case
With mobile devices being a staple of modern life, this list wouldn't be complete without the inclusion of at least one related tech item. For this, we've chosen our promotional Ear Buds in Round Plastic Cases. These make great accessories for phones, MP3 players, laptops, tablets, and even desktop computers. They tend to see heavy usage by travelers on airplanes, trains, and buses, so spreading campaign awareness is guaranteed. Our imprinted earbuds are white and are compatible with most any device that has a headphone jack. Each set resides in a protective round plastic case. The cases are available in six colors. These include white, lime green, orange, blue, red, and black. The case is 2 inches in diameter and bears a one-color imprint with a diameter of 1¼ inches. Multiple and full color imprints are among the available upgrade options for these customizable campaign giveaway items.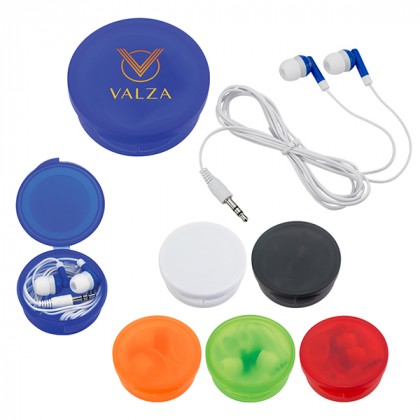 14. 18" x 24" Custom Campaign Yard Sign
Here's another traditional campaign item that never goes out of style: our classic imprinted political yard signs. Standing 18 inches wide by 24 inches tall, these attractive and attention-getting signs offer high visibility for your campaign message. Each sign is made from extra durable corrugated plastic and is decorated with fade-resistant ink. They can sit outside of businesses, homes, campaign headquarters, and numerous other locations to ensure that they're seen by motorists and pedestrians. Alternately, they can be used indoors. These signs have a white background with an imprint area spanning 16½ inches in width by 22½ inches in height. Many upgrades and accessories are available for these election campaign yard signs, for an additional cost. Among them are ground stakes, stabilizing stands, and even grommets for placement on walls and/or fences. All units are proudly made in the USA.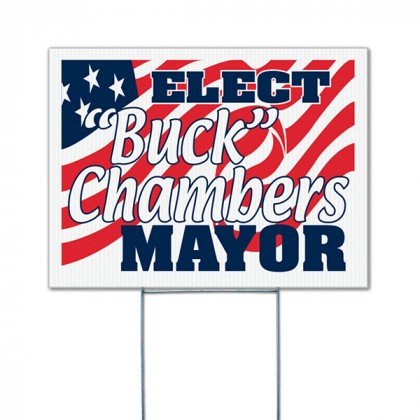 15. 22 oz Mood Color Changing Stadium Cup
Whether used at events or in homes, our Mood wholesale color changing stadium cups are perfect for adding some fun to any electoral campaign. Shipping free of charge, our Mood Color Changing Stadium Cups have a large capacity of 22 fluid ounces. They're sure to bring plenty of attention to your chosen text, as they change color as soon as they're filled with cold liquids. They make great giveaway items for BBQ and picnic style fundraising events. They are also easy for users to maintain and reuse, as they are top-rack dishwasher safe. Coming in a variety of assorted colors (which change into other colors), these bulk stadium have a diameter of 3⅝ inches and a height of 57/16  inches. Each has a single-side, single color imprint area of 4¼ inches wide by 3 inches high. They can be further enhanced by way of placing your design on both sides of the cups, creating a wrap design, or adding multiple imprint colors. Please reach out to us if you have any questions on how to best make these cups represent your candidate.
16. 5" x 12" Colored Campaign Pennant
Perhaps it's a bit late, but at this point we'd like to mention that this list was made in no particular order. Why say so now? Simple - we don't want to give the impression that our 5" x 12" Colored Campaign Pennants were in any way the least items on our list. Quite the contrary; our personalized political pennants have been top-sellers during election season for several years. Like many of the items we've presented in this article, our customizable felt campaign pennants are very versatile. They can be used at nearly any kind of event and placed in almost any imaginable location. At 12 inches wide by 5 inches high, these USA-made pennants are great for conventions, rallies, speeches, and more. They're available in 11 different colors and each comes with a sewn felt strip in your color of choice. This strip contains a small inner loop, perfect for inserting the pennant sticks which can be added as an optional upgrade. The imprint area takes up much of the pennant, measuring in at 11½ inches wide by 4½ inches high. These pennants are printed in one color by default, but multiple imprint colors as well as detachable sewn-in promotional sheets are two additional upgrade options.
That brings us to the end of our guide to the best customizable political campaign items for 2020. Whether you lean red, blue, or somewhere in the middle, we wish you the best of luck this election season. If you have any questions regarding the items we've shared in this article (or any questions at all for that matter), feel free to contact 4AllPromos at your earliest convenience. Our talented team of promotional product specialists are always willing, able, and happy to help you meet your goals!