Looking For the Best Promotional Face Masks & Gaiters? We Have You Covered!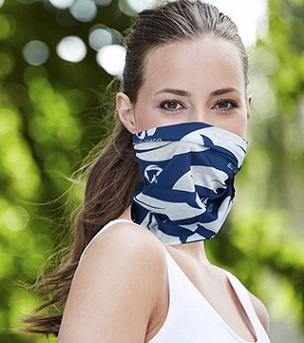 Welcome to the 4AllPromos blog, your top source for information regarding all things promotional. Today, we'd like to talk to you about some of our best custom PPE supplies. Specifically, we're putting the spotlight on our promotional face coverings. This "covers" such categories as face masks, scarves, neck gaiters, bandanas, cooling towels, and the many variants thereof. These are all items that will protect your customers, employees, and target audience during times of pandemic & peace alike. They'll also do a great job of promoting your brand, as these items skimp on neither fashion nor functionality. Below this paragraph, you'll find a menu that can take you to any one specific category that might concern a product for which your company is in the market. Simply click on the corresponding link and you'll be taken right to your category of interest. Alternately, (and this is what we recommend) you can read this article in its entirety and see some of our top picks for every area of custom face coverings.
Promotional Face Covering Categories
Essential workers, first responders, medical professionals, and even private citizens all have a need for face masks. This isn't an exaggeration in any way, as many towns and cities presently require anyone entering a business to first don a mask. Our wholesale promotional face masks come in many different shapes, sizes, materials, and colors. In this section, we'll tell you about three top-selling custom face masks.
Custom KN95 Respirator Mask - Wholesale Blank Respirator Masks
Breathable yet strong enough to be approved by the FDA and CE, our bulk KN95 Respirator Masks are excellent PPE items for any organization looking to offer support to those on the front lines. These blank medical face masks do not have logo imprints. However, they are a great option for a variety of organizations to hand out in bulk for workers, customers, and volunteers. Each mask is fiberglass free and hypoallergenic. This means that they are free of any materials likely to cause an allergic reaction. Speaking of allergies, these KN95 face masks are able to filter out airborne particulate matter, including dust, pollen, and other potential irritants. They're also effective for preventing the spread of illness, helping to provide essential workers and those with whom they come into contact with an additional layer of protection. Each mask is white in color with expandable ear loops for a snug fit. 
Disposable Safety Surgical Face Mask - Bulk Disposable Medical Face Masks
Looking for wholesale single-use medical face masks? You'll find some of the best in the form of our Safety custom disposable surgical masks. Blue in color with white ear loops, these bulk order medical face masks ship 100% free of charge. They offer multi-layer, 3 ply construction. The inner and outer layers and sides are constructed from 25 GSM non-woven polypropylene, while the middle layer consists of a 25 GSM high density filter for additional protection. These masks are intended to only be used once, which is why they do not come with imprints. This also serves to make them more affordable, but the benefits don't end there. With a loose fit, these medical face masks are more breathable than most while still stopping dangerous gasses, liquid particles, and unpleasant odors from reaching users' noses. They offer excellent longevity with a 2 year shelf life and are also free of latex, allowing for safe use by those with latex allergies. With a minimum filtering effect percentage of 80%, these are approved for usage by the FDA and CE. When ordering, please allow for a 5 day production time.
Youth & Adult Size Filter Pocket 3-Layer Mask - Custom Adult Face Masks & Promotional Youth Face Masks
Searching for custom face masks that offer a break from the blue and white look? Here they are! Our promotional Adult & Youth Size Filter Pocket Face Masks are black (though a white version is available) in both the face covering area as well as on the ear loop region. They're custom cloth face masks made from a triple layer cotton jersey material. Each mask is specially manufactured to possess moisture blocking abilities as well as anti-microbial qualities. Their reusability makes them an eco-friendly option that cuts down on waste, while their ability to be machine washed makes them all the more appealing to users. These masks are designed for comfort, but also safety. The fabric layers come together in such a way that an interior filter pocket is created. While a filter is not included, many items, even coffee filters, work as an easy and affordable option. Our filter pocket masks come in three sizes: Youth, Adult Small/Medium, and Adult Large/XL. This allows these custom PPE items to serve users of all ages and sizes. They'll also serve your business well, as each is imprinted across the front with your custom logo design. Please contact us with any questions as to personalization options.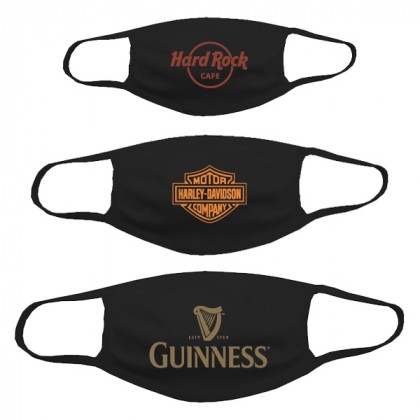 Custom gaiter scarves are relative newcomers to the mainstream fashion scene, but with everyone scrambling to protect the spread of COVID-19, they've suddenly landed a starring role. Our custom neck gaiters with no minimum order quantity can be ordered just one at a time if preferred. Alternately, if looking to buy in bulk, we can provide your company with wholesale neck gaiters, both imprinted and blank. We'll highlight three of our top models for you in the following trio of paragraphs.
Full Color Multifunction Protective Tube - Custom Neck Tubes
The first gaiter we'll present is our Full Color Multifunction Proection Tube. These company logo imprinted protective neck tubes can be worn in the style of neck gaiters, but also offer another 11 different ways to sit on the body. They can easily be shifted to serve as hairbands, foulards, hoods, skull caps, doo rags, sun guards, face masks, and more. Shipping 100% free of charge, our protective neck gaiter tubes are made from 130 GSM microfiber polyester which is highly flexible. Both sides of the gaiter cover are fully customized with a full color imprint design. Washable, reusable, and breathable, these products are useful both as PPE supplies and as fashion accessories. A seamless design makes slipping these gaiter tubes over one's head simple and easy. Decorate it with your personalized business logo design and you'll have a unique apparel accessory on your hands that can be worn all through the year.
Retro Design Gamer Neck Gaiter - Promotional Gaiter Scarves for Gamers
The next promotional protective neck gaiter scarf on our list is designed to appeal to the tech & gaming crowds, as well as the businesses that cater to them. Our custom retro gamer neck gaiters do not have a required minimum order quantity. If desired, these items can be ordered just one unit at a time. Made from 100% polyester, these custom gaiter masks have a rainbow colored design that is highly reminiscent of the classic Atari® logo. Near the top, you'll find a text box for adding your company logo or a specific person's name. Horizontal rainbow stripes extend from the left and right of the text box area. The non-imprinted portion of the gaiter is white, as is the blank reverse side. Each one ships absolutely free of charge and with a length of 18 inches, easily covers the nose, mouth, and neck. Each is machine washable, making them easily reusable.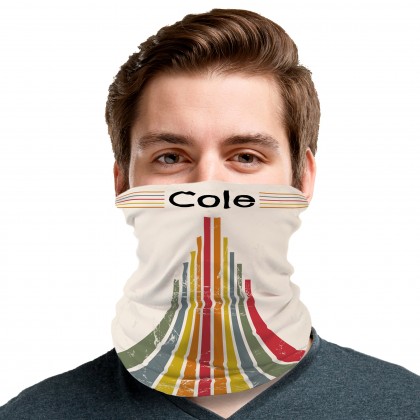 Go Wheelin' Jeep Personalized Neck Gaiter - Custom Printed Jeep Face Coverings
Jeep® is a brand that has a large and loyal following. That's why our promotional Jeep neck gaiter scarf is such a popular item. Each features a military style camouflage background with an American flag themed Jeep graphic. Above the vehicle, empowering text reads, "Go wheelin', or stay home. Your choice." This is sure to appeal to rugged individualists who wish to go out and live life to the fullest. It also resonates with those who would prefer to take the staying safe at home route for the time being. Above all, it is about empowerment, choice, and patriotism. As is the case with the retro gaming gaiter described above, these items ship for free and have no minimum order requirement. Each has a text box which is located just below the Jeep graphic. This is where you can include your logo, message, or recipient's name. Alternately, it can be left blank. Users' necks, mouths, and noses will be protected by the 18 inch fabric length.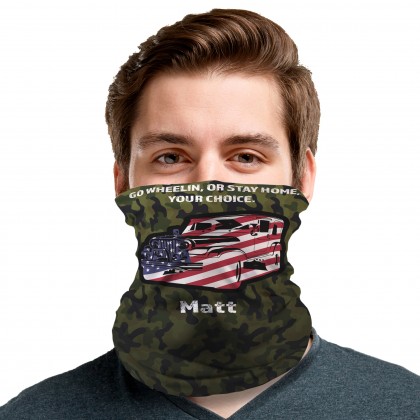 Bandanas are a timeless fashion accessory that have seen widespread use among all demographics for generations. With the current focus on keeping germs at bay with face coverings looking like it's here to stay, our wholesale bandanas offer a stylish way for your brand to promote in a useful fashion. Each of our company logo bandanas features bold colors, intriguing designs, and versatility to appeal to users from all walks of life. This section will detail three bandana styles available for purchase at 4AllPromos.
Bandana Tube Multifunctional Wrap - Custom Tubular Bandanas
Offering a similar, though not identical, look and function as the aforementioned Neck Gaiter Tube, our promotional tubular bandana wraps are PPE products that break from the mold. While their primary designed (and pictured) use is that of a bandana mask, they can be worn in many different ways. Wristbands, mouth covers, neckerchiefs, scarves, hairbands, and diadems are just six of the several forms they can assume. These bandana tubes offer a warmer alternative to typical face masks, though their usage isn't limited to cold weather seasons. Constructed from polyester, these custom face coverings are dye sublimated to create colorful, intricate, and eye-catching designs that will ensure effective advertising exposure for your brand. Front imprints, full bleeds, and wrap designs are all available options. Typical production periods are up to 10 business days in length. Please give us a call, email, or live chat message if you have any questions.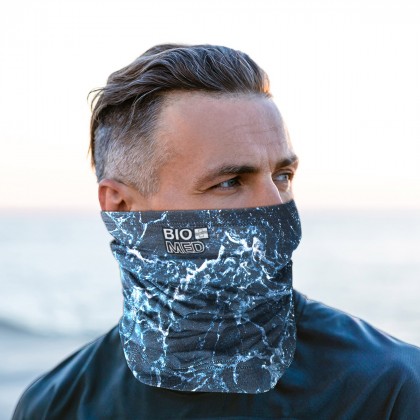 Bandana Head & Neckwear - Custom Imprinted Bandanas with Logos
If your business is interested in a promotional PPE product that offers advertising prowess in a fun and free-spirited way, we recommend taking a look at our promotional imprinted bandanas. These particular models, pictured below can be modified to be worn on the head or around the neck and face. Great as a bulk corporate giveaway for company events, trade shows, or charity functions, these wholesale bandanas come in an array of different colors. They also offer a large imprint area in one or two colors. The one color imprint area is 289 square inches, while the two-color imprint area is 256 square inches. A one color imprint comes standard, with a two-color design being accessible for an upgrade fee. Bikers, hikers, fashionistas, beach goers, and more are sure to love these classic yet distinctive personalized face coverings.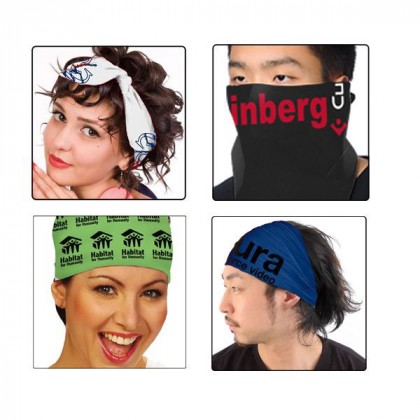 Camouflage Bandana Face Cover - Promotional Bandana Face Masks
Here's an item that helps users enjoy the great outdoors with added elements of safety and style. Our custom printed camouflage bandana face covers protect the neck as well as oral and nasal passages. They're a fun and more expressive alternative to the typical face masks that have gained an overnight omniprescence in the wake of COVID-19. Their army-style camo design is accented by recticle crosshairs graphic along with stars and a customizable text box imprint area. Made from 100% polyester and shipping totally free of charge, these face masks help to protect both users and anyone they come into contact with. Only 1 unit is required per order, though several can be ordered at a time if desired. A one color imprint is provided, but blank models are also available. When unfolded, each is 19½ inches in both width and length.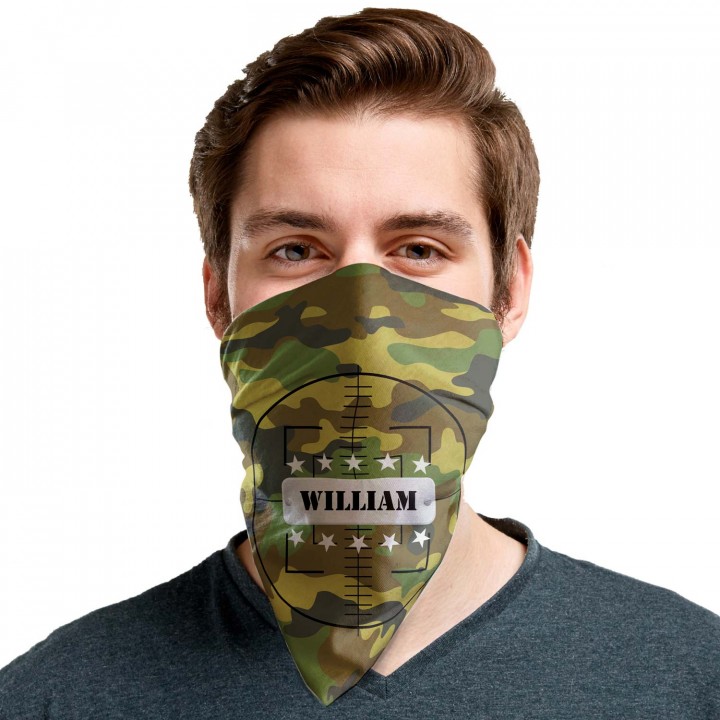 Ideal promotional products for keeping warm in winter weather, our personalized scarves with logo embroidery & imprints have been a hit for years. With face coverings being in demand at levels never before seen, scarves in general are making a comeback in a big way. Whether advertising a ski resort, clothing store, winter supply company, our outdoor lifestyle business, our promotional scarves are the way to go. Read on to learn about three of our many versions in this section.
Fleece Scarf with Pockets - Promotional Scarves with Pockets
A thoughtful and unique promotion for keeping warm in cold weather, our custom Fleece Scarves with Pockets will be a big hit with ski resorts, hotels, apparel companies, outdoor lifestyle retailers, travel companies, and more. Made from a soft, wool-like polyester fleece material, these scarves are warm and toasty, yet of a lighter weight than knit acrylic models. Available in your choice of royal blue, forest green, navy blue, red, black, or gray, each scarf is appointed with 9 inch deep end pockets. They're a handy asset for storing keys, phones, wallets, money, cards, notepads, and more while enjoying the white world of winter. Below the pocket area, each scarf is imprinted with your company logo design in one color. For an additional fee, upgrades such as multiple imprint colors, full color imprinting, multiple logo locations, and even embroidery are accessible. Every one is 10 inches wide by 80 inches long, providing plenty of coverage on the slopes, in the streets, or on the trails.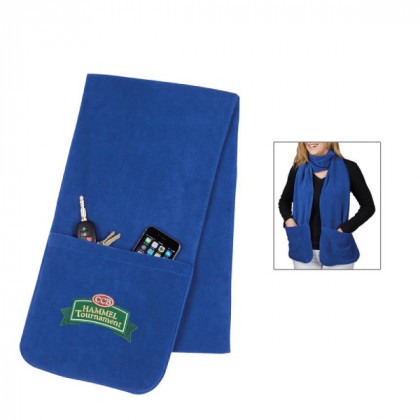 Embroidered Fleece Scarves - Personalized Scarves with Logo Embroidery
Next us is our Embroidered Fleece Scarf. These promotional scarves with logo embroidery are a great way to get your company's image out to the public while keeping users safe and warm. Each ships 100% free of charge and comes in colors including navy blue, reflex blue, red, black, and gray. With a relatively low minimum order quantity of 24, these can be reserved as special gifts for top-performing employees, extra loyal customers, or important business contacts. The low minimum order requirement also makes them a terrific option as a holiday gift for small businesses to give to their staff. Each is 10 inches wide by 61 inches long and made from 230 GSM polyester fleece. This is a material that is soft, warm, comfortable, and a great complement to any wardrobe. Every scarf is embroidered with your company logo design in up to 7,000 stitches in as many as 7 colors. For an upgrade fee, more stitches, colors, and embroidery locations can be included.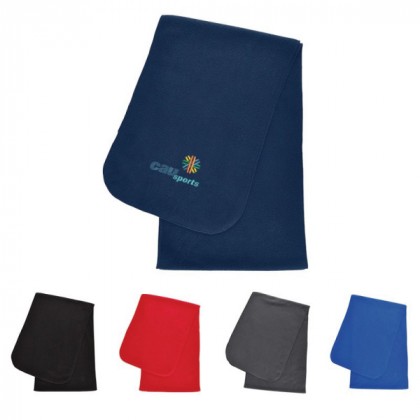 Sportsman Knit Scarf - Customizable Knit Scarves for Giveaways
The Sportsman Knit Scarf is one of our many top-notch promotional acrylic knit scarves. Soft, warm, comfortable, and stylish, these scarves will keep users toasty and protected all winter long. They'll also look great while doing it. Several colors are available, including white, maroon, royal blue, pink, red, forest green, black, charcoal, heather gray, and navy blue. At 7¼ inches wide by 69 inches long, these custom scarves offer plenty of coverage for users of all sizes. They make ideal promotional products for sports teams, holiday gifts, outdoor events, and more. Each ships free of charge and is embroidered with your business logo design in a 3 inch wide by 3 inch high area. Your logo is embroidered in up to 5,000 stitches in one location. Further personalization options are available, so please get in touch with us today if you're curious to learn more.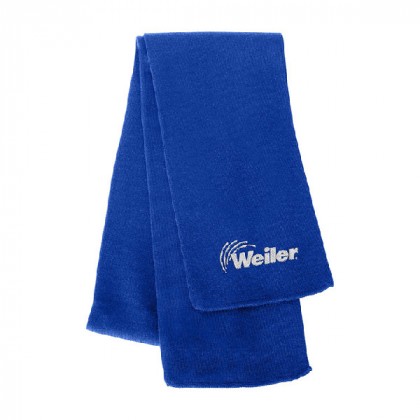 Our final section is all about our personalized Fandana® cooling towels and other promotional cooling face & neck coverings. These are a relatively  new set of items that are rapidly catching on in popularity, as they allow for a way for users to quickly cool off without making a wet mess. They represent a great opportunity for your business to get its logo into the public eye at beaches, gyms, pools, and anywhere the mercury rises. With social distancing precautions likely to continue into summer, don't be surprised if you see our custom logo printed cooling towels up and down Main Street USA. Get ready to meet a few of the models we offer over the course of the next three paragraphs.
Fandana Sublimation Cooling Gaiter - Custom Cooling Neck Gaiters
Our Fandana® custom dye sublimation cooling gaiters are interesting and innovative promotional giveaway items that offer a high degree of utility. Users will love being able to reap their cooling benefits by way of simply wetting these items and then wringing, snapping, or waving them. Once this has been done, these custom face coverings can provide moisture wicking and cooling functionality while remaining dry to the touch. Wonderfully comfortable and lightweight, these personalized cooling Fandanas are reusable, eco-friendly, and made from 100% chemical free microfiber polyester. Your business will love their fully customizable dye sublimation surfaces, which span 10 inches wide by 13 inches high. Also shipping 100% free of charge, these cooling face covers are perfect for spreading brand awareness at the beach, trade shows, charity road races, gyms, and more.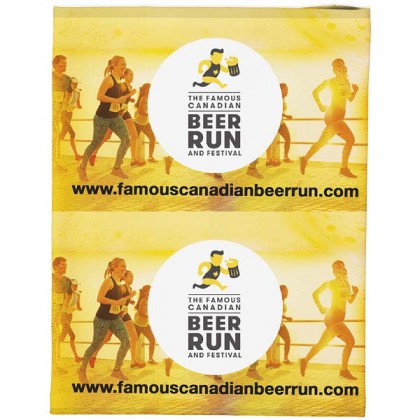 The Fandana Head & Neckwear - Custom Fandanas
Whether used as personalized PPE items, protection from the sun, or fun fashion accessories, our promotional Fandanas can fill a variety of roles. Each of these custom tubular head and neck coverings is made from 100% polyester microfiber for a soft, comfortable, and flexible material. As is the case with many of the branded face covers we've mentioned so far, these items can be worn in several different ways. Bandanas, beanies, armbands, wristbands, face masks, belts, tube tops, and more are among users' many options. Each ships completely free of charge. With a size of 9½ inches wide by 19 inches high, one size fits nearly all user body types. Comfortably lightweight and efficiently moisture wicking, these items are white by default but can be dye sublimated in the color of your choice. Every unit is imprinted with your business logo design in one color & location, though multiple imprint colors can be included for an upgrade fee.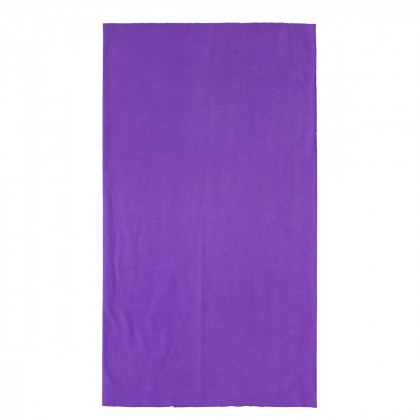 Cooling Towel & Neck Wrap - Promotional Cooling Towels
Last but not least, we've arrived at our Cooling Towel Neck Wrap. These company logo cooling wraps & towels are easy and fun to both operate and wear. To unlock their cooling and moisture wicking powers, users just have to soak the towels and then give them a solid wringing, firm snap, or brisk wave. Then they can wrap them around their neck, face, shoulders, or forehead for up to two hours of cooling relief. Constructed from a 50/50 blend of nylon and polyester (latex-free) these items can also be worn as face coverings to block out germs and comply with local COVID-19 mask requirements. Our cooling towels come in your choice of white, red, blue, lime green, and/or purple. Each is imprinted in one color at either the bottom, top, or middle. For an upgrade fee, imprints in multiple locations are available. Our dedicated sales staff is here to help you if any assistance is needed in ordering or better understanding this or any of our other fine products.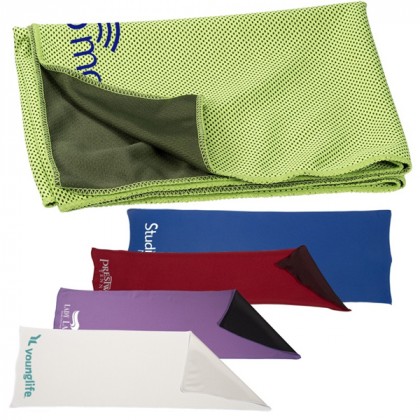 That's a "wrap" for our guide to the best 15 promotional face coverings for fighting COVID-19, allergens, sun damage, and anything else the world throws at us. We hope you've learned a lot about all of the different types of face coverings out there and have found the ones that are the best fit for your meeting your promotional needs. If you have any doubts or need some more information, feel free to send us an e-mail and one of our dedicated sales professionals will get back to you as soon as possible!