Honor Dads Everywhere with the Best Corporate Promotional 2020 Father's Day Gifts!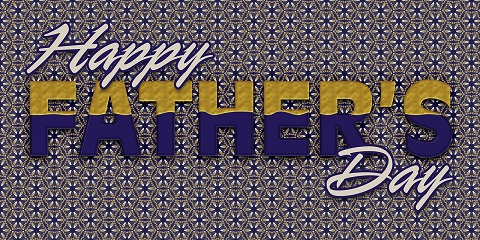 There are no two ways about it; 2020 has been a rough year so far for just about everybody. While we'll get through these tough times, challenging circumstances can put one into a reflective sort of mood. When reflecting on earlier times, particularly childhood, many of us are fortunate enough to remember who stepped in when we faced tough times. When the going got tough, our parents were there to lend a hand and be a source of support. Even as adults, we frequently find ourselves turning toward them for advice. As most readers are likely aware, we're just a little under two months away from a special day in June. The special day in question is Father's Day, which falls on Sunday, June 21st. We'd like to help your business honor any and all fathers of/among your employees, customers, and target audience with promotional gifts that are sure to fill dads everywhere with pride and feelings of being appreciated.
With this goal in mind, we'll share with you 16 of our best corporate promotional 2020 Father's Day gifts. We'll make a list separating them out into categories, but we suggest reading the full article to get a broad range of ideas.
Best Custom 2020 Father's Day Gifts & Promotional Giveaways
At 4AllPromos, we have a broad range of personalized vacuum insulated drinkware to choose from. Nearly any item in this collection would make an excellent Father's Day Gift. However, there's only so much time for reading this article, so we'll limit our featured items to the three following water bottles. If you'd like to see the rest of our collection, simply click on the link at the beginning of this paragraph.
Alpine Aluminum 25 oz Water Bottle - Custom Imprinted Aluminum Water Bottles
One of our best selling insulated water bottles is our 25 oz Alpine Aluminum Water Bottle. These custom metal water bottles have, as their name would lead one to believe, a 25 oz capacity. That's plenty of room for a long, refreshing drink during a hike, run, golf outing, or any other activity. Each bottle is lightweight and easily portable. Adding to the convenience are the attached carabiners, which allow them to be clipped to belt loops, backpacks, bicycle handlebars, and a vast number of other items. Each bottle is made from BPA free aluminum and comes with a screw-top lid that excels in preventing leakage. Available in silver, red, blue, and green, these promotional aluminum water bottles are 9⅞ inches tall and have a diameter of 2¾. Every one is imprinted with your custom logo design in a 4 inch wide by 4 inch high imprint area. A single color and location imprint come standard, though a smaller imprint on the back side of the bottle is accessible for an upgrade fee. Please feel free to contact us with any questions.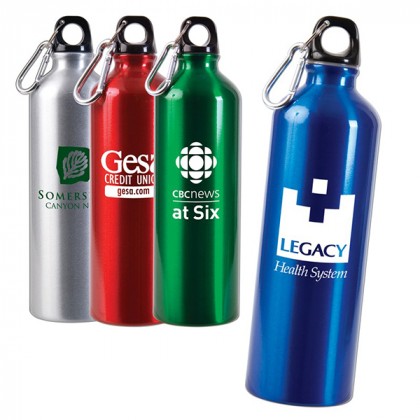 24 oz Stanley Classic Vacuum Stein - Promotional Beer Steins
Looking to toast a select few with a Father's Day gift that nobody will forget? If this is the case, the Stanley® 24 oz Classic Vacuum Stein is the gift your business needs. With a low minimum order requirement of only 6 units, these personalized engraved beer steins are a great buy for small and large businesses alike. Dishwasher safe and made from high quality 18/8 grade stainless steel, these double wall insulated beer steins excel at keeping drinks cool and preventing beer from going flat. Every dad's favorite beer will taste great & be enjoyed in style when this stein is part of the equation. A secure latching steel lid adds some extra style and functionality. Each has a 24 oz capacity and comes with a textured green exterior. Along with your business logo design, a Stanley logo will also appear. A one-color engraved design is included on one side of the stein in a space spanning 2 inches wide by 2½ inches high. For an upgrade fee, a second imprint can be added in a variety of different locations - please give us a call, live chat message, or email if you'd like to learn more.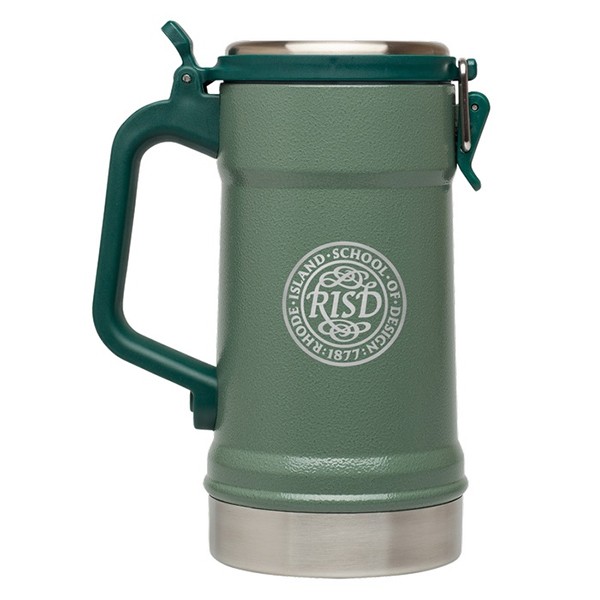 All Day 17 oz Woodgrain Insulated Bottle - Custom Engraved Stainless Steel Water Bottles
Why do we call this the "All Day" Woodgrain Bottle? The answer is as simple as it is satisfying; these promotional insulated stainless steel water bottles can keep drinks cold for up to 24 hours! That's not all though. They can also keep contents warm for an impressive 12 hours. Whichever temperature direction users decide to take, these copper lined stainless steel bottles will keep their drinks at prime heat/coolness for the whole workday and beyond. Their woodgrain color makes them a great choice for camping, hunting, fishing, or any other outdoor excursion. A 17 oz capacity provides plenty of space for a refreshingly cool or soothingly warm drinking experience. Each has a wide mouth opening for easy filling and drinking along with a screw-top lid to prevent spills. Their low minimum order quantity stands at 6, allowing them to be ordered as a special gift for a special few. Every bottle is engraved with your logo design in a 3 inch wide by 3 inch high area on the front.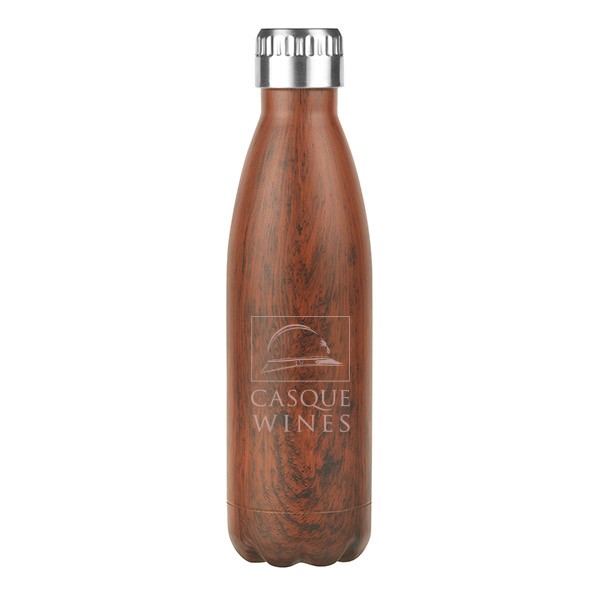 A lot of guys out there enjoy the wide world of sports and all of the fun and excitement it has to offer. That's why we've decided to include some promotional sports items in our list of 2020 promotional Father's Day gift ideas. The following three paragraphs will detail some of our most popular options within this category. 
Tackle Box Kit - Logo Branded Fishing Gifts
Our Tackle Box Kit is one of our best promotional fishing items both for Father's Day and for any other occasion year-round. These are particularly good gifts for fathers with young sons who are excited about taking that first father-son fishing trip. That's because this is a starter kit of sorts, perfect for being a part of priceless family bonding memories. Each kit consists of a clear hinged box with several inner compartments to keep the contents organized. Inside, users will find a bobber and spoon lure along with a tube of SPF 30 suntan lotion and a generous assortment of 75 sinkers, hooks, and swivels. It has everything one needs for a successful day at the piers, on the lake, or at sea. The box is 9 inches wide by 4½ inches high and has an imprint area of 5 inches wide by 1½ inches high. Your logo will also be included on the bobber and lure. For an additional fee, your logo design can include multiple colors.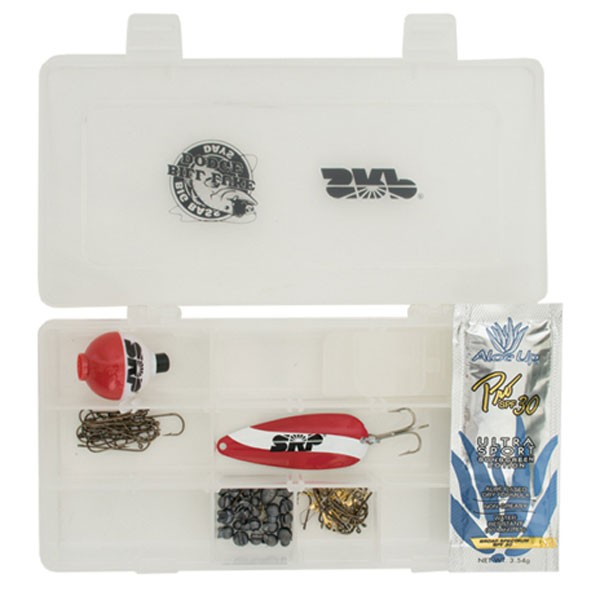 Tri-Fold Stadium Seat - Company Logo Printed Stadium Chairs
The next custom sports gift for Father's Day that we'd like to introduce is our Tri-Fold Stadium Seat. These promotional stadium chairs with backs are another best-selling item. They're better for users' backs and offer a more comfortable seating experience than traditional stadium cushions which lack backrests. These custom stadium cushions are foldable, but don't let that create any ideas about a lack of strength. Each is constructed from 70D PVC, filled with soft foam, and equipped with fiberglass poles in both the seat and backrest for premium support. They also offer three pockets. There's a large pocket in back as well as two flap pockets on the bottom front portion of each chair. When folded up, your customized logo design will still display proudly. The webbed carrying handles allow for comfortable and easy transportation. Coming in your choice of black or royal blue, these custom folding stadium cushions are 17 inches wide by 17 inches high and come with a one color 8 inch wide by 8 inch high logo imprint. Don't hesitate to contact us if you have any questions as to further personalization options.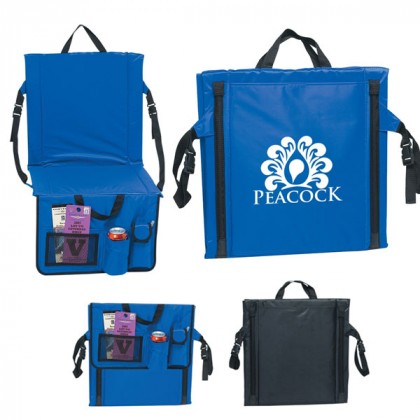 Zippered Golf Gift Kit - Custom Father's Day Golf Gifts
Does your company cater to a golf-loving crowd? If so, your gift search for Father's Day 2020 comes to a thrilling conclusion with our Zippered Golf Kit. These promotional Father's Day golf accessory kits ship 100% free of charge and are appointed with all the items a man needs to find success on the links. Inside of each secure zippered pouch, users will find 3 Wilson brand golf balls, 5 tees, a pocket knife, club brush, spike tightener, divot tool, and a multi-tool with a ball marker. The carrying pouch, tees, and golf balls are all imprinted with your company logo. A single imprint color comes standard, but for no extra charge, a second imprint color can be added to the balls. For an upgrade fee, multiple colors can be included in the logo imprint on the pouch. As a whole, this golf gift set has dimensions of 5⅝ inches wide by 3¾ inches high by 2 inches deep.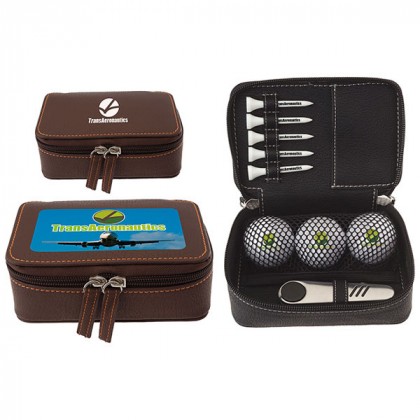 Whether they do it for a living, as a hobby, or maybe a mix of both, nearly all fathers find themselves working with various tools on a regular basis. This year, consider putting your logo on a Father's Day gift that will see frequent use for years to come. Our many promotional tools & tool sets cover many categories and purposes. When bearing your company logo, these can create advertising impressions on a daily basis in a countless variety of settings. Read on to see three of our top personalized tool gifts for Father's Day 2020. 
AA Mini Maglite Flashlight - Promotional Maglites
What man can't use a high quality and dependable flashlight set? We honestly don't have an answer to that question. The reliability and convenience of our AA Mini Maglite Flashlight Sets are just two of the reasons why they make a perfect gift idea for Father's Day. Each ships 100% free of charge and has a low minimum order requirement of 24. These promotional Maglite gift sets include a small (5¾ barrel length) yet powerful Maglite flashlight, spare bulb, two AA batteries, and an attractive black presentation box. The flashlights can cast a beam of up to 300 feet long with excellent focus. They can also easily switch between flood and spotlight modes via a quick turn of the head. They're made with pride in the USA and have an IPX-4 water resistance rating. Also resistant to shocks, these sturdy flashlights come in your choice of red, black, blue, or gray and are constructed from durable aluminum. Your company logo or personalized message is engraved in white in one location, though multiple engraving locations can be accessed for an upgrade fee. An imprint on the gift box is another of the many upgrade options available on this item. Get in touch with our sales team today to learn more.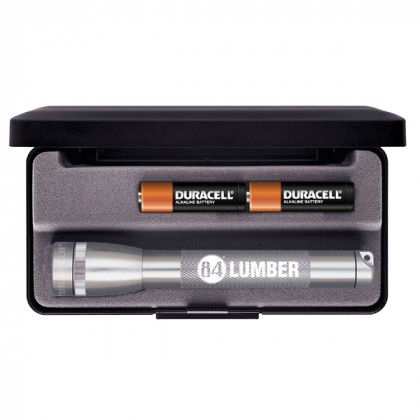 45 Piece Foldable Tool Set - Custom Logo Tool Sets for Father's Day
Here's a great promotional Father's Day gift for hardware stores, plumbing companies, contracting firms, roofing businesses, and more. Our 45 Piece Foldable Tool Set provides all the tools a man needs to get just about any job done, as well as supplying a handy and stylish way to keep everything organized. These promotional tool set gifts contain a bonanza of highly useful tools in a package that's easy to store and transport. Inside of each await a hammer, Phillips head screwdriver, 2 flat head screw drivers, magnetic driver with 20 bits, adjustable wrench, needle nose pliers, utility knife, measuring tape, 5 combination wrenches, and a nine piece Allen wrench set. It's all held together by a roll-up black and orange nylon bag with a zipper closure and hook & loop seal. A side slash pocket and comfortable carrying handles are also a part of the package. These custom tool sets are 14 inches wide by 4¼ inches high by 6 inches deep. They're imprinted with your full color logo in a 2¼ inch wide by 1½ inch high personalization area on the front pocket.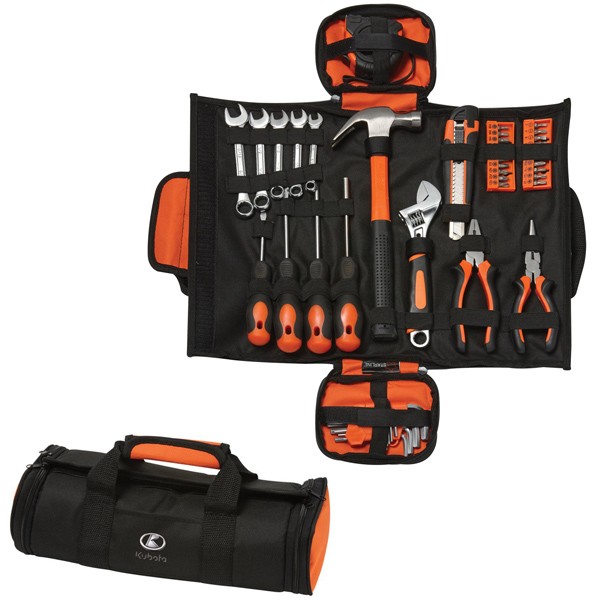 13 Function Engraved Wooden Pocket Knife - Personalized Engraved Swiss Army Knives
When camping, fishing, or just working on projects around the house, a multi-function utility knife is always a useful tool to have around. We up the ante a bit when it comes to our personalized 13 Function Engraved Wooden Pocket Knife. Equipped with a flashlight, flat head screwdriver, Phillips head screwdriver, can opener, bottle opener, saw, scissors, corkscrew, nail file, knife blade, awl, fingernail pick, and toothpick, these knives feature stainless steel appendages to take on nearly any job. Also included is a keyring, allowing them to be attached to other commonly used items and taken most anywhere. A natural wood exterior creates a perfect look when combined with the bright stainless steel of the tools inside. Only 6 units are required per order, allowing these to be reserved for fathers deserving an extra bit of recognition and praise. Each knife is 4 inches wide by 1 inch high by ¾ of an inch deep. Engrave your company logo or message into the outer surface in the provided 2¾ inch wide by ¼ inch high personalization area.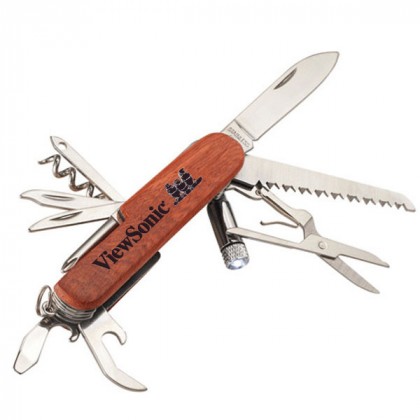 For those fathers who work in the tech sector or those who just like to keep ahead of the curve, we have many custom tech giveaway items that would make ideal Father's Day gifts. In keeping with the pattern that we've established in our previous categories, we'll share three of our top suggestions for promotional high-tech Father's Day gifts in this section.
Authentic PopSockets® Phone Grip & Stand - Custom PopSockets
Though they may be favored by a young demographic, there's no reason why any father wouldn't love to have any of our custom PopSockets to add some utility and fun to their mobile device usage. Our promotional Authentic PopSocket Phone Grip & Stand may be small in stature, but it's a giant when it comes to benefits of use. These personalized PopSockets have a 3M non-residue adhesive on their back surfaces which allow them to be applied to the back of a phone for a secure grip. Once in place, they can be pulled out when ready for use and pushed back in when it's time for them to be put away. When expanded, they have a conical structure which is designed to place fingers in a strategic & comfortable position. It makes everything easier, from texting to surfing the net to snapping pictures. It can also be placed on a flat surface to prop a phone up for a prime video viewing position. Additionally, it can double as a earbud cord wrap device. Available in white-on white, black-on-black, and black-on-white versions, each of our custom PopSockets ships totally free of charge. A single color and location logo imprint with a diameter of 1⅓  inches comes standard, as does free shipping.  However, a full color imprinted version of this item is also available.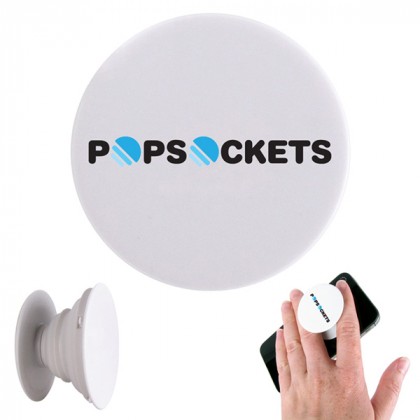 Dual Car Charger - Wholesale Multi-Port USB Chargers
Dads on the go will appreciate a tool that allows them to charge two mobile devices at once while commuting to work or setting out on a road trip. That's the "driving" principle behind our Dual USB Car Charger. These promotional USB chargers with multiple ports can be plugged directly into an automobile power outlet. Once there, its two USB ports can be occupied to charge multiple phones, MP3 players, tablets, and other mobile devices at the same time. They have a sleek, smooth shape and feel and come in colors of red, purple, blue, white, black, lime green, and orange. Silver is also available, but for an additional charge. Shipping is completely free on these ¾ inch wide by 2¼ inch high mobile device charging units. Their imprint area measures ¾ of an inch wide by 3/16 of an inch high. Please call us with any questions regarding how to personalize these wholesale multi-port chargers.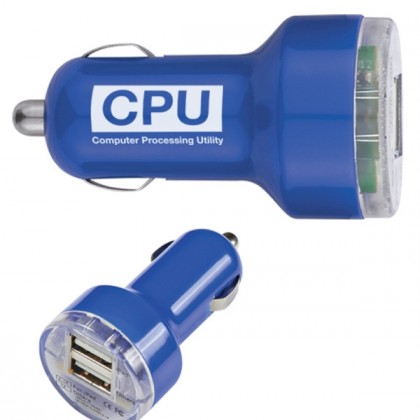 Double Dip Bluetooth Speaker - Custom Music Gifts for Father's Day
Is your business in the music or technology industry? Do your employees or their families love getting their hands on the latest high-tech gadgets? Are you looking to treat dads who like to unwind with their favorite tunes? If you answered "yes" to any of these questions, then the Double Dip Bluetooth Speaker will make a perfect corporate Father's Day gift item for your business. These premium promotional mobile speakers boast excellent sound quality and a 25 foot connectivity distance. They're able to fully charge in 3 hours and once this is done, they offer 10 hours of playback power. Ideal for both indoor and outdoor usage, they have an attractive bamboo outer casing and natural color finish. All of the needed controls are easily accessible on the top surface. Presented in a handsome gift box, these personalized Bluetooth speakers have no minimum order requirement and are 5⅞ inches wide by 3 inches high by 3⅜ inches deep. Their 2 inch wide by ½ inch high imprint area is located just below the controls on the top of the unit.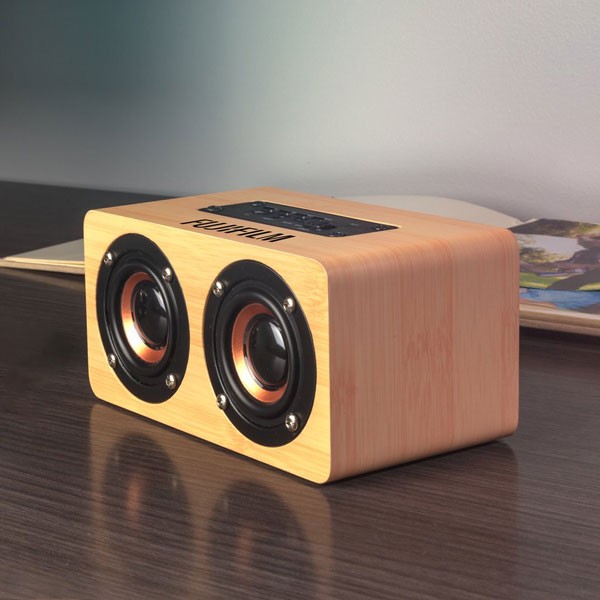 We'll round this list out with some great promotional Father's Day gift ideas that don't really fit in to any one specific category. We're going to break our "group of three" rule here by including 4 items in this section. These cover a lot of the more traditional style gifts, but are by no means old and tired products. Any and all fathers will be quite excited to unwrap any of these fine personalized presents on their special day.
Statesman Two-Tone Men's Watch - Personalized Watch Gifts for Father's Day
A handsome, elegant watch helps to not just keep the time, but also to serve as a great accent piece for any suave outfit. The Statesman Two-Tone Men's Watch delivers in both these capacities and more. These personalized Father's Day gift watches ship free of charge and have a low minimum order quantity of 12. Classy and of the highest quality, each watch has a gold and silver wristband and your choice of a gold or white face. A Citizen® quartz movement offers supreme accuracy. This is complemented nicely by their durability, as these watches are water-resistant up to a depth of 100 feet. An adjustable fold-over clasp makes them able to be worn comfortably by men of nearly any size. A single or two color imprint is included on the face, with a standard production time of 15-20 business days. In terms of size, the wrist band has a width of 18 mm (approx 0.71 inches) and the face has a width of 33.5 mm (approx 1.32 inches).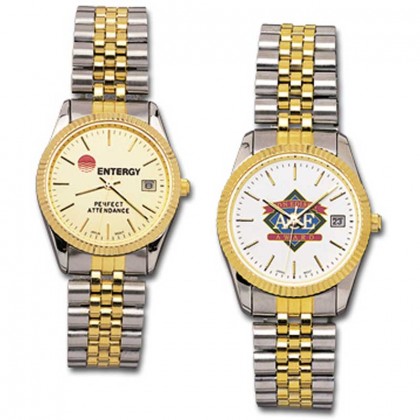 Engraved Men's Black Leather Trifold Wallet - Custom Engraved Wallet Gifts
A custom wallet is an accessory that any father will appreciate and use often. Engraved with your company logo design or personalized message, such a gift will create plenty of advertising impressions each and every day. That's just one of the many reasons why our Engraved Men's Black Trifold Wallet is one our picks for the top promotional Father's Day gifts of 2020. With only 6 units required per order, they're another gift idea that works for businesses of any size. Each wallet is made from black genuine leather and features ample storage space and utility. Every one has 3 three-card slots, 2 large compartments for bills and checks, 3 hidden card slots, a clear ID window, removable 4-slot picture holder, and 2 more hidden slots, which are perfect for coins, SD Cards, spare keys, and more. These promotional trifold wallets are a handy size at 3¼ inches wide by 4 inches high by ⅞ of an inch deep.  Each is engraved with your logo, slogan, or message in an area spanning 3 inches wide by 2¼ inches high.
Crowd Pleaser Box - Custom Printed Snack Box Gifts
Everyone enjoys a tasty snack, so why not make fathers everywhere happy by providing them with a box that's brimming with just about every kind of tasty treat one can name? Our Crowd Pleaser Box is a promotional food gift box perfect for Father's Day or any other gifting occasion. Only 25 units are required per order, with each coming in an appealing white, silver, black, red, or gold gift box with a matching ribbon. However, it's whats on the inside of the box that will have recipients unable to keep their hands out. Housed in every box are two mini Liden's chocolate chip cookies, a 1 oz bag of Lay's potato chips, 2.17 oz bag of Skittles, 1.69 oz bag of plain M&Ms, a 0.5 oz bag of honey roasted peanuts, a two-piece Nature Valley granola bar, 1 oz bag of pretzels, 2.5 oz bag of Twizzlers, and a 6 pack of Austin cheddar flavored crackers with peanut butter filling. With all of these delicious snacks, this box definitely lives up to its name! Each box is 7¾ inches wide by 7¾ inches high by 2¼ inches deep and has a 3 inch wide by 3 inch high imprint area.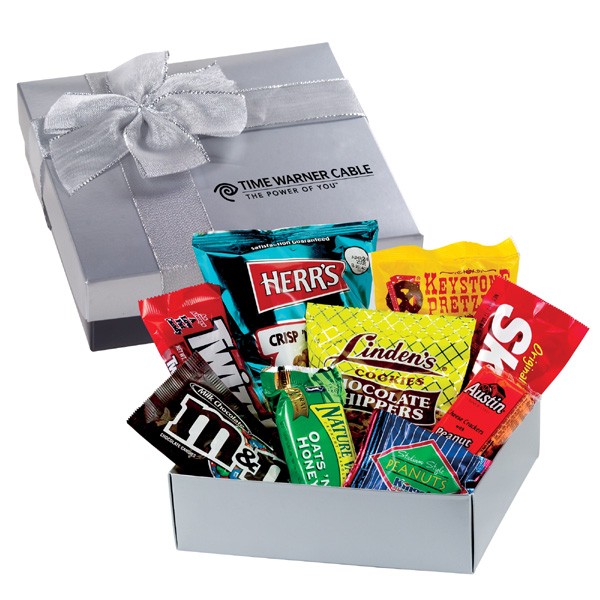 4" x 6" Magnetic Acrylic Frame - Promotional Picture Frames for Father's Day Gift Ideas
Last but not least in this corporate Father's Day gift cornucopia is our 4 x 6 inch magnetic acrylic picture frame. These custom promotional picture frames have an air that manages to be regal yet warm at the same time. Each features a transparent acrylic frame with silver magnetic backing. The frame looks like glass but is far more durable. It has the size to hold a 6 inch wide by 4 inch high photograph. Any picture dear to a father's heart can be placed inside of the frame, which can then be adhered to any magnetic surface for easy and frequent viewing. These premium promotional magnetic picture frames are engraved on the back in an area measuring 3½ inches wide by 3½ inches high. If your company is looking to strike the perfect chord of sentimental branding, this is a can't-miss item.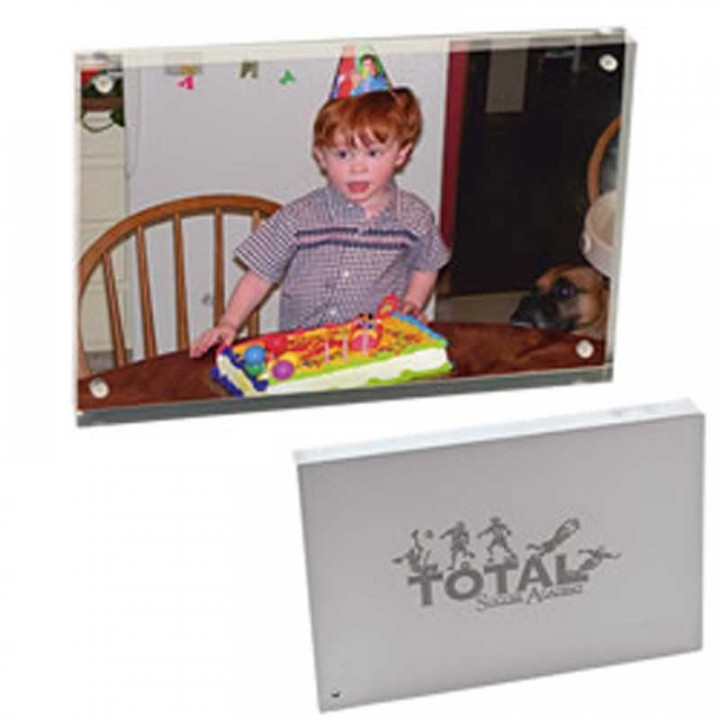 We hope that you've found something(s) special for the fathers you wish to honor this year while reading this article. Remember, these are just 16 of our many wonderful custom Father's Day gifts for 2020. If you have any questions about the items we've described today or would like to know more about the myriad of other choices we have to offer, feel free to reach out to us. We're ready, eager, able to make Father's Day 2020 the best yet for your business and all the dads it seeks to recognize!