What Are Promotional Power Banks & How Do They Work? Meet 10 of Our Best Mobile Charging Banks
If you're reading this article, you've likely asked at least one of the following four questions:
What is a promotional power bank?
How does a power bank work?
Where do I buy power banks?
What are the best custom power banks?
If you've ever asked any of these questions are looking for answers, you're in luck. This article will address all four of those questions. We'll explain the ins and outs of custom power banks to you, detailing their purposes and how they operate. We'll also share 10 of our picks for the best promotional power banks for 2019, 2020, and beyond. If you're already in-the-know and would like to skip directly to that portion, just click on the preceding link. Want some visual help? We're also including an infographic to demonstrate how power banks work as well as a video later on to explain the principles behind how wireless chargers operate. 
What are power banks?
A power bank is an electronic apparatus that is used to charge mobile devices. Smartphones, e-readers, MP3 & MP4 players, GPS units, tablets, and even laptops can all have their batteries recharged with the use of a power bank. Essentially, a power bank's own battery is charged by way of plugging into a grounded outlet by way of a USB cord. The electricity flows into the power bank and is held until it is needed to charge a mobile device. When this time comes, all you need to do is connect the USB to the power bank's output port and into the mobile device's input port. Then, the power will flow into the mobile device, charging its battery for usage. Different power banks are able to store and provide different amounts of electricity. Their battery longevity is measured in mAh, or milliamp hours. The higher the number, the longer the battery life. A power bank with a 2,000 mAh rating will be able to provide 2 amps of energy for 1 solid hour before needing a recharge.
Below, you'll find an infographic that explains power banks in a more visual way.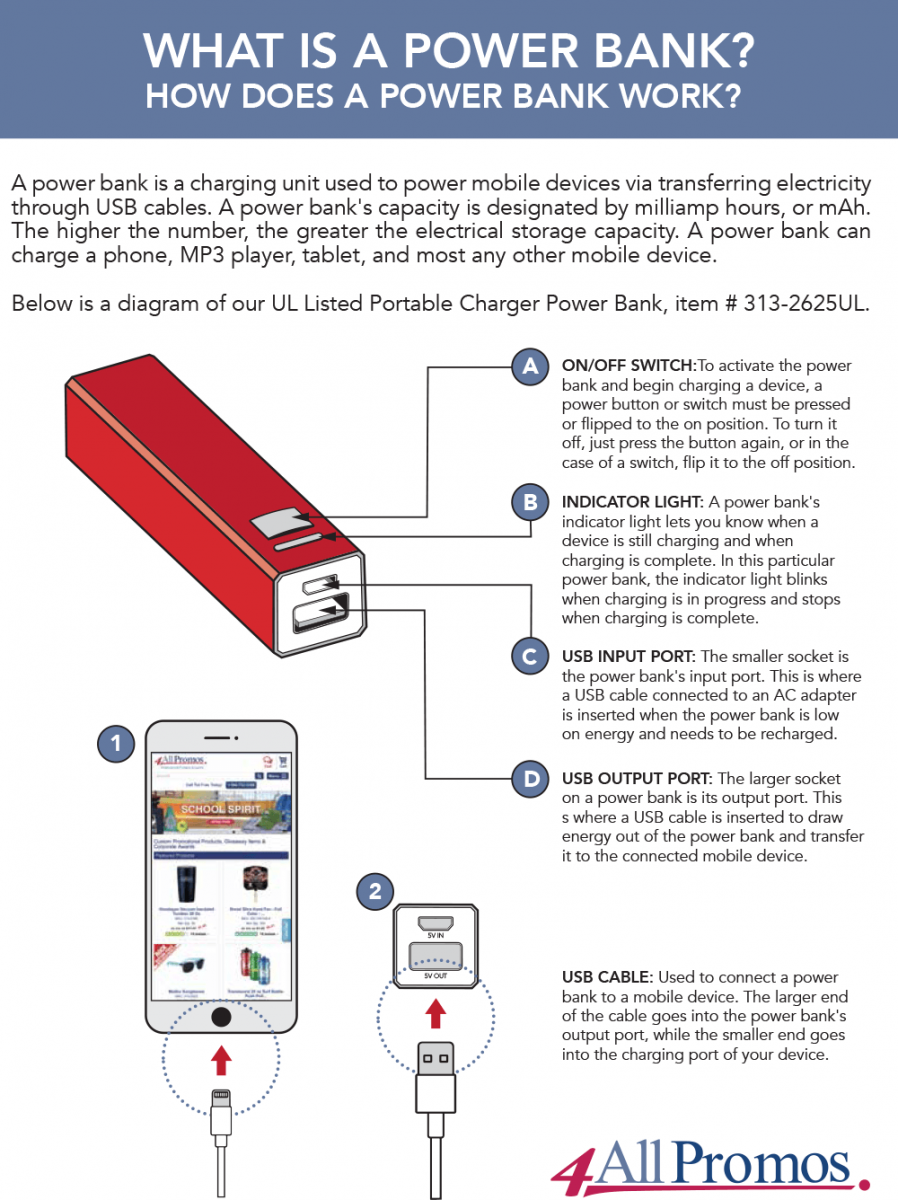 Before we get into sharing our top ten personalized power bank picks, we're going to add this quick little table to pre-answer some questions. When reading through our item descriptions, you'll see references to different power bank certifications. The table below presents many of these certifications along with some quick tidbits of information as to what they mean.
Promotional Power Bank Certification Meanings
 

| Certification | Meaning |
| --- | --- |
| UL Certified | Tested & approved as being safe by Underwriters' Laboratories, an international consumer electronics safety testing organization. |
| RoHS Compliant | Ensures products are as free as possible from any harmful substances. RoHS stands for "Restriction of Hazardous Substances". |
| CE Certified | Tested & certified for safety by Conformité Européenne, a European organization dedicated to overseeing the safety of electronic consumer products |
| FCC Certified | Certified by the Federal Communications Commission to operate at frequencies that will not disturb electromagnetic currents for radio, television, satellites, and other communications devices |
| MiFi Certified | "Made for iPhone/Pad/Pod" - compatible with iOS based devices |
| IEC Certified | Examined by the International Electrotechnical Commission to ensure all claims made about the product are true |
1. UL Listed Portable Power Bank - Wholesale Cheap Power Banks
The first of our wholesale power banks that we'll share today is our UL Listed Portable Power Bank. Buy these cheap small power banks in bulk and you'll have an excellent trade show giveaway item on your hands. Due to their slim rectangular shape, charging banks of this style are often referred to as "power sticks". This particular models have a Grade A (meaning 1,000 mAh or more) lithium-ion battery with a capacity of 2,200 mAh. They're great for outdoor use and can efficiently charge a smartphone or MP3 player. Each comes with a USB cord for charging and are handy on outdoor adventures. Each is imprinted with your logo in one color and location. However, an upgrade fee grants access to a laser engraved logo design. 
2. Portable Charger Keychain - Custom Keychain Power Banks
Another of our small custom power banks that has proven very popular with our customers is the Portable Keychain Power Bank. These personalized charging bank keychains also have a capacity of 2,200 mAh, making them a great choice for providing a jolt of power to an MP3 player, iPhone/Android, or other small mobile device. Each ships 100% free of charge and comes with a USB charging cord. In terms of appearance, each unit is lime green with a white top plate. A lime green string with a silver keyring attachment extends downward from the front, not far from the USB input port. They're powered by a lithium-ion battery, which is standard for more lightweight power banks designed for charging small devices.  A red LED indicator light lets users know when a charge is complete.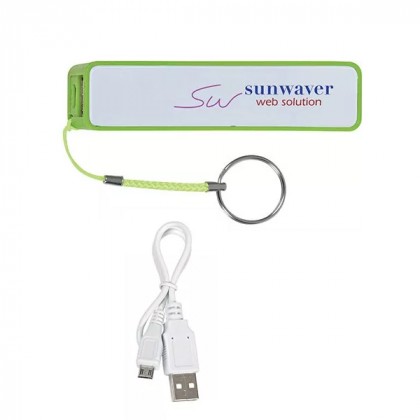 3. Bamboo Power Banks - Unique Personalized Charging Banks
Old meets new and quaint meets rustic with our personalized bamboo power banks. An outer bamboo casing provides an Earthy and warm look for these decidedly contemporary tech items. Each ships for free and is powered by a Grade A lithium-ion battery with a capacity of 5,000 mAh. This gives it a bit more clout and longevity than the two power banks we've already discussed. It also features dual USB output ports, enabling it to charge two devices simultaneously. These units can quickly and efficiently charge phones, music players, and GPS systems. Progress indicator lights are included, as is a single color and location logo imprint. A horizontally or vertically oriented imprint can be selected, so please be sure to specify which you desire while ordering. For an upgrade fee, multiple imprint colors can be added, as can engraved company logo designs.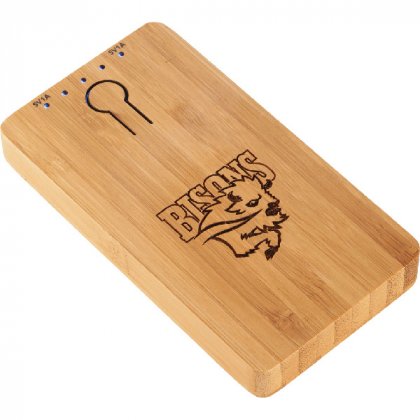 4. Rubik's Mobile Charger - Custom Imprinted Novelty Power Banks
Even though our customized power banks are aimed at promoting your business, they don't have to be all business, all the time. We offer our fair share of wholesale fun novelty power banks, with our Rubik's Cube Mobile Charger being one fine example. Powered by a lithium-ion battery with a 2,600 mAh capacity, these unique power bank giveaways are perfect for charging smaller mobile devices. Users can bring them along on bus or camping trips to give smartphones a much needed charge when grounded outlets aren't available. Good for up to 299 charging cycles, these ABS plastic power banks are CE & FCC Certified. They also ship free of any charges. While the cubes have panels featuring different colors, each cube has one white panel and one yellow panel. By default, your logo will be imprinted on the white panel, but for an upgrade charge, it can appear on the yellow as well. Each comes in a gift box at no extra charge.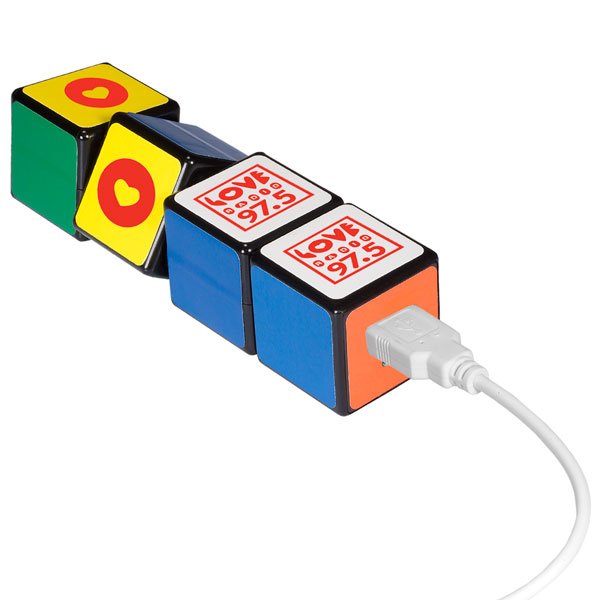 5. Lifeguard 6-in-1 Charger - Promotional Multi-Functional Power Banks
All consumers like getting two items for the price of one. Therefore, it naturally follows that they'll absolutely love getting SIX items for the price of one. This is exactly what happens when your company invests in our Lifeguard 6-in-1 custom imprinted multi-purpose power banks. Shipping for free and coming with a low minimum order requirement of just 25 units, these tech giveaways sport the following items: a car charger, seatbelt cutter, flashlight, power bank, window breaker, and SOS flasher. Basically, they feature just about everything you need to get help and stay safe during a car breakdown. Each has a capacity of 2,200 mAh and is RoHS, FCC, CE, and UL certified. A single color and location imprint design come standard, but for an upgrade fee, full color logo imprinting is available.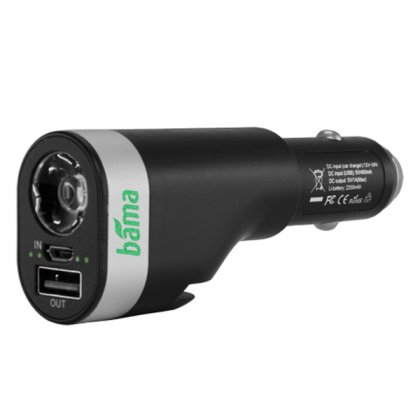 6. Flashlight Mobile Phone Charger - Custom Flashlight Power Banks
Here's another one of our wholesale power banks that has more than just one function. These custom metal powerbanks with flashlights are stylish, practical, and durable. Their strength and performance will make you proud to have your company logo imprinted on their surfaces, creating mobile advertising impressions wherever they're taken. Black and silver in color, these are powerful charging banks. Their capacity stands at a hefty 5,200 mAh, enabling them to fully charge phones, MP3 players, and GPS units. They can also partially charge tablets (up to 70%). Their low minimum order quantity of only 10 units allows them to be reserved and personalized for only the most deserving. This makes them a great idea for corporate employee incentive gifts. In addition to their charging capabilities, these items also offer a bright LED flashlight. As a result, they're helpful when searching for dropped items in cars and behind desks as well as lighting the way after the sun goes down.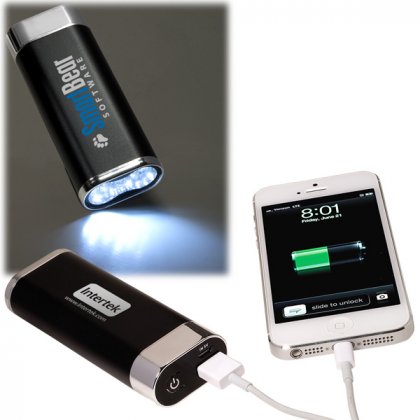 7. Fabrizio® 5,000 mAh Power Bank Portfolio - Premium Charging Bank Giveaways
If you're looking for the perfect executive technology gift, look no further. Our Fabrizio® personalized power bank portfolios are sleek, stylish, and offer plenty of features to take on the challenges of corporate life. In one unit, users are treated to a power bank with a 5,000 mAh capacity, tablet stand, and deluxe portfolio. The portfolio is made from animal-friendly faux leather and is available in your choice of black or brown. On the inside, users will find a writing pad with 50 sheets of lined paper, a phone storage sleeve, tablet sleeve, pen loop, document slot, and 4 slots for business cards/ID cards. Also included is a USB charging cable. Perfect for the business professional on the go, these custom power bank portfolios are debossed with your business logo design. Each is delivered in a two piece gift box, which, for an upgrade fee, can also be decorated with your logo.
8. 20,000 mAh Power Tank - Personalized HIgh-Capacity Power Banks
No, the title above this paragraph doesn't contain a typo. We definitely meant to say "Power Tank" and not "Power Bank". That's because these promotional high-capacity power banks are truly a mighty force to be reckoned with. Each has an amazing 20,000 mAh capacity. They're powered by lithium polymer batteries, which are stronger than their lithium-ion counterparts and have the ability to charge larger items with greater energy needs. In addition to being able to fully charge mobile phones, GPS units, MP3 players, and eReaders, these Goliaths can also fully charge a tablet or laptop. Each has a dual USB output to charge multiple items at the same time. They're compatible with both micro USB and type C connectors. These custom power banks are silver and come with a single color and location logo imprint. For an upgrade fee, multiple imprint colors are available, as are carrying cases. They're another low minimum order power bank, with only 12 units being required per purchase.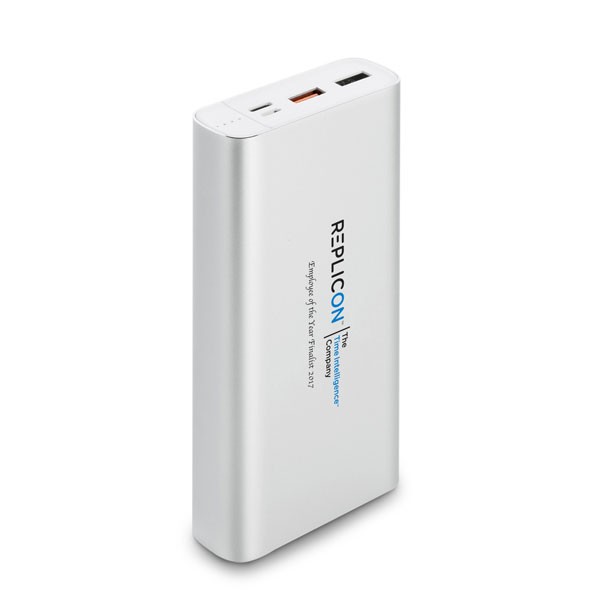 Custom Wireless Power Banks & Promotional Wireless Charging Pads
Not all power banks function by way of flowing energy through USB cords. Others are able to power devices wirelessly. While our custom wireless power banks and personalized wireless charging pads are still powered by wall outlets. However, they transfer electricity to mobile devices by way of induction. Here's a video that explains how the process works. Read on, because after the video, we're going to feature two of our most popular wireless charging banks.
9. Soft Touch Power Bank with Suction Cups - Promotional Wireless Power Banks
It's time to meet one of our most popular custom logo imprinted wireless power banks.This high tech giveaway item is known as the Soft Touch Power Bank with Suction Cups. Each is fueled by a a Grade A lithium-ion battery with a capacity of 4,000 mAh. They're equipped with multi-color LED indicator lights to show how far along the charging process is at any given time. A USB charging cord is included to get the power bank up and running, but your phone's cord will be needed for drawing energy out. Highly convenient, these custom wireless charging pads feature suction cups to be kept securely in place and work with Qi® compatible devices. They come in an array of assorted colors, with each unit including a single color and location company logo imprint. A second logo design color can be added for an upgrade fee.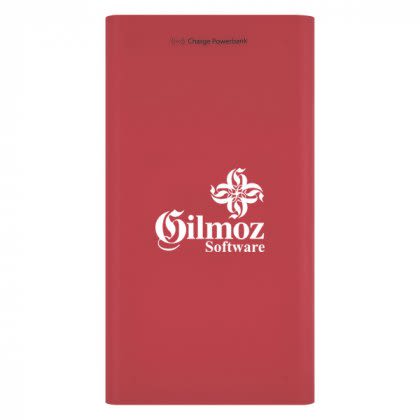 10. UFO Style Qi® Wireless Charger - Unique Custom Wireless Chargers & Charging Pads
Fast-forward into the future with the ultra-modern UFO Style Qi® Wireless Charger. These promotional engraved wireless charging pads are black and silver in color and feature a form that will make users feel as though they've traveled ahead in time. Compatible with all Qi-enabled devices, these unique customizable power banks feature Grade A 2,000 mAh capacity lithium-ion batteries. They're an ideal size for desktop, counter, and end table usage. Easily portable, these unique low minimum order power banks come in an elegant black gift box for a truly impressive presentation. Each also includes a 40 inch Micro USB charging cord and comes with a one color & location logo design. For an upgrade fee, your logo can be imprinted in two colors and/or in two locations.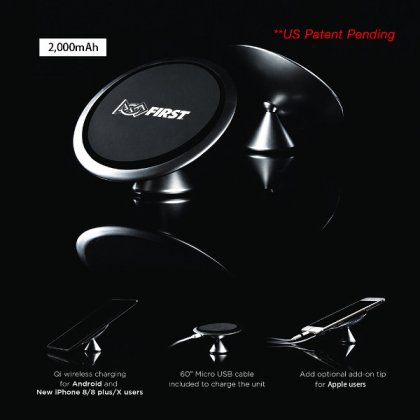 That brings us to the end of our comprehensive guide to all things custom power banks. We hope we've answered a lot of questions in this article and that we've "empowered" you with the ability to pick the best charging banks to meet your promotional needs. If there's anything else you'd like to know about the world of power banks, feel free to give us a call, send us an email, or connect with us via live chat. Our team be more than happy to clear up any remaining concerns!