The Alphabet of Promotional Products for Businesses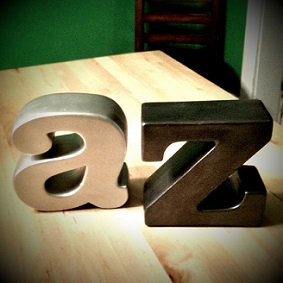 It's no secret that promotional products for businesses can go a long way in building brand awareness and establishing a broad and loyal customer base. If it were, 4AllPromos wouldn't exist and this article would never be written. However, there many factors that go into a successful promotional prooduct investment. Some are broad and relatively obvious, while others are quite specific and/or highly nuanced. Getting a good feel & understanding for all of them is vital to success. This principle is what sparked the writing of this article, which will hopefully have every reader coming away with some valuable new insights.
A - Audience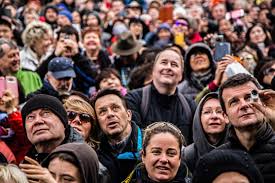 It's a good thing that A is the first letter of the alphabet, because understanding your audience is one of the most crucially important components of any successful promotional product or event. Knowing the hows, wheres, whats, whens, and whys is impossible without knowing the who.
Once you've established the identity of your audience, the next step is to put yourself into their shoes. What are their values? What are their needs? What can you give them that they don't already have? What will motivate them to answer your calls to action? 
It all boils down to this: get inside the heads of your audience. If you only consider the situation from your own viewpoint without taking theirs into account, you're going to be on a bullet train to failure. Surveys, focus groups, demographic studies, entertaining interactive events, and even the tried-and-true direct mail piece are all ways to learn more about your audience and what you need to do in order to successfully reach and motivate them. When you connect with them in an efficient and meaningful way, the opportunity for brand loyalty and relationship marketing develops. These are two of the most powerful tools in the world of advertising & product promotion, so never underestimate their value or cut corners when trying to achieve them.
B - Branding - Creating Awareness Through Company Branded Giveaways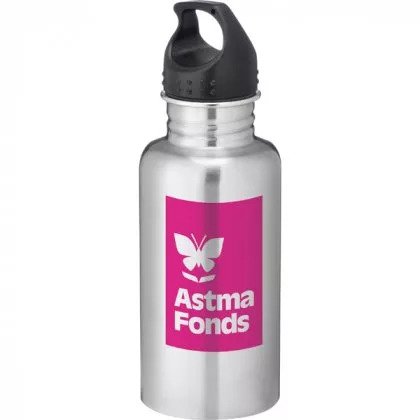 No matter how great your promotional products are and how successfully you're able to make them appeal to potential customers, it's all for naught if nobody associates said products with your brand name. That's why it's beyond essential to leave absolutely no doubt that you're the genius behind the company branded item your target market is presently using & enjoying.
There are many different ways to brand your promotional giveway items, but few are more successful than the obvious go-to method - placing your logo and company name directly on the product. As can be see in the custom logo imprinted sports bottle located to the left of this paragraph, a well-designed logo imprint can really bring a product to life while making your business the center of attention.
It's important to set a certain tone and attitude when printing promotional items with your logo design. This is why we highly recommend working closely with our talented team of artists to come up with a design that clearly sends your desired message while still making it clear who the message is coming from. Sometimes a simple one-color graphic with your emblem and company name is all it takes. Other times, something more elaborate may be needed. We'll be discussing a few examples of the latter later on in this article. 
C - Customization - Customize Promotional Items for Giveaways & End Users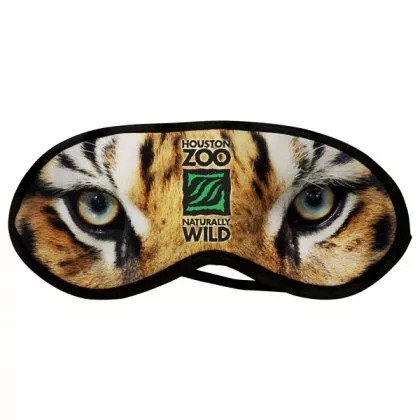 As can be clearly seen from the image the left, which is one of our customized sleep masks, sometimes an intricate design with careful attention paid to even the finest of details is what one needs to do to make a product stand out. While word of mouth is often said to be the most effective and important form of advertising, a stimulating visual effect is often just what's needed to get those mouths talking.
A fully customized promotional item is one that you've truly made your own and have created to strike your target audience in just the right way. There are a lot of fad items that circulate for their 15 minutes of fame. Of course, this is an opportunity for your company to ride the wave of a trend and appeal to the masses. Still, if your item looks just like anyone else's, what's the point?
Some personalization is key if you want your giveaway items to be anything more than one of the nameless, faceless, also-rans. We have many items that are fully customizable over their entire surfaces, giving you free reign to design the best wholesale giveaway items in your industry.
D - Delivery - Promotional Products with Free Shipping, Rush Delivery & More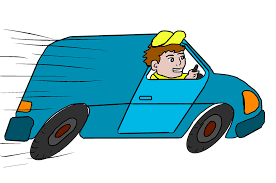 It could be argued that logistics aren't the most enthralling aspects of the promotional products industry. Unless you happen to be in the shipping game, it's pretty much never the most exciting or interesting part of what your company does, be it for advertising or simply day-to-day exercises.
Still, it's highly important that your promotional products are delivered in prime condition and on time. We offer several items with available rush delivery, allowing some last-minute action when you need to do a lot in a small amount of time. Perhaps even more appealing is that we carry a broad range of personalized product giveaways with free shipping. 
More or less, you want to make sure that you've obtained the needed information in regard to production time, delivery schedules, and shipping costs before you commit to any one purchase. 
E - Engraving - Custom Engraved Personalized Gifts & Corporate Giveaways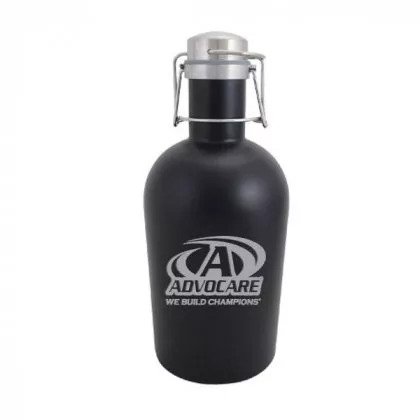 When your business wants to design and distribute a customized product that will be around to stand the test of time, engraving is a great way to go. Laser engraving, sandblasting, etching, and (arguably) debossing are all forms of engraving that are available on a menagerie of different items on our site. 
A custom engraved promotional product lends a touch of class and individuality to any giveaway item. See the design on the custom engraved stainless steel growler in the image to the left? That's a piece of logo artwork that won't chip, fade, or smudge over the course of time. The design is cut into the surface, creating a permanent logo graphic that will last a lifetime.
Some of our products offer engraved logo designs as an upgrade option, while others offer it standard. Though production time and costs are higher for engraving vs imprinting, the benefits shine through in the form of highly personalized products for gifts as well as promotional products with low minimum order requirements and in some cases, promotional items with no minimum order requirement.
F - Full Color Imprinting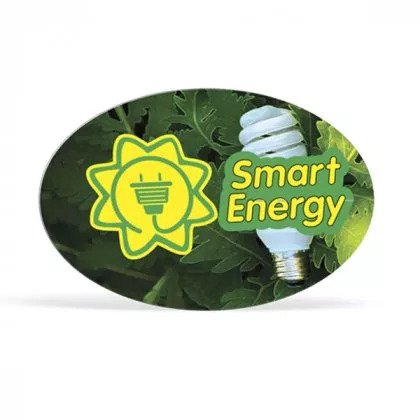 If a single color logo design isn't going to get the job done but your preferred item isn't one for which engraving or embroidery are feasible, there's no need to worry. This is one of many situations where full color imprinting can swoop in to save the day. The human eye is naturally drawn to color, so the bolder your designs, the more attention they'll get. Need proof? Just take a look at the custom full color printed car magnet to the right.
As you can see, this is a product that is visually appealing and takes advantage of full color (also known as 4-color process) printing to create contrast, depth, and an active, multi-dimensional visual effect. Imagine this same product without the brilliant colors and it suddenly becomes a whole lot less effective.
As you'll see in our guide on how to personalize a promotional product, full color imprinting isn't ideal for every item, but for the ones where it is, the higher cost as compared to screen printing is well worth it. Additionally, it provides a much faster production time as opposed to screen printing and pad printing.
G - Generosity - Buying Promotional Products for Charities & Fundraisers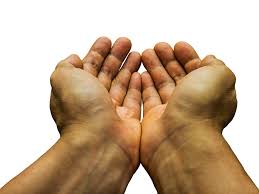 There comes a time in everyone's life where an undeniable need for help in one form or another will exist. Fortunately, there are a lot of good-hearted individuals in the world, doing what they can every day to help those who need it most. Charitable organizations, fundraisers, and charity events can all be aided and embellished by promotional products featuring your personalized logo design.
Products such as our custom logo imprinted awareness ribbon items and personalized tote bags for charities are great ways for your business to get involved with a worthy cause. While being seen participating in charitable efforts and events can help to give your brand a positive public image, it's truly the act of kindness that counts most of all. Knowing that your brand is there to help those who might not be able to help themsevles is a great way to build employee morale and for all involved to go to sleep at night knowing they've made a change for the better, no matter how small.
H - Holidays - Custom Ornament Gifts, Bulk Holiday Cards & More Seasonal Items
Every holiday is made a little more happy when there are festive decorations around the house and plenty of holiday cards with which to decorate mantles and windowsills. The holiday season is the time when sentimentality runs high in nearly everyone. It's not all that often, at least for most companies, that the opportunity to connect with a customer on an emotional level presents itself. Rarer still is the chance to become a part of a family's most treasured traditions.
The two benefits mentioned in the preceding paragraph are the cornerstones of what investing in promotional holiday products can do for your business. Take our wholesale Christmas ornaments as just one example. Every member of the family has a favorite ornament that they especially look forward to placing on their tree each year. Imagine that ornament is one that bears your company logo. That's a pretty powerful package of promotional prowess. As we've already said, emotional bonding and relationship marketing are potent tools. 
You can market to the heart, whether it's with our promotional flat round ornaments, as pictured to the left, our bulk holiday greeting cards, our any of our other holiday & special event (graduation, birthday etc) giveaways. Simply put, promotional holiday gifts are truly items that keep on giving.
I - Innovations - Keeping Up with the Best Company Branded High Tech Items

There are few industries in the entire world that change more rapidly or more frequently than those in the tech sector. It seems that every day, a new high-tech item comes out that promises to make everything in life easier, faster, and more convenient. Everyone company within the technology industry wants to be seen as an early adopter, for obvious reasons. 
Whether or not you're an official player in the world of technology, your company should still stay informed when it comes to all of the latest and greatest gadgets to roll out of Silicon Valley or from any other point of origin. We have several such products on our site which are ideal promotional products for tech firms, web design agencies, software retailers, and computer repair businesses. They also function very well as promotional trade show giveaway items & company branded products for the rest of the businesses world.
Items such as our promotional power banks, handy multi-purpose bulk stylus pens, and all of our other high tech personalized business products will do your logo proud. Every time these items are used, everyone within viewing range will see your logo and remember your brand name. Staying informed of the latest technological developments will help your brand to be first to the party when it comes to courting the public.
J - Juggling - Managing Multiple Promotional Campaigns at the Same Time

These days, it's all about multitasking. Seemingly everyone has less time than they used to. It doesn't help that life now demands more out of us and with better results than ever before. If not executed with caution and poise, trying to operate with all of these elements coming together is a recipe for certain disaster. Still, it's not all gloom and doom. If you run a business, you're likely already a master of multitasking and you can incorporate these skills into your promotional efforts.
Let's imagine that summer is officially underway and you want your profits to rise along with the mercury. This leaves one with a lot to think about. Products that are seasonal in nature, such as our promotional beach balls, personalized beach towels, and custom logo sunglasses will be flying off of the racks and trade show booth tables.
During this same time period, demand for other items will start ramping up. Promotional lunch bags, all manner of custom imprinted back to school items, and even wholesale Halloween tote bags will see purchasing in advance for optimum release times. As you can probably guess, what we're getting at here is that it's important to plan out your purchases in advance so you don't lag behind the competition in releasing items that have peak sales periods. Keeping organized and having regular team meetings with everyone involved in the buying and distribution process will help with this and any other potential times where different promotional campaigns have the potential to become crossed up.
K - Know Yourself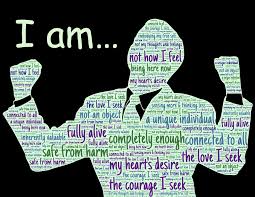 "This above all; to thine self, be true." This is a famous quote first uttered by the character Polonius in the classic Shakespeare play Hamlet. While there are many different interpretations of this quote floating around, we're using in a very literal sense. Basically, what we're saying is this: be mindful of your business, its customers, its strengths and weaknesses, and its overall place in the world of commerce. 
When a business owner is self-aware, he/she will be empowered to make the best decisions when it comes to investing in the right promotional products and knowing which holidays/seasons/products/events upon which to capitalize and which ones should be left to others. If you're trying to promote a funeral home, items such as our custom felt pennants, trade-show friendly promotional spinning prize wheels won't be a good fit. Conversely, more formal and serious items such as our personalized leather portfolios and wholesale sympathy cards would be much more appropriate.
Obviously, not every industry will be this black and white when it comes to which promotional products are the best fits for building brand awareness and customer loyalty. However, it is important to consider your identity and the image you want to put forth before making a decision on how to best promote your company.
L - Listen
While nobody enjoys being criticized, not all criticism should be tuned out. Every mistake presents an opportunity to learn and grow. So too does every piece of constructive (and sometimes not so constructive) criticism gives you a direct chance to know what you're not getting right and get to work on improving. 
At the same time, positive feedback is important as well. Maybe you're being praised for something that you're just starting to dip your toes into. If so, you're likely on the right track and should consider diving more deeply into that area. 
Nearly all feedback has the potential to help your business improve in one way or another. Reviews posted to your website, conversations at trade shows and exhibitions, and any mention your business or its products receive are potential goldmines. All of these sources can point you in the right direction of which promotional products to continue to purchase, which ones to discontinue, and which ones to potentially invest in for the first time.
M - Minimum Order Requirements - Promotional Products with No Minimum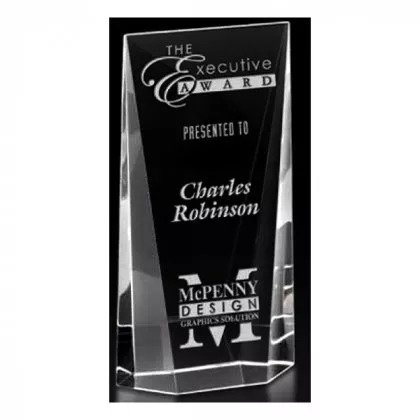 There are few phrases more pleasing to a thrifty buyer's ears than "no minimum" and "low minimum order requirement." Sometimes a product having a low minimum order requirement, or even none at all, can be an opportunity for serious savings. Other times, it's not the money that is the issue but rather the ability to give each individual order the attention it deserves.
When you're giving out personalized awards & trophies or any of our personalized flasks for best man gifts, you'll enjoy the benefit of being able to specifically design each and every one to fit its respective recipient. After all, when you want to give someone special recognition for a job well done or a significant life event, do you really want to hand out something so generic that it could be for anyone?
We'd have to imagine that the answer to the above question would be a resounding, "NO!"  You'll want every recipient to feel as important as they truly are. Low minimum order requirements allow you to reward a select deserving few, with each one getting something a little special making the token of regard truly theirs.
N - News - Stay Informed at All Times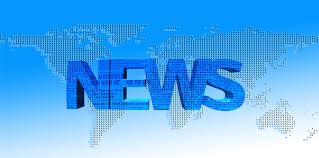 The cost of ignorance is often a very hefty one. When one doesn't stay up to date with what's going on in the world, bad things can happen. We don't mean just watching the news each night, but also keeping on top of all relevant changes and issues within your industry. 
Missing out on a new product fad, promoting the daylights out of one that's no longer popular, or being unaware of any potential for controversy can all lead to missed opportunities and possible alienation of your brand from the public at large. 
To make a long story short, it's important to keep your eyes open and your ear to the ground. Aside from preventing potentional promotional problems, having an in-depth knowledge of the things people are talking & asking questions about cements your reputation as a trusted authority and expert within your field. 
O - Open Mindedness - Don't Be Too Quick to Judge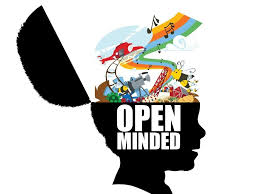 You've likely noticed that just a little bit earlier in this article, we gave a bit of a lecture about knowing your company, its place in the industry, and developing promotional strategies based on that knowledge. We still stand by that and believe it to be solid advice, but you never want to go too far in one direction.
Oversimplifying your world by making everything a matter of black and white with no shades of gray in between can prove to be highly restrictive and cause you to miss out on potential windfalls. What we're driving at is that it's important to remember who you are and not aim for promotional products that are plainly a poor fit, but to still keep an eye out and be open to new products and possbilities where they come along.
If you see something a bit out of the ordinary that grabs your eye, it's not neccessarily a bad thing; give it  a chance, think it over, and discuss it with your colleagues. Perhaps there's a whole new product category or style or promotional items you've never tried that could have tremendous potential. We do this all the time - just within the past few months, we've established several new product categories. It's also readily apparent in many of the wholesale novelty promotional products offered on our site.
P - Practicality - The Best Promotion isn't Always the Most Exciting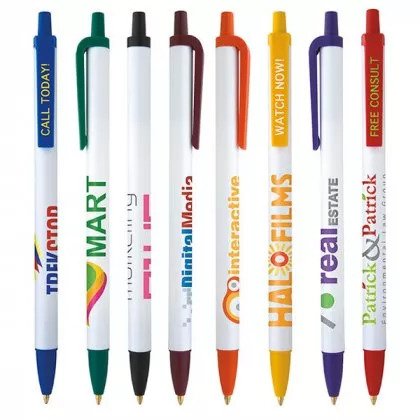 Sometimes, the best-selling product or the one that generates the most awareness won't be the most exciting one. There are times when leaning toward the tried and true will score you the most points for a positive brand reputation. That's why promotional products that will be used on a daily basis are often some of the best investments for your business.
If you want an example of this, look no further than the promotional click pen giveaways located just to the left of this paragraph. They don't have any really fancy bells and whistles and they're not the stuff that social media dreams are made of. Still, they get the job done consistently and efficiently. They do this while becoming a part of the daily working experience for all users who receive them. This means that all day, every day, your company will be enjoying repeated advertising impressions.
The good thing about the more "boring" promotional items is the fact that they're useful on a nearly universal basis. No matter what field your business is in and what the daily tasks of your executives and employees entail, everyone can use a good pen, notepad, bag clip, lanyard, pencil, custom mirofiber cleaning cloth, and so on.
Q - Questions - Never Be Afraid to Ask When You're Not Sure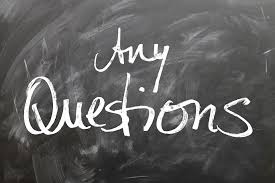 There are many times where the only way to get the answers to the burning questions that need answering is to go out and ask. Sure, sometimes it can be awkward and even embarrassing if you feel that you should already know the answer. Still, pride goeth before fall, so if there's something you need to know, never be afraid to ask!
The idea of asking questions can be carried through to interactions with customers. You've by no doubt noticed that recently, whenever you buy anything or patronize any business, you can count on some form of a survey showing up in your email inbox within the same day. 
Whether it's your customer base, suppliers, employees, or even new contacts you run into at networking events, every person possesses their own well of knowledge. It never hurts to tap into that well and garner all of the information and insights that are out there, just waiting to be absorbed. Everyone likes to feel like an expert, so by asking questions and treating those whom you ask as authorities, you get to give them a little bit of an ego stroke in the process. Not many people are going to turn that down. 
R - Recycling - Help the Environment with Eco-Friendly Recycled Promo Items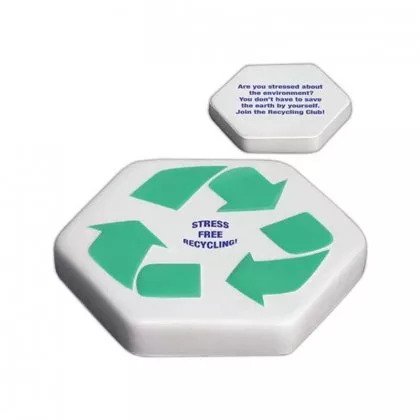 It might not be easy being green, but it is very easy to go green. When your company logo is imprinted on recycled promotional products, you'll be seen as environmentally responsible and committed to keeping the world healthy, safe, and beautiful. 
We offer a grand array of eco-friendly promotional products on our website. Picture to the left is one of our custom recycled stress toys. We also carry promotional recycled tote bags, Earth-friendly wholesale recycled sports bottles, and comfortable personalized stadium cushions made from recycled materials, just to name a few. 
Recycled promotional items are a great fit for nature centers, recycling businesses, transfer centers, science museums, electric car dealerships, environmental organizations, and any other business or organization that places an emphasis on environmental responsibility. Products such as these allow you to send you rmessages out to the public while growing brand awareness at the same time. It's truly a win-win situation.
S - Safety First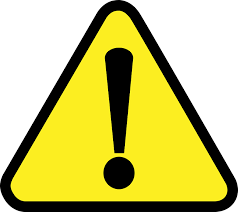 There's merit to the old "better safe than sorry" philosophy. This applies to not only your own personal safety, but to that of your employees, co-workers, customers, and society as a whole. Providing neccessary safety information, guidelines, and suggestions can help your company to avoid potential legal trouble and to keep its customers out of danger.
If a promotional product you're launching has small parts that present a choking hazard or the chance to be ingested by animals or small children, it's important to state that and let potential customers know that said items aren't recommended for pets or children under a certain age. 
Putting up the proper warnings can save your company from all kinds of bad press and sticky legal situations. How many times have you read stories where someone spilled piping hot, freshly served coffee on their person and successfully sued the purveyors for a king's ransom? Just putting that label that says to exercise caution because the contents are extremely hot prevents such a thing from happening to other companies. It's important to consider any possible risk any product might pose and to warn the public before they can hurt themselves or file a frivolous lawsuit to try to hurt you.
T - Trade Shows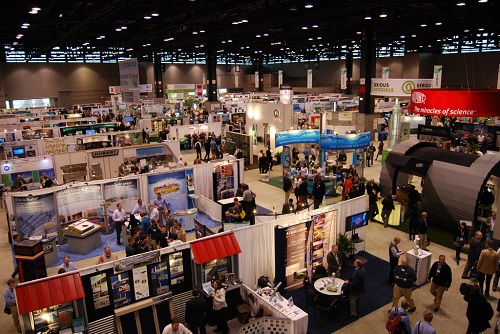 There are few better places to show off your new products and to get new product ideas from other companies than at trade shows and industry exhibitions. You can bring all of your best and brightest products to wow the competition and all of your best trade show giveaway items to make sure that nobody forgets you any time soon. 
We have a great selection of personalized trade show giveaway items that are certain to wow attendees and pull in the traffic and make impressions that will keep your business at the forefront of people's minds for a long time to come. It's also a good idea to provide giveaways that can be used immediately, such as a tote bag imprinted with your logo. People will use these to hold the other giveaway items they gather, flashing your name all over the trade show venue, encouraging customers to seek out your both and see what you're all about. 
Don't forget to take some time to slip away from your booth and get a read on what the competition is doing. It's a great chance to see any emerging trends that you were previously unaware of and to observe the reaction of attendees to the products offered by the competition. You'll have a front row seat to see which products are hits, which ones are misses, and which ones can go either way, based business and personal demographics.
U - Uniqueness - Stand Out from the Crowd with Unique Promotional Products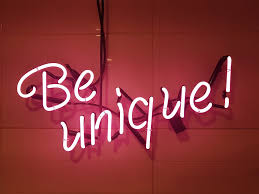 If you want to stir up immediate awareness and ensure being remembered in the long term, it's important to stand out from the rest of the pack. You need to do something that nobody else is doing, or find a new way to put your personal spin on a trusted classic. Printing your logo on a promotional product that is one of a kind is a great way to score immediate brand awareness points and to get people talking.
Finding a new way to use an existing product, combining one classic item with another (such as our custom Rubik's cube shaped power banks), or even just devising an extremely colorful and provactive logo design can stop bystanders in their tracks, forcing them to stand up and take notice of your brand.
Also, even though we just talked about it in the previous section, finding a way to embrace your unique qualities and unique products/services that let your freak flag fly is one of the most effective ways to ensure success at any trade show or exhibition event.
V - Versatility - The Value of Customized Multi-Use Promo Products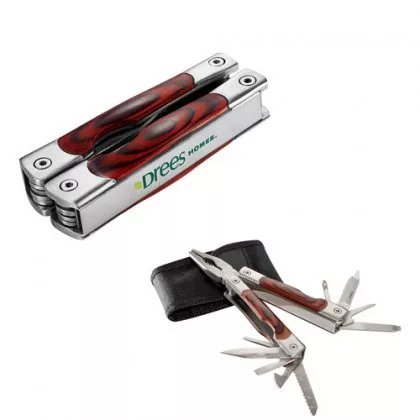 "Two for the price of one." That's a quote that captures everyone's interest, regardless of what profession they're in, what age they are, or what goals they have in mind. Vending promotional products or disseminating promotional giveaway items that have more than one use is something that always holds a great amount appeal for potential investors & users. Pictured to the left is one of our many custom logo imprinted multi-tools, capable of serving a variety of purposes in a variety of different situations.
In addition to saving users money by providing them with a single product that can perform a large assortment of tasks, you're also guaranteeing a ton of advertising impressions on a daily basis across all walks of life. A Swiss Army style multi tool, imprinted with your business logo, will see use and promote your brand when someone needs to open a can, file their nails, slit open a package, make a precise cut, insert or remove a screw, and a myriad of other daily tasks. 
Another great example would be our collection of promotional stadium blankets.They can be used indoors to stay warm, outdoors to battle the cold at football games, or laid out on the ground to function as picnic blankets for a fun outdoor meal on a warm spring or summer day.
W - Weather - Weatherproof & Waterproof Promotional Items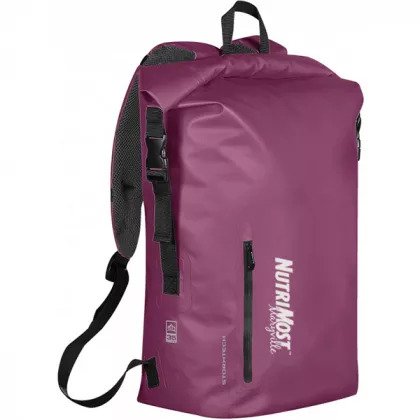 Keep users' belongings safe and your company logo in their field of vision with our voluminous collection of bulk weatherproof products and customizable waterproof giveaway items. One such example would be our wholesale waterproof backpacks, with one of our best-sellng models being pictured in the image to the left of this paragraph. A lot of people out there enjoy having a grand outdoor adventure, and your company can empower them to do so while not having to worry about their personal items being lost or damaged. Once again, this is an opportunity to forge your brand with users' fondest memories and dealy-held traditions.
Even if your clientele isn't made up of the up-for-anything crowd, anyone can still make use of a product that protects their possessions from rain, snow, spills, or accidental drops into water. Our custom waterproof tote bags, various bulk floating keychains, innovative promotional hydration packs, and customizable protective wateproof phone pouches all capitalize on this same principle.
Emotional connections and providing peace of mind kindle incredibly valuable psychological bonds with your targeted audience and create fertile soil for growing long-term relationships. Providing them with the best weatherproof promotional products is just one more piece of the pie.
X - Xylitol - A Sweetener Deadly to Dogs & Other Animals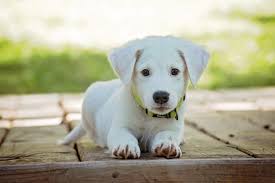 Isn't that little fellow cute? Nobody with any kind of a heart would ever want to cause him any harm. The reason why we bring this up is that some promotional food giveaway tins & towers might contain snacks that are sweetened with xylitol. Xylitol is an artificial sweetener that even when consumed in small items, can be fatal to dogs, cats, and many other beloved pets. Please, if you're going to offer any kind of promotional food gifts or giveaways, be certain to see if it contains xylitol or any other elements that can be dangerous to our furry friends. If they do, be sure to prominently display suitable warnings so that potential tragedies can be avoided. 
Though xylitol is harmless to most humans, there are still other products out there that some people can be severely harmed by, provided they have specific allergies. Despite how obvious or cryptic the contents of your food giveaways might be, it's imperative that you remember to provide any and all relevant warnings about the contents that have the ability to cause allergic reactions and who should not attempt to consume them.
Y - Youth - Picking the Best Promotional Products for Chlidren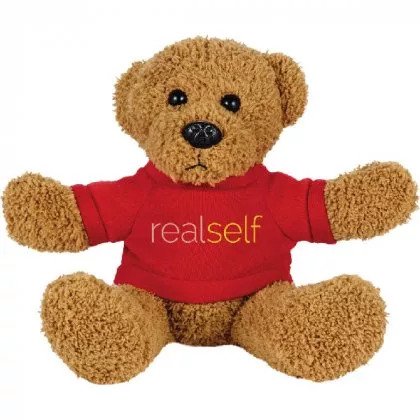 Most businesses will want to appeal to consumers of all ages. That means winning over the tots & tykes. In the process, you also have the chance to make loyal customers of their parents, grandparents, aunts, uncles, and anyone else in their lives might purchase them gifts or supplies.
Stuffed animals, toys, games, candy, sports items, personalized color changing giveaway items, and anything else flashy and fun is important to consider when you want to reach out to the kids. Also important to remember are the young at heart, who might enjoy these same products, as well as our relaxing and creative bulk adult coloring books. 
At nearly any trade show or exhibition, you'll see many booths carrying mostly, if not exclusive, promotional products for kids. When you want to be as well rounded as possible and appealing to as many demographic groups as you can, remember that the way to many people's hearts is through putting a smile on the face of their little ones.
Z - Zeal - No Matter What, Have Fun with Your Promotions

Few endeavors will go very far without being backed by genuine enthusiasm. That's why we have to stress the following - no matter what it is that you're promoting or hoping to achieve, try to stay engaged and have fun in the process. When you're truly excited about your promotions and have an authentic passion for what you do and what you hope to do, it always shows through. This enthusiasm is infectious in nature and has a way of making everyone around you feel good. Let's face it; we live in some pretty pessimistic times. If you have the opportunity to bring some happiness and positive vibes into someone's life, they won't be likely to forget you any time soon. 
One great way of doing this at trade show is to offer interactive games that give attendees the chance to win a prize and to have some fun while doing it. Our promotional spinning prize wheels and Plinko® style custom puck drop prize games allow people to feel like they're on their favorite game shows, taking a spin or dropping an item with hopes of winning big. Other trade show participants and attendees will hear and see the excitement and naturally be drawn in, making your booth the one everyone wants to see.
The importance of excitement and enthusiasm spreads beyond the trade show scene. Wherever you are or whatever you do, there's a reason you got into the line of work that you're in, and it's important to remember the reasons why it happened and why you've stayed there. This will help add value to what you do on a personal level and that sense of pride and ardor will rub off on all of those around you and ensure success in your promotional efforts today, tomorrow, and for years to come.
Now you know your promotional ABCs. Tell us what you think of these!