Enjoy Turkey Day with the Best Promotional Thanksgiving Items!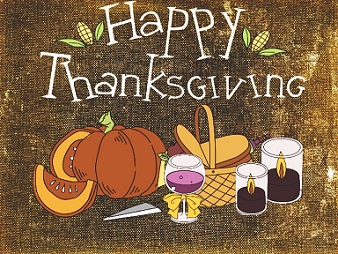 With all of the buzz around promotional Halloween Items and customized Christmas giveaways, Thanksgiving almost feels like a forgotten holiday in the promotional products industry. It's a true shame that such a great day doesn't have a whole lot of vehicles to give it (and your company) the attention it deserves. That's why we're reaching out to you with this article about our picks for the best promotional Thanksgiving giveaways & personalized Thanksgiving items. We're going to set you, your employees, customers, and target market up so that you'll all be ready to take on every stage of Thanksgiving from beginning to end. 
Obviously, since Thanksgiving is a national holiday, there's no postal service. That's why it's important to let anyone who you might not be able to see on Thanksgiving know that they're still in your thoughts by way of sending a beautiful & thoughtfully written Thanksgiving card. Ideally, you'll send them out several days in advance, so they can be enjoyed as mantle pieces & tokens of goodwill for those who might not be able to leave their homes. With this in mind, we'll introduce our personalized Thanksgiving cards to you.
Customized Thanksgiving Greeting Cards for Businesses
As we said, sending out promotional Thanksgiving cards to recognize all whom you hold near and dear must be done in a proactive manner to have the best effect. That's why we'll now share with you selections for the three best personalized Thanksgiving cards for businesses, employees, and customers.
Autumn in the Park Thanksgiving Card
The first promotional Thanksgiving card we'll tell you about is our Autumn in the Park Thanksgiving promotional card. Fittingly, just like the holiday itself, all of our personalized Thanksgiving cards are made right here in the USA. The Autumn in the Park card is printed on ivory card stock and depicts an illustration of beautiful fall scenery. The front of the card shows a park lined with large trees, appointed with orange and yellow leaves. Some leaves remain on the branches, while others blanket the surface of a walking trail. Beneath this image, you'll find "There is no time more appropriate to say THANK YOU" in gold block lettering, with "Thank You" appearing in script. Inside of the card is where you can place your choice of several pre-written verses (or four lines of your own text) along with a black logo imprint. Each card is sent out in a gold foil lined envelope for a warm yet stately look.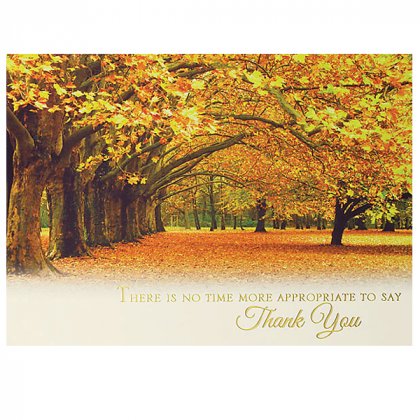 Fall Wreath Custom Thanksgiving Card
The second promotional Thanksgiving greeting cards on our list are our Fall Wreath personalized Thanksgiving greeting cards. These feature a festive graphic of a wreath design with a fall harvest motif. At the bottom of the front exterior panel of the card, recipients will see "Happy Thanksgiving" embossed in gold script. This is the kind of card that recipients will want to keep up on mantles, end tables, or strung up on lines above windows. When the card is open, your choice of several different customized greetings will appear. Below this, we will imprint a black graphic of your logo design. If you want to write the words yourself, you can scrap the pre-written words with four lines of your own self-generated text. While the text is in black, several different font styles are available. Each is sent in a gold foil lined ivory envelope. Please contact us with any inquiries you have in regard to further personalization or upgrades.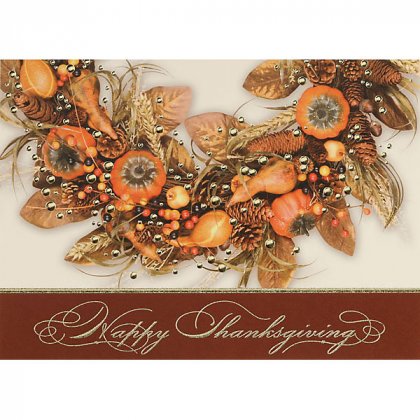 Thankful Tree Greeting Card
The last, but certainly not least of the custom imprinted Thanksgiving cards we'll talk about today are our Thankful Tree wholesale Thanksgiving greeting cards. This card as a somber, heartfelt tone that is really quite powerful. Kraft card stock makes an ideal background for a rectangular framed image of a hearty tree with many branches. Festooned with golden leaves, with some falling and some still on the branches, the tree is brought to life by way of copper foil design to create a multi-dimensional effect. Below the image, "HAPPY THANKSGIVING" is printed in all capitals in a dark copper hue. As is the case with our other customizable Thanksgiving greeting cards, this model is also made in the USA and contains an inner black imprint of your logo. Choose between several pre-written Thanksgiving verses or compose your own message, with up to four lines of text being included in the price. Each is sent out in a gold foil lined ivory envelope. If you'd like to make any upgrades, please contact us and we'll get to work on making this Thanksgiving card everything you want it to be.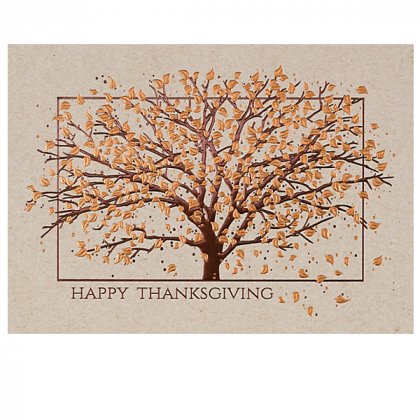 Personalized Thanksgiving Kitchen Items & Giveaways
By this point, the well-wishing has been made and each recipient is sure to feel recognized and appreciated. That's definitely a good thing, but there's still the matter of Thanksgiving dinner to attend to. A labor of love, cooking up a delicious Thanksgiving feast is a great way for families to come together and create treasured memories. Your company can become a part of those memories and reap the benefits of exemplary relationship marketing by way of investing in some of our promotional culinary items for Thanksgiving. 
Custom Etched Stainless Steel Fruit & Vegetable Knife
While the turkey is always the star of the show, tasty home-cooked vegetables and scrumptious pies can always rely on winning the role of best supporting actor. That's why users will want a handy tool that will allow them to expertly slice and dice fruits and vegetables to make the best Thanksgiving side dishes and desserts possible. Our company logo etched fruit & vegetable knives will allow them to do just that. Each one ships free of charge and presents a convenient, ergonomic design for the cook on the go. They cut by way of a fold-out blade which extends from a stainless steel housing that is electro-etched with your company logo in gray or black. For an additional charge, both sides of the handle can feature your logo design. Steel silver in color, these personalized fruit & vegetable knives make great promotional products for home goods shops, culinary schools, flatware stores, grocery stores & more. Each is 4¾ inches wide with an engraving area of 2½ inches wide by ⅜ of an inch high.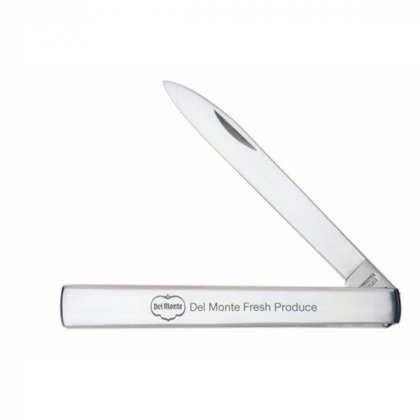 Custom Logo Engraved Arezzo Cutting Board with Cheese Tools
As users are preparing their stuffings, vegetables, appetizers, and all other mouth-watering Thanksgiving creations, they'll need a solid surface for cutting. We provide said surface in a big way with our Arezzo Promotional Cutting Boards with Cheese Tools. These customized cutting boards feature an attractive wood grain appearance with contrasting color stripes. A bonus feature comes in the form of a pull-out drawer, which houses three different kinds of cheese knives. Don't let the name fool you though, because these cutting boards are good for slicing all kinds of food; they're not just limited to cheese. These are low minimum order Thanksgiving giveaways, with a minimum order size of just 6. This means that you can really personalize each unit to the maximum to make each one special for its individual recipient. These personalized cutting boards are 15 inches wide by 11 inches high by 1¼ inches deep. They're custom engraved with your business logo design in an area measuring 10 inches in width by 6 inches in height, located on the top side of the board.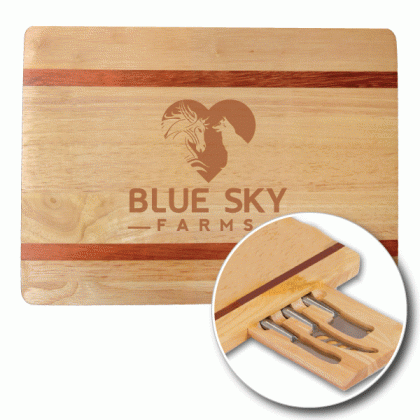 Custom Jumbo Hand Jar Opener with Logo Imprints
The one thing nobody ever wants to run out of when it comes to preparing Thanksgiving dinner is time. That's why stubborn, slippery, and impossible-to-open jars can turn any pressured cook into a pressure cooker of frustration. Fortunatley, we have just the item to prevent this situation. Our extra large promotional hand shaped jar openers, imprinted with your customized logo design, will quickly put even the toughest of lids into submission. When jars open like magic with a minimum of effort, users will have your company to thank. Each of these personalized jar openers ships free of charge and is made of rubber appointed with a textured gripping surface for traction and control. Available in 13 different colors, each unit is shipped in its own individual gift bag with a clear viewing window. They measure in at a width of 5⅝ inches and a length of the same. Their generous imprint area spans 4 inches in width by 3 inches in height. A single color logo imprint comes standard, but a second color can be added for an upgrade on orders of 1,000 units or more.
Gourmet Chef Timer - Custom Imprinted Kitchen Timers
By this point, perspective users will now have the kitchen moving at full speed. Everything is baking, boiling, frying, and rising to perfection. Still, the checkered flag has not yet been waved; there's still more work to be done. What a shame it would be for someone to lose track of time and have all of their efforts go up in smoke via some badly burned food? This worry can be put to rest with our Gourmet Chef Timer. These promotional kitchen timers with logo imprints come in the shape of a jolly round cook, wearing a chef's coat and hat and wielding a spoon and fork. His timer dial can be set for an hour at a time, with 5 minute increments being marked boldly at the bottom of his stomach area. When the set time is up, a loud bell will sound, ensuring every dish is removed from its source of heat on time.
A perfect Thanksgiving promotional product for culinary schools, restaurants, home furnishing stores, and bakeries, our Gourmet Chef Timer is 2 inches in diameter by 4 inches in height. Your personalized company logo imprint will appear just to the left of the indicator above which the time dial revolves. A single color & location imprint come by default, but there are other options out there. Give us a call to find out what they are and what they can do for you.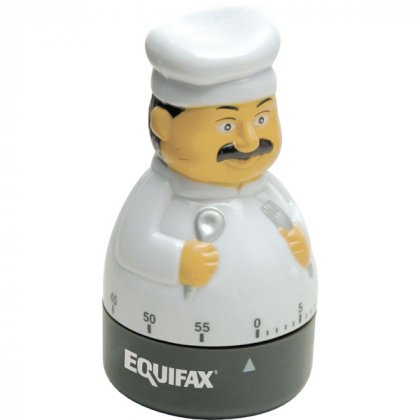 Sublimated Dye Mitt - Fully Customizable Thanksgiving Giveaway Items
Once the timer goes off, it's time to remove each delectable delight from the oven, stove top, crock pot, or wherever else they're being heated. We can likely all agree that scorching burns are pretty painful and have the potential to ruin anyone's day. The dropping of a perfectly good turkey, pie, or bowl of mashed potatoes would only serve to underscore the tragedy. That's why every Thanksgiving meal artist needs to go into battle properly equipped with defensive gear. That's just what they'll get when you provide them with our Sublimated Dye Mitt. However, another important question remains; what will your business get out of the deal?
First and foremost, your business logo will be seen throughout the entire food shuttling process, which can take up a large amount of time. Secondly, since these are fully customizable dye sublimated oven mitts, you can create the perfect design to cover their entire surface. Your Thanksgiving-themed artwork will occupy the entire surface of the mitt, making it a prime candidate for seeing use throughout the entire fall season. Made from insulated neoprene, these promotional oven mitts can withstand temperatures of up to 400 degrees Fahrenheit (204 Celsius) and have a textured surface to provide a firm grip. When not in use, their convenient hanging loops make them easy to store and keep your custom logo design in view and your company on users' minds whenever they're in the kitchen.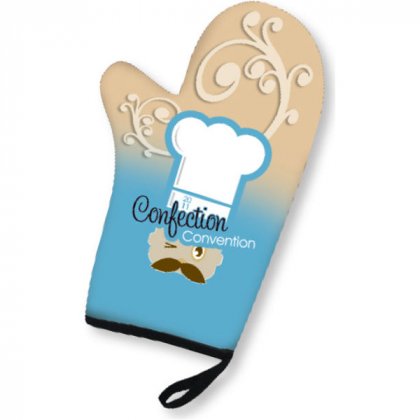 Therma-Grip Large Promotional Pot Holders
As great as our full color bleed promotional oven mitts are, there are times when a customized pot holder will be a better fit both your company and its target audience. That's why we strongly encourage you to invest in both for a promotional one-two punch that will breed company awareness during Thanksgiving and beyond. Our wholesale Thanksgiving pot holders with free shipping also possess hanging loops for maximum convenience and visibility. Each is constructed from flame-resistant cotton and sports a blend of silver and gray in regard to color. Each is equipped with a mitten sleeve (a fancy way of saying front pocket) into which users can insert their hands for a solid grip.
Our custom Thanksgiving pot holder giveaways are 8 inches wide by 8 inches high. They have an imprint area, that, given the size of the unit, is very generous at a size of 5½ inches wide by 4 inches high. To keep your logo looking its best at the pot holders in prime condition, we must stress that hand washing is the only recommended cleaning method. We also must warn against leaving the logo side of the pot holder against hot items for extended periods of time. They're a nice little token of appreciation to present to employees during the holiday season, but also make great promotional accessories when selling more expensive kitchen appliances such as refrigerators, dishwashers, microwaves, or food processors.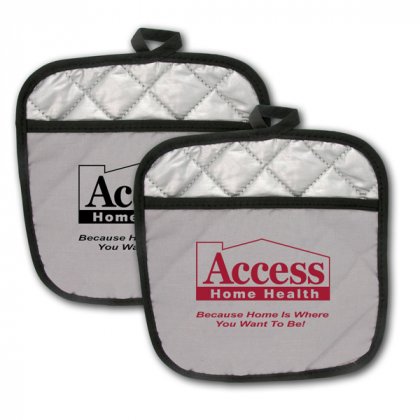 Custom Logo Engraved Chef's Cutlery Kit in Box
Now everything has been cooked and removed from the heat. The home stretch is in sight, but there's still a bit of a way to go. To make sensible portions and more conveniently edible, most food items will have to be properly cut down to size. This can be done with speed, style, and skill with our personalized Thanksgiving knife set. With a low minimum order requirement of only 6, you can reserve these customizable cutlery sets for only the very best and brightest. You can also personalize each one to fit its individual recipient. An attractive and ergonomically designed rounded rubberwood block with storage slots houses five different knives and cutlery tools.Tall and slim, the wooden box has a width of 2⅞ inches and an engraving surface of 2 inches wide by 5 inches high. In addition to carving the bird, this promotional knife set giveaway will also give users all the tools they need to slice bread, chop fruit & vegetables, slice desserts, and open difficult wrappers.
As previously stated, each set comes with five tools. A chef's knife, utility knife, paring knife, Santoku knife (a lightweight, rounded-yet-sharp general purpose knife), and pair of kitchen scissors come with every order. The knives all have black tri-rivet handles and high carbon stainless steel blades. Simply put, these custom engraved kitchen knife sets will get users through any and all meals, be it a quiet weekday breakfast or a sumptuous Thanksgiving feast. They're sure to see year-round use and make great giveaway items & promotional products for hardware stores, butcher shops, culinary schools, department stores, and kitchen supply shops.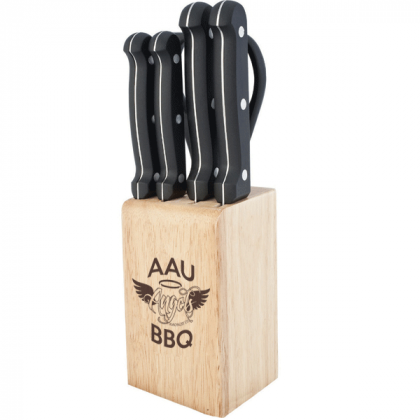 Full Color Imprinted Melamine Dinner Plates
At last, it's showtime. The blood, sweat, and tears that have been poured into creating the perfect Thanksgiving banquet are about to come to fruition and meet with immense satisfaction. Still, there's the matter of serving to be taken care of. Unless someone plans on throwing everything into a trough and having their family gorge barnyard style (unlikely, but everyone has their own little quirks), there's going to be a need for some kind of serving vessels. Your company can fill this need by providing its employees, customers, valued contacts, and desired clientele with our full color logo imprinted Melamine plates. Made of BPA-free plastic which is shatter resistant and dishwasher-safe, these fully customized promotional dinner plate giveaways are no chickens when it comes to serving up turkey.
At 10 inches in diameter, these personalized melamine plates provide ample room for guests to pile their plates sky high with turkey, bread, potatoes, turnips, cranberry sauce, yams, and any other Thanksgiving goodies a user has in their arsenal. A full color, full-bleed imprint comes at no extra charge, so you can team up with our talented artists to create the perfect Thanksgiving graphic to go along with your company logo. This provides yet another opportunity for your business to become a member of the family, joining in on the most beloved holiday traditions. As guests chow down,  your logo will gradually be revealed, ensuring that nobody in attendance will be able to miss or ignore your company branding efforts.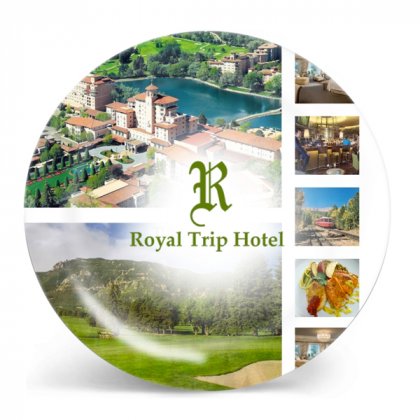 16 oz Promotional Thermos® Food Jar with Spoon
Appropriately enough, we've spoken quite a bit about the experiences and needs of the designated family Thanksgiving chef. Still, we shouldn't ignore those guests who want to literally bring something to the table when they arrive. Maybe it's a secret recipe stuffing, hot & delicious soup or chowder, special salad or casserole, or some other dish upon which its creator proudly hangs their hat. In any case, you can provide them with the perfect solution for transporting it and keeping it at an optimum temperature. Our custom 16 oz Thermos® Food Jars hold up to 16 ounces of food or liquid. They also keep them at their ideal temperatures, with an ability to keep contents hot for up to 7 hours and cold for up to 9 hours. That should pretty well cover anyone's holiday commute. Each also contains a collapsible spoon for easy serving, as well as an extra wide mouth to facilitate pouring.
These personalized thermoses are midnight blue in color with a silver lid and spoon. The lid screws off and can easily be used as a bowl when needed. It's another one of those items that is useful as a Thanksgiving giveaway, but is also game for year-round usage. Each one is delivered absolutely free of any shipping charges and measures in at 5½ inches wide by 3½ inches in diameter. Your customized company logo design can be imprinted (standard) or engraved (for an upgrade fee) to ensure that your business gets proper billing for all events in which it stars. Imprint areas sizes vary based on where you choose to place them, so having a conversation with one of our representatives about these details is a good idea.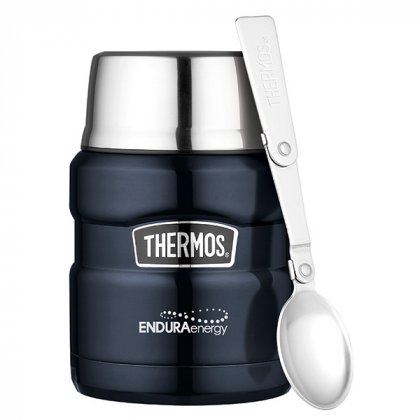 Thanksgiving Promotional Products & Giveaway Items - Post Dinner
Virtually nobody just gets up and leaves immediately after shoveling down a hearty Thanksgiving meal. Most of us couldn't even if we tried. For this reason, we're including some more promotional Thanksgiving items for giveaways in this article that are intended for use after the royal repast has been consumed.
Spirit 2 Piece Turkey Shaped Promotional Visors
Now we've arrived at that vaguely defined intermission between dinner and dessert. Everyone is full and content, but this could soon change as soon as the big football game is turned on and fans on different sides of the rivalry are squaring off. Things can go just a bit more smoothly with a dash of good-natured fun provided by our custom printed turkey shaped visor Thanksgiving giveaways. These two-piece pop-up visors contain a main section comprised of the bill and turkey that extends upward from it and a round band to attach in the back to keep the visor in place. These personalized visors allow families to hold tailgating parties in the comfort of their own living rooms. These visor giveaways are available in 12 different colors: yellow, blue, white, charcoal, teal, green, red, maroon, purple, navy, pink, and orange. Your one color logo imprint will appear in an imprint area spanning 5 inches in width by 3 inches in height on the bill and 8 inches in width by ½ of an inch in height on the back band. Multi-imprints can be accessed for an upgrade fee on orders of 250 units or more. These make great promotional products for sports teams, schools, grocery stores, sports apparel shops &  more.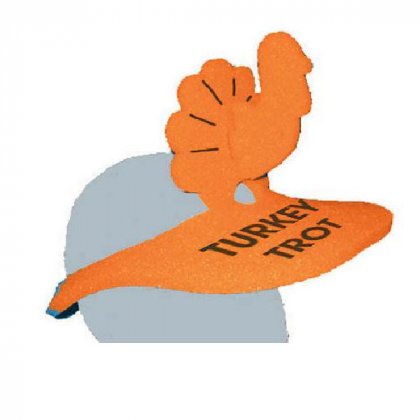 Tranquil Candle - Promotional Scented Candles for Thanksgiving
If things get too divided during the game or if some hotly contested political debates arise, we're here to help you put out the fires of any potential flame wars. Sure, one could wait for everyone to hit the tryptophan wall, but why not bring about peace sooner? Our advice? Invest in our logo customized scented candles to relax the mood and restore peaceful order. Our aptly named Tranquil Candles come in a variety of different scents, with each scent having its own color. Some of the most Thanksgiving-friendly varieties include cinnamon, apple, blueberry, and vanilla. Each comes in a rounded square glass jar, imprinted with your company logo design. Each one is 3½ inches wide by 3½ inches high. Your one color logo imprint will appear on the front of the clear glass container in a 2 inch wide by 1 inch high imprint area. If you're interested in upgrade options, give us a call, live chat message, or email to learn more. Just think, your business could play the role of peacemaker between clashing Baby Boomers and Millennials. That's a potential relationship marketing gold mine!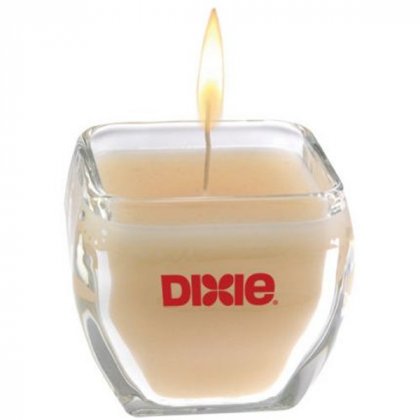 Promotional Metal Cake & Pie Server - Imprinted with Your Company Logo Design
After the post-dinner activities have come to a close, full stomachs are bound to start growling again once smells of pies, cakes, cookies, and all other manner of delicious desserts waft throughout the home. As the table once again populates with faces waiting to be stuffed, any host/hostess will want to be able to deliver speedily and effectively so that they too can join in on the decadent dessert action. Once again, your business can be the face of trusty assistance. Our promotional corporate logo imprinted cake and pie servers can take a leading role in passing out portions for everyone. Each one has a smooth, sleek white plastic handle with black trim. Extending from the handle is a silver metal trowel-like serving platform. This metal platform has serrated edges, helping users to cut smooth slices of cake and pie. Once the cuts have been made, the metal portion can be wedged underneath each slice to be lifted up and placed on plates intact and without ugly edges or messy spills.
These make great promotional giveaway items for culinary colleges, bakeries, kitchen supply outlets, grocery stores, and nearly any other organization. They work just as well on Thanksgiving as they will on Easter, Christmas, Passover, Diwali, Kwanzaa, Tet, Eid-al-Fitr, birthdays, anniversaries, retirement parties, Bar Mitzvahs, Bat Mitzvahs, and, well - you get the picture. Each unit is individually boxed and possesses a width of 10¼ inches and a height of 2¼ inches. Its imprint area, located on the handle, is 2⅛ inches wide by ½ of an inch high. A single color logo imprint comes standard, but you can upgrade to include a second color.
Collapsible Silicone Lunch Set - Bulk Meal Management Containers
If there's any holiday that's synonymous with the term "leftovers", Thanksgiving is it. In the days that follow, those who celebrate will by no doubt find a myriad of different ways to serve up the remaining turkey, vegetables, desserts, and side dishes that somehow still remain in spades despite the gorging. With our wholesale collapsible silicone food containers, users can send guests home with to-go plates or utilize them as vessels for carrying turkey-centric lunches to work and school in the days that follow. Coming in your choice of blue or green, these custom imprinted food containers come equipped with a locking lid as well as a fork, spoon, and knife. When not in use, they can be compressed down to save space. Their silicone construction allows them to be safely used in microwaves and cleaned in dishwashers, provided they're placed in the top rack.
As is the case with many of the products detailed in this article, our Collapsible Silicone Lunch Set can be used at any time of the year; it's not restricted to use on Thanksgiving. Each of these promotional meal management containers has a diameter of 6¾ inches and an imprint area with a 3 inch diameter. The price listed on the product page includes a single location and single color logo imprint. For an upgrade fee, multiple colors can be added, as well as other potential personalization features. Give us a ring to learn more.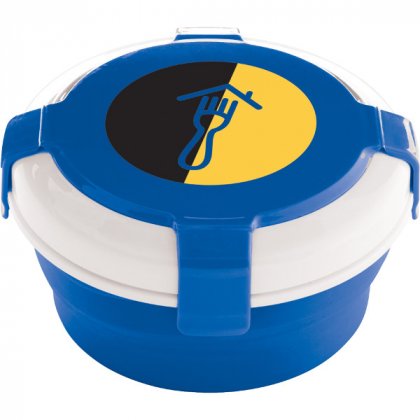 That's a wrap on our guide to the best promotional Thanksgiving items for businesses for 2018. We'd like to wish you a safe & happy Thanksgiving, filled with food, family, friends, and ever-increasing brand awareness. We'd also like to take this opportunity to say that we're thankful for your businesses and for all of our valued customers who are new, returning, or waiting for us in the future. You're the ones who keep us going and we couldn't be more grateful.
HAPPY THANKSGIVING!!!