Have a Day at the Beach with the Best Promotional Summer Products for 2019!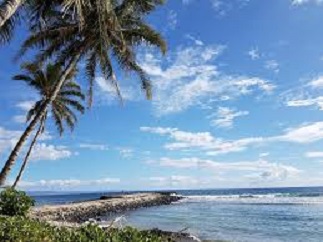 With June 21st rapidly approaching, this would be a pretty good time to start mulling over the best promotional summer products for 2019 if you haven't already. If you're late to the party, there's no need to worry. We're going to share with you all of the information you need to make the best choices to propel your company to brand awareness success as the mercury rises. Our guide to the 16 best 2019 summer promotional products is going to be done in a bit of a different fashion than usual. We're going with the theme of "A Day at the Beach". As a result, this article will detail all of the products you need to invest in to provide a perfect all-day beach excursion to your customers, employees, and all members of your target audience. Get ready to meet the 16 best promotional products for a perfect day at the beach in 2019! 
.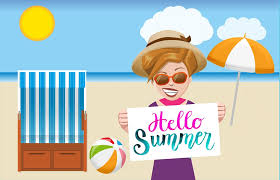 Getting Ready
For a successful beach party or day of fun in the sun with family and friends, one needs to bring along all of the right supplies. This can be hard to do when organization isn't a focus and/or if top-notch storage vehicles aren't available. The first two products we'll get into today will address this need, ensuring exposure for your personalized business logo design from start to finish.
1. Orca Beach Tote Bag - Best Promotional Beach Tote Bags with Logo Imprints
The Orca Beach Tote Bag is the perfect item for getting any summer day trip or beach party started off on the right foot. These custom eco-friendly non-woven beach totes are made from recycled (and recyclable) polypropylene. They're quite large and offer ample storage space for towels, sunscreen, travel mugs, beach blankets, and several other key seaside accessories. These wholesale two-tone beach bags are sure to garner plenty of visual impressions with their boldly contrasting colors. Users can further capitalize on the attention factor by way of making use of the large imprint area provided. Each of these custom recycled beach tote bags comes with an imprint area that is 12 inches in width by 8½ inches high. A one-color imprint comes standard, though a second imprint color and full color logo designs are available as upgrade options.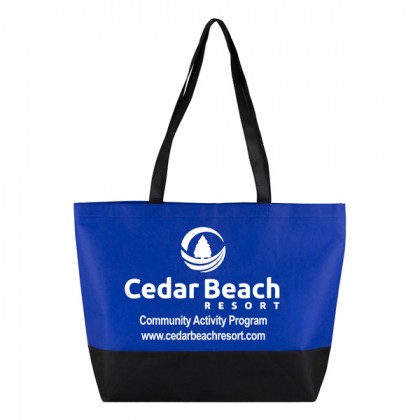 The Orca is a very sturdy beach bag, owing to its 80 GSM polypropylene construction, extra durable base, and hefty 31" carrying handles. Each has a black base with an upper contrasting color, coming in your choice of white, red, lime green, or royal blue. Their ample size dimensions come in at 21 inches wide by 15 inches high by 5 inches deep. With numbers like these, you can rest assured that users will be able to fit in all they need and then some when taking these custom totes to the beach.
2. Heavy Cotton Canvas Boat Tote - Customizable Beach & Boat Tote Bags
If a ride on the sea, lake, ocean, or river is a part of the plan, our Heavy Cotton Canvas Boat Tote is a must. Made from heavy 24 oz cotton canvas, these personalized canvas boat bags are some seriously tough customers that score new loyal customers for your business. They're built to last, with their ultra-sturdy construction and 30 inch handles allowing them to haul heavy loads. Each has a classic natural canvas color that is augmented nicely by your choice of six different accent colors along the handles and trim areas. Each is 20½ inches wide by 13 inches high by 7 inches deep.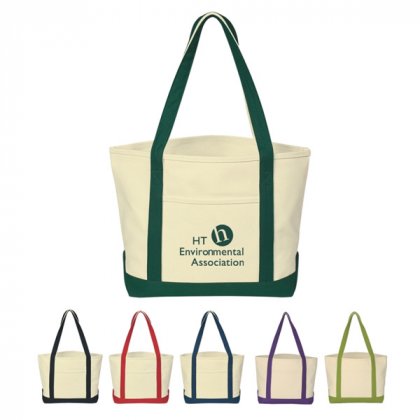 Their spacious storage compartments are complemented quite well by a front slip pocket, perfect for storing smaller items such as keys, hotel room cards, phones, small sunscreen packets & more. Coming standard is a single color & location logo imprint design of 6½ inches wide by 5 inches high. This logo imprint resides on the aforementioned front pocket and can be upgraded to include multiple colors. Additional imprint locations can be added as well, so feel free at any time to give us a call if you're curious as to how to further customize these wholesale canvas tote bags.
Setting Up
Once packing is finished and the drive to the sunny shore is complete, users will need to unpack and begin setting up to enjoy their day in style and comfort. We have all of the promotional beach products your company needs to ensure that this part of the plan goes off without a hitch, but with plenty of exposure for your brand & logo.
Luau Lounger - Stylish Custom Folding Beach Chairs with Cup Holders
One of the first things a beachgoer will want to do, particularly if they have children to oversee, is to set up a comfortable place to sit. This can be done quite easily with the Luau Lounger. These promotional folding beach chairs have a fun and casual Hawaiian style floral design in red and white. They're a relatively low minimum order number item, with only 36 units being required per order. Their comfortable seats and back supports are made from trusty 600D polyester. Meanwhile, their frames are a study in strength, boasting black steel frames. Each of these customizable beach chairs also features a handy mesh cup holder in one arm. The seat is positioned 12 inches off the ground and can handle up to 300 lbs of weight. A one color imprint stretching 9½ inches wide by 3 inches high is positioned on the top of the chair's back rest. Multiple color logo designs can be included for an upgrade fee.
These personalized beach lounge chairs are 20 inches wide by 31 inches high when in use. However, they fold up to a much more compact size, enabling them to fit inside of their accompanying solid color carrying bags. These bags make transportation simple and easy. Bear in mind that the Luau Lounger is affordable and is priced to move, offering a great value for your money. Be sure to swoop in and order yours ahead of the competition.
4. StrombergBrand Vented UV Beach Umbrella - Large Custom Beach Umbrellas
With their chairs in place, users will now want to provide themselves with some shade for some comfortable and health-safe R&R. The StrombergBrand Vented UV Beach Umbrella will accomplish this goal with ease. These extra large promotional beach umbrellas are tough enough to withstand all weather conditions, providing shade from the sun and a source of shelter during an unexpected shower. They're built with a pointed extension for insertion into grass or sand, enabling users to push them down and be confident that they'll stay in place. Meanwhile, your business can be confident that these beach umbrellas will make plenty of positive advertising impressions. Each is decorated with your personalized business logo design on the front of the 62" canopy. This imprint area occupies 9 inches in width by 8 inches in height, with multiple colors and locations available for an added fee. The vented, double-layer design of these umbrellas is also sure to catch eyes and turn heads, as the upper panel is a bright metallic color, making these umbrellas impossible to miss.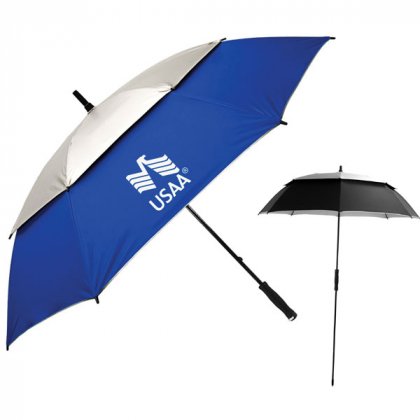 These sturdy beach umbrellas have a 62 inch arc, which contracts down to 41 inches when closed. They're made of sturdy fiberglass, treated with a UV resistant lamination boating an SPF rating of 50. Their strength is bolstered by a thick black shaft and hard rubber grip. While we've already mentioned the metallic upper panel, the lower section of the canopy comes in your choice of black, teal, or royal blue. Every unit also comes with a handy silver carrying case. 
San Tropez Beach Mat - Custom Eco-Friendly Beach Mats for Businesses
On a bright sunny day, many users will be eager to alternate between chilling in the shade and sprawling on the sand to soak in the rays and work on their tans. Actually, we should amend that statement just a bit. While tanning may be on the agenda, the vast majority of sun-seekers will want a layer of comfortable protection between their bodies and the sand. We provide this in the form of the San Tropez Beach Mat. Pictured below this paragraph, these personalized fashionable beach mats are made from eco-friendly & waterproof tubular polypropylene. Each sports a bold striped color pattern that is the essence of summer chic. Upping the comfort ante are the inflatable pillows that come with every unit.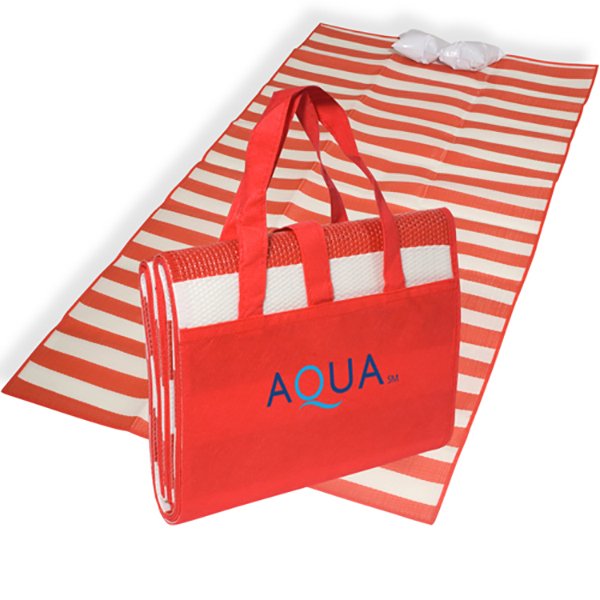 Made from recycled, recyclable, and highly durable material, the San Tropez Beach Mat is both water and sand resistant. These wholesale affordable beach mats are 36 inches wide by 72 inches long, making them a perfect size both for sunbathing couples and those who wish to tan solo. Before and after use, they easily roll up into their own self-contained carrying cases. The carrying cases are 12½ inches wide by 9½ inches high by 1½ inches deep. The front of the carrying case features a solid color panel that plays host to your customized company logo design. The imprint area for your logo is 7½ inches wide by 3½ inches high and comes in one color, applied by heat transfer printing. Full color imprints are also available for an upgrade fee. Convenient shoulder carrying straps make these mats easy to transport, while another strap strongly holds the folded mat in place.
6. Signature Series Beach Towel - Personalized Beach Towels with Logos
Whether using them as an alternative to beach mats or as a way to dry off after taking a tip, our cheap promotional beach towels are essential for a perfect beach bash. While we have a broad range of promotional beach towels for 2019 that we considered including in this article, we ultimately chose to represent the category with the Signature Series Towel. We went with this pick because it's perfect for group outings and celebrating a multitude of different milestones and festive occasions. These white beach towels are soft and comfortable, thanks to their 100% cotton terry velour material. These thick yet lightweight towels feature twill hemming and a weight designation of 10 lbs per dozen. Each is 30 inches wide by 60 inches high, with an imprint area of 23 inches wide by 50 inches high.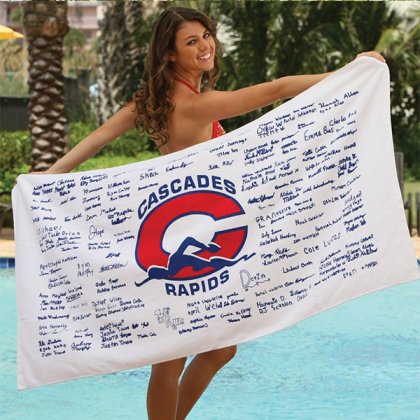 In addition to your company logo design, up to 600 signatures can be added to these promotional commemorative beach towels. In order to submit your collection of signatures, we ask that you have them made by a black felt tip marker on a sheet of 8½ inch wide by 11 inch long unlined white paper. For a more authentic and classic yearbook kind of look, we suggest having the signatures placed randomly rather than in lined rows/columns. However, it is important that the signatures do not touch one another. Please call if you have any questions as to how to make and/or submit your signatures.
7. Beach-Nik Drink Holder - Custom Printed Beach Beverage Holders
Once all of the setup work is complete, a self-congratulatory drink is surely in order. To keep a cool drink easily accessible while lounging by the water, we humbly suggest our Beach-Nik Drink Holders as option #1. These unique promotional drinkware giveaways set themselves apart from the competition by way of the spikes extending downward from their bases, allowing them to be firmly set in the sand or soil. A great option for both the beach and the golf course, these fun and unique drink holders can also play host to a grand array of other small accessories.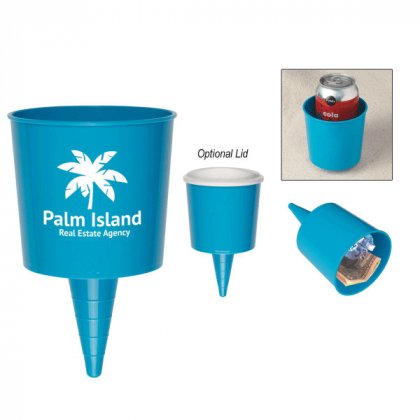 These beachside beverage supporters are 3¾ inches wide by 6¼ inches high, with the spike included. They're available in your choice of eleven different colors, ranging from subtle tones to bold neons to plain white. Speaking of white, a white lid is an optional upgrade for these items. Second side imprints are another. As long as we're on the topic of logo imprints, we should mention that each of these outdoor cup holders has an imprint area of 3 inches wide by 2 inches high in a single color and location. Wraparound logo designs of 6 inches wide by 2 inches high are an alternative decoration method. If you're curious to know more about the upgrade and personalization options for these products, feel free to give us a call, email, or live chat message. 
Settling In & Enjoying the Day
At this point, all of the summertime promotional products needed to get to the beach and set up some prime real estate have already been provided. Now it's time to settle in and have some fun, while also keeping an eye out for safety. The custom summer giveaway items we'll describe in this section will help your customers do just that, while reeling in potential customers at the same time.
8. Collapsible SPF 30 Sunscreen with Carabiner - Sunscreen Promotional Products
Our collection of wholesale health safe sunscreen products offers many viable routes for staying healthy and safe while enjoying summer fun. One of the most popular representatives of this category comes in the form of our 1 oz Collapsible SPF 30 Sunscreen Bottles with Carabiners. These bulk sunscreen bottles with carabiners contain one ounce of vanilla scented suntan lotion. An SPF rating of 30 means that this sunblock will prevent sunburns & skin damage for up to 30 times longer than when catching rays unprotected. The carabiners make these custom mini sunscreen bottles easy to attach to belts, pockets, tote bags, purses, keychains, and a nearly limitless set of items that will keep them standing at the ready.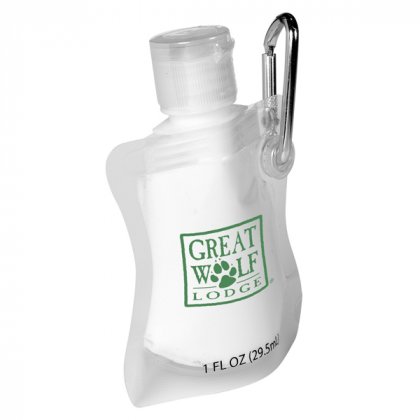 These are eco-friendly sunblock giveaways, as their collapsible frames leave less plastic behind when their contents have been fully purged. They have easy-to-operate squeezable flex sides, which are wrapped up in clear plastic, which is imprinted with a single color logo imprint design. Each unit is 2⅞ inches wide by 4¼  inches high by 1 inch deep when full. The imprint area is 1 inch in both width and height. Feel free to get in touch with us any time if you have questions about how to further personalize these fun little sunscreen promotional products. They're perfect for keeping the kids safe from sunburns before letting them run off to the water.
9. Wholesale 16" Multi Colored Beach Ball - Cheap Promotional Beach Balls
Speaking of kids, people attending the beach with their children will surely want to provide them with some fun water toys to play with. What could be better than a timeless classic such as a good old-fashioned beach ball? Our 16" bulk beach balls are colorful, durable, and fun for kids & adults of all ages. These particular models have six different colored panels, with two white circular seals at each side. Made from lightweight vinyl, these mid-size promotional beach balls are a hit for all festive occasions.
Each of these beach balls has a set of multicolor stripes, with your company logo design being printed on the white stripe by default. If you'd like it to be printed elsewhere, please let us know and we'll get to work on making it happen for you. A single color and location imprint come standard, in a decoration area spanning 4 inches in width by 3 inches in height.
10. Beach Eyes Wood Sunglasses - Stylish Custom Logo Beach Sunglasses
With the kids having dashed off to play in the surf and sand, parents, or those attending the seaside sans offspring can turn their focus to fashion. There are few better ways to pull off a cool and confident look at the beach than by donning a pair of our Beach Eyes personalized wood frame fashion sunglasses. These comfortable sunglasses ooze confidence, both for those wearing them and in the appeal of your business. Offering 100% UV ray protection and shatter-resistant lenses, these custom logo sunglasses come in your choice of black or zebrawood.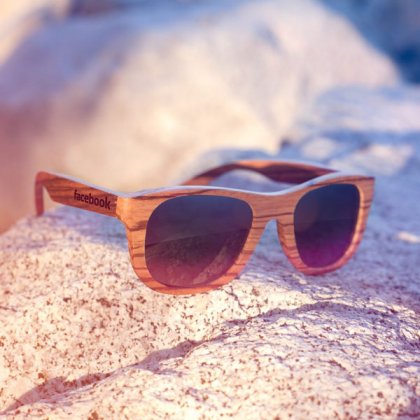 Each pair of these unique sunglasses is 5⅘ inches wide by 27/20 inches high. Your personalized business logo is laser engraved in one color & location on the frame arm. This engraved logo design is 1⅝ inches wide by ⅜ of an inch high. Interested in how to further personalize these attitude-packed shades? Give us a call and our team of sales professionals will be glad to fill you in on any and all details.
11. 8-Piece Sun Relief First Aid Kit - Best Promotional Beach First Aid Kits
Whether looking out for your own health, that of your friends, or the well-being of your children, few promotional beach first aid kits rise to the occasion better than the Sun Relief First Aid Kit. These custom 8 piece outdoor first aid kits are compact in size, but have much to offer. Each one stores 4 latex free bandages, a First Aid guide, a sunscreen pouch, an antiseptic towelette, and a stick of Blistex® lip ointment with sun protection. All of this is held together in an attractive vinyl wallet, which is decorated with your business logo design.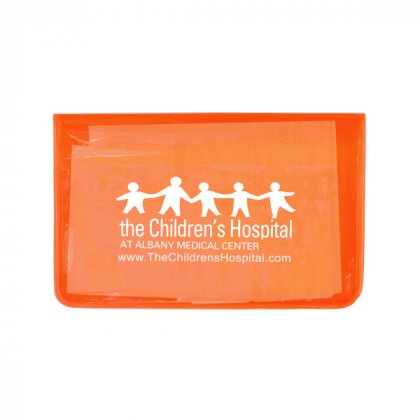 These handy affordable beach first aid kits are 4½ inches wide by 2⅞ inches high. The packages containing them come in your choice of clear, white, translucent red, translucent blue, translucent green, translucent black, translucent purple, or translucent orange. Each is imprinted with your customizable business logo design in an area measuring 3 inches wide by 2½ inches high. If you're looking for something more extensive, we have several other beach first aid kits, including custom sunscreen kits with insect repellent.
12. Waterproof Phone Pouch with Cord - Custom Waterproof Smartphone Pouches
Few things will ruin somebody's fun faster than a destroyed phone. We can help to prevent this scenario in convenience and style with our promotional waterproof phone pouches. These make perfect summertime giveaway items, as they have the ability to offer users peace of mind. In the process, your brand will get to engage in some powerful relationship marketing. They're large enough to fit nearly all current smartphone styles, while also having the ability to accommodate many other types of mobile devices including many MP3 and MP4 players. Each has a 17½ inch cord attached, making them easy to wear around the neck or wrist.
Adding to the safety quotient is the fact that these customizable mobile phone pouches have a double layer of sealing protection. Zip locking and hook & loop closures come together to ensure that not a drop of the wet stuff gets inside, keeping precious mobile devices safe and sound. Each pouch has a transparent front and white back and offers several choices of cord and trim colors. In terms of size, they have a width of 3¾ inches and height of 9 inches. Personalize these smartphone accessory giveaways via adding your business logo design to the provided 2 inch wide by 4 inch high imprint area.
13. Head & Sinus Thermal Wrap - Customized Gel Cold Packs for Summer
If the hot sun and noise of a boisterous beach start to get uncomfortable or even cause a headache, it doesn't mean the fun has to end. Supply the public with our promotional soothing gel masks and users will quickly find themselves ready to return to action, refreshed & renewed. Our Head and Sinus Thermal Wrap is filled with AquaBead® cooling gel spheres. They can be heated in microwaves and cooled in refrigerators and freezers to hit ideal temperatures. When this is done before hitting the beach, temperatures can be retained through the use of our promotional insulated coolers, but we'll get to those in just a bit.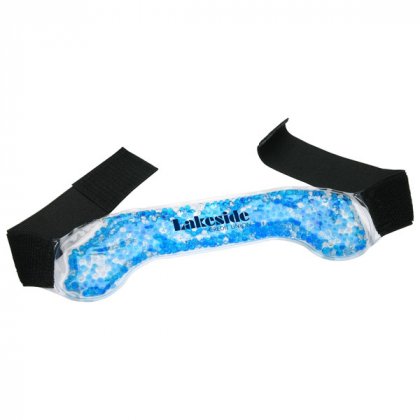 An adjustable elastic strap allows users to affix these gel packs around their heads, with the ability to swivel to be worn in any desired location. In addition to headaches, they're also highly effective in treating bumps, burns, bruises, and abrasions. Each unit is fully FDA, TRA, and CPSIA compliant. When it comes to maintenance, we suggest washing them by hand with warm, soapy water. These custom gel packs are 13½ inches wide by 3¼ inches high by ½ of an inch deep. They're appointed with an imprint area measuring 2¾ inches wide by 1¼ inches high. 
Picking Up the Party Pace
As the day gives way to early evening and beach parties hit full swing, hosts & attendees will by no doubt want some tasty food, refreshing drinks, and some music with which to enjoy it all. Once again, we are here to help on all three counts. The next pair of summer 2019 promotional products will touch upon address each of these areas.
14. Vulcan Portable Grill - Promotional Grill & Cooler Combinations
In one impressive item, the Vulcan Personalized Portable Grill provides everything one could need to whip up a sumptuous oceanside banquet. Obviously users will need to supply the food & drinks, but these deluxe summer giveaway items take care of most everything else. Perfect for tailgating, beach parties, or even backyard picnics, this promo product contains a grill, large cooler, and full set of BBQ tools & accessories. Let's start with the grill. It measures 167/10 inches wide by 10⅘ inches high by 51/10 inches deep. Topped with a convenient lid, this grill is small enough to take nearly anywhere, but big enough to cook up plenty of grub for the gang. It comes in a black and gray imprinted carrying case, which is appointed with two drawstring pockets into which propane tanks can be inserted. The grill is accompanied by a full suite of cookware, including a grill scraper, spatula with built-in bottle opener, tongs, BBQ fork, and a serrated cutting edge. The scraper, spatula, and cutting edge are made from stainless steel and have aluminum handles and non-slip thumb grips.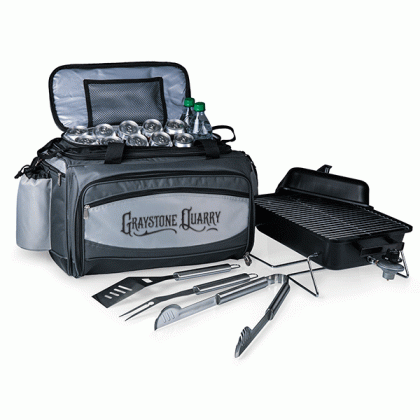 Along with the grill, each carrying case houses a removable cooler with a 24 can capacity. The cooler has an inner mesh pocket which is intended for holding ice packs. When packed away in the carrying case, the cooler is actually able to fit inside of the grill compartment. These attractive carrying cases are highly durable and feature a waterproof base. They're silver and black in color and offer plenty of room for storage space, sporting size dimensions of 21 inches wide by 14⅗ inches high by 12 inches deep. Each has a 7 inch wide by 4 inch high imprint area. Available upgrades include multiple imprint colors and locations, embroidered logo designs, and a rolling hand trolley. Padded carrying handles, padded adjustable shoulder straps, and top stretch cargo cord create unparalleled convenience. Best of all, these can be saved as promotional gifts for only the most deserving candidates, since their minimum order quantity is only 6.
15. Bluetooth Speaker Diamond Cooler Bag - Custom High Tech Cooler Giveaways
Our Bluetooth Speaker Diamond Cooler Bags are perfect for providing cold drinks along with everyone's favorite music at any coastal cookout or event. These promotional coolers with speakers can easily hold 24 cans which are kept at prime temperature by way of PEVA insulation. The blue and black exterior features a modern geometric diamond pattern with stylish bungee accents. Storage abounds, as the spacious main compartment is complemented by side mesh pockets and front zippered pocket. As a whole, the unit has a size of 12⅝ inches wide by 927/32 inches high by 7⅞ inches deep. An imprint area of 9 inches wide by 5 inches high provides the perfect backdrop for displaying your personalized corporate logo design. For an upgrade fee, multiple imprint locations, colors, and even full color designs can be added.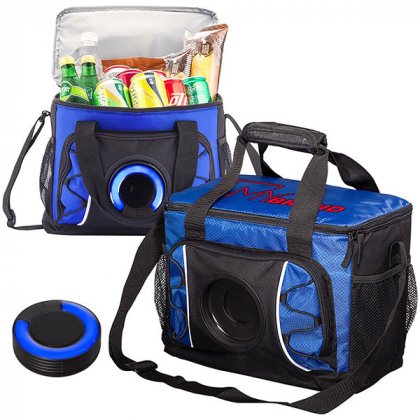 We've talked quite a bit about the cooler, so now we'll get to the high-tech features of this item. Each has a removable Bluetooth speaker which is provided with a rechargeable Lithium-ion battery with a capacity of 600 mAh. Also included is a built-in microphone, USB charging cable, audio cable, and instructions for operation. The speaker has a range of approximately 30 feet and is RoHS, CE, and FCC approved. 
Wrapping it All Up
All good things have to come to an end, and a perfect day (and night) at the beach is sadly not an exception. However, we have one final promotional summer item to share to help your business end its target audience's excursions on a high note.
16. Pro-Weave Sweatshirt Blanket Throw - Best Promotional Stadium Blankets
When the night winds down and the temperatures begin to drop a bit, it's nice to be able to count on a trusty and reliable blanket. You can provide such a literally comforting promo giveaway item in the form of our customizable sweatshirt stadium blankets. The Pro-Weave Sweatshirt Blanket ships 100% free of charge and is made from a blend of 80% cotton and 20% polyester fleece. It's a great option for keeping warm when the sea breeze blows cold at night, taking in a fireworks show, or cuddling up for a romantic end to an outdoor date. They're also highly useful at home, whether used as a throw blanket on the couch, soft blanket for a pampered pet, or a decorative living room piece.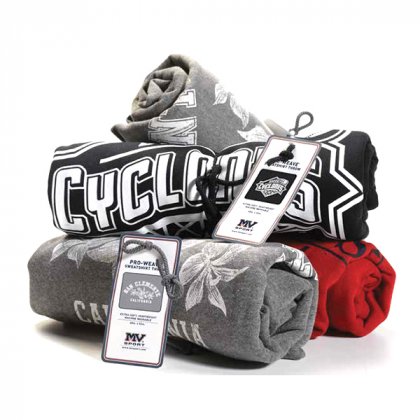 As can be seen in the image above, these wholesale sweatshirt beach blankets come in a variety of colors. They also can be customized in a variety of ways to make the perfect design to fit your promotional needs. Each blanket is 40 inches wide by 52 inches high and has a generous imprint area of 21 inches wide by 15 inches high. A single color and location design comes standard, though multiple imprint colors and other upgrade options are available. If you choose to include one of the special printed background patterns, we suggest using white as your primary imprint color.
We hope you've enjoyed reading this guide to the best summer 2019 promotional giveaway items as much as we enjoyed putting it together for you. We wish all of a safe, happy, fun, and successful summer!