April Fools! 15 Fun Promotional Giveaway Items to Grow Brand Awareness & Workplace Morale
If you're like the rest of us, "promotional products for April Fools' Day" isn't a phrase that comes up in conversation very often. That's not necessarily a bad thing though; an underserved market is always a potentially lucrative one. If any merry pranksters out there are wishing to spread a little mirth around the workplace, at a trade show, or on the sales trail, this is a holiday that just screams for fun novelty giveaway items.
That brings us to the second point we'd like to raise. The original, unique, and just plain fun personalized novelty giveaway items we'll be getting into in this article aren't just for April Fools' Day; they can be employed for promotional success and goodwill the whole year through. Now that you know what this article is all about, we'll get into our picks for the top 15 promotional novelty products for April Fools' Day. 
1. Custom Novelty Pens - Moving Crab Claw Pens
Are things a bit tense around the office? Has anyone been being a bit cranky lately? If so, frowns will be turned upside down by way of our Moving Crab Claw promotional novelty pens. In addition to cheering cantankerous coworkers, our Crab Claw pen also works great as a promotional giveaway item for restaurants, seafood markets, aquariums, gift shops & more.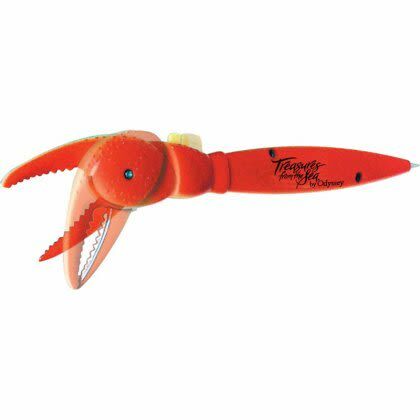 Each of these pens comes in a bright red color and writes in medium black ballpoint ink. The claw, located on top of the pen, is actually mobile. Kids and adults alike will have fun snapping the claws up and down while taking a quick break from the demands of school or the workplace. However, we don't recommend them for usage by children younger than 3 years of age. Our Crab Claw pens are 6½ inches long by ½ of an inch wide. Each comes with a single color and location imprint of your business logo design. The imprint area is located toward the midsection of the pen's barrel, measuring 2 inches in width by ¼ of an inch in height. While a single color and location come by default, PMS matching is available for an upgrade fee, as are multiple imprint colors. 
2. Promotional Novelty Stress Toys - "Relax" Talking Stress Reliever
In these fast paced and high pressure times, everyone could use a little something to help them calm down once in a while. Offering a custom giveaway item that helps users to feel at peace can go a long way toward kindling the ever-important emotional bond with your target audience. This goes double if you're also able to give them a laugh or two along the way. That's why we want you to meet this friendly little fella, pictured below: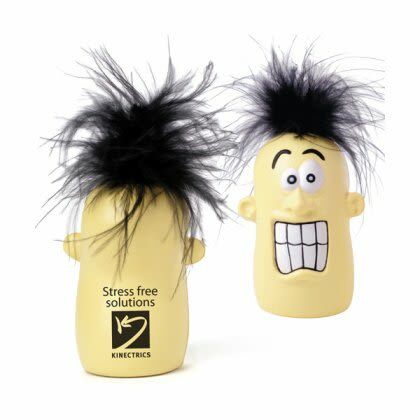 Our custom talking stress reliever toys look a bit like the world-famous Minions, though these guys have the fortune of having two eyes rather than one. They have a sort of peach yellow color to them, along with wacky black hair that stands up on end.  Each ships 100% free of charge, which is sure to relieve some of your stress as well. Their panicked yet lovable faces make them a great addition to any desk or cubicle. When your employees or customers need a bit of levity amid the stress of their days, all they need to do is squeeze these novelty stress toys for some comfort and verbal reassurance. When squeezed, they let out pre-recorded messages of comfort and affirmation. 
Constructed from yielding polyurethane foam, these fun stress reliever giveaways are 2¼ inches wide by 3⅛ inches high. Each bears your customized business logo design and/or message in the 15/16 inch wide by 15/16 inch high imprint area, located on their backs. They also ship 100% free of charge, which is sure to be a source of stress relief for you and your company's bottom line.
3. Bulk Novelty Stuffed Animal Keychains - Wild Bunch Animal Key Tags
We'll now transition from one cute and cuddly novelty promotional product to another one. Perfect for animal lovers or anyone who has kids, our Wild Bunch personalized stuffed animal keychains are an affordable giveaway item that will make everyone smile. When used as corporate gifts for children, they can help teach responsibility and organization. Kids won't want to lose track of their new friends, so they'll have to get organized and be sure to leave the family keys in the same spot each and every night. Conversely, they can help adults who struggle with misplacing items to no longer have to frantically search around for their car keys every morning before work. While many styles are available, the image below depicts our Frog model. 
Each of these fun novelty key tags includes a stuffed animal wearing a small t-shirt. It is on this shirt that your customized business logo graphic or slogan will be printed. The imprint area is 1 inch wide by ⅝ of an inch high, while the stuffed animals are 4½ inches tall. They attach to your key rings via a lobster claw clasp and come with a single color logo imprint. If desired, they can also be ordered with blank t-shirts. Many different t-shirt colors are available, as are different types of stuffed animals. If a frog isn't your thing, you can opt for a cow, lion, cougar, duck, eagle, leopard, horse, elephant, giraffe, alligator, bear, husky, tiger, bulldog, pig, rabbit or monkey.
4. Novelty Arts & Crafts Giveaway Items - Custom Moondoggle Kit
Moondoggle is such a strange and unusual word that it is truly fitting as a moniker for a promotional April Fools' Day item. Just what does moondoggle mean anyway? It's actually a slang term from the 50s. It combines the even older slang term of boondoggle (meaning a time-wasting endeavor) and moon, as many people during that area considered space exploration to be nothing more than a flight of fancy. That's enough time for the dictionary though; it's time we get into talking about the actual item. Our Moondoggle custom novelty charm keychain kits are fun and relaxing giveaway items that consist of a custom printed square tag, split key ring, and Mood color changing fabric strips, as pictured below.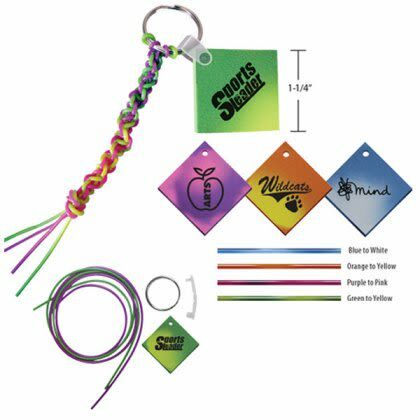 They're designed to help users stay calm and to have a little fun in the process. The kits ship unassembled so that each recipient can have some calming leisure time braiding their new gifts together. They also produce the stimulating visual effect of changing color in reaction to body heat, as do the tags that come with them. The strings measure in at exactly two feet in length, while the square tags, which serve as home for your logo imprint, are 1¼ inches wide by 1¼ inches high. Their imprint area is quite generous in proportion, consisting of 1 inch in both width and height.
5. Bulk Novelty Sunglasses for April Fools' Day - LED Slotted Glasses
Surprise your employees this April Fools' day by placing some fun and colorful novelty glasses on each of their desks before they come and clock in. Alternately, you can offer them as cheap promotional giveaway items at trade shows. Still another option is using them to promote special events at bars, restaurants, night clubs, concerts, and sporting events. At this point, we should probably drop the "them" and start explaining what these items actually are.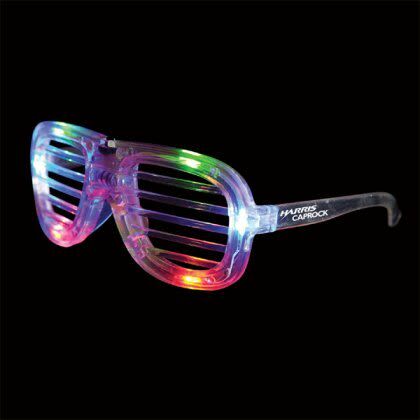 As can be seen in the image above, these are personalized novelty light up glasses. While they may not to much to block the sun, they can surely keep people entertained and add a little extra flair to any nighttime outdoor event. Containing LED lights in a variety of colors, these custom novelty glasses have a slotted frame style, as opposed to a continuous lens panel. They come in one size, intended to fit the needs and faces of most any user. Their clear plastic frames are pad printed with your company logo design, in a 1¼ inch wide by ¼ inch high imprint area. Each ships absolutely free of charge, making them a perfect cheap promotional giveaway item for April Fools' Day and beyond.
6. Custom Novelty Scratch-Off Cards - Magic Scratch N Win Card
Want to drum up traffic flow and customer interest for a big sale or event? Our promotional scratch off ticket cards are sure to create plenty of enthusiasm. They can also be used within your own company for monthly employee prize contests. Charities looking to get donations can offer these cards for a small price to users, with a non-monetary prize going to the donor who is lucky enough to receive the winning ticket. For a visual aid, we'll show a picture of one below: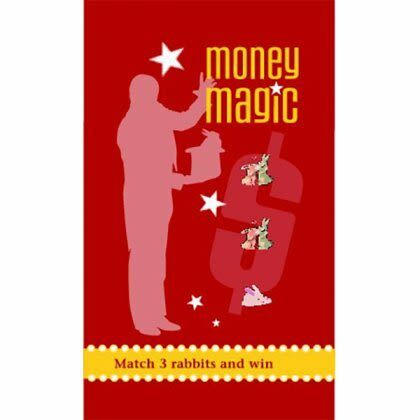 In addition to the uses we've already mentioned, these wholesale scratch-off cards can also perform quite well at trade shows, encouraging attendees to come to your booth to get in on the game and maybe walk away having won a little something. While these cards can be used to offer many different prizes, they cannot be used to award money or any form of cash prize. Made with pride in the USA, each of these cards has a full color bleed imprint on the front and a solid black back side. It's important to note that the scratch-off material contains latex, so they should be avoided by anyone with a latex allergy. 
7. Bulk April Fools' Day Cookie Giveaways - Funny Cookie Pail
Being that these custom logo printed novelty cookie pails are all about the humor, they're a perfect as April Fools' Day promotional products. Each unit contains nine tasty and individually wrapped fortune cookies. More than 100 different messages are delivered, all with the intent to bring a smile and a chuckle or two to their recipients. Each cookie holds a comical printed joke, quote, musing, or an advising pearl of wisdom. They're perfect to combine with other promotional giveaway items such as company logo balloons or personalized party gift premiums.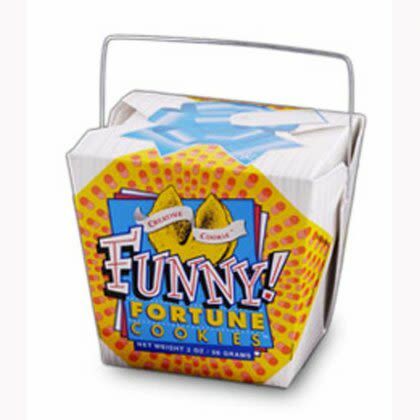 As can be seen in the image above, our Funny Cookie Pail takes the form of a Chinese food take-out box and is appointed with a vinyl decal bow on top. These certified Kosher cookie pails come with a one color logo imprint (multiple colors and locations available as an upgrade option) that spans 1⅜ inches in width by 1⅝ inches in height.
8. Promotional Novelty Office Supplies - Chicken Tape Dispenser
Just what is it about chickens that makes them so funny? Nobody really knows, but they've been a comedy staple for as long as anyone can remember. Rubber chickens, toy chicken feet, and rooster alarm clocks have been creating laughs for generations. Now, you can add promotional chicken shaped tape dispensers to the list of fun fowl fake-outs. We offer unique novelty tape dispensers designed to look like chickens to offer a memorable break from a usually mundane item. After all, when was the last time you were entertained by a tape dispenser?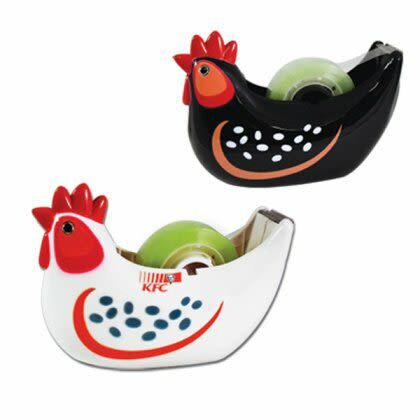 Our Chicken Tape Dispenser is available in your choice of black or white, with the comb, waddle, and eye areas appearing in red. They're constructed from a scratch resistant, high-gloss plastic material which will keep these clever clucks around for years. They're great promotional products for farms, zoos, office supply stores, diners, restaurants, and more. Each is 5 inches wide by 3½ inches high by 2 inches deep. Their single color imprint area (multiple colors available for additional fee) takes up 1 inch in width and ½ of an inch in height.
9. Unique Novelty Fidget Spinners - Spinning Fun Cube
While the fidget spinner craze may not be quite as explosive as it once was, they still remain a highly popular trade show giveaway option. They also continue to succeed as aids in calming nerves and helping those with anxiety and ADHD to release pent-up energy and emotions in a subtle and constructive fashion. Our personalized fidget spinner cubes, fittingly titled "Spinning Fun Cubes" take this up to a whole new level. Just take a look at the image below and you'll see what we mean.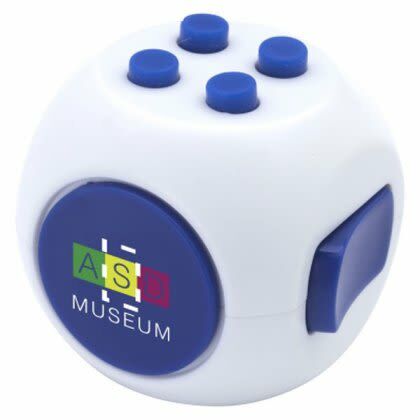 The Spinning Fun Cube is designed to do more than just entertain. It also is practical in building fine motor skills and improving attention spans, all the while creating valuable advertising impressions for your business. Users can spin, roll, push, pull, grip, and poke at the various elements in each unit, providing hours of good times. Recommended for use by people 5 years of age and older, these make great promotional products for schools, physical therapy clinics, special education professionals, convalescent homes, hospitals, and more. Each is white in color with black, red, or royal blue accent pieces.
Our Spinning Fun Cube is a true cube, meaning that its width, height, and depth dimensions are all the same, with each coming in at 1½ inches. A single color pad printed logo design is included in the price, sporting a diameter of ¾ of an inch. For an upgrade fee, multiple color logo imprint designs can enter the equation.
10. Promotional Novelty Phone Chargers - Rubiks®  Mobile Charger & Cube Set
Charge mobile devices, user intelligence, and brand awareness with our customized Rubiks® Cube novelty power banks! Each of these promotional power bank gift sets comes with a 2,600 mAh mobile device charger with an impressive lifespan of 299 charges. Powered by a lithium-ion cell battery, these unique promotional smartphone chargers come in a rectangular shape with colored panel cubes. Accompanying the power banks are a standard USB connector and an authentic Rubiks Cube.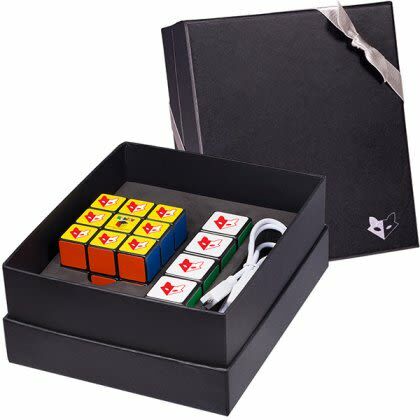 The cube puzzle has six differently colored sets of 9 panels, with your custom company logo design being imprinted on the white panels of both the cube and the power bank, in a step and repeat pattern. For an additional charge, two-color imprints are available, as are imprints on all panels of the Rubiks® cube. Please note that the official Rubiks® logo will appear on the center panel on the yellow side. All of this is brought together by way of packaging in an attractive two-piece gift box. The box can also bear a logo imprint for an additional charge. Speaking of charges, each one of these customized novelty power banks ships absolutely free!
11. Wholesale Novelty Light-Up Giveaway Items - Lighted Patrol Wand
Perfect for sci-fi fans and the businesses that cater to them, our promotional novelty light-up sticks have somewhat of a Star Wars-esque light saber look. They're a fun way for security guards to keep watch at night, though they're equally adept when it comes to serving as promotional giveaway items for sports teams, clubs, bars, restaurants, and planetariums. Each ships 100% free of charge and features extra bright LED lighting to create maximum visibility.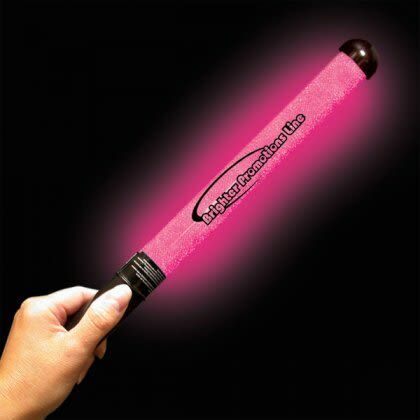 The Lighted Patrol Wand is available in both solid and multiple light colors. They also have alternating flash and glow modes, enabling them to take on a wide range of assorted purposes. They can be used as light sources in dark environments, as tools for directing traffic & parking, or for just plain having fun. Each unit is 12 inches long and has an imprint area of 2⅝ inches wide by ⅝ of an inch high on the wand or 2⅜ inches wide by ⅝ of an inch high on the handle. For an upgrade fee, you can include your logo design in both imprint areas.
12. Cheap Novelty Cookware Gifts - Kuzil Krazy Pizza Cutter
Just about everyone loves pizza, right? After all, it's sort of the unofficial designated food of choice for parties and celebrations of almost any kind. Any home furnishing store, pizzeria, food delivery service, or grocery store can get in on the good times & fun by investing in our promotional novelty pizza slicers. The Kuzil Krazy Pizza Cutter is made from extra durable, dishwasher safe BPA plastic. A goofy smiling face with an extending handle with a flat top come together to create a tool that makes cutting slices of pizza easy and fun.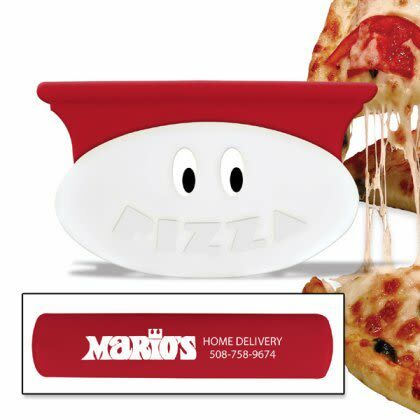 Our promotional pizza cutters have a red and white color scheme and ship individually polybagged. They're food-safe and Proposition 65 compliant, so any potential safety worries can be cast behind. To cut neat, clean slices, all one has to do is place the cutter over the pizza and press down on the handle. The handle is shaped as a hat of sorts to complement the face. It's also where your 3 inch wide by ⅝ inch high corporate logo imprint will appear. The cutter itself is 5⅜ inches wide by 3⅛ inches high. Also, before we forget, each one ships 100% free of charge!
13. Custom Novelty Sunglasses for April Fools' Day  - Police Sun Stache®
Sun-Stache® is a brand that is well-known for producing funny customized sunglasses for costumes and joke gifts. Featured on the hit television show Shark Tank, this is a brand that has become synonymous with affordable yet high-quality funny sunglasses & face masks. Our promotional police hat sunglasses from Sun-Stache® are just one of the many piece of evidence to back these claims. These customized novelty sunglasses come with UV400 lenses for 100% protection against UVA and UVB rays. They also include a police hat and a mustache, joined to the sunglasses by a dangling double chain.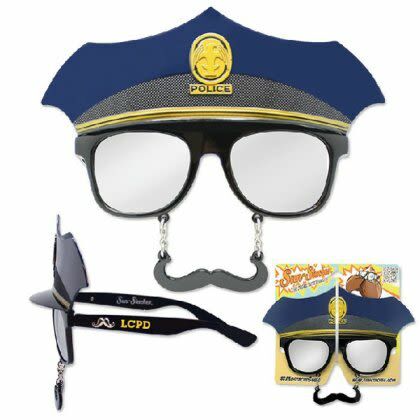 Shipping free of charge, these customizable sunglasses are perfect promotional giveaway items for April Fools' Day, Halloween, or any other fun and festive occasion. The come in your choice of blue or black and have a one-size-fits-most (adult) shape. The left arm of the sunglasses is where your personalized company logo graphic will be placed, in a 1½ inch wide by 5/16 inch high imprint area.
14. Fun Novelty Giveaways for Kids - Splatter Brain in a Dish
While Splatter Brain in a Dish may sound like a bit of a gory title, these personalized novelty giveaway items are all in good humor & taste. Each unit features a petri dish style container, inside of which is housed a light purple sticky toy brain. When removed from their containers, these eccentric entertainers can be tossed at walls and other solid surfaces. When this is done, they'll briefly stick and then slowly wobble their way down.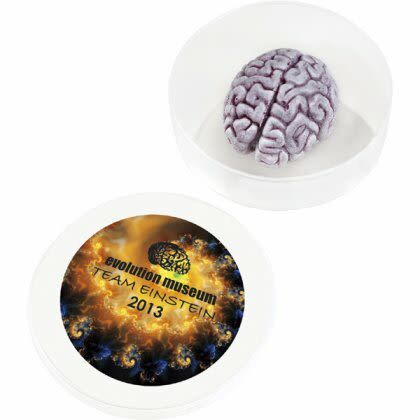 The Splatter Brain in a Dish is CPSIA compliant and makes a great promotional product for museums, neurology clinics, schools, costume shops, Halloween boutiques, toy stores, and more. Each features a full color design of your business logo on top of the lid, which appears in photographic quality. This graphic measures 2½ inches in diameter, while the full unit has a diameter of 37/16 inches. Please give us a call, email, or live chat message if you're curious as to further personalization options. For safety reasons, these are not to be used by children under 3 years of age or as pet toys.
15. Fun Promotional Office Items - Engraved Tabletop Foosball Game
Give your hard-working employees a little reward by way of equipping your company break room with our personalized logo engraved mini foosball sets! With low minimum order quantities of just six units, it'll be easy to customize these with your business logo and set a few up so that employees can engage in a little bit of friendly competition. It's a great tool for team building exercises and raising company morale. Alternately, they can be sent as personalized gifts for top performing employees, valuable business contacts, or especially loyal customers.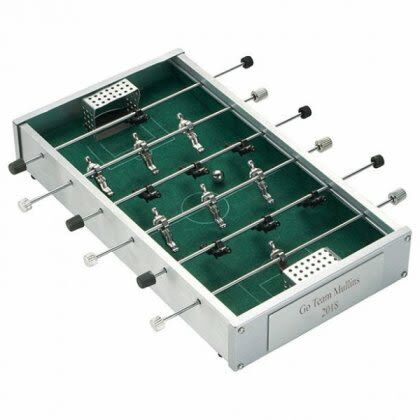 Our custom engraved foosball sets are small enough to fit on top of a desk or table. Each is 8 inches wide by 4½ inches tall by 1¼ inches deep. The interior is silver in color and includes an engravable front plate. This is where you can include your unique personalized logo design or message. The interior features a green playing field with white markings along with silver goal boxes and silver and black players. Two ball bearings are included to serve as soccer balls, while the whole package is brought together in a white gift box for the perfect presentation. Our promotional tabletop foosball sets are intended for users of ages 8 and older.
We hope you had fun reading this article and also hope that you'll consider investing in some of these items to make April Fools' Day 2019 become something to remember. Of course, as stated earlier, all of these items are great for April Fools' Day giveaways, but can also be gifted for any other occasion to be enjoyed 365 (or 366 in 2020) days per year!