Top Ten Best Promotional Giveaway Item Ideas for Your Next Virtual Event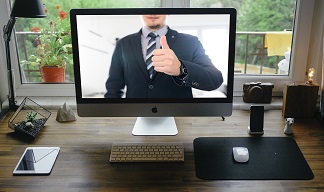 As we continue on through 2021, we come a bit closer to seeing the light at the end of the COVID-19 (Coronavirus) tunnel. Still, we're not 100% out of the woods yet. For now, working from home is still the norm for most people. Along with putting in remote workdays, attending conferences, workshops, and industry seminars from a distance has become a trend over the past year. Corporate events have traditionally been an excellent opportunity for handing out promotional giveaway items. There's no reason that this can't continue; the method just has to be a bit different for a while. Event attendees typically provide an address when registering for an event. Whether this is a home address or a corporate one, your company can use this information as an opportunity to send out special branded items to its audience. With this in mind, we want to share with the 4AllPromos guide to the ten best types of giveaway items for virtual events.
1. Promotional Tech Items
Since technology plays such a big role in making virtual events possible, it follows that promotional technology items are some of the best giveaways to send out to those who attend. This is a product category that provides a business with many different options. One tech product area that's been on the rise recently consists of company logo flash drives. They're small, affordable, and highly useful items that people can use to save key information. While working between home and the office or taking business trips, these are items that can really come in handy. Of course, they're not the only tech gifts to consider as giveaways for your next virtual event. Items such as custom PopSockets also never fail to please. These can be complemented nicely by promotional mobile charging kits, which help to ensure that your audience can keep their devices powered anytime, anywhere.
2. Custom Work From Home Supplies
Another fairly logical choice when it comes to virtual event giveaway item ideas is providing work from home promotional items. After all, most of your audience will be conducting their business this way as long as there's still a need to conduct events remotely. Anyone who has transitioned to a home office has undoubtedly noticed how much they've taken office supplies for granted. These handy little helpers are unsung heroes. Regardless, everyone is quick to notice when they're not around. That's why your company will want to provide convenience and peace of mind by making sure its target audience is always well-supplied. Items such as promotional sticky note pads and custom dry erase boards help to ensure that there's always a place to take down important notes, numbers, and personal memos. After your virtual event wraps up, you'll want to be sure to provide giveaway items that users will see every day in order to help them remember your business for a long time. There are few better items for achieving this goal than personalized mouse pads. We have many styles to choose from, such as models with wrist rests as depicted in the image below.
3. Outdoor Items with Your Logo
As spring and summer draw nearer, people will be spending more time outdoors. Your company can help them to enjoy the warmer weather by investing in branded outdoor giveaway items for your upcoming virtual event. As we're still not quite through with the days of social distancing, spending time in the great outdoors has seen an uptick in popularity. It allows for a way to still see friends and family members without getting too close physically. Even when we return to our normal way of life, outdoor items will still remain a hit with pretty much any audience. Our promotional beach towels and custom beach mats are great for staying dry and comfortable while enjoying a day in the surf and sun. Your audience will certainly want to keep their personal items safe during beach outings and fishing trips. Your company can help them to do this with our wholesale dry bags. Whether cooking on the beach, at a picnic, or just having a meal with the family, our promotional BBQ items make perfect giveaway items for spring, summer, and fall virtual events.
4. Branded Giveaways for Kids
Virtual event attendees who have children will surely appreciate being able to give them a fun new gift, courtesy of your generous company. We carry many fun promotional products for kids that youngsters will enjoy again and again, all the while displaying your logo for all to see. Every child loves to snuggle up with cute custom stuffed animals when it's time to go to bed. Whether a child's favorite animals happen to be dogs, cats, horses, sheep, rabbits, turtles, seals, owls, frogs, or any others, we have the stuffed animals to please them. Of course, we also carry plenty of classic teddy bears. Stuffed animals are wonderful bedtime pals, but how about providing something to stimulate children's minds when they're awake? To this end, we provide promotional jigsaw puzzles. They're perfect for helping children develop coordination and motor skills as well as honing their visual and tactile processing. If your company is in the financial sector, there are few better ways it can reach out to help kids learn the value of saving money than investing in our imprinted piggy bank giveaways.
5. Custom Printed Pet Supplies
All loving pet owners will tell you that their fur babies are people too. Anyone who has ever developed a close bond with their pet(s) will be able to tell you that seeing their furry friend delighted by a new gift is right up there with seeing the joy of a child on Christmas morning. We have a broad variety of custom pet giveaways that include items designed for play, grooming, feeding, and more. You can follow up your virtual event by supplying your audience with any of these. A couple suggestions include promotional dog bandanas to keep Fido looking sharp and our durable bulk pet-safe frisbees for some backyard fun. We also carry cute paw shaped branded pet bowls that are able to be used by dogs and cats alike.
6. Imprinted Food Gift Sets
Another hot promotional product category that shows no sign of slowing down revolves around promotional gift sets and kits. While we have many to offer, we're going to focus on our custom food gifts in this article. Your business can provide a literally sweet reminder of any virtual event by way of sending out some tasty snacks with tasteful presentation. Company logo gourmet food gift box sets are always a great idea. All kinds of sweet and savory snacks reside within these packages, just waiting to be gobbled up by a grateful public. Companies looking to stay in event attendees' minds while also indulging their sweet tooth will love our promotional cookie giveaways. Medical and health-based organizations may want to provide something a bit more in line with their line of work. If this describes your company, we have you covered with your customizable healthy snack items.
7. Promotional Eco-Friendly Items
Studies show that younger people, particularly Millennials and members of Generation Z, place a great deal of value on giving business to companies that support causes. As these groups are soon to become the largest portion of the workforce, it's important to keep them in mind when promoting your brand. Fortunately, 4AllPromos offers a wealth of eco-friendly promotional products to help your company reach out. Virtual event audience members will be happy to receive any of our custom seed paper giveaway items from your business. These multi-functional products take on a variety of forms and can all be planted in the ground to grow beautiful flowers and plants. Speaking of planting, our promotional planter kits are another great way to make the world a more beautiful place without causing environmental harm. Another great giveaway idea for your virtual event can be found in our custom recycled tote bags. Made from recycled & recyclable materials, these present a green alternative to disposable shopping bags. They'll also create advertising impressions for your brand whenever users go to the grocery store, library, department stores, or any other destination where they'll need something to carry their items.
8. Company Logo Apparel
Giving your audience something they can wear is always a great idea when it comes to promoting your brand. Our promotional apparel items are great for building brand awareness as they offer longevity and will travel everywhere that users do. Printing your logo on wholesale hoodies and sweatshirts is a certain way to spread the word about your brand in a hurry. The same can be said of our promotional t-shirts, which are a classic favorite that never goes out of style. If you'd like to set your virtual event attendees up with giveaway items that will see continued use regardless of seasonal weather, few apparel items are better than our company logo hats and caps. 4AllPromos stocks hats and caps to fit anyone's style, including beanies, classic baseball caps, safari hats, structured caps, embroidered hats, sandwich caps, novelty hats, and more.
9. Convenient Promotional Products for Everyday Use
A successful giveaway item is one that exposes your brand to create a maximum number of advertising impressions. When considering this notion, the appeal of investing in items that see repeated daily use is not hard to understand. Any time people leave their homes, they're going to take their keys along with them. This is true even if they don't happen to be vehicle owners, as they'll want to keep their homes securely locked without losing the ability to get back inside upon their return. Consequently, our promotional keychains are giveaway items that will quite literally go places when it comes to promoting your brand. With many fun and functional styles to choose from, our keychains are among our most popular products. People don't need to smoke in order to find utility in our company logo lighters. While they can be used for tobacco purposes, they can also light candles, gas stoves, grills, and much more. Buy bag clips in bulk from 4AllPromos and you'll be able to help your target market in the effort to keep their cabinets clean and their chips, cookies, and other perishable foods from going stale.
10. Fun Branded Giveaways
Last but not least, it's important to remember to have some fun while promoting your brand. Both your business and the audience it seeks to reach will benefit from occasionally breaking away from the serious aspects of life. Good times can be had with family, friends, and even alone with our wide selection of fun promotional giveaway items. One great example would be our custom sunglasses. Available in many shapes, styles, and colors, these items can be used as novelty gifts or as fashion statements. Many are designed with health and safety in mind as well, as they are designed to block out harmful UVA & UVB rays. Our promotional golf gift sets are also popular giveaway items. Golf has long been associated with the business world. That's likely because there few better ways to unwind from the stress of it than by spending an afternoon outdoors, engaging in some healthy competition that isn't based on dollars and cents. If your audience isn't made up of golfers and/or those who pursue fun in the sun, worry not. Plenty of indoor fun can be had with our company logo printed playing card sets. Whether it's a simple deck of cards or something more elaborate, such the Poker Set picture below, these items will provide users with hours of fun and your business with years of advertising impressions.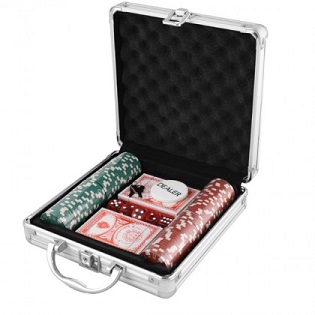 Those ten promotional giveaway item areas represent what we (and the promotional products industry at large) view as the ten best for virtual events. If your business is planning to host one in the near future, we strongly suggest considering the product categories we've recommended today. If you have any questions, please contact us at your earliest convenience. When your company teams up with 4AllPromos, it will be armed with the best branded giveaway items possible for any event, be it virtual or otherwise!