Say "Happy Father's Day" with Ten Great Promotional Gift Sets & Kits for Dads!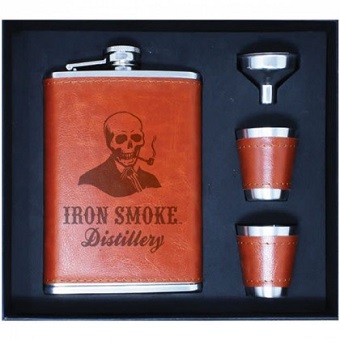 Now that 2021 is nearly halfway over, it's time to stop for a minute, take stock, and count our blessings. Hopefully, anyone who is fortunate enough to still have their father here on this Earth with us doesn't forget to count dear old Dad in the process. At 4AllPromos, we've always considered Father's Day to be an important holiday for both feeling and showing deep appreciation for all that the wonderful fathers in this world have done for their families. Many other companies feel the same way, choosing to promote with items related to the holiday each spring and early summer. We'd like to help give your company a chance to spread awareness and goodwill while celebrating Dads everywhere by providing our guide to the top 10 best promotional Father's Day gift set ideas.
1. Promotional Golf Gift Sets
There aren't too many dads out there who don't love to hit the links for an afternoon of golfing fun. That's among the key reasons why our custom golf gift sets make such great Father's Day gifts. Any golf enthusiast appreciates a gift package that helps them improve on their game or to have more fun while playing it. We offer a wide range of golf gifts, including golf scorecard & bag tag kits, handy imprinted golf ball sets, wholesale golf tool kits, and much more. If your business wants a promotion that's always up to par, it can't go wrong with a personalized Father's Day golf kit.
2. Custom Outdoor & Travel Father's Day Gift Sets
Some men may not be extremely interested in golf, yet still have a passion for the great outdoors. Our inventory has much to offer to fathers who enjoy camping, hiking, relaxing at the beach, travel, and other outdoor pursuits. Our promotional beach mat sets offer a way to stay dry and comfortable at the beach. The beach mat sets pictured below come with a water and sand resistant mat, comfortable inflatable pillow, and a self-contained tote bag. We also offer company logo imprinted dry bags to keep possessions dry near the water or in stormy weather. Our wholesale First Aid Kits are great for dads who like to stay safe while camping or hiking, while our promotional coolers help them to stay well-hydrated in the process.
3. Imprinted Drinkware Sets
Since we ended the last paragraph on a hydration related note, we'll continue that theme by talking a bit about our personalized drinkware gift sets. We offer many different drinking vessels and imprinted beverage accessory items that will impress and refresh the fatherly set. One great example can be found in our promotional tumbler gift sets, such as the travel tumbler and vacuum insulated thermal bottle pictured below. These items offer a way for fathers to enjoy a hot or cold drink while on long drives. They also make it possible to enjoy a hot meal even when an oven is nowhere in sight. Any man who has a home bar or who likes to relax with a drink while watching the game or playing a hand of cards will love to receive any of our assorted custom coaster sets. We offer coaster sets in all sorts of shapes, sizes, and materials. Whether your business is going for an eco-friendly, professional, or off-the-beaten-path effect, you'll find the perfect coaster sets for achieving it at 4AllPromos.
4. Personalized Whiskey Gift Sets
At the end of a long work day, while enjoying a weekend, or perhaps indulging in a well-earned retirement, a sip of whiskey can bring pleasure to many a father. We have plenty of personalized whiskey gifts for Father's Day that are sure to hit the spot. Linked to in the previous sentence (and displayed in the image at the end of this paragraph) is one of our many great custom engraved flask and shot glass sets. In addition to these, we also offer fun and unique promotional whiskey stone sets for keeping a glass chilled to just the right degree. Speaking of glasses, you'll also find branded dishwasher safe whiskey glass sets on our site. These items are imprinted with your company logo, are easy to clean, and have built-in thumb notches for easier gripping.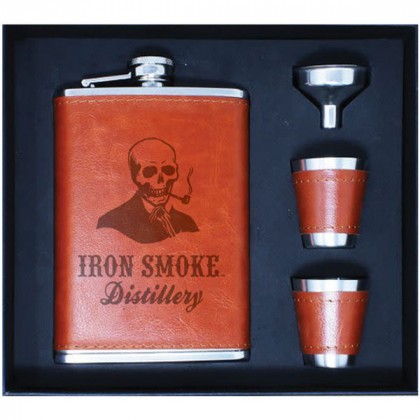 5. Customized BBQ Gift Sets
In many families, it's somewhat of a tradition for fathers to also be the resident grill masters. It's rare to come across a guy who doesn't enjoy manning the grill during backyard cookouts and summer parties. Considering this, it's not a surprise that personalized BBQ accessory kits are a big hit as Father's Day promotional items. Some of these, such as our custom 11 piece BBQ kits come in sturdy cases and are brimming with tools to make grilling easy, fun, and delicious. Others provide a gift Dad can wear, as can be found in our promotional grilling apron sets. These products consist of durable and attractive BBQ aprons with multiple pockets, often stuffed with tongs, spatulas, forks, and other included tools. Of course, all of these items are imprinted or engraved with your company logo design or special message.
6. Promotional Cookware Item Kits
Perhaps your company markets to men who enjoy indoor cooking as well. If this is the case, we have many custom cookware kits that make excellent corporate Father's Day gift ideas. Culinary schools, bakeries, restaurants, grocery stores, diners, and more will find these to be a great way to wish dads the very best while also making some valuable advertising impressions. A popular sub-category of our kitchenware gift sets is our fine assortment of personalized steak knife sets. Featuring top-quality knives with beautiful, durable wooden handles and storage blocks, boxes, and cases, these are items that any in-home chef would be proud to possess. When catering to fathers with eco-conscious values, there are few better culinary items to promote with than our imprinted reusable utensil sets. Made from Earth-friendly materials and designed to cut down on the use of disposable plastic utensils, these imprinted flatware sets make excellent gift ideas.
7. Branded Father's Day Tech Gift Sets
USB items and mobile devices are a part of nearly everyone's life in this day and age. Hence, it's important to remember that there are plenty of fathers out there who would be more than happy to receive one of our promotional technology gift sets. Items such as branded mobile charging kits for keeping phones at peak condition and custom USB power bank kits for keeping phones, tablets, and even laptops at a good charge are certain to be valued and appreciated. Due to the heavy amount of usage that these types of items get in high traffic areas such as waiting rooms, airports, libraries, and train stations, they're sure to generate a landslide of advertising impressions for your brand. Meanwhile, they'll remind happy dads everywhere of just how much they're appreciated.
8. Company Logo Tool Kits
Hardware stores, carpentry companies, real estate firms, car dealerships, auto parts stores, and many other businesses will find that promotional tool sets make for some of the best corporate Father's Day gifts. Whether a man needs the best tools in his professional life or appreciates having them on hand around the house, your business will please any guy when investing in our custom tool kits. It's not all about the traditional tool box style items though. We also offer a wide range of promotional auto tool & breakdown kits as well as highly useful personalized flashlight gift sets. Whichever of these options your business chooses to go with, it can rest assured that every item contained is of the highest quality, peak longevity, and is sold at the guaranteed lowest price.
9. Personalized Writing Gift Sets
If your business is involved in the creative side of life or happens to market to those who are, customized writing gift sets are a natural pick for promotional Father's Day gifts. Looking for the best custom gifts for fathers who engage in creative writing? If so, any of our personalized journal gift sets will be a smashing success. When looking to provide the perfect accessory for a home office or for a special gift that will bring a smile each day while working in a location away from home, our executive pen gift sets simply can't fail. These items are engraved with your company logo or special message and often include an engraved pen along with a mechanical pencil, a ballpoint pen with a gel pen, or in some cases, all three.
10. Promotional Apparel Gift Sets & Kits
The final category we'll examine in this guide to the top promotional Father's Day gifts consists of branded apparel gift sets. Items that are worn will quite obviously travel wherever users do. This means that with the purchase of any imprinted apparel item, the amount of advertising impressions that can be generated (and the settings in which they can take place) are truly without limit. Though Father's Day isn't exactly a cold weather holiday, providing dads with custom winter apparel sets still remains a great idea. When the winter months come around, they'll be happy to have stylish accessories with which to stay warm. Since we have so many different apparel items, it's easy for your company to create its own promotional apparel gift packages. Consider pairing any of our company logo hats up with our wholesale imprinted t-shirts for a fun Father's Day duo. For that matter, why not make it a well-rounded trio by way of including one of our custom hoodies as well?
4AllPromos is Your #1 Source for the Best Custom Father's Day Gift Sets & Kits
Now that you've had a chance to read through our suggestions for the best logo imprinted gift sets and kits for Father's Day, it is our hope that you've come away with some solid ideas. Whether you choose one specific item/category that we highlighted or choose to go all-out and invest in a little bit of everything, we know you'll be making some special dads out there very happy. Don't forget, you can contact us at any time if you have any questions or comments. In closing, we wish you and all the men you celebrate the happiest of Father's Days!