School's Out For Summer: Get the Best Back-to-School Promotional Items Now!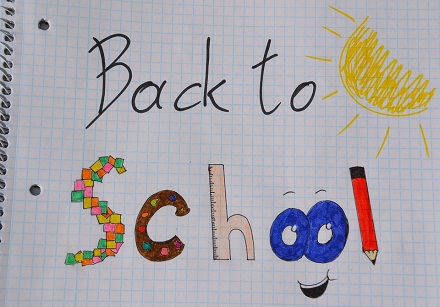 We may only be 10 days into summer, but don't let the calendar trick you. Though school may have just ended, this is the perfect time to start planning your back-to-school promotions for the 2020-2021 academic year. By investing in all of the best back-to-school promotional items now, your brand will get ahead of the competition and have a productive year of advertising impressions and brand awareness growth to look forward to. Shopping on behalf of your school? Enrich the minds and academic skills of your students with top-notch school supplies in both traditional and not-so-traditional styles. We also haven't forgotten homeschoolers and those who may have to start the year with remote classrooms. That's why you'll find a section with a rundown on our picks for the top distance learning items for 2020 and beyond.
Below this paragraph, you'll find a menu of links to help direct you toward specific item groups. However, we recommend reading the whole article to see all 15 of our suggestions for the best custom back-to-school giveaways & promotional items for the coming year.
Best Back to School Promotional Products for 2020
We'll start off with some of the old standbys. You know, the type of school supplies one can't imagine entering the academic year without. These tried and true promotional school supply items may be familiar, but they're my no means boring. We'll present three of our most popular and in-demand examples over the course of this section.
8 Pack Crayons - Custom Imprinted Crayon Boxes for Schools
Without a fresh new pack of colorful crayons, no desk can truly say, "Welcome back to school!" For generations, getting that new box of crayons has been a staple of that first day of school experience. Your school or business can help welcome students back and get them ready for a new academic year with our promotional 8 pack crayon boxes. Each of these custom crayon boxes for schools holds eight crayons in colors of blue, green, yellow, red, orange, purple, black, and brown. The non-toxic wax crayons come in a red box with cheerful stock art on one side and your school or company logo on the other. While these items are great for schools, they're also a good buy for restaurants, physician offices, hospitals, banks, and anywhere else where children may have to spend a good deal of time waiting. Each box is 3¾ inches wide by 2¾ inches high. A single color screen printed logo design is included in a 2 inch wide by 1½ inch high imprint area. For an upgrade fee, multiple imprint colors and PMS color matching are accessible. When ordering, please remember that purchases must be made in increments of 100.
Eco-Brown Kraft Paper Binder - Custom Eco-Friendly Recycled Binders
It's important for students to learn the value of protecting our environment. A good way to teach this lesson is to lead by example. Your school or business can do this by way of supplying youngsters with our Eco Brown Kraft Binders. These custom eco-friendly recycled binders are made from 26 pt 100% post-consumer recycled chipboard. Their natural color and textured material offer ample proof of the recycling process, without making sacrifices in quality or durability. The kraft paper used is unbleached and has a natural brown color. In addition to being recycled, it's also fully biodegradable. Each binder has a set of three ½ inch metal rings for keeping papers together along with front and back interior pockets. A one-color (line copy and logo only) PMS match imprint is included on the front, back, and pockets, with up to 35% of the surface being covered by your logo design. This all comes without a set-up fee! Upgrades are available, so please click on the link at the beginning of this paragraph if you'd like to learn more. In terms of size, each binder is 10⅛ inches wide by 11½ inches high by 1⅜ inches deep when closed.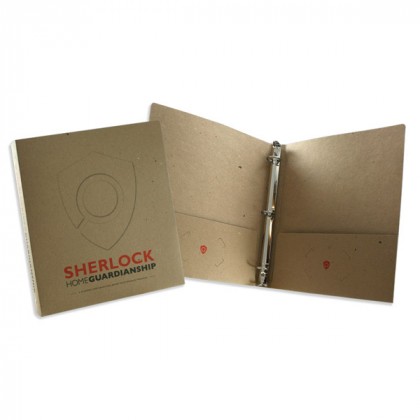 Premium Color Vinyl School Kit - Wholesale School Supply Accessory Kits
Rounding out the group of classic, traditional back-to-school promotional products is the Premium Color Vinyl School Kit. These custom imprinted school supply cases come in 22 different colors and are made from a smooth vinyl material. Shipping absolutely free of charge, each kit holds two pencils, a pencil sharpener, a 6 inch ruler, and a rectangular eraser. Your logo is imprinted on every item, though for the standard price, the ruler can only bear straight-line text. However, logo imprints on the ruler and pencil sharpener are accessible via an upgrade fee. The pouch features a zippered closure to help ensure that none of the interior items fall out or get lost when not in use. The whole package comes together in a handy size of 9¼ inches wide by 6 inches high. If you're looking for a basic school supply kit that will help students hit the ground running this year, this is the one for you.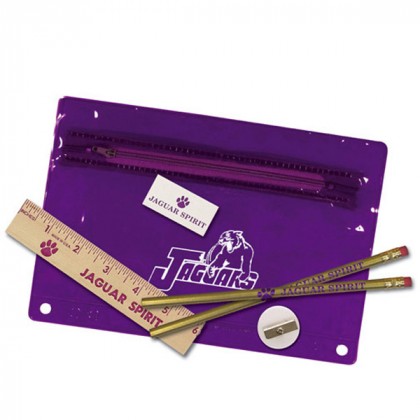 As we mentioned in the introduction, some schools will likely begin the year with remote classes. Meanwhile, homeschooling is the norm for other students. That's why we're including this section. It highlights three of our best promotional products for homeschool and remote classrooms. These custom school supplies are geared specifically toward an in-home learning experience.
Student Home Schooling Kit - Custom Distance Learning Supplies
The first promotional homeschool product we'll touch upon is the aptly named Student Home Schooling Kit. These custom logo printed homeschool supply kits include the items students need in order to get the school day off to a productive start, wherever it might take place. Each includes a clipboard, flexible ruler, pen and notebook to encourage effective note taking and study habits. These kits come in your choice of two different color combinations. Pick your favorite between a blue notebook, pen, ruler, and clipboard, or a black pen and notebook accompanied by a white ruler and clipboard. All items included are imprinted with your company or school logo design in one color. Packaged together, the dimensions of this kit are 13⅝ inches wide by 10½ inches high.  The imprint areas are different for each item. If you'd like to learn more, the link at the beginning of this paragraph provides additional details. You can also give us a call, email, or live chat message with any questions.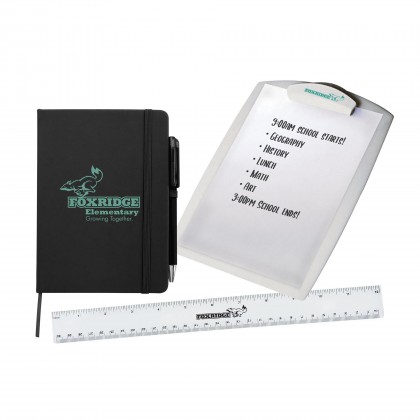 Turbo Mini Fan with Flashlight - Personalized Desk Fans
Our Turbo Mini Fan with Flashlight will help keep students comfortable while they learn. In addition to the cooling abilities of the fan, these items also are equipped with flashlights to help with ambient lighting. They also come in handy whenever an item is dropped in an area with limited visibility. Each of these personalized handheld fans comes with a breakaway lanyard. This enables users to wear them around their necks, but to also quickly detach them when needed. They work well as desk fans too, as they can be placed on a desktop or propped up against a wall for standalone usage. These items come with a relatively low minimum order requirement of 75 units, making them a good choice for smaller schools as well as large ones. They're available in transparent blue or white and come with batteries included. By default, the batteries aren't inserted, but this can be handled for an upgrade fee. Our Turbo Mini Flashlight Fans are a convenient size at 1½ inches wide by 4⅜ inches high by 2 inches deep. Each is imprinted with your custom logo design in a ¾ inch wide by 1½ inch high imprint area.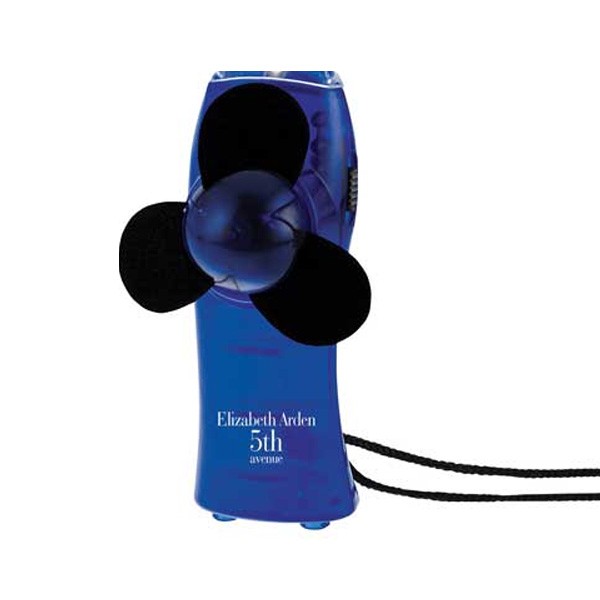 Hashtag Stress Reliever with Earbuds - Promotional Stress Toys with Earbuds
As anyone who has had to transition to working remotely due to the COVID-19 pandemic has learned, working remotely doesn't necessarily come with any less stress than working in the office. The same can be said for schooling. Fortunately, when pressure gets high and a break is needed, we're here to help with our Hashtag Stress Reliever with Earbuds. These branded stress toys are both fun and functional. Each features a friendly hashtag shaped stress toy, complete with round eyes and little feet for a base. They offer a reassuring presence and a calming tactile experience when squeezed. In addition to these properties, these back-to-school giveaway items also come with a set of 45 inch ear buds with a 2.5 mm stereo plug. When not in use, the earbud cords can be easily wrapped around the midsection of the stress toy. These items ship for free and come in several different colors. They are not recommended for children under 13 years of age or for use as pet toys. Each is 3⅛ inches wide by 3¼ inches high by ¾ of an inch deep. A one-color imprint spanning 2¼ inches wide by 7/16  of an inch high is included. For an upgrade fee, multiple colors can be included in your logo design.
Though more and more schoolwork is being done through computers and mobile devices, there will always be a place within academia for the written word. Custom writing supplies are hardly obsolete within the school environment and likely never will be. Therefore, we feel it's important to include some of our top writing items in this article. Continue through this section to learn about a trio of our prime offerings.
Nite-Glow Pencils with Glowing Erasers - Custom Glow-in-the-Dark Pencils
It's not easy to get through a school day without a trusty pencil. However, it doesn't hurt if said pencil provides a little bit of fun in the process. That's why we recommend our Nite-Glow Pencils with Glowing Erasers to anyone looking to invest in back-to-school promotional products. These promotional glow-in-the-dark pencils feature both a barrel and eraser that will glow brightly in dark environments. These custom pencils arrive unsharpened and without any charges for shipping. Each of these #2 pencils has a black ferrule and white eraser, while the barrel comes in your choice of white or one of many neon colors. They're 7½ inches long and have a one-color imprint in an area measuring 4½ inches wide by ¾ of an inch high. In addition to the free shipping discount, these company logo pencil giveaways also have no set-up fee.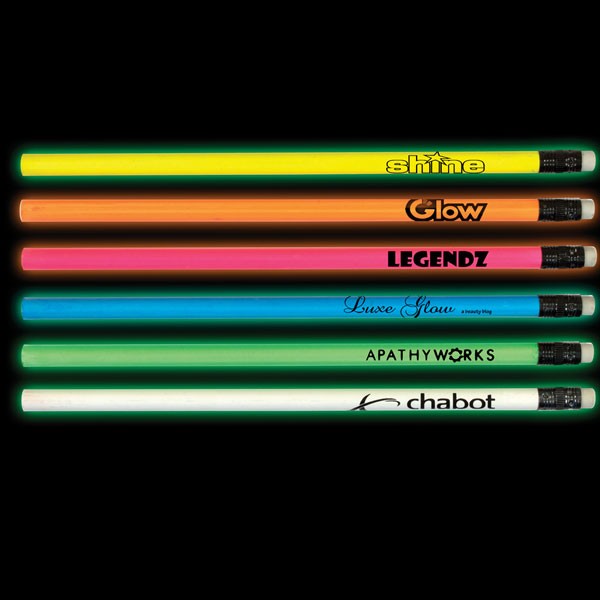 Retractable Ballpoint Parc Pen - Branded Ballpoint Pens with Your Logo
Sometimes, a pen is a better fit for the job than a pencil. Students should always have access to both, so pairing our Retractable Ballpoint Parc Pens up with any of our promotional pencils is a sound strategy. These particular logo printed click pens ship 100% free of charge. While made of plastic, the shiny barrel colors create a metallic look. The barrels are available in your choice of metallic red, metallic blue, or metallic silver. The clip, plunger, and nose cone are silver, while the ridged rubberized grip is black. These custom pens have a wide barrel top, allowing for a larger imprint area. Speaking of the imprint, your company or school logo is included in one color in a design space of 1⅛ inches wide by ½ of an inch high. Please give us a call, email, or live chat message if you're curious as to further personalization options.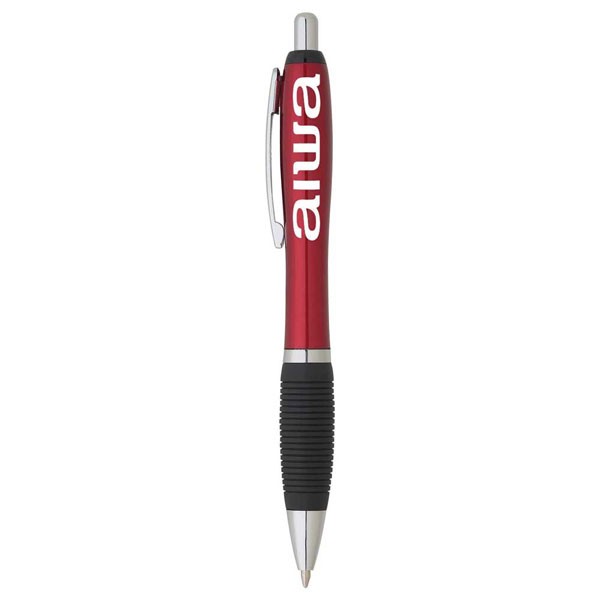 G2 Metallics Gel Pen by Pilot - Promotional Pilot Gel Pens
Pilot® pens have a long-standing reputation for quality and utility. Our G2 Metallics Gel Pen by Pilot serves to solidify this strong image. These promotional rollerball gel pens are ideal products to bear your school or corporate logo when September rolls around. Each offers a smooth, fluid writing experience in your choice of several rich colors. Each writes in 0.7 mm gel ink in silver, blue, purple, gold, or green. The rubberized grip, clip, plunger, and nose cone of every pen matches the ink color, while the barrel is transparent. This lets inquisitive youngsters view the inner workings of the pen, while at the same time making your logo more prominent. Your logo appears in one color in a 1½ inch wide by ½ inch high imprint area. If you'd like a logo design imprint with more than one color, this can be achieved via an upgrade fee. As is the case with the Parc pens described before them, our G2 Pilot Metallics Gel Pens ship free of charge.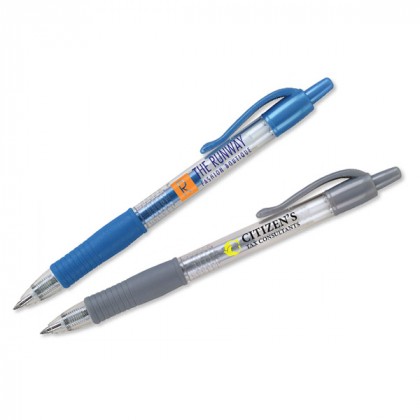 Not sure if ballpoint pens or gel pens are the style you want to go with? We're including a table below that points out the differences between the two styles, in order to help you make the best choice.
What is the difference between a ballpoint pen and a gel pen?
| What is the Difference Between Ballpoint Pens & Gel Pens? | Price | Ink Style | Utility | Cap Details |
| --- | --- | --- | --- | --- |
| Ballpoint Pens | Low in cost and ideal for bulk ordering | Oil-based ink resistant to running and smudging | High-volume orders, customized school items, and typical, everyday situations | Cap is used prevents accidental markings and pocket tears. |
| Gel Pens | More expensive than ballpoint pens, but usually with smaller minimum orders | 100% liquid ink for a smooth, flowing writing experience | More formal scenarios, perfect as executive and gift pens | Cap prevents ink from drying out and dripping |
In an increasingly digital and tech-oriented world, it's important that youth are able to keep up. At 4AllPromos, we offer a variety of high-tech promotional products for schools that will help your students and teachers start off the year on the right foot. We'll now tell you a bit about three of the best back-to-school tech items in our arsenal.
Firm Surface Mouse Pad - Company Logo Printed Mouse Pads for Schools
The next custom back-to-school promotional product we'll introduce is our Firm Surface Mouse Pad. These custom imprinted mouse pads are a great fit for classroom computers and school computer labs. As is the case with many of the other items we've already described, these promotional mouse pads ship absolutely free. As they're rarely removed once they've been set in place, these are items that can provide a steady and consistent stream of advertising impressions throughout the whole school year. Each has a firm surface for easy mouse movement, with an extra thin depth of just 1/16  of an inch. They're fully customizable, allowing you to design your own mouse pads with creative and colorful designs to help stimulate young minds while spreading brand awareness. Our Firm Surface Mouse Pad is 7½ inches wide by 8½ inches high, with an imprint area of 7¾ inches wide by 8¾ inches high.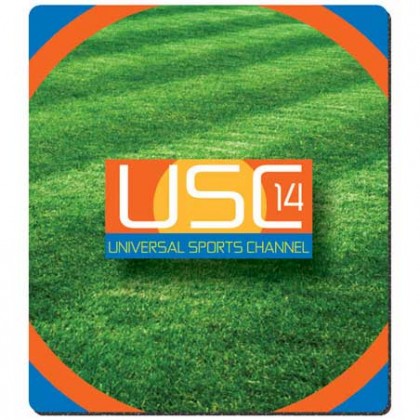 JBL Everest 750 NC Noise-Canceling Headphones - Premium Promotional Noise Cancelling Headphones
Our JBL Everest 750 NC Noise Canceling Headphones make excellent promotional products for schools, homeschooling, and special education programs. These promotional noise-canceling headphones are of the highest quality and are very effective in helping students listen, concentrate, and succeed. While they are helpful to all students, their noise-canceling properties can be especially helpful in special education programs. This is a valuable asset for children with concentration difficulties or issues with noise sensitivity. However, they're also handy for anyone who just wants a bit of time to themself and could use an audio escape. They're designed with comfort in mind as well as longevity of use.
They operate wirelessly, with a single charge providing 20 hours of power, with 15 hours when ANC (adaptive noise canceling) mode is selected. They recharge quickly in just 3 hours and also feature echo-cancelling microphone technology for when voice calls are made. Personalized sound calibration is just another great feature of these custom headphones, which only require 6 units for a purchase. They can be kept up-to-date and functioning at their best when users have access to the My JBL Headphones App. Silver in color, each pair of headphones comes in a hard, compact, and protective carrying case. The case is imprinted with your logo design in a 1⅜ inch wide by ⅜ inch high imprint area. A single color imprint comes standard, but multiple colors are accessible via an upgrade fee.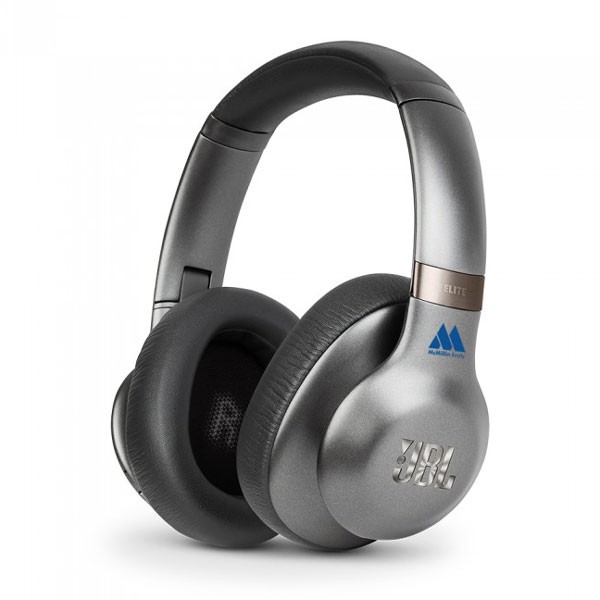 Folding Virtual Reality 3D Glasses - Personalized 3D Glasses for Classrooms
Your school or business can place its logo design on our Folding Virtual Reality 3D Glasses when looking to provide a futuristic and entertaining educational experience to students. These promotional virtual reality glasses ship free of charge and come in your choice of blue or red. Each has a frosted plastic carrying case for added protection when not in use. By inserting a smartphone into the display area, users can have an augmented reality experience that can make any educational game or video far more engrossing. They can be used in the classroom or at home to make homework assignments fun rather than feared. Made from ABS plastic, these custom virtual reality glasses are compatible with most current smartphone styles. They're 5⅛ inches wide by 2¾ inches high, with an imprint area of 3 inches wide by 1½ inches high. A single color and location logo imprint come standard, but imprints in two colors can be included for an upgrade fee.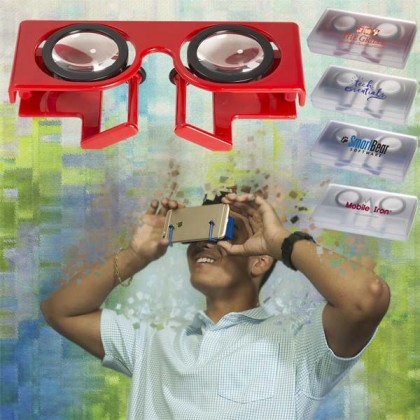 The last group of items we'll present today consists of journals, notebooks, and other school supplies aimed around organization, note-taking, and creative expression. There's not one single theme here, but rather a closely related cluster of principles that tie these unique back-to-school giveaway items together. If your company wants its logo on items that'll be a hit in any classroom, we suggest making an investment in the fine specimen we're about to share.
Compact Sticky Note & Flag Book - Custom Sticky Notes & Sticky Flags for Schools
Our Compact Sticky Note & Flag Book essentially offers two promotional back-to-school products in one package. These wholesale sticky note promotional items are great for use in schools, homes, and offices. Included in every unit are 70 sheets of yellow sticky notes along with 125 sticky flags. The sticky flags come in 5 different colors, with 25 flags for each hue. The book that holds them together comes in your choice of white, blue, or black. They easily fit in desks, backpacks, and computer cases, due to their handy size of 2 inches wide by 3⅛ inches high. Great for taking notes, writing down important memos, and marking places in books and documents, these custom sticky note and flag booklets have an imprint area of 1¾ inches wide by 2½ inches high. Your business or school logo design appears in one color on the front cover. However, as upgrade options, multiple imprint colors and locations can be added.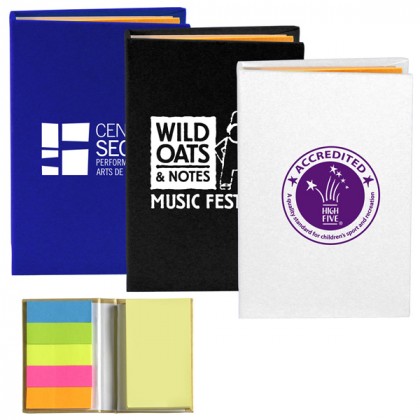 Clear View Notebook with Pen - Logo Imprinted Notebooks for Students
Our Clear View Notebook with Pen is yet another two-for-one giveaway item. Each of these logo branded back-to-school notebooks, as their name would imply, offers both a notebook along with a handy pen. A bright a cheery translucent blue, these items have a positive and energetic look that is sure to be contagious around the classroom. A soft PVC cover protects 80 lined pages of paper, while an attached pen loop ensures that the included ballpoint pen stays in place and doesn't get lost. The pen has a two-tone motif, with a barrel that is partially translucent blue and partially solid white. Each notebook is 5 inches wide by 7 inches high by ¼ of an inch deep. Your one-color logo design appears on the cover in a 3 inch wide by 4 inch high imprint area. For an upgrade fee, multiple colors can be added to your logo design. Every order ships free of charge!
Pedova Soft Bound Journal - Personalized Journal Books for Kids & Adults
The final item we'll include in this back-to-school item extravaganza is the Pedova Soft Bound Journal. These customizable journal books are affordable and ship free of charge. However, this doesn't mean they lack anything when it comes to quality. These premium journals are appointed with 80 sheets of lined paper, document pocket, and flexible cover with an elastic closure. The document pocket is ideal for holding cards, photos, and papers. Meanwhile, the journal can be used to encourage creative writing skills. Teachers can use these items to help students keep a daily log of their journey through the school year, allowing them to see just how far they've come. Coming in colors of red, purple, black, blue, or brown, each journal is 5½ inches wide by 8 inches high by of an inch deep. Each is debossed with your school or business logo in a 3 inch wide by 5 inch high imprint area on the front cover.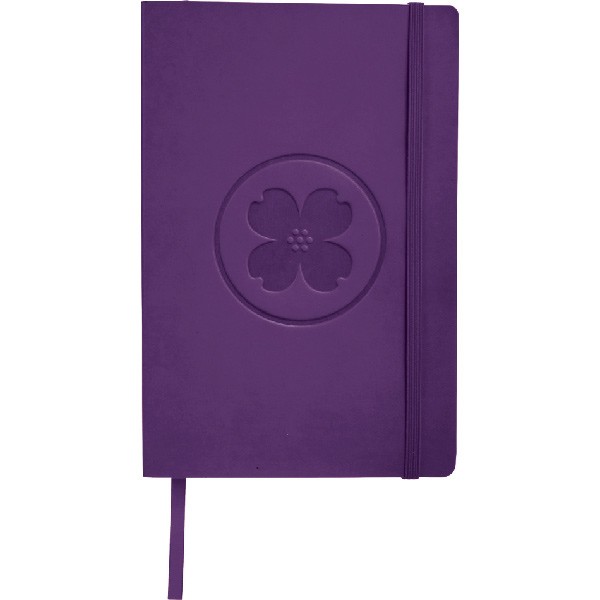 With that, the bell has rung to end this session of Promotional Back-to-School Supplies 101. We hope we've provided your school, business, charity, or any other organization you may represent with some solid ideas for branding while enlightening young minds for the coming year. As always, if you have any questions about the items we've shared or there are other product areas you'd like to know more about, feel free to get in touch with us at any time. For now, we'll wish you a safe, happy, fun summer and the best of luck for the coming school year!