Handmade, Hardy & Homespun - The Best Durable and Handcrafted Promotional Items of 2020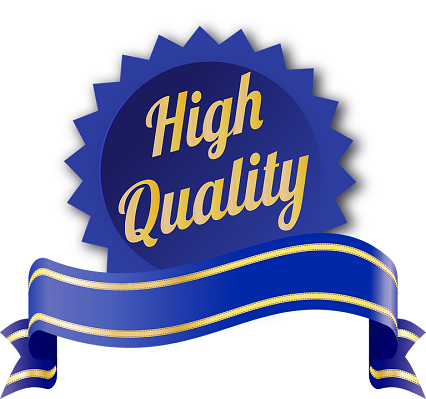 As we move into the new decade, there are some clearly defined trends within the world of promotional products that provide a highly useful roadmap for pleasing customers & boosting brand awareness. The 2020s are ushering in an area where consumers are willing to spend a little more for higher quality products. While "quality" can be interpreted in a number of different ways, promotional product industry authorities are seeing customers placing a lot of value on an item's durability. In other words, they want products that are going to last. In addition to longevity, style is a heavily weighted component. One of the most sought-after motifs right now is a homestyle, handmade fashion. It provides a cross between modern and rustic that current markets can't seem to get enough of. Add in environmental sustainability, and you have a good idea of what consumers are looking for. While we recently published an article surroudning our eco-friendly promotional products, this one will focus on 15 of our strong, sturdy, and simply stylish items. 
1. Personalized Corkcicle
®

Cigar Glass

We'll start things off by sharing some of our durable & high quality promotional drinkware products. Leading off is the Corkcicle Cigar Glass. These customized durable drinkware items are as unique as they are reliable. With a rounded rectangular shape and a clear glass body, these handmade drinking glass giveaways make great gifts for executives, top performing employees, and retirement parties. With a low minimum order quantity of just 24, they can easily be reserved for such recipients and occasions. Each is sized to fit one double old fashioned and comes with a cigar holder built into the upper right hand corner of the glass. Thanks to the cigar rest, users can enjoy a drink and toast someone special with a cigar, all while using just one hand. These personalized cigar holder drinking glasses are 3 inches wide by 3¾ inches high by 3 inches deep. Every one is laser engraved with your custom business logo design in an imprint area measuring 1½ inches wide by 1 inch high. Each comes in its own retail gift box. For an upgrade fee, these can be ordered as two glass sets, packaged in a black gift box. Please reach out to us with any questions you might have.

 

 
2. Customized 16 oz Campfire Mug
The next homespun promo product we'll explore today is our 16 oz Campfire Mug. These high quality personalized mugs are perfect for outdoor excursions. Whether camping, hiking, hunting, or commuting, this is a custom coffee mug that won't let anyone down. Despite being thoroughly rugged items, they're still delightfully lightweight and easy to carry anywhere. Each carries 16 oz of one's chosen beverage and is fully food safe, meeting FDA and Prop 65 requirements. They're constructed from powder coated steel and are available in your choice of white, black, blue, red, or green. The powder coating and large, sturdy handle create a rustic look with a shade of modern chic. In terms of size, these promotional homestyle mugs are 5 5/16 inches wide by 3⅝ inches high by 3⅝ inches deep. They're imprinted with your corporate logo design in one color in a 2 inch wide by 2 inch high imprint area. A second imprint color can be added for an upgrade charge. When it comes to cleaning, we recommend washing these custom mugs by hand.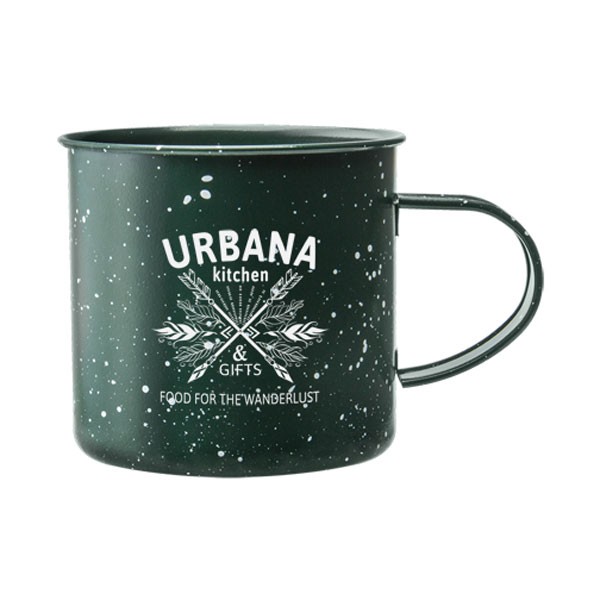 3. Welly
®

Voyager 16 oz Promotional Copper Vacuum Tumbler

The third piece of high quality promotional drinkware that you'll be meeting in this article is the 16 oz Voyager Copper Vacuum Tumbler from Welly. Welly is a famous brand name synonymous with class, quality, and impeccable style. These custom double wall insulated mugs are surely not an exception. These thermal travel mugs feature copper insulation for optimum temperature retention. They  have the ability to keep drinks hot for 8 hours and cold for 24 hours, making them perfect use on long days and outdoor expeditions. These insulated travel mugs are a great choice for restaurants, diners, outdoor lifestyle retailers, camping supply shops, high-end gift boutiques, and more. A wide opening is topped by a slide-lid closure for security. These tumblers are available in white or black, but the visual effects don't stop there. Each is appointed with a bamboo sleeve for a more handmade, refined appearance. With a minimum order quantity of just 12, these can be reserved as special gifts for special bosses, employees, and customers. Every tumbler bears the Welly logo on one side and is engraved with your logo on the other. If desired, color imprinting can be included instead as an upgrade.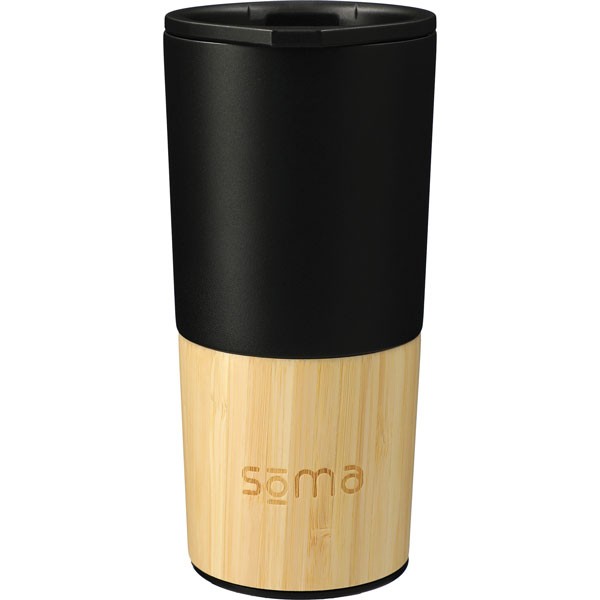 4. Custom Engraved Ebony and Bamboo Wood Watch
We'll now shift from promotional drinkware to custom handmade & high quality apparel and accessories. The first item we'll present in this group is our Engraved Ebony and Bamboo Wood Watch. These personalized eco-friendly wooden watches have a classic-meets-contemporary look, with dark wooden tones and finely crafted details. They're composed from sustainably harvested Asian ebony and bamboo and are appointed with a quartz movement. A 10 inch adjustable leather wristband makes them able to fit users of nearly all sizes. As sophisticated yet low-key accessory items, these watches make excellent corporate gifts. Only 3 units are required to make an order. Your customized company logo design is engraved into the back side of the wooden watch face. Each of these stylish, delicately crafted watches comes in an eco-friendly gift box.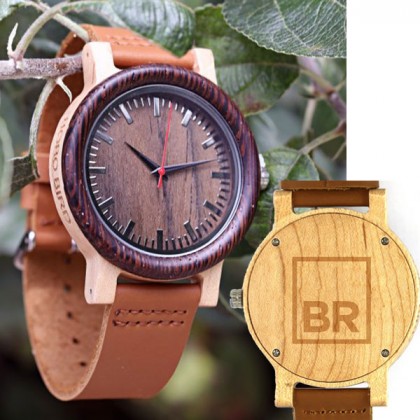 5. Custom Logo Imprinted Leather Belt with Woven Fabric
A unique, durable, and top-quality promotional apparel item, our Leather Belt with Woven Fabric never fails to please and impress. These personalized leather belts with logos are strong, lightweight, and comfortable to wear. They can complete or bring together nearly any look a user is going for and make great promotional products for clothing stores, gift shops, fashion boutiques, and more. They also function quite well as part of a snappy company uniform. Each is constructed from leather and webbed cotton fabric. It's along the fabric portion that your company logo will be imprinted in a step and repeat fashion. Up to 3 colors are included in the standard price, with as many as 8 being available for an upgrade fee. A sturdy buckle and clasp help to keep it all in place. When ordering, remember to add 2 inches to waist size for an ideal fit. These custom leather belts come in size XS-XL, with 2XL and 3XL coming at a slightly higher cost.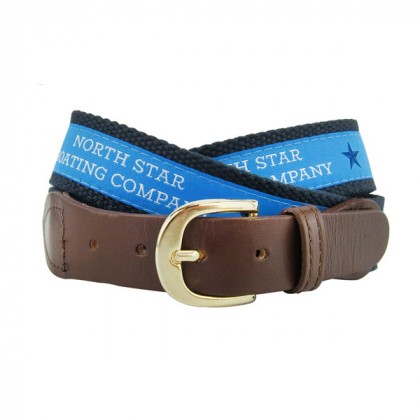 6. Premier Personalized Heavyweight Poncho
While promotional rain ponchos and durability aren't entities that always draw immediate associations, they go absolutely hand-in-hand with the Premier Heavyweight Poncho. These custom logo printed rain ponchos will last for years, owing to their hardy 18 mm PVC construction. They come in a grand array of different colors, so you're sure to find one that perfectly matches your personalized logo design. These ponchos are stitched and welded by hand and offer a roomy, comfortable wearing experience. One size fits most, with these promotional ponchos having dimensions of 52 inches wide by 86 inches high. Design your own wholesale ponchos by way of adding your company logo imprint to the left chest or back. Your imprint area size varies based on location. Feel free to give us a call, email, or live chat  message if you have any questions. Also, we don't want to forget to point out that these items ship 100% free of charge!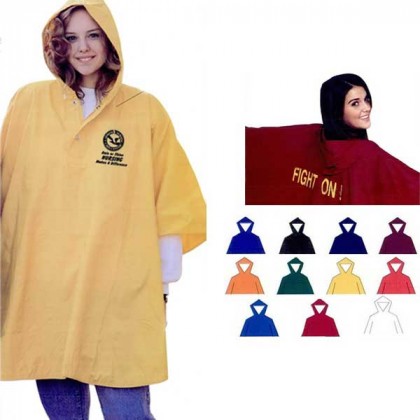 7. Custom Imprinted Baseball Bat Pen
If you're looking for a long-lasting giveaway item for sports teams, schools, office supply stores, or athletic apparel shops, you've found it in our company logo Baseball Bat Pens. Sustainably sourced from natural wood and expertly handmade, these personalized novelty pens will stick around for years. They're a great way to commemorate a special event or experience or to celebrate one's favorite team. They're a fairly standard size as pens go, at ½ of inch wide by 7¼ inches long. As they are handmade, very slight variations in size may occur. Each is printed in one color and location with your personalized logo design or message. Your personalization space is 2 inches wide by ½ of an inch high. However, upgrade options exist in the form of imprint designs with multiple colors and even engraved designs.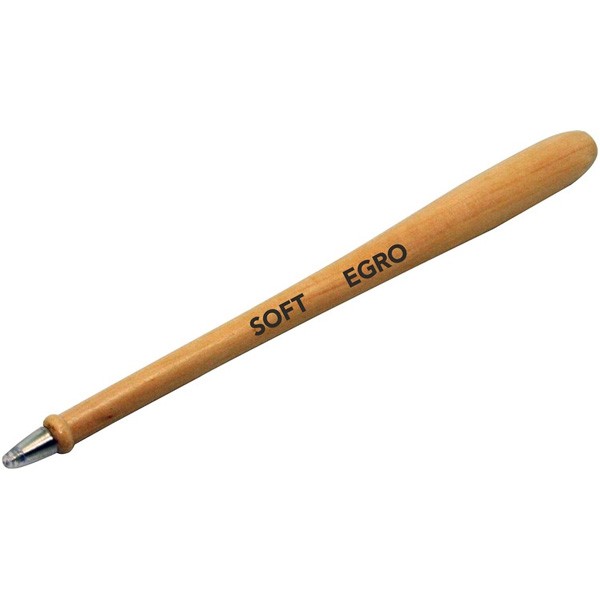 8. Personalized Wooden Tower Puzzle Game
Perfect for indoor or outdoor fun, our Wooden Tower Puzzle Game provides tons of fun for users of nearly all ages. These custom handmade wooden games make for excellent promotional gift ideas. However, they also work very well as entertainment items for waiting rooms and as custom educational games for schools and occupational therapy centers. Every set contains 36 handmade wooden blocks in your choice of two-tone or solid natural wood color. Designed to be played in the same manner as the ever-popular Jenga®, these personalized game items are not just fun, but also help to develop critical thinking skills and hand-eye coordination. The blocks are contained in a sustainably produced wooden slide-lid box that measures 5½ inches wide by 2¾ inches high by 1½ inches deep. The box is imprinted in a single color and location, with your logo design covering 2½ inches in width by 1½ inches in height. For an additional fee, multiple imprint colors and engraved designs can be added.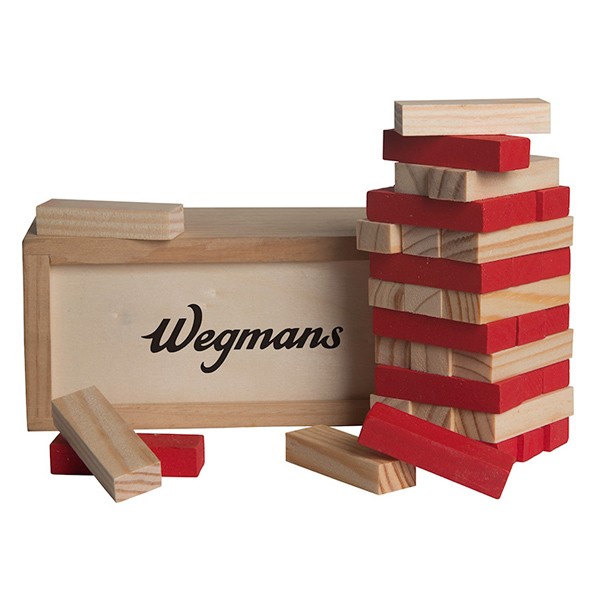 9. Promotional Flat Round Shatterproof Ornament
Here's an item that is great as a promotional holiday giveaway, but can also be used the whole year through. Our custom Flat Round Shatterproof Ornaments can decorate a tree, mantle, cubicle, or most any other area. They help to brighten the atmosphere of any location while spreading awareness for your brand. In addition to their sleek, unique shape and plethora of available colors, these custom ornaments are ultra durable. This is good not only for advertising longevity and brand reputation, but also for preventing the injuries that broken ornaments can cause. Despite their names, they're aren't completely flat; they're rounded and thin, in a shape reminiscent of Skittles, M&Ms, Reese's Pieces, etc. With their compact size and shape, they're easy to carry in one hand or even store inside of a pocket. Each comes individually polybagged and has a diameter of 3 inches and an imprint area with a diameter of 2 inches. Double sided imprints, two-color logo imprints, and red gift pouches are all available upgrades. For orders of 250 or more, 3+ imprint colors can be included as an upgrade.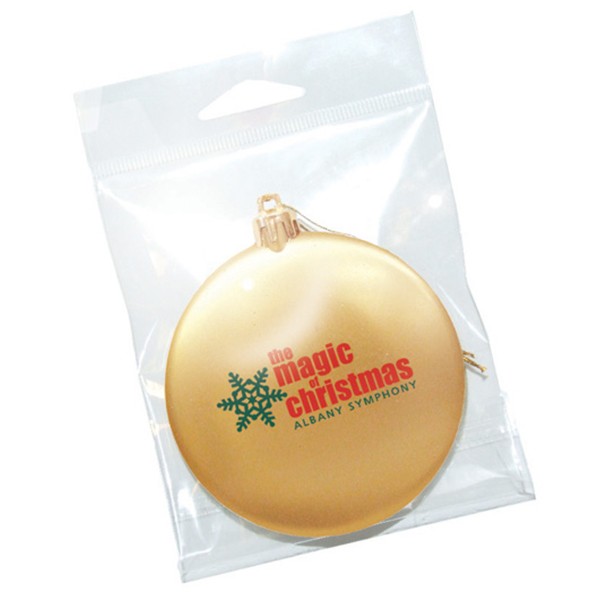 10.  Custom Imprinted Wood Phone Amplifier
If your business caters to an environmentally conscious user base that also enjoys music and/or podcasts, our Wood Phone Amplifier is an item on which you'll want to see your brand name. The personalized handmade wooden phone amplifiers you'll find at 4AllPromos are sustainably sourced & crafted from handsome Gugar wood. Able to function both indoors and outdoors, these items are able to increase the volume of whatever users are listening to on their mobile devices via channelling the sound toward their small front opening. These make great companions for campers and outdoor workers who want a reliable, durable, and eco-friendly item to increase their auditory pleasure. They're designed to fit the majority of iPhone and Android mobile phones and come with a one color imprint in your choice of four different locations. Multiple imprint colors & locations as well as laser engraving are available upgrade options. Each unit is conveniently sized at 4¾ inches wide by 1⅛ inches high by 2¼ inches deep.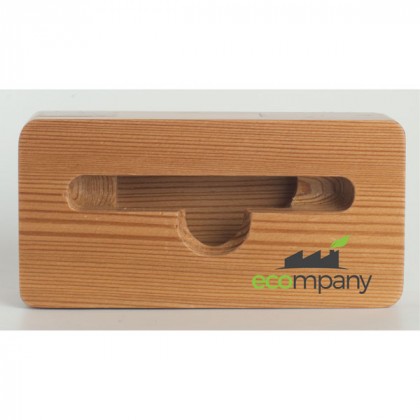 11. Mini Seed Paper Gift Pack Giveaway 
When searching for a handmade promotional gift with a personalized & eco-friendly touch, one can't do much better than The Mini Seed Paper Gift Pack. These custom handmade seed paper giveaway items ship completely free of charge and feature multiple components. Every pack comes with a plantable seed paper packet formed into one of many custom shape choices, a 100% recycled instruction card, and a corn cello bag to hold it all together. Each of these amusingly-shaped, handmade seed paper packets can be planted in the ground to grow beautiful wildflowers. Each package is 3 inches wide by 4 inches high, with an imprint area of the same size. Your custom business logo design is printed in full color one one side of the instruction card. Double sided imprinting is also available; please contact us for further details.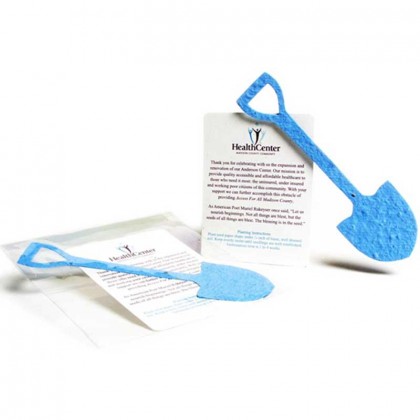 12. Custom Natural Finish Edge Walking Stick
Our promotional walking sticks with natural finish edges are eco-friendly giveaway items that perform multiple functions. As one would guess from their name, they are highly useful as walking sticks for hikers and anyone embarking on an outdoor adventure. They also function as yardsticks, enabling them to be employed for any project requiring precise measuring on the drawing of straight lines. A leather strap makes hanging or finger-carrying simple and easy. These personalized walking sticks have squared sides to provide extra durability and strength. A natural wood finish completes the look and feel. A single color logo imprint and straight line text are included in the price, but multiple colors are available, as are special fonts.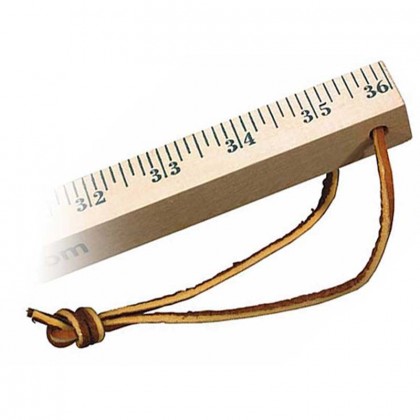 13. All-Natural 100% Beeswax Promotional Lip Balm - Made in the USA
Our All Natural 100% Beeswax promotional lip balm sticks are produced right here in the USA. They're yet another of our sustainable, eco-friendly promotional giveaway items. They're perfect for trade shows and events, as well as keeping users safe and comfortable all year through. They come in many different flavors, each offering a different taste and feel. Quality isn't a concern, as they meet all FDA as cosmetic industry guidelines. Each comes in a white tube and cap, which are surrounded by a full color label which is laminated and tamper proof. Salons, pharmacies, grocery stores, convenience stores, and many other businesses will find these to be the perfect items for giveaways and impulse purchases. Each tube is ⅝ inches wide by 2⅝ inches high with an imprint area covering nearly the full surface.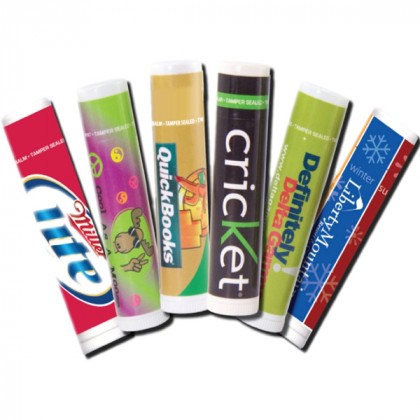 14. Promotional Square Cotton Canvas Tote Bag
The final two items on this list will be from the eco-friendly and high quality custom tote bag family. The first one we'll share is our custom Square Cotton Canvas Tote Bag.These are extra durable tote bags made from environmentally friendly materials. Each is made from 6 oz cotton canvas and sports 18 inch carrying handles. There's plenty of room inside for carrying heavy cargo, making it an ideal choice for libraries, grocery stores, bookstores, gift shops & more. It has a rustic, natural look and feel, which is complemented by a unique square shape that is sure to draw eyes. These sturdy & stylish tote bags ship free of charge and are 15 inches wide by 15 inches high and have an imprint area spanning 8 inches wide by 8 inches high. A one color imprint comes standard, with multiple colors being available for an upgrade fee. This item also comes in a full color logo imprinted version.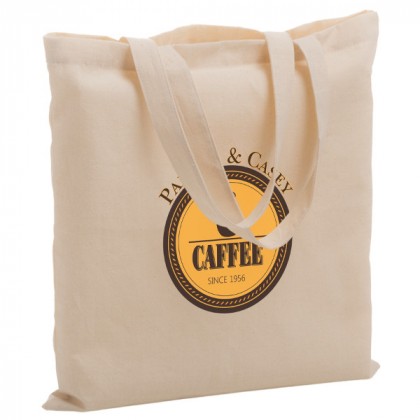 15. Imprinted Izzy Jute Tote with Wooden Button
If your business wants to put its name on durable personalizted tote bags to make powerful advertising impressions, the Izzy Jute Tote is a perfect fit. These custom totes are strong and stylish. Owing to their eco-friendly jute construction, these reusable tote bags can handle heavy loads for years to come. They're great for grocery shopping, library trips, toting books around campus, collecting giveaway items at trade shows, and much more. They come in a natural color and have a smooth, laminated interior. A 10 ounce front pocket, 28 inch carrying handles, and wooden button with loop closure all come together for a maximum utility package. Our Izzy Jute Totes are of generous size at 14 inches wide by 14 inches high by 8 inches deep. An imprint area of 8 inches wide by 7 inches high sits on the front of the bag and plays host to your single color logo design. For an upgrade fee, a second imprint color can be added.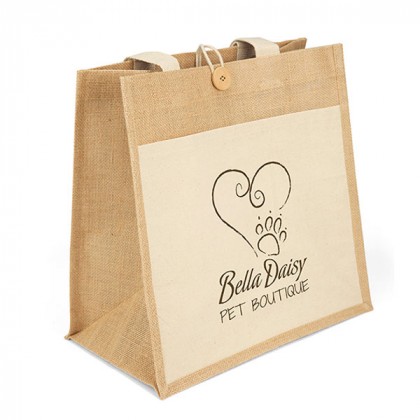 With that, our guide to the 15 top handmade & high quality promotional products for 2020 comes to an end. We hope that you enjoyed viewing the products we've presented and have been empowered to make the best choices to fit your promotional needs for the new decade. As always, you can turn to us if you have any questions about these items or any of our other durable giveaway items. We're ready and willing to help you find the best possible items to wow your target audience and gain customer loyalty as durable as the items we provide.