Top Ten Best Eco-Friendly Halloween Bags for 2020 & Learn Helpful Halloween Safety Tips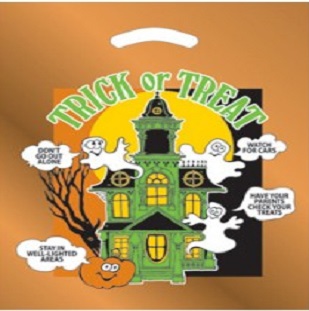 As Halloween 2020 draws ever closer, prospective trick-or-treaters are beginning to rev their little engines. However, in the wake of all that is going on this year, trick-or-treating, and Halloween itself, will take place much differently this year in some areas of the country. Some regions may see a traditional celebration, others may see things limited to a contact-free "trunk-or-treat" style holiday, while still other regions will experience more strict measures which will result in in-home Halloween celebrations. Whatever the case may be, the fun and good times don't have to stop. 4AllPromos has the definitive list to all of the best wholesale Halloween candy bags for 2020, all of which we'll share with you in just a moment. Once we've finished doing that, we'll also share some safety tips to make this Halloween fun and safe for all involved. Remember, these are eco-friendly trick-or-treating bags, so they focus on keeping the environment safe as well.
1. Pumpkins Recyclable Halloween Bag | Custom Eco-Friendly Halloween Totes
The first eco-friendly Halloween bag on our list this year is our Pumpkins Recyclable Halloween Bag. These company logo recyclable Halloween bags are made from high density 3.0 mil plastic. This not only makes them recyclable, but also gives them extra strength and toughness, helping to cut down on waste by being able to serve users for multiple years. It won't be a one-and-done Halloween for these guys. Each is orange in color with die cut handles near the top for easy holding and gripping. Below the handles is a stock art message reading, "Happy Halloween". A large imprint area is beneath the inscription, which is then followed by a graphic featuring a group of Jack-O'Lanterns, each with their own unique and funny facial expression. The bags are a frosted orange color and are 12 inches wide by 15 inches high. A 3 inch side gusset is included to allow them to expand to fit more candy and treats. As already mentioned, a large imprint area is provided above the pumpkin design. Measuring 8 inches wide by 4 inches high, this is where your company logo, printed in black, will appear.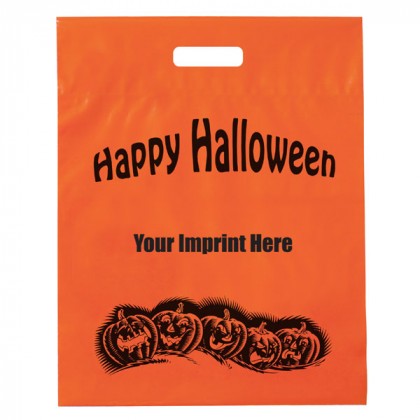 2. Haunted House Metallic Orange Candy Bag | Custom Trick or Treat Bags
The next promotional Halloween bag for 2020 to make our list is the Orange Reflective Haunted House Trick-or-Treat Bag. These customized reflective Halloween bags are bright orange in color and help to provide visibility for users after the sun goes down. While they offer a spooky Haunted House design, they ultimately will make the night less scary, since parents will know that their children can be seen by motorists. Upping the safety factor are the helpful pumpkins and ghosts who appear on the bag, offering safety tips. They're good for the environment too, being both reusable and recyclable. These Halloween totes are made from 2.5 mil reflective plastic. Every unit is equipped with die cut handles for a secure grip. Spanning 12 inches in width by 15 inches in height, each provides a 6 inch wide by 6 inch high space to include your single color business logo imprint opposite the Haunted House design.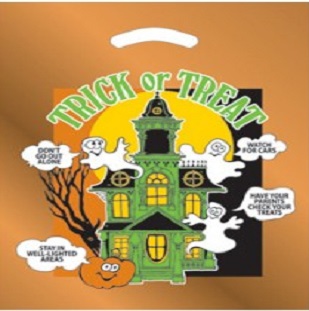 3. Frankenstein with Pumpkins Reflective Silver Bag | Bulk Reflective Halloween Bags
If orange isn't your color, worry not. There are other promotional reflective trick-or-treating bags out there are just as eco-friendly. To prove this, we present our Frankenstein with Pumpkins Silver Reflective Halloween Tote Bag. Offering the same sustainable and environmentally-conscious construction as the Haunted House bags described above, these models come in a silver tone. As their name would imply, each features a stock art graphic containing Frankenstein's Monster along with a group of smiling pumpkins, among a full moon and amber sky backdrop. Below the graphics, you'll find a list of Halloween safety tips. It's a great idea for parents to read these to their children and make sure every instruction is understood before candy collecting and consumption begin. These boast the same 12 inch wide by 15 inch high dimensions as the previously described reflective bags and also offer a single color black imprint on the back side, in a 6 inch wide by 6 inch high area.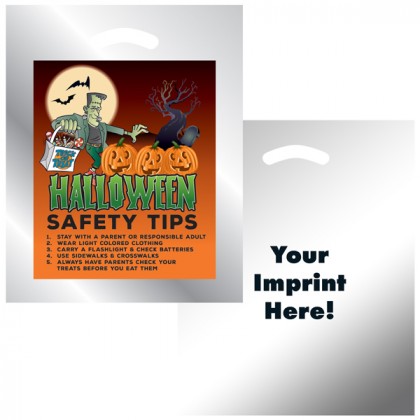 4. Cotton Halloween Coloring Tote Bag | Promotional Halloween Bags for Kids
The models we're introducing now are a great pick for in-home Halloween celebrations as well as giveaway items for schools, bookstores, art supply shops, and more. Our Cotton Canvas Halloween Tote Bags with crayons are custom cotton Halloween bags that inspire creativity. Coming in a natural color and made from a sturdy cotton canvas material, these trick-or-treat bags also come with a six pack of crayons. The included colors consist of red, black, orange, green, blue, and yellow. On the front of the bag, one of several stock art designs of your choosing will be included. Kids can have fun coloring in the Halloween-related images, honing their artistic skills as they chow down on tasty treats. Alternatively, they can color them in before embarking on their candy quests for a more personalized look. They're strong and sturdy enough to provide years of use for youngsters. They also provide plenty of room for candy, as they are 15 inches in both width and height. A generous imprint area is located on the side of the bag opposite the drawing area, setting up an 8 inch wide by 8 inch high space for your company logo design imprint. A pair of loop carrying handles make them easy to hold in users' hands or worn over the shoulder.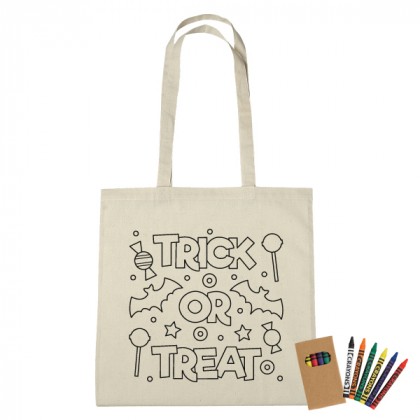 5. Non-Woven Die Cut Handle Halloween Bags | Custom Recyclable Halloween Bags
Black and white can create quite a color contrast, immediately drawing eyes to artistic designs and logo imprints. Such is the case with our bulk polypropylene Halloween bags. Aptly named the Non-Woven Die Cut Handle Halloween Bag, these products deliver just what their moniker would imply. Each is constructed from eco-friendly non-woven 80 GSM polypropylene, a fully recyclable material. The recycling symbol is included on both sides of these bags, keeping environmental responsibility on everyone's minds. Comfortable and convenient die cut handles reside at the top, while below, the front surface of the bag plays host to your choice of one of 26 different stock art designs. These feature several different Halloween themes, including cats, bats, ghosts, haunted houses, vampires, and more. Each ships 100% free of charge and is 12 inches wide by 15 inches high. Your custom imprinted logo design appears in one color on one side of the bag, in an 8 inch wide by 8 inch high imprint area. Please contact us for any questions regarding upgrade options.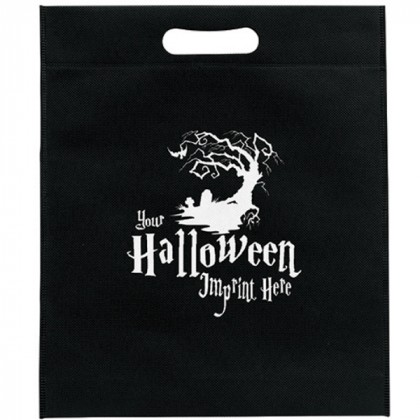 6. Reflective Drawstring Tote | Promotional Halloween Safety Bags
Our wholesale reflective Halloween tote bags are great for trick-or-treating, but can also be used the whole year through as backpacks for school or other transportation missions. While the orange version makes a great look for Halloween, they also come in black and neon yellow styles. Whatever color you choose, a 2" high reflective strip spans its way across the back surface. This helps users remain extra visible to motorists, cyclists, and other pedestrians, even when the lighting is dim. Made from durable 120 GSM polyester, these custom Halloween bags are tough enough to be used for trick-or-treating fun year after year. They're also great for carrying books, food, school supplies, work supplies, fitness items, and just about anything else. Reinforced corner grommets help to make them even stronger. Fully CPSIA compliant, these personalized reflective Halloween totes are recommended for users 3 years of age and older. Each is 14 inches wide by 17 inches high by ⅛ of an inch deep. Decorate them with your one color business logo design in the alloted 6 inch wide by 1¼ inch high imprint area.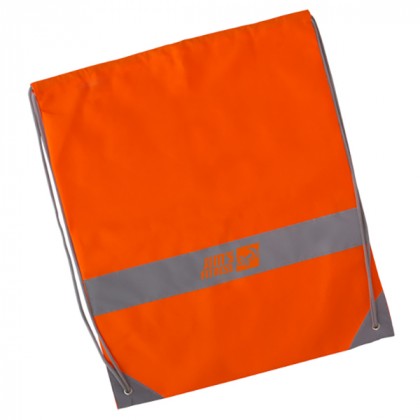 7. Fall Die Cut Bag | Custom Trick-or-Treat Bags
Here's another of our branded eco-friendly Halloween bags that isn't limited to use on October 31st. Our 12 inch wide by 15 inch high Fall Die Cut Bag features an attractive autumn design, complete with pumpkins, crisp fallen leaves, and corn stalks. Produced in a natural ivory color, these fun and functional fall tote bags can also be used for library trips, grocery shopping, festivals, farmer's markets, apple picking, and much more. A 3 inch bottom gusset allows them to expand to easily fit extra cargo. Foldover reinforced handles make them easy to grip and hold, while their 100% recyclable low-density plastic construction makes them a great choice for protecting the planet. Every bag comes with your company logo imprinted in black on the front panel. If you're curious to know of further personalization options, give us a call today.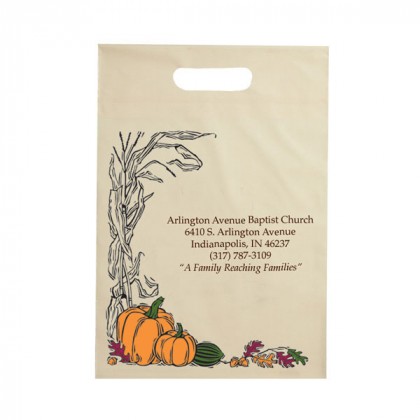 8. Die Cut Yellow Halloween Bag | Bulk Halloween Bags with Stock Art
If your company fancies a brightly colored bag that's affordable yet doesn't skimp on quality, you'll find it all in the Die Cut Yellow Halloween Bag. These promotional recyclable plastic Halloween bags have curved die cut fold over reinforced handles at the top for easy transportation. Just below the handles is a message reading, "Have A Safe Halloween". This message is in a semi-circular pattern, beneath which lies a broadly smiling Jack-O'-Lantern. The friendly pumpkin props up a blackboard with a list of helpful Halloween safety tidbits. Each is 12 inches wide by 15 inches high and has a 3 inch gusset for packing in the maximum amount of candy possible. Made from 100% recyclable plastic, these bags a green choice despite their yellow color. Imprint your logo in black on the 8 inch wide by 3 inch high imprint area for a holiday promotion to remember!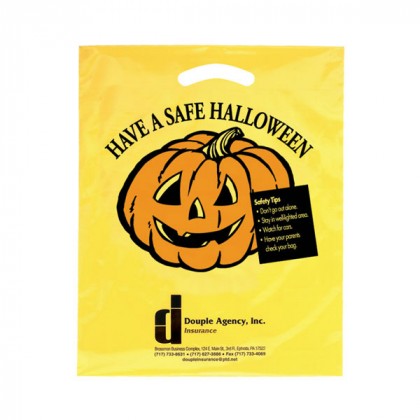 9. Pumpkins Paper Shopper | Earth-Friendly Promotional Halloween Bags
For a change of pace that doesn't break the eco-friendly premise, we'll talk a little bit about the Pumpkins Paper Shopper Totes. These company logo paper Halloween bags are made from renewable materials and are plenty strong enough to handle a heavy load of candy. Sturdy built-in handles extend from the top of body of bag, each of which is orange on the exterior and tan on the interior. The front is decorated with an image of two black Jack-O'-Lanterns wearing big hats and big smiles. They sit between the words "Happy" and "Halloween", sandwiched vertically. Storage space abounds, as the size dimensions are 8 inches wide by 10½ inches high by 4¾ inches deep. A one color logo design can be added just beneath the Jack-O'-Lanterns in a 5 inch wide by 2 inch high decoration area.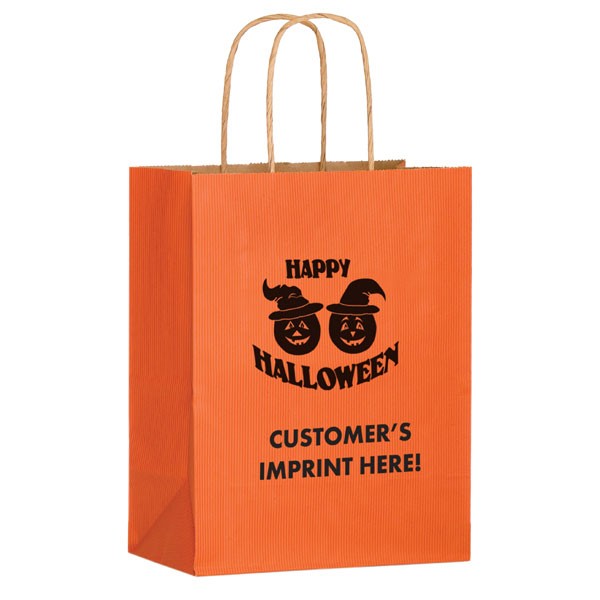 10. PartyTime Pumpkin Drawstring Backpack | Imprinted Drawstring Halloween Bags
Last on the list (but by no means least) are our PartyTime Pumpkin Drawstring Backpacks. These promotional reflective drawstring Halloween bags are orange in color and feature Jack-O'-Lantern designs printed in reflective ink. Each ships sans shipping fees, saving your business money while also saving the environment from waste. This is due to the fact that they are sturdy and reusable and can be used for many Halloweens and other excursions in between. They're constructed from 210D polyester and have comfortable, soft, adjustable shoulder straps made from nylon. The nylon shoulder straps can also operate as draw cords for keeping the bags tightly shut. They're reinforced with grommets for an extra measure of stability. These festive branded Halloween totes are 17 inches wide by 14½ inches high, while the imprint area is 7½ inches wide by 6 inches high. For an upgrade fee, multiple colors can be added to your logo design. Full color imprinting is an available upgrade option with orders of 250 units or more.
Ten Tips to Make Halloween 2020 Healthy, Happy, and Safe for Everyone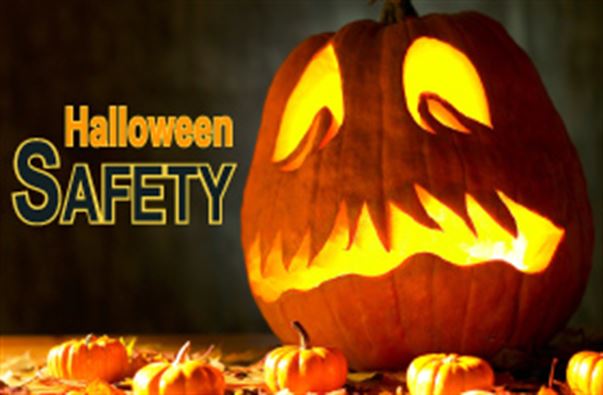 1. Be sure trick-or-treaters and the adults who accompany them wear their masks
No, we're not just talking about Halloween masks. Until the COVID situation is fully under control and (finally) a thing of the past, it's best to always wear a face mask while venturing out into public when contact with others is expected.
2. Talk safety with the kids
Many of the Halloween bags we've mentioned in this article contain safety tips. It's a great idea for parents, teachers, and any other available adults to read these to the children in their lives. Of course, there are some tips that won't be covered on every bag. Be sure to issue all the safety warnings you can think of, as one can never be too careful.
3. Having Halloween at home
If you happen to live in an area where trick-or-treating is not being permitted in 2020, it doesn't have to be a total loss. There are plenty of ways to have a fun Halloween at home. Hiding candy and other treats around the house and yard before the kids get home is a creative and rewarding way to make sure they still get their Halloween fun. Best of all, parents can be sure that the candy is safe, as they'll be supplying it themselves. Just be certain not to leave candy and wrappers out in places where animals can eat them and potentially become ill from the sweets or injured by the wrappers.
4. Ensure all trick-or-treaters are visible
A great way of achieving this end is to have all in-charge adults carry flashlights or lanterns when escorting their trick-or-treating entourage. Another handy device for maintaining visibility is reflective material, found on many costumes, jackets, and even on several of the Halloween bags we sell.
5. Make sure kids have an adult escort
Older candy seekers may grouse a bit, but they'll thank their parents later on for helping to keep them safe in such uncertain times. Though many neighborhoods are perfectly safe with nothing to worry about in terms of violence or other threats, it never hurts to add an ounce of prevention.
6. Costumes that extend below ankle-level are a NO
No children should wear costumes that reach below the ankle. This is because it prevents a tripping hazard. This can be dangerous when walking on hard, paved surfaces and even when traversing across lawns. Plus, if the costumes don't hang to or near the ground, the risk of others accidentally stepping on and ripping them can be wiped out.
7. Check all candy before consumption
Kids who go out to trick-or-treat always hate this one, but it's better they wait a few minutes to dive into their haul so an adult can check their treats for potential hazards. Again, in the vast majority of cases, there will be nothing to worry about. However, we're still going with the theme of "better safe than sorry".
8. Don't travel to unfamiliar neighborhoods for candy
It's best to stay close to home, receiving treats only from people known well to the family. In addition to avoiding stranger danger, enforcing this policy helps to keep trick-or-treaters from getting lost or from walking into high-traffic areas with fast-moving vehicles.
9. Keep out of the road when possible
Sidewalks, crosswalks, brick paths, and grassy areas are your friend. Avoid motor vehicle traffic, particularly in areas where drivers may have trouble seeing pedestrians in the dark. When there's a safe and legal alternative to the road, those traveling on foot should take it, regardless of age.
10. Make sure costumes allow their inhabitants to see clearly
Costume masks with small or no eye holes can be a true danger. Trick-or-treating rarely happens without some degree of noise, so it's easy for a child who can't see clearly to not notice oncoming traffic, be it cars, bikes, or other gallovanting kids on a sugar high. As important as it is for kids to be visible, it's also crucial for other people and objects to be visible to them.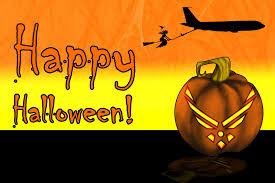 That set of safety pointers puts a lid on the 4AllPromos guide to the ten best custom imprinted eco-friendly bags for Halloween 2020. We hope that however you and your loved ones end up celebrating Halloween this year, you have tons of fun, stay safe, and make great memories. In the meantime, you can always contact us with any questions about our branded Halloween bags or any other of our high quality promotional products!