19 Best Promotional Basketball Products for the 2018-19 Season
With the NBA draft now two months in the past and the pre-season coming up soon, the need for promotional basketball products will soon be in full swing. Basketball teams at the professional, semi-professional, college, high school, and camp levels will all want to look & perform their best while on the court. Additionally, fans will want to have the best customized promo products with which to cheer on their favorite teams. By having your school, team, or business logo imprinted on our wholesale basketball giveaway items & awards, you can spread awareness and fandom to new heights. With that said, we'll now begin sharing with you our 19 best promotional basketball items for the 2018-19 season.
We're going to break down our customized basketball team spirit items by category. This will make it all the easier for you to navigate directly to the products your team, school, or company needs most. Whether it be basketballs printed with your business logo, bulk basketball accessory items, personalized awards for basketball teams, company branded basketball apparel or the top basketball promotional giveaway items, you'll find just what you need right here at 4AllPromos.
Whether you're looking to get basketballs printed with your school logo, team logo, or basketball camp design, we're sure to have the style that best fits your needs. We offer several different types of custom printed basketballs, three of which we'll share with you in the following paragraphs.
Custom Logo Printed Regulation Size Basketball
Our promotional regulation size basketballs are, as their names would imply, regulation size. This means they're suited for competition at all levels, from elementary school clinics all the way through the pros. Each one is 10 inches in diameter and ships flat. However, for an extra charge, they can ship pre-inflated, which can save valuable time. These customizable basketballs have the typical orange and black color scheme, presenting an imprint area measuring 4 inches wide by 2¼ inches high. A single color and location imprint design comes standard for the price listed on this item's product page. Contact us if you're interested in learning about further personalization options.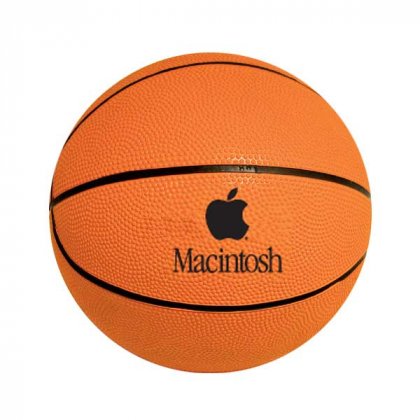 Promotional 7 Inch Mini Basketball
At a diameter of only 7 inches, these personalized mini basketballs make excellent promotional giveaway items for a variety of businesses, organizations, and situations. You can hand them out at trade shows for the athletic or educational industries, offer them as carnival game prizes, tie them in with basketball promotions at restaurants and department stores, or offer them as gifts for top-performing students in gym classes. Like the regulation size basketballs described in the previous paragraph, these have the regular orange and black design and ship flat, but can ship inflated for an extra fee. Their imprint area spans 2½ inches wide by 1¾ inches high.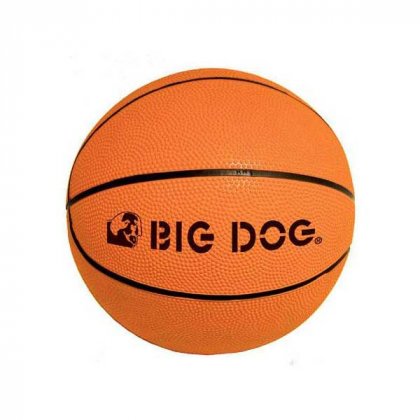 Wholesale Red, White, and Blue Basketball
With a throwback look reminiscent of the classic ABA or the balls used by the Harlem Globetrotters, our wholesale red, white, and blue basketballs are some of our most popular promotional items for schools & sports teams. These are regulation size basketballs, so they're good for use at any level of competition. Does your business have a team in a local recreational basketball league? If so, these promo products are some of the perfect tools for practice. They also do quite well as giveaway items for national holidays & patriotic events. Each has a diameter of 10 inches and an imprint area that is 4 inches wide by 2¼ inches high. As is the case with the two other basketballs, these models ship flat by default, but can be sent inflated for an added charge.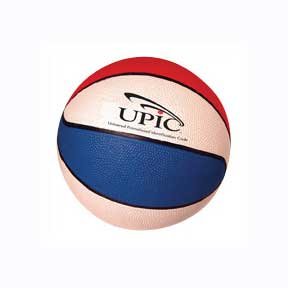 One of the great things about promotional sports products is their versatility. Any team, school, or business can get creative and spread awareness, support, and customer loyalty by way of appealing to sports fans with a virtually limitless field of promotional product options. In this section, we'll share with you some of our most popular promotional basketball accessories.
Custom Basketball Tote Bag
Whether taking jerseys, water bottles, shoes, and other supplies to basketball games or toting books around campus or to and from school, these personalized basketball tote bags can do it all. Promote your basketball camp, basketball team, school, or business by offering these fun promotional products that users will tote around wherever they go, creating tons of advertising impressions to an enormous audience. These are eco-friendly promotional items, as they're made from 80 GSM recycled non-woven polypropylene. In addition to their fun sporty style and Earth-friendly construction, our bulk basketball tote bags are highly durable, resistant to spills, tears, and environmental waste. Each tote bag has a pair of 28 inch handles and a basketball stock art design on the front. At 19 inches in diameter and 6 inches in thickness, they have plenty of size to accommodate users' personal items. They also offer a generous imprint area of 7 inches in width by 7 inches in height. A one color logo imprint comes standard, but for an upgrade fee, full color logo designs are also accessible.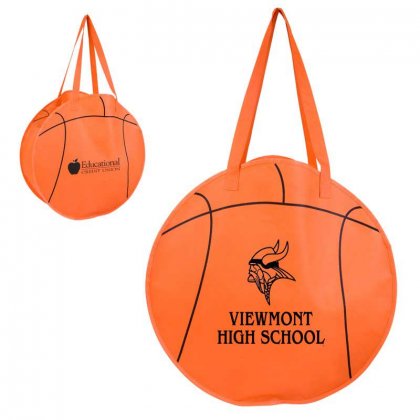 Custom Logo Imprinted Basketball Morph Sac
If you're unfamiliar with the concept of a morph sac, we'll quickly explain it to you. A morph sac is a backpack or tote bag that, when empty, can be folded up into itself and zipped into its own self-contained compartment to take on a different shape. This is the case with our high quality yet cheap promotional basketball morph sacs. These customized basketball promotional tote bags ship for free and feature a black and oragne color scheme with a drawstring closure. Each has a height and width of 15 inches when full, along with an imprint area of 9 inches wide by two inches high. The basketball on the front of these bulk drawstring backpacks can be opened via its drawcord. Once this has been done, the rest of the empty tote can be folded up and crammed inside of the basketball, which is then pulled safely shut by a drawcord. Even when in this state, the advertising exposure doesn't stop, as the basketball section offers its own 3 inch wide by 3 inch high imprint area.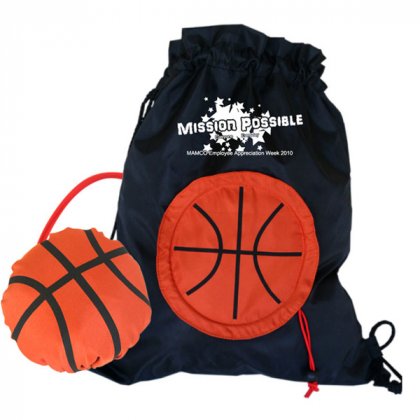 Hydro Pouch 24 oz Basketball Shaped Collapsible Water Bottle
Everyone knows how important it is to stay hydrated, especially when expending a lot of physical energy and losing internal hydration by way of sweat. Our HydroPouch promotional 24 oz basketball shaped collapsible water bottles offer plenty of room for cool, refreshing water or sports drinks to keep athletes safely hydrated and performing at their best. They work quite well as giveaway items at sporting events, trade show giveaway items, or as promotional products for schools, basketball skills clinics, or sporting goods stores. Each ships for free and has a black and orange basketball stock art design with a white spout. A carabiner clip is attached so that it can be clipped to other items for easy storage, or for smaller items to be clipped to the water bottle for safekeeping.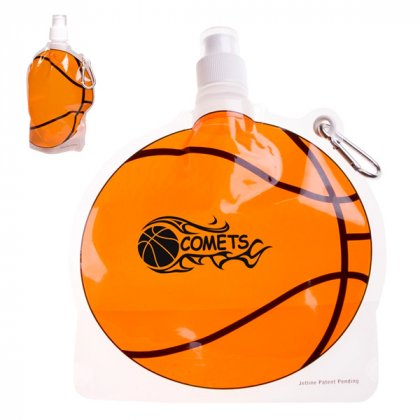 Our personalized collapsible water bottles are made of BPA free nylon with a PC laminate for a glossy exterior and food safe drinking vessel. Designed to store cold liquids, these models are freezer safe and are best cleaned by way of hand washing. When flat, their dimensions are 7½ inches wide by 9¼ inches wide. When full, they expand to 6 inches wide by 9 inches high by 3½ inches deep. A single color & location business logo imprint design is included, though for an upgrade charge, multiple colors can be added to your design.
Hot & Cold Basketball Gel Pack
Some degree of occasional discomfort is virtually guaranteed to eventually happen with any sport. When hoopsters are beleaguered with post-competition muscle cramps (or when sitting on the bench with said cramps during the game), they can turn to these hot & cold gel packs for comfort and will have your organization to thank when they do so. These cheap reusable custom logo printed basketball shaped gel packs are constructed from PVC and make use of hot and cold Aqua Bead gel therapy. Basketball stock art designs appear with your 1½ inch wide by 1⅛ inch high logo design on one side. On the other side, you'll find a helpful list of instructions for use. These orange and black wholesale gel packs are non-toxic and latex-free, as well as being refrigerator and freezer safe. They're an easily manageable size at 4½ inches in diameter and 1/2 of an inch deep.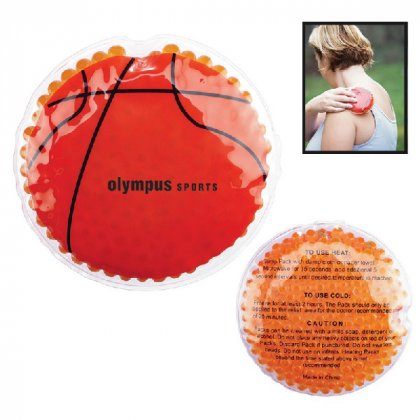 Basketball Stress Toy
Stress toys are one of those things that can be of use to nearly anyone in any situation. Coaches and players along the sidelines can grip these custom printed basketball stress balls during tense moments in game action, as can office employees dealing with mountains of paperwork or teachers handling a rowdy classroom. They're fun, cheap, and memorable trade show giveaway items and can also be handed out as awards at basketball camps or as prizes for winners of carnival & fair games. They can also make great souvenir items for people attending memorable basketball games or Hall of Fame ceremonies. At 2½ inches in diameter with an imprint area of 1½ inches in diameter, these handy, small, and effective-yet-cheap promotional basketball stress toys are made from closed cell polyurethane foam and come in a broad spectrum of colors. One logo imprint color comes standard, but for an upgrade fee, you may opt to include a second.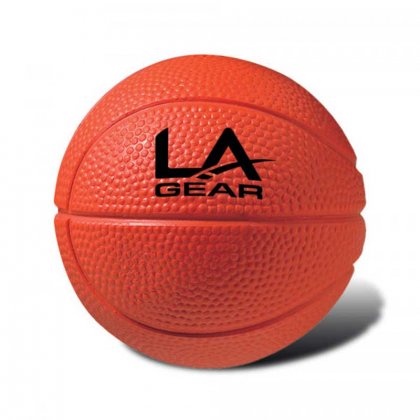 Every basketball team wants to blaze a trail toward victory and look great while doing it. That's where our promotional basketball apparel items come into the picture. Take a look at some of the athletic clothing supplies we offer and find which (if not all) of our customizable basketball appparel items are the best fit for your promotional needs.
All American Long Basketball Shorts
With long shorts having been established as the law of the land in basketball for well over 20 years, it logically follows that this is the style that most teams are going to want to wear. Our All American Long Basketball Shorts, as their name implies, offer just this uniform feature for players of all ages and sizes. Perfect for use in practice, in game action, or just when lounging around at home, these personalized basketball shorts with logo imprints are a consistent top-seller.
Designed for maximum comfort, these customizable athletic shorts are made from 100% nylon mesh for a lightweight and breathable feel. Each has a ten inch inseam and drawstring for achieving a perfect fit. They're available in sizes small throgh extra large at the default price, with double and triple large being available for a slightly higher price per unit. A one color logo imprint design appears on the left leg of these shorts, with multiple colors being available in larger order sizes. Made in the USA and available in 13 different colors, these shorts are certain to be a great buy for your school, team, or basketball camp.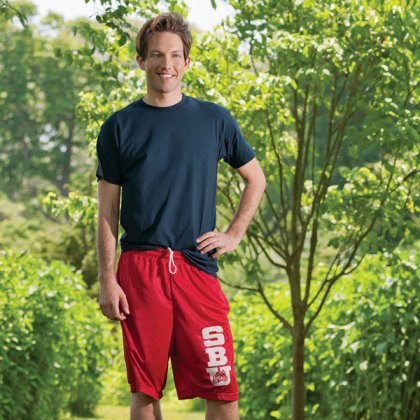 Port & Company Tagless Basketball T-Shirt
When working out in practice sessions, a comfortable and breathable t-shirt is a valuable asset. Of course, such a shirt can be worn outside in every day situations as well. Our Port & Company lightweight 5.4 oz custom tagless t-shirts are perfect for any basketball team or school gym uniform. The tagless feature makes these shirts extra comfortable, avoiding the itchiness that tags can sometimes cause to happen. Sizes small through XL come for the listed price, with XXL and larger being available for an added charge. You can choose to have your customized logo imprint design appear on the center chest, left chest, sleeve, or back of the shirt. A single color & location screen printed logo design is the default decoration, but for an upgrade fee, multiple imprint colors and locations can be added. 46 different color combinations are available, so you'll be certain to find one that's a perfect fit fr your school/team colors.
Sport-Tek Colorblock Wind Shirt - Basketball Warm-Up
When you really want you team to look professional and give them the added boost that comfort and style can bring to team morale, there are few better investments to make than with our wholesale customized basketball warm up shirts. The Sport-Tek Colorblock Windshirt is weather safe and water-repellent, so it'll hold up well during pre-game drills and will also be something team members will want to wear around town when off the court as well. They're available in solid colors or in your choice of contrasting accent colors. In either case, accent piping is present as is polyester mesh lining and a left-side seam zipper for easy removal when it's time for a reserve to shuck his or her warm up and check into the game. Choose a left chest  imprint area of 4 inches wide by 4 inches high or a design on the back in an area measuring 12 inches wide by 12 inches high. They're available in many different sizes, but pricing may change when ordering the largest sizes. Please call us or send us an email for more details.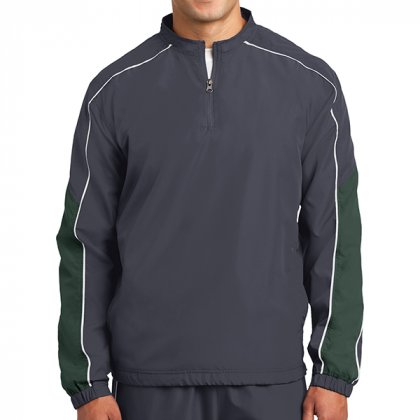 When a team wins a championship or the time rolls around for the annual awards dinner to recognize the top performers, you'll want to be able to provide something that's truly special. You can do just that when you order personalized basketball awards from 4AllPromos. Many are available at low minimum order prices, allowing you to customize each one for an award befitting of the skill and effort put forth to earn it.
Engraved Bronze Basketball Dog Tag
Looking for low minimum order custom laser engraved sports awards? Our basketball dog tags fit the bill perfectly. Each is engraved with a three dimensional design consisting of a basketball above a backboard, hoop, and net on the front side. On the back side, you can engrave your team, school, or business logo and/or a special name or message for each recipient. These are ideal for when a team wins a championship and you want to provide something special for each and every member of the team. With minimum order requirements as low as 6, this becomes an easy task to pull off. These bronze basketball dog tag awards come with a 30 inch bead chain for wearing and carrying purposes and are 2 inches long by 1⅛ inches wide. Each has an engraving area that is 1 13/32 inches wide by 27/32 of an inch high.
Basketball Set
Our basketball set is a fun and unique personalized basketball award item that can provide entertainment and recognition to users of all ages. They can be handed out as awards for basketball teams, as trade show giveaway items, or as incentive gifts for students who go above and beyond in selling items on behalf of their schools/scout organizations to finance trips & operations. Whether perched atop a trash can or affixed to a bedroom door, these miniature basketball hoops can provide an amusing distraction to break up the tedium of the daily grind. Each one features a white backboard with suction cups for secure attachment, a clip to hold up a plastic rim and net, and a miniature orange basketball that ships pre-inflated. Assembly is quick and easy. When put together, our basketball set is 8 inches wide by 11½ inches high, including the net. A one color logo design imprint of 4 inches in width by 2½ inches in height is included on the backboard. For an upgrade fee, PMS color matching is an available option.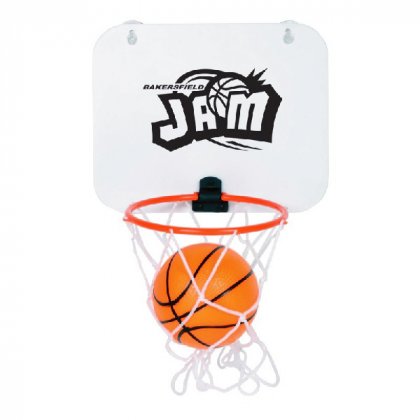 Now that we've covered basketball apparel, accessories, awards, and the basketballs themselves, it's time to get into our prime selection of custom basketball giveaway items. Whether handed out as trade show giveaway products, handed out for promotion events at stadiums and arenas, or sold as stand-alone items to basketball lovers in any number and variety o fretail locations, our wholesale basketball givevaways never fail to please and impresss. 
Basketball Bottle Opener
What good would a tailgating party be if nobody could open up some cool, refreshing beverages to celebrate with? It would be a pretty big letdown, that's for sure. Our custom logo printed basketball bottle openers are sure to be a hit while tailgating, taking in a game at the bar, or entertaining friends at home. Made from ABS plastic and shaped like a basketball, these sturdy wholesale bottle openers feature a stainless steel insert for popping off stubborn caps. Basketball stock art adorns each side, with the back side including a magnet for attachment to refrigerators, file cabinets, knife racks, and any other convenient magnetic surface in one's general vicinity. At a manageable size of 2¾ incnes in diameter and one-sixth of an inch thick, these custom bar tools are small enough to be taken nealy anywhere and make perfect trade show giveaway premiums. A single color & sided logo imprint comes with the listed price, though double sided imprints and multiple logo design colors are available for an upgrade charge.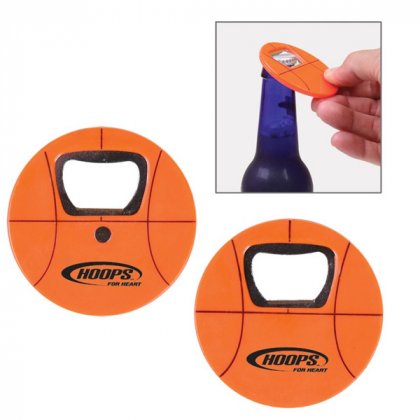 Basketball Jersey Stadium Cushion
Bleachers aren't always the most comfortable place to occupy for an extended period of time. That's why when a game runs long, fans will want an item that can make their viewing experience more pleasurable. With this notion in mind, we introduce to you our customized basketball jersey shaped stadium cushions. Made from soft foam and available in a grand array of colors, these promotional stadium cushions will provide comfort to fans while helping to avoid back and leg pain. Their uniuqe basketball jersey shape isn't the only the feature that makes these stadium cushions stand out from the rest. They're actually a 3-in-1 promotional product. As already mentioned, there's the stadium cushion. In addition to this, you can punch out portion just below the top to create a personalized logo imprinted key tag (the chain is included, but packaged separately.) Once the keychain portion has been removed, the empty space can be used both as a carrying handle and as a hand grip exercise device. 
in terms of size, these unique promotional basketball stadium cushions are 13½ inches wide by 12 inches high by 3/4 of an inch thick. Their imprint area is a generous 9 inches in width by 8 inches in height. A single color imprint comes standard, though you can further personalize these fun sports promotional giveaway items for an upgrade fee. Give us a call or an email to learn more about your options.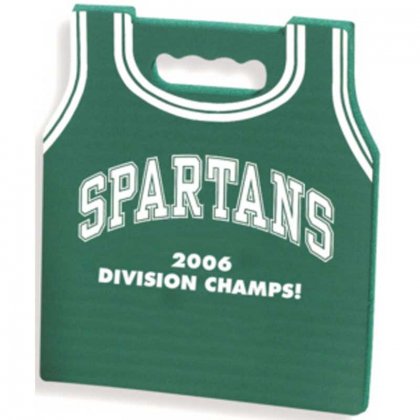 Basketball Jersey Shaped Rally Towel
When the action really starts to heat up and fans want to cheer on the home team while intimidating the visitor, few promotional items are a better fit than our wholeale basketball jersey rally towels. Shipping 100% free of charge, these custom imprinted rally towels are perfect for twirling around in the air when the opposing team is taking free throw shots during cruch time or when one of the stars of the home team pulls of an especially impressive shot or defensive play. They make fun commemorative giveaway items for basketball games and are the perfect shape and size for shooting to the crowd out of t-shirt cannons. Each of these unique personalized rally towels is 17 inches wide by 18 inches high, with a fully customizable surface area for you to design with your team colors, logos, and favorite player numbers.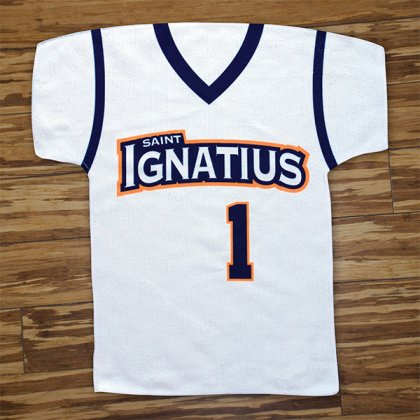 Basketball Hoop Hitch Cover
Whether tailgating at home or arriving in a fan convoy to a road game, our bulk basketball trailer hitch covers are fun and unique promotional team spirit products. They make perfect promotional product for car dealerships, U-Haul rental facilities, college book stores, sports shops & more. Each is formed into a basketball backboard and hoop design and is designed to fit 2 inch receivers. While the unit is made of black ABS plastic, the surface is customizable to design with your logo imprint or team motto on top of the backboard in a 4¾ inch wide by 4⅝ inch imprint area. Made in the USA, these unique promotional trailer hitch covers are 5 inches wide by 4⅞ inches high.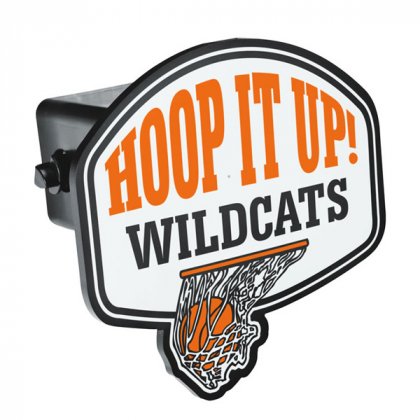 Basketball Car Magnet
Another vehicle-centric basketball promotional giveaway item we carry is our custom basketball car magnet. Each of these promotional sports car magnets is made of extra durable magnetic vinyl and is shaped like a basketball with an accompanying orange and white stock art background. These magnets are quite flexible and have a diameter of 5¾ inches. Their imprint area covers the full surface, as these are fully customizable car magnets. They can be decorated with a team logo along with a schedule, or nearly anything else that you'd like to include in the space. A one color imprint is the default setting, though for an upgrade fee, full color logo designs can be accesssed. These fun basketball giveaway items allow fans to show their team pride on the road while displaying your team, school, or business logo to everyone out on the open road.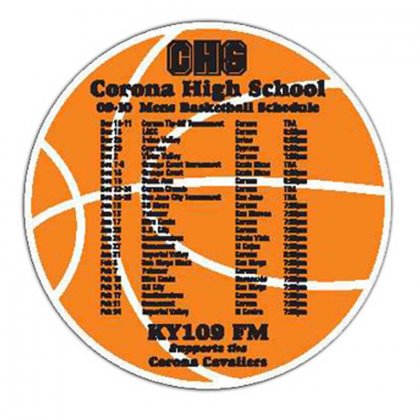 Basketball Money Bank
The last promotional basketball giveaway items we'll discuss today are our promotional basketball coin banks. Each features a round orange and black basketball shaped sphere containing a slotted top for inserting coins & bills and a removable bottom plug for making withdrawals. They make great promotional giveaway items for banks, schools, basketball camps, and sporting event giveaways. They provide a fun way for children to learn about the importance of money management skills while also providing fond memories of cherished fun with family and friends at ballgames. Adults can enjoy these unique custom money banks as well. Their flat bases make them easy to place atop desks, counters, and tables, providing a nifty vessel for company coffee funds and rainy day emergency cash. Each is pad printed with your personalized logo design in one color (two colors for an upgrade fee) in an imprint area with a diameter of one inch. The banks as a whole are 3 inches wide by 3½ inches high by 3 inches deep.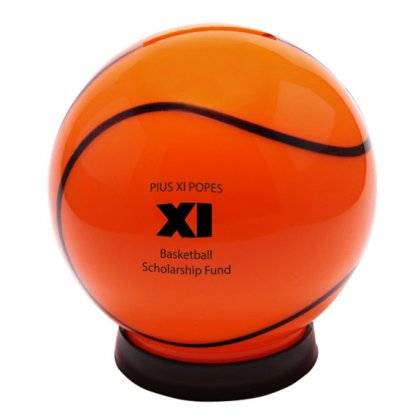 That's a wrap for our picks for the 19 best promotional basketball products & unique custom basketball giveaway items for the 2018-2019 basketball season. We hope we've inspired you to invest in whichever one of these items that will best hit all of your company branding shots this fall and winter. Are you curious to know more about which basketall products we offer or want to see which promotional items we offer for other sports? For the former, send us a comment or email, and for the latter, you can refer to your promotional football products and customized baseball products articles.