Promotions are Easy as ABC with Our Custom Back-to-School Products!
Scott Kalapos on Jun 10, 2021
For most students and faculty members, summer vacation is either about to start or just getting underway. Therefore, it might seem a bit early to start talking about back-to-school products. However, your school or business will want to get a head start on the competition by rounding up all of the best customized school supplies and other promotional academic resources for the 2021-22 school year ahead of time. That's why there's no time like the present to view the 4AllPromos guide to the best promotional back-to-school items for 2021.
Custom Pencils with School & Business Logos
Let's start things off with a discussion about some branded writing supplies. Specifically, we'd like to mention a few of the promotional pencils we carry that have the potential to be the stars of your promotional arsenal by the time school is back in session. Few things are more a traditional part of the school scene than a good, old-fashioned, #2 yellow pencil. We offer many of these, but also carry some more innovative items. At 4AllPromos, you'll also find custom mechanical pencils in many varieties, some of which contain retractable erasers for extended longevity. Kids will have fun learning to write and honing existing writing skills when making use of our logo printed color changing pencils.
Wholesale Crayons & Crayon Packs for Schools
Elementary schools, art supply stores, restaurants, and any establishment with a waiting room will want to get their hands on some of our company logo imprinted crayons. Items such as our promotional 6 pack crayon boxes make perfect giveaway items at trade shows or for students to receive on the first day of school. Our custom jumbo crayons are helpful for younger hands to grip and can also be a very helpful implement when working with occupational therapy patients. If your company is looking for some high end custom crayons for more advanced art projects, we suggest taking a look at our branded twist crayons. Twist crayons can be retracted inside of a plastic housing when not in use for safekeeping.
Custom Pens
At 4AllPromos, you'll find a vast assortment of custom pens for promoting your school, business, or charitable organization. Our offerings run the gamut from cheap promotional pens in bulk to more elegant, refined offerings. A perfect example of the latter would be our engraved personalized pen sets. While students will use our ballpoint and gel ink pens for all kinds of projects and applications, sometimes a pen that offers a little something more is the one that will get the best results for your business. Consider our company logo stylus pens. These pens offer a way to write on paper as well as an implement for typing on touch screens. Some, such as the Mop Topper™ stylus pen pictured below, also have screen cleaners for keeping phone and tablet screens clear and easy to read.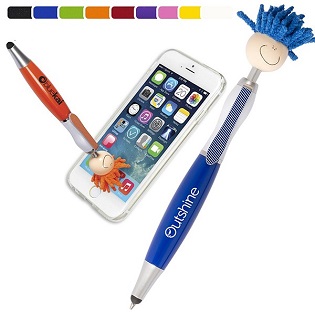 Logo Imprinted Highlighters for Studying
Our promotional highlighters are extremely useful items when students or professionals of any age need to focus on key elements within an article or textbook. You'll find many different styles of customizable highlighters on our site, including handy bulk erasable highlighters. Unlike most versions, these are markers that can be erased, getting rid of mistakes instead of allowing them to remain and be a source of confusion. We also carry promotional highlighter and ink pen combos, which offer two promotional products in one unit. If your company wants to provide something unique for its audience to remember it by, consider investing in our uniquely shaped personalized novelty highlighters. The Triangle Highlighter displayed at the end of this paragraph has a fun shape while housing three different colored marker tips.
School Rulers in Bulk
Promotional rulers have been a long-standing tradition when it comes to items selected to bear the names and contact information of schools and businesses. They're handy both as measurement tools as well as when employed as a straightedge for drawing precise lines. Schools and businesses alike will find our custom English and metric rulers to be popular giveaway items. They're useful for measuring in different systems as well as for helping students to learn about units of measure used in other countries. Our promotional magnet rulers can be placed on the sides of desks or file cabinets for easy location when not in use. These 2-in-1 promotional products often allow for extra customization, enabling your company to create a logo design that will stand out and be noticed. Also available are smaller wholesale 6 inch rulers. These are the perfect size for inclusion in school supply kits or as bonus items in portfolios, binders, journals, and notebooks.
Promotional Calculators for the Classroom
Another great category of custom back-to-school items can be found in the form of our branded calculators. From elementary school through universities offering doctoral degree programs, every educational institution needs calculators. Schools, campus bookstores, office supply stores, department stores, technology retailers, and many other businesses and organizations can build awareness and loyalty with our eco-friendly custom solar calculators. If your school or business wishes to make math classes a bit more exciting, our promotional flip calculators are a great way to go. These items offer a protective cover that goes over the calculator display screen when not in use. When it's time to crunch some numbers, users can simply flip up the cover and get down to business. When a more advanced calculator is needed, our company logo imprinted scientific calculators are here to answer the call. These products can be used in math, science, and business classes to perform complex functions. The scientific calculator pictured below even includes an LCD clock display!
Custom Self-Stick Note Pads & Cubes
Our promotional sticky notes are useful for all kinds of exercises in the classroom, in the office, and around the house. Some of our most popular items within this category fall under the umbrella of wholesale self-stick note pads. These items offer many note pads which can be used to take down numbers and names, record homework assignments, mark places in books, and more. They're available in a broad range of shapes, sizes, and colors. The same can be said of our company logo imprinted note cubes. These products come in both adhesive and non-adhesive styles, in some cases offering several hundred sheets in a single unit. Another can't-miss promotional product group in this same family is our collection of personalized sticky note flags & sticky flag books. They can be used as bookmarks, subject dividers, speech aids, display labels, and much more.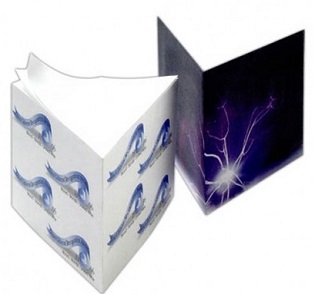 Promotional Dry Erase Boards for Schools
Our company logo dry erase boards make great promotional products for any classroom. Large promotional dry erase boards can serve as handy teaching aids. Teachers can use them to write down homework assignments, daily schedules, important dates, key points in lessons, math problems, and anything else they need students to clearly see. Their surfaces are easy to wipe clean, eliminating the unpleasant dust that can arise from the use of chalk. In order to write on our dry erase boards, custom dry erase markers and/or wholesale wet erase markers are needed. Marks from dry erase pens can quickly be wiped off of boards, while wet erase markers require a bit of spray or a wet cloth to have their writing removed. Though dry erase markers are faster to clean up after, wet erase markers tend to bleed and smudge less.
Personalized Ring Binders with Logos
Office supply stores, bookstores, school co-ops, and any other business or organization catering to the academic crowd will want their name imprinted on our promotional ring binders. These are promotional back-to-school products that will get the year started off on the right foot, as they help students to remain organized while pursuing their academic goals. We offer many different sizes, with large 3" custom ring binders and mid-sized 11/2" imprinted binders being just two examples. If your company wants to provide a product that adds a measure of extra safety, we suggest looking into our branded zippered ring portfolio binders. These provide a zippered closure to prevent any items from slipping out, while also offering a writing pad, pen loop, and organization pockets.
Company Logo Imprinted School Supply Kits
The last group of items we'll present in this guide are our promotional school supply kits. These custom gift sets include many different elements to help prepare students for success in the classroom. At 4AllPromos, you'll find custom school supply kits with pencil sharpeners, branded pencil cases with crayons, and much more. We even have elaborate promotional stationery kits for students who engage in a great deal of writing and wish to keep it all organized. Any of these items will do a great job of showing your logo off both inside and outside of the classroom.
Buy the Best Promotional School Supplies in Bulk at 4AllPromos
To sum things up, if you're looking for the best custom school supplies with your logo, there's no better place to turn than 4AllPromos. All of the above items will work very well for promoting your school, office supply store, educational organization, bookstore, or most any other company looking to reach teachers and families. If you have any questions about any of the items we've presented, we encourage you to contact us at your convenience. We wish the best of luck in the coming school year to all teachers, administrators, students, parents, and the companies that serve them!