Eight Great Giveaways for Coronavirus Vaccination Centers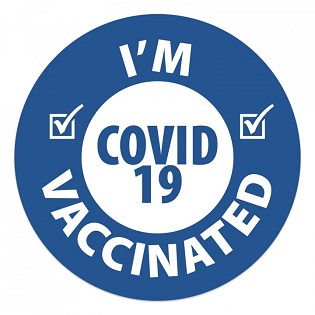 Now that COVID-19 (Coronavirus) vaccination is becoming available in a widespread nature, there are many locations popping up around the country to perform the service. Since millions will be attending these clinics, hospitals, and other locations, there's a big opportunity for your vaccination center to spread some brand awareness. Alternatively, your organization may just want to spread the word about continued COVID-19 safety and vigilance in general. Either way, 4AllPromos has you covered. In this post, we'll share 8 of out best custom COVID vaccine awareness items and giveaways.
1. Promotional COVID-19 Vaccine T-Shirts
Whether worn by workers and volunteers or handed out as giveaways to those who are vaccinated, our custom Coronavirus vaccine t-shirts are a great way to build awareness. Of course, we're talking about awareness of your brand, awareness of vaccine availability, and awareness of the precautions we still need to take. Our Peace Love & a Vaccine t-shirts are a great way for doing this. Each one is imprinted with the above mantra, as well as your company logo. Only 12 are required to make an order, so they can be purchased for workers to wear or as giveaways to those who you vaccinate. These shirts are available in sizes Small through 3XL, with 2XL and 3XL having a slightly higher cost. They come in many colors and are made from 5.3 oz cotton and preshrunk jersey knit fabric. A tapered neck and shoulder area, along with double needle stitching on the hem, sleeve ends, and collar make for a durable and comfortable t-shirt that will be worn with pride for years to come.
2. Custom Healthcare Worker Appreciation T-Shirts
Promotional healthcare worker appreciation apparel items are growing in popularity. Obviously, there are some very good reasons for this. Essential healthcare professionals have been on the front lines wethering the Coronavirus storm and continue to be there for us as we seek their protection via the new vaccine. You can show your staff (or allow your patients to do so) by way of investing in our Superheroes Wear Scrubs t-shirts. Available in 13 different colors, these t-shirts feature the same sizes and knit styles as the Peace, Love & a Vaccine shirts described above. One notable difference is that the fabric composition changes if you order Safety Green or Dark Heather models. With these, the makeup is a 50/50 blend of cotton and polyester jersey material. Below the stock art imprint, visible in the image below, there is a 12 inch wide by 3 inch high area for adding your company or healthcare facility logo design.
3. Wholesale Coronavirus Vaccination Stickers
Many people will feel a mix of relief, reassurance, and pride after receiving their Coronavirus vaccinations. Your facility can help them to literally wear their emotions on their sleeve (or wherever else they choose) by handing out our bulk COVID-19 vaccination stickers as givewaways. Our "I'm Vaccinated" stickers feature a red, blue, or green outer ring with a white inner circle. The words "I'm Vaccinated" appear in white along with two checked boxes inside of the outer circle. The inner while circle reads, "COVID 19" for a full message of, "I'm COVID 19 Vaccinated". These stickers on rolls of 1,000 and are printed on white gloss paper with a permanent adhesive. They can be displayed with pride on all kinds of surfaces, allowing users to let everyone know they've been vaccinated and are doing their part to increase public safety.
4. Custom COVID-19 Vaccine Lapel Pins
Removable signs of COVID vaccination status are another giveaway item that anyone who comes to your facility will appreciate. Picture below is one of our square wholesale Coronavirus Vaccine Lapel Pins. They're a great way to make users feel even better about the treatment you've provided them with, as they can wear these pins around town, at work, at home, and while patronizing businesses. They'll feel better knowing they're safe, as will everyone with whom they cross paths. Each of these pins has a gold border around the words, "I have had my COVID-19 (Coronavirus) Vaccine." They're held strongly in place via a military clasp in the back. They're also ideal items for essential workers to wear, especially those who are giving out the vaccine. If you prefer a round shape, we have additional COVID-19 vaccine pins for you to view.
5. Promotional COVID-19 Related Bumper Stickers
Medical facilities, vaccination centers, and any other organization wishing to spread the word about fighting Coronavirus will love our wholesale COVID-19 awareness bumper stickers. Each one has a white background and contains a simple yet profound message. This message reads "United Against COVID-19". The font is bold navy blue and in all capital letters. The O in "COVID" is cleverly made up of a red and blue Coronavirus cell. They're affordable and quickly available, having a production time of just one day. Made from vinyl that is tough enough to withstand outdoor conditions, these bulk bumper stickers have a removable adhesive backing. They're easy to seal in place and keep in place, but can also be peeled off and affixed elsewhere with ease when needed. Each is 11.5 inches wide by 3 inches high, perfect for visibility out on the open road. Like the rest of the items in this article, they're a handy way of reminding everyone to keep on acting responsibly to prevent the spread of COVID-19.
6. Personalized COVID-19 Vaccination Card Holders
Our custom printed COVID-19 vaccination card holders are items that are going to see a surge in popularity in the very near future. They're already taking off, as more and more people receive their vaccinations and want to be able to prove it whenever necessary. In the coming months, providing proof of vaccination status will become increasingly important when visiting medical facilities, traveling, attending events, and in many other areas. Users will love being able to quickly show that they've been vaccinated any time and in any place. Our cardholders allow them to do just that. Each is made in the USA from Proposition 65 compliant PVC material. Available in your choice of black, red, blue, maroon, or white, these items have transparent card holders on the interior into which users can place their facility or state issued vaccination papers. Meanwhile, your company can imprint its logo on the outside, ensuring a constant stream of advertising impressions in a countless number of settings.
7. Custom Wash Your Hands Coronavirus Clipboards
Hospitals, vaccination centers, office supply stores, schools, and many other businesses and organizations will enjoy reaping the brand awareness benefits that come from investing in promotional COVID-19 awareness materials. One example can be found in our logo imprinted hand washing instruction clipboards. These items consist of affordable yet sturdy plastic clipboards that are decorated on the back with a list of 6 key instructional steps for effective hand washing. They're also accompanied by an image of two hands scrubbing together. Your company logo imprint appears above the stock text and image. All of this appears on the back of the clipboard, as this will provide maximum visibility and will not be covered up by papers. It's a responsible and professional look for hospital, clinic, medical office, and vaccination center employees to present when they come out to call patients. Each is 9 inches wide by 13 inches high and comes in your choice of white, translucent red, or translucent blue. White models are imprinted in black, while colored models are imprinted in white.
8. Promotional Child Immunization Tracker Pocket Pamphlets
The last product we'll touch upon today is one that's useful not just for the COVID-19 vaccine, but for any and all vaccinations. Our promotional child immunization tracker pocket pamphlets are a great way for parents to make sure that their children's healthcare is up to date. They fold up to fit easily inside of pockets, purses, pocketbooks, glove compartments, desk drawers, cabinets, and more. When ready for use, they can be unfolded to expose a vaccination grid, a health information panel, a cover page, and your custom imprinted logo design. These make great giveaway items for hospitals, physician practices, pediatric facilities, nursery schools, pharmacies, daycare centers, and more. Each is imprinted with your full color logo in a space measuring 1.5 inches wide by 2.5 inches high.
4AllPromos is Your #1 Source for the Best COVID-19 Vaccination Giveaways & Promotional Items
Hopefully the 8 products we've shared with you today have inspired some ideas about how to best promote your vaccination center and how to keep health safety on everyone's minds. If you have any questions about the products we've presented, please feel free to contact us for any help that you may require. As always, we're standing by and happy to health. We wish you the best of health and prosperity and we all strive to make the "new normal" a thing of the past!