Build Your Brand with the "Write" Stuff - Top 10 Custom Pen Styles for 2021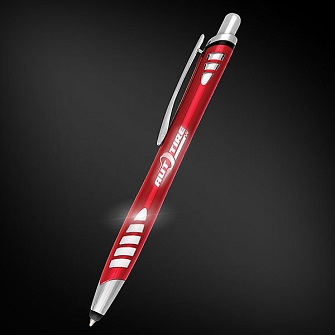 While PPE promotional products are still looming large, custom pens have come roaring back in 2021. In fact, they've reclaimed their spot as the #1 promotional product category in terms of overall online searches. As we embark on our return to normalcy, people are getting out and about more. That means there are more opportunities to create advertising impressions for your brand in a larger variety of settings. Company logo pens are perfect for this, as they're versatile products that see repetitive usage each and every day. Whether someone is writing a check, jotting down a number, tackling some work at the office, writing down an order, or engaging in a myriad of other tasks, a good pen will be needed. Each and every one of these situations presents an opportunity for your company to show off its logo and make an impression on the public. 4AllPromos is where to find all of the best promotional pens on the market. In this post, we'll share the top 10 branded pen categories for promotional success in 2021.
1. Cheap Promotional Pens for Under $1
We'll get things rolling by introducing the first category, which is wholesale affordable pens. It's always better to make bank than to break the bank, and that's just what our cheap custom pens will help your business to do. With every model priced at under a dollar, these are ideal items for bulk giveaways at trade shows and events. Don't let the low price fool you though. Our inexpensive custom pens don't sell anyone short on quality. Whether you choose to buy cheap BIC® pens in bulk or perhaps invest in some affordable eco-friendly promotional pens, your company and its target market will be thoroughly impressed. With over 300 different varieties to choose from, our collection of cheap company logo pens truly has something for everybody. Pictured below are our promotional Javalina pens, which is one of our most consistently popular styles.
2. Wholesale Click Pens with Your Logo
Some promotional items can lead to complicated searches, as may go by many different names. Our custom click pens present one example of this. It's common to see these referred to as click pens, plunger pens, click action pens, push pens, and several other names. This style refers to pens that have a top or side button that can be pressed to both extend and withdraw the tip. They present a quick and efficient way to prevent unwanted markings by keeping the ink supply safely stored away when not in use. In the case of gel pens, this also prevents the ink supply from drying out. We have several different types of click action pens on our site. Pictured below is one of our custom Pilot® gel click pens. If gel pens aren't what your customer base prefers, we also have several promotional ballpoint click pens to explore.
3. Promotional Twist Pens
If you like the way that our click pens manage to prevent accidental ink markings but want something a little more unique, we have you covered. Our custom twist pens offer just what you're looking for. As one might guess from their name, these are pens whose tips can be exposed and withdrawn via a simple twist to the barrel. This style offers a wealth of color, size, and design options. Visible just below this paragraph are some of our promotional bamboo twist pens. They're just one of our many fashionable yet practical options. If that style isn't the best fit for your logo, you may want to consider one of our custom triangular advertising pens or possibly an engraved metal twist pen. At 4AllPromos, the twist pen possibilities are bound only by your imagination.
4. Custom Pull Cap Pens
Yet another ink protection method can be employed with our promotional pull cap pens. A sturdy cap can be put over the tip when not in use and pulled off for easy access when it's time to start writing. These pens run the gamut from discount to deluxe, with the latter offering a more formal look than many twist and click pens. Some models fall into the area of personalized executive pens, while others are more casual in nature. Special niche items can be found as well, such as in the case of our custom fine point pull cap pens, which are great for artwork, charts, and projects needing extra detail & accuracy. The models displayed in the image following this paragraph are our Zentrio triple function pens, which are pull cap pens that also offer a stylus tip and LED flashlight.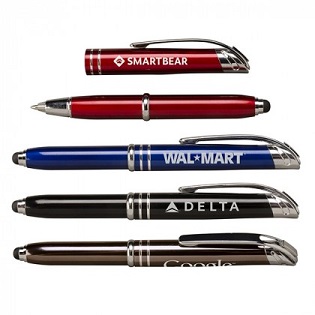 5. Branded Stylus Pens
Our promotional stylus pens are sure to be a hit with any company in the tech industry and the target markets they serve. These are multifunction custom pens, as they can be used to write on paper, but can also type on touchscreens and keypads. Some take the multipurpose element even further, such as the logo imprinted highlighter stylus pens displayed at the end of this paragraph. Our promotional screen cleaner stylus pens are another style with many capabilities. They're appointed with microfiber cleaning cloth strips to be able to keep phone and tablet screens clean, clear, and looking their best. We also carry custom phone stand stylus pens, which include bendable joints. This enables the barrels to serve as cell phone stands when not in use.
6. Company Logo Novelty Pens
Everybody needs a laugh and some amusement every now and then. Our promotional novelty pens help to bring things over to the lighter site of brand awareness generation. These are pens that come in fun custom shapes, often with a specific theme to appeal to certain audiences and/or industries. This can be observed in our Bend-A-Pen Tooth flexible goofy pens. These are great for dentists who wish to convey the importance of proper oral care to young patients. The levity and creativity extend to other areas as well. Orthopedic clinics, paleontology museums, and more will love having their logos imprinted on our wholesale bone shaped pens. Looking to promote an orchard, health center, farm, or juice company? If so, there are few better products to invest in than our custom fruit shape pens. Those are just a few examples of the many entertaining goofy pens we have to offer. If you'd like to view them all, simply click on the very first link in this paragraph.
7. Personalized Cross Pens
Moving from funny to formal, we now arrive at the next custom pen category, which is our collection of promotional Cross pens. These pens make up some of the most premium, high-end offerings in our inventory. Cross is a company with a serious reputation for quality. In business since 1846, A.T. Cross produces some of the finest pens on the planet for some of the most influential figures. Customized Cross Century pens have been the official pen of the White House for many years, beginning with Gerald Ford back in 1977. That's not the only version we have in stock. 4AllPromos also offers personalized engraved chrome Cross pens, which make excellent gifts for graduates, new hires, retirees, and more. While the Chrome models (visible below) are ballpoint pens, there are also many top-of-the-line branded Cross rollerball pens to choose from.
8. Logo Imprinted & Engraved Metal Pens
Not all promotional metal pens are produced by Cross. 4AllPromos offers a broad selection of metal pens from other producers and in other styles as well. There are more than 100 different specimen to select from, so your company can rest assured that it will find the perfect match on our site. Metal pens have a formal, sturdy, and dignified look that make them popular across many industries. Their durable bodies grant them superior longevity and their chic, clean appearance gives them somewhat of a modern, cutting-edge feel. Promotional metal gel pens & metal ballpoint pens are great giveaway and corporate gift ideas for any organization wishing to make an impression rife with quality and class. In addition to the EnerGel Alloy pens that can be viewed below, we also offer several styles of custom engraved metal pens with branding that will stand the test of time. For users with arthritis or those who just enjoy some comfort during long periods of writing, we proudly offer branded comfort grip metal pens.
9. Promotional BIC

®

Pens in Bulk
BIC® is one of the best known names in the world of pens, whether promotional or otherwise. One of the oldest and most respected pen manufacturers in existence, custom BIC pens come in many great styles to suit all tastes and budgets. Affordable BIC Dart pens make great bulk giveaway items for trade shows, seminars, job fairs, and other events. Eco-friendly demographics will appreciate our promotional recycled BIC pens, which make terrific giveaway items for recycling centers, conservation commissions, environmental agencies, and more. At 4AllPromos, you'll also find some unique offerings from BIC, such as imprinted Wide Body message pens, which feature a rotating set of different advertising slogans and personalized messages.
10. Personalized Pen Gift Sets
When your business wants to congratulate someone on a monumental achievement feels like giving some recognition to somebody special, our customized pen gift sets are the way to go. Available for purchase in large and small numbers, the unique personalized gift pen sets you'll find on our site are ideal for creating a promotional package that will never be forgotten. We carry custom pen and pencil kits in gift boxes, as can be seen below. If that's not what your company is seeking, personalized gel and ballpoint pen sets are also among our offerings. If your company markets toward writers or wants to give a gift package that can lead to meaningful reflection and warm memories, there are few better options than one of our imprinted pen & journal gift sets.
4AllPromos is Where to Buy the Best Custom Pens for Giveaways & Promotions
Now that we've covered our top ten custom pen styles for 2021, we hope that some new ideas have been planted for your promotional strategies. If you have any questions about the pens mentioned in this post (or even those that weren't), we're ready and waiting to help. Feel free to contact us at your earliest convenience with any issues you'd like us to address. With that said, 4AllPromos wishes your organization the best of success in your branding efforts in 2021 and beyond!