A Dozen of the Best Promotional Products & Corporate Gifts for Easter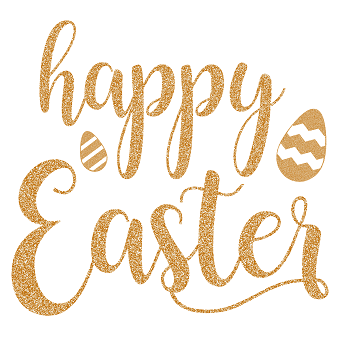 It's hard to believe that we're already far enough along in 2021 that Easter is coming up as a discussion topic, yet here we are. There's no time like the present to jump out to a head start by promoting your brand with Easter products ahead of the competition. 4AllPromos stocks a broad range of customizable items that are perfect for creating countless advertising impressions and growing brand awareness. In this article, we're going to share with you our selections for the 12 best promotional Easter products. These include edible items, fun stuff for kids, team spirit items, personal care products, and more. Your company's journey to a successful spring begins here, so lets get started!
1. Promotional Easter Cookie Pail
Our custom printed Easter cookie pails are fun and festive giveaway items for celebrating the season. Affordable and unique, these products offer a tasty way to build brand awareness around Easter and throughout spring. Presented in a package that looks like a Chinese food takeout container, each unit contains 9 delicious fortune cookies. The cookies come with over 100 different messages. Some are more of a fortune style, while others present jokes and still others offer insightful advice. All of the cookies are individually wrapped and are certified Kosher. A metal carry handle makes them easy to tote around, while a customized vinyl bow decal on the top of the box provides an ideal location for your branding. The colorful, springlike design on the front of the box makes these products appealing for any warm weather month.
2. Personalized 3 lb Chocolate Gift Box
If you wish to provide employees, valued contacts, or especially loyal customers with an indulgent candy cavalcade, there's no better product than our 3 lb promotional Chocolate Gift Boxes. These extra large boxes of chocolate contain a whopping 3 pounds of a blend of dark and milk chocolate. There's so much candy in these boxes that it couldn't all fit on one level; every box has two layers of chocolate squares. In the middle of each lies a large rectangular chocolate bar in your choice of milk or dark. This bar is molded with your logo design, helping the public to remember your business with every decadent bite. The other square pieces are molded with your choice of any two of our 46 different design choices. Everything is packaged in a silver or gold window box, making it possible to see the treats lurking within. It's all topped off with a black ribbon with your choice of gold or silver accents.
3. Custom Imprinted 60 Min Animal Kitchen Timer
Now that we've shared a couple of edible items, it seems fitting and proper to introduce some promotional kitchen utensils that can help in preparing some Easter treats. One great example is presented in the form of our custom kitchen timers, made in the shape of a cute bunny. Kids will love helping out in the kitchen preparing Easter eggs when they have these fun timers to work with. They're also sure to be a hit with restaurants and culinary schools. A simple twist helps to set the time for a cooking project, lasting anywhere from 1 to 60 minutes. These timers are available in other animal styles as well. The size varies a bit based on which animal you choose, though on average they're approximately 2 inches wide by 3 inches tall.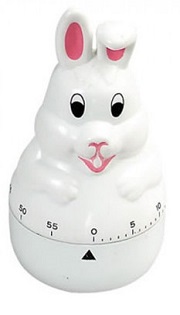 4. Wholesale Crazy Putty Eggs
Our promotional colorful putty eggs are fun and versatile company logo printed giveaways. They're great as part of an Easter giveaway gift set, but also can be fun prizes in Egg Hunts or as trade show booth handouts. They also perform well as impulse items near checkout counters and in toy stores. These fun and colorful putty filled eggs can even be used as occupational therapy aids. The shells come in a broad assortment of bright colors, with the interior putty bearing the same color as the shells. The only exception is with the red putty eggs, which contain a tan/natural colored putty, similar to the classic Silly Putty toy. These items are fun for kids and the young at heart, providing a nostalgic way to have a good time while relieving stress.
5. Company Logo Happy Easter Coloring & Activity Book
If your company is looking to provide children with some educational, constructive, and creative fun, our personalized Easter coloring books for kids are a great way to start. These coloring and activity books have 20 pages (covers included) of fun images of rabbits, flowers, and Easter scenes for kids to bring to life with color. There are also puzzles, activities, and fun facts inside to stimulate young minds. These make great promotional products for bookstores, art supply retailers, toy stores, schools, churches, and more. Each has an outdoor scene of two smiling rabbits surrounded by Easter eggs and flowers on the front cover. The cover is also imprinted with a line of black text, centered at the bottom. For an upgrade fee, imprints with multiple colors are accessible.
6. Bunny Duck Promotional Bath Toy
Everyone is familiar with the classic rubber duck bath toy. We have a little bit of a spin on that timeless favorite with our Bunny Duck company logo printed bath toys. These fun and unique children's toys feature a friendly and adorable duck/rabbit hybrid. These guys have the body shape and beak of a duck, yet the long ears and cotton tail of a rabbit. They're affordable and thoughtful gifts for children, but also make great gag gifts for adults. Toy stores, bath supply shops, baby gift shops, hospitals, plumbing companies, and many other businesses will find these to be ideal giveaway items that are easy on the wallet. In addition to usage in the tub, these cute characters can also accompany kids into wading pools or be played with in the sink.
7. Paws N Claws Custom Drawstring Backpacks - Rabbit
Our Paws N Claws Sport Packs come in many animal shapes. The style pictured below is our Rabbit version. These affordable wholesale drawstring backpacks are a hit with schools, luggage companies, office supply retailers, charities, and several other organizations. Each one ships free of charge and features a rabbit face design. A three dimensional effect is added by way of the inclusion of long floppy ears and a pair of feet at the bottom. Each of these custom backpacks has a drawstring closure and double drawstring carrying shoulder straps. A spacious main compartment provides plenty of space for school supplies, snacks, and more. Over 40 different animal designs are available. However, the creativity can go a step further in that you can send us your own animal pictures or artwork that we will convert into a backpack design.
8. Logo Imprinted Foam Spirit Rabbit Visor
With the arrival of spring come the start of many new sport seasons. Whether cheering on a favorite team or just getting into the Easter Spirit, there are few better products to invest in than our rabbit shaped bulk foam spirit visors. Affordable, fun, and definitely a bit out of the ordinary, these promotional foam hats are of a visor style and are formed in the shape of a jovial rabbit. They're available in 11 colors, including blue, white, charcoal, red, green, purple, maroon, pink, navy, and orange. They have imprint areas for your message or logo both on the bill and in the back. These make terrific giveaway items for sports teams, pet shops, charity events, trade shows, toy stores, and much more.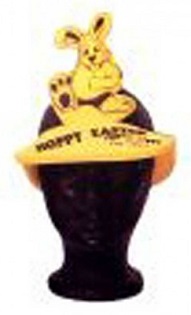 9. Promotional Bunny Keychain
Since keychains travel everywhere their owners do, it logically follows that these are some of the best giveaway items for creating mobile advertising opportunities. This is especially true in the case of promotional novelty stuffed animal keychains, such as our Bunny model. A cute & cuddly tan or dark brown rabbit is connected to a metal chain and key ring. Home, office, and car keys can all be attached so that keys are never lost and your logo never stops generating advertising impressions. These make great trade show giveaway items as well as carnival game prizes. They'll also perform well when sold in retail locations. Each ships fully free of charge and comes with a red ribbon that is imprinted with your logo design.
10. Bulk Easter Emery Boards
Cheap promotional emery boards are first-rate self care items for helping users look and feel their best. They're an affordable, effective, and memorable way for your business to promote to the masses. A perfect case is presented via our Seasonal Emery Boards. Both Christmas and Easter motifs are available, providing Easter egg, ornament, or candy cane shaped emery boards for quick and easy use on the go. Spas, salons, beauty shops, hairdressers, pharmacies, and more will find these items to be highly effective in spreading brand awareness and growing customer loyalty during holiday seasons. Each is constructed from high quality European emery paper for an attractive appearance and peak performance. 
11. Wholesale 17" Outdoor Display Balloons
For generations, balloons have been used as a nearly universal symbol for special events and overall good times. The good times can keep on rolling for your businesses when it invests in our 17 inch promotional outdoor balloons. Our outdoor display balloons are made in the USA and feature a thick wall design that enables them to stand up to outdoor weather conditions. They come in 7 colors. These include yellow, blue, white, green, orange, red, and pink. Their round shape gives them a bit of a unique look, while your custom imprint will let everyone know about your sale, grand opening ceremony, company picnic, charity event, or any other big function that's going on. They have a 34-50 hour fly time, so they're ideal for weekend and multi-day events.
12. Grow Your Own Custom Herbal Tea Garden Kit
The last promotional Easter product we'll feature in this article is our Custom Herbal Garden Tea Kit. These promotional floral & gardening kits stand out right from the beginning. This is a result of their creative, eco-friendly, and innovative packaging. Each kit comes in a recycled 6 egg carton. The 6 egg compartments are filled with starter soil, to which seeds and wooden plant stakes (included) can be added. Three seed packets are included for three different herbal tea varieties: lavender, chamomile, and lemon balm. The provided stakes help users to remember what seeds are planted in each section. Once the planting is complete, all users need to do is add water and watch their garden grow and prosper. A "belly band" is wrapped around the carton container. This can be imprinted with your logo on the top, though for an upgrade fee, the entire band can be customized with your branded graphics.
With those dozen products, you've now seen our top suggestions for the best promotional Easter items. If there are any items we didn't cover that you're curious about or if you have any questions regarding the ones we did display, feel free to reach out and contact us. We're more than happy to help make this the best possible Easter season for your brand and all who work to make it what it is!