Top Ten Promotional Kitchen Items for Restaurants, Homes & More
With COVID-19 still not under control, there's a continued trend of people working from home and conducting more and more activities on a remote basis. One group of essential workers that has been kept busy during this time would be those in the food service industry. While people aren't sitting down to eat in restaurants as often these days, the food delivery service is booming. In addition to this, there's a growing DIY cooking trend going on, since nobody can afford to order out every night. Even in the best of times, we all need to eat. Culinary school students will continue to learn and perfect their craft and eventually, restaurants will open at full speed again. With all of this in mind, one can deduce that this is as great a time as ever to invest in promotional cooking products. In this article, 4AllPromos has compiled a list of the top ten custom cookware item categories for 2021 and beyond. Let's get started!
1. Promotional Baking Sheets & Custom Baking Pans
The first category we'll get into is that of custom baking sheets and pans. Essential to any bakery, restaurant, culinary school, or home kitchen, such items are key for the preparation fo baked goods. These tend to be durable items that will stick around to show your company logo design off for years to come. Users can will be reminded of your business bright and early when your business invests in our personalized muffin pans and branded bread pans. When dessert rolls around, no food service business or home chef will want to be without items such as our promotional pie baking dishes and promotional baking sheets for cookies and other treats. Our baking sheets and pans are a perfect way for your brand to remain a fixture in users' lives on a daily basis for the long haul.
2. Wholesale Spatulas with Logos
Now it's time to talk a bit about our promotional spatulas. Spatulas are kind of the unsung heroes of the culinary world. They do so many things in so many ways, but rarely get much verbal recognition. The silver lining is even if people aren't talking about spatulas, they certainly see them in almost every kitchen scenario. That's why you'll want your business logo to be imprinted on the many varieties we have to offer. We have a spatula for just about every function. Need to get that last bit of jelly or peanut butter out of a jar? Try our wholesale scraper spatulas. Want to cut and serve up freshly baked treats to the whole crowd? Our company logo metal spatulas are here to answer the call. Is your business searching for a good all-around, general use spatula? If so, our custom silicone spatulas are just what you need. These are just a few of the many examples of promotional spatula items that are sure to be a hit as giveaway items and even as impulse items at checkout counters.
3. Custom Kitchen Spoons & Promotional Ladles
Whether used for baking, seasoning, stirring, or serving, our ladles and spoons are custom cooking utensils that are a hit as promotional products. Soup kitchens, shelters, restaurants, diners, salad bars, and more will love having their names displayed on our custom ladles with logos. These extra long spoons with extra deep bowls are perfect for serving up soups, sauces, and dressings. While we offer a grand array of different kitchen spoons, one of our most consistently popular items comes in the form of our promotional measuring spoons. These are items that are needed for any and all recipes. They can also come in handy when measuring medications or mixing up health drinks. Affordable and practical, your company will never regret choosing them as giveaway items for trade shows or as gifts to customers and employees.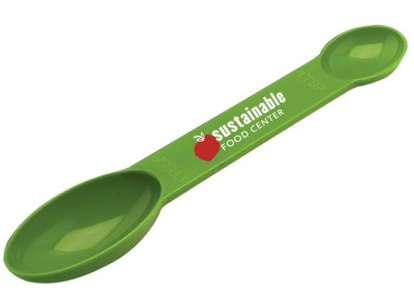 4. Custom Dessert Servers
While we alluded to pies and cakes in the baking sheet/pan listing, we haven't yet discussed the best solution for doling out individual servings. This can be done with speed and in style with our personalized cake servers. Of course, they're also handy for slicing and handing out pie, brownies, cobblers, and much more. Another area of promotional cooking products we'd like to cover in this section is our wholesale ice cream scoops. Whether you go with a model that's plastic or metal, these dessert spoons are sure to be a hit. Whenever users are scooping up sweet treats for a dish or a cone, they'll see your personalized logo imprint design. Nearly everyone has at least somewhat of a sweet tooth. Having your brand associated with the good times people have indulging said tooth is a great way to build up relationship marketing.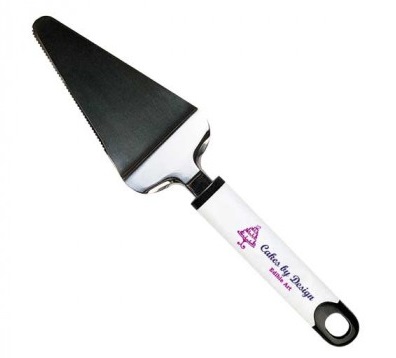 5. Imprinted Utensil Sets
At 4AllPromos, we like to be part of the solution when it comes to cutting down on environmental waste and protecting our planet. Your business can be part of the Green Team when it invests in items such as our branded plastic utensil sets. With these products, users will be less likely to turn to disposable one-use plastic utensils. These travel fork, spoon, and knife sets can be used when eating in the car, going out for a picnic, having dinner in a hotel room, and many other situations. Not all of our kits feature plastic items though. We also carry imprinted flatware sets made from wheat, bamboo, and other eco-friendly materials. Imprinting your logo on these products is a great way to have your brand seen in a limitless range of settings and scenarios. It also helps to send home the message that your business takes environmental responsibility seriously.
6. Promotional Chopsticks
Restaurants, supermarkets, culinary schools, and more will find our custom bamboo chopsticks to be effective and affordable giveaway items. We carry wholesale chopsticks, imprinted with your logo and individually wrapped for effective branding and distribution. These are inexpensive items that can be purchased in bulk for culinary industry trade shows, Chinese New Year celebrations, souvenir items at wedding venues, educational products for schools, and much more. Add your company's name and logo design to our chopsticks to become part of the fun & work your way into users' treasured memories. Every time they take out their chopsticks, they'll see your brand and be reminded of their bond with it.
7. Wholesale Kitchen Strainers & Branded Kitchen Funnels
Users can avoid soggy pasta, get vegetables clean, and ensure accurate, spill-free pouring when equipped with strainers and funnels. These branded kitchen items, much like spatulas, don't always get much fanfare. Still, they're needed on a daily basis for any business engaged in food service, culinary colleges, and people preparing food at home. Also known as colanders, our bulk strainers with logos are key in draining excess water away from pasta before serving. They're also handy when it comes to washing fruits and vegetables. Our promotional kitchen funnels help to avoid spills when mixing liquid ingredients, keeping counters clean. They can also be instrumental in avoiding the loss of money that comes when expensive cooking ingredients land on the floor rather than in the mixing bowl.
8. Personalized Vegetable Peelers
When making salads, preparing fruits and vegetables for inclusion in recipes, or just enjoying a health snack, our promotional multi-use vegetable peelers really step up to the plate. When your business wants to put its name on custom cooking tools that are affordable, effective, and certain to generate a multitude of advertising impressions, these are your go-to-guys. With so many people creating content on personal YouTube channels, there's no telling how large the audience can become when people use vegetable peelers with your logo in their videos. They're also sure to impress when handed out as giveaway items at trade shows and events or offered for sale in retail locations. There's definitely a focus on getting healthy and staying healthy in modern times. Your business can help users reach that goal while simultaneously reaching its own goals when equipped with our custom vegetable peelers.
9. Promotional Bamboo Kitchen Utensils
Our promotional bamboo cookware items are rising stars and for many good reasons. These kitchen implements are durable, stylish, and eco-friendly. They're made from sustainably harvested and renewable resources, helping to protect the planet while promoting your brand. We carry a broad assortment of culinary tools made from bamboo. Two examples of our top-selling items in this area are our personalized bamboo tongs, which are pictured below, our custom bamboo spatulas. Both are items that can be used in any number of cooking applications. They can be employed to serve food, toss salads, separate items and portions, stir, chop, and more. If you're interested in promotional gift sets, we suggest our custom engraved wooden spoon sets. Made from sturdy bamboo, these 4-piece kitchenware kits come in a solid bamboo box that is engraved with your logo. Only 3 units are required to make a purchase, making these some of our most sought after low minimum order items.
10. Company Logo Coasters
It's worth pointing out that this Top 10 promotional kitchen products list wasn't made in any particular order. We say that because we want to emphasize that including our custom coasters in the 10 spot in no way means they're the least on the list. Our promotional coasters come in all sorts of shapes, sizes, materials, colors, and styles. Running the gamut from basic discount models to premium decorative styles, our collection of coasters offers something for everyone. One of our most affordable styles you'll find on our site consists of our bulk paper drink coasters.These items are thin and are often laminted to resist water damage. Many are imprinted with your logo in full color. A high-end yet animal friendly option can be accessed via our promotional faux leather coasters. They have the elegant look and feel of leather without containing any animal products. These coasters also are engraved with your branding, creating a promotional graphic that will stand the test of time. 4AllPromos also stocks branded car coasters. Pictured below this paragraph, our car coasters are designed to be placed in automobile cup holders to avoid damage from spills, heat, and condensation when users are enjoying a beverage while on the road.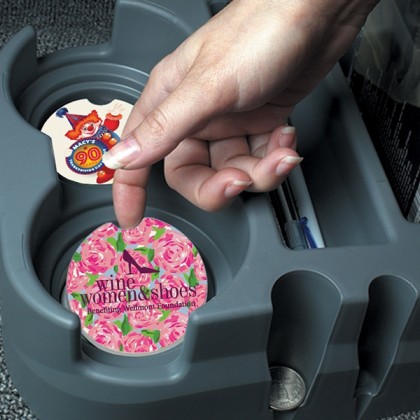 4AllPromos - Your Source for the Best Branded Kitchen Items & Custom Baking Utensils
We thank you for taking the time to read through our article today and we hope it has provided you with some great ideas on how to promote your brand. If you have any questions regarding the items in this post or any of our other custom cooking utensils, feel free to contact us at your earliest convenience. We can't wait to help make your branding dreams a reality!