Best Promotional Products for Helping Your Audience Achieve Their 2021 Goals
During the first few months of a new year, many people start working towards new (or long-standing) goals. Whether the primary goals of your target market are to drink more water, lose weight, go back to school, or most anything else, you can help them in their efforts. How? Consider employing strategic promotional products from 4AllPromos for your next giveaway.
While these items seem simple enough, they can make a big difference in ensuring that recipients are able to meet their goals effectively. Plus, you can ensure you stay top of mind when you customize your promo products with your business's logo or contact information.
Below, we're discussing some of the most common goals and how you can use promotional products to help your audience reach them. Let's take a look!
1. Drink More Water
Water is one of the most important substances on the planet; however, many of us fail to drink enough each day. Therefore, staying properly hydrated is a common goal new year's resolution. An easy way to aid your target market in this endeavor is to hand out a custom metal water bottles , imprinted with your business logo or contact information.
Each time your users drink from their personalized water bottles, they'll remember your business and why it has such an important place in their lives. This is an especially great strategy for companies in the healthcare or fitness fields. Gyms, health clubs, and recreation centers can hand out promotional water bottles as welcome gifts for new members. It's a great way to ensure loyalty from day one.
2. Get Organized
At the start of the year, many people vow to become more organized. By handing out promotional products like custom tote bags and calendars, you can encourage them to work towards this goal. These items seem simple, but they're versatile items that help users with multiple functions each and every day. That means lots of advertising impressions for your brand.
From a business standpoint, helping your customers get organized makes sense. Once they've reached their goal by using your promo product, they'll be happy to give you a call to schedule an appointment or place an order. Even better, when you add your information to these useful items, recipients will know exactly how to get in touch with you.
3. Stay Healthy
Staying healthy is a big goal for just about everyone . This is especially true during the as we continue to battle Coronavirus (COVID-19). You can help your current and future customers in 2021 by handing out a variety of health-related products, such as custom hand sanitizer bottles with your logo. In fact, you can even put together health kits in cheap tote bags with various items necessary for social distancing and virus spread prevention. Add in some promotional face masks and hand wipes, and you have a great package of products designed to set your audience up for a healthy new year!
4. Start a Journal
Expressing one's thoughts through journaling can be a great way to reduce stress. For those who enjoy this outlet and wish to experience less stress in the coming year, having a beautiful new personalized Castelli notebook will be a real treat. Imagine their delight when they receive one of these gorgeous promotional journals to help them relax, unwind, and gain a little clarity for a new year. You can even put together a small kit featuring items meant for self-care, such as a stainless steel tumbler and soothing chamomile tea bags or perhaps custom earbuds for listening to guided meditation.
5. Go to the Gym
It's no secret that gyms see an influx of new members in the first few months of the new year, as people vow to get active following the holidays. To make it easier for recipients as they embark on new fitness routines, consider handing out promotional duffel bags with your company name and logo. If you're looking for something a little smaller, you can also give away some of our bulk fanny packs or custom drawstring bags.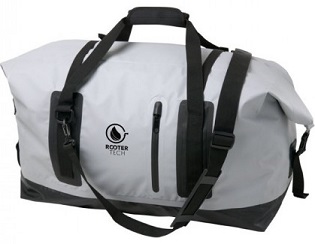 You can even add in a few extras items to create a full promotional package. Since most workout facilities now require face coverings for customers, try including custom bandanas or a custom neck gaiter with your logo.
6. Write a Novel
There are quite a few creative types who hope to write the next great American novel over. For some, this is sure to be the big resolution for 2021. If your audience includes aspiring authors, Castelli journals with your custom imprint on the outside will certainly be much-appreciated corporate gifts. Want to give them even more writing tools to get their creativity flowing? Custom pens are great for writing prose by hand, while promotional flash drives ensure their latest draft is safe and secure.
7. Go Back to School
The fresh start of a new year often provides the push people need to expand their horizons, change up their careers, or delve deeper into their fields. Therefore, many people are heading back to school this year. For some, it's the first time heading into higher education. For others, it might be completing an undergraduate program or working toward an advanced degree. In either case, we have supplies your business can use to help them get started.
New and returning students will love to receive items like promotional notebooks to help them on their journey. Other great handouts for these recipients are promotional hand wipes (for staying safe on campus) and cheap drawstring bags full of custom pens and other office supplies.
8. Lose Weight
Losing weight is perhaps the most common goal at the start of the new year. If you're looking to help your audience reach their target weight, there are a variety of useful promotional products available. For example, our bulk stainless steel tumblers can be paired with protein drink mixes that recipients can use for a quick and easy breakfast. Your business can also host a giveaway pairing them up with other helpful items. Consider a bundle featuring our stainless steel water bottles included with custom workout clothing and/or equipment. There are near-endless possibilities here, so don't be afraid to get creative!
Choose from Hundreds of Customizable Products at 4AllPromos
Is your goal to bring in more customers in 2021? We have everything you need to spread the word about your business, club, or other organization. As can be gleaned from this article, these items range from promotional drinkware items to imprinted office supplies and beyond.
The dedicated staff of sales & artwork professionals at 4AllPromos is here to help you select the perfect item to complement your brand and message. Please contact us today to learn more!