Eight Ways to Celebrate the Big Game with Promotional Products
With the Super Bowl fast approaching, a new (or repeat) NFL champion is about to be crowned. With this in mind, now is definitely the time to start thinking about how your business can help its target audience enjoy the game in comfort and style. Perhaps they're hosting virtual viewing parties for employees or running a football-themed giveaway campaign for social media followers. However they're engaging in Super Bowl related activities, 4AllPromos has all of the gear needed to make their efforts a smashing success. From custom bottle openers to personalized snacks, all of our products are designed to promote your business in a fun and memorable way.
Read on to view our roundup of the best promotional Super Bowl products. We have the items needed to make your business a big winner when it comes to the big game.
1. Amp Up the Excitement with Personalized Tailgating Items
If you or your customers are hosting a socially-distanced community event before kickoff, consider providing guests with a fun souvenir to take home. 4AllPromos offers a variety of personalized tailgating items, including pom-poms, noisemakers, wholesale foam fingers and foam hands, custom stadium cups, and other classic items that are perfect for cheering on a favorite team. Handing these items out to guests is a great way to build up excitement leading up to game time. It will also help everyone to remember your business or organization long after the game is over. Running a small school event or have little ones on your guest list? Consider passing out customized bubble soap or promotional eco-friendly confetti to celebrate their favorite team's big win.
2. Offer Imprinted Single-Serve Snacks for a Special Treat
Did you know that we offer a broad selection of promotional snacks for feeding everyone's game face? Our inventory supplies everything from customized trail mix bags to packages of crackers, candy, and beyond. If you're looking for something a little healthier, our catalog also includes mini bags of roasted nuts and even personalized granola snack bags. Our snacks come in a variety of packaging options to fit your needs. These include tins, bags with imprinted headers, cartons, and more. The best part? Every package style affords plenty of space for adding your company logo, a special message or unique graphic design to the front.
3. Drink Up with Customized Glassware
Your customers may be used to hosting large viewing parties, but this year's circumstances will likely result in smaller gatherings. While this may be disappointing to some, it provides your business with the opportunity to hand out premium giveaway items to small crowds. This saves money while delighting your VIP clients. Personalized glassware is an excellent option, as it can be engraved with the date of the game and the names of the competing teams. Consider sending out custom wine glasses or custom beer glasses with a football-related design. Our promotional drinkware provides nearly endless souvenir possibilities. Your audience is sure to enjoy these special mementos far beyond the blow of the final whistle.
4. Help them Dish Out Food with Custom Serving Tools
Super Bowl parties involve much more than just football. Among other things, they provide a perfect excuse to make and enjoy great food! Your business can help its target demographic to prepare, distribute, and clean up their dishes with our customized serving tools. We stock promotional pie servers and custom metal cake servers, both of which are excellent for divvying up desserts. Meanwhile, our custom serving spoons and promo slotted spatulas make it easier than ever to serve hungry guests. Interested in giving away something that's a little more permanent? Our custom bamboo spatulas are essential and eco-friendly kitchen tools that users will turn to time and time again.
5. Fire Up the Crowd with Promotional Team Spirit Items
Does your marketing plan include an NFL-related giveaway or contest? If so, this presents a great opportunity to spread brand awareness while delighting all winners. 4AllPromos has a variety of customizable and wearable fan gear giveaways. These include t-shirts, sunglasses, hats, logo embroidered stadium blankets, and seat cushions, just to name a few. Need something more affordable to buy in bulk? We carry wholesale temporary tattoos and beaded necklaces that are perfect for younger recipients.
6. Focus on Reusable Items Employed on a Daily Basis
Looking for promotional products that also work for non-sports-related affairs? You're in luck; all of our items can be customized for any event or holiday of your choice! For example, our custom On-the-Go Flatware Set is available in several colors and is perfect for year-round use. With our vast inventory, it's easy to find just the right product for any occasion.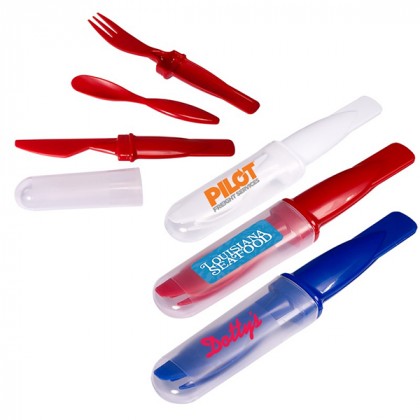 7. Help the Whole Neighborhood Get Ready for the Fun
Do your clients include organizations with neighborhood clubs or homeowner associations? If so, your business can help their residents get ready to party by putting together gift baskets with customizable kitchenware items. For example, a reusable tote bag filled with products such as promotional herb and spice measuring spoons, a promotional multi-use vegetable peeler, and a promotional pan scraper will help users as they prepare for Super Bowl festivities. You can also include customizable popcorn treats or other ready-to-eat items for a special touch. Don't forget, all items, including the gift tote, will be imprinted with your logo to create advertising impressions for years to come!
8. Gear Up for a Socially Distant Virtual Party
While many areas are still stuck dealing with COVID-19 restrictions, it doesn't mean that the fun has to stop. A virtual party or tailgating event is still an excellent way to spend quality time with valued employees, customers, family, and friends. To enhance digital events, consider sending out personalized gifts ahead of time. One way to go is filling customized ice buckets with items such as our custom drink coasters, a few party favors, and individually-packaged snacks. Once the gift packages are assembled, they can be mailed out to all attendees.
4AllPromos: Your Source for the Best Custom Football Products & More
Whether you're having a small gathering with employees or hosting a virtual Super Bowl event , 4AllPromos has the custom football gear needed to enhance any and all celebrations. Bulk snack packages, custom cooking utensils, and other personalized items will help to generate branding impressions long after the game is through.
Don't hesitate to contact us for more information about our promotional football products!