15 Great Promotional Sports Products for Enjoying the Game Safely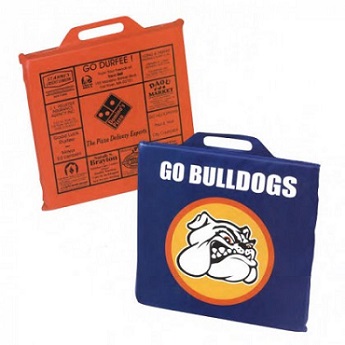 There's just no stopping sports. Despite all of the trouble and turmoil we've had over the past year, athletes have shown a certain resilience and dedication toward returning their passion. Professional and collegiate sports leagues have been doing their best to get around the challenges presented by COVID-19 to get back to action. For fans, being able to watch their favorite teams provides a great source of excitement and pleasure. It can also be a much-needed distraction. However, playing sports can be just as helpful as watching. Getting exercise, fresh air, and a change of scenery will do wonders for the body and mind. That's why 4AllPromos is presenting 15 of the best promotional products for watching and playing sports, with a focus on staying safe in the process.
1. Full Size Red, White, and Blue Rubber Basketball
We'll get started by showing off some promotional sports balls and other items that are needed in order to play the games. First off are our promotional regulation size basketballs. Shooting hoops in the driveway, backyard, or with proper distance at a playground area is a safe way to stay healthy & fit while having fun in the process. Schools, sporting goods stores, local YMCAs and many other organizations will find our full size rubber basketballs to be excellent promotional giveaway items for building rapport with the community. These particular models come in a red, white, and blue color scheme, bringing to mind the balls used in the old ABA. Only 10 units are required to place an order, making these good items for passing out to small groups. Each comes with an inflation valve and is imprinted with your logo design. Recommended for users ages 13 and up, these promotional basketballs can include multiple and even full color logo imprints for an upgrade fee. A single color print is standard.
2. 24" Beach Ball
Though not many people will be partying on the beach anytime soon (especially in the Northern Hemisphere), our 24 inch wholesale beach balls are still a great investment. They're great for having a bit of fun while watching the big game or attending small events with a cautiously sized crowd. Our logo imprinted beach balls are also terrific items for physical and occupational therapy clinics, toy stores, outdoor lifestyle shops, and more. They come in your choice of a classic multicolor striped pattern or in a two-tone striped color scheme. Their diameter measures in at 24 inches, with a circumference of 48 inches when fully inflated. A single imprint on the white panel comes standard, though an upgrade fee grants access to imprints on multiple panels. 
3. Golf Set in a Bag
One of the reasons why golf is such a great sport to take up right now is the fact that it is a solitary sport. There's little physical contact and often a great deal of space between individual golfers as they traverse the course. Golf is a fun way to get in a great workout. We're sweetening the deal by helping your company be the face of convenience on the links via our Golf Set in a Bag. These custom golf accessory kits provide a wealth of handy golf tools that will be of use to players at any skill level. Four tees, a recycled Top Flite® golf ball, ball marker, and divot tool are all held together by a conveniently sized colored pouch. This 5 inch wide by 57/8 inch high pouch is imprinted with your company logo, as are the ball and divot tool. The pouches have a zippered closure and come in your choice of yellow, white, red, or royal blue. Don't worry about the recycled status of the golf ball - each is still in mint condition!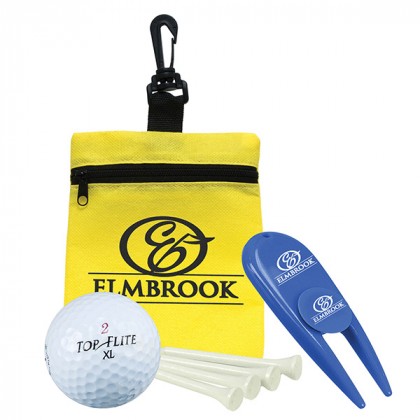 4. USA Made 4-Layer Blank Cotton Face Masks
Now we'll start introducing some of our safety-focused products that help to take the risk out of athletic activities. One such item is our USA Made 100% Cotton Blank Face Mask. These wholesale blank cotton face masks have been one of the best-selling items on our site for close to a year. As they don't contain imprints, they're great for handing out to very large crowds. Physical therapy centers, sporting goods stores, hospitals, gyms, and more will find these to be items that help to establish a positive reputation among the public. These masks are reusable, machine washable, and very comfortable. They come in your choice of 16 different colors, making it easy to find one that's a good match for your organization. Made in the USA, they're 7 inches wide by 5 inches high. With these dimensions, a one-size-fits-most effect is achieved, easily covering both the nose and mouth. While they are not recommended for medical use, these 4-ply cotton face masks are helpful for preventing the spread of Coronavirus, Influenza, and many other illnesses.
5. 2-Ply Deluxe Cooling Fabric Face Mask
If your business prefers promotional face masks with logo imprints, this is an item you're sure to like. Our 2-Ply Deluxe Cooling Face Masks are personalized athletic face masks designed to keep users active for longer periods of time. Their construction allows for superior circulation of moisture and heat, allowing them to be eliminated from their interior at a high rate of speed. They're lightweight and breathable, which makes them ideal for sustained wear during athletic activities and competitions. They have a sleek and modern look which helps to pair them well with sports team uniforms. These promotional face masks are machine washable and reusable. They measure 7 inches wide by 5 inches high, a size large enough to cover the vast majority of users' mouths and noses. Each order comes with the masks polybagged in groups of 25 (the minimum order quantity is 150) and imprinted with your logo in one color. Individual polybagging and multiple color imprints are available for an added fee.
6. Credit Card Style Antibacterial Hand Sanitizer Spray
Our promotional face coverings aren't the only we provide for staying safe from germs. Need proof? Here it comes! Our custom credit card style hand sanitizer sprayers are a fun, safe, and responsible way to protect one's health. Ideal for instances when users don't have access to soap and water, these affordable giveaway items hold 20 ml (0.676 fl oz) of sanitizer spray to kill germs and keep hands clean. Their small size makes them extra convenient, easily fitting into pockets, purses, wallets, gym bags, glove compartments, and most anywhere else a user wishes to store them. The spray has a light and pleasant citrus scent and comes in containers sporting your choice of seven different colors. Each unit has a single color direct logo design imprint. For an upgrade fee, this can be changed to included multiple colors or swapped for a full color decal.
7. Antibacterial Door Opener No-Touch Tool with Stylus
In addition to face coverings and hand sanitizers, we also have a wealth of promotional no-touch tools. One of the top models in this category is our Antibacterial Door Opener Stylus No-Touch Tool. These personalized touch tools with logos are treated with an antibacterial solution for enhanced performance. They can be used to open doors, operate faucet handles in bathrooms, type on keypads and touchscreens, hold grocery bags, pick up dropped items, and much more. Each unit is black with your choice of one of 5 accent colors. These items go very well with our custom keychains, as they're easily attachable and can travel everywhere that users do. They can be employed to open gym doors, pick up jerseys, type in access codes, and for many other functions needed accessing sports facilities.
8. 25 oz Aluminum Bike Bottle
Staying properly hydrated is key to reaching and maintaining good health. This is especially true for people who are physically active, as rigorous athletic activity can rapidly speed up the dehydration process. Users needn't worry about this when they have their favorite beverage stored in our promotional aluminum sports bottles, imprinted with your company logo. Our custom bike bottles hold 25 oz of fluid (739.34 ml) and come in 7 different metallic color options. Only 36 units are required to make an order, making these an appealing options for small and medium sized businesses. These are eco-friendly options as they're reusable and eliminate the waste caused by disposable drink containers. Each is screen printed with your business logo design on one side or in a wraparound format. Multiple imprint colors and locations can be accessed for an additional charge.
9. Himalayan 20 oz Vacuum Insulated Tumbler
Hoping to print your company logo on a durable, fashionable, and highly useful product that will get plenty of exposure? If our 20 oz Himalayan promotional vacuum insulated tumblers are the drinkware items of your dreams. These sturdy and stylish sport tumblers come in 14 different color choices, making it easy to find one that's a perfect match for your logo. FDA approved and BPA-free, these promotional insulated bottles feature double wall stainless steel construction. This results in a high-quality drinking vessel that keeps liquids hot or cold for up to 6 hours. A slide action lid, equipped with a rubber gasket, creates a spill resistant top, allowing users to carry these items with confidence. When the lid is on, these tumblers hold up to 18 oz (532.32 ml) of liquid. When open, they can hold up to 20 oz (591.47 ml). Standing 7 inches tall, these items come with an assortment of lid match and imprint options. Click on the link in the second sentence of this paragraph to learn more.
10. Economy Vinyl Stadium Cushion
Now it's time to move on to the promotional sports accessories that allow users to cheer on their teams in comfort and with spirit. The first ones we'll present are our wholesale economy stadium cushions. These cheap promotional stadium cushions are made from an easy to clean vinyl material and are packed with cushioning foam on the inside. A carrying handle at the top makes them easy to pick up and tote around the house, field, park, or anywhere else they're taken. These are products that can be enjoyed while watching sports at home or in person, since they provide padding when placed on floors, bleacher seats, grass, and most any other surface. At 11 inches wide by 11 inches high by 1 inch deep, these are our smallest stadium cushions. Therefore, they're a great buy for companies looking to provide promotional products to children and youth sports leagues. Video game and electronics retailers can use them as promotional gaming cushions as well. Imprinted with your company logo and available in 11 different colors, these items have a generous imprint area of 9 inches wide by 9 inches high. Feel free to click on the following link if you'd like to see our promotional stadium cushions in other sizes and designs.
11. Chenille Micro Plush Fleece Stadium Blanket
Now that we've covered staying cushioned and supported while taking in a game, it's time to talk about keeping warm. Our Chenille Micro Plush Fleece embroidered stadium blankets are ideal products for achieving this end. They're made from a soft coral polyester fleece with a fabric weight of 280 GSM. Wonderfully soft and delightfully warm, these custom stadium blankets will keep users happy, healthy, and safe from the cold while attending outdoor events or when taking in a game from the couch at home. Available in 8 different colors, these are items that feature great attention to detail. This can be seen in their matching color tricot edging and embroidered logo designs of up to 7 colors and 7,000 stitches. At 50 inches wide by 60 inches high, they're large enough for users of all sizes, but can also be handy when two people want to cuddle close together. Each arrives in a clear zippered carrying pouch that is equipped with a carrying handle. 
12. Embroidered 5 Panel Structured Cap
Company logo and team logo printed hats and caps are a great way to show one's support for a business or sports team. Our 5 Panel Structured Logo Embroidered Caps are surely not an exception. Shipping for free and having a low minimum order requirement of just 24 units, these make great promotional products for small businesses, school sports teams, and even professional level athletic organizations. The structured part of their name refers to the backing built in behind the front two panels of each cap, helping them to maintain their shape. Each has a medium profile, meaning they won't sit too low on the eyes or too high on the forehead. They're a one-size-fits all item, as the back of each cap is appointed with an adjustable snap closure. These personalized caps are made from a cotton twill material and feature a 51/2 inch wide by 2 inch high logo embroidery area, centered on the front. Your logo design will be embroidered in up to 10,000 stitches in up to 7 thread colors. The hats come in your choice of black, purple, khaki, navy blue, or white.
13. 16" #1 Foam Hand
Users can cheer on the home team with pride when equipped with our bulk foam hands. Great as souvenir giveaway items at ballparks or as team spirit items in sporting good stores or gift shops, foam hands are a classic accessory of fandom. Our promotional #1 Foam Hands are a perfect example. They're highly popular products, maintaining their status as best-sellers on our site year after year. Each one is a generous 16 inches in length, ensuring a large enough size to be seen by anyone. They come in 11 different color options and contain two separate imprint areas: one on the palm and one on the extended index finger. While a single color logo design comes standard, orders of 250 units or more can include multiple colors as an upgrade option.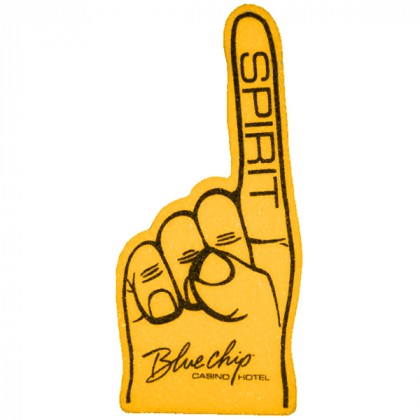 14. 8 x 18 Inch Premium Felt Pennant
Another great promotional sports souvenir giveaway product category can be found in the form of our custom felt pennants. These small flags can be waved with pride at games, while watching games at home, or prominently pinned to bulletin boards and desk areas. Our promotional 8" x 18" Premium Felt Pennants are a perfect size for showing off team and company logos just about anywhere. These pennants are made in the USA from soft plush felt and are fully customizable with full color graphics on one side. Also included is a sewn felt strip on the left side, which can be produced in a variety of different colors. They're designed such that they can be easily rolled up without warping or taking any damage. This makes transportation and shipping safe and easy. If desired, pennant sticks can be added for a small upgrade fee.
15. Ben Non-Woven Eco-Friendly Tote Bag
We'll round things out with a promotional product that literally helps bring it all together. Our Ben Non-Woven Totes are promotional eco-friendly tote bags made from 80 GSM non-woven polypropylene. This is a fully recyclable material that is also quite durable. These totes are built to last, featuring stitched seams, reinforced sewn carrying handles, and offering the option of a plastic bottom insert. They can expand to fit a wide variety of equipment for athletes and sports fans, as both the side and bottom panels are gusseted. These custom tote bags are 16 inches wide by 12 inches high by 6 inches deep and offer an impressive 12 inch wide by 8 inch high imprint area. They're available in your choice of 9 colors, including white, black, teal, burgundy, royal blue, navy blue, hunter green, khaki, and red. Looking for something a bit bigger or smaller? No problem! We have several custom tote bags with logos to choose from.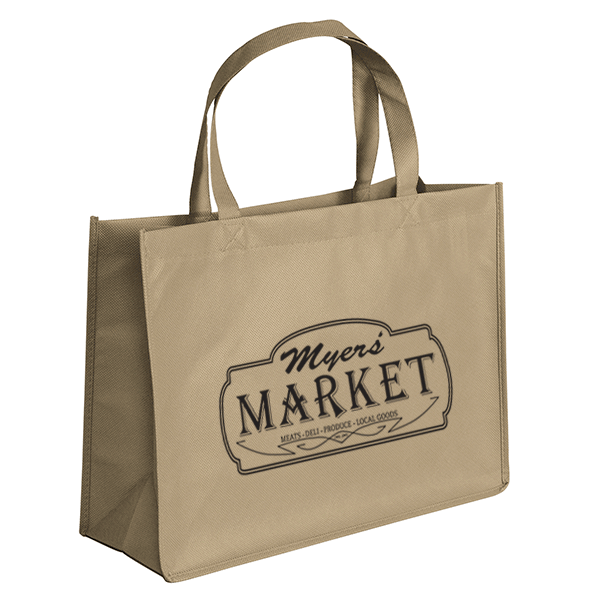 There you have it: our 15 picks for the best promotional sports items that have an emphasis on keeping it safe. Hopefully, this article has been a fun an informative read, providing your business with some actionable ideas for starting the year off successfully. Don't forget, our team of talented artists and product specialists are here to help you design your customized items with your personalized logo design for maximum advertising efficiency. If you have any questions at all, please feel free to contact us for assistance.