Make Branding Fun with Custom Novelty Promotional Items!
After a year as difficult as 2020, just about everyone can use a bit of added year in their lives. At 4AllPromos, we are happy to help your business provide some laughs & smiles to its employees, customers, and target market members. One of the best ways of doing this is through handing out novelty promotional products that are fun, unique, and provide a bit of a positive distraction. Even when things are going well, these items are a great choice for brightening the mood even further. In this article, we're going to share a dozen of our best custom novelty items that are just waiting to proudly wear your company logo.
1. Ice Cream Cone Pen - Unique Custom Pens
We'll get things started with a little bit of show and tell regarding some custom novelty pens. Our Ice Cream Cone Pens have a name of rather obvious origin, as each one is shaped just like everyone's favorite dairy treat. These pens make excellent giveaway items for ice cream shops, dairies, supermarkets, and more. These pens feature brown ice cream cone shaped barrels, topped with a ice cream scoop in your choice of vanilla, strawberry, or chocolate colors. These ballpoint pens make for great giveaways at trade shows and events and are just plain fun to write with. They'll also make a eye-catching adornment to any desk or pencil holder. Each ships free of charge and is imprinted with your company logo design in one color on the cone area. For an upgrade fee, your logo can appear on the ice cream scoop instead, or on both locations. Multiple logo imprint colors are another upgrade option.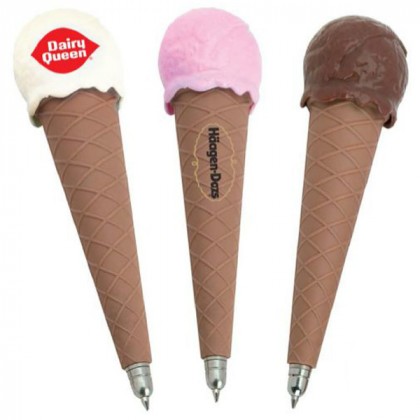 2. Spark Plug Keychain - Wholesale Novelty Keychains
Want to crank up some smiles at body shops, garages, gas stations, auto supply stores, car dealerships, and other automotive industry locations? Try handing out some of our Spark Plug promotional novelty keychains, imprinted with your company logo. Sure to be a hit with any and all mechanics and car lovers, these unique giveaway items consist of silver and gold keychains in the shape of spark plugs. Each ships 100% free of charge and comes with a double split ring attachment. At a small and easily manageable size of 2 inches wide by 2.5 inches high, these items can fit in anyone's pocket, pocketbook, tote bag, or other carrying vessel. As they'll hold users' keys, they'll travel everywhere that users do, creating virtually limitless advertising impression potential.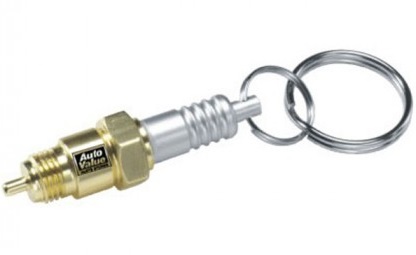 3. Bottle Cap Shaped Bottle Opener - Custom Novelty Barware
Next up is one of our most popular promotional novelty barware items. Opening beverage bottles can often be a difficult chore. Having a handy tool around to make things easier is always appreciated by bartenders and consumers alike. When the tool used is an amusing and unique one, it brings the enjoyment up to a whole new level. Such is the case with our Bottle Cap Shaped Bottle Openers. These fun beverage accessory items are shaped just like bottle caps and work perfectly for removing both screw and pop top caps. The back side of each unit has a magnetic surface, so they're easy to stick to refrigerators, magnetic wall knife strips, and any other magnetic surface. It makes things that much easier when users need to access these items and don't have to spend time searching around for them in crowded drawers. The front surface is plastic and is adorned with a full color imprint of your company logo. At 3 inches in diameter, these bottle openers are designed to fit in the palm of users' hands.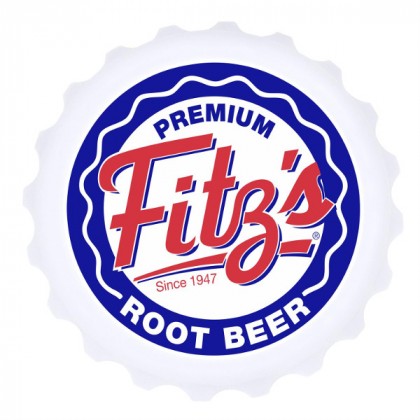 4. 3-in-1 Cell Phone Charging Cable Spinner - Novelty Phone Chargers
Though the fidget spinner fad may not be quite where it was back in 2017, there's still a market for these fun little items. There's also an ever-present need for mobile charging devices. We combine both of these products with our 3-in-1 Cell Phone Charging Fidget Spinners. These promotional novelty phone chargers are equipped with 5-pin connectors for iPhones, micro USB cables for Android devices, and universal Type C cables (with reversible orientation) for more modern mobile devices. They're formed in the shape of fidget spinners and can function as such. They're a great way to relieve stress, pass the time, and improve fine motor skills for occupational therapy patients. Each is imprinted with your logo design in the center, with double sided imprinting being accessible for an upgrade fee. Multi-color and full color logo imprints are additional upgrade options. Due to their small size, they are not recommended for young children. This is because they present a potential choking hazard. Pick your favorite among white, red, blue, or black to color these items, or even a mix of all 4!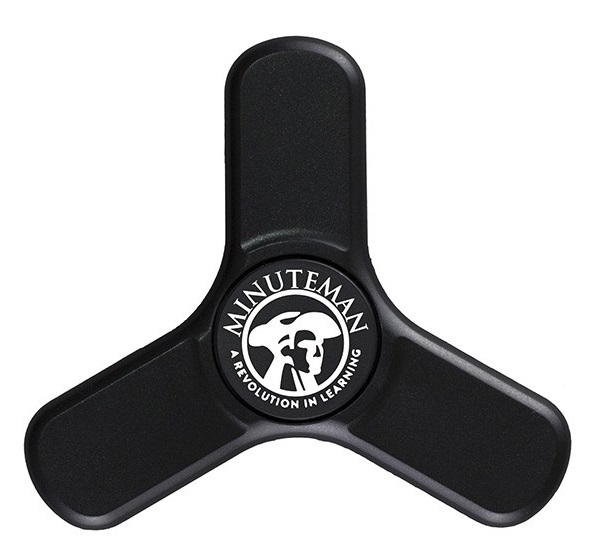 5. Cat Face Graphic Face Mask - Personalized Novelty Face Masks
Cat lovers, animal shelters, pet-related charities, and pet shops are just a few of the groups that will find our Cat Face personalized face masks to be perfect novelty gift items. These custom face masks have no minimum order requirement, so they can be ordered as gifts for groups or for an individual recipient. Each ships for free and features an outer polyester layer and inner cotton layer. Expandable straps make these comfortable one-size-fits-most items. There's a lot of detail that goes into the cat design, including a gray face, pink nose, whiskers, and happy smile. These masks have white backgrounds which are adorned with gray paw prints. the bottom right corner contains a text box that can be used to personalize the mask for a particular recipient. If desired, this area can be left blank instead. Our cute novelty cat face masks have a 5 business day production period, so please bear that in mind when placing an order.
6. Doctor Lab Coat Laminated Tote Bag - Bulk Novelty Tote Bags
If you're looking for an item that's both fun and practical, we suggest taking a look at our Doctor Lab Coat novelty laminted tote bags. Perfect for medical seminar giveaways, hospitals, clinics, pharmacies, healthcare facilities, and more, these totes are also eco-friendly. This is because they're made from sturdy & recyclable 100 GSM laminated non-woven polypropylene. Each tote bag has several stock design features that are sure to grab plenty of attention, spreading brand awareness in the process. These bags have a white lab coat design that is augmented by the edges of light blue scrubs underneath and a stethoscope. The stethoscope doubles as both a stock art design and a functional part of the bag. This is because it extends upward to form a pair of black poly rope carrying handles. At 16 inches wide by 16.125 inches high by 4 inches deep, these tote bags have the space to carry several items for busy professionals on the go. Every one of these eco-friendly novelty laminated tote bags is imprinted with your logo, either on the back (9 inch wide by 8 inch high area) or front pocket (4 inch wide by 4 inch high area). Please give us a call, email, or live chat message to learn of possible upgrade options.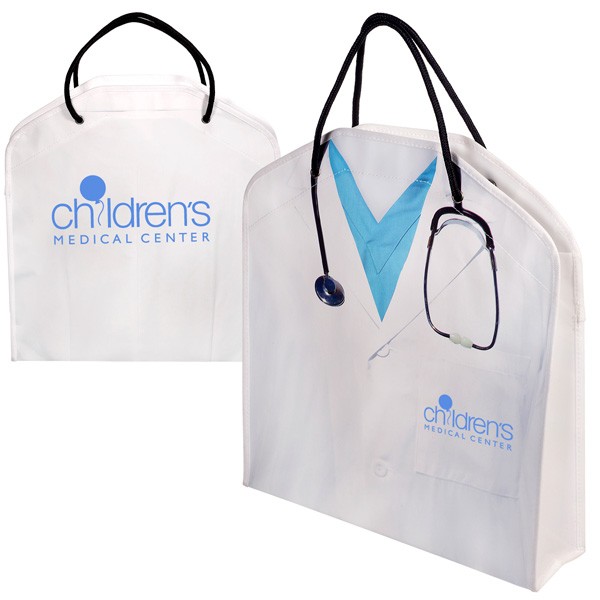 7. Press-N-Stick® Light Bulb Calendar - Bulk Novelty Calendars
Press-N-Stick® calendars continue to be a top-seller for us, year after year. This is for good reason, as they're small and affordable giveaway items that can be handed out in bulk and used to create advertising impressions for a full year. Often times, the period can be even longer than that. This is the case with our Light Bulb promotional mini calendars. Each features 14 months, with the first two months being November and December of the previous year. For example, a 2021 calendar would start with November and December of 2020. Made in the USA, these custom novelty tear-away calendars come with a vinyl header in the shape of a light bulb. They make great giveaway items for electricians, energy companies, power plants, lighting stores, and more. The vinyl headers come in your choice of 24 different colors, including an eco-friendly recycled black option. The header is also the area where your company logo design will appear, keeping it visible for the entire time the calendar is posted.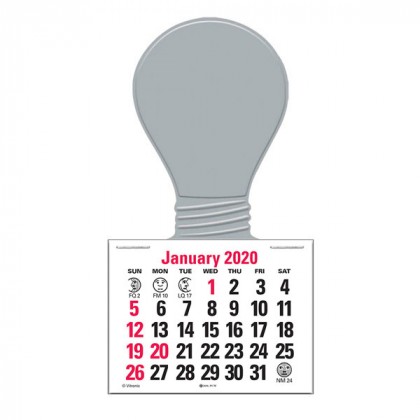 8. Flying Croaking Frog - Promotional Novelty Plush Toys
Our promotional stuffed animals always make for cheery and light-hearted giveaway items. This is surely the case with our Flying Croaking Frog. This funny little guy has soft fur in a dark green color and wears a cape that is imprinted with your company logo design. The cape comes in eight different color choices, making it easy to match it up with your business logo. Muppet-style eyes complete the whimsical look of this character. In addition to showing off your brand name, these custom novelty stuffed animals also have stress relief and entertainment properties. When the frog's arms are pulled and released, it will shoot off and sail through the air slingshot style. During its flight, the cape flaps in the air while the frog emits a croaking sound. A battery is included to make the audio effects possible. Sending these promotional plush frogs into flight is a satisfying way to relieve stress or even a bit of anger on a challenging day. Each is 9 inches long with a 2.5 inch wide by 2.5 inch high imprint area.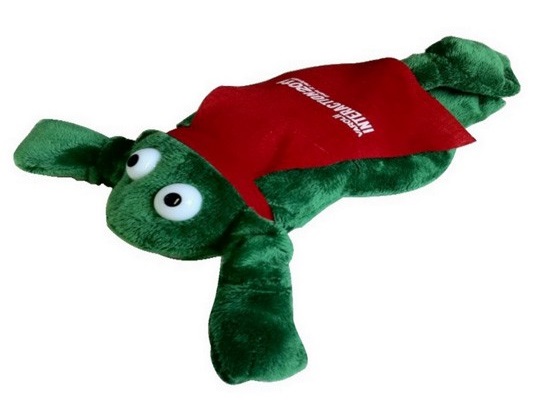 9. Light Up LED Flashing Sunglasses | Branded Novelty Sunglasses
Here's a pair of custom novelty sunglasses that will literally light up any room or outdoor party at night. Our Light-Up LED Flashing Sunglasses immediately bring life and excitement to any event through their use of striking color and blinking lights. Available in several different color options, each pair of sunglasses has eight different light setting modes for an effect with plenty of variety. A button is included on the earpiece to turn the light show on and off. They're a great way to make an entrance, with the user wearing them serving as a walking billboard for your brand. Each pair is imprinted with your company logo design on one temple. For an upgrade fee, multiple imprint colors and locations are available. Coming with batteries installed, these promotional sunglasses able to fit users of most any size. They are perfect as trade show giveaways, carnival prizes, night club promotions, and more.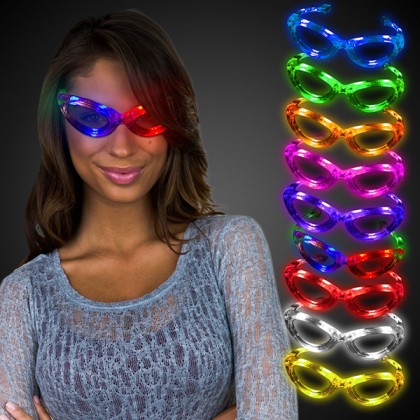 10. Smiley Face Slime - Promotional Novelty Products for Kids
Here's one our best branded novelty items for kids. These days, everyone has more stress on their plate than ever before. This includes children. Your company can give them a fun diversion and healthy way to stay calm with our Smiley Face Slime stress toys. These items consist of circular plastic housings that are divided into two compartments. In each compartment, a different color of slime resides for a two-tone effect. The outer portion of the housing is formed into a smiley face design and is imprinted with your company logo between the eyes and mouth. The slime provides a satisfying visual and tactile experience that helps children to deal with tough emotions while having some enjoyment in the process. Before long, they'll be wearing smiles even bigger than the ones on the cases!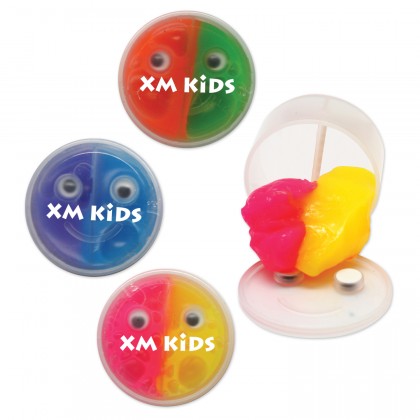 11. Smart Saver Piggy Bank | Promotional Novelty Piggy Banks
It's never too early to start teaching children the importance of saving money. A classic piggy bank with a few unique twists is a great way to get the ball rolling. This is the main idea behind our Smart Saver personalized novelty piggy banks.These piggy banks come in a traditional pig shape, but are also appointed with funny glasses for a bit of an intellectual look. With the exception of the white models, each color choice is transparent, allowing users to see the money they place inside accumulate over time. Each has a slot for inserting bills and coins at the top. The underside has a twist-off plug to access money when a withdrawal is needed. These make excellent promotional items for banks, schools, credit unions, and more. In addition to being fun for kids, these company logo imprinted piggy banks can also be used and enjoyed by adults. Just two possibilities are in the workplace as break room coffee fund containers and collecting charitable donations at events & in retail spaces.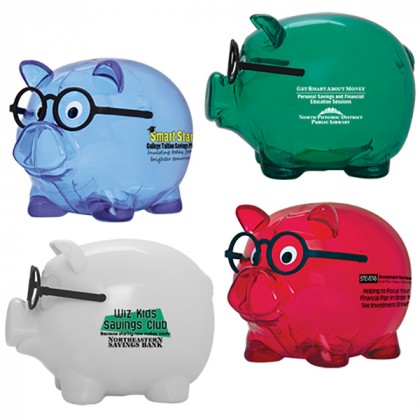 12. PopThirst Cup Sleeve - Custom PopSockets
At 4AllPromos, we offer a wide variety of custom PopSockets®. These are items that have gained widespread popularity since hitting the market just a few years ago. In 2020, it's almost a challenge to find someone with a mobile phone case that doesn't have a PopSockets grip on the back. However, these items aren't just for phones anymore. PopSockets are being created and used for a more diverse set of applications as time goes by. A prime example can be found in the PopThirst Cup Sleeve. These promotional PopSockets beverage holder accessories are quite handy as they help to prevent users from being burned. A non-slip foam sleeve slides around cups to keep the hot liquids inside from scalding users' hands. Meanwhile, a removable and repositionable pop top is affixed to the unit, making it even easier to hold on, particularly when only one hand is available for usage. They can even be removed and replaced with other tops if desired. Your company logo design appears on the extending grip button. While a single color design comes standard, full color logo imprints can be added for an upgrade fee. Folding flat for easy storage, each sleeve comes in its poly bag, along with an instruction sheet.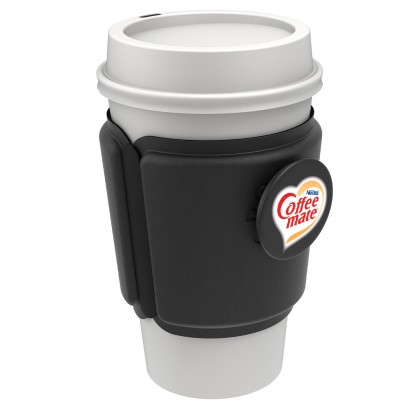 That brings an end to our list of the 12 best promotional novelty items. However, our collection doesn't stop there. Our site has a treasure trove of unique and amusing giveaway items that are sure to delight users of all ages. If you'd like to know more about them, or any of the items we've described above, please feel free to contact us. Our dedicated and talented team of sales professionals and artists will be thrilled to help you find the best products for spreading some happiness to those who matter most to your business.