Win the Battle Against Germs & Illness with Promotional Wet Wipes!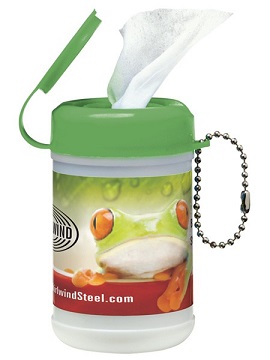 At 4AllPromos, we aim to help businesses grow with the best giveaway items and promotional products around. However, we're also concerned with safety. In uncertain times such as these, it's important to keep safety considerations at the forefront of all activities. Of course, life still goes on. In order to help your company thrive and prosper, we're presenting this guide to our best promotional antibacterial hand wipes. With 12 items to display in 4 different categories, we're hoping this article will highlight some items that your business can use to effectively reach its target audience while also building a reputation for safety and responsibility. Relationship marketing is one of the most effective ways to grow a business. When the public sees your company as a bastion of safety in troubled times, the gateway to successful relationship marketing opens wide. 
Before introducing the different bulk hand sanitizer wipes featured in this article, we'd like to add some convenience by offering the menu below this paragraph. If you're looking for a certain type of custom sanitizer wet wipes, you can simply click on the corresponding link to be taken to the representatives from that category. Still, we recommend reading the article in full so that you don't miss any would-be hidden gems. 
Types of Promotional Antibacterial Hand Wipe Options
Many of our personalized hand wipes come in convenient and attractive canisters. These are small yet sturdy dispensers that are imprinted with your logo. Several types of promotional hand wipe canisters are available, with three of our top picks being highlighted in this section.
100 Hand Wipe Canister - Promotional Hand Wipe Canisters
Let's get things started with our 100 Hand Wipe custom antibacterial wipe containers. As their name would imply, each of these custom logo printed containers holds 100 antibacterial wet wipes. The wipes are large, coming in at a size of 7 inches wide by 7.5 inches high. This makes them plenty large enough to clean hands as well as surfaces such as tables, cart handles, doorknobs, counters, sinks, and more. Each canister is made in the USA and is compliant with FDA and CDC standards. The wipes are treated with a 70% ethyl alcohol solution for effectiveness in killing germs. They're produced by the ConveniCare company, the logo of which appears on the container by default. Residing at the top of the container just below the lid, the ConveniCare logo appears above your own company logo, which is centered on the front. Alternatively, you can opt to remove the ConveniCare logo or keep it without adding your own company logo. That's kind of a mouthful; if you need any help figuring out which design you want to go with, please give us a call.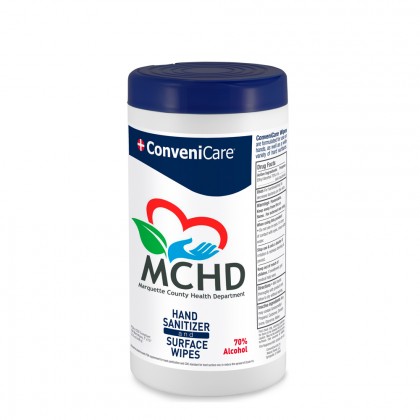 Canister Wet Wipes - Promotional Eco-Friendly Hand Wipes
Our next bulk hand sanitizer wipe items are our Mini Wet Wipe Canisters. These items feature a conveniently small size, with each holding a total of 30 hand wipes. The canisters are white, but come with your choice of four different lid color options. These include white, green, red, and blue. Each dispenser has a bead chain attachment near the top, which makes it easy to connect to keychains, belt loops, and more. Lightly scented, these hand wipes are perfect for handing out at medical facilities, grocery store entrances, bottle return areas, schools, and any other high-traffic area. A full color imprint of your company logo design is included with every order. the flip-top lids are easy to operate and snap firmly shut, preventing the wet wipes from becoming dry wipes.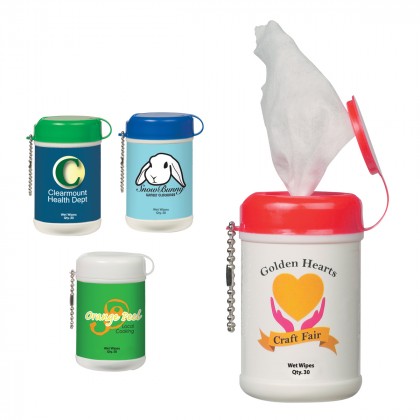 Canister Wet Wipes - Promotional Eco-Friendly Hand Wipes
Now we'll tell you a little bit about our logically named Canister Wet Wipes. These are custom eco-friendly hand wipes that are good for both the health of users and that of the environment. This is because the 24 hand sanitizer wipes in each can are biodegradable. In addition, the canisters are made from recyclable materials. Like the model described in the previous paragraph, these products also have a convenient bead chain attachment connected to the lid. These antibacterial wipes are FDA approved and feature a pleasant light lavender scent. Each canister is white with a lime green lid and is imprinted with your business logo design in striking full color. 200 units are required to make a purchase, so they're ideal for bulk giveaways at events or as hand outs to students and teachers returning to school.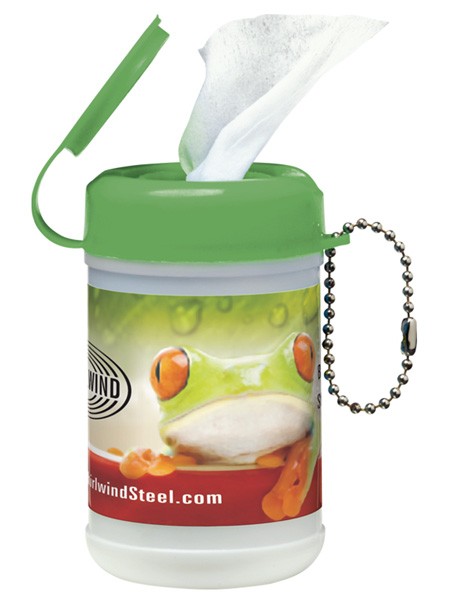 If canisters aren't your prefered vessels, don't fret. We have a grand assortment of company logo hand wipes in pouches as well. A bit smaller and more compact than a canister, a hand wipe pouch can fit easily in a desk drawer, backpack, pocketbook,and more. They're just as effective when it comes to fighting germs and make great giveaway items for any industry, both during a pandemic and in times of relative calm.
50 Count Hand Wipes - Promotional Hand Wipe Packets
The first promotional hand wipe pouches you'll meet today are our 50 Count Hand Wipe Packets. Perfect for reception areas in offices, hospitals, convalescent homes, schools, and more, these products contain 50 hand sanitizer wipes. The wipes feature a 75% alcohol coating to help kill germs & bacteria. They're constructed from a durable and top-quality non-woven fabric to prevent tears. Each set of wipes comes in a plastic pouch that is blue and white in color and appointed with a snap-top lid. Easy to open and close, the lid grants access to the wipes inside when open and helps to keep them moist when closed. The top of the lid is imprinted with your logo in full color. The bottom of each packet is printed with information regarding the active ingredients in the wipes. The minimum order quantity is 120 units, with larger orders needing to be made in increments of 60 (180, 240, etc).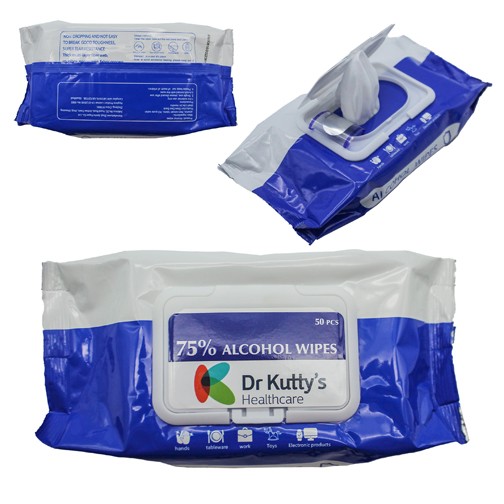 Wet Wipe Packet - Custom Resealable Hand Wipe Containers
Looking to buy cheap hand wipes in bulk? If so, you'll find our Wet Wipe Packet to be a great value. They're great as trade show giveaways or hand outs to any large crowd. These personal care products consist of a plastic pouch containing 10 FDA approved antibacterial hand wipes. They're small enough to fit easily in containers both large and small, making them easy to bring to work, school, or just about any other required destination. While they can be used to wipe and wash hands, they can also be employed for wiping down tables, counters, desktops, office fixtures, and more. Every package is resealable and comes with an imprint of your company logo in full color. Speaking of color, the pouches come in red, silver, white, and blue.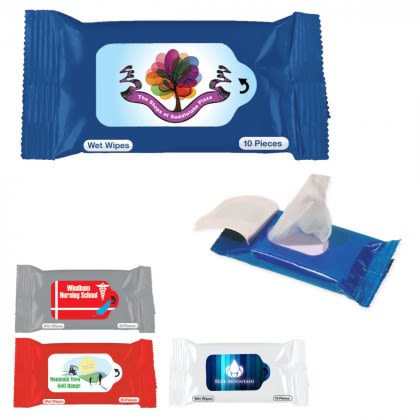 .
Alano Antibacterial Wipes - Promotional Non-Alcohol Hand Wipes
The third item in this section comes in the form of our Alano Antibacterial Wet Wipes. These wet wipe dispensers contain 10 custom non-alcohol hand sanitizer wipes. These are more gentle on the skin than wipes containing high alcohol concentrations and leave it less prone to drying and cracking. They're still effective in fighting germs and the spread of illness though. Antibacterial in nature, these wipes are FDA approved and come in a compact plastic packet that can be resealed when not in use. Their handy shape and size allows them to be stored and transported most anywhere, assuring that users always have a way to stay healthy and clean, even when soap and water might not be available. Imprinted with your full color logo, these make great giveaway items for schools, healthcare facilities, pharmacies, supermarkets, libraries, town/city halls, and more. They packages come in your choice of white, blue, silver, red, and lime green.
Sometimes our custom single-use wet wipe packets are the best option for safety and cleanliness. These antibacterial towelettes can come in cases, pouches, or in some cases, are designed to just be handed out one at a time. They're ideal for restaurants, day care centers, healthcare facilities, airports, bus stations, and more.
Express Antiseptic Wipe Kit - Custom Individual Hand Wipe Holders
Leading off the category are our Express Antiseptic Wipe Kits. These promotional antiseptic towelettes in cases are a great buy for pharmacies, hospitals, visiting nurse associations, schools, grocery stores, and much more. Every unit presents a sturdy case with a hinged opening. Inside of the cases lie eight single-use antiseptic hand wipes in individual pouches. They're ideal for traveling and fit easily inside of backpacks, handbags, tote bags, glove compartments, suitcases, computer cases, and just about any other piece of luggage one might consider. The cases are available in 16 different colors and come with a single color logo imprint across the top lid. For an upgrade fee, multiple imprint locations, multiple imprint colors, and full color digital logo imprinting are available.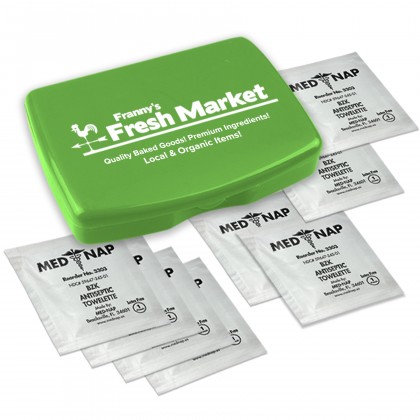 Individual Antibacterial Wipes - Bulk Single-Use Antibacterial Wipes
When looking to pass out single-use custom hand wipes one at a time, there are few better choices than our aptly named Individual Antibacterial Wipes. These items are perfectly suited for trade show giveaways. Another useful tactic is to place them in display areas at the entrances of schools, healthcare centers, and places of business so that customers can get clean as soon as they come inside. Additionally, they will sell quite quickly when used as cheap impulse items at checkout counters. Made in the USA, these promotional hand wipes come in white containers that are decorated with your full color logo imprint. On the reverse side, users will find information regarding the chemical contents. They're sure to come in handy when users can't escape to a bathroom or in times when soap and water aren't readily available for traditional hand washing.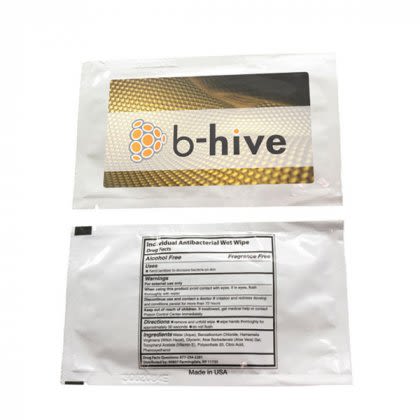 USA Made Blank Travel Sanitizer Wipes - Wholesale Blank Hand Wipes
The last individual use wet wipes that we'll examine in this article are our USA Made Blank Travel Sanitizer Wipes. Buy these blank hand sanitizer wipes in bulk and your hospital, school, daycare center, or other high-traffic facility will have an extra measure of safety against the spread of viral germs. Useful for patients, visitors, residents, and staff, these single-use hand wipe towelettes will disappear quickly as grateful users swipe them up to stay safe. Each wipe is quite large and features a 70% ethyl alcohol solution along with aloe for a more gentle touch. Compliant with CDC and FDA guidelines, these products may also contain water, carbomer, dimethicone, aminomethyl propanol, and glycerine. Full information regarding drug facts can be found on the back side of each packet. The wipes are 6 inches wide by 8 inches high and can be used to clean tables and other surfaces in addition to hands. If you'd prefer a version with imprints, we have them for you. The following link will connect you to our logo printed single use travel sanitizer wipes with imprinted and digital direct imprinted labels.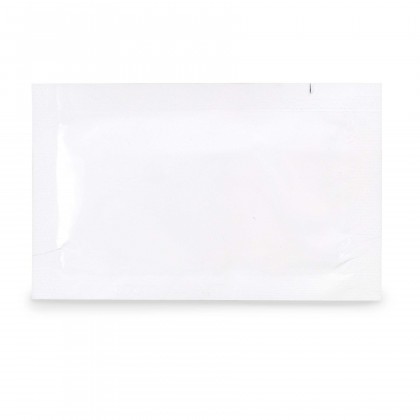 The last group of promotional hand wipe items we'll examine in this article are our custom hand wipe kits with logos. With these products, the wet wipes are just a part of the package. While they're still major players in the scene, they're accompanied by other health, safety, and cleanliness items, often to form mobile first aid kits.
Antiseptic & Protective Healthy Living Pack - Custom Hand Wipe & Sanitizer Kits
The first custom hand wipe first aid kit we'll share with you is our Antiseptic & Protective Healthy Living Pack. This product does a great job of living up to its name, as it features many items needed to ensure that users stay healthy throughout life's daily activities. Each set consists of a zippered pouch made from sturdy 210D polyester. Coming in colors of red, white, black, and royal blue, each pouch is imprinted on the front with your logo design in one color. Inside, users will find a Healthy Living Guide with multiple safety tips, 3 antiseptic towelettes, a 3-ply face mask, 5 bandages, and a microfiber cloth. For an upgrade fee, your company logo can also be imprinted on the microfiber cloth. They're a handy size at 5 inches wide by 4.5 inches high. Daycare centers, hospitals, convalescent homes, group homes, schools, pharmacies, and several other organizations will not want to pass these items by.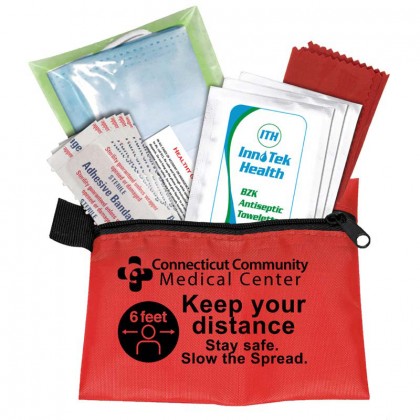 Ready for Anything PPE Backpack - Promotional PPE Supplies
Prepare to be impressed by our Ready for Anything PPE Backpack. These custom PPE supply kits with hand wipes are offered at a relatively low minimum order requirement of just 25 units. Each offers many important PPE odds & ends. Included in every unit are a 2-ply cotton face mask (made in the USA), 4 antiseptic towelettes, 10 sanitizer hand wipes, a 2 oz hand sanitizer gel bottle, a set of large blue nitrile gloves, and a black no-touch key tool. Everything is held together by an 80 GSM non-woven polypropylene drawstring backpack. Made from recyclable materials, these backpacks come in your choice of red, blue, lime green, or black. Each is imprinted with your one-color company logo design on the front. Any medical or educational institution would do well to invest in these, as would travel agencies and outdoor parks and entertainment centers.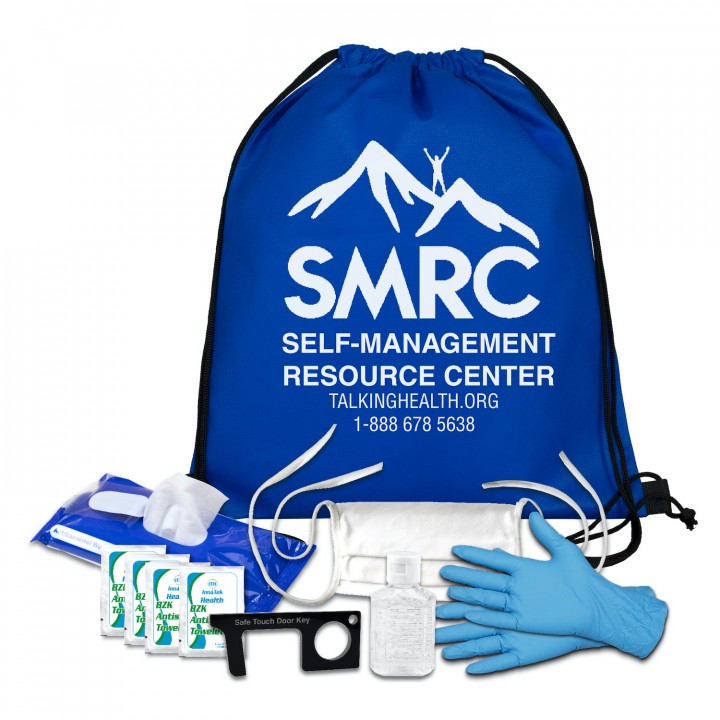 Hand Sanitizer First Aid Pouch Kit - Custom First Aid Kits with Hand Wipes
Last but not least, it's time to discuss our 10 Piece Hand Sanitizer First Aid Pouch Kit. These promotional hand wipe health safety kits will establish your organization as a leader in the fight against COVID-19 and any other virus that comes our way. These custom first aid kits with hand wipes are loaded with items to keep users and their associates safe and clean, while taking up a minimum of space. Each has 2 antibacterial hand sanitizer packets, 4 latex-free bandages (one in small size), 1 moist towelette, 1 antiseptic hand wipe, a First Aid guide, and one container of triple antibiotic ointment. A zippered pouch in your choice of orange, clear, white, blue, lime green, black, or red keeps all of the items together and organized. The pouch is imprinted on the front side with your company logo design in one color. If you'd like to learn of possible upgrade options, please give us a call, email, or live chat message.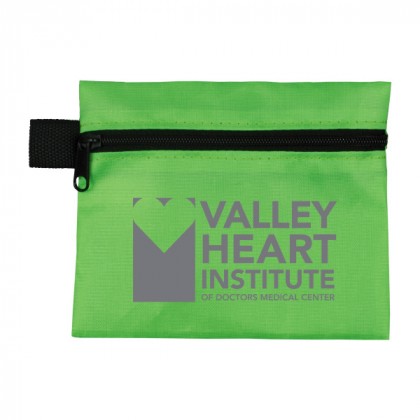 With the introduction and description of those twelve items, our guide to the best promotional hand wipes for businesses comes to a close. While hand sanitizer gets most of the fanfare, it's important not to forget these relatively unsung heroes, both when promoting your business and protecting the health of employees, customers, and anyone else with whom you might cross paths. If you have any questions about our custom antibacterial wipes, be sure to contact us and let us know. Our talented team of product specialists will be happy to address any and all concerns.