Twelve Days of Custom Christmas Ornaments for the 2020 Holiday Season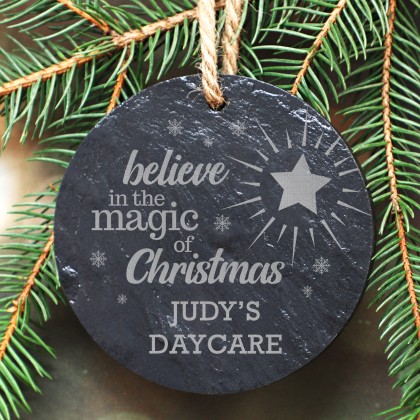 It's already October, which means the holiday season is nearly upon us once again. After all that 2020 has had to dish out, everyone could use a bit of extra cheer right about now. At 4AllPromos, we understand that holiday celebrations and traditions will be more important this year than in most any other before it. That's why we want to provide you with some great corporate promotional gift ideas for the upcoming months. We've put together a list of our picks for 12 of the best promotional Christmas & holiday ornaments for 2020 in order to help guide you to some uplifting and profitable ideas to make this holiday a bright one. Whether you want to order one ornament for 12 days of gifting or if you want to send everything out en masse, this article will prove a handy resource.
1. Boxed Shatter Resistant Flat Round Ornament
Let's start off with a crowd favorite that's been growing in popularity every year. Our promotional flat round ornaments, as the above heading indicates, are shatter-proof. Made from eco-friendly and recyclable polypropylene, these are sturdy decorations that will stand up well to drops, bumps, falls, and strong grips. They'll help to avoid the pain of stepping in ornament shards as well as the pain of buying a product that doesn't offer longevity. While the image below shows these custom Christmas ornaments in five colors, they are actually available in eight. Gold, green, blue, silver, pearl, black, purple, and red all are available options. These ornaments have a sleek and smooth feel and a compact shape. They fit well on smaller trees as well as in festive displays in windows, cubicles, and any other area where some holiday cheer is needed. Each is pad printed with your company logo design or special message in one color and location. Multiple imprint colors, locations, and full color imprinting are all possible upgrade options. Every ornament is presented in its own clear acetate box.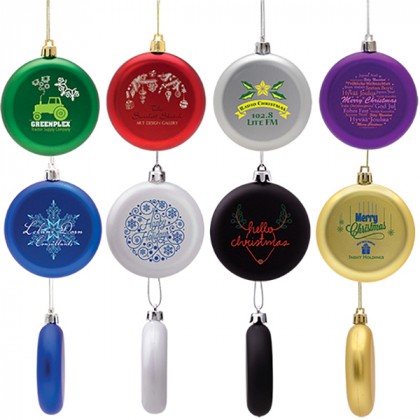 2. Round Shatterproof Ornament in Box
Here's another durable, sturdy shatter-resistant ornament to add to your gifting list. Made in the USA and presented in a cheery, attractive gift box, our imprinted Round Shatterproof Ornaments offer a more traditional shape than the items in the previous paragraph. These ones are more spherical in nature and will look great on any Christmas tree. A satin finish gives them a smooth look and feel. It also makes these polypropylene ornaments look more like the traditional glass style. They come in many different colors - seventeen, to be exact. This means that you'll have plenty of flexibility in finding a color that best matches your logo design. As previously mentioned, holiday ornaments come in individual gift boxes. Choose between a plain white box or one with a Christmas theme, such as in the picture below. Each is printed in one color and location, but for an upgrade fee, a second imprint color and double sided decorations are available. Another upgrade option is presented in the form of brass or plastic ornament stands, enabling these to be placed on desks or other flat surfaces. These items are also available in a full color logo design version.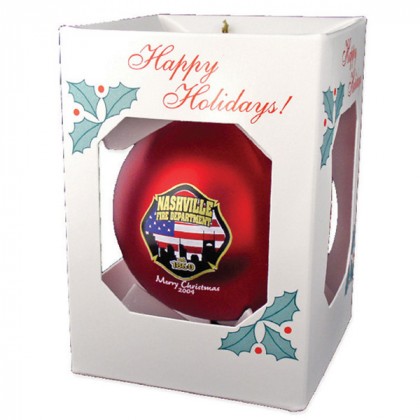 3. Glitter Ornament
The third personalized 2020 Christmas ornaments on our list are our promotional Glitter Ornaments. Affordable yet still attractive and durable, these make great holiday gifts for employees, customers, and contacts alike. They're also perfect for decorating offices and retail spaces to offer a bit of cheer and goodwill to all who see them. They come in five different colors, which include silver, green, blue, gold, and red. They're made from shatterproof plastic, so a drop, bump, fall, or even whack from the paw or tail of an excited pet won't do them any harm. Each ornament comes with a matching color ribbon and hanging strap. Presented in a white gift box, these are bright and sparkly ornaments that add an extra element of glamour that's sure to bring plenty of smiles. A single color and location imprint come standard, but a second color can be added for an upgrade fee; just be aware that adding a color can increase production times.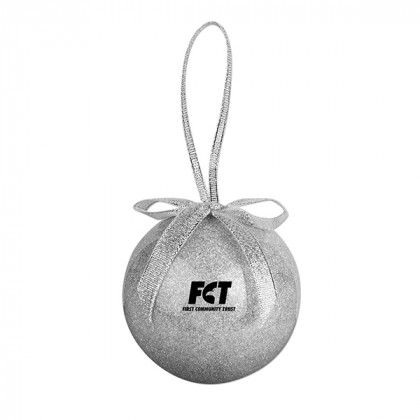 4. Scented Ornament
Whether it's because of allergies, rental policies, financial concerns, or any other reason, many people opt for artificial Christmas trees in lieu of live ones. This can be convenient and time saving, but for those who want the full Christmas experience, they can sometimes come up just a bit short. Thankfully, our promotional Scented Christmas Ornaments are here to solve that problem. These ornaments come in three different designs, which include a green tree shaped version, red ornament shaped version, and white snowman shaped version. The smell and imprint area size vary based on what model you choose. Give us a call, email, or live chat message and our team of product & customer service specialists can clear up any questions this may raise. These ornaments are made from polyester and have a soft feel that is similar to that of velvet. They also are equipped with pockets in back that are perfect for storing additional gifts such as money, jewelry, gift cards, and more. The outer surface of the pocket is where your company logo imprint or message will appear. The included hanging ribbon makes our scented ornaments easy to hang on any tree or stand.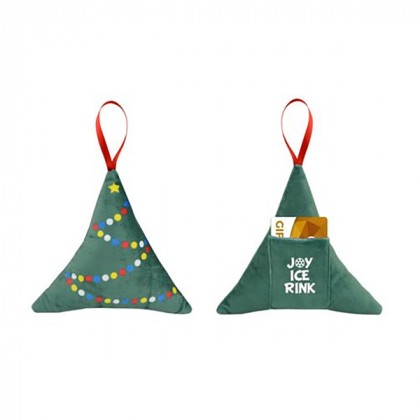 5. Mug Stuffer with Leatherette Ornament
If you want to give out a holiday gift to your target audience, employees, or customers that is truly a "sweet" idea, our Mug Stuffers with Leatherette Ornaments are for you. These custom leatherette ornament gifts are made up a faux leather ornament packaged together with jelly beans, Red Hots, or chewing gum. They're held together in a clear gift bag that is completed with your choice of a ribbon in one of ten different colors. While a mug is not included, the shape of the gift bags and size of the items they contain make them a perfect fit for any of our personalized mugs. Each ornament is imprinted with your logo in one color, but can be provided with a laser engraved design for an upgrade fee. The ornaments come in several different shapes, including Circle, Tree, Bell, Star, and Snowman. If the gum and candy choices listed above don't match what you're hoping to give out, worry not. You can upgrade to substitute a vast variety of different candies, nuts, and other treats in their stead.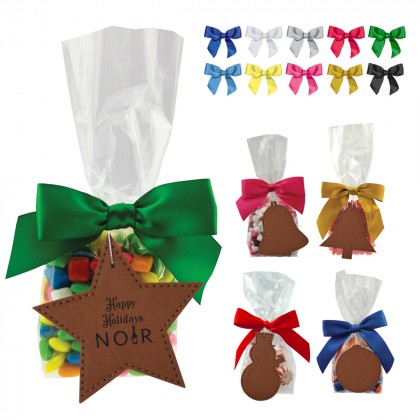 6. Plush 6" Stuffed Animal Ornament
Our company branded stuffed animal ornaments are an ideal choice for a holiday gift for families with young children. They also work great for shelters, pet stores, pet grooming services, or any other animal-centric or animal-loving crowd. These cute Christmas giveaway items come with your choice of a 6" tall stuffed dog, penguin, bear, or reindeer. Each has a fluffy red santa hat and cute t-shirt, upon which your imprinted logo will appear. A hanging ribbon is also provided to make it easier to get these hanging from Christmas trees with ease. They can also advertise your business all year long, as many children will enjoy taking them to bed to snuggle with every night. CPSIA certified for safety, these cuddly plush animal ornaments can also cheer up a desk, cubicle, windowsill, or virtually any other area.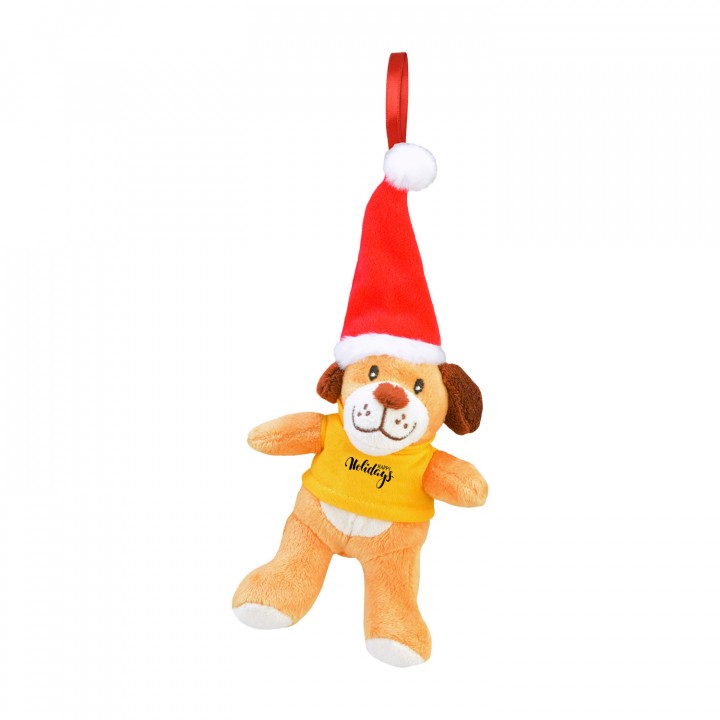 7. Noah's Ark Baby's First Christmas Ornament
Our Noah's Ark engraved Baby's First Christmas Ornaments are excellent newborn gifts for the holidays. These beautiful keepsakes are silver in color and made from pewter. They're formed in the shape of a boat filled with cute animals who want to wish a happy first Christmas to all of the little ones out there. However, since they have a low minimum order quantity of just 6, they be purchased as special gifts for the children of employees, bosses, or customers. Each ornament also has a plaque design on the boat which reads "BABY'S FIRST CHRISTMAS". At the bottom, a wavy water area is formed. It's just below the top of the waves that you're custom laser engraved logo design or message will be included. A hanging ribbon is also provided. These promotional laser engraved ornaments make wonderful religious gifts, appealing to those who like to keep the "Christ" in "Christmas".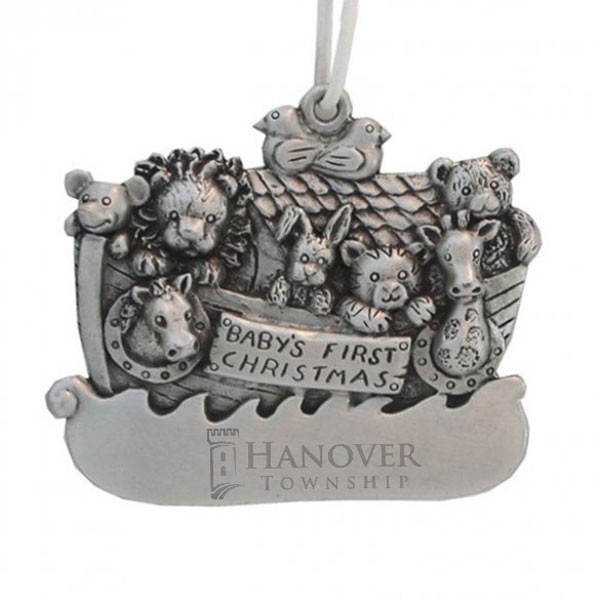 8. Golden Scallop Edged Photo Christmas Ornament
Promotional photo keepsake gifts are becoming ever more popular as time marches on. Your company can capitalize on this trend while also becoming a part of people's cherished holiday traditions by making an investment in our Golden Scallop Edge Photo Christmas Ornament. These promotional Christmas ornaments with full color photos are able to immortalize special moments in users's lives. With these in their holiday decoration arsenal, they can relive treasured memories year after year. Made from sturdy metal and featuring a gold border along fashionable scalloped edges, these make great souvenir items. A low minimum order quantity of just 6 units makes them a great idea for crowds of any size. By default, they have a white background, but this will be largely, if not entirely, covered up by your full color photo design. One side is imprinted a photo and logo, but second side imprints can be added for an upgrade fee. Please remember that orders of 36 and up will have longer production times.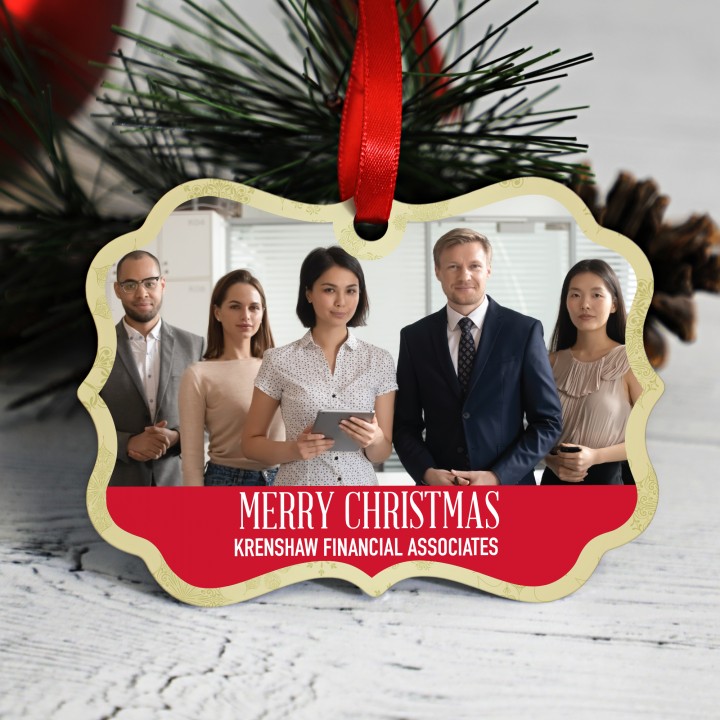 9. Jade Vivid Print Star Shaped Glass Ornament
Modern meets classic with our Jade Vivid Print Star Ornaments. These promotional star shaped glass ornaments make great decorations for both religious and secular occasions. Each is clear in color, creating an attractive three dimensional effect. A silver ribbon which doubles as a hanging device is included with every unit. These will look great decorating Christmas trees, windows, office walls, and anywhere else that could use some lively winter decorations. Each comes in its own gift box. These items have a low minimum order requirement, with only 12 units being needed to make an order. While a single color imprint is included, several upgrade options exist for further personalization. Get in touch with us today to learn more.
10. Wooden Tree Holiday Ornament
Here's another item that proves rustic and modern styles can co-exist peacefully and effectively. Our company logo wooden Christmas tree ornaments come in a natural wood color. It's a great complement to any Christmas tree or set of holiday decorations. It has a relaxed, warm style that is sure to be popular with any and all audiences. These custom wooden ornaments are affordable yet sturdy. They can be used to celebrate Christmas, but can also serve as a general winter decoration, staying out and creating advertising impressions for months at a time. Order yours with the standard single color and location logo design or upgrade to put your logo, custom graphic, or special message on both sides and/or in two colors. Some design changes may affect production times, so be sure to discuss that with one of our custom service representatives before completing your order.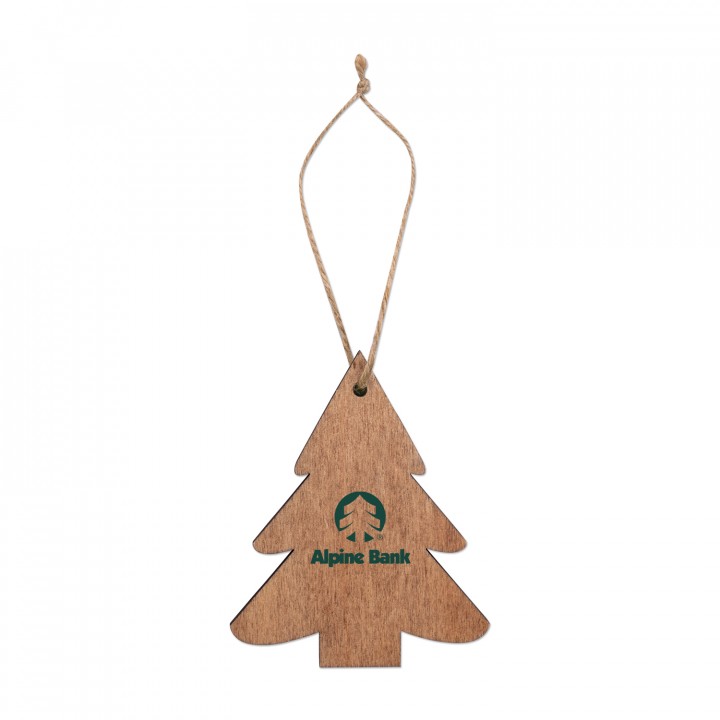 11. Stocking Ornament
A festive stocking is one of the most well-known universal signs of wishing a Merry Christmas to all. That's why they're so popular as ornaments. Our promotional Christmas Stocking Ornaments are surely no exception. Made from soft polyester with a comforting plush feel, these imprinted holiday ornaments come with hanging loop for easy attachment to trees or stands. They also make nice decorations for around the office, with each employee being recognized and represented by their own stocking hanging up in the workplace. They're also perfect for holiday sale displays or as giveaway items to wish loyal customers a happy holiday. Each stocking is red with a white top. They're imprinted with your one color logo design on the leg of the stocking. Get in touch with us today to learn of how you can further personalize these ornament gift items for your target audience.
12. Engraved Believe in the Magic of Christmas Slate Ornament
As we said at the beginning of this article, the comfort, closeness, and cheer brought by the holiday season this year will be a needed gift to many. However, some people may not feel comfortable attending gatherings just yet and thus may feel a little bit lonely this Christmas. In such cases, feelings of hope and consideration are among the best possible gifts one can give. Our personalized slate Christmas ornaments are a perfect way to give this important present. Each offers an inspiring engraved message which reads, "believe in the magic of Christmas". This year, such a message will have an especially profound meaning. However, that doesn't mean that they're only good for use in 2020. The message they convey, as well as their beautifully crafted design will ensure that these become a holiday season staple. All the while, it guarantees years of branding exposure, as each is engraved with your company logo design. Natural jute rope extends from the top to form a hanging loop, enabling these slate ornaments to be displayed on trees, stands, and wherever else they're most needed.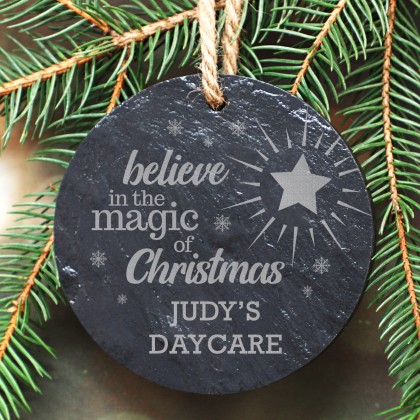 That brings us to the end of this guide to the twelve best company logo Christmas ornaments of 2020. We hope that we've inspired you with these festive promotional holiday ideas and have helped in making some product and gifting decisions for this holiday season. As always, you're free to contact us with any time with any questions you may have. We wish you, your employees, family, and all loved ones the happiest of holidays!