Pamper Them with Promotional Personal Care Products!
2020 has been a tough year on virtually every front. Nearly everyone is more stressed out than they've ever been before. While hope remains important, it may still be some time before things get back to normal. In the meantime, people will continue to spend more time at home. Those who do travel will be beleaguered with extra rules and regulations. Obviously, these things will eventually push anxiety levels even higher. The good news? 4AllPromos is here to help.
It's said that when one looks their best, they feel their best. While we don't want to put too much stock in appearance alone, there is some truth to this expression. That's why we're presenting this list of 14 personalized self-care items that can be used both at home or while traveling. You'll meet a wide blend of personal care products in this article that we hope will be a perfect fit for meeting your promotional needs and helping your target market feel a bit better.
1. Kwik-Fix Folding Brush with Mirror | Custom Imprinted Hair Care Items
Nobody wants their hair to be in disarray or out of place when they're going to be seen by colleagues and other important professional contacts. Other things may take precedence over creating a perfect hair day, so it's not uncommon for jump into the car or to fire up the computer for a virtual meeting with a few strands behaving badly. Fortunately, our Kwik-Fix company logo hairbrush and mirror combination sets are made for just such situations. In one item, users will be provided with both a high quality hairbrush and sturdy glass mirror. Both items flip outward from the hinged center. The mirror can act as a handle while the brush goes to work. Afterward, it can be used to ensure that users achieve just the look they want. Armed with these items, last minute hairstyling will never be a problem. Each is imprinted with your custom logo design, with multiple color imprint designs (up to 4) available for an upgrade fee.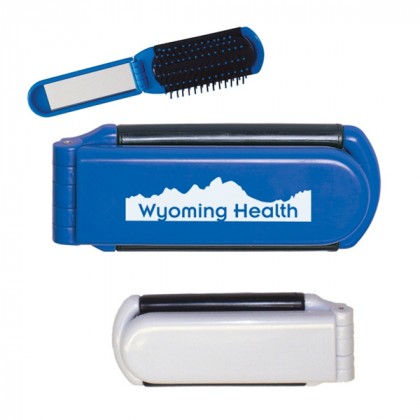 2. U-Go Travel Kit | Custom Personal Care Travel Gift Sets
Whether traveling by plane, train, or automobile, things have become much more complicated over the past few years. While we can't do much to lift all of the current regulations and restrictions, we can offer your business items that will help employees and customers to cope. One such example comes in the form of our U-Go Travel Kit. These promotional self-care travel kits are packed with handy items that people will need when staying somewhere away from home. Each set consists of a bar of deodorant soap, a bottle of shampoo, Purell® antibacterial wipes, a comb, a tube of mint flavored toothpaste, a travel size toothbrush (with case), and 5 flex-fit bandages. All of the items users will need to stay clean and healthy will be at their disposal, contained in a zippered case. The cases come in your choice of white, red, black, or blue and are equipped with a carabiner for easy attachment to suitcases, purses, backpacks, and more. A single color imprint of your business logo is included on the bag, but for an upgrade fee, a second color can be added.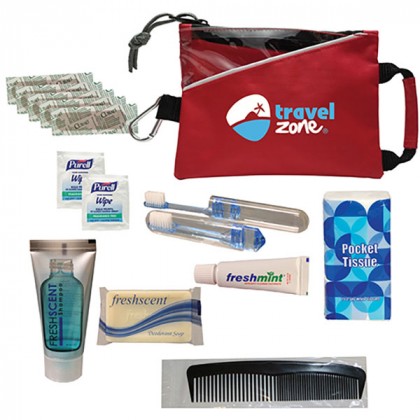 3. Full Body Toiletry Bag | Promotional Personal Care Gift Packages
Whether staying at home or venturing out to new destinations, everyone wants to stay clean and maintain a professional look. Confidence is key, and your business can help provide that essential confidence boost via our Full Body Toiletry Bag. These custom hair and skincare gift sets offer bath and body items which help to keep skin and hair healthy and looking great. Conditioner, shampoo, body wash, hand cream, and an invigorating body scrub and included. Five bottles come in these gift sets, with one devoted to each individual item listed in the previous sentence. The bag that holds them together is made from a clear vinyl material, enabling everyone to see the products inside. The back, bottom, zippered closure, and rope handles are white, adding a bit of contrast to the look. The rope handles give these gift sets a fashionable look, while the zippered closure ensures everything stays put. Your company logo design is imprinted on the inside of the bag, such that it is plainly visible from the front. Your logo design is created in stunning full color. In addition to appearing on the bag, it is also placed on each bottle.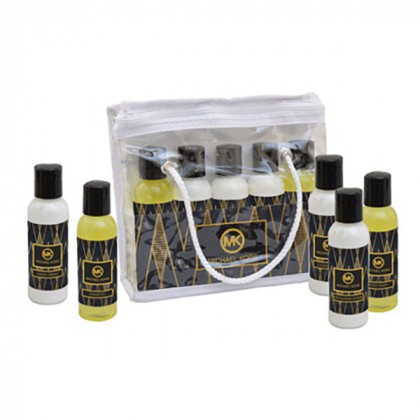 4. Dual Magnification Compact Mirror | Personalized Compact MIrrors
Branded compact mirrors are a great tool for promoting your business as they're guaranteed to travel everywhere that users do. As a result, they create advertising impressions wherever they go. Even in times where people are leaving home less often, these items will serve as a daily reminder of your brand each and every day in countless households. One of our most popular styles is our Dual Magnification Compact Mirror. These small mirrors are convenient, attractive, and affordable. Each one flips open to reveal two mirror panels. One provides a standard reflection, while the other provides one with double magnification.
These help to check on makeup, shaving jobs, and other facial appearance issues so that users can pull off just the look they want, even at the last minute. Their small size will ensure that they find happy homes in purses, glove compartments, desk drawers, briefcases and more. They come in colors of black, translucent red, translucent pink, translucent blue, silver, and white. Each is imprinted on the top panel with your personalized company logo design in one color. A second imprint color can be added for an upgrade fee.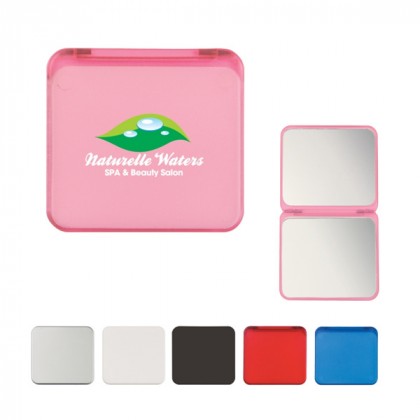 5. Engraved Sweetheart Compact Mirror | Laser Engraved Compact Mirrors
If you're looking for premium engraved compact mirrors with low minimum order requirements, our Engraved Sweetheart Compact Mirrors are just what you need. With only six units being required to make an order, these can be reserved for special gifts to recognize a job well done or to provide support when needed most. These personalized compact mirrors are framed by a non-tarnish nickel plated case that is in the shape of a heart. A hinge the bottom left corner swings to open these items, revealing one standard and one magnifying mirror. Each one is presented in a luxurious velvet pouch for the perfect gift. Engrave these unique compact mirrors with your logo or special message for an extra note of personalization. Silver in color, these mirrors are a convenient size at 2¼ inches wide by 2¼ inches high.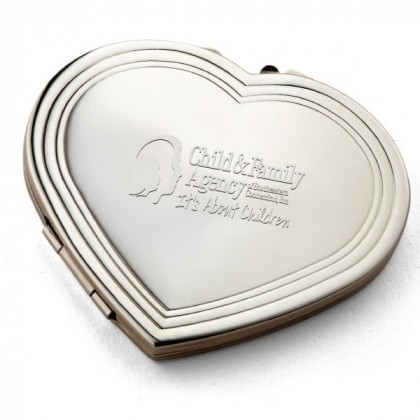 6. PopMirror Phone Grip Stand | Custom PopSockets with Mirrors
We offer a wide variety of custom PopSockets™ in many different styles. These are stylish and highly useful mobile phone accessories that have seen enduring popularity since arriving on the scene last decade. Today, we're presenting a new model, in the form of our promotional PopSockets with mirrors. Nearly everyone uses a smartphone these days, so providing your target audience with an extra useful accessory to go along with it is always a sound branding strategy. The PopMirror Phone Grip Stands you'll find on our site function similarly to most other PopSocket models, but with a notable exception. Each one contains two flip top mirrors. As is the case with the two compact mirrors we've already described, these items also contain one standard mirror and one magnifying mirror.
These items attach to the backs of phone cases with an adhesive gel that can easily be removed without leaving residue behind. This is handy when users wish to take them off to charge their phones on one of our custom wireless charging pads. Each comes with in a recyclable package and is accompanied by an instruction card insert. Black in color, our PopMirrors are 1¼ inches deep when expanded and 9/16 of an inch deep when compressed. Personalize each with your single color logo design or upgrade to include multiple and even full color branding graphics.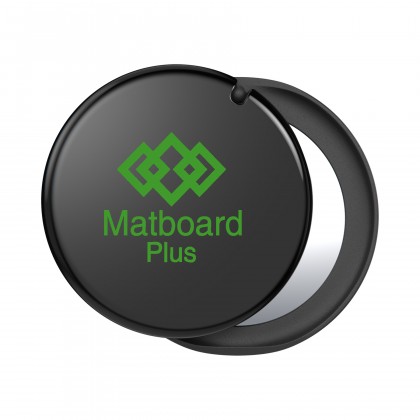 7. Baby Nail Clippers | Company Logo Infant Care Products
Proper hygiene is important at all ages, and infancy is surely not an exception to this rule. That's why parents and medical providers will want to have the right tools on hand to keep babies' fingernails and toenails neatly clipped. Your brand can empower them to do this when it invests in our promotional baby nail clippers. These are affordable promotional products that are perfect as trade show giveaways. They're easy and safe to use, being fully compliant with CPSIA standards. Each unit consists of a large white pad that holds a silver nail clipper inside The shape and design of the outer pad makes for easier handling than what's typical with standard nail clippers. This is important, as it provides more control and helps to guard against accidental cuts. A single color imprint is included on the top of the white portion. However, an upgrade fee grants access to a second imprint color as well as a logo imprint on the bottom side.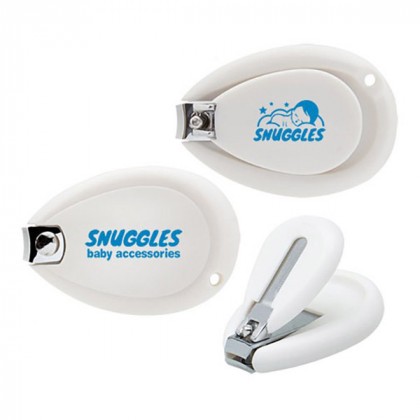 8. Nail Clipper in Case | Promotional Nail Care Items
Clipping babies' nails is an important task, though nail care for adults is also a necessary exercise. Our custom Nail Clippers in Cases are great for clipping fingernails and toenails as well as removing annoying hangnails. Removing hangnails with the proper tools is important, as trying to pull them out manually can lead to unpleasant results such as messy bleeding and even ingrown nails. Available in your choice of black, blue, or white, our promotional nail clippers work are an ideal size for adults and older children. Each is two inches in length and comes in its own individual plastic case. The case can be ordered with a bead chain attachment for easier transportation and organization. Your custom business logo imprint design is placed at the top of each clipper in one color. These items are great buys for salons, beauty shops, bath supply stores, pharmacies, and more.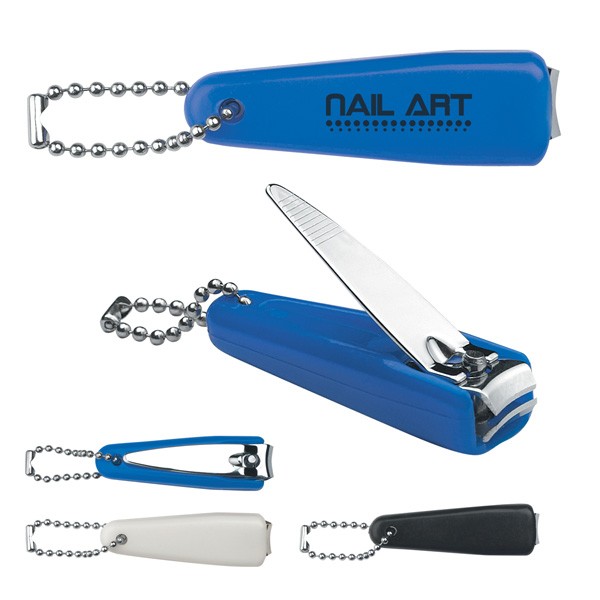 9. Translucent 5 Piece Manicure Pouch | Custom Manicure Products
Taking this up a step is our 5 Piece Translucent Manicure Pouch. These promotional manicure kits are the items to go to when you really want to offer your customers, employees, and target audience an indulgent treat. Perfect for spas, salons, hairdressers, nail studios, and more, these items make great giveaways for beauty industry trade shows. Each set contains a nail file, nail clipper, tweezers, scissors, and a cuticle pusher tool. Fingernails and toenails will be looking their best when treated with such fine items. Everything is packaged together in a vinyl pouch that is thin and translucent, enabling users to view the full collection. The pouch is available in your choice of clear or translucent blue and has a snap closure and beaded chain. Create advertising impressions by adding your one-color logo imprint to the pouch or upgrade to include a second imprint color.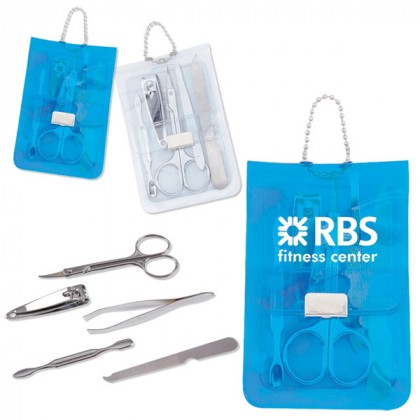 10. Travel Comfort Kit | Bulk Personal Care Travel Kits
Traveling by bus, train, or airplane can get uncomfortable at times, especially during long trips. Add in the fact that all passengers (for now) also have to wear face masks for the full trip and the experience can be downright unpleasant. We're here to help your business make traveling a bit more comfortable and relaxing for your target market with our custom printed Travel Comfort Kits. Coming in an attractive black drawstring pouch that bears your company logo design, these travel sets are designed to promote rest and relaxation. Each bag holds a blue neck pillow, black eye mask, ear plugs, and four compressed towels. Increasing physical comfort and blocking out unwanted noise are big benefits when using mass transit. Your audience is sure to appreciate your help in doing so.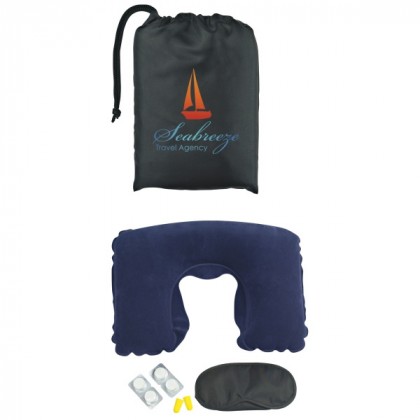 11. Satin Eye Mask | Personalized Sleep Masks
If your company is seeking to buy affordable sleep masks in bulk that don't skimp on quality and comfort, our Satin Eye Masks are the perfect product. Made from premium quality satin that is soft, smooth, and cool to the touch, these eye masks block out ambient light, making sleep easier to achieve. They're also handy when tanning, receiving salon treatments, or just resting one's eyes after a long day. Our custom satin eye masks come in eight different colors. white, gold, black, blue, red, silver, purple, and green are all available options. A comfortable, expandable elastic strap is attached to each mask, keeping them in place and allowing them to fit users almost any size. Your custom logo design is imprinted on the front of each mask , with a second side imprint being available for an added charge.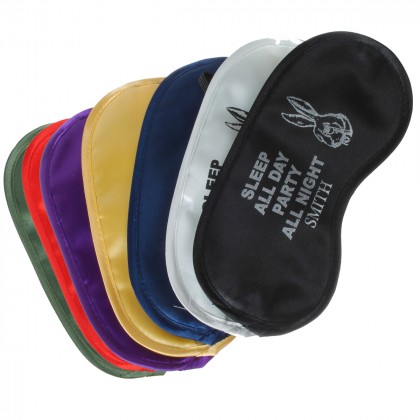 12. Eye Mask Hot & Cold Gel Pack | Branded Hot & Cold Packs
Here's a different kind of eye mask to consider. Our promotional hot and cold gel pack eye masks take on a typical shape, but leave two holes open which allow users to see. Wrapped in a sturdy plastic bag frame, each unit houses several light blue aqua gel beads. The beads are non-toxic and can be heated up inside of the unit when placed in a microwave or put in a refrigerator for a cooling effect. These items are useful for helping to deal with headaches or to cool off on a hot, muggy day. Each is appointed with an adjustable hook & loop fastener, allowing them to fit users of many different sizes. They come with a set of instructions, helping to clear up any possible confusion. Both front and side imprints are possible; please contact us or visit the product page (linked to in the beginning of this paragraph) for more details.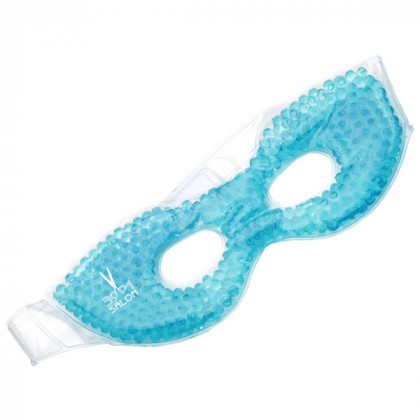 13. Back Scratcher and Shoe Horn | Cheap Promotional Self-Care Giveaways
While they may seem a bit old fashioned, there's still plenty of room in today's modern world for dependable back scratchers and shoe horns. They're even more welcome when both come in one unit, reducing the number of needed purchases and extra spending. Our promotional back scratcher and shoe horn combos are cheap promotional giveaway items that are sure to see plenty of use. They can be passed out in bulk at trade shows, events, ball games, concerts, and more to add a souvenir to a special day or evening.
They're perfect for helping to relieve itches in the hard-to-reach areas of the mid-back. When they aren't being employed for itch relief, they can be flipped around to help users get into and out of tight shoes. Coming in five different colors (white, translucent red, translucent orange, translucent blue, and translucent green), these cheap yet high quality giveaway items are imprinted with your logo across the handle. A convenient hanging chain is also added, allowing for easy storage when these products are not in use. A single color logo design is standard, but imprints of up to four colors can be accessed for an upgrade fee. The imprint area is located near the palm of the hand when the unit is turned downward. Each ships 100% free of charge!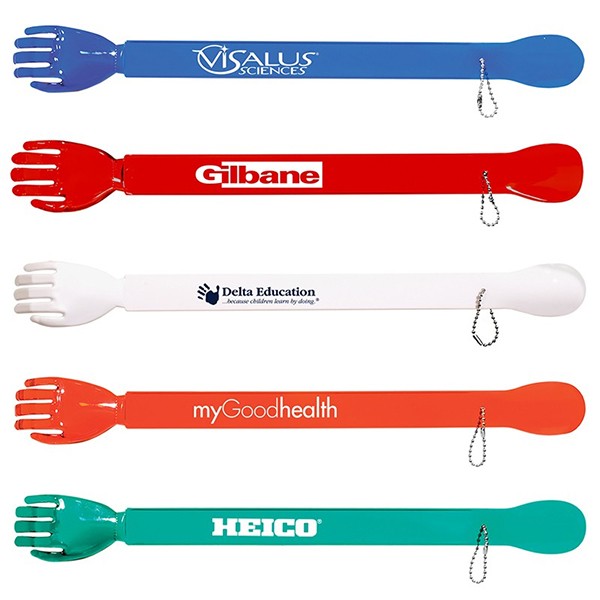 14. Star Acrylic Massagers | Custom In-Home Massage Giveaways
The final item we'll share today is our Star Acrylic Massager. These promotional massage accessories are perfect for in-home use, but also make great giveaway items for massage clinics, physical therapy centers, spas, salons, gift shops, and more. Their unique star shape with rounded points isn't just there for aesthetic reasons; it also has a practical purpose in connecting more deeply with skin to provide a deeper tissue massage. They're great for treating sore muscles or just providing a relaxing massage after (or even during) a long and stressful day. These items come in your choice of transparent blue or clear and are made from a sturdy acrylic material. Each is imprinted in the middle of the star with your logo in an area measuring 1½ inches in diameter. Two-color imprints are an available upgrade option. Please give us a call if you'd like to learn of further possibilities.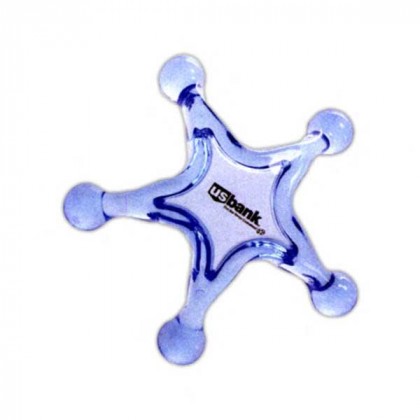 So ends our summary of 14 of our top picks for the best promotional personal care items. It is our hope that we've aided you in finding some items that will help to bring some peace and confidence to your employees, customers, and target audience members while building your brand. If you have any questions about any of the items we've presented or queries about any other topic, feel free to contact us at your earliest convenience. Remember, we're now offering drop shipping, making it easier than ever before to get your items out to where you want them to go in the most efficient time frames possible.