Get Fit and Stay Active with Promotional Fitness Products!
Presently, there are some unique challenges in place for many fitness enthusiasts when it comes to getting to the gym and staying in shape. Luckily, there are plenty of activities that can be done at home or even in open spaces at park and other outdoor areas. For many, this is a highly viable option when it comes to exercising without having to risk possible COVID-19 (Coronavirus) exposure in an indoor setting.
Regardless, the current situation and limitations have created a bit of a problem for many sports and exercise-based small businesses. Staying at the forefront of the minds of the customer bases they serve can be difficult. Therefore, it's important to consistently and effectively remind your loyal following who you are and why they love your gym, yoga studio, or sporting goods shop.
If your fitness or wellness center is out of service right now due to local COVID-19 requirements or is simply seeing a lower turnout, fear not. There are still ways 4AllPromos can help users to remember your business & brand while enjoying a great workout in the process.
Consider providing your audience with some the following custom wellness products that will help them stay fit and active.
Stay Hydrated with Custom Water Bottles
Drinking enough water is something everyone needs to do to stay in good health. However, one of the most common reasons why people aren't adequately hydrating is that they don't have a personalized workout bottle to make the process more exciting. Thankfully, this is where you can help them out. Add your business name or logo image to items like these promotional stainless steel water bottles or a few cheap collapsible water bottles for an instant branding hit. You can even add an inspirational message to the outside to help encourage users along their journey to fitness.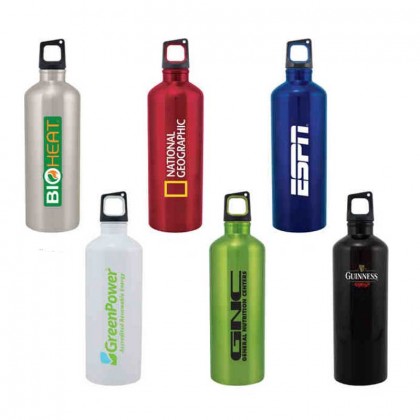 Amp Up Workouts with Music from Our Custom Audio Accessories
There's nothing better than listening to music while raising your heart rate with some good cardio exercises. Our personalized sweat proof wireless headphones are designed for high levels of physical activity and to remain comfortable during wear. A built-in microphone makes it easy to take urgent phone calls or speak to Siri or Google Assistant. Each comes with a handy carrying case that you can personalize with your business name, logo, or other message. Not sold on this style? We also offer promotional earbuds and other options to impress your customers.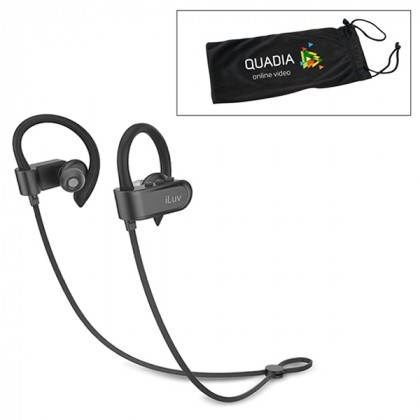 Relax After a Tough Workout with Our Imprinted Cooling Towels
Another great way to help users stay fit and comfortable while keeping your brand prominent is to offer cooling towel face masks with your custom logo or another promotional message. Not sure how to use a cooling towel? The process is simple: Wet the towel, wring it out (or snap it or wave it), and the special fabric will keep you cool for up to two hours. We have several available styles, allowing you to choose one that best fits your promotional needs. These are must-have promotional items for those who enjoy working out in the sunshine!
Enjoy Some Wholesale Healthy Snacks
Not all promotional products involve sports bottles and workout equipment. At 4AllPromos, we also have an extensive selection of promotional healthy snacks. Think edible items such as roasted nuts, trail mix, granola bars, and more to help your customers get the energy they need for a tough workout. They're snacks that manage to taste good while still being good for you! These products all have room for your logo their wrappers or other packaging, making them a great choice for handing out at special events. We also offer single-use imprinted bottled water, which is ideal for festivals, charity races, workout competitions, and much more.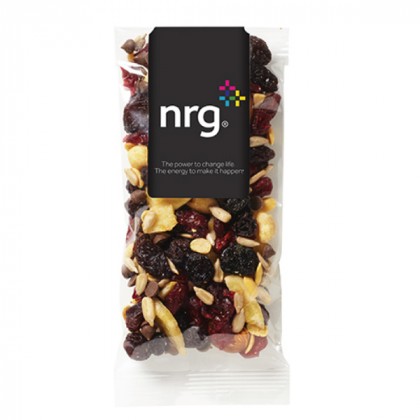 Carry Essentials with Ease in Promotional Tote Bags
Custom tote bags are another great way to grab attention in any setting. Giving away one of our cheap eco-friendly tote bags with your business name and logo provides an easy way for your audience to bring along essentials on hikes or any other outdoor excursion. They also make for excellent reusable grocery bags and book bags for trips to and from the library. Add in a mini hand sanitizers or one of our best custom water bottlesto create a memorable fitness giveaway item.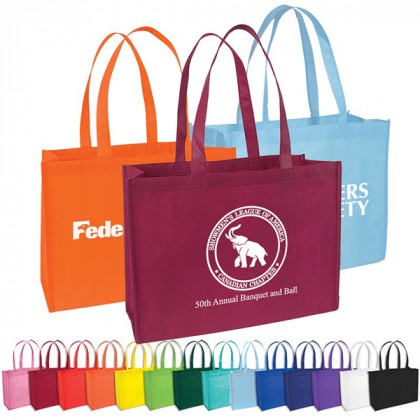 Provide Niche Markets with Unique Custom Fitness Items
If you own a yoga studio, golf pro shop, or general sporting goods store, you might consider handing out special imprinted items for specific hobbies. For example, you could easily add your logo, brand name, and/or slogan to some customized golf balls and give them out to those who visit your course. A great option for yoga and pilates studios is to promote a new class offering by giving all attendees special promotional yoga gear just for showing up. These products are also a good way to keep your social media following engaged, as you could easily run a giveaway or other fun contest on your business's page. For a visual aid, just take a gander at the custom yoga towels pictured at the end of this paragraph. The possibilities are nearly endless!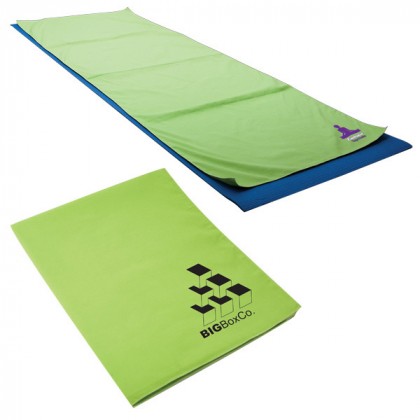 Impress Target Audience Members with Wellness Supply Kits
Of course, there's nothing wrong with packaging all of the fitness and workout essentials you've read about in this list into one amazing supply kit for your customers. Add in one of our custom drawstring backpacks to create a giveaway item that's both functional and memorable. One example is pictured below, in the form of our Custom Personal Care Drawstring Backpack Kit. It contains several supplies active users need to stay safe while on the go. We also offer promotional sports bottle gift sets that include an imprinted sports bottle, sunglasses, and a cooling towel with your information on it. These kits are another area in which the 4AllPromos team truly excels in conceiving great ideas. Never be afraid to ask us for creative solutions.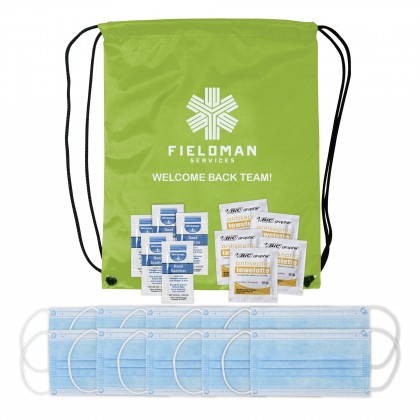 Motivate Your Audience with Promotional Fitness Products from 4AllPromos
Promoting your fitness center, gym, or wellness business has never been easier than with customizable promotional items from 4AllPromos. While we've given you a few great ideas in this guide, there are many more available for purchase every day on our website. Our goal is to provide you with the best service possible while offering memorable and functional products that feature your custom imprint.
Help your customers get fit and stay active with these promotional products and the many others in our vast inventory. Contact the 4AllPromos team today for more information!