Promote Loud & Clear with Branded Earbuds, Headphones & Custom Audio Accessories!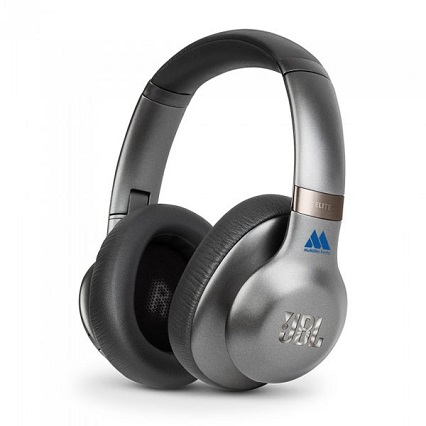 Whether back in the office, working from home, or in the throes of a new school year, custom audio accessories such as promotional earbuds and headphones are always a big help in achieving big goals. 4AllPromos will help your brand to become the face of success via imprinting your company logo on our custom earbuds, promotional headphones, and the accessories that enhance them. Electronics suppliers, tech firms, web design firms, office supply stores, schools, computer repair companies, and music-related businesses are just a few of the many organizations that will benefit from the items detailed in this article. If you'd like to promote your business in a high-tech and efficient way to a diverse crowd, read on; this is the only guide you'l need.
For your convenience, we've broken up this guide into three sections. While we always recommend reading the article in full, the following menu will be of help if there's a specific item group you're looking to explore.
Custom Branded Earbuds, Headphones & Audio Accessories
When users wish to take calls or listen to music, videos, or podcasts privately, our custom company logo earbuds are a great choice. Your tech (or any other) business can make its mark by imprinting your logo on these devices, ensuring advertising exposure wherever users go. This section details six of our picks for the top promotional earbuds on our site.
1. Clip-On Wired Earbuds | Cheap Promotional Earbuds
We'll start out by launching into our Clip-On Wired Earbuds. These cheap promotional earbuds are perfect for bulk purchases and giveaways at trade shows and events. Compatible with the vast majority of modern mobile devices, these custom audio accessories feature a handy clip on each earpiece that affixes them to users & the objects they use most. Belts, pocketbooks, shirt pockets, pants pockets, keychains, and tote bags are just a few of the items these tech giveaways can latch on to for easy carrying. Each set features a 47 inch cord that both joins the buds and plugs into a 3.5 mm audio jack to power on. They're imprinted with your company logo on one clip. A single color and location logo imprint come standard; please contact us for upgrade options.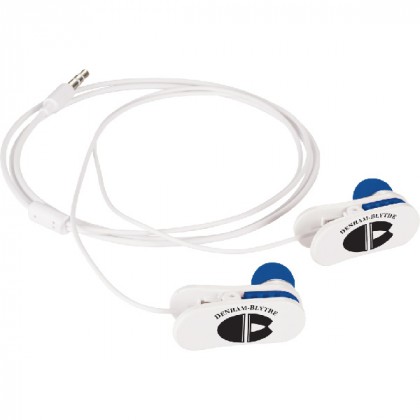 2. Earbuds in Square Case | Branded Earbuds in Protective Cases
The next items we'd like to introduce are our Earbuds in Square Cases. These company logo earbuds in protective cases make great trade show giveaways as well as promotional products for tech firms, web design companies, college bookstores, and more. Every case contains a set of earbuds joined by a 47 inch white cord. The actual earbuds come in several different colors. These colors can either be matched up with the case, or used as a contrast piece with a white case. The lids are clear, allowing users to see the earbuds contained within. They're perfect for travel or for organizing desk space and office drawers. They can be connected to mobile devices to listen to music, engage in private calls, listen to podcasts, and more. Every unit is imprinted on the lid with your customized logo design. While a one color imprint comes standard, two color and full color imprinting are accessible as upgrade options.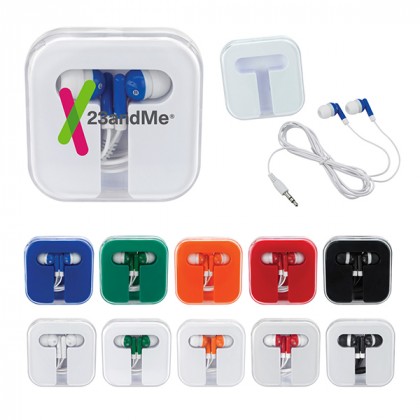 3. Colorful Retractable Earbuds | Promotional Retractable Earbuds
Next up are our Colorful Retractable Earbuds. Coming in a bright red shade with white accent areas, these promotional retractable earbuds are sure to catch lots of eyes. In the process, your company logo will gain advertising exposure wherever users travel. Another affordable item that's compatible with nearly all modern mobile devices, these particular custom earbuds help to avoid tangles and loss, thanks to the included central housing piece. When not in use, the cords to the earbuds slide right back inside for safekeeping. They're highly convenient mobile tech items for advertising on the go with an active audience. Their 36 inch cords allow plenty of room for users to move. Plugging into a 35 mm jack is all users need to do to bring these items to life. Each is imprinted with your logo on the housing in one color. For an upgrade fee, multiple color imprint designs can be included. 
4. Interchangeable Earbuds in Square Case | Personalized Earbuds with Multiple Tips
Do you remember the Earbuds in Square cases we shared just a moment ago? Worry not; despite their similar appearance, this item is not a repeat of the aforementioned, already covered model. The "Interchangeable" part of their name says it all. These are wholesale earbuds with multiple ear molds. To put it another way, three sets of silicone tips in different sizes are included so that these earbuds can comfortably fit users of all sizes and ages. Few things are more annoying than ill-fitting buds, so this item nips that problem in the bud. They allow users to listen to music, videos, calls, and more in comfort and style. The cases are ergonomically designed, with an area for wrapping cords lying on the exterior, just below the lids. It's another great way to prevent messes, tangles, and lost wires. The cords are 31 inches long, allowing for mobility while users jog, walk, work out, study, and engage in all other kinds of activities in a wide variety of settings. These items are a cheap and affordable way to build brand awareness, as your company logo is imprinted on the clear case lid. For an upgrade fee, this imprint can be made in multiple colors.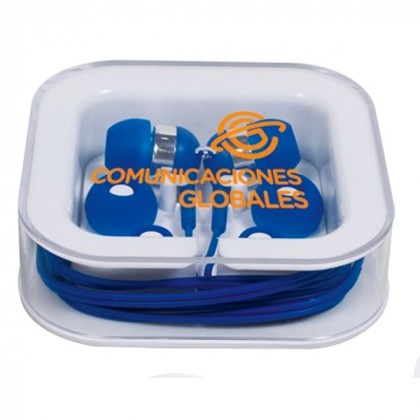 5. Tangle-Free Earbuds with Microphone | Custom Branded Earbuds with Microphones
Nobody likes dealing with tangled wires or having to straighten them out every time they go to use a device. Our custom branded tangle-free earbuds offer a perfect escape. Each set features a special connector to prevent the wires from being tangled. However, that's not all that's special about these promotional audio accessory giveaways. They also have comfortable, soft silicone earbuds with noise canceling abilities. Top quality stereo sound flows through them, while the attached condenser microphone allows for hands-free calling, voice searching, and interactive gaming. They boast a frequency response of 20 Hz - 20kHz, making them quite versatile for use with mobile devices. A four foot long cord provides lots of moving space. Coming in your choice of black or white, each set is imprinted with your logo design. For an upgrade fee, they can be accompanied by a zippered carrying pouch.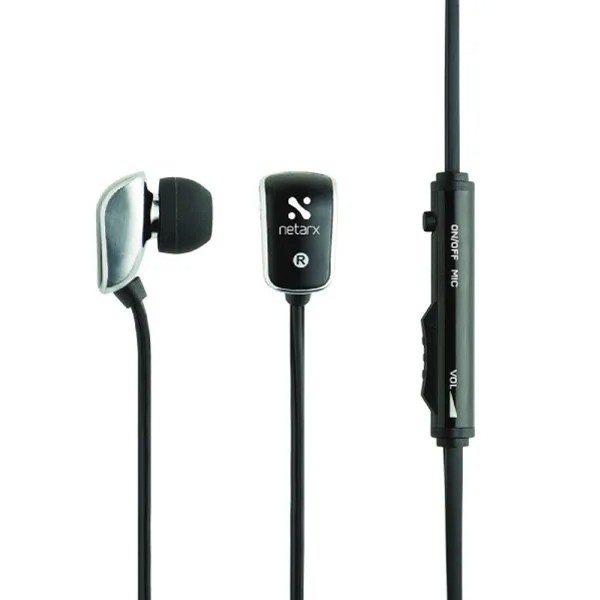 6. Essos True Wireless Auto Pair Earbuds with Charging Case | Promotional Auto Pairing Earbuds with Chargers
The final set of earbuds we'll discuss in this section are our Essos True Wireless Auto Pairing Earbuds with Charging Cases. That name is a bit of a mouthful, but these personalized auto pairing earbuds with charging bank cases have plenty to offer. Therefore, a name that hits on their key features is surely in order. The case which bears your company logo imprint design has a dual function as a 400 mAh power bank charger. Lying within a white ABS plastic shell, the batteries can charge in 90 minutes to provide 2 hours of playback time at top volume. The included earbuds are of the wireless variety, with Bluetooth 5.0 capability.  They conveniently auto pair with mobile devices, making them fun, easy, and efficient for everyday use. Dual microphones are also present, making calls and virtual meetings that much easier to conduct. While these items include a one color imprint on the case by default, up to 3 colors can be included in your logo design for an upgrade fee. They're great for students, teachers, music lovers, commuters, gym devotees, and more.
You'll find all of the best promotional headphones at 4AllPromos. We have customizable headphones in many styles, ranging from simple discount models to deluxe premium styles. Read through this section to learn more about some of our most popular and best-selling styles.
1. Cobain Wireless Headset | Imprinted Wireless Headsets
Not all promotional products are designed for customers or are at a price point where it would make sense to hand them out randomly. However, many options are ideal for gifting your team or distributing in bulk at trade shows. If you want to provide a great tool for helping users maintain contact, our custom wireless headsets are an excellent choice. They feature a long battery life and a loop around style that's both comfortable and functional. This is a great promo product if your team is on the go, such as a sales crew or contracting group. They have Bluetooth capabilities, with a reach of up to 33 feet (10 meters). A sweatproof silicone band makes them extra appealing for use during workouts. Stereo sound and comfortable ear loops serve to make these items superior for both comfort and sound quality. Function control buttons put the user in a greater place of control and convenience. Multiple colors are accessible for your logo design via an upgrade fee.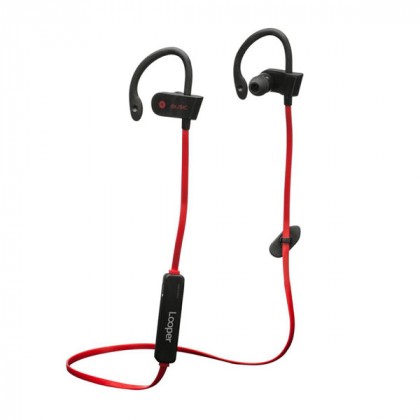 2. The Bounz Headphones | Wholesale Cheap Headphones
Not everyone likes the style and fit of modern earbuds. Luckily, there are plenty of alternatives available from 4AllPromos. Our custom foldable headphones offer a comfortable fit and excellent sound quality. In addition, they compact to make it easy to toss them in a purse or desk drawer. If you're working with students or children, these earphones are especially ideal, as they're much more comfortable to wear for longer periods of time. Plus, they come in a variety of fun colors that ensure your company or organization's message stands out. Our Bounz headphones fold easily for convenient storage and shipping. A single color and location logo design on one earpiece come standard, with multiple imprint colors and locations coming for an added charge.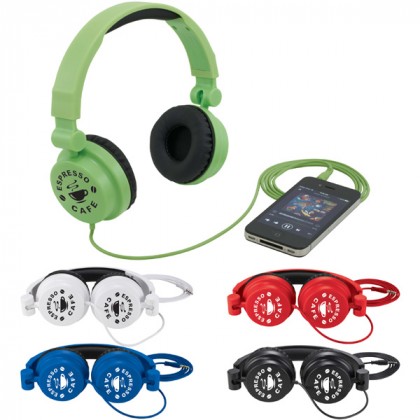 3. Cadence Bluetooth Headphones | Promotional Bluetooth Headphones
Looking for affordable yet high quality custom Bluetooth headphones? You needn't look any further than our Cadence Bluetooth Headphones. These popular promotional tech items ship 100% free of charge. They also only require a quantity of 12 units per order, so they can be purchased in volumes both large and small; it's completely up to you! Coming in black with royal blue accents or black with white accents, these stylish wireless headphones are easy to fold when it's time to move them or put them away. They offer flexibility for users, as they don't have to stay anchored to the limited reach of a wire. With a range of 33 feet (10 meters), these headphones offer users plenty of movement freedom, making them ideal for workouts, outdoor work, studying, babysitting, housework, and more. Controls reside in the earpiece, allowing users to control the volume of their music as well as what they're tuning in to. As far accessories go, an auxiliary cable and micro USB are included with every set. By default, a single color logo imprint appears on the right earpiece. Give us a call, email, or live chat message to learn of additional branding options.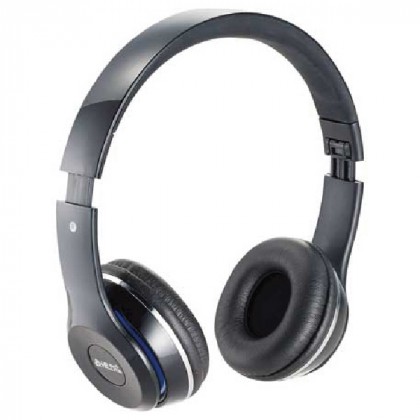 4. JBL Free Truly Wireless In-Ear Headphones | Custom Wireless Headphones
Our JBL Free Truly Wireless In-Ear Headphones do a great job of living up to their name. Thanks to being able to operate without being connected to a plug and outlet, these promotional wireless headphones truly offer users a great degree of freedom. Rather than having to remain stationary, they can move about and continue their activities while listening to music, instructional videos, podcasts, or taking calls. They have a conveniently small size and modern look that makes them a perfect giveaway item choice for tech companies, design firms, software service vendors, and much more. They can switch between stereo and mono audio modes while also offering single button control for both calls and music. These custom headphones are compatible with nearly all contemporary mobile devices and have IPX-5 certified splash proof design, making them safe for indoor and outdoor use, even in wet weather. Four hours of playback time, plus 30 hours of backup power in the charing case combine to give these branded wireless headphones 24 hours of playback. Two gel sleeves are included for comfortable wearing, as are ear tips in three different sizes. Each is presented in an attractive retail gift box and is imprinted with your personalized logo design. Please click on the preceding link or contact us for further details.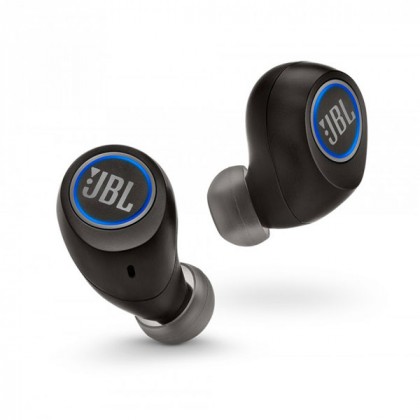 5. LED Logo Light Up Bluetooth Headset | Unique Personalized Headphones with Logos
Spread brand awareness in a unique and memorable way with our LED Logo Light Up Bluetooth Headset. These customizable headphones with light-up engraved logos are excellent promotional tech products for nearly any business. Each is powered by a rechargeable lithium polymer battery, which is included in the purchase price. As is the case with many of our custom headphones, these models can fold into a smaller and more manageable size, making storage and transportation easier undertakings. Offering compatibility with the vast majority of contemporary mobile devices and 4 hours of playtime. Great for listening to videos, music, podcasts, and making hands-free calls, these personalized headsets come in a gift box. In addition to the headphones, the gift box also holds a charging cable and instruction sheet. Each set is engraved with your custom logo design on one earpiece. When the headphones are running, the logo lights up, displaying your design in a bright white shade. For an upgrade fee, both sides of the headset can bear your light-up engraved logo design.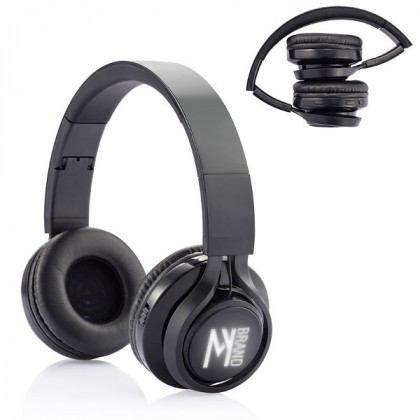 6. JBL Everest 750 Noise-Canceling Over-Ear Headphones | Promotional Noise-Canceling Headphones
Our JBL Everest personalized noise-canceling headphones are among some of the most impressive headphones you could ever hope to encounter. These are the fully-loaded, supreme deluxe models that any user will be thrilled to have in their possession. These are over-ear headphones, joined by a semi-circular strap to connect the earpieces, making them distinct from in-ear models. They're designed to fit snugly and comfortably, but the luxury doesn't stop there. They also boast TruNote auto sound calibration, a quality which creates a personalized audio presentation based on how the ear cup fits the individual user. They come with a protective carrying case, which is compact in size yet strong enough to keep the headphones safe during transportation. Superior sound quality comes standard, while a quick-charging battery keeps it coming. They have an adaptive noise canceling mode setting, which helps to block out surrounding sounds, enabling users to focus on their music, videos, podcasts, and calls. Speaking of calls, an echo-canceling microphone is also included for maximum clarity. As with most of our headphone models, a single color and location logo design come standard, with additional colors being available for an upgrade fee.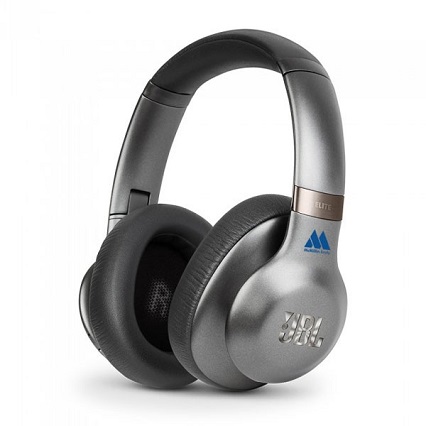 Users who are equipped with the best custom audio accessories will get the most out of their listening experience. We have many different types of convenient accessories for earbuds and headphones in an array of styles. We'll share 4 of our several available options in this section.
1. Cord Organizer | Wholesale USB Cord Organizers
Our bulk company logo earbud cord organizers are handy accessories for earbuds, headphones, and any other device making use of a USB cord. When not in use, cords can be wrapped around these conveniently shaped and very affordable items to prevent tangles, loss, and the wrong cords from being paired with the wrong devices. Simple yet effective, these make excellent trade show giveaway items and also do very well as impulse items at retail store checkout counters. Coming in a variety of different colors, these items are of great use to virtually every demographic, as there are very few people who do not make use of mobile and USB powered devices in this day and age. They're wonderfully lightweight, stackable, and easy to store and transport. Their small size makes them extra convenient, but they're not so small that your business logo design won't still stand out loud and proud. Speaking of which, a single color and location logo imprint comes standard, but full color logo designs can be included for an added fee.
2. Wired Earbuds with Stand and Cleaner | Wholesale Earbud Accessory Kits
Here's a great promotional gift for small businesses, students, and tech firms, just to name a few. Our Wired Earbuds with Stand and Cleaner are excellent promotional earbud accessory kits. They consist of a multi-functional ABS plastic case that houses multiple accessories for an effective, efficient, and enjoyable listening experience. The case serves as both a box for holding the kit together, in addition to serving as a mobile phone stand. Inside of the cube-shaped container, users will find a microfiber cleaning cloth to keep their screens clean and at peak visibility. Also included is a set of wired earbuds with a 118 cm (46.45 in) cord. While the cord and 4 panels of the box are white, two box panels, the microfiber cloth, and earbud trims come in your choice of white, black, red, and royal blue. The two box panels that are colored are also the pieces that open to grant interior access, as well as serving as the base of the phone stand. Each set comes with a single color and location imprint on the box. You can add multiple colors to your logo design for an upgrade fee.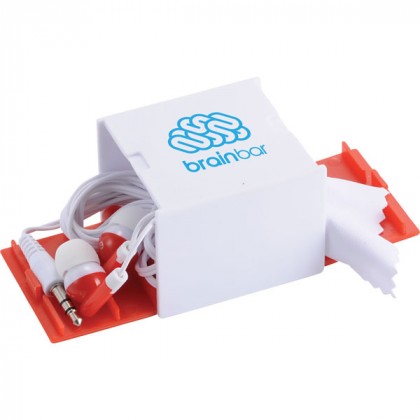 3. Mobile Tech Charging Kit with Microfiber Cleaning Cloth in Drawstring Pouch | Custom Earbud Kits
If you're looking for imprinted earbud & headphone accessory kits that have it all, you need our Mobile Tech Charging Kit with Microfiber Cleaning Cloth. Packed into a 210 polyester cinch pouch, these promotional earbud accessory sets have everything needed to keep mobile device audio accessories clean, organized, safe, and charged. Each set contains a 3-in-1 charger, able to charge iPhones, Androids, and Type C micro USB devices. Also present are a set of earbuds and a 36 square inch microfiber cleaning pouch, perfect for cleaning screens to perfection. The pouch and cleaning cloth come in your choice of blue, red, or lime green. A single color and location logo imprint design is included on the pouch. However, upgrade options include imprints on the cloth and cables as well, in addition to double-sided imprinting on the pouch.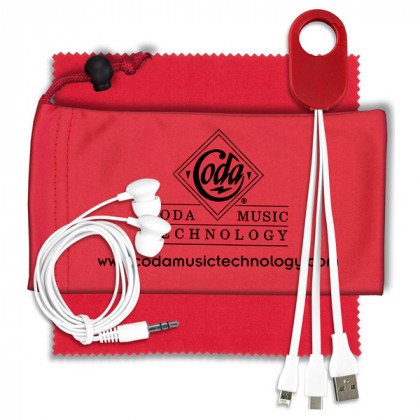 4. Hospital Quiet Kit | Personalized Audio Accessory Kits for Hospitals, Dorms & More
The Hospital Quiet Kit will wrap up the set of custom earbud and headphone accessories for this article. We're certainly finishing on a strong note, as these custom audio accessory gift sets have much to offer. Whether the recipient in question is a patient or visitor in a hospital (or any other location where quiet conditions are a must), these promotional tech gifts are sure to come in handy. They're helpful for work, entertainment, and rest/relaxation. Each contains a sealed pouch holding items conducive to both sleep and audio accessibility. A high quality sleep mask, pair of NRR 33 cordless earplugs, and a set of white wired earbuds are included in every pouch. In addition to being great for hospitals, they're also helpful for getting rest on planes, trains, and buses during long trips. The pouch comes in your choice of red, black, orange or green. A single color and location imprint of your logo design appears on the bag in your pick of black or white. Please contact us if you have any questions regarding further personalization options.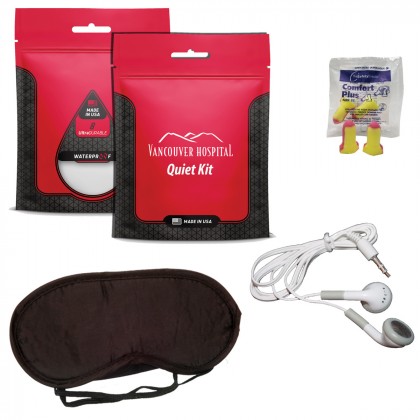 Now that this article is drawing to a close, it is our sincere hope that we've highlighted some items that will help you in your branding efforts. If you have any questions about the earbuds, headphones, or audio accessories we've shared today, please feel free to contact us at any time. Our team of talented customer service professionals and artists is always ready to help go the extra mile to turn a great promotion into a phenomenal one.