Keep Skin & Lips Healthy with Ten of Our Best Touch-Free Sunscreen & Lip Balm Promotional Items!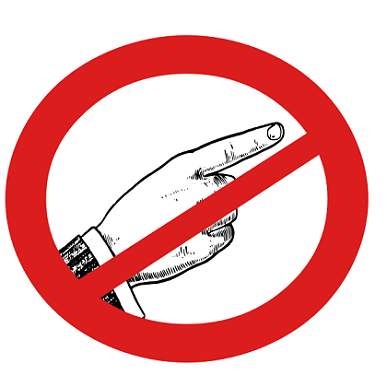 While COVID-19 has certainly made this year different than most, it's still clear that life must go on. While we're doing everything differently for the moment, we're still living our lives. Therefore, it's a good idea to provide users with a way of living as normally as possible while still taking precautions to stay safe and healthy. At 4AllPromos, we've been striving to make this a priority by focusing on several product areas that are aimed at protecting and educating users while still letting them work, rest, and play in the ways that make them happiest. In recent months, we've written articles covering items such as custom social distancing products, our many varieties of promotional hand sanitizers and wholesale face masks, caution-centric back-to-school safety items, and more.
Today, we'll be sharing some information regarding our picks for our ten best promotional touch-free sunscreen sticks and custom touch-free lip balm products. These are items that let those who use them continue to enjoy the great outdoors while staying safe and healthy. In addition to protecting skin and lips from harmful excessive sun exposure, these items also seek to help users stay germ-free. The whole "touch-free" element of the items in this article comes into the picture due to the fact that fingers never need to come into contact with the sunscreen and lip balm they contain. 
1. Custom No-Touch SPF 30 Sun & Fun Stick
We'll start off with our SPF 30 Sun & Fun Stick. These promotional touch-free sunscreen sticks have an SPF rating of 30 and protect skin against both UVA and UVB rays. They come in a container that's reminiscent of those that hold roll-on deodorant and function in much the same way. There's a cap on top and a dial to turn at the bottom to advance the sunscreen upward for application without it ever touching a user's hands. They're wonderfully lightweight and compact, making them easy to transport nearly anywhere. The sunblock contained in each unit has a non-greasy feel and helps to prevent early aging of skin as well as skin cancer. On top of that, it's both sweat and water resistant, so it'll stay in place without running and staining clothes. Both the container and sunscreen are FDA compliant. Each unit is white and is 3 inches tall. A full color imprint comes standard with every piece, occupying a space of 1 inch wide by 113/16 inches high.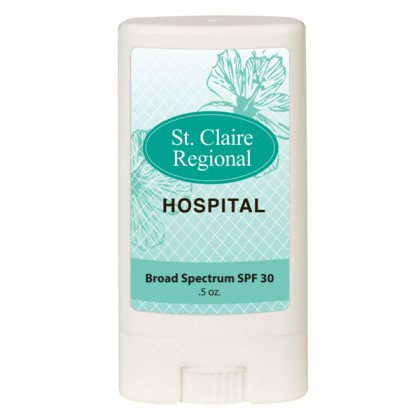 2. Promotional Touchless SPF 30 Sun Block Stick
The second item we'll discuss in this article is our SPF 30 Sun Block Stick. These custom no-touch sunscreen sticks ship 100% free of charge and come in a cylindrical plastic container. These sunscreen promotional items are made in the USA and are in full compliance with FDA regulations. Application is easy and the sensation provided is one that is comfortable and non-greasy. They have a light tropical sense which adds a little extra sensory input to users' summer fun. Each unit contains 0.6 oz of SPF 30 sunscreen. These make great giveaways for warm weather trade shows, outdoor events, charity functions, beaches, parks, and more. Each stick is 3¾ inches wide by ⅞ of an inch high. They're white by default, but are imprinted with your personalized full color logo design for a look that is appealing to the eye and impossible to ignore. The imprint covers most of the tube, at a size of 2⅛ inches wide by 2¾ inches high.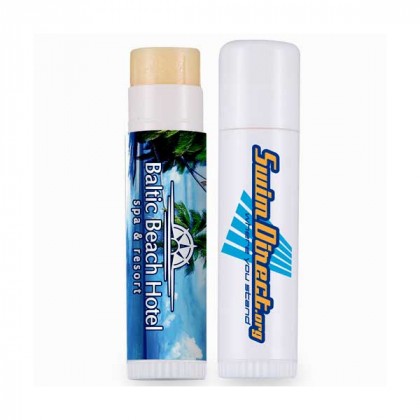 3. Imprinted SPF 30 No-Touch Sunscreen Stick in Frosted Tube
Now it's time to meet our SPF 30 No-Touch Sunscreen Sticks in Frosted Tubes. Yet another top-notch style of our wholesale touch-free sunscreen sticks, these items are perfect for promoting water parks, theme parks, skin care centers, pharmacies, camping supply shops, and more. As is the case with the sunscreen tubes listed above, these versions also come without shipping charges. With an SPF rating of 30, these sunscreen sticks help to block out the sun's UVA and UVB rays. This sunscreen is especially useful for the face, offering prime coverage to the nose, ears, lips, cheeks, and forehead. Each container holds 0.55 oz of sunblock and has a sleek and stylish look. At 3 inches wide by 1⅓ inches high, they're a perfect size for storing in pockets, purses, pocketbooks, beach tote bags, and most any other vessel. Each is imprinted in full color with your customizable business logo design in an area spanning 1½ inches wide by 10/11 of an inch high.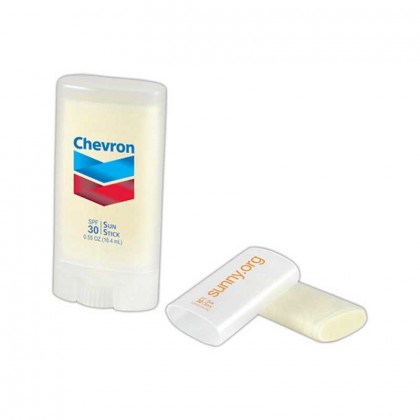 4. Company Logo No-Touch Lip Balm & Sunscreen Combo
Our fourth item is a bit different than the three that preceded it. In addition to offering protective sunscreen, these touchless tubes also hold lip balm. Each unit offers a dual-ended promotional touch-free sunscreen and lip balm stick. This is reflected in the product's name, which is the SPF Lip Balm and Sunscreen Combo. Each one has a removable cap at each end. Beneath the top cap, users will find 1 oz of roll-on SPF 30 sunscreen. When the bottom cap is removed, a stick of SPF 15 lip balm is exposed. Both the sunscreen and lip balm successfully block UVA & UVB rays, without any contact with the fingers being necessary. While often associated with summer, such a product is useful the whole year through. Winter sports such as skiing and snowboarding can leave users' lips open to potential sun damage from rays that are reflected off of the snow. Therefore, these make great promotional products for beaches and ski resorts alike, as well as pharmacies, supermarkets, cosmetic companies, bath & body retailers, and more. The tubes come in a variety of assorted translucent colors with a contrasting color on the sunscreen dial. Each unit is ¾ of an inch wide by 37/16  inches high. A full color decal is included in the price. This decal covers a space of 2⅝ inches wide by 111/16  inches high.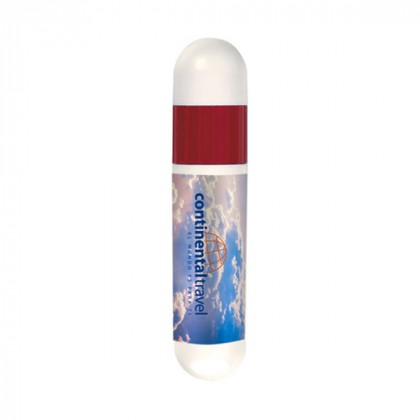 5. Customizable No-Touch Sunscreen & Lip Balm with Carabiner
Next up is another touchless lip balm & sunscreen combo item, fixed in a little bit different way. Rather than being directly combined into one unit, these touch-free sunscreen giveaways offer a sunscreen tube and lip balm stick that are connected by a carabiner. The carabiner makes it easy to attach these items to key rings, belt loops, shoulder straps, carrying handles, and a multitude of other items for easy transportation. The sunscreen has an SPF rating of 30 and is enhanced via healing aloe extract, while being free of PABA. PABA stands for para-aminobenzoic acid. It's a chemical compound that can be beneficial as an ingredient for treating certain conditions, but has the potential to cause allergic reactions in some people. Therefore, not having it in sunscreen that your business is handing out in bulk is an added safety measure both for users and your company. Meanwhile, the included carabiner attaches the sunblock to a tube of SPF 15 lip balm which comes in your choice of unflavored, mint flavor, or vanilla flavor. All elements of this package are produced in the USA, within an FDA approved facility. Both elements are appointed with a full color decal to make your logo stand out all year long.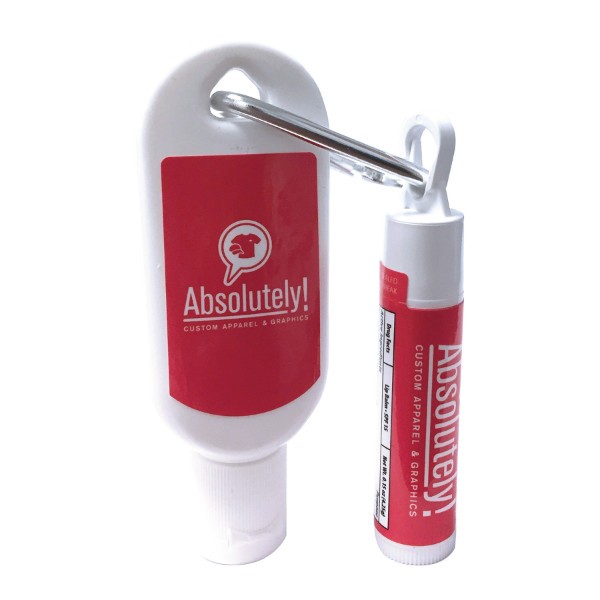 6. Branded Duo SPF 30 Sunscreen & SPF 15 Lip Balm Bottle - Touch-Free
Looking for another carabiner-connected style of bulk touch-free sunscreen dispesnsers with lip balm? We have a great one to present to you in the form of our Duo Sunscreen & Lip Balm Carabiner Kit. These items differ from the previously presented model in that it isn't the carabiner that connects the two dispensers. Rather, the SPF 30 sunscreen is supplied in a uniquely shaped bottle. This bottle contains a nook to the side in which the lip balm stick can be inserted and snapped into place. Each bottle holds 1.9 oz of sunblock lotion, while the attachable tube contains lip balm with an SPF rating of 15.
In addition to helping block harmful rays and prevent skin damage, the lip balm is free of gluten, PABA, and oxybenzone. Oxybenzone is another chemical compound that some studies have shown to have potential to cause allergic reactions. The carabiner is attached to a ring at the top of the bottle, allowing this item to be easily clipped on to most any device for convenient storage and easy access. They're great giveaway items for beaches, theme parks, winter resorts, hotels, spas, salons, and much more. Each component is produced in an FDA approved facility right here in the USA. The carabiners come in assorted bright colors, while each sunscreen bottle and lip balm stick boasts a full color decal for your logo design and/or special message.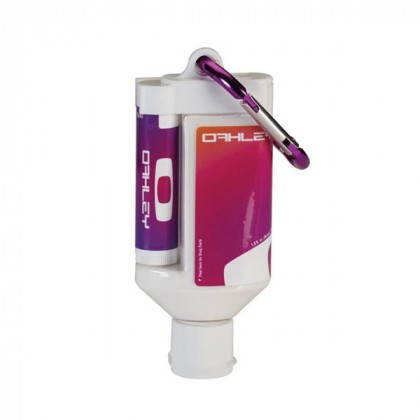 7. Wholesale Touch-Free Lip Balm & Sunscreen Travel Stick
Looking for promotional no-touch sunscreen givewaway items that also offer the protection of lip balm and are great for use on the go? If so, our Lip Balm & Sunscreen Travel Stick is an ideal product for your branding needs. A great buy for spas, resorts, municipal pools, daycare centers, summer camps, and more, these items offer two protective substances in one unit. With a cap at each end, the top of every tube holds SPF 30 sunscreen, while the bottom contains SPF 15 lip balm. As previously stated, the lip balm helps to make this a promotional product that is useful all year through. Fully compliant with FDA guidelines, these health & wellness giveaways are also convenient, since two frequently needed items are provided in one package. They come in a broad variety of colors and are easy to grip and apply without one's hands coming into contact with either the sunscreen or lip balm dispensers. Each unit is 3½ inches high and has an imprint area of 1⅝ inches wide by 1⅝ inches high. Your company logo is included in dazzling full color to catch eyes, turn heads, and keep your brand on everyone's mind.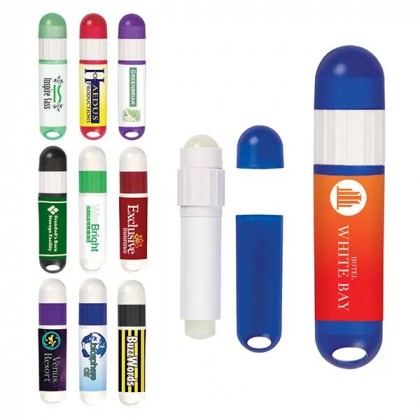 8. Custom SPF 15 No-Touch Lip Balm in Skinny Tube
The eighth item we'll present in this article is our SPF 15 Lip Balm in a Skinny Tube. These personalized touch-free lip balm sticks are great giveaway items for salons, beauty shops, pharmacies, grocery stores, ski resorts, spas, eco-friendly retailers, and more. The SPF 15 lip balm held in each stick has a beeswax base and is free of gluten, PABA, and oxybenzone. The eco-friendly balm is DIN compliant & made within an FDA approved facility in the USA. Meanwhile, the uniquely shaped skinny plastic tube for which this item is named is eco-friendly in its own right. It's made from 35% post-industrial recycled materials. The lip balm they hold comes in 32 different flavors. Up to 3 flavors can be included in any order, though when going with multiple flavors, a minimum of 25 units must be ordered of each. Imprinted with your logo in full color, these items have a decoration area spanning 1⅗ inches wide by 7/10  of an inch high.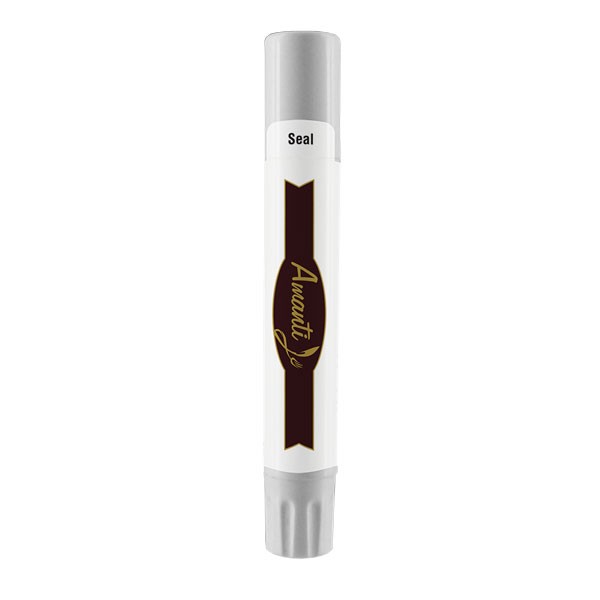 9. Promotional Touchless Sun Block Spray Bottle
In addition to no-touch sunscreen lotions and sticks, we also carry multiple styles of promotional touch-free sunscreen sprays. Linked to in the previous sentence, our pen style Sun Block Spray Bottles are one shining example. Each holds 10 ml of SPF 30 sunscreen. In addition to helping to protect users' skin against sun damage, the sunscreen spray also offers a refreshing yet light tropical scent. When applied, it has a comfortable sensation that is not greasy or sticky. Shipping free of charge, these custom no-touch sunscreen spray pens are great for outdoor events, charity functions, parks, beaches, daycare centers, camps, and more. They're available in an assortment of translucent colors and come with a full color decal, adorned with your company logo design. Each sunblock spray tube is ⅝ of an inch wide by 5¾ inches high with an imprint area of 3⅓ inches wide by 2¼ inches high.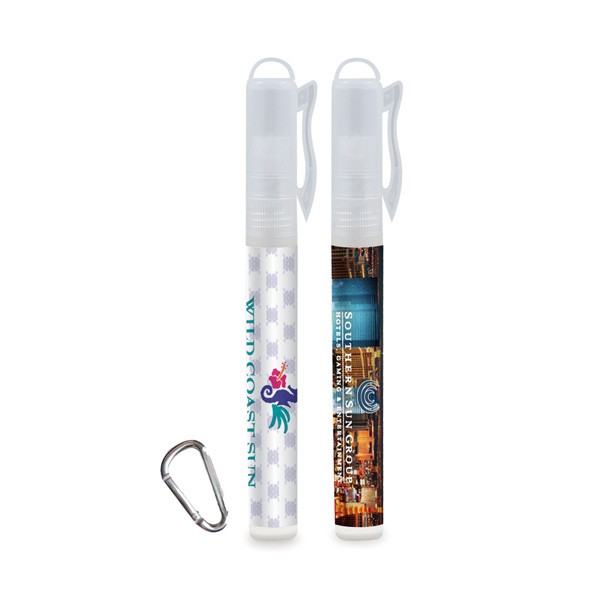 10. Company Logo Credit Card Style Sunscreen Spray - Touch-Free
Last, but certainly not least, we'd like to present our custom Credit Card Style touch-free sunscreen dispensers. These touchless sunscreen giveaway items have a nearly flat, credit card shaped container with an easy to operate spray button. Pressing the top of this button activates the spray, making possible to use without the actual dispensing orifice being touched. They make great promotional products for nearly any business, as they're highly useful and blissfully easy to transport and operate. Each comes in a clear plastic container which is augmented by a full color personalized decal with your business logo. They also ship free of charge, adding savings to the already long list of benefits these products have to offer to your business.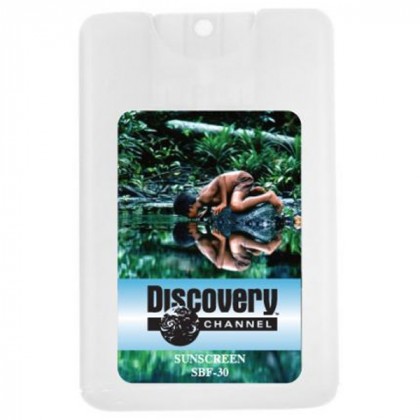 We hope that you've found this little guide to be useful in providing a vehicle for building brand exposure while helping your target audience have some fun, even in these difficult times. If you have any questions about the items included in this article (or anything in general that you'd like to talk to us about), feel free to contact us at any time. Until next time, we wish your business and its employees, customers, and valued contacts the best in health, fortune, and happiness.