Your Guide to Custom Signage for Social Distancing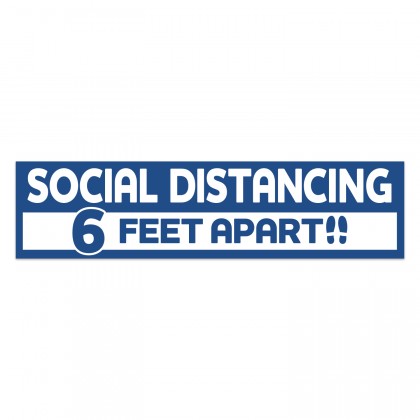 For nearly everyone on the planet, 2020 has done anything other than proceed according to plan. The Coronavirus (COVID-19) pandemic has, for the moment, imposed changes on all of us. These changes are affecting how and where we work, play, and attempt to prosper in our daily lives. This whole ordeal is presenting an even heavier challenge to business owners preparing to open back up to the public. These challenges are centered on making stores, restaurants, and offices safe for employees and customers, all while adhering to current social distancing regulations.
While we can't make the entire process easier, the 4AllPromos team is here to help by providing custom signage for your office, restaurant, or any other business location. Make your specific safety policies known by way of our visually appealing and attention-grabbing posters, magnets, and other signs. Read on for a quick guide to help you get started.
Custom Social Distancing Reminder Signage
Some people may need occasional reminders when it comes to local social distancing guidelines. We give you the power to provide them. At 4AllPromos, we offer a full range of promotional social distancing items that can be customized to match the décor of your retail store, restaurant, or other business. Our selection of social distancing signage includes high-quality paper designs as well as permanently engraved placards, both of which look great when posted on a wall or door. Even fun apparel items are included in the mix.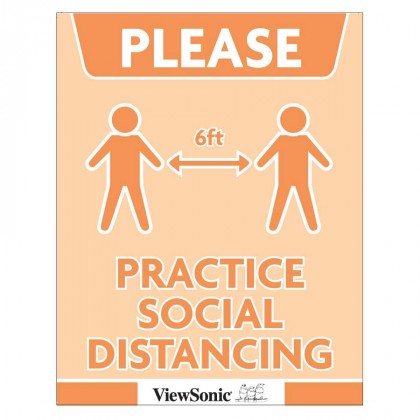 Imprinted Coronavirus Symptom Signs
Medical institutions such as public health centers, doctor's offices, hospitals, and clinics, need to keep patients educated on the various symptoms associated with COVID-19. Educational custom imprinted COVID-19 Symptom Signs are a great way to provide patients and visitors with the knowledge they need. Our signs contain details provided by the Centers for Disease Control (CDC), so you can feel confident knowing that you're relaying information from a trusted source. These posters feature colorful artwork as well as a place to add your custom logo design, contact information, or other personalized imprint. In addition, they can also double as handouts or flyers, making them a great item for swag bags or public service announcement packets.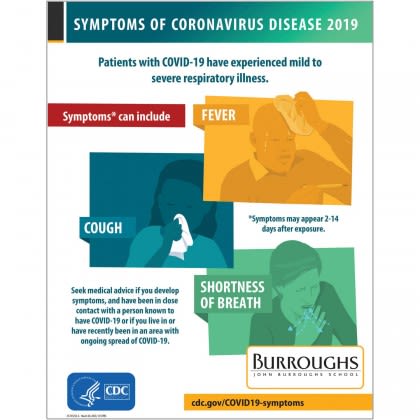 Personalized Hand Washing Posters, Flyers, and More
Everyone knows that one of the key ways to avoid contracting Coronavirus is to sanitize or wash hands consistently. With this in mind, a personalized wash your hands sign is an ideal way to provide a gentle reminder without coming off as pushy or condescending. We carry several styles for you to choose from, all of which feature colored illustrations and designs for an eye-catching appeal. If you're looking for something lighthearted, consider our promotional Keep Calm & Wash Your Hands posters. We also offer a small custom Wash Your Hands memo magnet that's great for giving to patients or customers to keep as a reminder in their own homes.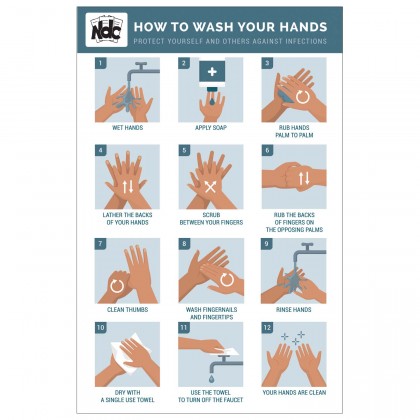 Customizable Restaurant Seating Signage
The Coronavirus outbreak and ensuing legislation have had a significant impact on the restaurant and food service industries. As the return to normalcy slowly chugs along, it's important to ensure that everyone is following proper social distancing guidelines. Your food service business will want to ensure that customers are standing at safe distances and sitting at tables that are far enough apart. One simple way to remind customers to do these things is using restaurant seating signage. These double-sided signs are durable and can slip over chair backs to cordon off areas associated with safe reopening guidelines. Best of all, they're made from polyethylene, which is both easy to clean and durable for outdoor use.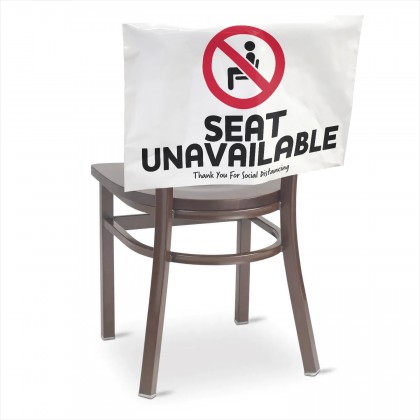 Promotional PSA Lawn Signs
All states, cities, and even individual organizations have different ordinances and guidelines regarding COVID-19 safety prevention. This can involve mandatory face coverage, social distancing behaviors, occupancy limits, and more. Therefore, it's only natural that some individuals might feel confused or unsure of the proper protocol in the specific place they're visiting. Instead of keeping customers in the dark, use a custom yard sign to make your policies crystal clear to everyone. These signs come in a wide selection of styles and work well. They can also be used to remind the public to engage in proper hand washing techniques and effective social distancing . Many can be ordered with stakes or grommets, enabling them to be placed in the ground, or on fences or walls. We offer a variety of sizes, as well as the ability to design your own custom yard signs with logos, slogans, and more.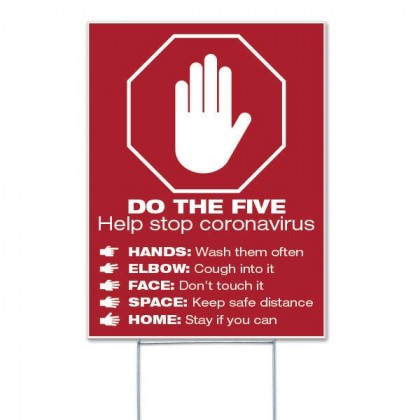 Outdoor Advertising Sail Signs
Ready to let the world know you've reopened for business? Promotional advertising sail signs are great tools for catching the attention of customers passing by. They also help to spread the word when you're ready to reopen and welcome them back. Choose a design to let everyone know your restaurant is open for dine-in service or that you're offering curbside delivery. Our sail signs can be used to advertise the various services you provide or to help remind everyone about the steps they need to take to prevent the spread of COVID-19. The possibilities are nearly endless, but our dedication to quality is not. Each of our sail signs is made from a strong, flexible poly knit fabric that looks great and can stand up to outdoor use. Plus, they feature a galvanized steel ground spike that allows you to place them in soil or grass easily.
Other Bulk COVID-19 Signage Products
At 4AllPromos, we offer an extensive array of custom signs that can meet any need. From table stickers that indicate off-limits seating to posters with in-depth information about COVID-19, our catalog includes valuable tools to help you educate your visitors and ensure they understand your policies. Furthermore, we can help with all of your promo pieces by customizing them to match your branding in a cohesive and professional manner.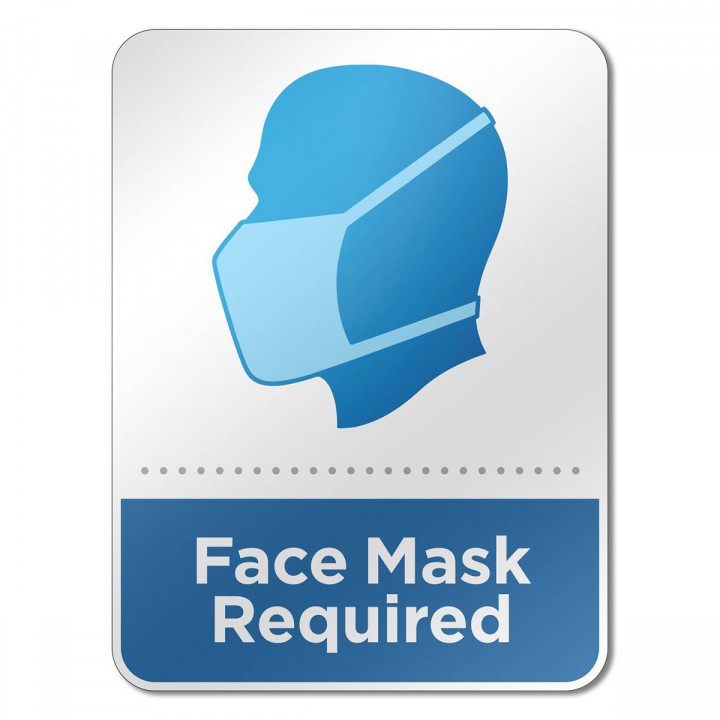 4AllPromos Is Here to Help During the Coronavirus and Beyond
It's no secret that COVID-19 has taken virtually everyone by surprise. As the world continues to adjust to the large yet temporary changes it has caused, please keep in mind that the 4AllPromos team is here to help. Our unbeatable line of high-quality custom PPE products goes far beyond just business signage items. Whatever promotional personal protection equipment you seek, we can assist you with finding and customizing the right products to meet your needs.
For more information about our PSA signs and other promotional products, don't hesitate to contact us today. Our expert customer service & sales team is happy to answer all of your questions and ensure the ordering process runs as seamlessly as possible. We look forward to working with your business and helping you, your employees, and your customers get through this challenging time.