Top Back to School Safety Products for Your Classroom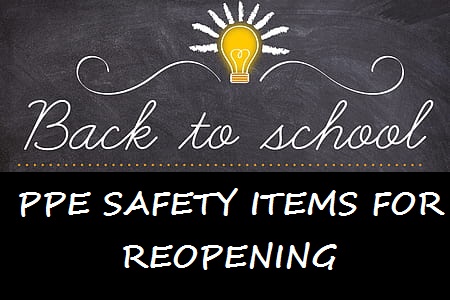 In the wake of the COVID-19 (Coronavirus) pandemic, school districts across the country are faced with the daunting task of determining how to reopen safely. It's certainly not an easy endeavor and it's important to expect and prepare for the unexpected. This makes it crucial to have the right tools at your disposal throughout the start of the school year.
As your administrative team makes hefty decisions, 4AllPromos is here to assist by providing a wide range of face masks, signage, antibacterial sanitizers, and additional school PPE supplies. We want your students, teachers, and staff to thrive during this challenging time, and we proudly provide the tools you need to do so. The vast majority of our products can be customized with your school's colors or logo for a personalized touch that students and staff will love. However, we also have blank items available.
Read on to learn more about our wide assortment of back to school personal protective equipment (PPE) and safety products for your classroom!
Customizable Classroom and Hallway Signage
As we've already mentioned, navigating the COVID-19 pandemic is no simple task. This is especially true when there are so many critical guidelines to follow. Luckily, custom PSA signage can make this much easier. Posting signs in hallways, classrooms, and bathrooms can remind students of all ages to practice health-safe habits. Why? As any educator will tell you, consistent reminders form the foundation of lasting habits.
Our custom PPE signs are ideal for educating students and staff about Coronavirus symptoms and how germs are spread. Furthermore, adding a wash your hands poster (pictured below) to communal bathrooms can help younger children learn the proper way to sanitize. All of these items can be imprinted with your school's information, logo, or mascot to add a little spirit.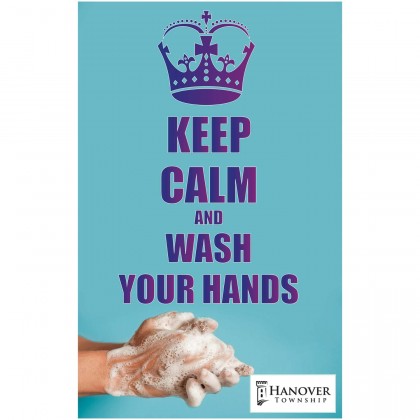 Bulk Thermometers for Morning Temperature Checks
For many school districts, part of the new routine will be to check staff and students' temperatures each morning. To do this, each classroom will need to have its own dedicated device. However, while oral and in-ear thermometers are effective, they can be difficult to use and are not the most hygienic choice. Luckily, 4AllPromos has you covered with our cheap forehead thermometer strips. An easy-to-read design makes it simple to determine the range of a person's current body temperature. The affordable price allows schools to have multiple units throughout each classroom. Need a visual aid? Just take a look at the image immediately following this paragraph.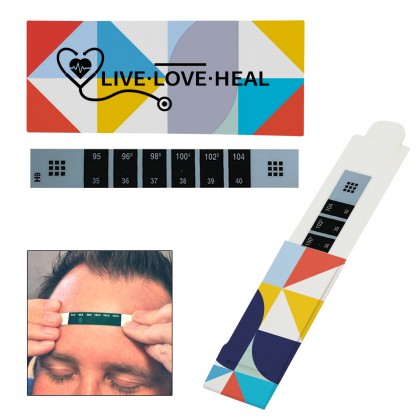 Wholesale Face Masks for Students and Staff
In some areas, schools may be confronted with a face mask mandate. However, as anyone who has ever worked with children understands, this likely won't be an easy undertaking. One solution is to require students to wear the same face mask during the entire school day. To this end, 4AllPromos offers a selection of custom blank face masks. The standard 100 percent cotton masks linked to in the previous sentence come in a variety of colors and are machine washable for repeat usage.
If you're looking for wholesale cloth face masks, we can aid your school in making bulk orders. All of our face coverings can be ordered in large quantities to help outfit your entire school with the protection needed. Additionally, we have an extensive selection of lanyards, which students can attach to their face masks to ensure they aren't lost during lunch or recess. Most importantly, any school will want to be well supplied with custom youth face masks to ensure student safety among the most vulnerable age groups. The 3-Layer face masks in the image following this paragraph come in both youth and adult sizes.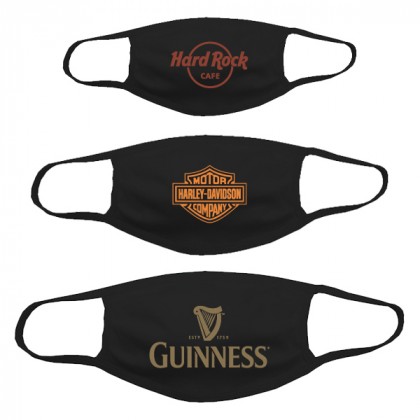 Imprinted Antibacterial Wipes and Hand Sanitizer
Other items you'll want to stock up on before the start of the new school year are antibacterial wipes, hand sanitizer, and cleaning products. While these items are typically needed in abundance to keep colds, viruses, and bacteria at bay, their importance is more critical now than ever before.
Since your school will need to keep these products around, why not add a little spirit by designing them with your school mascot or logo? At 4AllPromos, we offer handy items like custom antibacterial wet wipes in an imprinted package perfect for each student to keep at their desk. We also provide small hand sanitizer bottles ideal for teachers to pass out to all of their pupils. Another very helpful item to have on hand in any school would be our promotional clip-on sanitizer spray pens. These are helpful in keeping students and teachers supplied with sanitizer at all times without risk of misplacement. Just take a look at our 10 ml CleanZ Pen Sanitizes. Their handy clips allow them to be attached to belts, pockets, backpacks, keychains, carabiners, briefcases, and more.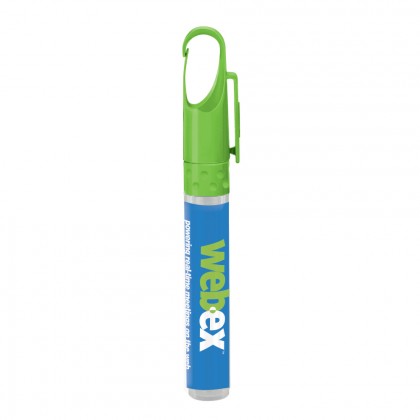 Personalized Face Masks & PPE Items for Sports Teams
Of course, it isn't just the traditional school setting that's being affected by the COVID-19 pandemic. Sports teams and extracurricular clubs are now faced with the reality that everyone involved must maintain social distance and employ adequate face coverings.
This is yet another area where our promotional PPE products can be of service. 4AllPromos can imprint custom bandanas with a special saying or your team logo. We also have various promotional face masksthat can be personalized to meet your needs.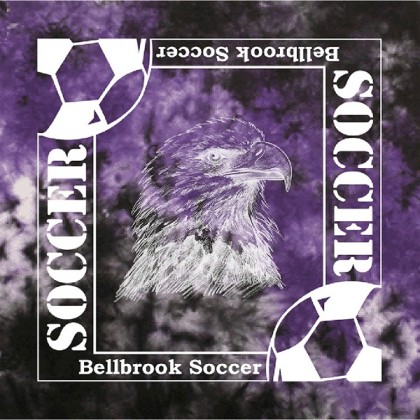 Promotional No-Touch Tools for Schools
Our custom non-contact tools are a group of promotional products that are surging in popularity. This is largely due to the increased awareness of contamination risks and the heightened measures being taken to avoid it. Items such as our custom hands-free door openers, versatile promotional no-touch keychains, and multi-use company logo no-touch stylus tools allow for commonly touched public items to be operated without direct contact. These can be helpful for opening and closing classroom doors, turning faucet handles in school bathrooms and sinks, pressing buttons on keypads & touch screen devices, and more. Pictured below is our promotional Freedom Stainless Steel No-Touch Safety Key, a non-contact multi-tool that is a great asset for any student or teacher.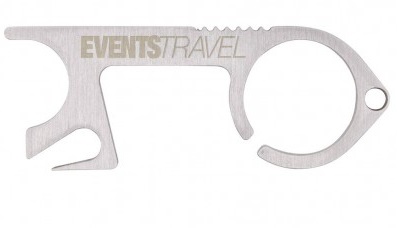 Additional Assorted Custom Classroom PPE Supplies
4AllPromos is proud to be your one-stop-shop for a wide array of products that are suitable for classroom use. From our promotional health safety coloring books for kids to our wholesale safety labels & stickers, we have plenty of bulk items to help you get your classroom ready for a happy and healthy year. In addition to PPE and hygiene products, we also offer a variety of school supplies, including custom pens, binders, rulers, and more.
The 4AllPromos Team Is Here to Help Throughout COVID-19 and Beyond
Social distancing, face masks, and daily temperature checks weren't something anybody could have anticipated going into this year. However, now that these and other measures to contain COVID-19 are in place, it's important to remember that we handle it all in the most efficient and effective manner possible.
As you prepare for your upcoming school year, look to 4AllPromos for all of the PPE, school supplies, and other products you need to create a safe, sanitary learning environment. We understand that many educators are operating under unprecedented circumstances, and we're happy to help take the stress out of obtaining supplies for your classroom.
Are you ready to start your order of bulk back-to-school safety products for your students and staff? For more information about our customization options or assistance selecting the right items for your needs, contact 4AllPromos today. Our team is ready to answer all of your questions and can even provide a custom quote based on your specifications.
We wish you a safe, happy school year and look forward to helping you find the best supplies for your classroom!