Celebrate Independence Day 2020 with the Best Made-In-the-USA Promotional Products!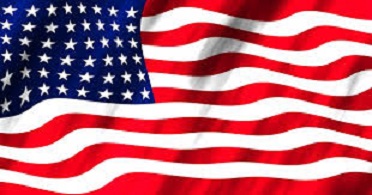 While 2020 hasn't been off to a great start for nearly anyone, we're hoping that the second half of the year can be much better for everyone. A great way to kick off the later half of the year is to engage in a fun and spirit-restoring celebration of our nation's birthday. Of course, this may be done a little bit differently this year, so we've included some items to reflect that fact. This article will present a mix of promotional products, made in the USA, that are perfect for use at home, work, parties, and more. We'll get started now, so get ready for some inspiration on how to build your brand this Independence Day throughout the whole summer as well.
15 American-Made Promotional Products to Celebrate the Fourth of July
1. Panoramic American Stitched Wall Calendar
We'll start off with an item that everyone can use - a calendar. However, what we're about to show you goes above and beyond the scope of the usual bland and boring office calendars. Our Panoramic American Stitched Wall Calendars are custom patriotic wall calendars of the highest quality. Made in the USA, these calendars feature stitched binding and 13 months of planning power. Each month features grids with large spaces for each date, enabling users to write down more notes for any given day. Above the calendar grid, a beautiful wide-angle photo of inspirational American scenery is displayed. These breathtaking images will inspire awe and pride in our beautiful country every time they're viewed. Each view will also spread brand awareness, as the lower panel (visible regardless of month) features a one-color foil imprint of your company logo. By request, up to 4 lines of text can be included. The imprint area spans 9½ inches in width by 1½ inches in height, while the full calendar is 11 inches wide by 9½ inches high.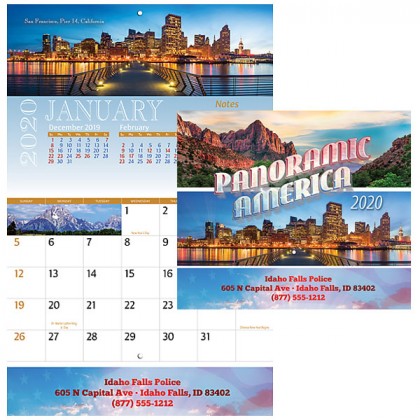 2. 12" Plastic Presidents Ruler
Schools, book stores, office supply retailers, and more can help users to bone up on American history with our 12" Plastic Presidents Ruler. These promotional USA made plastic rulers ship 100% free of charge. They also offer a wealth of information to any US history enthusiast. Every president from George Washington through Donald Trump is pictured in full color. The presidents are arranged by order, with each president's respective number and term of office included. In addition to stirring up patriotic sentiment, these rulers will also come in handy for educational purposes and winning big in trivia contests. Each ruler is imprinted with the presidential images on the back, while the front contains English and metric measurement markers, along with your company logo imprint. Your imprint appears in one color in the middle of the ruler. The measurement markings will be in a color that matches your logo. However, multiple imprint colors are available for an upgrade fee. Made from durable 15 mil white plastic, these rulers are flexible, durable, and loads of educational fun!
3. Full Color Wrap Marker
Creativity runs free, both for the users of our Full Color Wrap Markers as well as for your company. A good theme for Independence day, is it not? These custom USA made felt tip markers feature barrels that are covered from top to bottom with your fully customizable wrap design. Imprinted in full color, they can take on any look you choose. Should you have trouble coming up with a design, many stock options are available, including the American flag version visible below. Each order ships for free, making these a great deal for schools, art supply stores, office supply stores, and more. These felt tip markers come in your choice of blue, red, or black ink. The cap and bottom of every marker matches the color of the felt tip and ink inside. 
4. 4" x 3" USA Shaped Sticky Note Pads
Salute the land you love this Fourth of July by investing in our 4 inch wide by 3 inch high USA Shaped Sticky Note Pads. These full color logo imprinted sticky note pads are made in America and are produced in the shape of the lower 48 states. Each has 25 sheets and is printed with your choice of design in stunning full color. An American flag motif makes these perfect as custom Independence Day promotional giveaway items. They'll spread national pride and brand awareness all year long. These handy items are imprinted with your logo in a space measuring 3¾ inches wide by 2¾ inches high. They're ideal for use in the office, at home, or on the road. Manufactured by BIC, these are some of our most popular promotional sticky note pads.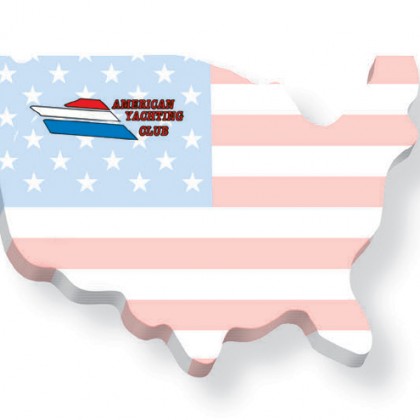 5. No Imprint Plastic Face Shield
While promotional PPE items and the Fourth of July aren't typically two entities that are typically associated with one another, challenging times can bring unusual circumstances. As we continue to recover from the COVID-19 pandemic, many areas still need their essential workers and business patrons to cover up as much as possible. That's why our No Imprint Plastic Face Shield makes our list. These bulk plastic face shields are excellent protective items for food service workers, cashiers, or anyone else in direct and close contact with the public. Made in the USA, these blank face shields offer coverage from the forehead to the neck and can be worn along with masks, gaiters, and more. They're constructed form food-grade clear plastic that is lightweight and resistant to fogging. They're adjustable in size and designed to fit most adults. Company picnics and backyard BBQs looking to take extra precaution will find these to be highly useful items this Independence Day.
6. USA Made 3 Ply Face Mask
Another great promotional PPE giveaway item for Independence Day 2020 is our USA Made 3 Ply Face Mask. These company logo imprinted face masks are safe, comfortable, and a great way to complement social distancing measures. They also go quite well with the Face Shields we just described, especially as these items do feature your business logo. While they are not approved for medical use, they are great for informal gatherings and shopping excursions. With a 97% bacterial filtration efficiency rating, these custom face masks will help to keep this holiday a safe one. They're made from non-woven material and are mostly blue with white outlines and ear loop straps. They're a handy size at 67/10  inches wide by 3¾ inches high. Each is imprinted with your company logo design in a 4 inch wide by 1½ inch high imprint area. Please contact us if you're curious as to potential upgrade options.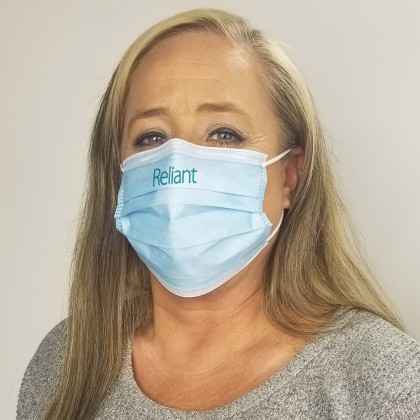 7. Refinished Titleist Pro V1X Golf Balls
For some, outdoor fun on the links is an integral part of any Fourth of July. If your business caters to a crowd that is both golf-loving and environmentally-conscious, we have the perfect Independence Day giveaway item for you. Our Refinished Titleist Pro V1X Golf Balls are made in America and are largely recycled. These custom eco-friendly golf balls ship 100% free of charge. They're affordable and offer top-level performance while making a minimum impact on the environment. Each of these white golf balls bears your company logo, the Titleist logo, and small lettering reading "RF" to denote their refinished makeup. They have a standard golf ball diameter of 1.68 inches, while your imprint has a diameter of ⅞ of an inch.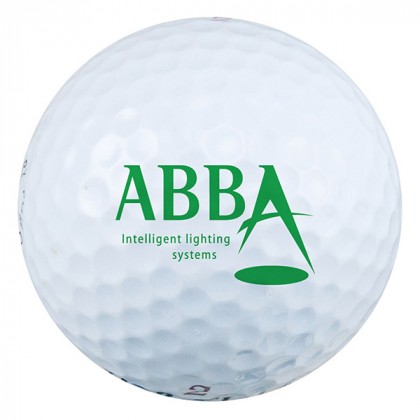 8. Dog Safe 9" Flyer
If outdoor fun is to be part of 4th of July Plans, make sure your business doesn't forget to include the family pet! Fido can be part of the fun when your business provides its employees, customers, and target audience with the 9" Dog Safe Flyer. These promotional dog safe flying discs are made in the USA and provide hours of fun for humans and pets alike. They're constructed from a durable co-polymer material that is resistant to chewing. They're also non-toxic, recyclable, and environmentally safe. They come in five different colors, including yellow, white, red, royal blue, and neon orange. They make excellent custom frisbee giveaways for toy stores, pet stores, sporting goods retailers, and more. Each has a diameter of 9 inches and depth of 1 inch. Your one color business logo imprint occupies a space with a diameter of 5½ inches, though double sided logo imprints are available for an upgrade fee.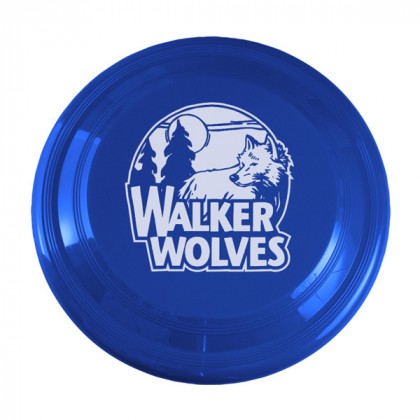 9. Pet Food Can Lid
As long as we're on the topic of American made promotional giveaways for pets, we have another great item to share with you. Our promotional Pet Food Can Lids can fit  most wet food containers for both dogs and cats. They're effective in sealing out germs, keeping refrigerators smelling good and pet food tasting its best. They're available in six different colors, including black, white, yellow, red, kelly green, and reflex blue. With a diameter of just 3½ inches they're easy to store and transport, further allowing pets to be part of Independence Day get-togethers. Your personalized company logo imprint appears on the top of these top-notch pet food container lids in area that is 2½ inches in diameter. Pet stores, grocery stores, home goods retailers, and more will find these to be great giveaway items throughout the whole year.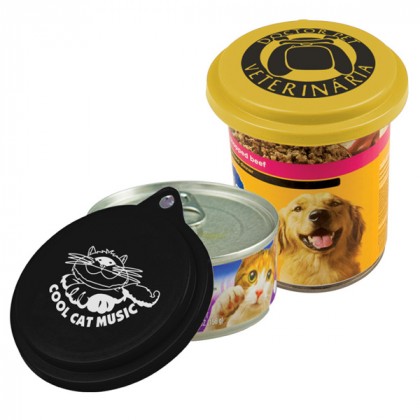 10. USA Made 22" Cotton Paisley Bandana
Our wholesale bandanas category offers a wide selection of fun & fashionable apparel accessories that can serve a wide variety of different purposes. One popular item from this collection is our 22 inch Cotton Paisley Bandana. Made with pride in the USA, these custom paisley bandanas feature a classic design that is sure to be a hit with a wide variety of audiences. The floral motif is especially useful for creating promotional giveaway items for flower shops, garden centers, gift shops, salons, and more. Also great for charity events, these cotton bandanas come in 21 different colors and ship 100% free of charge. At 22 inches wide by 22 inches high, they're a great fit for nearly anyone. They can be worn as face masks, head coverings, wristbands, ankle bands, neckwear, and more. The paisley pattern appears in either black or white, depending on the chosen background color. Please get in touch with us to learn more about this if you're thinking of placing an order. Each bandana is imprinted in one color with your logo imprint, either in a side or corner area. For an upgrade fee, multiple imprint colors and locations are accessible.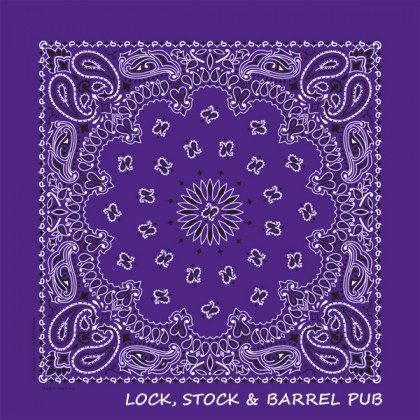 11. USA Made Coleman Fliplid Cooler
Coolers are a quintessential part of family gatherings, block parties, company picnics, camping trips, fishing expeditions, and nearly any other good time one might have on a hot summer day. There's nothing like a tasty, cold drink when the temperature rises and activities are underway. Your company can help its customers, employees, and target audience live life to the fullest and stay properly hydrated with the Coleman Fliplid Cooler. These USA-Made promotional coolers have a relatively low minimum order requirement of just 24 units. Each one comes in your choice of red or royal blue with a white lid. Speaking of the lid, its unique design allows for it to double as a drink tray. This is quite a handy feature that everyone will enjoy. These custom coolers are made from high density polyethylene and excel at keeping drinks cool and refreshing in hot climates. Able to hold 6 cans, these items are great for smaller gatherings as well as giveaways at sporting events, corporate picnics, theme parks and more. Each unit is 10½ inches wide by 7 inches high by 8 inches deep. A one-color imprint in a 6 inch wide by 3¼ inch high decoration area comes standard. For an upgrade fee, up to 4 colors can be included in your company logo design.
12. Full Color Wave Coolie

™

- USA Made
Much like the more familiar Koozie™ which is also produced by Norwood, the promotional Coolies offered on our site are a great way to keep beverage cans at optimum temperatures while keeping users' hands and possessions warm and dry. This particular Coolie is American made and fully customizable, with your chosen graphics decorating the surface in full color. Featuring a wavy top for a slightly different look, these custom imprinted insulated can holders can be decorated with patriotic designs to really get into the spirit of Indpendence Day. These items are an affordable way to promote your brand via giveaways at trade shows, ballparks, concerts, and nearly any other event you can name. They're also a great item for supermarkets, bars, convenience stores, restaurants, resorts, casinos, and more. Each is the perfect size to hold a traditional 12 oz can. Their customizable imprint areas are in a wrap style, which is 11¼ inches in circumference with a height of 3¾ inches.
13. 16 oz Big Game Stadium Cup
Our 16 oz Big Game Stadium Cup is a great investment both when it comes to spreading brand awareness and making a positive difference for the environment. The latter is achieved by virtue of these promotional stadium cups being constructed from up to 25% post-industrial (pre-consumer) polypropylene plastic. They're also free from BPA, making them more food and health safe than much of the competition. They're ideal for promoting your brand, as they're perfectly suited to be handed out as giveaway items and/or employed for use at nearly any large event. As is the case with all of the items in this article, these custom stadium cups are made in the USA. Freedom and choice are central themes in this country, and you get plenty of both with these items. They're available in your choice of 13 different colors, so finding one that's an ideal match for your logo design can be done with ease. Speaking of the imprint area, each cup is designed with your personalized logo in a 3 inch wide by 2 inch high area. A single color and sided logo imprint come standard, but double-sided imprints are available for an upgrade fee.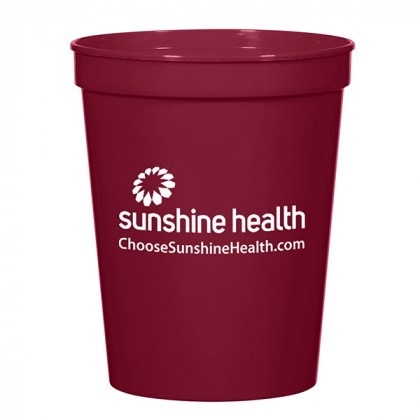 14. Metallic 17" Party Balloons
Few things say, "party over here!" better than a collection of festive balloons. Whether used to help guests know where an event is being held, handed out as commemorative giveaways, or just used as decorations to keep the air festive. These company logo imprinted balloons can deliver on all of these fronts and more. Made right here in the good old U.S. of A, these balloons are made from natural latex rubber. They come in three different metallic colors, including frost white, metallic gold, and metallic silver. Able to provide cheer and fun to people of all ages, they also have superior longevity and float times. They can be filled with helium or air and are perfect for both indoor and outdoor usage. When inflated, each balloon has a 17 inch diameter, providing plenty of space for your business logo design. The provided imprint area is 6¼ inches wide by 5 inches high. A single color and location imprint are the default, but a design on the second side is available as an upgrade option.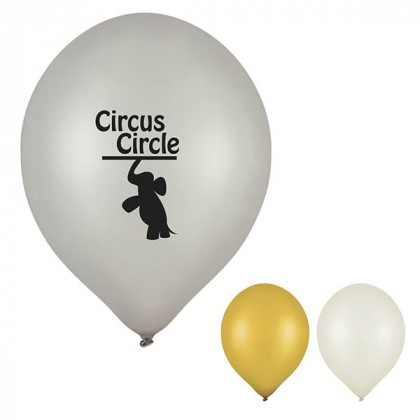 15. 20 oz BPA Free Colorful Sports Bottle
We'll finish things up by presenting our 20 oz Colorful BPA-Free Sports Bottles. These custom imprinted sport & bike bottles live up to their names, as they are free of BPA, have a 20 oz capacity, and are available in many different color combinations. If desired, the lid and body of the bottles can come in different colors, with a total of 21 color options being available. This quite obviously leads to quite a large number of potential color combinations. In addition to their visual appeal and food safety, these bottles are also made from recyclable high density polyethylene, making them an eco-friendly choice. Another great thing about our sport bottle giveaways is that they can be used at events, corporate parties, private parties, or even just by lone users working out or going for a hike. This enables them to still be a great giveaway item for your brand even during times of social distancing. Every bottle is imprinted with your logo in your choice of a side or wrap design. Please give us a call, email, or live chat message to learn more.
That brings us to the end of our article surrounding our picks for the best 15 USA-made promotional products for celebrating Independence Day 2020. We hope we've given your business or organization some good ideas for how to effectively promote & spread brand awareness on the Fourth of July and all summer long. Don't hesitate to contact us if you have any questions about the products we've presented or any others you might like to know more about.  All that's left to say is that we wish you a safe, happy, fun, and prosperous Independence Day!