Make Working Remotely Work for Your Business with These 13 Great Promotional Items!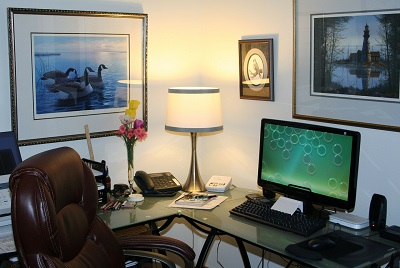 Whether it's due to health concerns, crowded offices with limited space, maternity/paternity leave, the rise of mobile technology, companies search further from their geographic base to find employees, or any number of other modern-day factors, there's been a big rise in people working from home. In fact, we might just have to call the 2020s the "Decade of Telecommuting". While the rise in home offices and people going to work without literally "going to work" represents a big change in the way businesses operate, it's not all bad. This ever-growing segment of employees gives your company the opportunity to promote its logo and brand name in a whole new way to a whole new audience. In this article, we'll help you come out on top of this trend via telling you about 13 of our best promotional products for remote workers.
Best Promotional Products for Working from Home | 13 Promotional Items for Remote Workers
1. Promotional Tote Bags - The Jumbo Jute Tote
In order to successfully work from home, users need to be able to get everything to one location, which typically will be their in-home office. One of the best ways to do this is supplying them with our promotional bags & custom totes, imprinted with your personalized logo design. One of the best models for this task is our Jumbo Jute Tote. This durable and eco-friendly promotional tote bags. Made from jute, which is a natural vegetable fiber, these totes are sturdy, strong, and stylish. Each features a natural tan color with twin brown cotton handles and accents. A large main open compartment makes these totes easy to fill and empty, fitting in everything remote workers need to have a productive day. In addition to being made from environmentally friendly materials, these wholesale tote bags are also fully biodegradable. In terms of size, every bag is 20 inches wide by 14 inches high by 9 inches deep. Personalize them by adding your custom logo design, which sits on the front of bag in a 14 inch wide by 9 inch high imprint area. A single color and location imprint comes standard. Please contact us for upgrade options.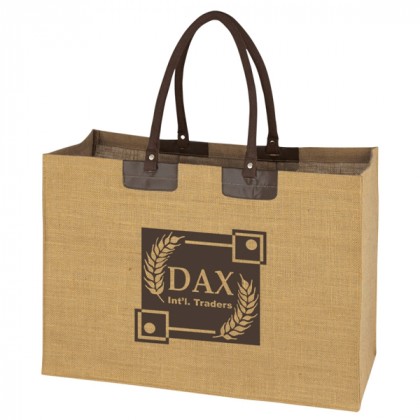 2. Custom Coffee Mugs and Tumblers - 20 oz Speckled Himalayan Tumbler
It's hard to get going in the morning without that first cup of rejuvenating java. Your target audience can enjoy their morning coffee in comfort, style, and security with our Speckled Himalayan Coffee Tumblers. These mugs have a 20 oz capacity, so they have plenty of room to perk up even the most groggy of telecommuters. They come in many different colors, each of which is accented by a soft white powder coating that creates a soothing winter-like effect. This is one of our many custom double wall insulated coffee tumblers, boasting the ability to keep beverages hot or cold for up to 6 hours. A user working from home could heat up their coffee at 9am and still have it piping hot at 3pm. Add in a non-slip bottom, clear, snap-on lid, and materials free of BPA and you have quite a convenient item for displaying your logo throughout the workday. Speaking of which, these 7 inch high promotional coffee mugs come with your choice of a single sided or wraparound logo imprint. The side imprint measures 2½ inches wide by 2 inches high, while the wrap is 5 inches wide by 2 inches high.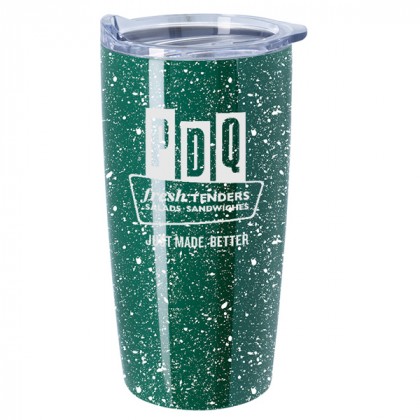 3. Personalized Office Supplies - Stationery Boxed Set
Employees who are working from home, particularly those who are new to the whole thing, may not have a full set of office supplies standing at the ready. Your company can combat this by way of supplying its employees, customers, and target market with our wholesale office supply kits. They contain the little things people need to stay efficient and organized throughout a hard day's work. One top-notch example comes in the form of our company logo branded Stationery Box Set. These handy little parcels contain a mini notebook with 80 sheets of lined soft touch paper, an aluminium soft touch pen, 30 paper clips, 6 small binder clips, and 4 medium binder clips. All of the office supplies come in your choice of matching black, red, or blue hues. It's all held together by a clear box, upon which your company logo is imprinted. The whole kit is 4 inches wide by 4⅝ inches deep by 1⅛ inches deep. This makes it a convenient size to fit in tote bags, purses, handbags, backpacks, and even some large pockets. As mentioned before, every set is imprinted with your business logo design. By default, the imprint appears in a 2½ inch wide by 2½ inch high area on the clear box. For an upgrade fee, multiple color imprints, full color logo designs, and imprinting on the notebook are also available.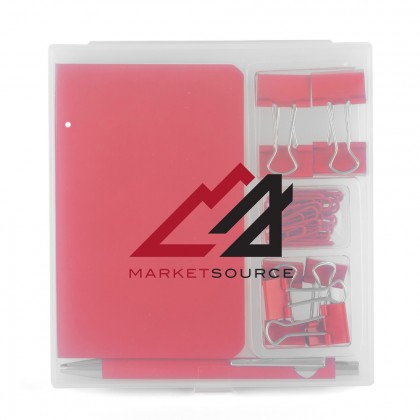 4. Wholesale Desk Organizers - Screen Printed Desk-It Organizer
Anyone who has ever worked from home knows how quickly running out of space can happen. This is never a good thing, because it quickly leads to a disorganized & uncomfortable working environment. It can also cause smaller items to become lost or misplaced. Your company can prevent this from happening by way of supplying any remotely-working employees with our wholesale desk organizer giveaways. Want to see an example? You've got it! Pictured below is one of our Desk-It personalized screen printed desk organizers.
Users can prop this up on their desks or tables and immediately enjoy the ensuing organizational bliss. These drastically reduce clutter, thanks to their ergonomically designed shape and several storage compartments. There are storage areas for small, medium, and large office supplies. Rulers, paper clips, scissors, sticky notes, pencils, pens, highlighters, compasses, calculators, business cards, phones, and more can easily be stored and kept within an arm's reach at all times. They're available in a variety of eye-catching colors, with each organizer sitting 5¾ inches wide by 3¾ inches high by 3½ inches deep. Made in the USA, each is shipped in its own individual box. Their imprint area is located a the front of the box and occupies a space that is 3 inches wide by 2½ inches high. A single color and location design are included in the price, with multiple logo imprint colors and locations being available for an additional fee.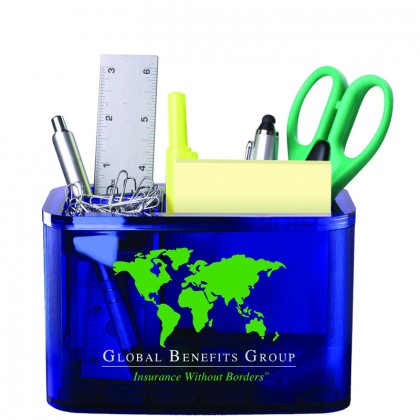 5. Promotional Cell Phone Stands & Chargers - Shine 4-in-1 Desk Hub with Phone Stand
Mobile technology is everywhere these days, and not just in public. These devices are found in abundance in homes as well. Our promotional cell phone stands and custom USB chargers for working from home come in many shapes styles, and sizes. However, their common bond is that they help to increase productivity and convenience for users while simultaneously keeping your brand on everyone's minds. Pictured below is our Shine 4-in-1 Desk Hub with Phone Stand. Each offers 4 USB ports, allowing users to charge 4 devices at once. With these times, multiple phones, MP3 players, and other mobile devices can all get that jolt of juice at the same time. In addition to the charging ports, each of these units has a pen cup, groove for storing cables, and a sliding phone stand.
The phone stand allows the phone to be used while charging, but also makes it possible to engage in hands-free use without having the phone touch users' faces. During times of virus outbreaks, the latter feature is huge. Coming in your choice of red or royal blue, these personalized phone stands and chargers are compatible with nearly any USB port and are 2¾ inches wide by 2¾ high by 2¾ inches deep. Each is imprinted with your logo in one color & location in a 1 inch wide by 1½ inch space on the front center. Give us a call, email, or live chat message if you'd like to learn of further personalization options.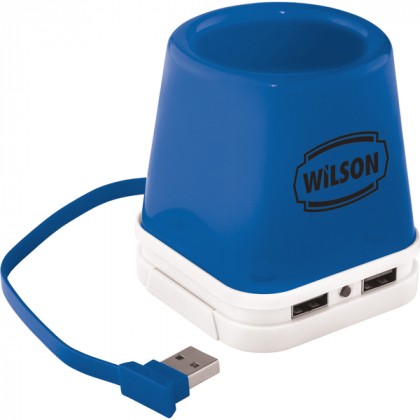 6. Bulk Ear Buds & Headphones - Ear Buds & Organizer Kit
Another of the many challenges of working at home is being able to remain productive in an environment that provides many distractions. One great way of doing this is to take advantage of many styles of promotional ear buds and headphones. Users can hook these up to their phones or computers for a direct audio flow that won't be broken up by the clamor of children, neighbors, and pets. Some of our best representatives from this category can be found in our promotional Ear Buds & Organizer Kits. Small enough to easily fit in a mini tote bag, purse, desk drawer, or even a pocket, these make excellent giveaway items for home offices. Each comes with two high quality earbuds which are connected by a 48 inch cord. When not in use, the cord wraps around the accompanying organizer spool to prevent the tangling of wires. Though pictured in black, these items are also available in white, red, and blue. Each set is 1½ inches wide by 3½ inches high. Your one-color logo imprint appears on the organizer in a 1 inch wide by 1 inch high circular space. For an upgrade fee, double sided, multiple color, and full color designs are accessible.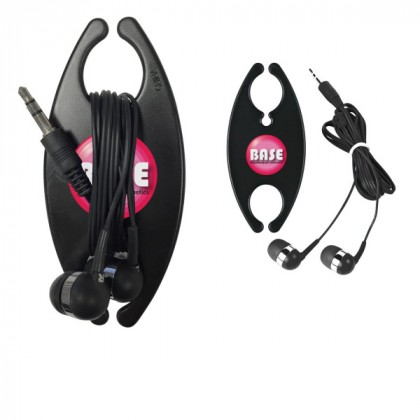 7. Logo Imprinted Hand Lotion Giveaways - EOS Hand Lotion
Bulk hand lotion bottles are a great way for your company to create multiple advertising impressions while keeping the hands of the public moist, healthy, and comfortable. These items are more popular than ever right now, as the shortage hand sanitizer caused by the Coronavirus outbreak has made them a much sought-after alternative. Our promotional EOS Hand Lotion giveaways ship free of charge and are made from 96% natural materials that are free of both gluten and paraben. A 1.5 oz supply of lotion containing oats, aloe, antioxidants, and shea butter is contained in every unit and keeps users' hands soft and hydrated for hours at a time. Their small size allows them to fit and be taken nearly anywhere, or to just easily sit on a desk or computer table. A snap-open top grants easy access. Each unit is 2½ inches wide by 3¾ inches high and comes in your choice of blue, green or pink. When ordering, please note the fact that each color corresponds to a particular scent. A 1¼ inch wide by 1 inch high area on the front plays host to your single color logo imprint. For an additional fee, multiple colors can be added to your company logo design.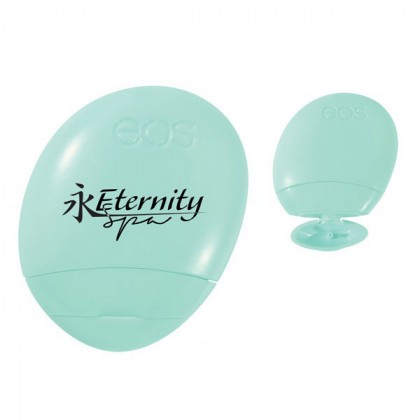 8. Custom Embroidered Bathrobes - Microterry Kimono Bathrobe
Many people who suddenly find themselves working from home may not have an extra room to use as an office. When this happens, the basement is often the go-to space for getting work done. While it may be convenient, it's not always comfortable. In colder months, basement offices can be a rather chilly environment. To help remote workers stay comfortable and productive while also thinking of your brand, we suggest having your logo embroidered on our personalized Microterry Kimono Style Bathrobes. With a low minimum order quantity of just 10 units, these are perfect as products for small companies and agencies whose workers are either temporarily or permanently working from home. 
These custom embroidered bathrobes are made from a 100% polyester microterry material that is very soft, fluffy, and comfortable. They'll successfully keep workers warm and productive, even when operating in cold conditions. These white bathrobes are 48 inches long and feature 17 inch sleeves. A double set of belt loops is included to fit users of different heights, while a convenient hanging loop is also part of the package for when not in use. Each features your personalized company logo, embroidered in up to 5,000 stitches. As an upgrade option, additional stitching can be ordered. Please contact us if you have any questions regarding this or any other feature of these promotional items for remote office workers.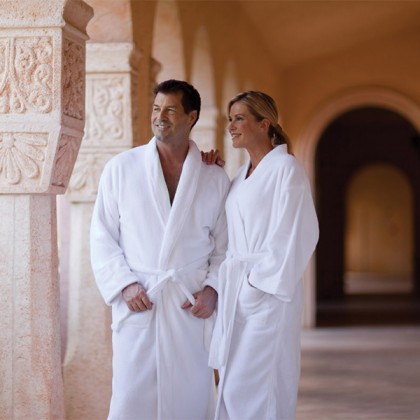 9. Custom Handheld Misting Fans - Mini Personal Mister
When spring and summer roll around, people working from home may get uncomfortably warm on the job. These can happen during colder months too, as other occupants of the home may opt to put the heat on at a high level. Your business can help its employees, customers, and target audience to content with this matter by way of setting them up with our wholesale handheld misters and fans. One of our most popular models which is always a hit as a giveaway item at trade shows and events is our Personalized Mini Mister.
These custom handheld spray misters fans have a 1 fluid ounce capacity. That may sound small, but this is actually enough to last for quite a while, as the cooling mist they put out is very fine. There's no need to worry about changing batteries, as these items do not contain them. They're activated by a simple push button mechanism. Coming in your choice of red, white, lime green, blue, purple, or black, each measures 1½ inches wide by 6 inches tall. They're imprinted with your custom logo design in a 1½ inch wide by 1½ inch high space on the colored inner spray tube.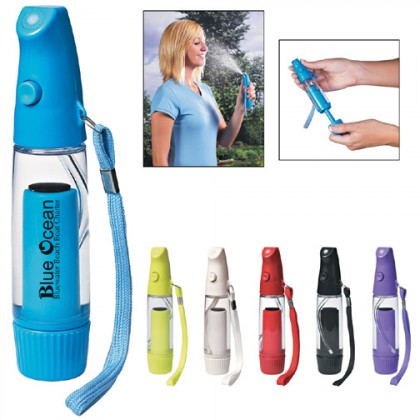 10. Wall Calendars in Bulk - 12 Month Mini Puppies & Kittens Calendar
Even though most people now have calendars on their phones and computers, there's something comforting and satisfying about the presence of good old fashioned customized wall and desk calendars. They're great for writing down personal appointments, scheduled conference calls, family events, and anything else that someone may want to take an extra step to avoid forgetting. Their illustrations can also cater to one's interests, offering something cheerful or comforting to look at while facing a potentially stressful work day. Animal lovers who work from home will surely enjoy having our 12 Month Mini Puppies & Kittens Calendars adorning their workspace. Your business will love the extra advertising impressions created by having its imprint included on the lower drop flap that shows year-round. 
Every month has an adorable picture featuring cute, cuddly puppies and kittens to inject some happiness into the days of anyone who sees them. Photographic quality images cover the front half of the calendar for each month, while the lower half features a calendar grid and numbers with a gloss finish. When open, these promotional mini calendars are 6 inches wide by 13 inches high. when closed, their size reduces ot 6 inches wide by 7 inches high. As already stated, every calendar is imprinted with your business logo or message in a 4¾ inch wide by 1 inch high area on the ad drop panel. Available upgrades include multiple color imprinting, gift packaging, and more; reach out to us if you're interested in getting further information.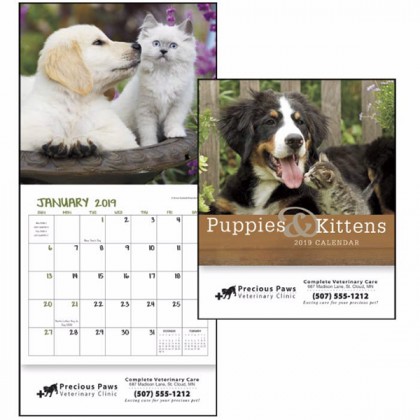 11. Custom Tissue Boxes & Tissue Packs - Fully Customizable Mini Tissue Box
Often times, if it's not part of the original job description, working from home can take place as a result of illness. It could be an illness affecting one employee, or a pandemic such as Coronavirus that has the whole staff working remotely. In either event, all of those telecommuting will want to be able to stay healthy, convenient, and clean. Our bulk personalized Mini Tissue Boxes will go a long way toward achieving this end. Users will enjoy having tissues on hand and quickly accessible as they work. They'll also enjoy the fully customizable surface that each box presents. We wager that your business will be fond of this feature too, as it allows for every panel to be designed to your exact specifications for maximum branding power. Holding 30 2-ply white facial tissues, these custom tissue box giveaways are 3 inches wide by 3 inches high by 3 inches deep.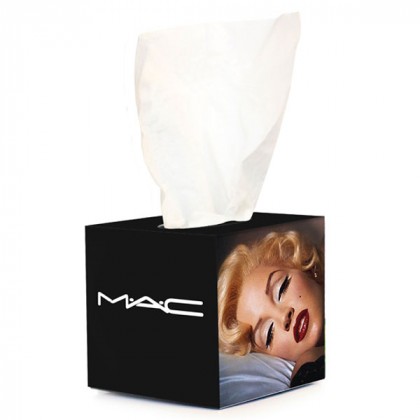 12. Company Branded First Aid Kits - Compact First Aid Kit
Accidents will occasionally happen. When they do, something more than just facial tissues will likely be needed. That's why we have a wide variety of promotional First Aid kits for home offices & people working from home. When laboring out of a home office, a somewhat small and ergonomically designed first aid kit will often be the best and most convenient choice. This is exactly what your business can provide when you order our custom Compact First Aid Kits, imprinted with your company logo. Each contains 4 latex-free bandages, 2 antiseptic towelettes, an aspirin packet, First Aid guide, and one adhesive pad. They're all held together by a smooth and intelligently designed plastic box. Every box is topped with your full color company logo design and ships 100% free of charge. At 3⅞ inches wide by 2¾ inches high by ¾ of an inch deep, these bulk First Aid Kits for telecommuters can fit easily inside of tote bags, purses, handbags, desk drawers, our reusable grocery bags, and more.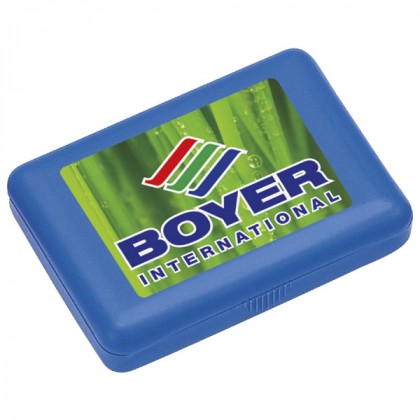 13. Branded Adult Coloring Books - Serenity By the Sea Adult Coloring Book
During breaks from work or at the end of a long day, remote employees will often need to find a way to de-stress. One excellent way that your company can help them to do this is to provide them with one of our company branded adult coloring books. They're an ideal outlet for both stress and creativity, as they allow every user to unleash their inner artist and fully engross themselves in their projects. One of our top-selling versions is our Serenity By the Sea promotional adult coloring book. Every copy features 12 ocean-themed images to color in, along with a special message as a source of inspiration and affirmation. The pages are made from a thick velvet stock paper, which makes them well-suited for hanging and/or framing when the coloring is complete. Each book is 8 inches wide by 10½ inches high and bears your company logo design in a 5 inch wide by 1½ inch high imprint area.
That brings us to the end of our guide to the top 13 promotional products for employees who work remotely in home offices. We hope that we've given you some good ideas on how to promote your brand to this new and growing demographic. If you have any questions about the items we've presented (or even about those we haven't), we're glad to help. Simply contact 4AllPromos to get the ball rolling and our talented team of sales professionals, artists, and promotional product experts will do the rest!