Show Your Appreciation with the Best Giveaway Items for Nurses Week 2020!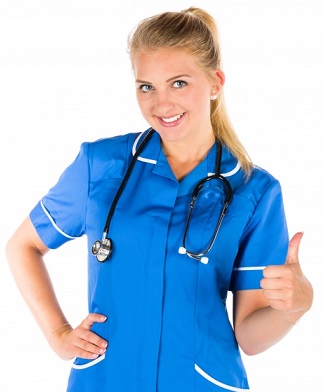 Nurses are some of the hardest-working people in the world. Any trip to an ER, hospital, convalescent home, or even school will make that clear in a hurry. They're also very compassionate; their whole career plan is based around bringing comfort into people's lives and making those who hurt feel better. These are facts that are pretty well known in every corner of the globe. In fact, many languages reflect this concept. Did you know that in Estonia, the word for nurse is õde, which means "sister". In German, it's krankenschwester, which literally translates to "suffer sister". The basic idea is that many a nurse will care for you as if you were family.
We think it's great that every year, May 6-12 is National Nurses Week. Rather than running a traditional Sunday-Saturday course, this observance is always over the same period of dates, as it ends on famed nurse Florence Nightingale's birthday. This year, National Nurses Week starts on a Wednesday and ends on a Tuesday. That means there are still nearly two full months to prepare. With that in mind, we're going to double up and offer 14 promotional products rather than 7 to honor the nurses of our nation for Nurses Week 2020. We'll start sharing these excellent giveaway items with you now.
1. Personalized Nurse Practitioner's Bag
The first nurse-centric item we'll introduce in this article is our custom logo printed Nurse Practitioner's Bag. This is a personalized medical gear bag that any health professional would be proud to have in their possession. Each is made from sturdy 420D ripstop material and comes in your choice of black or gray. Along with a highly professional look that will allow any user to exude confidence, these bags offer an abundance of storage options. The main compartment is highly spacious, featuring a zipper closure and a wide-mouth opening for easy access to interior contents. Its hefty storage pocket is joined by a 15 inch laptop sleeve, allowing nurses to take their computers or tablets with them wherever needed.
Additional storage features include a front zippered storage compartment with an interior organizer, side water bottle holder, side zippered pocket, and a mid-sized accessory compartment. Carrying is comfortable and easy, thanks to the included top carry handles which feature a padded hook and loop closure. There's also a removable padded adjustable shoulder strap. Measuring 15 inches wide by 13½ inches high by 11 inches deep, each bag is imprinted with your company logo, message, or recipient's name. While a single color and location come standard, multiple logo colors and embroidery are available as upgrades.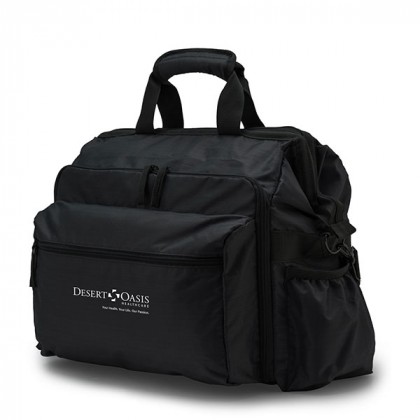 2. Imprinted Nurse's Ouch Pouch
Looking for an item that will be useful for busy nurses on the move? If so, our Nurse's Ouch Pouch imprinted medical side pouches are a perfect fit. Designed to be worn on the side hip area, these custom giveaway items for nurses are constructed from durable 600D nylon and are available in black or blue. Each features several pockets for carrying medical instruments, as well as clear zippered pouch to carry licenses, ID cards, and credit cards. Belt loops and a carabiner allow it to be attached to clothing, keychains, and other items that will travel wherever users do. Forceps, scissors, bandages, burn creams, disinfectant sprays, thermometers, and much more will all find a happy and comfortable home inside of this handy storage pouch. Each measures 5¼ inches wide by 7½ inches high with an imprint area of 2¾ inches wide by 1¾ inches wide being centered toward the bottom. A one-color imprint is included in the price, though you may upgrade to include multiple colors in your logo design.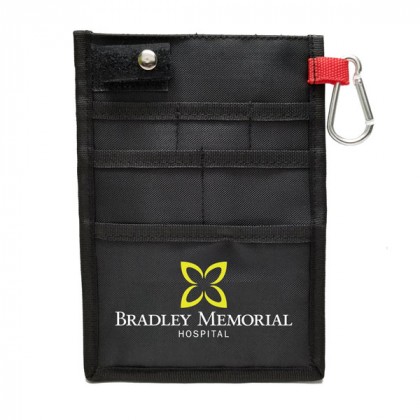 3. Custom Nurse Style Hometown Helpers Sport Pack
Our Hometown Helpers promotional drawstring sports packs feature many different stock art themes. While this article showcases the nurse design, dentists, firefighters, military officers, and police officers are among the other available themes. These cheerful and colorful drawstring backpacks for nurses are great for school nurses to take along while attending field trips or for any nurse to use while on the go. Each features a smiling nurse with 3-dimensional features to complete the look, as well as a brightly colored background. A double drawcord closure secures the top opening of these 210D polyester backpacks. Multiple and full color logo imprinting are available upgrades, which appear in a generous 9 inch wide by 4 inch high imprint area. (A single color logo design comes standard.) The imprint area is centered on the bottom front area of these bags, which span 13½ inches in width by 15 inches in height.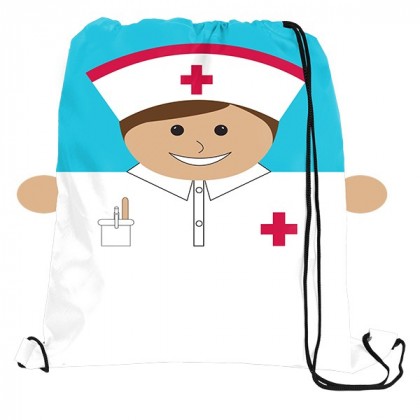 4. On the Go Promotional First Aid Kit
Here's another promotional item for nurses, which, as its name would imply, is ideal for medical professionals in motion. Our On the Go personalized first aid kits are easily portable, available at a low cost, and can really save the day on vacations, field trips, road trips, and everyday outings. Each is brought together by a 5 inch wide by 4¼ inch high polyester pouch with a black zippered closure. Coming in your choice of white, black, red, blue, orange, clear, or lime green, these custom mini first aid kits have a lot to offer. Every one contains a 2" x 3" adhesive pad, two antiseptic towelettes, a first aid guide, 3 standard bandages, and 6 large latex-free bandages. With its convenient size, attractive appearance, and useful contents, this item will perform with flying colors as a giveaway item at medical industry trade shows and events. Imprint these with your school, business, or medical facility logo in the provided 3¾ inch wide by 2 inch high imprint area. Double sided imprints are available as an upgrade option. Please contact us if you'd like to learn more.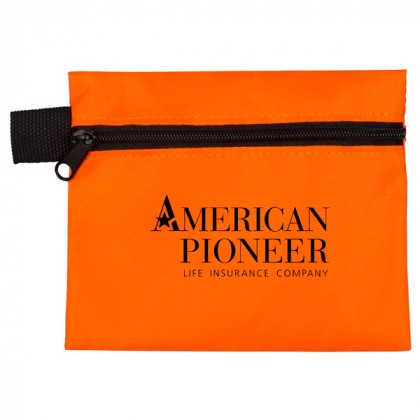 5. Wholesale Pain Assessment Wallet Cards
On many occasions, nurses need to provide care to those who for any number of reasons unable to speak. Whether assisting a patient who is hearing impaired, affected by a speech disorder, or unable to communicate verbally due to their present medical condition, being able to convey a message via alternate means is very important. Our bulk Pain Assessment Wallet Cards empower any nurse or care provider to do just that. Each comes with instructions along with a 1-10 scale accompanied by smiling to bawling faces to indicate a patient's current pain level. At 3⅜ inches wide by 1⅞ inches high, they're a perfect fit for wallets, purses, and pockets. Every card is made from sturdy 30 mil white plastic and contains a full color stock art pain scale on one side and your custom logo imprint on the other. A one color logo imprint is the default, though multiple colors are accessible for an upgrade fee. These are cheap promotional giveaway items that may be small in size, but can play a huge role in ensuring effective and efficient care for injuries and illness.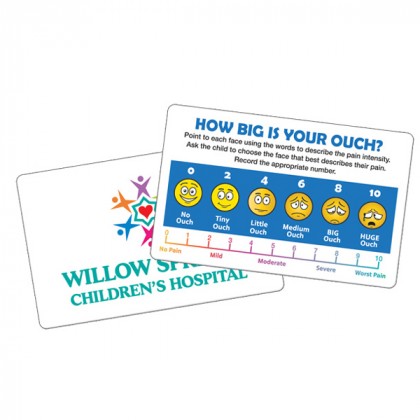 6. Company Logo Printed Pill Case with Four Sections
Nurses, doctors, pharmacists, and even veterinarians will find a high degree of utility in our 4 compartment promotional pill organizers. Healthcare organizations, retailers, and practitioners at all levels will be able to more easily treat and assist their patients when armed with these items. Each is constructed from food-safe ABS plastic and features an inner organizer that swings out. It's divided into four compartments to separate out medications by time, category, strength, or any other needed criteria. When not in use, the pivoting organizer slips back inside of the casing and is held in place via a slide-lock closure. The outer casing is available in red, black, blue, and lime green. Each is printed with your logo design on either the top or bottom in a 2 inch wide by 2 inch high imprint area. Multiple logo colors and locations can be added for an additional fee. The unit as a whole is 3 inches wide by 2½ inches high by ⅝ of an inch deep. We recommend that these items be washed by hand and not placed in a dishwasher.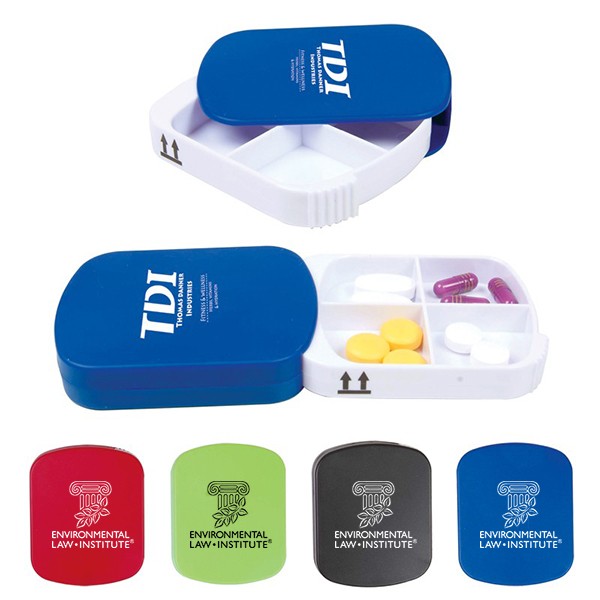 7. Character Novelty Hand Sanitizer Spray Pens
As our recent custom hand sanitizer giveaways blog post, we talked a good deal about bulk hand sanitizer spray pens and why they're so popular. A great representative is represented right here, in the form of our personalized novelty Character Hand Sanitizer Spray Holders. Convenient, portable, and sure to draw both attention and smiles, these make perfect giveaway items for nurses, doctors, medical technicians, and more. Your custom designed (or one of 40+ stock) character appears along the top clip-on lid area. The body of the sanitizer spray pen is wrapped in a full color customizable label to display your logo. Each one is 5¾ inches tall by ⅝ of an inch deep and holds 10 ml (0.33 oz) of citrus scented hand sanitizer. The sanitizer is aloe based and also contains ethyl alcohol to fight germs.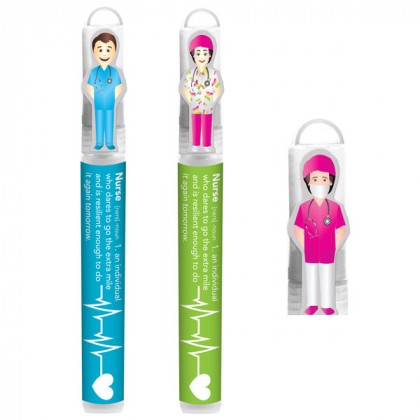 8. Custom Rectangular Plush Gel Bead Hot and Cold Pack
Nurses attending to bruises, be it for a patient, family member, or even on their own body, will love to have our personalized Plush Rectangular Gel Packs within their possession. Your business will be proud to have its logo imprinted and viewed upon such a useful and high quality item. Each of these custom hot and cold gel packs features one clear side with visible gel beads and one side with a plush fabric side and elastic grip to be worn against the skin. Their flexibility makes them able to lie straight or bend over joints. They can be heated in a microwave to stay hot for 90 minutes of placed in a freezer to offer cooling relief for up to 3 hours. Each comes with an instruction card and is non-toxic and fully reusable. They come in your choice of gray, light blue, red, or lime green, so there's flexibility in matching them with your company logo. Speaking of which, these 7½ inch wide by 5 inch high gel packs are imprinted with your logo design in a 5 inch wide by 2 inch high decoration area. They're sure to create plenty of positive advertising impressions wherever they're seen offering relief from pain.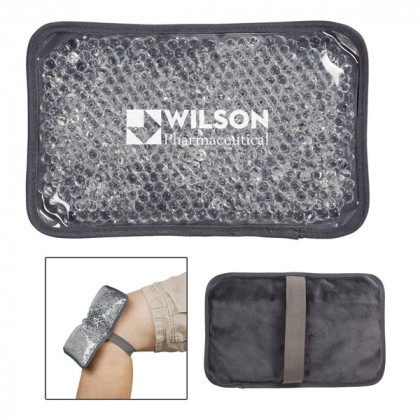 9. Logo Imprinted Syringe Pen
Cheap, fun novelty pens always are popular as trade show giveaway items. This is especially true when they have a unique and eye-catching design. This is the case when it comes to our promotional Syringe Pens, which are shaped to look just like a syringe that would be used while giving a shot. Nurses will have lots of fun using these retractable click pens, while their patients will be happy to see that they house medium black ballpoint ink instead of a needle! To add to the authentic look, mock dosage marks are incorporated into one side of barrel of each pen. Made from AS plastic, these custom ink pens are 5 inches long and have a diameter of ½ of an inch. They ship 100% free of charge and are imprinted with your personalized business logo design in a space measuring 1½ inches wide by ¼ of an inch high. These novelty pens can be ordered in clear with blue barrels or clear with red barrels.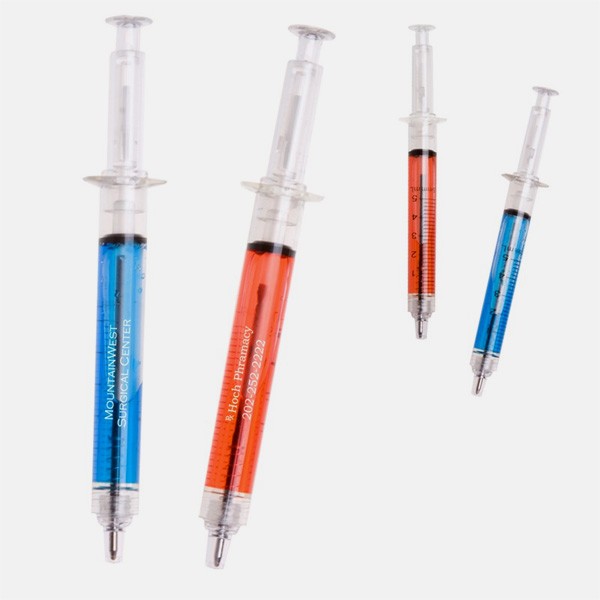 10. Promotional MopTopper™ Nurse Combo
The vast majority of nurses, like anyone else in modern times, rely heavily on mobile tech devices. That's why we're highlighting our MopTopper™ custom stylus pen and protective mobile phone wallet sets for Nurses Week 2020. Each of these protective cell phone accessory kits comes with a click-action ballpoint stylus pen that is topped with a whimsical smiling face and wild hair that doubles as microfiber screen cleaning material. Also included is a pre-printed mobile phone wallet in the design of teal nurses' scrubs. Equipped with an adhesive backing, these wallets can be attached to the back of cell phones to hold cards, money, and other small items. Making a great giveaway package even better is the fact that these items come together in a waterproof plastic pouch with a triple zip locking seal and fold-over hook and loop closure. Appointed with an adjustable nylon neck lanyard for easy carrying, this kit is sure to keep mobile devices safe and is a great corporate gift idea for any and all valued nurses. This is another item that comes with free shipping. It also comes with your logo imprinted on the protective pouch, with imprints on the pen and wallet being accessible for an upgrade fee.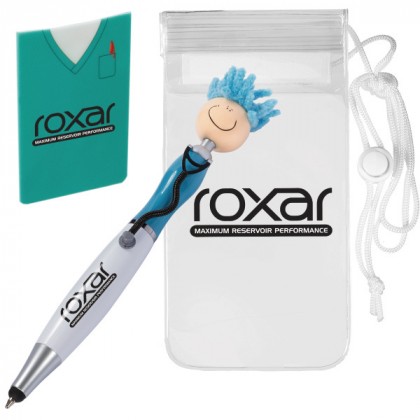 11. Personalized Programmable LED Hand Fans
There's no off-season when it comes to nursing, and this means many days working in very warm weather. As nurses bring so much comfort to their patients, your business, school, or medical facility can bring some comfort to its nurses by way of investing in our custom Programmable LED Message Hand Fans. These unique giveaway items allow nurses to stay cool in hot conditions in a fun and unique fashion. Each fan is appointed with soft plastic blades that contain LED bulbs (your choice of red, green, or blue) that we pre-program to included up to 6 different messages of up to 18 characters. The messages alternate and are displayed by way of changes in which bulbs are lit. All your business needs to do is provide us with the messages; we'll handle the programming. Each of these motorized hand fans is powered by 3 AAA batteries which are housed in an easy to access battery cartridge. Five consecutive hours of cooling relief are provided before a recharge will be needed. Red, blue, black, and silver are all available as faceplate color choices to add some contrast to the picture. In terms of size, these fans are 2½ inches wide by 4½ inches high by 7/16 of an inch deep. Every unit comes with a lanyard for optional hands-free carrying.
12. Pioneers in Nursing Wholesale Rulers
Your school, hospital, convalescent home, clinic, or any other medical organization can show it believes its nurses to be among the all-time greats when putting its logo on this giveaway item. Our Pioneers in Nursing wholesale imprinted rulers might look like your typical footlong rulers at first glance. However, when viewing both sides, users will see that this is a truly unique and inspirational item. One side of these promotional rulers has the usual markings (in the same color as your logo imprint), while the other is decorated with photographs of 24 famous nurses. Below each photograph is the name of the depicted nurse along with their crowning achievements. Shipping absolutely free of charge and made from eco-friendly materials, these bulk rulers are a great way to show that your organization views its nurses as living legends. It's also a great way to spread awareness and goodwill for hospitals, visiting nurse associations, in-home nursing agencies, walk-in clinics, and more. 
These rulers are 12¼ inches wide by 2½ inches high. Their imprint area runs 12 inches wide by 1½ inches high. A single color imprint is included, and, as already mentioned, the measuring marks on the ruler will be in the same color as your logo. Each ruler is white and is constructed from flexible 20 ml plastic. For an added charge, 30 and 40 ml plastic versions are accessible. Please contact us for more information on this and other upgrade options, such as multiple color imprinting.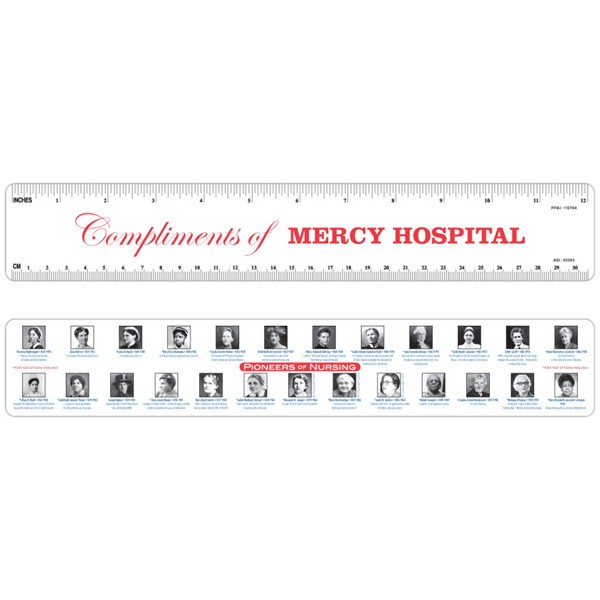 13. Customizable Oval Badge Reel Charm for Nurses
Whether at work, medical industry seminars, or any other professional event/location, nurses will often need to wear various types of ID pieces. Badge reel IDs are not uncommon, as they provide visual verification of identity. They also can be employed in scanning for entry to various access points. Our wholesale badge reel charms for nurses can be used for either purpose, in addition to many others. They have a stylish look and with your full color imprint design, users may even find themselves wanting to wear them as accessories for outfits when off the clock. 
Our Oval Badge Reel Charm is a manageable size at 1 inch wide by 1⅕ inches high. Coated by a clear polydome, the inner portion features your full color logo, message, or ID design. A metal attachment clip keeps it secure and in place, as well as easy to clip on and take off. Shipping is 100% free on this item, making it all the more desirable.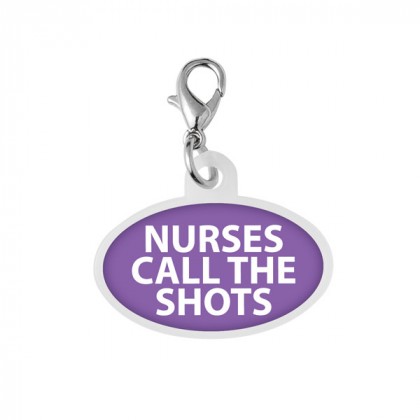 14. Promotional 7" Plush Nurse Teddy Bear
We'll end our list of the best promo products for nurses and Nurses Week with something cute and lovable. Our custom 7" teddy bears for nurses and doctors will be a comfort to children who come in for treatment. They'll also be a happy reminder to any nurse of the high regard he/she is held in by your organization. They're also perfect as giveaway items for children's hospitals and pediatrician practices. Each bear comes wearing either a teal t-shirt (made to resemble a nurse's scrubs) or a white t-shirt (made to resemble a doctor's lab coat). The t-shirt features a stock stethoscope design on the left and right chest areas, as well as your personalized logo imprint centered in a 2 inch wide by 1 inch high area. 
These cute and cuddly teddy bears have a light brown/tan color and are made from 100% polyester. They're formed in a sitting position with their arms stretched out for a hug. Detail is present in the face, with warm brown plastic eyes being accompanied by a black knit nose and smiling mouth. They meet all toy safety standards as set forth by ASTM F963. Rush delivery is available on orders of up to 300 units.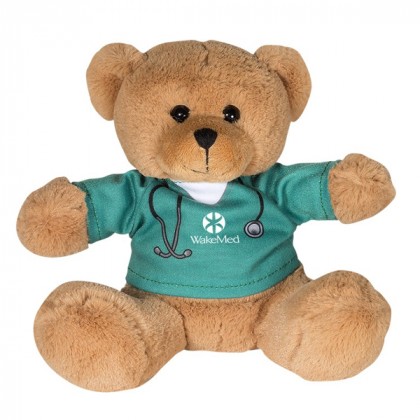 Well, there you have it. The preceding are our picks for the 14 best promotional products and giveaway items for National Nurses Day 2020. We hope we've shared some products with you've found to be a perfect fit for honoring the skilled & dedicated nurses both within your organization, customer base, and target audience. As always, if you have any questions, please feel free to give us a call, contact us via live chat, or send us an email. A happy Nurses Week to all!