We Have All of the Best Cheap Custom Pens to Boost Your Brand!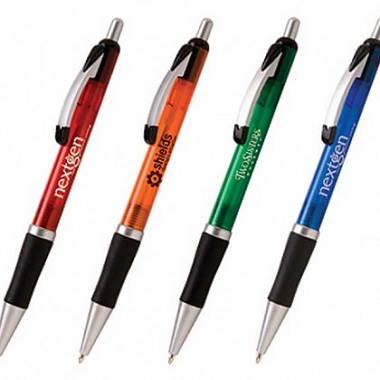 The Best Cheap Pens for Your Next Promotional Giveaway
Pens are perhaps the most widely used promotional giveaway item on the market – and for good reason. They're inexpensive, universally functional, and come in a variety of styles. Additionally, because they're easy to distribute and useful in a variety of environments (at home, in the office, etc.), they're also one of the most effective promotional gifts available. When you integrate promotional pens into your marketing strategy, you can bring your name to the top of your audience's minds whenever they need to jot down a note. This garners valuable brand recognition and can even increase your credibility as an organization.
If you're looking for cheap promotional pens that will set your business apart from the crowd, 4AllPromos has exactly what you need. We offer a variety of high-quality, affordable personalized pens that will make your customers smile and enhance your marketing efforts.
No matter your industry, your business can benefit from the promotional power of customized pens. So, take some time to browse a few of our best custom pen options, which we're breaking down below:
1.Cheap Custom Pens Under $1
Cheap pens are an affordable way to promote your company at trade shows, job fairs, and other events. At 4AllPromos, our catalog includes hundreds of options that are priced well under $1 ­– with some as cheap as 50 cents! Customization options vary based on the specific product you choose, but most pens include a one-color imprint. Some options also offer both barrel and clip customization, providing another valuable spot to print your business's name.
The quality of custom pens available for $1 and under is often a surprise. There are many choices, ranging from colorful Hub® pens to traditional stick options. No matter what you envision for your brand, we have an item that will fit your budget and appeal to your audience. Pictured below is the Tropical Javalina Pen, one of our most popular cheap Hub pens.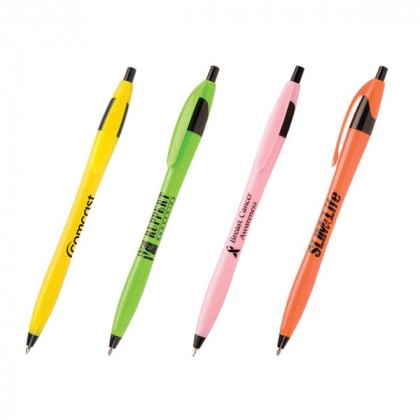 2.Personalized BIC Pens
Promotional BIC® pens have been a staple in offices for years, and they remain a customer favorite even today. Recipients appreciate their smooth writing style, and businesses love how budget-friendly they are. These classic writing tools come in a variety of designs, from BIC Clic pens to BIC WideBody pens.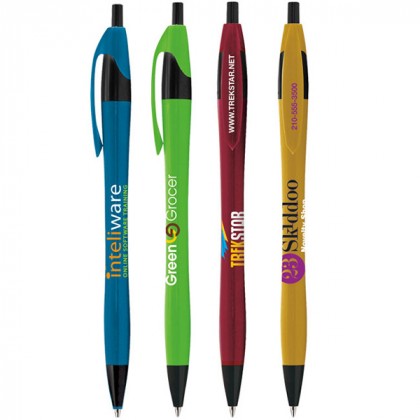 Our selection of BIC products also features BIC Dart Click pens, grip pens, professional twist pens, and more. Plus, each of these options can be customized with your logo and preferred colors, so you can promote your brand anywhere a pen is needed. Our Metallic Dart Pen by BIC is displayed in the image preceding this paragraph.
3.Custom Imprinted Recycled Pens
Made entirely of recycled materials (including plastics, grains, recycled papers, and even bamboo), these eco-friendly pens are promotional giveaway items your business can feel good about distributing. Wholesale recycled pens cut down on the amount of plastic entering the hands of consumers, and they also let customers know that your company is committed to environmental sustainability.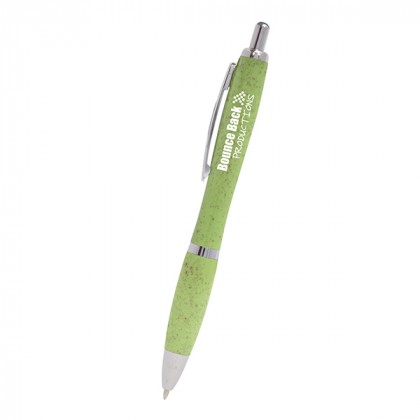 Options like our Chico logo imprinted wheat pens (pictured above) use 50 percent less polypropylene by replacing it with wheat stock fibers that are left over after the harvesting and refining process. Because of this unique composition, they feature beautiful speckled colors that draw the eye. Similarly, our Dual Function branded Eco-Friendly pens are crafted with a recycled paper barrel and a wooden shirt clip. One end features a chisel-tip highlighter, and the other is a ballpoint pen with fade-resistant ink, making it an eye-catching and multi-purpose promotional item. This added functionality can make all the difference between a pen that remains at the bottom of a briefcase and one that takes up residence on a user's desk.
4.Unique Promotional Pens
Want to break free from standard giveaway products? With unique options, such as our promotional novelty pinwheel pens, your company will remain memorable long after your promotional event. Featuring a nostalgic foil pinwheel on one end and a smooth-writing pen on the other, these whimsical products are sure to impress users of all ages.
Other unique options include customizable bone shaped pens, Wild Smilez pens, and more. We even have pens that look just like drill bits! With these unique products in your arsenal, you can give your audience something fun yet functional that they can use every day. We've included an image of our Finger Bone pen just below this paragraph.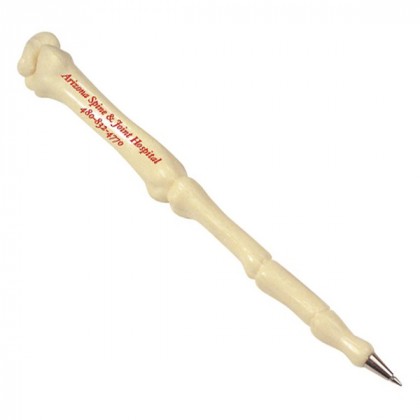 5.Imprinted Stylus Pens 
Give a nod to the tech world by gifting your customers and employees with promotional stylus pens. These products increase the efficiency of phone or tablet use and double as a classic ink writing utensil. Plus, they're more likely to become a go-to item among digital nomads and the tablet-obsessed thanks to their versatile functionality, while still appealing to those who simply appreciate a high-quality pen.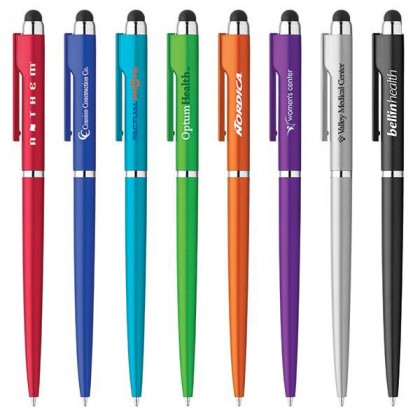 With its sleek metallic finish and understated, professional style, the Digitalis personalized Stylus Twist pen is a true audience-pleaser. Just take a look at the image above - this pen's style speaks for itself. Other favorites include the Planet custom Stylus pen, an eco-friendly option that features a barrel crafted from recycled cardboard, and the iWriters promotional Auto-Retractable Gravity pen, which offers a uniquely smooth writing experience.
Bonus: Complete Their Desks with Promotional Pencils
Promotional pencils also make great giveaways. They're perfect for individuals who prefer graphite over ink, such as carpenters, engineers, and designers. At 4AllPromos, we offer a variety of bulk pencils that come imprinted with a brand name or logo. Not only are these promo products useful, but they're also highly affordable, offering you a budget-friendly way to spread the word about your company.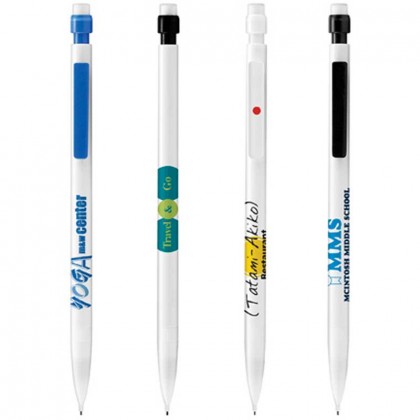 Custom mechanical pencils are another great option that your audience will love to use. These high-quality products take things up a notch, giving the impression that you went above and beyond when planning your giveaway. Custom carpenter pencils also stand out from the crowd. Featuring a wide body that can be whittled to a point with a pocketknife, our carpenter pencils are perfect for woodworkers, artists, contractors, and more! Plus, they're available in a wide array of colors and imprint options. Curious to see what a carpenter pencil looks like? Just refer to the image below.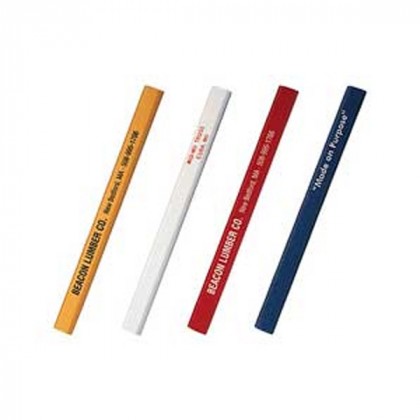 Ready to Stock up on Customizable Pens for Your Next Giveaway? 4AllPromos Can Help!
Whether you're looking for a multi-functional giveaway option for the tech-savvy individual or a heavy-duty product that will hold its own through hundreds of business meetings, custom pens are a perfect choice. Luckily, 4AllPromos has dozens of cheap promotional pens to choose from, so you can find one that meets all of your needs.
Have questions about customization options, pricing, or the ordering process? Our team is here to help. Contact us today for more information about our products or to request a quote!