Top 10 Custom PopSocket Phone Stands for 2020
Top 10 Custom PopSocket Phone Stands for 2020
People across the globe spend enormous amounts of time on their smartphones – roughly four hours per day, on average. Therefore, it's important to ensure that these devices are as comfortable and easy to use as possible. This is where the PopSocket® comes in. A hot commodity among smartphone users, these accessories are versatile, customizable, and unbelievably useful.
PopSockets double as both phone stands and grips to make holding phones easy. They're perfect for keeping devices balanced without straining users' fingers. They first emerged on the market in 2014 and have since evolved to include a variety of mounts, clips, and wallet options. Each adds remarkable style and versatility to the classic design. In a world that spends hours each day holding a smartphone, custom PopSockets are smart promotional tech items that can boost brand awareness in a big way.
That's why we're sharing this article. It gives a sneak peek at all of the latest and greatest customizable PopSocket phone stands for 2020. Before beginning our list, we'd like to share this fun and quick video that shows some of the ways in which PopSockets and some of their accessories can be used:
1. The Original Custom PopSocket 
The classic custom PopSocket truly does it all. It makes it easier to hold smartphones, can adhere to most any phone or case, and allows users to select designs that fit their personal sense of style. By adding a company logo to the back of a PopSocket, you'll gain instant brand exposure that travels everywhere your target audience does. In addition, all recipients will have your company to thank for providing them with a convenient way to use their devices. Each ships 100% free of charge!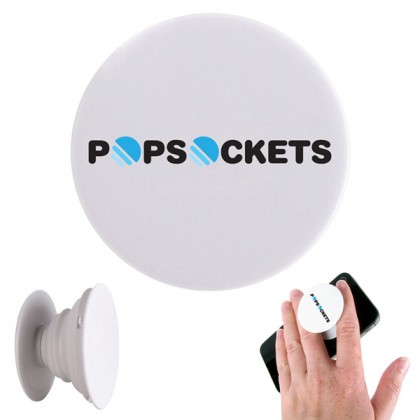 2. Personalized Full-Color PopSockets 
Looking for an even more attention-grabbing version of the classic PopSocket stand? Our full-color imprinted PopSocket boasts a complete range of color for crisp, clear graphics and photographic backgrounds. These high-quality items are available with your choice of white or black bases. They include both the stand and the full color-printed back, which can be customized to promote your company or organization.
The best part? PopSockets are both highly visible and well-loved by users. With every selfie, your company logo will be on display for the world to see. Every time users grab their phones, they'll give a subconscious (or maybe not-so-subconscious) nod to your brand in the process.
3. Promotional PopSockets Phone Grips and Clips
To extend even more value to target audience, your business can upgrade to our promotional PopSockets phone grip and clip combos. These tech giveaways offer the best of both worlds when it comes to smartphone versatility. This package includes both a custom PopSocket phone stand as well as an added clip that can be attached to a car dashboard, file cabinet, desk, or just about any other solid surface. The PopSocket stand slides into the clip easily with just one hand. These sleek, secure, and multipurpose mounts can easily be adjusted as needed. The clip itself can be removed without leaving behind any residue and can be relocated as needed. Just slide a bit of dental floss or fishing line behind the adhesive – it's that easy!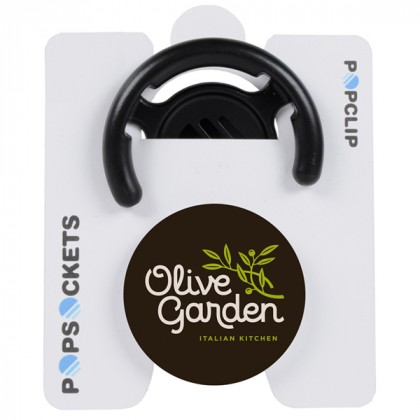 4. Imprinted Rosewood PopSocket
Bring an upscale, organic feel to your promotional giveaways with our personalized wooden PopSockets. These custom rosewood phone grips have a sophisticated, rustic-meets-modern aura. Each is laser engraved with your company's logo or other custom design. These promotional technology products are perfect for woodworking companies, health food stores, and anyone else who wants a unique quaint spin on a contemporary item. They're undeniably eye-catching and are sure to draw interest everywhere they go. While various wooden phone cases are starting to make their appearance on the shelves and online, closely combining wood with technology is still a bit avant-garde. Therefore, it's a smart way to snag your brand some time in the spotlight.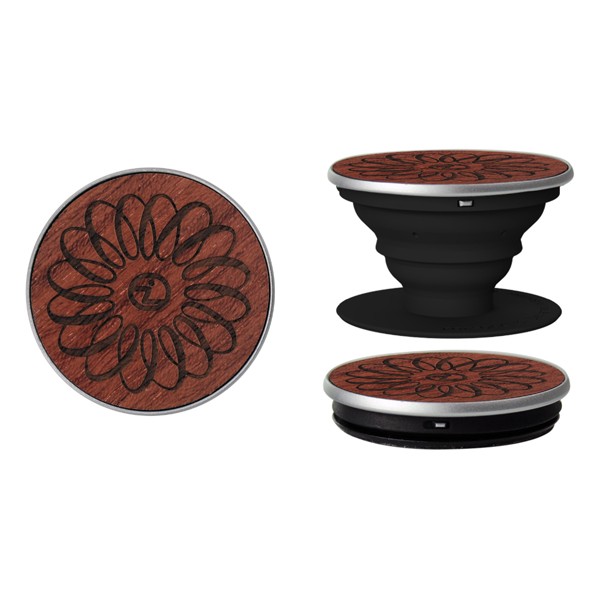 5. Branded Vegan Leather PopSockets
Leather is yet another way to dress up a custom PopSocket in an unexpected fashion. However, many people choose to avoid genuine leather for a variety of reasons. Animal lovers and/or those who maintain a vegan lifestyle will happily opt for faux leather as an alternative. That's why we offer high-quality custom Vegan leather PopSockets that can be embossed with your company logo. Available in black or brown faux leather, these promotional items will look right at home in the hands of students, professionals, and fashionistas alike. They're classy, striking, and add convenience to smartphone use. This makes them ideal promotional products that will see usage every day.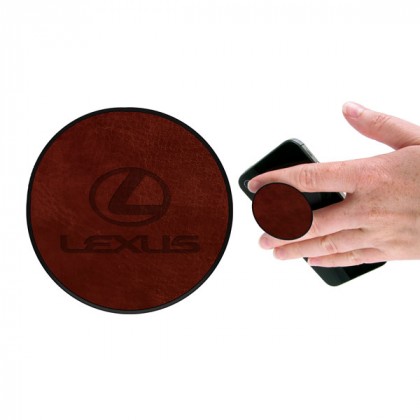 6. Diamond PopSockets with Logo Imprints 
One can never go wrong with a bit of bling. Custom diamond PopSockets add dazzling, geometric style to smartphones of all kinds. They catch the light and draw the eye while remaining elegant and chic at the same time. Available in a wide variety of colors, including (but not limited to) ruby, emerald, and sapphire, these PopSockets are a great way to add a little luster to your giveaway items. Each diamond PopSocket is crafted from sleek, smooth aluminum that is laser engraved with your business logo or personalized message. We offer a variety of fonts to ensure that end result fits your brand's style.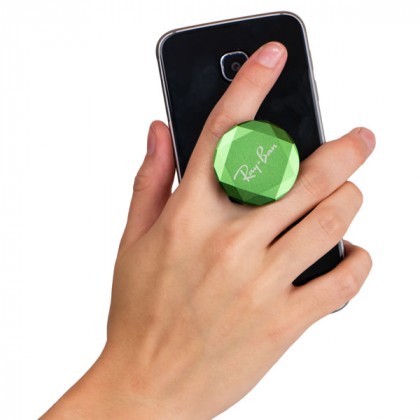 Is your older PopSocket losing its stickiness? No problem! Here's how to fix it!
We'll take a quick break in our list to share this video explaining how to replenish the adhesive qualities of a PopSocket that has seen extensive use. Just follow these few easy steps and the problem will be solved.
 
 
7. Promotional Bamboo PopSocket 
Searching for a natural but en vouge PopSocket option? Business logo Bamboo PopSockets offer a smooth, light finish, giving engraved designs a crisp look with impeccably clean lines and edges. The perfect material for companies that want to shake things up, bamboo looks modern while maintaining an earthy, organic feel. It's also versatile enough to fit the aesthetic of a variety of professionals, students, and retirees alike. It's important to note that it also provides a pleasant tactile experience. That's a pretty essential quality for a product that users will hold in their hands for hours each day.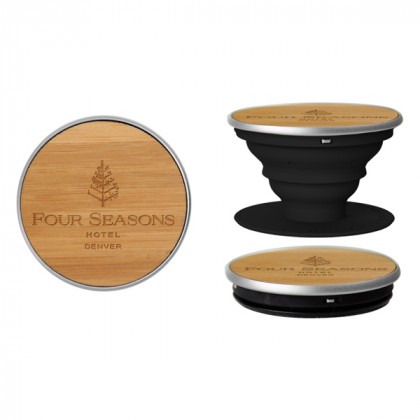 8. Custom Iridescent PopSockets Phone Grips 
Stylish, shiny, and trendy – these are just some of the ways to describe our personalized iridescent phone grips. These flashy and fun products look right at home in the hands of the most cutting-edge smartphone users and offer a refreshing take on the classic PopSocket phone stand. Plus, with sleek, smooth edges, these phone grips slide into pockets and bags with unparalleled ease. As is the case with all of our other promotional products, our iridescent PopSockets can be customized to include your company's logo.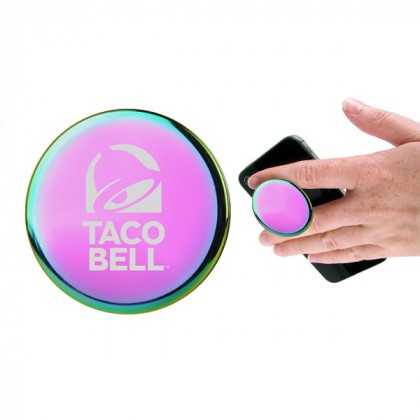 9. Wholesale Aluminum PopSockets with Car Mounts 
Many people use their smartphones for navigation while driving. However, this function can sometimes be dangerous, as it causes users to take their eyes off of the road. Luckily, you can provide your audience with the ultimate solution to this conundrum by gifting them custom aluminum PopSockets with car mounts. These user-friendly packages make it easy to add a secure, durable phone stand to car dashboards (and practically any other surface). As the video we shared earlier shows, the sleek, aluminum PopSocket slips easily into the car mount clip for maximum convenience. Packaged together, this combo is a truly power couple to contend with.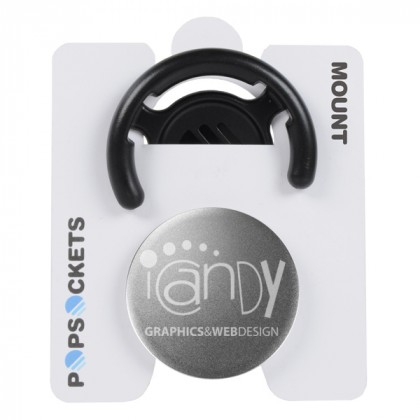 10. Custom Promotional PopWallet+ 
Are you looking to offer your clients a promotional item that does double duty? With our customizable PopWallets, you can do just that! These versatile products feature a classic PopSocket phone stand attached to a slim, removable wallet that's ideal for storing credit cards, driver licenses, and more. Our PopWallets are made from smooth fabric and plastic that makes retrieving and replacing cards and cash easier than ever. Making a great giveaway even better is the fact that the wallet can be removed to accommodate wireless chargers. When they're personalized with your graphics, logo, brand messages, or all of the above, they'll steal the show in style – all while offering invaluable utility to your target market.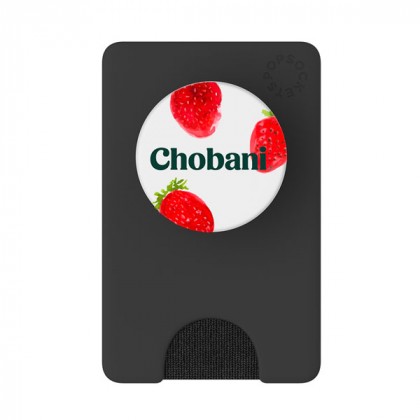 Bonus! Custom Imprinted Mini PopSockets: A Small but Mighty Addition to the Lineup 
We know this was supposed to be a Top Ten list, but we just have too many perfect candidates and had to share one more. Our promotional Mini PopSockets are so adorably useful that we couldn't resist including them. Every set of PopMinis includes three miniature PopSockets for triple the convenience and control. They also provide three times the customization opportunity! They provide a brilliant way to maximize your promotional real estate. Instead of packing your graphics or message onto just one PopSocket, PopMinis supply three opportunities to get your name out there. Try placing your company logo, slogan, and website on each PopMini. Alternately, you can highlight three different products in one convenient package. The possibilities are endless!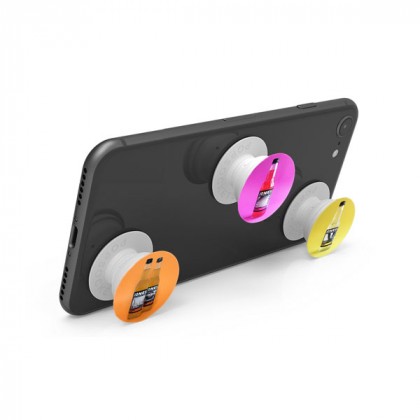 Looking for Custom PopSockets and Other Unique Promotional Items? 4AllPromos is Your Go-To Source 
Almost six years have passed since PopSockets first began appearing on the backs of smartphones. However, their popularity is still growing. By all signs, it is safe to assume that 2020 will be another great year for these useful products. With so many new variations hitting the market, they're sure to provide more opportunities to creatively promote your business as time goes on.
As 2020 approaches, continue to look to 4AllPromos for all of the high-quality promotional products you need to increase brand awareness and grow your business. We are your one-stop-shop for hundreds of unique and customizable giveaway items.
Do you have questions any about our customization capabilities or product offerings? Don't hesitate to give us a call at 1-866-732-3386. Are you ready to place an order? Request a quote today!