Ring in the New Year with the Best Wholesale 2020 Calendars for Businesses!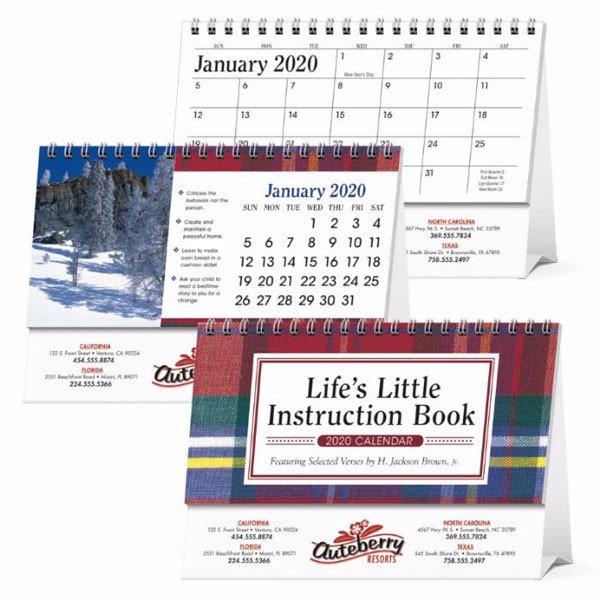 Once again, we find ourselves in the dwindling days of the year and wondering where all of the time went. While the holiday season and New Year always tend to sneak up on us all, it doesn't mean we can't fight back. You and your customers will be able to keep all of your affairs in order and everything quite literally up to date when you buy customized 2020 advertising calendars from 4AllPromos. We carry promotional peel and stick calendars, custom printed magnetic mini calendars, personalized desk tent calendars, custom dry erase calendars, and many more styles. Today, we'd like to share our picks for the top 15 promotional business calendars of 2020. Bear in mind, these custom printed wall calendars, desk calendars, and stick-on calendars guarantee multiple daily brand impressions for 366 days - something very few other cheap promotional products can claim. Now that you know what this article is all about, we'll get started. 
Custom Logo Imprinted Peel-N-Stick® 2020 Calendars
While the promotional 2020 Peel-N-Stick® calendars on our site have a trademarked name, you'll also often see them being referred to as peel and stick calendars, stick-on calendars, stick-up calendars, peel & stick calendars, sticky calendars, press and stick calendars, and a broad assortment of other terms. Whatever you call them, they make for some of the best cheap promotional calendars around and offer several options for displaying your custom company logo and generating brand awareness all year long.
Two Color Stick-Up Grid 13 Month 2020 Peel and Stick Calendar
Okay, that name is kind of a mouthful, but every part is important. These custom promotional peel and stick calendars are inexpensive advertising products that can be used almost anywhere. Whether checking the date, scheduling an appointment, counting down to a special event, or determining vacation days/pay periods, nobody wants to be without a trusty desk calendar while at work. These particular stick-on calendars are especially handy because they can be adhered to just about any flat and smooth surface. That means that sticking them up against a file cabinet, cubicle wall, window, refrigerator, printer, or monitor is quick, easy, and dependable. All a user needs to do is give it one quick press and then they're set for the rest of the year.
These promotional 2020 press and stick advertising calendars feature tear-away pages that can be removed when the month is at an end. They also include a bonus page for December 2019, which will prove useful when having to recall a specific weekday or event after the new year rolls in. Each one is personalized with a one color foil stamp of your custom business logo at no extra charge. Mulitple colors are also available for an additional fee.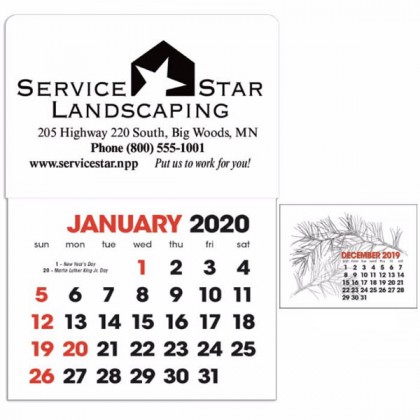 These promotional 2020 press and stick advertising calendars feature tear-away pages that can be removed when the month is at an end. They also include a bonus page for December 2019, which will prove useful when having to recall a specific weekday or event after the new year rolls in. Each one is personalized with a one color foil stamp of your custom business logo at no extra charge. A vinyl top sits above the pages of this 3" x 4" self-adhesive advertising calendar and is available in a variety of shapes. Customized shapes are also available. Need a great promotional real estate calendar? Go with our house-shaped model! Looking to promote a farm or rural business? Try our custom barn or tractor shaped press & stick calendars on for size! Celebrating the grand opening of your bank? Cozy up to your new neighbors and customers with our dollar sign shaped sticky calendars!
Those are just three of the many options. Other available shapes include squares, rounded rectangles, hearts, houses, mortar and pestles (pharmacy symbol), propane trucks, awareness ribbons, bars, cars, grocery bags, coffee cups, recycle symbols, smiley faces, steers, phones, tow trucks, vans, and thank-you note styles. 
Church Peel-N-Stick® Calendar - Budget
A great promotional product for churches, our 2020 church shaped press & stick calendars are sure to be a hit with all denominations. Each one of these promotional mini press-on calendars measures 3 inches in width by 4 inches in height. Twelve months of tear-off pages hang beneath a stock art imprinted vinyl top. The stock art displays three crosses under a roof and is perfect for holiday celebrations, church fundraisers, and events within the community. To the right of the graphic is where you can have your church's contact information displayed, ensuring that anyone who needs to get in touch with your parish will be able to do so throughout the coming year. Best of all, since the stock art comes standard, these personalized peel-n-stick® calendars for churches have no set-up fee!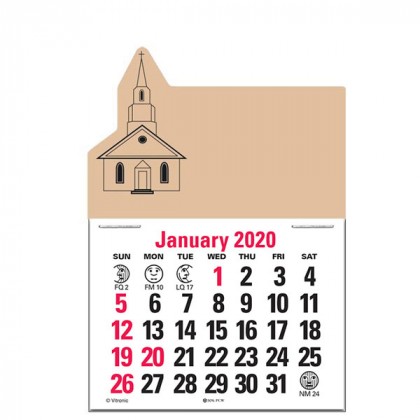 The vinyl header comes in several colors. Choose from your favorite out of apple green, black, bone (off white, similar to ivory), brown, burgundy, Carolina blue, gray, green, pink, purple, red, royal blue, sky blue, teal, translucent orange, white, or yellow. Alternately, you can order a mix of colors, making sure that every parishioner's favorite is accounted for. The imprints on these calendars will vary in color based on the header that serves as their background. White imprints (as picture above) will appear on red, blue, black, green, and teal shades. Black imprints come with white, yellow, and orange headers. Finally, brown imprints will accompany bone colored headers. For an additional charge, you can also order these cheap custom calendars for churches in Spanish.
Promotional 2020 House Vinyl Adhesive Calendar
New up are our house shaped vinyl adhesive models, which are among the best personalized real estate tear-off calendars for 2020. These small customized peel and stick calendars are 3 inches wide by 4 3/16 inches tall and feature an imprint area of 2 3/8 inches wide by 1 1/16" inches high. The vinyl portion of these self-adhesive promotional calendars features a house shape in a variety of different colors. The crack-and-peel style background makes it quick and easy to attach these cheap promotional mini calendars to any surface of your choosing around the house or office. These 12 month personalized stick-on calendars feature a single tear-away sheet for all 12 months of the year.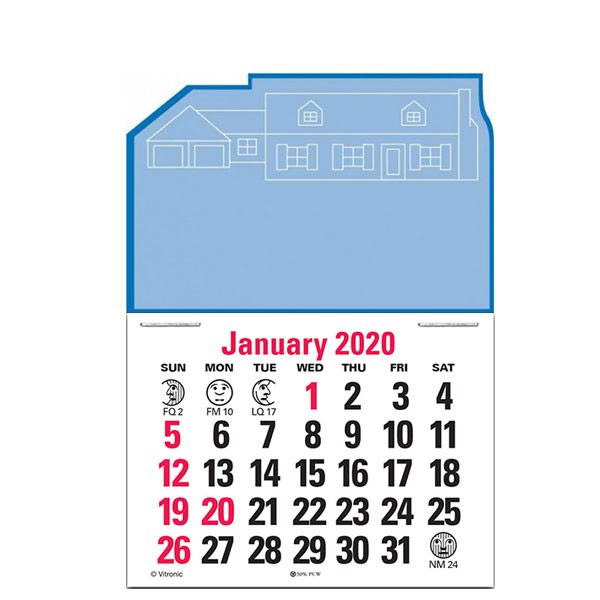 These promotional peel & stick calendars aren't just limited to the realm of real estate products. They're also perfect advertising calendar giveaways for banks, mortgage brokers, credit unions, contractors, roofers, carpenters, housing authorities, and several other businesses. Available in both English and Spanish, these small adhesive calendars feature a one colored foil stamp logo, with multiple colors accessible for an added fee. The backing vinyl portion comes in yellow, red, white, blue, green and black. A free display box is included for every 50 calendars purchased.
Customized Desk Tent Calendars
Our promotional 2020 desk tent style calendars are great as corporate employee gifts, trade show giveaways, company holiday party giveaways, and general purpose cheap promotional products for businesses. They get their name from the tent-like shape their pages and cardboard bases come together to create. Users will love the convenience and style that they bring, as they can easily flip to any month they want to view without having to remove thumb tacks or tear off pages.
Personalized Business Desk Tent Calendar - Life's Little Instruction Book
Here's a custom imprinted eco-friendly desk tent calendar that is perfect for lovers of the great outdoors and the businesses that cater to them. Made of recycled materials, these durable high gloss paper stock calendars feature stunning pictures of wildlife in full color accompanied by inspirational (and sometimes humorous) tidbits of advice coined by H Jackson Brown. If you're unfamiliar with the term paper stock, we'll explain it now. It's a material made from paper than is of a thicker and more durable composition than the type of paper you'd use for writing or printing. Its thickness is measured in mils, which are units equal to one thousandth of an inch. Therefore, a piece of 30 mil paper stock would be 0.03 inches thick. 
These custom imprinted desk tent business advertising calendars display your personalized company logo along the tent base in black and do not require a set-up fee. Each calendar measures 6 inches wide by 4 inches high and possesses an imprint area of 5¼ inches wide by 3/4 of an inch high. 
Our Life's Little Instruction Book customizable desk tent calendars are great as promotional calendars for therapists, psychiatrists, psychologists, financial professionals, insurance firms, and healthcare organizations. Each month offers a few short inspirational quips such as the ones that follow.
"Be bold and courageous. When you look back on life, you'll regret the things you didn't do more than the things you did."
"Be wary of people who tel you how honest they are"
"Steer clear of restaurants that rotate."
Custom 2020 Desk Tent Calendar
Our simply named Custom Desk Tent Calendars for 2020 offer a large assortment of customization options. To begin with, every month features a full color photo imprint of anything you want - you just have to provide the photos so we can get them on there. These 12 month desk tent style calendars also come with customized inside back covers. Making them even more useful as cheap promotional business calendars is the custom business logo imprint & contact information area, which occupies the base of the tent. This imprint area is 5¼ inches wide by 3/4 of an inch high and remains visible all year long. As if this weren't enough, there's also a personalized ad imprint area for every month of these business advertising desk tent calendars, with the area and location set differently for each month.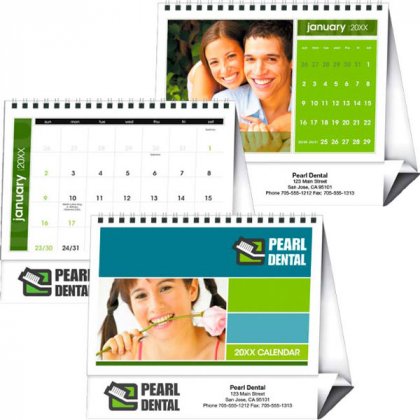 Each full-color photo desk tent calendar is 6 inches wide and 4½ inches tall. If desired, phantom overprinting can be arranged. This is a printing style where your custom business logo is printed behind the calendar grid, with the days and numbers lying on top. Date block overprinting is another option, which enables certain days to be highlighted. This is a helpful way to remember holidays, meetings, vacation days, company events, and any other moment one does not want to forget. 
Custom Mini Calendars
Our custom mini advertising calendars for businesses are small, cheap promotional products that go along way in promoting brand awareness and customer loyalty. Buy bulk promotional mini calendars from 4AllPromos in a variety of styles, including personalized press and stick advertising calendars, custom imprinted miniature wall calendars, personalized computer monitor strip calendars, mini 2020 corporate schedule calendars, and many more.
12 Month 2020 Mini Calendar - Puppies and Kittens
Nobody can resist the charm of cute animal calendars. That's just one of the many reasons why our wholesale 2020 puppy & kitten calendars are sure to be a huge hit with businesses and customers alike. Every month features a different full-color photo of adorable puppies and kittens, creating the perfect promotional calendars for veterinary clinics, pet supply shops, dog groomers, dog walkers, animal shelters, and any other business, organization, or individual who wears the "animal lover" label with pride. Every picture is printed with a UV coated gloss finish, which ensures that they'll look great all year long while staying resistant to scratches and fading.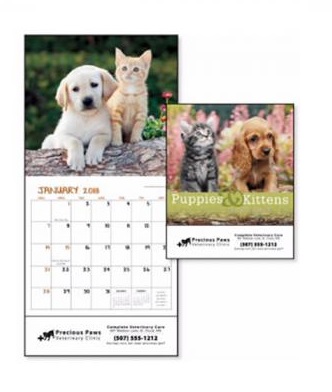 Your custom imprinted business logo and contact information will appear in the ad drop area which extends below the calendar pages, for year-long visibility. The imprint area measures 4¾ inches in width and 1 inch in height. Our cute puppies & kittens mini wall appointment calendars are 6 inches wide by 13 inches long when open, and 6 inches wide by 7 inches long when closed. Your personalized business logo will be printed in black by default, but color and multiple color logo imprints are also available. Additionally, gift packaging and varying style combinations can be ordered. Give us a call, email, or live chat message to learn more!
2020 Monitor Calendar Strip
A modern spin on a cheap promotional product classic, our bulk promo 2020 computer monitor strip calendars make for fun and unique corporate giveaways. They're the perfect cheap promotional calendars for tech firms, web design companies, computer repair businesses, office supply stores, software retailers, programmers, and any other business within the technology sector. These thin, narrow calendars are perfect for affixing to the top or bottom of a computer monitor, keeping your company and its contact information directly within users' lines of sight for an entire year. Double sided tape is included making these calendars adhesive in nature. As you can see in the image below, your personalized imprinted business logo and contact information stand front and center and are quite prominent.

Another difference comes in the form a a full color photo residing on the front of the magnet, which really helps to bring a business card to life. Your custom company logo and contact information are printed in white above your chosen image. The magnet is 30 mil thick, making it a sturdy, durable surface that will be around for years to come. You have the choice between a full bleed imprint or safe area imprint when it comes to the 4-color process printed photograph. If you're curious as to what would be a better fit for your promotional needs, contact us and we'll guide you to the best solution. As is the case with all of our promotional magnetic calendars, we advise against using these on cars.
Personalized Magnetic Calendars
Not all of our bulk refrigerator magnet calendars are limited to the business card format. We have several other styles, including promotional whiteboard magnet calendars, custom Peel-N-Stick® magnetic calendars, and personalized to-do list magnetic calendars for businesses, just to name a few. 
Memo Board Calendar Magnet
If promotional dry erase magnetic calendars are the promo items your business wants to offer in 2020, you won't want to sleep on this one. Offering free set-up for your custom business logo imprint, these magnetic whiteboard memo pads come with a monthly grid calendar as well as a yearly calendar located beneath. The monthly grid can be modified for any month. Just take a damp cloth, wipe away the previous month's notes, and start anew! These really come in handy when you have a busy schedule that has the tendency to change frequently. Rather than having to cross out and over-write notes in hopes to keep up with said changes, our bulk dry erase board calendars allow you to write, wipe, clean, and repeat as needed.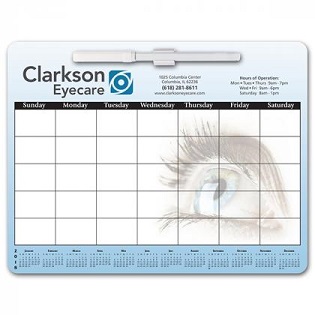 Each unit is 11 inches wide and 8½ inches in height. The imprint area is a generous 10½ inches in width and 1½ inches in height. Your full-color custom imprinted business logo and contact area will reside above the calendar grid and just below the pen clip. The wet erase pens that are included ship unassembled, but affixing the clip to the board is quite easy to do. However, if desired, you can order it assembled for a small additional charge. If you're curious as to the difference between a wet erase marker and a dry erase marker, we can clear that one up for you. Wet erase markers, also known as wet wipe markers, make use of a paste rather than the alcohol based inks of dry erase markers. The marks they make require a wet cloth for removal. This semi-permanency makes it so that they aren't accidentally wiped away if someone bumps into the board or of the board happens to be dropped. However, a dry erase board can still accommodate both wet and dry erase markers.
2020 Peel-N-Stick® Magnetic Calendar
Next up is another one of our wholesale peel and stick style magnets. This unique promotional business calendar features adhesive backing that can hold business cards or many other varieties of company logo imprinted items. An interior section behind the adhesive backing holds another magnet that can be pushed out in order to create a 2nd stand-alone piece that remains separate from the one attached to the calendar. This is another one of our 2-for-the-price-of-1 promotional calendar items that continues to be a best-seller year after year.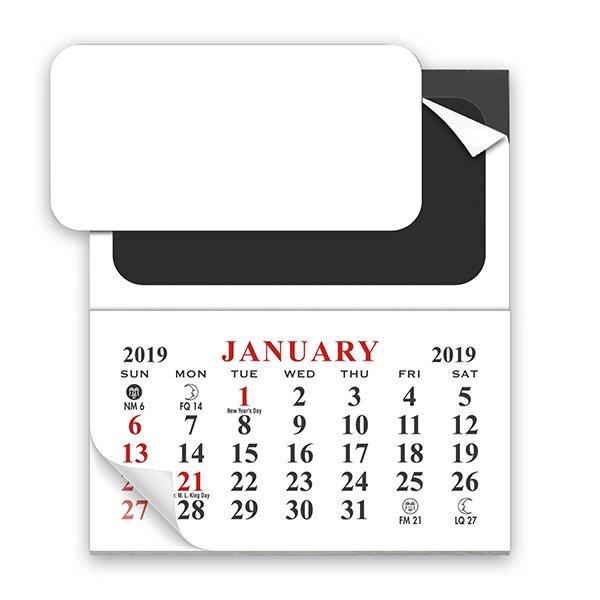 This promotional white tear-off calendar magnet is white and possess dimensions of 3½ inches in width by 4 inches in height. It is not printed, so consequently, there is no set-up fee. You can just attach your business card or desired company logo imprinted item to the adhesive surface on both pieces and be ready to go. 
Customized Promotional Wall Calendars
We offer a wide selection of both bulk discount promotional wall appointment calendars and customized premium promotional wall appointment calendars. We'll introduce you to one of each in the proceeding paragraphs.
Custom Economy Wall Appointment Calendar - Muscle Thunder
Perfect as a cheap promotional wall calendar for mechanics, gas stations, auto body shops, auto parts stores, and muscle car enthusiasts, our Muscle Thunder calendar features 13 different full-color photos of vintage sports cars. A bonus month is added, making this a 13 month calendar, made right here in the USA. This is another one of our most eco-friendly promotional calendars for 2020, as it is made of 100% recycled materials.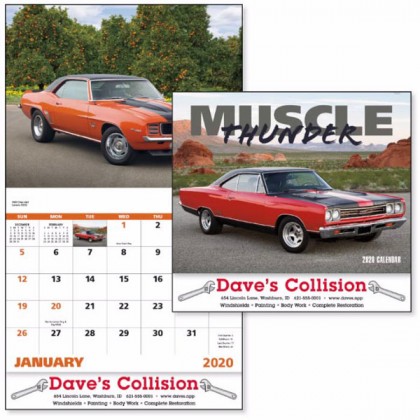 This custom imprinted staple-bound calendar is 10 inches wide and 19 inches long when open and 10 inches wide by 10 inches long when closed. Its imprint area is 9 inches wide and 1¼ inches high. The imprint area is located along the ad drop area, so it is visible beneath the calendar grid at all times. A one-color logo imprint is included in the price, but for an additional fee, additional colors are available. Other upgrades include further personalization (please call for details) and spiral binding in place of staples.
Premium Wall Appointment Calendar - Wildlife of the World
Nature lovers will enjoy and adore our premium promotional wildlife wall calendars. These wholesale 2020 animal calendars feature a unique outdoor animal scene for every month. By downloading the Pixaction App, users can photograph the pictures in this calendar and watch them come to life. It provides a fun way for the public to interact with your business and create lasting memories and positive brand impressions.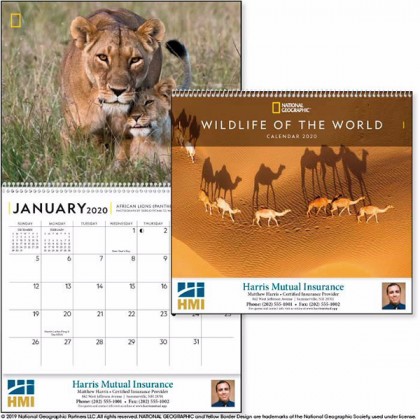 When closed, these custom wildlife wall calendars are 9 inches tall and 11 inches wide. When opened, they stand 15 inches high, but still 11 inches wide. Your personalized business logo will occupy an area of 10 3/16 inches wide by 1 3/8 inches high in the ad drop area, which runs along the bottom of the calendar grid. A digital one color drop ad imprint is included in the price, but multiple color imprints are also an option for an added fee.
Desk Pad Calendar - Red & Black with Vinyl Corners
While you can buy many different varieties of promotional desk pad calendars from 4AllPromos, the specific model we're focusing on right now is our Red & Black custom imprinted desk pad calendar with vinyl corners. As is the case with all desk pad calendars, these ones are flat and wide and offer a generous amount of space for marking dates and writing down appointments. These bulk 2020 desk pad calendars feature your custom business logo imprinted on every sheet, making it visible year-round. While black logo imprints are included in the price, you can contact us if you're interested in upgrading to multiple colors           
The imprint area for each page covers an area of 20 inches wide by 2¾ inches long, while the calendar itself measures 22 inches in width and 17 inches in length. It features a red and black grid and dates along with black vinyl corners. These corners help to prevent tears in the calendar as well as keeping it in place so it doesn't get shoved around when other items are moved. 
Commercial Calendars for 2020
The last category we'll cover are our commercial calendars. While it could be argued that all of our promotional calendars are commercial in nature (because they are), the models listed on our bulk commercial calendars page tend to be quite a bit larger than our other calendars and have larger imprint areas. We'll share some details about one such specimen now.
Laminated Time Management Span-A-Year Calendar
Last but not least on our list is our laminated 2020 full-year promotional business calendar. This custom imprinted corporate calendar comes with an erasable marker, which is held in place by way of an attached clip. Set-up is free, with a black logo & contact information imprint provided at the top of the calendar in a 26 inch wide by 5½ inch high imprint area. The calendar as a whole is 27 inches wide and 38 inches long. See, we told your our commercial calendars are bigger!
As can be seen in the picture above, an assortment of colors is included throughout our promotional laminated yearly calendar. As a handy little bonus, Julian dates are also included. While the Gregorian calendar is the international standard style, Julian calendars are still used in certain regions of Africa and are also used by Orthodox churches in order to determine on which days various holidays will occur. As it is based on a lunar calendar, it consequently is still of use to astronomers, making this a great promotional product for planetariums and observatories. Connect with us to learn about the various packaging options and color imprinting options available on this extra large promotional calendar.
We you had fun and learned a few new kernels of knowledge while perusing our article about the best promotional business calendars for 2020. All that's left to do now is to wish each and every one of you who reads this the happiest of holidays and the best of luck in the new year. As always, we humbly thank you for your business and hope to hear from you soon!