Celebrate the Season with 12 of the Best Promotional Christmas, Thanksgiving & Birthday Cards of 2019!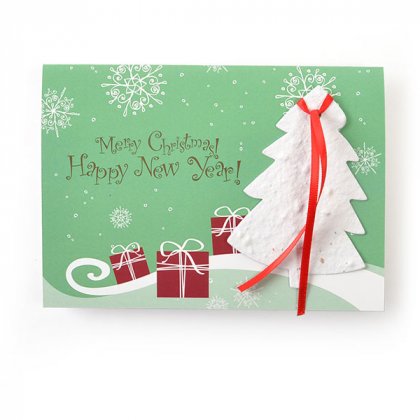 There's no better way to show your employees and customers you're thinking of them during the holiday season than by sending them corporate promotional Christmas cards. Extend your best wishes to all with the best customizable holiday greeting cards of 2019! In this article, we'll introduce you to our picks for the top Christmas, Thanksgiving, Birthday, and Thank-You cards for the 2019 holiday season.
Promotional 2019 Thanksgiving Greeting Cards for Businesses
While everyone is familiar with Christmas cards, customized Thanksgiving greeting cards are somewhat of an untapped product area. Thanksgiving is a sentimental kind of holiday that's jam packed with traditions. It's quite possibly the most homespun and laid-back of the major holidays. This year, when your employees, customers, and top business contacts are counting their blessings, they can add your business to the list when they any of our beautiful wholesale Thanksgiving Greeting cards imprinted with your business logo or signature.
Autumn Pathway Holiday Card
The first 2019 promotional Thanksgiving card that we'll introduce to you today is the aptly entitled Autumn Pathway Card. It features a peaceful image of a quaint covered bridge, situated beside a small babbling brook. Surrounding the mill, which wears an American flag, is a misty sky along with several trees with mixed leaf colors. Greens, yellows, red, and oranges adorn the tall, stately trees which make up the bulk of the background. It's such a placid, pastoral scene that just one look at it brings you back to a simpler time, creating some of the warm and happy feelings that the holidays are all about.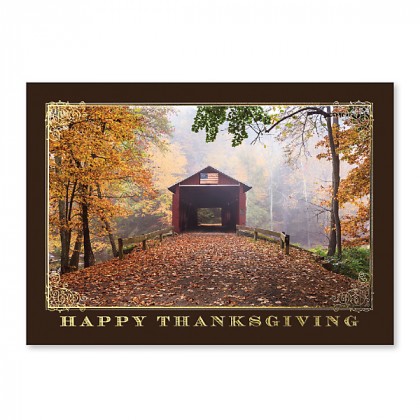 The image on the front of this promotional Thanksgiving greeting card is printed in full color, with photographic quality. The image, as can be seen above, is surrounded by a gold frame and red perimeter. The bottom of the card reads, "HAPPY THANKSGIVING" in gold lettering. The inside of the card contains the greeting of your choosing. You'll see your options on this custom Thanksgiving card's product page, which is supplemented with your choice of a black business logo imprint or 4 additional customized lines of text. Your custom business logo will be imprinted in a 7⅞ inch wide by 1⅛ inch high area, located below your logo imprint/text area. The card itself measures 7⅞ inches wide by 5⅝ inches high. This horizontally-oriented corporate Thanksgiving greeting card is made in the USA and comes shipped in a blank gold foil lined envelope.
Sunlit Bridge Thanksgiving Card
The next personalized promotional Thanksgiving cards we'd like to tell you about are our Sunlit Bridge personalized Thanksgiving cards. These natural, USA-made white cardstock Thanksgiving cards feature a look that is inspired yet peaceful. The cover depicts a tree multiple sunbeams shining down on a bridge which spans a still, quiet creek. In the background and foreground are a plethora of trees, some having shed their leaves and others holding on to their autumn-tuned foliage. At the bottom of the card's cover is a white area with gold text reading, "There is no time more appropriate to say Thank You." It's a card that manages to combine wishing a happy Thanksgiving and thanking a business or contact for a good deed into one touching package.
This is another lansdcape oriented personalized holiday card. It's dimensions are equal to those of the Autum Pathway Thanksgiving card listed above, at 7⅞" x 5⅝". The imprinting options are also the same in that we provide pre-written verses for you to choose from, along with your choice of a black business logo imprint or 4 additional lines of text. The name of your business, essentially functioning as a signature, will appear at the bottom of the interior portion of the card in an area measuring 7⅞" x 1⅛". Each of these wholesale Thanksgiving greeting cards are shipped in blank envelopes with gold foil lining. 
Personalized 2019 Corporate Christmas Cards
Spread some Christmas cheer among your employees, customers, and loyal business partners by showing that you've taken some time to remember them this holiday season. Sending any of our wholesale corporate 2019 Christmas cards is a wonderful way to show anyone that they're in the "nice" column of your naughty and nice list.
Premium Ornament Christmas Card with Seed Paper Shapes
Our customizable 2019 Seed Paper Christmas Cards are a fun, creative, and eco-friendly choice when it comes to personalized Christmas cards. Pictured below this paragraph is the Premium Ornament Holiday Card with Seed Paper Shapes. These ship 100% free of charge and are made from 100% recycled paper. A festive seed paper ornament is attached to the card by way of a ribbon. This ornament can later be planted in the ground, yielding beautiful wildflowers when spring rolls around. The front of each card is fully customizable, printed in full color with your choice of design. They're available in many colors and can have either a landscape or portrait orientation. Several ornament shapes are available with some including a Christmas tree (pictured), balloon, candle, dove, flower, key, mitten, star, turtle, and polar bear.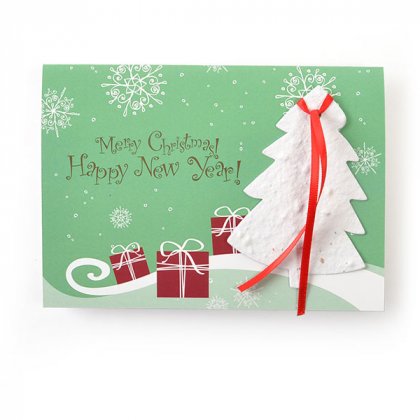 These models are an excellent fit for garden centers, recycling businesses, flower shops, schools, and any other organization that cares about going green. Each of these cards measures 6⅛ inches wide by 4⅜ inches high. The imprint area has the same dimensions, since, as we mentioned before, the surface of the card is fully customizable. For an upgrade fee, corn cello bagging is available, as is second side imprinting. 
Blue & White Ornament Holiday Card
As you can likely deduce from their name, these particular custom business logo Christmas cards showcase a blue and white Christmas ornament design. Each card is horizontally oriented and is made of white cardstock, featuring silver foil accents and imprinting. Blue and white ornaments are set in front of a snowy white background, with a "Merry Christmas" greeting appearing in the lower right corner.. As is the case with most of our promotional corporate holiday cards, this model also contains a choice of verses to include on the inside. The recommended, but by no means only one you can use is #1A2, which says, "May the peace and joy of Christmas be yours throughout the New Year." All of the interior text in this card, will appear in Baskerville font. 
This custom 2019  Christmas card is 7⅞" wide by 5⅝" long. Choose from either 4 lines of text to create your own special message, or simply opt for a one-color black business logo imprint beneath the pre-written greeting. While the standard shipping method sees these promo Christmas greeting cards packaged in blank silver foil lined envelopes. If you have any questions regarding further personalization options, feel free to reach out to us by phone, email, or live chat.
White Forest Christmas Card
Our White Forest 2019 holiday greeting cards offer a festive winter design that is sure to raise the spirits of all who receive them. These are a more secular choice, making them a great item for wishing goodwill during the winter months for those who might not celebrate Christmas. Each depicts a beautiful scene which is a nature lover's delight. Gorgeous, snow-covered trees populate the cover, two of which have a bright red cardinal perched on one branch. A snow-filled field sits in the background, with a friendly, "Seaons Greetings" appearing at the bottom, printed in red. These holiday cards are constructed from white cardstock and are made in the USA.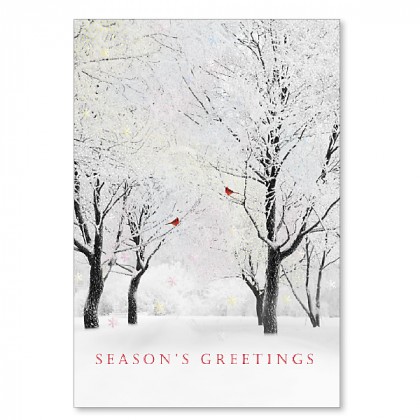 These promotional white cardstock Christmas greeting cards for businesses come with a quick greeting verse included in the price. The recommended greeting is #A99, which reads as follows: "Wishing you a world of peace and happiness now and throughout all the seasons of the coming New Year." However, this is merely a suggestion, and you have several other available choices if that particular greeting doesn't strike your fancy. These 7⅞ inch wide by 5⅝ inch tall customized corporate Christmas greeting cards come in blank redfoil lined white envelopes. 
Holiday Tyopgraphy Card
If you're looking for personalized 2019 Christmas cards that manage to evoke warm memories of simpler times gone by, we have the card for you. Our Holiday Typhography retro style custom Christmas card has a decidedly mid-20th century look and feel. A cheery blend of red and silver will put everyone in a celebratory frame of mind, as well as leading to reflections on the more sentimental, important aspects of the holiday season. These cards are made in the USA and feature a red felt card stock body with silver embosssed text. The front cover reads, "May your holidays be merry and bright and your New Year be filled with prosperity & peace." Along with the text, silver snoflakes and accent designs grace the front of each card.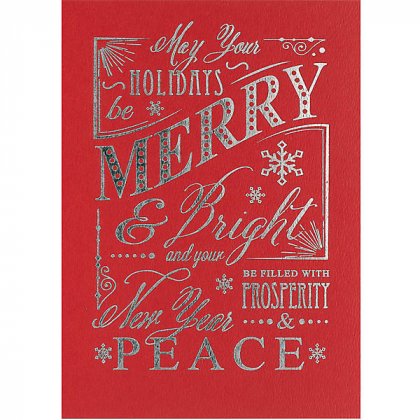 These delightfully rustic Christmas cards come with your choice of 18 different greeting verses. Below the verse is where your personalized business logo design will appear. In lieu of a graphic imprint, you can include up to 4 lines of personalnized text in Baskerville font.  The provided imprint area is 4¾ inches wide by ⅛ inches high. Each is sent in a silver foil lined white envelope and has dimensions of 5⅝ inches wide by 7⅞ inches high.
Classic Christmas Church Card
If you're looking to take a more spiritual approach with your wholesale Christmas & holiday cards, we suggest consdering the Classic Church Christmas Card. A perfect customizable greeting card for churches, religious charities, and Christian schools, these present a truly striking image of a white and stone church set against a pastoral background scene. The church is surrounded by evergreen trees and a festively deocrated fence. Near the front of the church sits an empty wagon, ostensibly used by the local parson to arrive for services.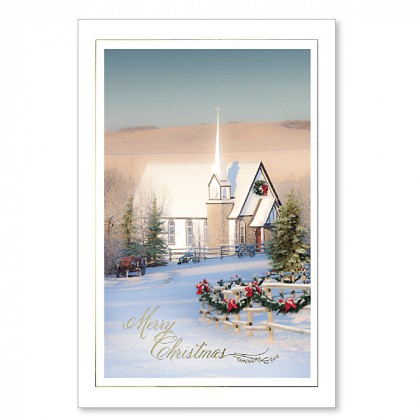 One of the available greeting verses in this card (#A90) is in Spanish and reads, "Un saludo en estas fiestas y los mejores deseos de felicidad para Año Neuvo." This approximately translates to, "Season's Greetings and best wishes for a Happy New Year." Other verses with a more religious theme are also available. Each of these personalized church Christmas cards is 5⅝ inches wide by 7⅞ inches high. Their interior imprint area spans 4¾ inches wide by 1⅛ inches high. This space can feature either your personalized company logo design or up to four lines of text.
Promotional Business Birthday Cards
A lot of people have birthdays that fall within the holiday season, and those people probably feel a bit overlooked at times. That's why sending out personalized birthday greeting cards, imprinted with your business logo, is an especially great idea during this time of the year. However, wholesale corporate birthday cards are excellent promotional giveaways that spread goodwill and brand awareness all year long.
Custom Corporate Chalkboard Birthday Card
Tastes, styles, and trends are always changing with the times. One style that is currently a rising star within the world of promotional corporate greeting cards is the chalkboard style theme. Our promotional chalkboard birthday greeting cards for businesses have a bit of a hipster look to them, featuring white and turquoise semi-faded printed text against a charcoal gray background. These particular corporate chalkboard birthday cards are one of our best sellers and are made right here in the USA. The aforementioned text reads a concise but friendly, "Happy Birthday to You".
The interior portion of the card features a pre-written birthday greeting of your choosing, which is printed in classic Baskerville font. These promotional birthday greeting cards are tall and thin, standing 8 inches tall and 4⅝ wide. One of the available greetings that works quite well is #XC818 which says, "Hoping your birthday is an event to remember!"
Your business will receive these wholesale chalkboard birthday cards in plain white envelopes. As is the case with many of our cards, envelope upgrades including self-sealing, personalization, and hot foil stamping are available for a slightly higher cost. 
These make great promotional products for schools, teacher's unions, design firms, office supply stores, tech companies, and many other artistic, educational, and technological organizations. They also make a great promotional paring combination when purchased alongside our custom imprinted chalkboard mugs and/or our wholesale promotional chalkboard magnets.
Birthday Celebration Greeting Cards
For a more simple look that never goes out of style, you'll be hard pressed to find anything better than our Birthday Celebration wholesale promotional business birthday cards. These white cardstock personalized birthday cards feature a black background with a very colorful collection of stars and ballons, forming a bowl like shape. In the middle of this desigin is "Happy Birthday", written in large and colorful capitalized block letters. These are excellent promotional birthday giveaway items for nearly any business, as they're appropriate for all ages, genders, and professions.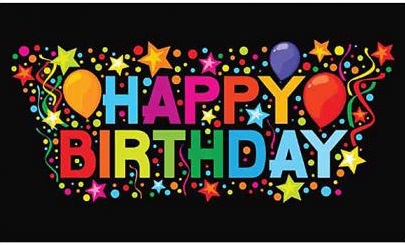 These custom corporate birthday cards are made in the USA and and 8 inches wide by 4⅝" high. Choose between 4 lines of text or a black custom business logo imprint design to decorate the interior of the card. They're sent in plain white envelopes, but if further customization is desired, you can give us a call, email us, or connect with us via live chat.
Birthday Owls Greeting Card
A great promotional birthday greeting card for nature conservation groups, veterinary clinics, colleges, 4H clubs, and Audubon organizations, our Birthday Owls greeting cards are as fun as they are festive. This tall, thin corporate birthday greeting card features a set of several branches which are occupied with colorful owls and birds, all extending wishes for the happiest of birthdays. A colorful mix of owls, birds, balloons, leaves, leaves, cupcakes, and other designs stand out strongly against a white background.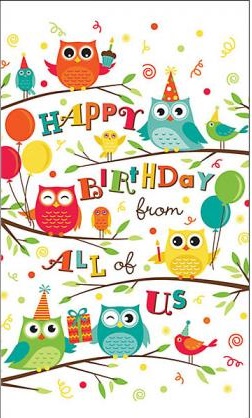 Museums, nature centers, pediatrician groups, optometrists, and nearly any other business or organization that caters to a young, fun-loving, or animal-friendly crowd will find these to be some of the best personalized business greeting cards money can buy.
These slender custom imprinted corporate birthday cards are 8 inches tall and 4⅝ inches wide. They are constructed from 100% recyclable white card stock and feature Baskerville font on their interior panels. You can choose from any of the pre-written messages available on this product's description page and accompany that with a one-color black business logo imprint or 4 lines of your own unique text. 
Beneath the decorations mentioned above, your company or organization's name will be imprinted in an area measuring 4 inches wide by 1⅛ high. It's a great way to show your favorite employees and clients that you value them and keep them on your mind throughout the year. In turn, they'll have your business on their mind when it comes time to make their next post-birthday purchase.
Wholesale Corporate Thank You Cards
There are countless occasions for which you'll want to have plenty of promotional business thank you cards on hand. Be it sending off a retiring or transferring employee who has provided years of great work, showing appreciaiton for a contractor without whom the last big project wouldn't have been possible, showing gratitude toward anyone who has sent someone from your business a gift, or any other random act of kindness or loyalty, a personalized corporate thank you card will show that your business appreciates everyone's efforts.
Promotional Gold Foil Thank You Cards
Our Gold Foil Thank You Cards are affordable promotional thank you cards for businesses that allow you to show your appreciation in style. They are distinguished by their black and gold design that makes for a simple yet very attractive look. They include gold foil text on their covers, while containing the greeting of your choice, along with your custom imprinted logo in black in on the interior panel. However, you can swap your logo out for 4 lines of unique text in Baskerville font if desired.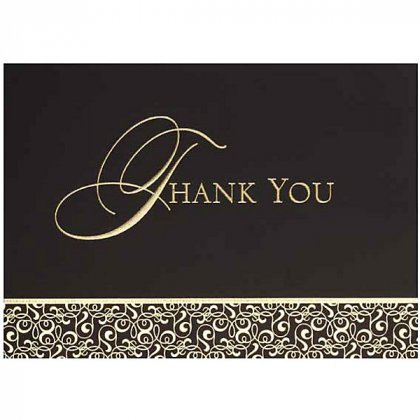 These personalized corporate thank you cards are made of white cardstock upon purchase, will be shipped individually packaged in plain, non-lined white envelopes. Additional options are available for both the envelopes and the decoration of the cards themselves. Contact us to get any and all of the information you need to design the best custom thank you cards for your business.
Promotional Corporate Invitation Cards & Personalized Business Announcement Cards
Are you having a company holiday party? A summer picnic? Team building exercise? Take Your Chlid to Work Day? If the answer to any of these questions is yes, or if you're planning some kind of event for the public to attend or general announcement that you want the maximum amount of people to know about, you'll find our promotional invitation cards & wholesale corporate announcement cards to be a highly useful tool.
Custom Eco-Friendly Seed Paper Announcement & Invitation Cards for Businesses
When there's an event your business wants to be well-attended or a big piece of news that needs to get out ot the masses, buying promotional announcement cards and corporate invitations cards wholesale from 4AllPromos is a fail-safe strategy. If you want to do it in a way that is not only fun, but also helps the environment, your business can invest in some of our seed paper corporate invitation and announcement cards. Earth friendly inks are used to print stock images and custom designs on these promotional business greeting cards. Once the cards have been read and the events attended, these custom plantable cards can be placed into the soil where they'll eventually bloom into a blend of attractive wildflowers.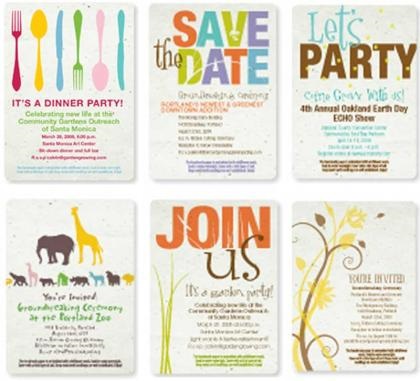 As can be seen in the image above, these wholesale business invitation cards can come in a wide variety of different looks and styles to best fit most any event or announcement. They are made of 100% recycled content and plain white shipping envelopes are included in the price. For a small extra fee, corn cello bags are available as are second-side imprints.
That's it for our guide to the best corporate Christmas cards, personalized business Thanksgiving greeting cards, and wholesale business greeting cards for birthdays and the holiday season. While they're not covered in this article, as we're focusing on happier occasions here, we also carry customized corporate sympathy cards. 
We hope you've enjoyed this guide to the 12 best promotional holiday cards for 2019 and we hope you'll have the happiest of holidays and the best of fortune, wealth, and happiness in the coming new year and always!