Spread Holiday Cheer with the Best Promotional Christmas Ornaments of 2019!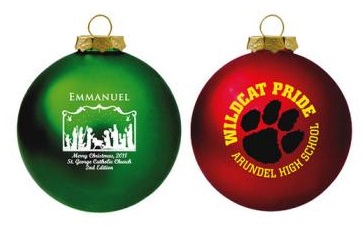 The holiday season always has a way of sneaking up. No matter how well one plans in advance, there always seems to be one last-minute detail that still hasn't been attended to, or one person on the shopping list who's yet to be crossed off. In other cases, there may be new people to buy for who have come into your life/company after your holiday shopping is done. If any of the above apply to you or your business, there's no need to fear because 4AllPromos is here! We have all of the best corporate holiday gifts and promotional ornament giveaways to ensure that your company's gifts are a hit this holiday season.
This particular article, as its title would lead one to expect, will focus on our wholesale Christmas ornaments, all of which come either imprinted or engraved with your personalized business logo. While we're going to cover 13 of the best promotional Christmas ornaments of 2019, there are still many other personalized logo imprinted Christmas ornament gifts available on our website. With that being said, we'll launch into our list now.
Custom Engraved Nickel Plated Snowman Ornament
First up are our Custom Engraved Nickel Plated Snowman Ornaments. These personalized business logo engraved holiday ornaments come in the shape of a snowman and feature a bright silver non-tarnish finish. They also have a handy hanging hook loop for easy placement on a tree, as well as a decorative white tassel. These promotional engraved Christmas ornaments are a low minimum order holiday giveaway item, with only 6 units being required. This allows each one to be especially personalized to reward and recognize your top employees and most valued customers.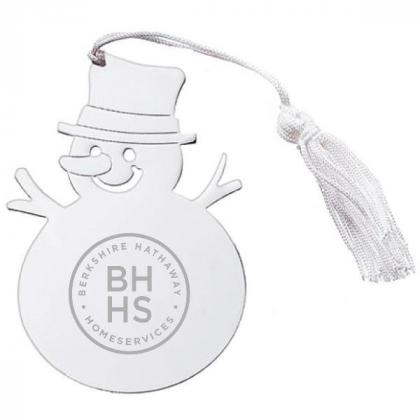 In addition to being great corporate Christmas gifts for employees, these promotional holiday ornaments also work quite well as thank-you gifts. Businesses and charities alike will reap the benefits of having their custom engraved logo on these beautiful holiday ornaments. In terms of size, each measures 2¼ inches wide by 3¾ inches high. The circular engraving area has a diameter of 1¾ inches, which means there's plenty of space for a highly personalized logo pattern. 
Engraved Non-Tarnish Angel Trumpeter Ornament with Tassel
Another style of custom engraved Christmas ornaments available online from 4AllPromos would be our promotional engraved Angel Trumpeter Ornaments, which feature decorative white tassels and a non-tarnish finish. Every Christmas tree needs an angel to look its best, and this is why this particular custom business logo ornament is one of our best sellers. They're wonderful Christmas gifts for employees, but also work very well as charity giveaway items for churches and non-profit organizations. As is the case with our nickel plated Snowman ornaments, our Angel Trumpeter Ornaments contain hanging hook loops and are low minimum order promotional products. You can buy as few as 6 of these custom engraved angel ornaments to give something special this holiday season to your inner circle of friends and associates.
These promotional keepsake Christmas ornaments 4½" wide and 3½" tall. This makes them an ideal size for hanging on nearly any Christmas tree. They're large enough be prominent and instantly noticed, but not so large that there won't be room for all other treasured Christmas ornaments to find a home on the tree as well. Your personalized business logo will be laser engraved in an an area measuring 1 inch wide by 3/4 inches high, toward the bottom of the body of the angel. Their non-tarnish finish makes them resistant to scuffs and smudges. The ones that do appear wash off with ease and optimum speed.
Etched Crystal Heart Ornament
Moving from engraved to etched brings us to the next ornament on our list, which is our Etched Crystal Heart Ornament. These promotional etched glass Christmas ornaments are shaped like a heart, which is appropriate, because they're skillfully etched to include a message that comes straight from your heart. These low minimum promotional products are sure to be treasured corporate Christmas gifts, as they'll be handed out to the select few who have most earned your praise and goodwill. These personalized glass holiday ornaments are also a great idea for a corporate Thank-You gift or as a donation to a charity you truly admire. They're one of those small pats on the back that may not seem like much at the time, yet are greatly appreciated by the recipients who will keep and treasure them for years to come. Every time they break out the ornaments for the holiday season, they'll see your custom etched logo and feel a warm glow inside for your company.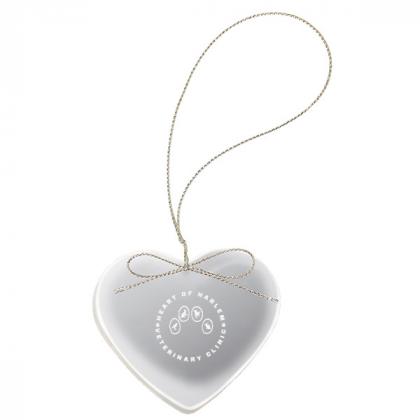 These customized business logo Christmas ornaments are made of optic crystal. Essentially, this means that during the manufacturing process, the crystal is heated at extremely high temperatures and then allowed to slowly cool. This rids it of blemishes and bubbles, making it one of the most clear and smooth varieties of crystal around. These promotional crystal ornaments look amazing both on Christmas trees and in windows, as they have the ability to reflect light. Each one arrives in a padded foam box for safety purposes. Each of these personalized heart shaped holiday ornaments possesses dimensions of 2½ inches wide by 2½  inches high. The engraving surface spans 2 inches in width and 2⅜  inches in height. 
Sleigh Ornament
We'll now venture into another ornament style and introduce you to our promotional brass plated Christmas Ornaments. Specifically, we'll be talking about our personalized brass plated sleigh shaped holiday ornaments. Making for perfect promotional Christmas ornament giveaways, these models take the shape of a festive winter scene. In it, you'll see Santa Claus flying high in his sleigh, guided by two flying reindeer. Below lies a miniature forest of evergreen trees and branches. In the middle of it all, a special round area is reserved for your custom imprinted business logo. These custom logo imprinted Christmas ornaments feature your business logo in a full color imprint which is protected by a transparent mylar & epoxy dome. This protective layer ensures that your logo will never fade or chip away. It also cements your company as a part of the annual holiday traditions of any employee, customer, or associate who is lucky enough to receive one.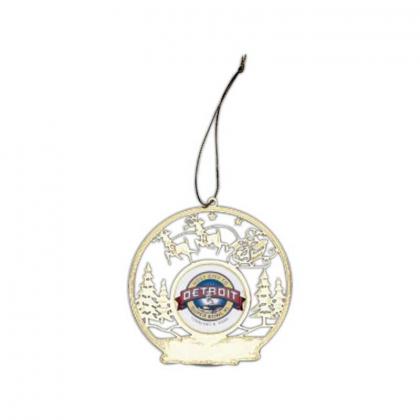 Our custom company logo imprinted brass plated holiday ornaments come in several different designs. There's the sleigh design seen above, but you can also opt for bow, Christmas tree, or special Merry Christmas design. Each of these promotional ornament giveaways has a three inch diameter along with a 1½ inch diameter insert area. It is there where your full color business logo imprint will reside, protected the transparent dome mentioned in the previous paragraph. This is a wonderful corporate holiday gift for employees and also works very well as a Christmas gift for schools, charities, churches, and many other organizations.
Eco-Friendly Seed Paper Globe Ornament Gift Tag
If you're looking for the best eco-friendly promotional Christmas ornaments, you've found them in our Seed Paper Globe Ornament Gift Tags. Each one features seed paper containing a blend of wildflower seeds. A seeded globe shaped paper sheet is affixed to the rest of the seed paper, and then the unit is added to a white card stock holder card. This card is imprinted with your full color company logo and is held in the middle of this hang tag style holiday ornament. For an additional fee, you can order these custom imprinted holiday ornament gifts with your personalized logo imprinted on both sides of the card and have them individually shipped in corn cello bags.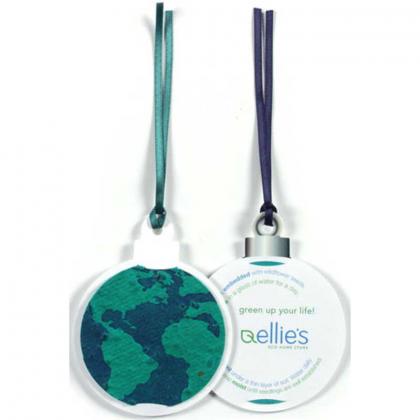 These eco-friendly wholesale Christmas ornaments are made of 100% recycled material, making them a great choice for going green. They're plantable Christmas ornament gifts that are appointed with hanging hook loops through which a colored ribbon runs. Several colors are available on the ribbons, including blue, brown, green, red, and white. The external holding portion of these ornaments has a diameter of 2⅞ inches while the inner circle has a diameter of 2⅝ inches. The imprint area on the seed paper circle stands 3⅝ inches tall and is 2⅞ inches wide, leaving a 1/8" color bleed.
Custom Imprinted Snowman Ornaments with Santa Hats
For a fun and happy holiday hanging that works just as well in the dark as it does in the light, we suggest investing in our LED Snowman Ornament with Santa Hat. These delightfully cute and festive ornaments feature a smiling snowman wearing a Santa Claus hat. Among the snowman's most notable facial features is his bright red nose, which contains an LED bulb. This allows it to light up, making it visible and appreciated in all possible environments and light conditions. If you want to go Santa all the way, just let us know; there's an option to replace the snowball with a Santa Claus face.
Durable enough to last for countless Christmases, these personalized light up Christmas ornaments make perfect corporate holiday gift ideas. Each features your customized company logo design or message, which is imprinted on the bottom white felt strip of the hat. A single color and location imprint design are included in the price. Each of these novelty holiday ornaments has a diameter of 3½ inches and an imprint area of 1½ inches wide by ⅜ of an inch high.
Promotional Wooden Ornaments in Kraft Envelopes
If it's truly unique custom holiday ornaments that you're looking for, your search will end with our personalized logo imprinted wooden Christmas ornaments. These corporate holiday giveaway items are beautifully crafted into a variety of different holiday shapes. Each one is constructed of wood that is thin yet durable. They're light enough for even the youngest tree-trimmers to be able to hold them easily, yet strong enough to survive any accidental drops of knocks off of the tree. The expert craftsmanship of these unique holiday ornaments is a gift in and of itself. The rustic and old-fashioned charm these wooden holiday ornaments bring is augmented by their twine hanging cords. As can be seen below, they are avaiable in Christmas tree, snowman, snowflake, and traditional ornament designs.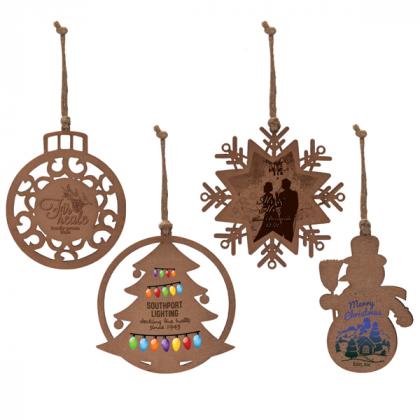 Every one of these promotional business logo imprinted wooden ornaments arrives its own Kraft paper envelope. This is in keeping with the wooden look and rustic feel to which all of the other elements of these corporate holiday giveaways conform. Due to the variation in their shapes and design, each ornament has its own unique dimensions. The Christmas tree style is 3⅜ inches wide and 3⅜ inches tall. The snowman ornament measures 2¼ inches wide by 3¾ inches tall. The custom wooden traditional ornament is 2⅞ inches wide with a height of 3¾ inches. Last but not least, the snowflake ornament has a diameter of 3 inches and a depth of 1/8 of an inch. A one color imprint is included in the price, but multiple colors and 2nd side imprints are available for an extra fee. The Christmas tree ornament comes with colored lightbulbs standard, so if you're looking for a cusotmized wooden holiday ornament with extra color without an extra fee, this might be your best option.
Large Snap-In Photo Snowflake Ornaments
Promotional photo ornaments are a big hit every year and are Large Snap-In models are no exception. Buy these custom imprinted ornaments wholesale and you'll be treated to snowflake-shaped ornament gifts that perfectly frame any picture fit for a tree. While they arrive unassembled, putting these corporate holiday gifts together is a breeze. A photograph is inserted behind the front window of the ornament and following this, the back portion is snapped into place. It's just that simple! These are some of the best promotional Christmas products for schools, photographers, department stores, arts & crafts stores, and many other businesses, organizations, and institutions.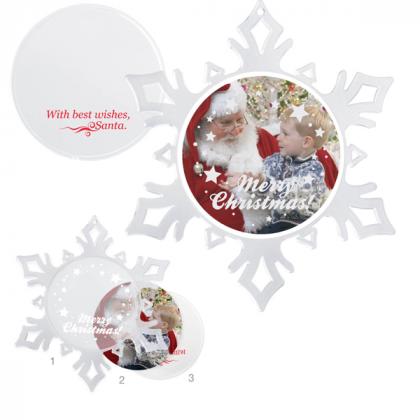 These custom imprinted photo Christmas tree ornaments on the larger side, boasting a diameter of 5¾ inches. It holds an insert of up to 2⅞ inches in diameter, and features a back-panel imprint area with a diameter of 2⅝ inches. A one color, one locatoin imprint comes standard with each unit. They're a great corporate giveaway for company holiday parties, allowing attendees to snap and trap their favorite pictures, building team spirit and company pride. They also work very well as fall & winter trade show giveaway products.
Plush Star Christmas Ornament
The perfect Christmas tree is one that's trimmed with diversity. It's great to look at a newly-decorated tree and see a broad assortment of decoratoins, with every style represented. That's just one of the many reasons why you, your employees, your customers, and your target market will love our promotional plush Christmas ornaments. These wholesale soft ornaments are available in two styles. You can take your pick between a cheerful plush star and a plush Santa ornament. If you're so inclined, you can also go with a mix of both. Both of these custom imprinted soft ornaments feature a festive blend of colors, with red, white, and green. Another area of common ground for these ornaments is their back pockets, which are the perfect size for a business card or gift card. They make for excellent corporate holiday gifts and corporate thank you gifts to employees and valued customers.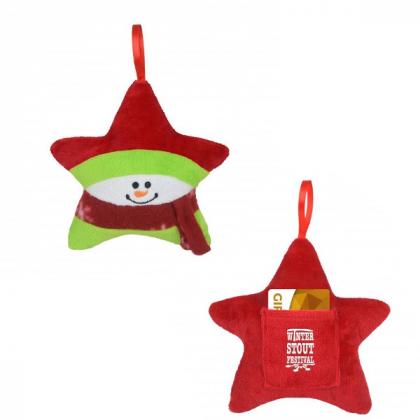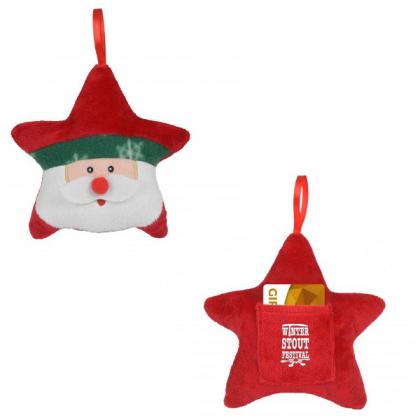 As can be seen in the pictures above, the reverse side of these wholesale promotional plush holiday ornaments are solid red and feature a nice, soft, roomy pouch. These plush ornaments come with soft hanging loops rather than hooks, so they can live a double life as stuffed animal pals for young children when they're not up on the tree. Our promotional plush Santa & Star ornaments are 5 inches tall and feature a 1½ inch high by 1½ wide imprint area on the exterior portion of their back pockets. A one-color, one-location imprint is included in the price, but you can give us a call, email, or contact us by live chat to learn about additional customization options.
Custom Imprinted Traditional Glass Ornaments
No matter what the area, the classics are the classics for good reason. They've made a great first impression, were good enough to spread in popularity, and have stood the test of time without losing a step to the competition. That's how we view our promotional traditional glass ornaments. They've been a favorite for generations and don't show any signs of leaving us any time soon. That's why they're still a staple and some of the most popular Christmas ornament giveaways across any industry. Our traditional glass ornaments are available in a multitude of colors, including black, blue, gold, green, pink, purple, red, and white. Each comes in a gift box, with your choice of either a white box or one with a stock art design. A single color & location imprint is provided in the listed price, but upgrades are available for additional colors and locations. Three or more colors are only available on orders of 250 units or more. 
While all of these classic custom logo imprinted glass ornaments come with hanging loops, both plastic and brass stands are available for a small additional charge. With their stands, they become some of the best promotional Christmas decorations for offices, as they're the perfect size for standing up in a cubicle and adding a bit of Christmas cheer. These ornaments feature a diameter of 3¼ inches, along with an imprint area, the diameter of which measures 2 inches. Due to their wide appeal, our promotional glass ornaments are superior promotional items for nearly any organization. They can serve as school spirit items, promotional sports team giveaways, church fair raffle prizes, and commemorative promotional products for a nearly endless variety of occasions.
Custom Business Logo Imprinted Flat Round Ornaments
We'll now follow up our discussion about classic holiday decorations by introducing you to a new, modern variety. Growing in popularity and seeing more action year after year, our promotional flat round ornaments are sleek & stylish and put a new spin an old holiday classic. While they on the surface look quite similar to our glass ornaments, our custom logo imprinted flat round ornaments are actually made of polypropylene. Being that they're made of recycled material, and are fully recyclable in their own right, these are some of the best environmentally-friendly corporate holiday gifts you could hope for. With a shape that is almost reminiscent of a small drinking canteen,  these ornaments have curves that are perfectly designed for catching light in the best way possible and highlighting your personalized business logo.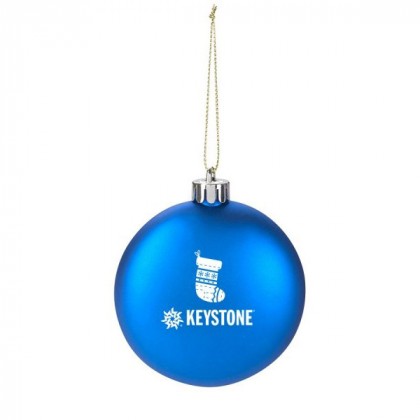 Our promotional flat shatter resistant Christmas tree ornaments are available in the colors of blue, gold, green, red, silver, and white. They measure 3 inches in diameter and feature a pad print of your custom company logo. The imprint area in which said imprint appears has a diameter of 1¾ inches, making up a generous portion of the surface of each ornament. A one-color logo imprint in one location is included in the listed price on this item's product description page (linked to in the previous paragraph), but additional options are available. To learn more about those options, feel free to contact us through your method of choice at any time.
Star Ornaments Imprinted with Your Business Logo
Due to the biblical significance of stars in regard to Christmas, stars have been a very popular shape for Christmas tree decorations for pretty much as long as people have been putting Christmas trees up in their homes. While we already showed you a plush star ornament, we also would like to take this opportunity to acquaint you with our wholesale star ornaments made of polypropylene. Just like the flat round ornaments described in the section immediately preceding this one, our custom imprinted star ornaments are made from recycled materials and are shatter resistant. They feature a satin finish for an extra smooth look and come packaged in their own individual presentation boxes. While these printed ornaments are always successful as corporate Christmas gifts, they also do just as well as promotional Hanukkah decorations.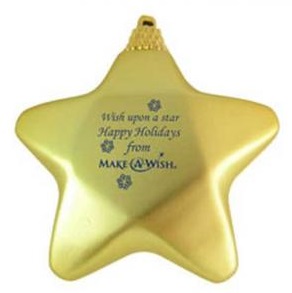 Our promotional star shaped holiday ornaments are 3½" wide, 3½" tall, and 1¾" deep. The imprint area on these promotional holiday giveaways occupies a space with a diameter of 7/8". Additionally, the listed price includes a decorative hanger as well as a matching hanging cord. These personalized star shape ornaments are perfect promotional products for charities, churches, hopsitals, veterinary clinics, department stores, supermarkets, local government, gift shops, and more.
Personalized Magnetic Snow Globe Ornaments
The final promotional corporate holiday ornaments for 2019 that we'll introduce in this post are our custom imprinted Snow Globe Ornaments.These are some highly impressive, multi-feature ornaments that are sure to be the talk of any party at which they're present. However, they'll be just as impressive and joy-generating when hanging from a private Christmas tree or even sitting on your desk at work! With a magnetic exterior, these custom snow globe holiday ornaments can be affixed to refrigerator doors, file cabinets, or propped atop desks or tables. They also come with a red hanging ribbon and ring attachment, making them perfect for placement on trees or hanging from pegs or nails above the fireplace.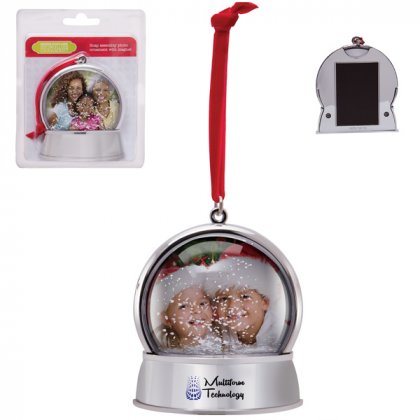 In the back of each ornament, you'll find a slot for sliding in your chosen photograph. Include one featuing family members, friends, pets, or favorite co-workers for a special holiday tradition that can be shared. These are real snow globes, so when shaken, they'll have that classic effect in which a whirling blizzard of white will snow down around your photograph. Your personalized business logo imprint or design appears on the front of the silver bottom base. A single color imprint comes standard, but for an upgrade fee, a second color can be added.
We truly hope you've enjoyed seeing our picks for the best promotional Christmas ornaments of 2019. If you feel there's one we should have added to the list, or prefer to see more or less of any given style/category, feel free to reach out to us and let us know!